Dear friends,
When I started Residencias Los Jardines, I started writing a weekly news letter -determined to tell all the good, bad, and the ugly. I knew some readers would be interested in the construction process. I expected others might be interested in the lifestyle of two people who had decided to live outside the box. For others, the adventures of Lita, the parrot and the cat took on an entertainment saga all its own.
Residencias Los Jardines is finished. We periodically have resales and rental availability. Some readers may be interested in this information.
Brian Timmons
DEVELOPER / PROPERTY MANAGER
Residencias Los Jardines / https://www.residenciaslosjardines.com info@residenciaslosjardines.com
ResidenciasPropertyManagement@gmail.com
Featured house this week
Paradisus Condos / Rohrmoser
FOR SALE / FOR RENT
Residencias Los Jardines
Property Management, Rentals, Re-Sales
Market Activity
Sales: no inquiries.
Rentals: one call, no show.
FOR SALE
Unit #114: $235,000 / See Unit
Unit #116: $214,000 / See Unit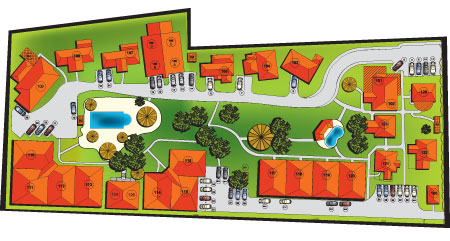 HOUSES FOR SALE
UNIT #114
FOR SALE $235,000
Total Area (Sq Ft): 1290
Total area (Sq M): 120
Bedrooms: 2
Bathrooms: 2
Floor(s): Single Floor
Type: Attached
Furnished: Yes
This 1,290 sf. (plus covered parking for one car and two lockers 67 sf.) single story, semi detached house, with garden terrace, two bedrooms is a beautiful executive style home. This home consists of two large bedrooms one with six piece en-suite bathroom with additional access to separate full shower. Each bedroom has large closets with extensive built-ins for personal organization. The vaulted living room and bathroom ceilings provide a feeling of grandeur while allowing the warmer air to rise and exit through the ceiling ventilating system. There are four TVs (one in each bedroom, one in the living room and one in breakfast / dinning room.) This is a beautiful well appointed home.
UNIT #116
FOR SALE $214,000
Total Area (Sq Ft): 1290
Total area (Sq M): 120
Bedrooms: 2
Bathrooms: 2
Floor(s): Single Floor
Type: Semi-Attached
Furnished: Yes
This 1,290 sf single floor home includes a 300 sf front terrace plus parking for one car and a separate, secure storage locker. It is and end unit and therefore attached on only one side by a 6 inch cement demising (common) wall, which prevents sound transfer.
Our Lives
WEATHER: This time of year is normally accompanied by strong winds. That is not happening this year.. at least so far.. the last two weeks have seen slight to no breeze and had been absolutely perfect.
Ryan Piercy disappears: Earlier this week, his car was found abandoned in a coffee plantation. Ryan is a fairly high profile Canadian / Costa Rican citizen in Costa Rica. He was the president of ARCR--Association of Residents of Costa Rica... a private organization which provides services to the expat community. Many expats know him and through ARCR he has lobbied governments on various issues over the past number of years. There is speculation that he may have been kidnapped for ransom... this story is yet to find an ending.
Giving Back: For the second year, I am participating in giving school supplies to children caught in a web of poverty. A friend heads up a small group of people from whom he solicits donations. The pooled funds go to buying school supplies needed by mostly young children who's parents are financially strapped. The event occurs in "La Carpio"... a very, very poor slum of San Jose... It is mostly populated by Nicaraguan... there are very few, over used services there... eg. potable water, sewers, electricity... You don't have to go very far in CR to find extreme poverty... you just have to open your eyes. Last year this was one of the best organized events I've ever attended in CR. A 13 something teenager executed the event flawlessly..complete with cake, soda, pinata, and school supplies. It was enjoyable and impressive and rewarding... This year, the organizer hopes to help 25 children...
CIMA: I've been preoccupied this week with a close friend's plight. Several weeks ago, a friend was operated on for lung problems. was as close as I wanted to be to CIMA... (All went well and given this situation, he had a good experience. A week ago a close friend found substantial blood in his urine. He mad an emergency trip to CIMA and was quickly attended to. After an ultrasound, the cause had been identified..growth on the kidney... an X-ray later they had better definition of the problem. (I got a call with the news... this is not a call I ever wanted to receive but....) A large tumor had grown on his left kidney...he could possibly return to N. Am. although he was still bleeding or he could have surgery here. After a CATscan it was determined that the tumor had not metastasized. He considered his options and decided to have the surgery. Some pre-existing conditions made surgery a bit more challenging but it was done with excellent results. He's recovering and all indications are that he will be fine... The doc he used did work on me a number of years ago; since I'm still here, I had complete faith in him.
Birthday: Today is my #69... never thought I'd be this old. Last night dinner with owners who have become friends, a long with the "giving back" event his morning, I'm on for specialty beers mid day with friends, already a call from a very long time friend who never forgets, a present from my wife, later for dinner with friends and wine club tomorrow... another full day in a wonderful life in a great environment...
News Items of the Week
Comments:
(a) Fiitch rating agency has downgraded CR debt status from "stable" to "negative". This is not unexpected but they did make the change this week. This is just before CR goes to the international markets to sell a billion dollars worth of bonds to keep the country afloat...
(b) Disclosure: the tax department is continuing to try to demand disclosure of shareholders of private corporations.
(c) Racasa was given the job of creating a third government procurement system when it has failed miserably in previous assigned roles. In addition, there seems to have been no technical analysis to see if they they had the technical expertise to do what they were tasked to do.
Articles:
1. Ryan Piercy: see above
2. Tourism: It's up but not as much as competitor tourist destinations. My take is that CR continues to loose momentum and the colon continues to appreciate against the US $$ which makes CR more and more expensive and offering less and less value. And the figures are inflated by 400,000 who are Nicaraguans crossing and recrossing the border.
1. Piercy case is giving other expats the shivers
By the A.M. Costa Rica staff

The Judicial Investigating Organization said Thursday that there had been no new developments in the case of Ryan Piercy, the missing general manager of the Association of Residents of Costa Rica.

That may not have been completely true because if negotiations with kidnappers are going on, investigators would keep that information close to their chests.

That Piercy, a 45-year-old Canadian, had vanished sent shock waves through the expat community. He has many friends, and he also is among the first English speakers that many new arrivals meet here. The association runs relocation seminars for new expats and would-be expats every month.

Ryan also is Mr. Fixit for individual and general expat needs. For example, he helps negotiate group rates for new residents who have to join the Caja Costarricense de Seguro Social. The association also publishes El Residente magazine that is distributed worldwide. There are frequent articles there from Piercy.

He has been known to intercede on behalf of expats who might be experiencing problems with immigration applications.

Piercy's private vehicle turned up about 7 p.m. Tuesday on Ruta 32 in Heredia. The door was open.

If he is a kidnap victim, the personable Piercy probably was not targeted for his position in the residents association. He also holds an officer position in the family business, Casa Canada, an investment, real estate and consultancy firm. Casa Canada is known for helping Canadians create legal overseas bank accounts and investments.

The Spanish language press quickly pointed out that Piercy's name was on more than a hundred corporations in the Registro Nacional. An unsophisticated crook might think this means he has lots of money. In many cases, it appears that Piercy was serving as the responsible party for a foreign investor who was the beneficial owner of the corporation.

People who seek to hide their holdings or who live outside Costa Rica frequently place trustworthy nominees like Piercy in charge of their corporations. That way the name of the real owners do not appear in the public records.

But perhaps not for long. The Dirección General de Tributación has published for discussion a proposed decree that would require every corporation to provide the names of stockholders. The proposed decree seems to be designed to help the tax agency catch evaders. At least one lawyer thinks that the proposal is illegal and mandatory disclosure must be done via a new law.

The Piercy case has caused many expats to consider their own security. Some have written to A.M. Costa Rica.

The basic rules have not changed. Expats, men and women, should dress conservatively and without jewelry that would attract crooks. The vehicle should not be flashy, and employees should be checked rigorously. The use of cash is discouraged, and suspect locations should be avoided. Daily routines should be varied.
2. 2014 tourism growth was less than many Central American countries
By the A.M. Costa Rica staff

Costa Rica with a 4.1 percent increase in tourism in 2014 lagged behind all but Panamá and Honduras in the percentage of growth.

World Tourism Organization figures say that Costa Rica attracted 2,427,941 arrivals in 2014. That's 98,876 more than the previous year.

But Belize showed 10.8 percent growth. Guatemala, Nicaragua and El Salvador all had higher growth figures than Costa Rica.

Panamá posted a 4.0 percent increase, and troubled Honduras showed just 2 percent.

The figures were compiled by the Instituto Costarricense de Turismo, which offered them at a press conference Thursday.

The institute said that the total arrivals in Costa Rica really were 2,526,817, a bit higher than the World Tourism Organization figures. But the percentage of increase still was 4.1 percent.

During the entire presentation there was no acknowledgement by tourism officials that more than 400,000 of the so-called tourists came from adjacent Nicaragua. This has been a continuing source of confusion with tourism figures. The statistics show that Central American tourism increased 5.8 percent in 2014.

Just 67.5 percent of the tourists come from North America, which includes México.

Europe which provided 16.5 percent of the nation's tourists showed a growth of 19.9 percent despite economic woes in the Eurozone.

Asian tourism was up 11.9 percent, but there were only 7,017 visitors. The country seeks to attract Chinese visitors, but William von Breymann, the minister, noted that there are no direct flights from the Asian giant to here.

The arrival statistics that the tourism institute presented came from the Dirección General de Migración y Extranjería. They showed that 796,405 persons entered the country by land in 2014.

The institute considers every foreigner who enters the country to be a tourist.

Many of the institute's statistics are gathered by survey takers at the two international airports. The institute reports how long an average tourist stays in the country and how much they spend, although the numbers probably do not have statistical rigor. The Banco Central supplied figures for the total annual income from tourists, which was set at $2.6 billion.

Von Breymann fielded a question from a reporter about possible strategies to fight competition from Cuba if the United States loosens travel restrictions on its citizens. He did not outline a strategy but said that all Cuba can offer is sun and sand while Costa Rica has many more diverse attractions.

Cuba hopes to attract 3 million tourists this year despite the travel embargo.
Brian, Lita, the Late Hugo IV, irreverent Vicka, the pigeon toed parrot, Chico II and Chica II