Dear friends,
When I started Residencias Los Jardines, I started writing a weekly news letter -determined to tell all the good, bad, and the ugly. I knew some readers would be interested in the construction process. I expected others might be interested in the lifestyle of two people who had decided to live outside the box. For others, the adventures of Lita, the parrot and the cat took on an entertainment saga all its own.
Residencias Los Jardines is finished. We periodically have resales and rental availability. Some readers may be interested in this information.
Brian Timmons
DEVELOPER / PROPERTY MANAGER
Residencias Los Jardines / https://www.residenciaslosjardines.com info@residenciaslosjardines.com
ResidenciasPropertyManagement@gmail.com
Featured house this week
Paradisus Condos / Rohrmoser
FOR SALE / FOR RENT
Residencias Los Jardines
Property Management, Rentals, Re-Sales
Market Activity
Sales: no inquiries.
Rentals: one call, no show.
FOR SALE
Unit #114: $235,000 / See Unit
Unit #116: $214,000 / See Unit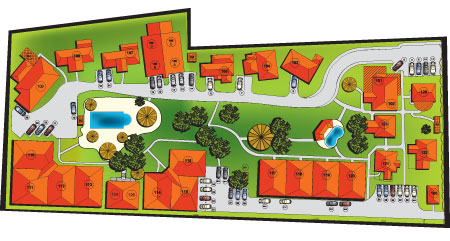 HOUSES FOR SALE
UNIT #114
FOR SALE $235,000
Total Area (Sq Ft): 1290
Total area (Sq M): 120
Bedrooms: 2
Bathrooms: 2
Floor(s): Single Floor
Type: Attached
Furnished: Yes
This 1,290 sf. (plus covered parking for one car and two lockers 67 sf.) single story, semi detached house, with garden terrace, two bedrooms is a beautiful executive style home. This home consists of two large bedrooms one with six piece en-suite bathroom with additional access to separate full shower. Each bedroom has large closets with extensive built-ins for personal organization. The vaulted living room and bathroom ceilings provide a feeling of grandeur while allowing the warmer air to rise and exit through the ceiling ventilating system. There are four TVs (one in each bedroom, one in the living room and one in breakfast / dinning room.) This is a beautiful well appointed home.
UNIT #116
FOR SALE $214,000
Total Area (Sq Ft): 1290
Total area (Sq M): 120
Bedrooms: 2
Bathrooms: 2
Floor(s): Single Floor
Type: Semi-Attached
Furnished: Yes
This 1,290 sf single floor home includes a 300 sf front terrace plus parking for one car and a separate, secure storage locker. It is and end unit and therefore attached on only one side by a 6 inch cement demising (common) wall, which prevents sound transfer.
Our Lives
WEATHER: For the most part, the week has been without wind, mostly sunny -- 22 - 28C (70-80 F)... absolutely beautiful.
P.F. Chang: This N. Am. chain restaurant opened here to great fanfare. We went with 4 others. Don't think any of us will be retuning in a hurry. The food was only mediocre, service was very uneven (half of us were nearly finished before the other half was served), and the place was so noisy we couldn't talk. Yes, it was packed with yuppies... They probably won't miss our business.
News Items of the Week
Comments:
Shorts:
(a) 2014 Construction was up by 8%... mainly in residential, urban areas and down in institutional and industrial categories... This is inconsistent with previous reports but inconsistency is normal in CR.
(b) Public wage increased sought by unions is from 2-4%...
(c) The method used to calculate gas prices was found to include double counting... aaauuuggghhh! they are going to revise the formula and implement the new pricing structure in March... Even with the significant reduction of 103 clones (approx.. 17%), CR has the highest gas prices in the Americas and only Europe is higher...
(d) Government is implementing a new tendering system... one of many attempts to improve efficiency and effectiveness... They are going to use RACSA to administer… RACSA is a government agency, bankrupt morally, financially, and technically... It has no job so they found one... government agencies never die... they are given new life support systems which they continue to crush over and over again...
1. Wendy's has left... overnight the Wendy's chain was closed due to economics. We would go quite regularly... we'll miss them.
2. Tourism: an important industry which is now and has been lagging for a number of years. CR is no long the cheap destination it used to be and the word has gotten out. CR is beginning to realize that with Cuba opening up, tourism in CR will face strong headwinds.
3. Moin Container Port: environmental challenges still exist but from this article, it would appear that construction is imminent. The subtitle about fuel prices is only partially the case... the other reason is double counting (see above comment) and government waste.
4. CAJA role back: the previous ruling was ludicrous but it is exactly the type of stupidity which drives expats out of CR and reversing it still leaves uncertainty re. the next stupid decision.
5. International conference: this list of attendees reads like Spanky and Our Gang... chaos will reign, money spent on hot air, and nothing of value will have been accomplished at the end of the day.
6. Relief Payments: want to bet the rice farmers get the bulk of the funds? Who in their right mind would encourage water intensive crops in a semi-arrid environment?
7. Gas prices: they dropped by 103 colones per liter... the cost is now about 60% of what it was several months ago. And there is likely to be another small drop next month. In addition, the review board found errors (double counting) in the previous formula used to calculate the cost of gas... that is suppose to be changed.
8. SouthWest Air Lines: comes to CR with cheap fares and new areas of departure / service...
9. Cost of Electricity: regardless of the drop in the cost of oil, ICE has managed to get an increase. Yet electricity is still cited as one of the cost facts driving mfg. out of competitiveness. ICE, and AyA, are stronger than the government... they have been around for years while the government is only around for 4 years...
1. Wendy's is Leaving CR

Say goodbye to your favorite redhead. Wendy's is leaving Costa Rica after eight years, according to a statement on the company's local Facebook page. Looks like aficionados of the franchise will have to dip their fries in a McDonald's shake instead of a Frosty from now on.

The daily La Nación reported that the hamburger chain's decision to shutter operations here left 110 people out of work. The company, operated by Grupo Raventós, had already closed restaurants on Paseo Colón, in San José, and Cartago, in August, the newspaper reported. Thursday evening was the last night other locations in Heredia, Alajuela, Avenida Central in San José, and Santa Ana were open, along with restaurants in mall food courts around the Central Valley.

The sign had already been removed and the windows papered over at the Avenida Central location on Friday. A sign plastered to a metal door read, "Thanks so much, Costa Rica!"

Mario Carvajal, operations manager for the chain in Costa Rica, told La Nación that the fast-food market is very tight and the company was unable to compete with the lower prices of its competitors while maintaining quality.

A study Carvajal cited said that some 61 percent of Ticos surveyed said they valued price over quality when it came to their fast food.
2. Tourisim Kicks off Despite High Cost

John Cross was enjoying his first day in Costa Rica, but the Bath, England native was already showing the early signs of a sunburn on his brow.

"We came to Costa Rica for the nature," Cross said in the Plaza de la Cultura in downtown San José. "It's quite popular in England right now."

But when the conversation steered toward the costs of traveling in Costa Rica, Cross was doubtful that he would have made the same decision if he knew how expensive the country was.

"It's similar to prices back home, so we kind of realized that it wasn't cheap," he said, noting that after traveling in Asia, he was surprised by the prices here.

Statements like these are what worry Tatiana Cascante, executive director of the Costa Rican National Tourism Chamber (CANATUR). Cascante told The Tico Times in a telephone interview that high operating costs, especially electricity, were a threat to Costa Rica's reputation as an affordable tourist destination.

The high cost of doing business in Costa Rica is a national problem, Cascante said, not just something affecting the competitiveness of the tourism sector. More than 61 percent of Costa Rican businesses agree, according to the latest quarterly business confidence survey. The Union of Private-Sector Chambers and Associations' third-quarter survey showed that 61 percent of Tico businesses surveyed saw a significant increase in their cost of doing business, especially when it came to energy prices.

Flora Ayub, executive director of the Costa Rican Chamber of Hotels, told The Tico Times that up-and-coming destinations like Nicaragua and Cuba posed a serious threat to Costa Rica's ability to continue attracting tourists from the United States, the country's most important market, she said.

"Costa Rica is expensive," Ayub said in a telephone interview, but added that for the moment the country still holds an edge over its Central American competition when it comes to safety and customer service.

When The Boston Globe published a list of its top destinations for 2015 with the snarky advice to "Forget Costa Rica" in favor of Nicaragua, national media wailed that Costa Rica was on the verge of losing a chunk of its $2.2 billion tourism industry.

The Costa Rican colón has depreciated roughly 10 percent against the dollar in the last year. This news might catch the eye of some thrifty travelers trying to maximize their dollar, but Cascante noted that many tourist businesses denominate their prices in U.S. dollars, eliminating potential savings in the exchange rate.

Christoph Wolf, who had been traveling across Costa Rica with his wife and two daughters for the last three weeks, enjoyed the afternoon's sun and breeze in Parque Morazán when he spoke with The Tico Times. Wolf said he had traveled to Belize, Honduras and Guatemala before this trip to Costa Rica and agreed the country was more expensive but still cheaper than his native Switzerland.

Backpackers and others might bemoan the rising prices, but Wolf saw a premium, especially for families: "I like that Costa Rica is a quite safe country. The standard of living is high enough that there's not a lot of criminality, so I'd say it's a fair tradeoff."
3. Megapuerto winds of change blowing in the province of Limón/

Like a ship that arrives at a good grip, the future mega port in Moin dropped anchors to bring winds of change to the province of Limón.

With two years of delay, construction will begin on January 19, after overcoming various legal and environmental processes favored by his detractors, mainly workers union Japdeva.

The last hurdle that exceeded the plan was environmental viability. The National Environmental Technical Secretariat (Setena) gave the nod to the firm APM Terminals 17 last December and said it met all the requirements to start.

For the first six months of construction, the Dutch company will hire 350 people, a number that will double by the end of this year. And after two years will be 1,000.

Construction equipment operators, welders, foremen, fierreros, laborers, flaggers, chargers, mooring, officers will be those first employed on the project.

Emos Davis, president of the group Community Port Limon, said hundreds of limonenses are preparing for the shipping company and new jobs.

The spring of nearly 80 hectares, raise the foreign company in 2011 won the concession contract to operate the port for 33 years.

The construction of the first phase will take two years. At that time we shall have an artificial island to serve large boats and capacity.

The spring of the Board of Port Administration and Economic Development of the Atlantic Coast (Japdeva) serves 2,500 container ships today. The new port, with the depth of draw which will receive 8,000 container ships.

The promise of the foreign company is to meet each ship in 13 hours compared with 50 hours in average delay state Moin port.

It will have a total of nine higher than the National Bank building in downtown San Jose gantry cranes.

Improve the rates payable by shipping companies to dock in the country. Today, unload a container in Moin the shipping costs about $ 125; that amount must be added charges for services such as crane use, storage, freight and security, which could duplicate it.

APM Terminals would charge $ 223 for all the said service.
4. Expats win relief from Caja denial of spousal ties
By the A.M. Costa Rica staff

The nation''s public health provider now promises that it will not discriminate against family members of foreign residents.

Expats who hold residency are required to affiliate with the provider, the Caja Costarricense de Seguro Social. Some were enraged when they found out the Caja was refusing to provide health insurance to spouses or other close family members under the same policy as the principal enrollee.

The Caja said that the spouse or other family member had to enroll individual and pay an additional fee. That extra fee was not required of Costa Ricans who were being insured under the policy of family member.

The Caja officials blamed the flap among foreigners on a misinterpretation of the regulations and said an effort would be made to find those who had been denied coverage. The Caja also said that training would be provided for workers at clinics who are the people who do most of the enrolling.

The Caja officials who issued the statement were María Eugenia Villalta, medical director, and Gustavo Picado, director of finance. Caja workers posted the new information Wednesday on the agency's Facebook page.

The statement cited a Sala IV constitutional court case without further explanation. The case was decided this year, according to its number, 2015-0000018, and the text was not available. The files of the Poder Judicial appear to be behind due to the holidays. The case is believed to have addressed this issue.

The Caja faced a flurry of threats of constitutional court cases in which expats would claim they were entitled to the same rights as citizens.

Among the entities that were about to file appeals is the Association of Residents of Costa Rica. Ryan Piercy, the association's general manager, said in mid-December that an appeal was in the works. The association maintains a group policy for expats who are members.

Piercy speculated Wednesday that any expat who had paid for additional insurance probably would not get back money. That's how the government works, he said.

However, those in the association group who were forced to pay extra will be reimbursed from association funds, he said.

The amount involved for foreigners is not small change. Great Sunrise Enterprises, S.A. said in December that expat spouses should expect to pay about half of what the principal insurer does. That firm also provides residency services for expats.

Most expat who are pensionados or rentistas sign up for insurance, and their premium is based on their estimated monthly income. Of course, permanent residents who are employed receive insurance through their workplace.

The Caja officials said that the situation of expats was considered by the board of directors in October.

They said that to receive coverage an individual must have some form of provable relationship with the principal insurer and not have a personal income.

The person to be covered needs to have lived with the insured for at least three years, the Caja said.

In its statement, the Caja reaffirmed the fact that the Costa Rican Constitution says that foreigners have the same duties and rights as Costa Ricans with the exception of limitations established by the Constitution or laws.
5. Nation gears for summit of 32 visiting heads of state
By the A.M. Costa Rica staff

Officials are preparing to host 32 heads of state for the third annual summit of the Community of Latin American and Caribbean States.

This is the organization set up in part by Venezuela's Hugo Chávez as a competitor to the Organization of American States. The United States and Canada are not members.

Meetings will be from Jan. 24 to Jan. 29, and the heads of state will be here Jan. 28 and 29. Costa Rica assumed the presidency of the organization in Havana last January. Ecuador takes over the leadership during the session here. Ecuador's foreign minister, Ricardo Patiño, was here Wednesday discussing the transition with Manuel González, the minister of Relaciones Exteriores.

Security officials say they are fielding 750 officers and 500 vehicles to guard the visitors. The organization is called Celac for short. That is derived from the Spanish name, the Comunidad de Estados Latinoamericanos y Caribeños.

About half the countries involved have English as the local language.

Celso Gamboa Sánchez, the security minister, said the police effort was 30 times greater than any before. And he specifically included the visit by Barack Obama, the president of the United States.

Expats probably should plan on avoiding the metro area, if possible those two days as well as the highway from Juan Santamaría airport.

When the summit took place last year in Havana, as delegates talked about human rights, the Cuban government detained a number of democracy advocates.
6. Government allocates $28.5 million to mitigate impact of drought
By the A.M. Costa Rica staff

The government is allocating 15.5 trillion colons or about $28.5 million to mitigate the impact of the continuing drought in the north Pacific and elsewhere.

The money will be taken from a number of public institutions, said the national emergency commission, which is coordinating the effort.

A plan devised by the agency and other institutions seeks to provide humanitarian and social assistance, protect the health of humans and animals, the vegetation and water sources and accumulate supplies of water.

The weather phenomenon El Niño is reducing the rainfall in much of the country, and farmers and ranchers are suffering. The emergency commission, the Comisión Nacional de Prevención de Riesgos y Atención de Emergencias, has declared an alert for 19 cantons that range from Atenas to La Cruz in the far north Pacific.

The Instituto Costarricense de Acueductos y Alcantarillados has created the Agua para Guanacaste plan to provide water to the stricken areas. This includes drilling more wells.

This will be the second year in a row that the areas were short of rainfall. Many cattlemen already have moved their herds elsewhere or to the slaughterhouse. Some have low expectations of government aid.

Acueductos y Alcantarillados already has issued a general warning that drinking water may be short all over the country.

The drought also has an impact on the nation's hydropower system, and the Instituto Costarricense de Electricidad will be burning more bunker petroleum in its thermal plants.
7. Regulator publishes 'historic' drop in gas prices amid global oil oversupply

No need to keep driving on fumes, as Costa Rica's gasoline regulator announced "historic" price cuts at the pump starting Thursday. Plus gasoline goes on sale at ¢552/L ($1.02), with ¢580/L ($1.07) for Super and ¢522/L ($0.97) for diesel, according to prices ARESEP published in the official newspaper, La Gaceta.

The price plunge brings the cost of fuel in Costa Rica down by its largest amount since January 2009, almost 16 percent compared to December 2014, the Public Services Regulatory Authority (ARESEP) said in a statement Wednesday. ARESEP announced that it would lower the cost of Super gasoline ¢109, Plus ¢103 and diesel ¢85 – more than the National Oil Refinery, RECOPE, originally requested in December 2014.

As global oil prices tumbled 60 percent since June 2014 to six-year lows, Costa Rican prices for Super gasoline fell only 12 percent, from ¢787/L ($1.46) in June to ¢689/L ($1.27) in December 2014, according to Tico Times calculations based on figures provide by RECOPE. Plus fell nearly 14 percent and diesel 12 percent during the same period.

The announced January price cuts bring gas prices down 26 percent from its annual peak in June 2014.
8. Deep Discounts: Southwest Airlines starts daily service to Costa Rica on March 7

Southwest Airlines and the Costa Rican Tourism Board confirmed Wednesday that the discount carrier will begin daily, nonstop service to San José's Juan Santamaría International Airport from Baltimore, starting March 7.

Southwest Airlines and the Costa Rican Tourism Board (ICT) confirmed that the discount carrier will start daily service to Juan Santamaría International Airport outside San José from Baltimore, effective March 7, according to officials at a press conference Wednesday morning.

Southwest Executive Vice President Robert Jordan said that customers can expect fares as low as $130 one way from Baltimore-Washington International Airport, and that the company's discount reputation would hold true abroad with fares on average 30 to 40 percent lower than their competitors.

Baltimore daily service will be on Boeing 737-700 jets with a capacity of 143 passengers, according to a statement from ICT. Jordan said that customers could connect to 60 destinations on 200 daily flights out of BWI.

President Luis Guillermo Solís, center, meets with Southwest Airlines Executive Vice President Robert Jordan, left, and Tourism Minister Wilhem von Breymann on Wednesday to discuss new flights to Costa Rica.

The discount carrier also plans to start offering direct service from Houston Hobby Airport sometime in October.

"We have millions of current customers in the United States, and we can see where they want to travel, and we can see – based on their requests – that Costa Rica was at the top of their list," said Andrew Waterson, Southwest vice president of network planning and performance.

"Our international expansion in the first phase is geared toward tourist destinations, and San José represents a different kind of tourist destination – not just a beach, but also business and visiting relatives travel. So, Costa Rica looked like the best fit for our market," Waterson added.

Tourism Minister Wilhem von Breymann said that the new routes would help bolster Costa Rica's relationship with the United States, the largest single source of visitors to Costa Rica. According to the ICT, 90 percent of U.S. tourists arrive in Costa Rica by air and spend an average of more than $2,200 per person, per visit.

Tourism industry representatives have been increasingly concerned about the rising costs for travelers in Costa Rica, but Waterson said the country continues to provide greater value than many other destinations.

"There are many countries, many islands that have a great beach, but you can't leave the hotel. Costa Rica offers a diversity of visiting nice beaches and hotels, but also of seeing more of the country in a safe manner, and that's priceless," Waterson said.

President Luis Guillermo Solís said Southwest's announcement and his intention of opening a direct flight to Costa Rica from China were part of a larger policy to make Costa Rica more connected to the wider world. The president added that the announcement was once again proof that Costa Rica is an attractive, reliable market for companies to invest.

Southwest already offers international service to Aruba, Jamaica, the Dominican Republic and Mexico. Service to Belize City is expected later in 2015.

Fans of the carrier's distinctive cattle-call boarding policy can look forward to seeing the same queues here in Costa Rica, Waterson said.

"We can't wait to show you that Southwest hospitality," Jordan said.
9. Electrical rates to go up 6 percent
By the A.M. Costa Rica staff

The price regulating agency said Thursday that the CompaÒÌa Nacional de Fuerza y Luz would get a 6 percent boost in rates. The percentage is about half what the company sought, said the price regulating agency.

The agency estimated that the average home would pay 1,100 colons more under the new rates. That is a bit more than $2.

The new rate will go into effect when it is published.

The company covers much of the Central Valley but not Heredia or Cartago, which have their own utility companies.
Brian, Lita, the Late Hugo IV, irreverent Vicka, the pigeon toed parrot, Chico II and Chica II