Dear friends,
When I started Residencias Los Jardines, I started writing a weekly news letter -determined to tell all the good, bad, and the ugly. I knew some readers would be interested in the construction process. I expected others might be interested in the lifestyle of two people who had decided to live outside the box. For others, the adventures of Lita, the parrot and the cat took on an entertainment saga all its own.
Residencias Los Jardines is finished. We periodically have resales and rental availability. Some readers may be interested in this information.
Brian Timmons
DEVELOPER / PROPERTY MANAGER
Residencias Los Jardines / https://www.residenciaslosjardines.com info@residenciaslosjardines.com
ResidenciasPropertyManagement@gmail.com
Featured house this week
Paradisus Condos / Rohrmoser
FOR SALE / FOR RENT
Residencias Los Jardines
Property Management, Rentals, Re-Sales
Market Activity
Sales: no inquiries.
Rentals: numerous calls, one rental.
FOR SALE
Unit #114: $235,000 / See Unit
Unit #116: $214,000 / See Unit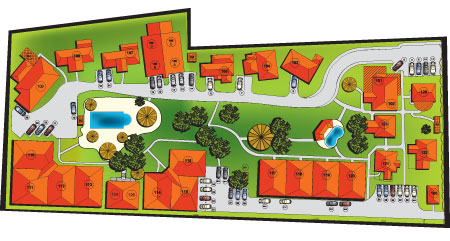 HOUSES FOR SALE
UNIT #114
FOR SALE $235,000
Total Area (Sq Ft): 1290
Total area (Sq M): 120
Bedrooms: 2
Bathrooms: 2
Floor(s): Single Floor
Type: Attached
Furnished: Yes
This 1,290 sf. (plus covered parking for one car and two lockers 67 sf.) single story, semi detached house, with garden terrace, two bedrooms is a beautiful executive style home. This home consists of two large bedrooms one with six piece en-suite bathroom with additional access to separate full shower. Each bedroom has large closets with extensive built-ins for personal organization. The vaulted living room and bathroom ceilings provide a feeling of grandeur while allowing the warmer air to rise and exit through the ceiling ventilating system. There are four TVs (one in each bedroom, one in the living room and one in breakfast / dinning room.) This is a beautiful well appointed home.
UNIT #116
FOR SALE $214,000
Total Area (Sq Ft): 1290
Total area (Sq M): 120
Bedrooms: 2
Bathrooms: 2
Floor(s): Single Floor
Type: Semi-Attached
Furnished: Yes
This 1,290 sf single floor home includes a 300 sf front terrace plus parking for one car and a separate, secure storage locker. It is and end unit and therefore attached on only one side by a 6 inch cement demising (common) wall, which prevents sound transfer.
Our Lives
WEATHER: The high pressure over the Caribbean has meant strong winds, lots of clouds, and cool temperatures. This is the time of year that the orientation of one's house / terrace is important.
CR makes world news... in a bad way: a 110' tourist catamaran sunk in the Pacific a couple kilometers off shore. It had left from Los Suenos to Tortuga Island with 106 passengers on board. The seas were rough due to high winds and the point of sail was lousy. The 2007 built catamaran seems to have split apart. Three tourists -1 US, 1 Brit, and 1 Canadian didn't make it.
Cars: 18.8% of costaricans own cars… but yet there are 1,224,000 registered cars for 4.5 mil.people which is 846,000 people owning cars... Half the car owners own a second car...
News Items of the Week
Comments:
​1. Inflation: according to this, the rate of inflation is decreasing. Given that CR has become more expensive, this is a good thing for all. It seems the Central Bank is intending to keep the colon/ dollar exchange rate around 540 this year. We'll see.
2. Earthquakes: lots of them which is normal... We like lots of little ones...
3. CR and China: CR is trying to hedge it's bets by encouraging more trade and economic cooperation with China. Again, we'll see...
4. AyA: This article questions the motives and the assessment of AyA. I think the author is on the ball. Where AyA or any government entity is concerned, a health skepticism is in order.
5. Gas: even in CR, the price is coming down... but we are still very high.
6. Moin Container Terminal: the fight continues. I would think that Mersk, the winning bidder, would begin having 2nd. thoughts about going ahead given the government's track record on mega projects with foreign companies...
7. Tourist Boat Disaster: the investigation had just started when this article was written. Subsequent articles indicate that the hulls separated from the platform. The boat had just been inspected.
1. Inflation was 5.14 percent, but there is good news
By the A.M. Costa Rica staff

Accumulated inflation in 2014 was 5.13 percent, but the good news is that the trend is down.

The Instituto Nacional de Estadística y Censos computes the change in consumer prices each month using 292 goods and services. The agency said Monday that inflation in December took a dip of nearly a quarter percent compared to November. In fact, the bulk of the inflation, some 4.14 percent took place in the first six months of 2014, the institute said.

In the last six months of the year, the percentage was just 0.94 percent.

Prices are expected to decline in many areas due to the drastic plunge of petroleum prices.

Shoppers may not have noticed the fact, but the institute said that clothing, shoes, alcoholic beverages, cigarettes, transportation, education, communications, household goods and domestic services declined slightly in December. That resulted in a dip of 0.21 percent compared to November, the Institute said.

Increases in the price of fuel earlier in the year caused transportation prices to rise 3.92 percent. This included bus fares, taxi fares, gasoline prices and the acquisition of vehicles, said the agency.

Most manufacturers use gasoline or diesel to some extent if only to move product to market.

For many expats the inflation was offset by an increase in the value of the U.S. dollar earlier in the year.
2. Most earthquakes in 2015 were not felt by humans
By the A.M. Costa Rica staff

More than 4,000 earthquakes took place in 2014 in Costa Rica, but only 122 were strong enough to be felt by humans, said the Observatorio Vulcanológico y Sismológico at Universidad Nacional in Heredia.

Three of the stronger quakes were not even in Costa Rica, the Observatorio noted. These were the June 16 quake with a magnitude of 5.6 that had its epicenter at San Andrés island in the Caribbean, the Sept. 16 5.2-magnitude quake in Panamá and the Oct. 13 quake in El Salvador. That one was estimated at 7.3 magnitude.

There were a flurry of quakes in the Central Valley. The most notable, according to the Observatorio, was a 4.2-magnitude event July 24 in Guácima de Alajuela, one July 25 near Cartago Centro that registered a magnitude of 4.5 and a Nov. 1 event in Desamparados that had a magnitude of 4.2. Although these were relatively modest earthquakes, the Observatorio said that because they took place in populated areas, there was widespread concern.

The annual report said that the total number of quakes in 2014 in and around Costa Rica were 5,986, significantly lower than the 2014 total of 7,439, said the Observatorio. In 2014 there were 155 quakes that were felt by humans, it noted.
3. Costa Rica and China: economic direction

President Luis Guillermo Solís called for a substantive shift in Costa Rica's relationship with China seven years after the Central American country opened diplomatic relations with the world's second-largest economy, according to an audio statement recorded in Beijing Monday evening local time.

"[Costa Rica wants] a political exchange that is deep and sincere, but also has results in the medium and long term beyond immediate gestures, like police cars, soccer balls or a beautiful stadium, like the National Stadium," Solís said, referring to the 35,000-seat $100 million stadium and 450 police cars China donated.

"Seven years is a short time, [but] it's time to change the dynamic of this relationship," the president said, hours before his meeting with Chinese President Xi Jinping.

Solís said he wants to see the Costa Rican and Chinese economy more closely linked, listing special economic zones, infrastructure investment, technology sharing, and greater educational and cultural exchanges as some of his goals for the future of the relationship.

These goals are lofty when compared to the current trade relationship between the small, peace-loving country and the ascendent superpower. Foreign Trade Minister Alexander Mora acknowledged in a recent interview with The Tico Times that much work is needed on both sides of the relationship in order to create greater investment and economic opportunity. According to the Foreign Trade Ministry's 2013 figures — the most recent year available at the time this article was published — China invested just $6.1 million in Costa Rica that year, less than Guatemala, which invested $8.2 million. More than $1.2 billion in foreign investment flowed into Costa Rica from the United States in 2013.

Following the global financial crisis of 2008, Costa Rican exports to China plummeted, while Chinese imports continued to make strong inroads in Tico markets, leading to a significant trade imbalance.
4. Are one million people really receiving feces-contaminated water?
By Timothy Williams, Editor

December 17th, 2014 (InsideCostaRica.com) On December 12th, the Costa Rican Institute of Aqueducts and Sewers (AyA) made a stunning announcement: one million people in Costa Rica are receiving tap water contaminated with fecal matter.

AyA seemed to point the finger at community water systems, known as ASADAs, for the problem. Some 82% of people living in rural areas of the country rely on these community water systems for their water supply.

While these community water systems no doubt have their share of problems – a September 2013 report by the Comptroller General's office indicated that 370 community-operated water systems in the country were contaminated with microbiological and other elements in excess of allowed limits and that as many as 1,350 do not chlorinate their water – AyA's stunning announcement begs the question: does AyA have an ulterior motive?

AyA has in the past used the issue of water quality as justification to take over these community water systems – in most cases gaining control of the water supplies on the cheap, as they have already been built and paid for by the communities which they serve.

And, when AyA takes over, most can expect higher water bills. Many ASADAs actually provide water unmetered – residents pay a fixed monthly amount regardless of their consumption, in many cases as little as ¢4,000 per month. When AyA takes over, they bring water meters with them.

In October, residents in Brasil de Mora, in Cuidad Colon, were up in arms after seeing their water bills increase by as much as 1,000% when AyA took over their ASADA. Families who were previously spending ¢8,000 per month for their water began receiving water bills for as much as ¢60,000 after the takeover.

Worse still, AyA-operated water systems have had problems of their own. As you read this, thousands of residents in Golfito are receiving arsenic-contaminated water well in excess of allowable limits – and they are receiving it from AyA.

Arsenic contamination has been an ongoing problem for AyA. Communities such as Bagaces in Guanacaste have been receiving arsenic-contaminated water for years. As a last resort, Costa Rica's Ministry of Health had to intervene, distributing barrels filled with rusty nails to Bagaces residents in September 2013, which supposedly acted as arsenic filters, while waiting for AyA to address the problem. AyA only got serious about the problem after a ruling from the Constitutional Court, that only came about after Bagaces residents took to the streets in protest.

AyA, in Friday's announcement, implied that in effect, anyone receiving water from a community ASADA is receiving feces-contaminated water. However, no list of the communities affected was distributed.

Many communities take a sense of pride in their community water systems. Local residents take care of repairing and maintaining the systems themselves, and trust their own neighbors who manage the systems (and consume the same water as they do) to provide clean, safe water. While there is no doubt there are problems with some of these systems, and they could be improved, could AyA's dire warning of a million people consuming feces-contaminated water be part of a larger goal of the State-run institution?

We will likely find out in 2015, when AyA says it plans to "address the problem."
5. Petroleum monopoly predicts cut in gas prices of about 9 cents a liter
By the A.M. Costa Rica staff

The Refinadora Costarricense de Petróleo predicts a drop in the price of motor fuel in February.

Despite the drop in petroleum prices of more than 50 percent to below $50 a barrel, the national refinery said it sees a cut of 47 to 51 colons in a liter of gasoline and 53 colons in diesel. 50 colons is about nine U.S. Cents.

The refinery has imported all its gasoline since 2011.

The February date was used because the pricing system of the Costa Rican regulator takes more than a month to be effective. There ae hearings and publication.

The price of gasoline is based mostly on the world price of petroleum and the exchange rate with the U.S. dollar. Costa Rica has the highest fuel prices in Central America.
6. Environmentalists challenge Moín terminal OK
By the A.M. Costa Rica staff

As expected, environmental activists have taken the first steps to challenge a permission given to APM Terminals to begin work at Moín.

The action was by Alvaro Sagot and Mauricio Álvarez of the Federación Costarricense para la Conservación del Ambiente.

The $1 billion terminal project received approval from the Secretaría Técnica Nacional Ambiental just two days before the government closed for Christmas.

The two men base their appeal on the way in which the approval was granted and that the leadership of the environmental agency disregarded what its technical staff said.

Basically the appeal for an administrative rehearing puts in place the groundwork for further court challenges.

The Dutch firm that is to build the container handing terminal as a concession is ready to start work. The appeal by the Federación Costarricense para la Conservación del Ambiente might delay that.

The environmental organization has a long history of opposing public projects, including open-pit gold mines, hydroelectric dams and oil drilling.
7. Investigation begun into sinking of tourist catamaran
By the A.M. Costa Rica staff

With 106 persons safely on land and plans being made to handle the remains of three dead passengers, the investigation has begun.

Prosecutors are in charge in an effort to determine if there was criminal liability in the sinking of the tourist catamaran EcoQuest. The 27.43-meter (90-foot) triple decker boat overturned in strong winds and rough seas Thursday morning and quickly sank.

The dead tourists were all seniors. They were identified as Edna Oliver, 68, of the United States, Sharon Johnson, 70, of Canada and Ivor Stanley Hopkings, 80, who held British nationality.

There were no more deaths because the tour boat held five lifeboats and lifejackets for all passengers and crew. The wife of the dead British tourist complained that the boat crew members were slow in handing out life jackets.

Casa Presidencial later said that this was true and that the passengers were not given instructions for the use of the life jackets.

Autopsies will show the causes of deaths.

Many of the survivors bobbed around in their life jackets for up to 90 minutes before being pulled from the Gulf of Nicoya. Some passengers made videos of the rescues. Some went to Caldera and others returned to the EcoQuest home port of Los Sueños Marina.

Many were foreign tourists.

vThe investigation will center on the decision of the boat captain, identified by the last name of Tentorio, to sail into the gulf during strong winds. In addition, the actions of the crew will be studied.

One survivor said that the lower windows of the craft were open so that as the boat rocked back and forth, sea water entered. The way the boat overturned is evidence that there was a large quantity of water swirling around inside.

Omar Lizano of the Centro de Investigación en Ciencias del Mar y Limnología at the Universidad de Costa Rica said that there were winds of 10 to 18 kph with gusts of 40 kph.

The boat, which now is in about 450 feet of water, was owned by Global Trust Firm S.A. The boat was believed to have been operated by the firm Pura Vida Princess. Luis Fernando Coronado, director of the División Marítima Portuaria, said the boat was relatively new and built in 2007. He said the hulls were fiberglass.

The boat was last inspected Nov. 6 and had a seaworthy permit until next October, he said.

The trip Thursday was a common one to Isla Tortuga, also in the gulf of Nicoya. The mishap took place some seven miles off Punta Leona in the Central Pacific. Passengers paid about $125 to spend the day enjoying the beach and water at Isla Tortuga.

Two passengers ended up in hospitals. Cruz Roja workers checked out survivors as they came ashore. Most were barefoot.

The rescue involved the Servicio de Vigilancia Aérea and eventually eight boats of the Servicio Nacional de Guardacostas that came from Caldera and Quepos. Private boats in the gulf also helped with survivors.

The boat operator had insurance with the Instituto Nacional de Seguros, which is handling claims.

Prosecutors were interviewing the captain and the first mate Thursday afternoon.
Brian, Lita, the Late Hugo IV, irreverent Vicka, the pigeon toed parrot, Chico II and Chica II