Dear friends,
When I started Residencias Los Jardines, I started writing a weekly news letter -determined to tell all the good, bad, and the ugly. I knew some readers would be interested in the construction process. I expected others might be interested in the lifestyle of two people who had decided to live outside the box. For others, the adventures of Lita, the parrot and the cat took on an entertainment saga all its own.
Residencias Los Jardines is finished. We periodically have resales and rental availability. Some readers may be interested in this information.
Brian Timmons
DEVELOPER / PROPERTY MANAGER
Residencias Los Jardines / https://www.residenciaslosjardines.com info@residenciaslosjardines.com
ResidenciasPropertyManagement@gmail.com
Featured house this week
Paradisus Condos / Rohrmoser
FOR SALE / FOR RENT
Residencias Los Jardines
Property Management, Rentals, Re-Sales
Market Activity
Sales: one inquiry.
Rentals: 126 was leased.
FOR SALE
Unit #114: $235,000 / See Unit
Unit #116: $214,000 / See Unit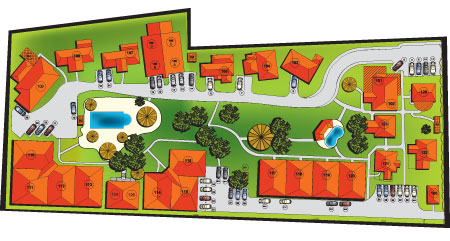 HOUSES FOR SALE
UNIT #114
FOR SALE $235,000
Total Area (Sq Ft): 1290
Total area (Sq M): 120
Bedrooms: 2
Bathrooms: 2
Floor(s): Single Floor
Type: Attached
Furnished: Yes
This 1,290 sf. (plus covered parking for one car and two lockers 67 sf.) single story, semi detached house, with garden terrace, two bedrooms is a beautiful executive style home. This home consists of two large bedrooms one with six piece en-suite bathroom with additional access to separate full shower. Each bedroom has large closets with extensive built-ins for personal organization. The vaulted living room and bathroom ceilings provide a feeling of grandeur while allowing the warmer air to rise and exit through the ceiling ventilating system. There are four TVs (one in each bedroom, one in the living room and one in breakfast / dinning room.) This is a beautiful well appointed home.
UNIT #116
FOR SALE $214,000
Total Area (Sq Ft): 1290
Total area (Sq M): 120
Bedrooms: 2
Bathrooms: 2
Floor(s): Single Floor
Type: Semi-Attached
Furnished: Yes
This 1,290 sf single floor home includes a 300 sf front terrace plus parking for one car and a separate, secure storage locker. It is and end unit and therefore attached on only one side by a 6 inch cement demising (common) wall, which prevents sound transfer.
Our Lives
WEATHER: The high pressure over the Caribbean has meant strong winds, lots of clouds, and cool temperatures. This is the time of year that the orientation of one's house / terrace is important.
Blahs!!! Post Christmas / New Year's blahs have set in. The hammock and cocooning is looking really attractive this past week.
Cars and Traffic: The roads are virtually empty... many are still at the beach and others are cocooning as well, and some are out of money An interesting (to me) piece of info. came out of an article yesterday: There are 1,244,000 cars registered in CR; there are about 4.5 mil. people. That is a ratio of 1car to each 3.6 people. This is speculation: Probably 25% live in poverty so probably don't have a car. There are virtually the same number of drivable roads now as 15 years ago--some are paved, some are wider but virtually the same number and same mileage...
Garden: This is the time of year the garden needs lots of attention.. the wind and lack of rain means watering, weeding, cutting, spraying, building mtnc. and close supervision as well. Unfortunately, we have had a very spotty record on all these over the past several years. A general survey from frozen eyes doesn't notice what's missing, was, or should be. Upon close inspection the warts and wants are noticeable. We continue to wait for the minutes of the shareholder meeting held Dec. 7... there were two agenda items--this could have been written and out in an hour...
Perhaps I should roll over, drift away and accept that not all have the same standards. However, when I came here 14 years ago, I noticed that lowering standards was a common N. Am. trait... so far I haven't succumb but life can be easier and conflict can be avoided.
New Year's Eve: we enjoyed the fireworks spectical from the 14th. floor of Paradisus. We have a commanding view of Alejuela, Pavas, Escazu... about half of the Greater San Jose Central Valley area. It was windy but clear. while there were some false alarms, the real works began just before midnight and extended for a 1/2 hour. Thousands of local displays all around... it was amazing and wonderful to view from the balcony...
News Items of the Week
Comments:
​1. Minimum Wage Increases: A slight mandated increase over the previous 6 mo.I found it interesting that a welder receives the same wages as an experienced gardener. The scale is adjusted for education...don't think most N. Am. grads would be happy with their min. wages here and some maintain that the cost of living isn't that different than N. Am. Costa Rica is not a good place to work for wages and it is a difficult investment environment as well. The local adage that if one wants to leave CR a millionaire, he needs to bring $2 mil. still applies.
2. Best and Worst of CR -according to others... this list is short but accurate (in my opinion) as far as it goes.
3. Business Environment in 2015: Business confidence has decreased, people are unsure of the direction the government will take, a number are concerned about the cost of doing business, eg. cost of electricity continues to worry, the continuing lousy infrastructure with no real plans to fix, the high government spending and it's effect on interest rates... all contribute to holding off on investment, expansion, and hiring. I can't help but think that some in the travel industry will begin to consider future opportunities in Cuba...
1. Labor ministry lists minimum wages for next year
By the A.M. Costa Rica staff

The labor ministry has posted the new minimum wages by job category for the first half of 2015. The list is HERE!

The new salaries show an increase of 2.01 percent over the scale that was in effect for the last half of this year. The one exception are domestic workers who received a 2.5 percent increase. The new monthly minimum salary for domestic workers is 169,142.26 colons, about $317.

The complexity of the salary scale can be seen by the five levels for secretary. The monthly salaries in colons range from 320,961.11 (about $602) to 608,355.75 (about $1,141).

Periodistas are at the top of the list with a monthly minimum salary of 750,481.33 colons (about $1,408). Near the bottom of the list are coffee pickers who get 29.77 colons per kilo of beans and stevedores who load boxes of bananas (1.30 colons per) and those who are paid by ton (80.78 colons per).

Education is a key indicator of minimum salaries. A graduate of the Instituto Nacional de Aprendizaje receives at least 336,344.36 colons ($631) regardless of specialty.

Someone with a university licenciado or master's degree gets 608,355.75 (about $1,141) regardless of the job.

Salaries differ dramatically from First World standards for craftsmen. Here an electrician gets 10,531.09 colons ($19.76) a day. That is the same as for an experienced gardener. A welder gets a daily wage of between 10,531,09 colons and 12,421.15 colons ($23.30), depending on the assignment.

The Ministerio de Trabajo y Seguro Social contains a salary council that arbitrates the twice-yearly raises between labor and management.

The higher salaries for persons with advanced educational degrees generally excludes them from many jobs.

Just because there is a minimum salary does not mean that employers cannot pay more for key workers. However, many work for the minimum because the salary is just the start.

Employers also know that they must pay the monthly quota for the Caja Costarricense de Seguro Social. That can be as much as 26 percent of the salary paid while the employee pays about 9 percent. Then there is the mandatory aguinaldo or 13th month Christmas bonus. In addition, employers have to pay for workman's compensation insurance in which the premium is based on salaries.

Some employers try to avoid these costs by claiming a worker is a contract employee. A visit from a labor ministry inspector can dash these hopes.
2. The best and worst of Costa Rica in 2014, according to everyone else

Every year travel magazines and survey authorities across the world hurl accolades at Costa Rica's beautiful beaches and seemingly happy people. This year was no different, but the predicted wave of praise was also accompanied with an unforeseen amount of criticism.

To acknowledge this, The Tico Times has adapted last year's "The Best of Costa Rica in 2013, according to everyone else" to include not just the good, but the bad and the ugly as well.

Travel
As always, Costa Rica was recognized this year as a top tourist destination. International Living Magazine still ranks Costa Rica a top retirement destination, and the country was ranked the most recommended travel destination by the Global Tourism Monitor Survey. In 2014, more people searched for Costa Rica on the popular search engine Bing than any other vacation destination. TripAdvisor included Costa Rica in its Traveler's Choice Awards, ranking Manuel Antonio as one of the best beaches and the Nayara Hotel in Arenal as one the best hotels in the world.

But not every traveler was enamored in Costa Rica in 2014. The editors at Ethical Traveler dropped Costa Rica from its list of top ethical travel destinations due to perceived transgressions in human rights and environmental protection.

Environment
Costa Rica's green image took a hit in 2014 as the country tumbled from fifth place to 54th in Yale's Environmental Performance Index due to changes in the index's criteria. But, at the same time, according to Costa Rica topped the region in the University of Notre Dame's Global Adaptation Index, which ranked the country's ability to adapt to climate change.

Human rights and quality of life
As in years past, Costa Rica ranked as the world's happiest country in 2014, according to the Happy Planet Index. The country also ranked near the top of America Quarterly Magazine's Social Inclusion Index, beating out the United States, and Costa Rica beat out a number of European countries in the Social Progress Index. The country's capital of San José was also shockingly ranked the second-best city in the region for doing business, according to the World Bank.

But while Costa Ricans are supposedly happy, their reporters are not. Reporters Without Borders dropped Costa Rica's press freedom ranking three spots and recent government spying scandals will likely warrant an even more significant drop next year.
3. Entrepreneurs moderate their investment goals for 2015

2015 will be a year in which employers plan to moderate their investment waiting for a better evolution of the Costa Rican economy as clearer direction of government of Luis Guillermo Solis.

This is clear from the responses of eight executives of companies that were interviewed by the Nation, and the outcome of the Business Barometer, conducted by consulting firm Deloitte.

The surveyed companies were Amazon, Hacienda Livestock Hurtado, Melones del Sol, Bridgestone de Costa Rica, Costa Rica's Craft Brewing Co., National Electricity Institute (ICE) and Banco Nacional (BN) and Bansol.

Meanwhile, Deloitte received 137 responses from executives of companies with more than $ 10 million in the last fiscal year turnover.

The results of the Business Barometer show that the previous November, 45% of the sample felt that the investment climate within a year would be worse. In May, 30% thought the same, an increase of 15 percentage points in just six months.

"The money to finance (productive) activities will be more complicated next year due to the eventual rise in interest rates in dollars, the reduction in the risk rating of the country and the Government's decision to increase spending by 17 %, "said Alan Saborio, managing partner of Deloitte.

The lower willingness to invest coincides with the decline in the Business Confidence Index of the Costa Rican Union of Chambers and Associations of Private Enterprises (Uccaep).

The trend of this indicator is reduced from the first quarter of 2014.

Despite the predominance of negative reviews, there are still a minority of employers or 15% according to Deloitte plans to allocate resources for new projects or improving production processes.

This is the case of signing Brew Costa Rica's Craft Brewing Company, which will open a new plant and launch a product next year, said Benjamin Chaverri, responsible for Marketing and Sales.

"We just invest in a new warehouse. We started with the opening of the restaurant with eight beers available at the same time, throughout the year and in constant rotation of styles at the brewery, "he said Chaverri.

In the ICE, Adolfo Arias, head of the Division of Infrastructure Management Telecommunications, confirmed that the state company will invest in a network of broadband access and modernization of those teams, as well as expanding service coverage cell phone.

Despite the increased pessimism, business received a rush of relief last December 23, with the news that the US economy reported for the last quarter, the highest growth in 11 years.

Return intact. The Deloitte study shows that the number of entrepreneurs who predict that the situation of their company in 2015 will be worse, going from 4.9% of views last May, 18% in November tripled.

This perspective leads to an inauspicious for hiring more staff stage.

In fact, firms consulted by the Nation, Amazon just confirmed the opening of 1,000 new jobs as part of the growth process of its operation in the country announced in previous October, highlighted Freddy Serrano, Communication manager of the multinational.

Other companies plan to maintain your return and hope not to have to reduce over the next 12 months.

"We maintain the form, make an effort not to cut only sustain existing staff," said Fernando Pinto, CEO of Finance Livestock Hurtado.

Electric bill. Among the business concerns, the principal has to do with the cost of the electricity bill has in its production and expect an active response from the Government.

"We expect a more positive management (government) energy level and improvements in infrastructure for domestic producers and exporters," said Ana Maria Arce, coordinator of Corporate Relations at Bridgestone Costa Rica.

Ricardo Garron, the company Melones del Sol, noted the difficulty faced to produce energy by using solar panels to reduce the cost of electricity.

In the financial area, Victor Eduardo Acosta, director of BN Development, said the main question is the articulation of the amendment to the Law of Banking System Development in the product offering for small and medium enterprises.

Also, executives questioned the lack of a clear direction of the current government, a situation that hinders business decisions, such as increasing investment.

In the Deloitte Business Barometer, half of the respondents disapproved of the president's Luis Guillermo Solis and described as "regular" government work in areas such as infrastructure and poverty reduction. Collaborated Patricia Leitón, Esteban Ramirez and Marvin Barquero.
Brian, Lita, the Late Hugo IV, irreverent Vicka, the pigeon toed parrot, Chico II and Chica II