Dear friends,
When I started Residencias Los Jardines, I started writing a weekly news letter -determined to tell all the good, bad, and the ugly. I knew some readers would be interested in the construction process. I expected others might be interested in the lifestyle of two people who had decided to live outside the box. For others, the adventures of Lita, the parrot and the cat took on an entertainment saga all its own.
Residencias Los Jardines is finished. We periodically have resales and rental availability. Some readers may be interested in this information.
Brian Timmons
DEVELOPER / PROPERTY MANAGER
Residencias Los Jardines / https://www.residenciaslosjardines.com info@residenciaslosjardines.com
ResidenciasPropertyManagement@gmail.com
Featured house this week
Paradisus Condos / Rohrmoser
FOR SALE / FOR RENT
Residencias Los Jardines
Property Management, Rentals, Re-Sales
Market Activity
Sales: one inquiry.
Rentals: one inquiry.
FOR SALE
Unit #114: $235,000 / See Unit
Unit #116: $214,000 / See Unit
FOR RENT
Unit #126: $675 mo. / Available Immediately / See Unit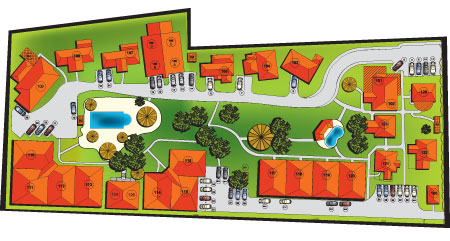 HOUSES FOR SALE
UNIT #114
FOR SALE $235,000
Total Area (Sq Ft): 1290
Total area (Sq M): 120
Bedrooms: 2
Bathrooms: 2
Floor(s): Single Floor
Type: Attached
Furnished: Yes
This 1,290 sf. (plus covered parking for one car and two lockers 67 sf.) single story, semi detached house, with garden terrace, two bedrooms is a beautiful executive style home. This home consists of two large bedrooms one with six piece en-suite bathroom with additional access to separate full shower. Each bedroom has large closets with extensive built-ins for personal organization. The vaulted living room and bathroom ceilings provide a feeling of grandeur while allowing the warmer air to rise and exit through the ceiling ventilating system. There are four TVs (one in each bedroom, one in the living room and one in breakfast / dinning room.) This is a beautiful well appointed home.
UNIT #116
FOR SALE $214,000
Total Area (Sq Ft): 1290
Total area (Sq M): 120
Bedrooms: 2
Bathrooms: 2
Floor(s): Single Floor
Type: Semi-Attached
Furnished: Yes
This 1,290 sf single floor home includes a 300 sf front terrace plus parking for one car and a separate, secure storage locker. It is and end unit and therefore attached on only one side by a 6 inch cement demising (common) wall, which prevents sound transfer.
HOUSES FOR RENT
UNIT #126
FOR RENT $675 mo.
Available Immediately
Total Area (Sq Ft): 530
Total area (Sq M): 50
Bedrooms: 1
Bathrooms: 1
Floor(s): 1
Type: Dettached
Furnished: Yes
A small one bedroom with outside covered terrace with top of the line finishes (granite, stainless steel appliances, fine crafted wood cabinetry, +, +, +), with lots of well thought out storage...
Our Lives
WEATHER: Beautiful, sunny with normal trade winds.
I had lots of time to enjoy the hammock, digest the socials, and enjoy the company of friends. Our entertaining was over and this past and next week will be mostly visiting others... while pondering the new year...
I took a break from CR news but did attend my normal bi monthly investment group. This week we had a former member who attended as a guest while back in CR... He gave an interesting synopsis of his take on the world economies but unfortunately no specifics which anyone could bank... He, like others of his self declared political persuasion, sees the glass as half empty and gives no credit --only horrible predicitions of economic and social chaos-- to the current US administration and Fed's actions over the past 8 years while the people listening (myself included) have all benefited mightily... I reflect back to 2008 on dire conditions and predictions of what would happen in the US and world, and fortunately, I don't see that any of them have happened...
I was wrong: a year ago I expected the colon:USD exchange rate to be around 600:1. It is currently around 541... that is down from a high of 570 because the CR government stepped in and $500 mil. later, brought (bought) the rate down. In a free market, my prediction might have been conservative... in a controlled environment using other's money, who knows. Regardless of the longer term rate equilibrium, the short term rate is, as per normal in January, likely to move upwards towards 560:1 USD. Foreign direct investment and exports are down; tourism seems to be up a bit... government spending is 19% higher than last year and inflation is running 5-6% and unemployment is officially around 10%... The government has $1.5 billion of debt coming due by June of which 50% has to be repaid... the $650 mil from the last bond sale is expected to be spent by min year... and this is only the government and does not account for the various government monopolies' debt.
Nicaraguan canal: it has officially started but there are many, many doubters. Nicaragua has not released the environmental studies (obviously this won't make any difference to the decision to build) nor has the government nor the "company" officially named to build / finance the canal explained from where and how it expects to finance it... the suspicion is that it is really being financed by China but for political reasons, that funding source cannot be the case. Meanwhile, the Nicaraguans whose land will be confiscated and they will supposedly be reimbursed / relocated are very upset.
The northern rout around the city of San Jose is officially on hold pending the relocation of 191 poor families who will have to be re-located. The government has no effective / efficient way of re-locating them...
There was more road paving in this area that I've ever seen during the Dec. 1-24 period. Why???? The roads were filled with Christmas shoppers spending the aginaldo and paving machines everywhere... fantastic planning? or a show of ????? The cynic in me wonders...
We did see two tucons on our morning walk. These are unusual in this area. They looked to be young. We haven't seen them since.
CR was initially and officially happy with the US/Cuba accord. However, when CR sobered up, they suspect this is not in the long term interests of CR as tourism to CR will likely drop off substantially.
News Items of the Week
Comments:
​Virtually all the news was a re-hash of the year and / or window dressing for the season...
Brian, Lita, the Late Hugo IV, irreverent Vicka, the pigeon toed parrot, Chico II and Chica II