Dear friends,
When I started Residencias Los Jardines, I started writing a weekly news letter -determined to tell all the good, bad, and the ugly. I knew some readers would be interested in the construction process. I expected others might be interested in the lifestyle of two people who had decided to live outside the box. For others, the adventures of Lita, the parrot and the cat took on an entertainment saga all its own.
Residencias Los Jardines is finished. We periodically have resales and rental availability. Some readers may be interested in this information.
Brian Timmons
DEVELOPER / PROPERTY MANAGER
Residencias Los Jardines / https://www.residenciaslosjardines.com info@residenciaslosjardines.com
ResidenciasPropertyManagement@gmail.com
Featured house this week
Paradisus Condos / Rohrmoser
FOR SALE / FOR RENT
Residencias Los Jardines
Property Management, Rentals, Re-Sales
Market Activity
Sales: one inquiry.
Rentals: three inquiries.
FOR SALE
Unit #114: $235,000 / See Unit
Unit #116: $214,000 / See Unit
FOR RENT
Unit #126: $675 mo. / Available Immediately / See Unit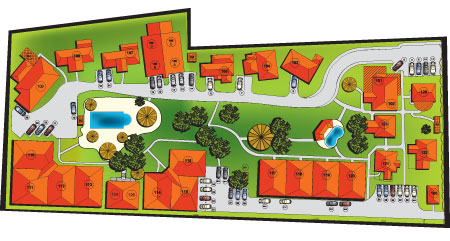 HOUSES FOR SALE
UNIT #114
FOR SALE $235,000
Total Area (Sq Ft): 1290
Total area (Sq M): 120
Bedrooms: 2
Bathrooms: 2
Floor(s): Single Floor
Type: Attached
Furnished: Yes
This 1,290 sf. (plus covered parking for one car and two lockers 67 sf.) single story, semi detached house, with garden terrace, two bedrooms is a beautiful executive style home. This home consists of two large bedrooms one with six piece en-suite bathroom with additional access to separate full shower. Each bedroom has large closets with extensive built-ins for personal organization. The vaulted living room and bathroom ceilings provide a feeling of grandeur while allowing the warmer air to rise and exit through the ceiling ventilating system. There are four TVs (one in each bedroom, one in the living room and one in breakfast / dinning room.) This is a beautiful well appointed home.
UNIT #116
FOR SALE $214,000
Total Area (Sq Ft): 1290
Total area (Sq M): 120
Bedrooms: 2
Bathrooms: 2
Floor(s): Single Floor
Type: Semi-Attached
Furnished: Yes
This 1,290 sf single floor home includes a 300 sf front terrace plus parking for one car and a separate, secure storage locker. It is and end unit and therefore attached on only one side by a 6 inch cement demising (common) wall, which prevents sound transfer.
HOUSES FOR RENT
UNIT #126
FOR RENT $675 mo.
Available Immediately
Total Area (Sq Ft): 530
Total area (Sq M): 50
Bedrooms: 1
Bathrooms: 1
Floor(s): 1
Type: Dettached
Furnished: Yes
A small one bedroom with outside covered terrace with top of the line finishes (granite, stainless steel appliances, fine crafted wood cabinetry, +, +, +), with lots of well thought out storage...
Our Lives
WEATHER: Beautiful, sunny and sometimes without wind.
This week, I was able to sit out most of the Christmas chaos. The hammock felt good and I got reacquainted with it.
Traffic will begin to back off this week as many head for the beach. By this time next week, the streets will be quiet.
Christmas Week: We'll be busy eating and socializing, counting our blessings, and enjoying the company of friends, a good life, and wonderful weather.
CIMA hospital: A friend was found to have a "spot" on his lung. The worst was feared; the best possible news was delivered... not cancer, but a non-cancerous fibroid. While still recovering, they are thrilled with the treatment, doctors, total process and the accommodations at CIMA.
News Items of the Week
Comments:
1. AyA -Public Water Provider says that 25% of the population drink contaminated water. What a terrible state of affairs... CR ought to be ashamed of such poor performance.
2. WWII Interment Camps: a bit of a long read but an interesting part of history. CR declared war on Germany before the US did--but it didn't have anything to contribute, and in fact, one interpretation of that historical fact is that the political elite saw an opportunity to seize assets and land from wealthy German ancenstory. Regardless, the article also points out the influence of the US government in treating people of German / Japanese decent...the same thing happened in Canada and I'd guess elsewhere in the Americas.
3. Caja and foreigners: this is the type of thing which causes people to leave and / or not come. It's a lousy system and is used only if there is no alternative but one still pays for it, and now, will pay even more if this ruling is left as is.
4. SETENA (environmental) approval for Moin: finally, however, there is still the appeal process. Nevertheless, it seems more and more likely that the new container port will be built by Mersk.
1. One million people receiving tap water contaminated with fecal matter: AyA)

December 15th, 2014 (InsideCostaRica.com) One million people who rely on community water systems known as ASADAs are receiving tap water contaminated with fecal matter, the Costa Rican Institute of Aqueducts and Sewers (AyA) said during a Friday press conference at AyA headquarters.

AyA executive president, Yamileth Astorga told reporters that the institute plans to address the problem in 2015, which especially affects those living in rural areas, 82% of which rely on community ASADAs for their water supply.
2. The story of Costa Rica's forgotten World War II internment camp

In downtown San José, just west of the Cementerio de Obreros, sits a forgettable lot of urban real estate where the municipality and the Public Works and Transport Ministry park garbage trucks and heavy equipment. But on this same spot 73 years ago, an internment camp was erected by the government to hold hundreds of German-Costa Rican prisoners after the United States and Costa Rica entered World War II in December 1941.

Costa Rica's popular image today as an environmentally friendly, neutral country without an army hardly meshes with the idea of Tico troops rounding up people into camps. But at the behest of the U.S. State Department, that is exactly what happened following the bombing of Pearl Harbor.

Concerned about a so-called fifth column — a group of Axis nationalities conspiring against the U.S. and Allied war effort — the State Department leaned heavily on Latin American and Caribbean governments to expropriate property from Axis nationals and either imprison or deport them to the United States or Germany through a Special War Problems Division. The little-known division was responsible for amassing a blacklist of Germans and Italians in Costa Rica, along with orchestrating the policy of internment across Latin America, the Caribbean and the U.S.

There are few people still alive who remember these events firsthand, but to mark the 73rd anniversary of the Pearl Habor bombing this month, The Tico Times spoke with several who either experienced them or whose families were impacted by them.

"Before, it was perfectly fine, people were even proud to have German friends. But the war changed many things – not for everyone – but when the order came from [U.S.] President Roosevelt to round up Germans across Latin America, things changed," said Hermann Kruse, 85. Kruse was a boy when the war broke out and his father was interned in the San José camp.

La Tribuna, a Costa Rican newspaper, captured the surreal situation in an article dated Dec. 11, 1941 trumpeting the speedy construction of a "concentration camp" to be built in San José and designed to hold 400 men of German, Italian or Japanese descent. The newspaper's description of the project reads like a perverse hotel review, including "very accommodating" dormitories, kitchens, dining halls and a visiting area all encircled by three rings of electrified fences. "What we want is that the concentration camp offer all the biggest and best accommodations," said then Public Security Secretary Francisco Calderón, according to La Tribuna.

Kruse recalled visiting his father in the camp's visiting area: "There was a long display with chairs lined up for waiting, and the prisoner would show up at a certain time to talk for 15 or 20 minutes until the guard said enough."

Kruse's father became a Costa Rica citizen in 1933, but that was not enough to keep him out of the camp. Some of his male relatives were also held at the camp, but the same could not be said for Kruse's uncles, including one who served in the German consul in Puntarenas. They were among 379 German-Costa Ricans deported to the United States, where they were sent to detention centers in Texas and other states alongside Japanese internees.

Along with the imprisonment or deportation of German families, the Costa Rican government expropriated property from many elite German families who dominated coffee, sugar and other export industries. Germans had been moving to the isthmus since the 19th century in search of opportunity in the Americas and found fertile ground in the coffee business in particular. By World War I, Germans were well established in many key export industries in Costa Rica, from coffee, bananas and cocoa to electrical generation and the importation of finished goods from Europe. But economic success had blinded many of Costa Rica's German population as to what the war in Europe would bring.

With a naval blockade separating Costa Rica from its European markets, a deal was struck for the U.S. to buy its coffee with a catch. The State Department announced that it would boycott all exports from German-owned businesses, most notably coffee. Coffee constituted more than 54 percent of Costa Rica's exports between 1938 and 1945 of which Germany purchased roughly 40 percent, according to economic historian Gertrud Peters of Costa Rica's National University. As a small country dependent on exports, Costa Rica had little choice but to agree to U.S. Demands.

The expropriations might have been obligatory but they have also been criticized by scholars as opportunistic. The Victoria sugar factory owned by the Niehaus family was expropriated in March 1943 at an estimated value of more than $700,000 in today's dollars. The sugar factory became the first agro-industrial cooperative in Costa Rica later that year, according to research by historian Carlos Meissner. Expropriated property was also leveraged to pay down the country's soaring national debt.

"The government of President Rafael Calderón Guardia took advantage of a lot of things," Kruse said. "When they would take away the Germans, a group of men, I don't know if they were police or what, would show up with boxes and take away everything in the house supposedly to guard it until they came back," he added.

Costa Rican-German relations reached their nadir when riots broke out in San José on July 4, 1942, following the torpedoing of the San Pablo, a United Fruit Company ship docked at the Caribbean port of Limón. Twenty-four Costa Ricans were killed in the German U-boat attack. More than 120 shops of German-owned businesses were looted, 76 were injured and 15 tons of glass were broken. Reportedly, 100 German and Italian residents were arrested followed the unrest.

The newspaper Diario de Costa Rica reported on July 5, 1942 that looters had infiltrated the demonstrations and that pistols and machine gun fire was heard. Kruse recalled seeing a man throw a bicycle through the window of a German-owned camera shop as looters grabbed everything they could carry, leaving the shelves empty. President Calderón Guardia (1940-1944) was quoted as saying the demonstrations "greatly pleased him" and that the "fifth column would be exterminated."

As the war ended in 1945, the camp was closed and detainees returned to their families, homes and businesses, if they were able to keep them. Some reclaimed lost property, but others could not and faced starting over from nothing.

"Those who had properties here tried to transfer them into the name of others before they left. Sometimes, after they returned, they tried to reclaim their property, and people would say, 'What farm? I have a document here that says you sold it to me.' That was a shame," Kruse said.

Just a few years after the end of World War II, Costa Rica entered into civil war, and José Figueres Ferrer rose to the presidency. After a short-lived coup d'état, Figueres abolished the armed forces in 1948 and codified the move in the 1949 Constitution.

Kruse did remember another story of a Costa Rican family who cared for a German family's farm. When the Tico approached the German to return the farm to his name, the German rewrote the contract so that they were 50-50 partners.

Said Kruse: "There were injustices committed by Costa Ricans and others by Germans here during the war, but there was perfect harmony between others."
3. Caja rule on foreign spouses upsets many expats
By the A.M. Costa Rica staff

Some expats are unhappy because they feel the state health provider has thrown them a financial curve.

Foreign residents must affiliate with the Caja Costarricense de Seguro Social whether they want to use the health services or not. But in the last month, the Caja has declined to allow spouses to join as part of a family package.

Instead, spouses must apply for voluntary coverage on their own and pay based on their income.

Further infuriating expats, this rule seems only to apply to foreigners.

Great Sunrise Enterprises, S.A. noted on its Web site Nov. 10 that the Dirección General de Migración would enforce a paragraph of the 2010 immigration law as of Dec. 1.

The residency organization interpreted that to mean that all current and future adult applicants to the Caja must have his or her own policy and that spouses are no longer covered by their spouse's policy.

In fact, Article 31(6) is far broader and says only that expats have the duty to contribute to the sustainability of the social security system.

Revised regulations adopted Oct. 8 by the Caja board of directors clearly states that social security protection extends to those persons who are related to a direct insurer and who maintains economic dependency. That is the same set of regulations that said same-sex partners could be enrolled under their companion's policy.

The information about the changes and the impact it is having on those who seek residency was provided by Javier Zavaleta of Residency in Costa Rica, another firm that provides services for would-be expats. He suggested that the origin of the new rule was in the immigration department instead of the Caja.

The Association of Residents plans to challenge the requirement, but first, according to Ryan Piercy, there has to be a clear Caja denial of appeals that have been submitted by three or four couples. He is the association's general manager.

He said he suspects that there will be denials and that there eventually will be a constitutional court appeal filed by the association's lawyers.

Piercy said in one case an expat married to a Costa Rican sought to have his wife included on his Caja enrollment, but he was turned down. The woman complained and noted her citizenship, and a supervisor enrolled her and said that making a spouse pay was only for foreigners.

To Piercy that is a clear constitutional violation.

Any reply from the Caja administration is unlikely until at least January. After that a Sala IV constitutional court appeal might take four months, Piercy said. The Association of Residents has been there before with similar grievances related to expats and their residencies.

Piercy notes that the Caja is desperately in need of money, but "We are not a large enough group to save the Caja," he said of expats here.

In addition, people are being turned away from Costa Rica by these rules, he said. He joked that pretty soon the government will be requiring tourists to enroll.

Because expats receive five to 10 foreign visitors a year, based on an association survey, Piercy said that when an expat leaves the country the impact is greater than just one or two persons.

The amount involved for foreigners is not small change. Great Sunrise said that expat spouses should expect to pay about half of what the principal insurer does.

Although some expats welcome the bargain health care provided by the Caja, others consider the fees to be just another tax because they would prefer treatment by private medical providers.
4. for Moin Container Terminal

December 18th, 2014 (InsideCostaRica.com) Costa Rica's environmental regulator known as SETENA confirmed Wednesday afternoon that it has issued the necessary permits to allow the Dutch firm APM Terminals to begin construction of the Moin Container Terminal.

"[The permits] are granted on the understanding that the project developer will comply fully and thoroughly with all regulations and current technical, legal, and environmental standards in the country," SETENA said in a statement.

The permits were granted for a period of two years to allow construction to begin. Both the State and APM Terminals expected construction to begin in January.

Yesterday's decision by SETENA could be the final hurdle for the project, which has been delayed for two years while facing challenges in the Constitutional Court by the public dockworkers' union known as SINTRAJAP.

SINTRAJAP had argued that the concession would create an illegal monopoly, but the Constitutional Court dismissed the claim.

The union, for its part, announced that it is preparing an appeal against the environmental regulator's Wednesday decision.

Opposition to the project led to 16 days of strikes by Caribbean dockworkers in late October and early November.

APM Terminals obtained the concession to build and operate the port in 2011.

The initial concession is for 33 years, with an initial investment of at least $1 billion and the creation of some 400 jobs.

The new facilities, which include an 80-acre artificial island, would be able to accommodate modern "Panamax" class container vessels of up to 13,500 containers, some five times larger than those that can be serviced in the country presently.

President Luis Guillermo Solis has expressed his support for the project.
Brian, Lita, the Late Hugo IV, irreverent Vicka, the pigeon toed parrot, Chico II and Chica II