...December Traffic and The Strongest Currency in the World!!...
Dear friends,
When I started Residencias Los Jardines, I started writing a weekly news letter -determined to tell all the good, bad, and the ugly. I knew some readers would be interested in the construction process. I expected others might be interested in the lifestyle of two people who had decided to live outside the box. For others, the adventures of Lita, the parrot and the cat took on an entertainment saga all its own.
Residencias Los Jardines is finished. We periodically have resales and rental availability. Some readers may be interested in this information.
Brian Timmons
DEVELOPER / PROPERTY MANAGER
Residencias Los Jardines / https://www.residenciaslosjardines.com info@residenciaslosjardines.com
ResidenciasPropertyManagement@gmail.com
Featured house this week
Paradisus Condos / Rohrmoser
FOR SALE / FOR RENT
Residencias Los Jardines
Property Management, Rentals, Re-Sales
Market Activity
Sales: one inquiry.
Rentals: two inquiries.
FOR SALE
Unit #114: $235,000 / See Unit
Unit #116: $214,000 / See Unit
FOR RENT
Unit #126: $675 mo. / Available Immediately / See Unit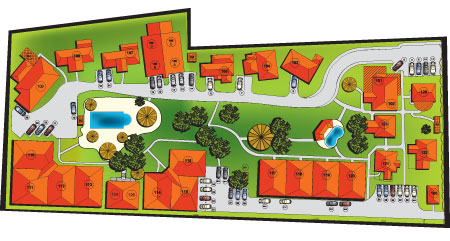 HOUSES FOR SALE
UNIT #114
FOR SALE $235,000
Total Area (Sq Ft): 1290
Total area (Sq M): 120
Bedrooms: 2
Bathrooms: 2
Floor(s): Single Floor
Type: Attached
Furnished: Yes
This 1,290 sf. (plus covered parking for one car and two lockers 67 sf.) single story, semi detached house, with garden terrace, two bedrooms is a beautiful executive style home. This home consists of two large bedrooms one with six piece en-suite bathroom with additional access to separate full shower. Each bedroom has large closets with extensive built-ins for personal organization. The vaulted living room and bathroom ceilings provide a feeling of grandeur while allowing the warmer air to rise and exit through the ceiling ventilating system. There are four TVs (one in each bedroom, one in the living room and one in breakfast / dinning room.) This is a beautiful well appointed home.
UNIT #116
FOR SALE $214,000
Total Area (Sq Ft): 1290
Total area (Sq M): 120
Bedrooms: 2
Bathrooms: 2
Floor(s): Single Floor
Type: Semi-Attached
Furnished: Yes
This 1,290 sf single floor home includes a 300 sf front terrace plus parking for one car and a separate, secure storage locker. It is and end unit and therefore attached on only one side by a 6 inch cement demising (common) wall, which prevents sound transfer.
HOUSES FOR RENT
UNIT #126
FOR RENT $675 mo.
Available Immediately
Total Area (Sq Ft): 530
Total area (Sq M): 50
Bedrooms: 1
Bathrooms: 1
Floor(s): 1
Type: Dettached
Furnished: Yes
A small one bedroom with outside covered terrace with top of the line finishes (granite, stainless steel appliances, fine crafted wood cabinetry, +, +, +), with lots of well thought out storage...
Our Lives
WEATHER: Less and less rain, more and more sunshine and regular trade winds.
This week saw many disparate activities: (1) the beginning of Christmas social activities, (2) winding up of Paradisus unit, (3) cleaning work on Lita's unit​ after a bad tenant, (4) multiple attempts to register with an on-line payment system -this is still not finished... wow!, (5) trying to advance the closing of the new car -another 2 mo. All of this was way more than I wanted, and it comes with negotiating Christmas traffic and crowds. I'm looking forward to the hammock which is dusty these days...
​
Sunday we host Lita's cooking group -16 people for rib eye roast (closest thing we can get to a standing prime rib). To get this, we have to go to a restaurant supply food purveyor... it is imported from the US, the whole piece (7 kilos) frozen rock solid -I take this to a local butcher shop and ask them to cut it into steaks, or roasts. I re-package pieces frozen for the future and work with what I want for the immediate needs. It works well... just a bit more complicated than in N. Am.
News Items of the Week
Comments:
1. This will help everyone by leaving more discretionary income in the pockets of consumers...
2. Hotel Bookings: If they aren't busy Christmas and Semana Santa, there must be a crisis...
3. Perhaps this is the export that is going to replace Intel... I don't think so but...
4. Declining Growth Rate: the effects of plant closures are showing up as well as the effects of the appreciating colon. While there is still growth, it is very minor -tax revenue and unemployment are going in the wrong direction.
5. In a "green" country, sewage treatment and management is abysmal... look at the statistics... San Jose is working on developing its first and only black water treatment plan and is also developing a collection system... How extensive it will be I don't know but we do see part of the collection system from the Paradisus balcony​.
1. Gasoline, diesel could drop to lowest prices since 2008 in January

December 12th, 2014 (InsideCostaRica.com) The price of gasoline and diesel in Costa Rica could drop to the lowest levels since 2008, if a reduction proposed by the Costa Rican Oil Refinery (RECOPE) is approved by regulators.

RECOPE estimates that a liter of super gasoline should fall ¢83/liter from ¢689 to ¢606. That would be the equivalent of about $4.33 per gallon at today's exchange rate.

Regular gasoline should decrease ¢75/liter from ¢655 to ¢580, the equivalent of about $4.14 per gallon; while diesel would decrease ¢64/liter from ¢607 to ¢543, or about $3.89 per gallon.
2. Costa Rica's beach hotels near fully booked for the holiday season

December 4th, 2014 (InsideCostaRica.com) The Costa Rican Chamber of Hotels (CCH) reports up to 91% of hotel rooms on the country's coasts are booked for the Christmas and New Year holiday season.

The Central Pacific remains the most popular destination this holiday season, where CCH estimates that 91% of rooms are booked, followed closely by Guanacaste, where 89% of rooms are estimated to be booked.

The South Pacific continues to grow in popularity as well, where about 85% of rooms are estimated to be booked.

Vacationers having trouble finding a last-minute room on the Pacific coast may want to consider the Caribbean side of the country, where CCH estimates that slightly less than 70% of rooms are booked.
3. Canadians' growing taste for papaya creates optimism in one of Costa Rica's poorest cantons

December 10th, 2014 (InsideCostaRica.com) A total of 37 producers in the canton of Parrita have managed to export 47 containers of papaya to Canada this year, compared to just three containers in 2013 – a trend that is supporting farmers and creating jobs in one of Costa Rica's poorest cantons, Amelia Rueda reports.

The farmers, who form a cooperative known as CoopeParrita Tropical, are now hoping to conquer new markets, including Europe. The manager of the cooperative, Victor Carvajal, told Amelia Rueda that their success lies in the quality of the fruit they produce. "Our papaya is exceptionally sweet; we plant the Corobicí variety, which is exquisite," he said.

The farmers' cooperative is also creating jobs for those who most need them. Carvajal said the packing plant employs 25 workers – 20 of which are women heads of households – and Carvajal said they hope to double their staff in 2015.

The cooperative hopes to increase exports to three containers per week in 2015.
4. The Economic Growth Rate Declines

The domestic economy shrinks, complicating the current high unemployment. As reported yesterday by the Central Bank, the monthly index of economic activity (IMAE) increased only 2.6% in October from the same month last year

If production within the free zone regime is excluded, which reflects the behavior of the domestic economy, the increase is slightly higher, 2.9%; However, also in this case there slowdown.

The contraction on the inside of hits over unemployment and tax collection that the slowdown in export processing zones, which has been declining for the closure of the manufacturing plant of Intel.

For the economist Felix Delgado, the slowdown is reflected in the collection of taxes and the labor market.

"To some extent, these circumstances arguably already taking a toll on tax collection, which has moderated and grows only about 7% below the nominal growth of the economy," said Delgado.

Unemployment indicators, he added, also reflect that economic activity is not being able to generate enough jobs for the unemployed and for constantly entering the labor force.

According to the Continuing Survey of Employment, unemployment reached 10% in the third quarter of this year, no progress over the same quarter last year.

The economist Norbert Zúñiga, Ecoanálisis partner said that there are positive factors that can contribute to improve the situation, as the significant drop in the price of the higher growth combustiblesy is showing United States.

"To take advantage of this favorable situation, it is essential to resolve the delicate fiscal situation, adopt policies to increase competitiveness and improve the business environment," he said.

Almost all grow less. By observing the panorama of activities, almost all slow down.

Industry, which is the sector most weight in the production and IMAE, achieved growth of 1.37% in October 2014 compared to the same period of 2013, with a slowdown coming from a year ago.

In this sector, the influence closing Intel manufacturing plant, which is performed gradually year.

The trade, which is the second activity in importance and the largest employer also has four straight months of losing strength. "The results of IMAE reaffirm the slowing economy and most economic sectors, including trade shows and four consecutive months of slowdown," said Francisco Llobet, President of the Chamber of Commerce.

To Llobet, the absence of an effective dialogue with the private sector and poor decisions of this administration and the lack of progress in competitiveness, are affecting business confidence.

Agriculture, which is the third largest sector this year, he was hit by drought.

"There was very strong climatic factors, there is a strong contraction in oil, decreased export of meat, a bit lower growth had pineapple and bananas," said last night the president of the Chamber of Agriculture, Juan Rafael Lizano.

The representative noted that the decline in the dollar and rising wage costs and do a "sandwich" the producer.

If approved, the prices would be the lowest prices (in colones) seen since 2008.
5. AyA requests the Government funds for water treatment

The Institute of Aqueducts and Sewers (AyA) declared itself unable to finance water sanitation projects despite the serious pollution, especially in coastal areas.

Therefore, the AyA states that the executive responsible for the cost of these works is made, believing impossible subscribers assume the entity. "If we translate the cost of sanitation users, nobody could pay the fees. There must be a state subsidy, "the chief executive said yesterday Yamileth Astorga.

The World Health Organization (WHO) defines basic sanitation as the technology that is used to hygienically remove excreta and wastewater. The process involves the collection, transport and treatment of those waters.

Currently, sewerage systems treatment plant cover only 4.2% of the country's housing and sanitation without plant by 21%.

70% of homes have septic tank, 3% black or latrine pit, 0.9% direct output to ditches, while 0.4% have no sanitation.

According to Astorga, steps have advanced a plan to improve several treatment plants, including those which are in Liberia, Nicoya and Santa Cruz-in Guanacaste and Puntarenas and those of Perez Zeledon.

Projects for collection and treatment of wastewater in Quepos and Jaco are also included. It is, at most, coastal areas where tourism is fundamental.

Astorga stressed that the initiatives contained in a portfolio of projects submitted to the Ministries of Planning and Finance, but did not specify the amount of investment required.

"It's very serious implying pollution in coastal areas if we do sanitation. If you're betting that there is a growth in tourism development, we must invest in this, "said Astorga.

In its annual work, the official said the AyA provides drinking water to 98.6% of its 2.2 million subscribers.

Municipalities supplying 625,000 people; the Asadas a million and the Public Service Company of Heredia (ESPH) has about 230,000 customers.
Brian, Lita, the Late Hugo IV, irreverent Vicka, the pigeon toed parrot, Chico II and Chica II