...December Traffic and The Strongest Currency in the World!!...
Dear friends,
When I started Residencias Los Jardines, I started writing a weekly news letter -determined to tell all the good, bad, and the ugly. I knew some readers would be interested in the construction process. I expected others might be interested in the lifestyle of two people who had decided to live outside the box. For others, the adventures of Lita, the parrot and the cat took on an entertainment saga all its own.
Residencias Los Jardines is finished. We periodically have resales and rental availability. Some readers may be interested in this information.
Brian Timmons
DEVELOPER / PROPERTY MANAGER
Residencias Los Jardines / https://www.residenciaslosjardines.com info@residenciaslosjardines.com
ResidenciasPropertyManagement@gmail.com
Featured house this week
Paradisus Condos / Rohrmoser
FOR SALE / FOR RENT
Residencias Los Jardines
Property Management, Rentals, Re-Sales
Market Activity
Sales: no inquiries.
Rentals: two inquiries.
FOR SALE
Unit #114: $235,000 / See Unit
Unit #116: $214,000 / See Unit
FOR RENT
Unit #112: $1,500 mo. / Short Term Rental: Dec. 1-Jan. 10 (all or part) / See Unit
Unit #126: $675 mo. / Available Immediately / See Unit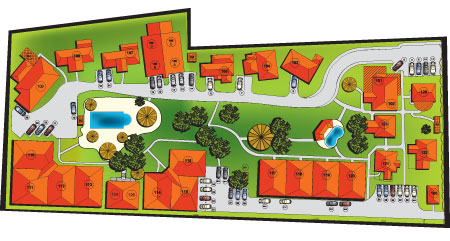 HOUSES FOR SALE
UNIT #114
FOR SALE $235,000
Total Area (Sq Ft): 1290
Total area (Sq M): 120
Bedrooms: 2
Bathrooms: 2
Floor(s): Single Floor
Type: Attached
Furnished: Yes
This 1,290 sf. (plus covered parking for one car and two lockers 67 sf.) single story, semi detached house, with garden terrace, two bedrooms is a beautiful executive style home. This home consists of two large bedrooms one with six piece en-suite bathroom with additional access to separate full shower. Each bedroom has large closets with extensive built-ins for personal organization. The vaulted living room and bathroom ceilings provide a feeling of grandeur while allowing the warmer air to rise and exit through the ceiling ventilating system. There are four TVs (one in each bedroom, one in the living room and one in breakfast / dinning room.) This is a beautiful well appointed home.
UNIT #116
FOR SALE $214,000
Total Area (Sq Ft): 1290
Total area (Sq M): 120
Bedrooms: 2
Bathrooms: 2
Floor(s): Single Floor
Type: Semi-Attached
Furnished: Yes
This 1,290 sf single floor home includes a 300 sf front terrace plus parking for one car and a separate, secure storage locker. It is and end unit and therefore attached on only one side by a 6 inch cement demising (common) wall, which prevents sound transfer.
HOUSES FOR RENT
UNIT #112
FOR RENT $1,500 mo.
Short Term Rental: Dec. 1 - Jan. 10
(all or part)
Total Area (Sq Ft): 1290
Total area (Sq M): 120
Bedrooms: 2
Bathrooms: 2
Floor(s): 1 Story
Type: Attached
Furnished: Yes
This 1,290 sf single floor home includes a 300 sf front terrace plus parking for one car. It is attached on two sides by a 6 inch cement demising (common) wall, which prevents sound transfer.
UNIT #126
FOR RENT $675 mo.
Available Immediately
Total Area (Sq Ft): 530
Total area (Sq M): 50
Bedrooms: 1
Bathrooms: 1
Floor(s): 1
Type: Dettached
Furnished: Yes
A small one bedroom with outside covered terrace with top of the line finishes (granite, stainless steel appliances, fine crafted wood cabinetry, +, +, +), with lots of well thought out storage...
Our Lives
WEATHER: Less and less rain, more and more sunshine and regular trade winds.
December traffic: every year December traffic becomes horrific. The Christmas shopping, people dripping with money from the aginaldo rushing to spend it, families wondering aimlessly, stores with untrained staff, etc. etc... It is a horrible time of the year to have to drive or to shop... I can't wait until early January when the streets and stores will be empty.
The Strongest Currency in the World: All around the world, currencies have been falling to the US dollar... eg. Euro, yen, ruble, you name it, the greenback has risen in value... EXCEPT in CR. The colon has actually risen against the $$... current exchange rate in about 527 and the central bank intervened to keep it from changing more... Foreign companies bring in extra dollars this time of year to pay the aginaldo (13th. bonus). It's normal for the dollar to fall but it's also makes no sense when many people feel that CR will default on it's bond obligations within a few years... especially since some countries seem to get away with it with impunity (eg. Argentina... and wait for Venezuela!!!).
New Car: like so often in CR, this is turning into a long, drawn out process. The car was owned by a handicapped, government official "deputado" who was allowed to import it without paying taxes... it was involved in an accident... he wanted a new car so this was written off... so, like the other car, this comes with problems which need to be solved. I'm working on it... fortunately, I don't need it for transportation... the Pathfinder is working fine.
News Items of the Week
Comments:
1. Transparency: an interesting commentary on Latin America and surprising that CR remained about the same given the problems under the last administation.
2. VAT: this ought to be interesting. It was hotly debated last time around and expectations are similar for this effort. Trying to get legal invoices from professionals is really difficult...
3. Turtle Activist... Jairo Mora: key evidence is "misplaced" yeah?!
4. Banana workers medical compensation: don't spend it yet... CR was suppose to pay in 2001... Nothing has been paid. Delay a few more years and there won't be anyone left to pay.
5. Misc. Welfare Subsidies: "Leakage" surprise, surprise!! a significant percentage seems to leak into the middle class, think "government family members".
6. Construction Outlook for 2015: The hope is that after a 10% reduction in construction in 2014, that next year will be better... but recognizing that net foreign investment is down substantially and that the outlook for the first half of 2015 will be substantially lower, it's likely to be even lower. In addition, the cost of construction continues to rise... Middle class housing is the area of most need. The Central Valley is seen to be less affected. I know in the Santa Ana area, lots of construction continues... commercial, office, residential...
7. Road Construction: the simple management cycle is: plan, organize, execute, control... as is typical here, there is no "control" element in this process.
8. Regulated Prices: they rise faster than competitively priced items... surprise, surprise... look who's on the governing boards and who stands to benefit...
9. Industrial Park for Small Business: in my opinion, this is a great idea. I hope it actually gets implemented.
1. Country remains stagnant on Transparency's index
By the A.M. Costa Rica staff

Public perceptions of corruption here have not changed much, according to the Transparency International index released Tuesday.

"For the more cynical among us, this is a good sign as there is always the possibility of worsening," said the organization in commenting on all of the Americas. "But the reality is that stagnation is not good news. Each year that passes without things improving, is a lost year for the process of strengthening state institutions and the improvement of the quality of life of people.

Full list of countries HERE!

Costa Rica scored 54 out of 100 points. That put it in 47th place among 175 nations. That is about the same score and ranking that the country has enjoyed for the last three years.

That static result is surprising because there have been several notable corruption cases in the last year, including a lawmaker accused of taking bribes and a broad investigation of Ruta 1856, the new roadway built along the country's northern border.

The index is compiled from a number of public opinion surveys. In the Americas, Costa Rica was only exceeded by Chile,which scored 73 points for 21st place and tied with Uruguay.

Costa Rica's neighbors were seen by residents as having far more corruption. Panamá scored 37 points for 94th place tied with Colombia. Nicaragua scored 28 points for 133rd place.

In the basement in the Americas was Venezuela with 19 points and 161st place along with Haiti and Yemen.

"Although there is no single answer for all countries, it seems that in general those who are traditionally seen as the bad or the ugly of the story – politicians, public officials, and some business people who deal illegally with them – continue to follow their usual path," said Transparency of the Americas.

Officials perform some specific anti-corruption reforms to show that they are doing something against corruption, but not advancing on all key issues, the organization said, adding that this has led to an increase in the number of countries that have adopted access to information laws, improved their public procurement systems or joined international initiatives such as the Open Government Partnership. These are all good steps, however, big corruption schemes that involve individuals at the highest level of power and lack of punishment of the corrupt continue to prevail in the Americas, Transparency said.


Chile
Uruguay
Costa Rica
Cuba
Brazil
El Salvador
Perú
Colombia
Panamá
Bolivia
México
Argentina
Ecuador
Dominican Republic
Guatemala
Honduras
Nicaragua
Paraguay
Venezuela

Score
73
73
54
46
43
39
38
37
37
35
35
34
33
32
32
29
28
24
19

Ranking
21
21
47
63
69
80
85
94
94
103
103
107
110
114
115
126
133
150
161


"This is well exemplified by Brazil (score of 43, on a scale from 0 to 100 where 0 is highly corrupt and 100 very clean) and Mexico (35)," said the organization. "The case of Petrobras in Brazil, where corrupt officials and their private sector cronies siphoned billions of dollars from the country's largest company into political parties' coffers and private hands, and the presumed killing of more than 40 students in Iguala, Mexico, where it became evident that corruption allows criminal gangs to capture public institutions are just recent examples that serve as a reminder of the lack of significant progress in the region."

The Scandinavian countries and New Zealand come out on top in the 2014 tally, according to wire service reports. For the third year in a row, Denmark is the number one country. These nations have tough laws and regulations on transparency, both in government and commerce.

The United States came in tied for 17th from the top, with a score of 74 out of 100. But that puts the United States behind Canada (10th), Germany (12th), Britain (14th) and Japan (15th), the wire services noted. The U.S., ranked 19th last year, shares 17th place with Ireland, Barbados, and Hong Kong.
2. The proposed value-added tax is expected to be presented soon
By the A.M. Costa Rica staff

President Luis Guillermo Solís soon will send to lawmakers a proposal for a value-added tax expected to be 15 percent.

The proposal is certain to generate a lot of sharp debate because the president just managed to have passed a 2015 budget that is 19 percent greater than the current year's. The president rejected calls for modest cuts totaling 3.8 percent.

Many observers consider the new budget business as usual with the country borrowing vast sums to support the government bureaucracy. Some 43 percent of the approved budget will come from borrowing, and this will add to the national deficit.

Solís also is beginning to assume the trappings of an imperial president. A local television station reported Tuesday night that he has been using a King Air aircraft for his foreign flights. That was an aircraft confiscated from drug smugglers and turned over to security ministry officials.

Solís has flown to Bogotá on the craft, the station said, estimated in the cost at $75,000. Prior presidents took commercial jets, except for Laura Chinchilla Miranda, who got into public relations trouble when she accepted fights on an aircraft owned by a company with dubious activities.

The Beechcraft King Air is valued at about $3.4 million. When it went into services with the security ministry in October, no mention was made of it being used by the president. The craft was supposed to be used for emergency medical flights and fighting the drug trade.

The president also is known to be considering trying to overturn a veto by Ms. Chinchilla of a labor reform that would permit strikes by public agencies. That seems to be a shortcut in lieu of presenting a similar bill for legislative action.
3. Costa Rican preliminary court 'misplaces' key evidence in Jairo Mora murder trial

A master disc containing alleged recordings of telephone conversations between defendants and other key evidence in the high-profile murder case of Costa Rican sea turtle conservationist Jairo Mora has gone missing, several sources close to the case confirmed to The Tico Times on Wednesday.

Trial judges on Wednesday ordered a separate, preliminary court – which apparently is responsible for misplacing the evidence –to locate and deliver it by 4:30 p.m. on Thursday or face a judicial investigation.

"There is no suspicion of robbery or foul play," defense attorney Jadiel Quesada told The Tico Times. "It's just disorder. There is disorder and contradictions."

Jairo Mora, 26, was killed last year while patrolling the northern Caribbean beach at Moín for nesting sea turtles. Seven suspected poachers currently are on trial in Limón on charges that include kidnapping and homicide, among others. Prosecutors allege that the defendants killed Mora out of revenge for having protected turtle eggs.

The disc allegedly contains recorded phone conversations between the murder suspects in which they discuss the crime. Quesada confirmed that the evidence has not yet been heard by the criminal court's three judges. The recordings are among the final evidence yet to be presented before judges reach a verdict in the high-profile case that has drawn international attention. With the case winding to a close, a verdict is expected as early as Monday.
4. Nearly 14,000 sickened banana workers to receive payment for pesticide exposure

Workers in February 2000 protest in San José against the use of the pesticide Nemagon and ask for government assistance for health concerns resulting from exposure.

After 13 years, Costa Rica finally has a regulation guaranteeing payment of physical and psychological damages for nearly 14,000 banana workers who were exposed to the banned pesticide Nemagon. The decree by President Luis Guillermo Solís was published in the government newspaper La Gaceta on Monday, the last step before a law can go into effect.

Between 1967 and 1979, thousands of workers in banana fields owned by foreign companies in Costa Rica and across Central America were exposed to the nematocide Nemagon, also known as DBCP, a chemical that has been proven to cause myriad health problems including sterility, cancer, miscarriages and genetic deformities. Costa Rica banned the importation of the chemical in 1979.

A law has been on the books since September 2001 promising compensation for the former banana workers, but until Monday there was no mechanism by which to pay them. In October, the government announced its intention to pay the medical bills for thousands of people exposed directly or indirectly to Nemagon.

"Our intention is to finally resolve these families' situation and clear the debt that the State owes them," said Presidency Vice Minister Ana Gabriel Zúñiga in a statement on Tuesday.

Zúñiga announced Tuesday that the decree signed by President Solís would pay a percentage of victims' medical bills based on their years of exposure to the pesticide. Payments could range between 25 percent of someone exposed to it for less than a year to 100 percent for those with exposure for five years or more. Damages would be paid both for physical harm caused by the pesticide, specifically sterility, as well as moral damages to family members for personality disorders caused by the chemical.

The government reported 13,925 cases that had been approved for payment by the National Insurance Institute (INS). Another 9,233 cases are still pending for children of affected banana workers, and 1,742 for spouses. More than 11,000 cases were dismissed, according to figures from the INS. The Tico Times requested dollar figures from INS on Tuesday but they were not immediately available. This post will be updated with any new information.
5. 'Castings' account for 24% of aid to poor

37% of housing bonds are in middle-income households up
IMAS agree that Venture 8,600 beneficiaries are not poor youth

24% of social assistance ends in the hands of people who do not need really, according to the latest State of the Nation.

This percentage represents leak ¢ 147,000 million less in state poverty reduction. Presently, this money is being allocated to middle or upper strata.

The report takes survey data Equity in Costa Rica: incidence of social policy and fiscal policy 2014 and supplemented with information from the National Household Survey, prepared by the National Institute of Statistics and Census (INEC).

The analysis takes seven welfare programs note: Cen-CINAI, School Lunch, Venture, non-contributory pensions, Promotion and Family Welfare, insured by the State and Family Housing Bonus.

The housing voucher is leaking up to 37%, followed by 31.7% School Lunch and Venture with 22.2%.

The State of the Nation argues that this prevents reducing the poverty rate, which is stationed in 20.7% of households.

Natalia Morales, a researcher at the State of the Nation Program, criticized the country lacks a reliable record of beneficiaries and also offers tracking tools.

"You have to activate mechanisms of accountability; for example, that every so often the information is updated. "

Causes. Carlos Alvarado, Minister of Human Development, attributed the problem to the weakness in the system registry of beneficiaries that has dragged the country for decades.

"Lack joint institutions, not all use the same formula to measure poverty and there has been interest in directing funds to those most in need," Alvarado said.

In a review of grants Venture -carried in October-IMAS concluded that 8,600 of these grants are non-poor children. Overall, this program provides subsidies 147,000.

Alvarado said that handle some options to correct this situation, but not forward the details.

Venture's budget for 2014 was ¢ 48,000 million. Each scholarship ranges from ¢ 17,000 to ¢ 50,000.

Rosendo Pujol, Housing Minister acknowledged the leaks, but stressed that "the system does not prohibit bonuses are given to families with slightly higher incomes."

In September this year, The Nation reported that the National Institute of Housing and Urbanism (INVU) took 67 houses for poor families and households gave unnecessarily. This case is being investigated by the prosecution.

Among the infiltrated the son of a community leader named Salazar appears.

According to records of the Housing Mortgage Bank, the man took out a loan in their work for ¢ 29 million, while requesting the housing voucher for Villa Poala project Guararí de Heredia.
6. Construction expects greater dynamism in 2015

Processed during the last 12 months Area was down 10% in October The industrial and commercial sectors perceived a greater decline in square meters processed

The construction sector provides greater dynamism in the processing of new projects during 2015, which would allow close with better results than those obtained during this 2014, although it is not certain that growth is high.

According to the Costa Rican Chamber of Construction (CCC) in October, the sector reported a 10% drop in the number of square meters processed during the last 12 months compared with the data accumulated to the same month last year.

An area transacted for new buildings of 5.229.918 square meters (sqm) per year, which translates into 563,770 m² less was recorded in October.

The figure was even higher than the fall of 500,000 m² projected by the CCC this year.

Businessmen consulted by the Nation he blamed the reduction to the beginning of complex year in which the fluctuation of the exchange rate, the second round and the arrival of a new political party at the Presidential Palace generated uncertainty.

Meanwhile, a better expectation for 2015 lies in that political landscape would not be present.

The industry expects new residential developments, with greater opportunity options for the middle class, because it is a niche that has not been fully exploited.

In addition, new tourist chains in areas such as Guanacaste, will be part of the niches that will take more importance in 2015 and a commitment to projects in industrial areas in the east of the Greater Metropolitan Area (GAM), explained Randall Fernández, manager Colliers.

Immediate future. The projection of the Central Bank is that the growth of this industry is 1.3% next year.

To improve this figure is expected to boost investment attraction takes hold, which add new industrial estate developments, in contrast to 2014, when the desired results were not obtained.

According to the United Nations Economic Commission for Latin America and the Caribbean (ECLAC), foreign direct investment in Costa Rica dropped 21% in the first half.

This was evident in the amount of processed m² in the industrial and commercial area.

In both sectors was where more processed during area was reduced.

Broken down by province, most perceive a fall between 8% and 32%. San Jose is the least fell, and Carthage which made it more.

The reduction in this year will produce fewer buildings under construction in the first half of 2015, and thus, fewer jobs, forward Guillermo Carazo, president of the CCC.
7. Contractors road projects run unattended Conavi

Report warns about lack of trained personnel to supervise works

The road to San Carlos was conceived in 1969 and completion is scheduled for June 2016 (47 years), the report said.

Costa Rica lacks a strategy for monitoring and evaluation of enterprises running roadworks.

The lack of oversight failures generates roads built and backwardness is paid by the pocket of citizenship.

The remark did the Academy of Central America in the report management of public infrastructure in Costa Rica: the case of the national road network (2014), which reveals the absence of oversight by the National Highway Council (CONAVI).

"The public body responsible not always ask for proper accountability for construction companies. For example, arrears incurred in the works. This is linked to a lack of planning strategies," said researcher Carlos Umana.

On August 4 this year, the Ministry of Public Works and Transportation (MOPT) announced a proposal to unify the National Roads Authority and the National Tender Board to create a National Infrastructure Institute.

Central Academy warns, however, that if there is no proper control of the work contracted provider and therefore is difficult to amend the mistakes made in recent years.

"The creation of a new institute will not solve the current problems. Without proper planning on implementing units, is complex make the change. Requires staff trained in project management," said Umaña.

At press time, the director of Conavi, Mauricio Salom, did not respond to inquiries that were raised, in writing, to the press office of the institution.

Errors. The paper concludes that arrears respond to "the lack of a line of authority" to define priorities in road infrastructure.

For Edna Camacho, president of the Academy of Central America, the lack of financial resources and lack of proper corporate governance are the major constraints to develop a modern road network.

The report notes that 65% of roads are classified as poor or very poor, according to international standards.

During the first half of 2014, the country hired about $ 700 million with several multilateral financial institutions for the implementation of public works.

The percentage of disbursements for the implementation of these projects ranges from 6% to 50% in the best case.
8. Regulated prices grow more strongly

Goods and services whose value is fixed by law, rose 9.19% in last 12 months Influence increases in fixed and previous hikes in electricity and fuel

The values of goods and services, which are regulated by law, grow more than the rest.

Between November 2013 and November 2014 (year on year), the indicator of prices of regulated goods and services rose 9.19% in contrast to the general, which increased by 5.89%, according to results released yesterday by the Institute National Statistics and Census and the Central Bank.

The overall indicator is a reflection of overall costs.

The situation also comes amid a reduction in fuel prices, which determination is made by law and impact the production of other fees such as electricity, water and bus fare.

In addition to these four areas, other goods and services that have values set by law are telephony and rice.

What influences? By a written response, the Central Bank explained that these results are due primarily to increases in fixed telephony and previous hikes in electricity and fuel.

"These three sub-account for about 71% of the variation in regulated goods and services in November 2014," explained the Central Bank.

In November 2013, the rate of fixed telephony services increased by 64.1%, concentrated effect in December of that year and influences the annual result.

In the case of electricity, had low in October 2013 and November 2013, and although he also fell in October 2014, gives the "base effect" that is an increase by comparison with a smaller base.

In fuels, although prices started to decline since last August, the annual rate still reflects the rise in the first months of the year, caused by the depreciation of the colon.

Should be reviewed. The economist and chief exregulador, Hermann Hess believes that setting utility rates is an issue that should be reviewed in our country.

"This summer, I made a statement in which it is concluded that several rates are not only indexed, but superindizadas, ie increasing faster than the general cost indicators such as CPI, minimum wages, exchange rates, taxes interest rate and oil prices. I recently updated the numbers and the same thing keeps happening, "said Hess.

For him, should be considered in public, form and timeliness are being made fixations and their relationship to the overall cost indicators, such as those cited.

The economist expects presenting with low fuel prices, should slow the rise with the goods and services whose prices are regulated by law.

In the Latin American context. The increases in the prices of regulated goods explain, in part, that headline inflation remains above the target range of the Central Bank, which is between 3% and 5%.

Regulated goods weigh 22% in the measurement of consumer price index (CPI).

However, despite the outcome, Costa Rica's inflation remains below the Latin American average.

According to the Preliminary Overview of the Economies of Latin America and the Caribbean 2014, released yesterday by the United Nations Economic Commission for Latin America and the Caribbean (ECLAC), the regional inflation accumulated in the last 12 months to October was 9.4% . In Costa Rica, the result in this period was 5.70%.
9. Costa Rica to build its first industrial park for small- and medium-sized businesses

Costa Rican Chamber of Industries President Enrique Egloff, center, presents plans for Costa Rica's first industrial park exclusively for small and medium-sized business with export potential, on Dec. 3, 2014.

The Costa Rican Chamber of Industries (CICR) on Wednesday said that next year they will begin a preparatory stage for building an industrial park that will host only small- and medium-sized enterprises (SMEs).

The Millennium Industrial Complex will house approximately 40 SMEs that have "export potential," chamber president Enrique Egloff said.

The project is in a planning stage, and CICR experts are outlining logistics including financing strategies and a location. "The exact site has not yet been defined, but it most likely will be somewhere west of the Greater Metropolitan Area," Egloff said.

In coming weeks the CICR will disclose a list of requirements and procedures for businesses to apply for a spot in the park. The industrial complex will be the first of its kind in Costa Rica and initially will be financed by a trust fund created by CICR associates, public banks and international cooperation organizations.

The CICR hopes the model can be replicated in other parts of the country. To do so, the chamber will solicit support from public agencies that are part of the government's SMEs Support Network, including the Foreign Trade Ministry, the Science and Technology Ministry, the Foreign Trade Promotion Office, and the National Training Institute, among others.

International aid organizations and partner countries with which Costa Rica has bilateral cooperation agreements also will be invited to join the project.

The complex is expected to provide companies with infrastructure and "a number of technological platforms to supply all their logistics, financing, training, marketing, health and other services to facilitate their operations," Egloff said.

The Economy Ministry in 2013 reported that 10,200 SMEs are officially registered in the country, and only 6 percent of them export products or services.

SMEs last year produced the equivalent of 33 percent of Costa Rica's gross domestic product and provided some 30,000 jobs, the Economy Ministry study found.
Brian, Lita, the Late Hugo IV, irreverent Vicka, the pigeon toed parrot, Chico II and Chica II