...2nd Time Around...
Dear friends,
When I started Residencias Los Jardines, I started writing a weekly news letter -determined to tell all the good, bad, and the ugly. I knew some readers would be interested in the construction process. I expected others might be interested in the lifestyle of two people who had decided to live outside the box. For others, the adventures of Lita, the parrot and the cat took on an entertainment saga all its own.
Residencias Los Jardines is finished. We periodically have resales and rental availability. Some readers may be interested in this information.
Brian Timmons
DEVELOPER / PROPERTY MANAGER
Residencias Los Jardines / https://www.residenciaslosjardines.com info@residenciaslosjardines.com
ResidenciasPropertyManagement@gmail.com
Featured house this week
Paradisus Condos / Rohrmoser
FOR SALE / FOR RENT
Residencias Los Jardines
Property Management, Rentals, Re-Sales
Market Activity
Sales: no inquiries.
Rentals: two inquiries, but one had a dog.
FOR SALE
Unit #114: $235,000 / See Unit
Unit #116: $214,000 / See Unit
FOR RENT
Unit #112: $1,500 mo. / Short Term Rental: Dec. 1-Jan. 10 (all or part) / See Unit
Unit #126: $675 mo. / Available Immediately / See Unit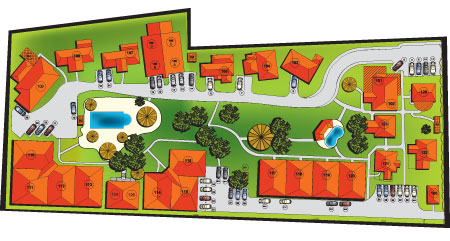 HOUSES FOR SALE
UNIT #114
FOR SALE $235,000
Total Area (Sq Ft): 1290
Total area (Sq M): 120
Bedrooms: 2
Bathrooms: 2
Floor(s): Single Floor
Type: Attached
Furnished: Yes
This 1,290 sf. (plus covered parking for one car and two lockers 67 sf.) single story, semi detached house, with garden terrace, two bedrooms is a beautiful executive style home. This home consists of two large bedrooms one with six piece en-suite bathroom with additional access to separate full shower. Each bedroom has large closets with extensive built-ins for personal organization. The vaulted living room and bathroom ceilings provide a feeling of grandeur while allowing the warmer air to rise and exit through the ceiling ventilating system. There are four TVs (one in each bedroom, one in the living room and one in breakfast / dinning room.) This is a beautiful well appointed home.
UNIT #116
FOR SALE $214,000
Total Area (Sq Ft): 1290
Total area (Sq M): 120
Bedrooms: 2
Bathrooms: 2
Floor(s): Single Floor
Type: Semi-Attached
Furnished: Yes
This 1,290 sf single floor home includes a 300 sf front terrace plus parking for one car and a separate, secure storage locker. It is and end unit and therefore attached on only one side by a 6 inch cement demising (common) wall, which prevents sound transfer.
HOUSES FOR RENT
UNIT #112
FOR RENT $1,500 mo.
Short Term Rental: Dec. 1 - Jan. 10
(all or part)
Total Area (Sq Ft): 1290
Total area (Sq M): 120
Bedrooms: 2
Bathrooms: 2
Floor(s): 1 Story
Type: Attached
Furnished: Yes
This 1,290 sf single floor home includes a 300 sf front terrace plus parking for one car. It is attached on two sides by a 6 inch cement demising (common) wall, which prevents sound transfer.
UNIT #126
FOR RENT $675 mo.
Available Immediately
Total Area (Sq Ft): 530
Total area (Sq M): 50
Bedrooms: 1
Bathrooms: 1
Floor(s): 1
Type: Dettached
Furnished: Yes
A small one bedroom with outside covered terrace with top of the line finishes (granite, stainless steel appliances, fine crafted wood cabinetry, +, +, +), with lots of well thought out storage...
Our Lives
WEATHER: Less and less rain, more and more sunshine and regular trade winds.
The Wrap Up: all but a couple final details are done. Delivery and installation of appliances and furniture went as scheduled as well as curtain installation. What is missing is that a few pieces of glass were cut wrong or not included in my request... I'll finish this off next week.
New Car: this continues to elude me for reasons which don't make any sense. Since my car is working fine and since I have been totally occupied with wrapping up the Paradisus unit, I haven't focused on it. I'll give it more attention this next week.
R&R: we're taking a couple days off this week to visit friends in Jaco... we're certainly ready...
News Items of the Week
Comments:
1. There are some interesting stats in this article... eg. the birth rate has dropped below population mtnc. / average age of men and women marrying have increased substantially, a significant decline in Catholic weddings, and of course, teenage child birth has increased some...
2. Gas Refinery back on: even though the world is awash in oil, few refineries have been built in that last 20 years and it seems the Chinese are determined to build one in CR... Given China's safety and environmental record and CR maintenance culture... I'm not excited.
3. Consumer Confidence: too early to determine the effect of this. It is usually a leading indicator of what might come...
4. Dock Workers: read some of their benefits!!!! wow!!! in this country... no wonder they want to fight the new container port competition...
5. Gas Price Reduction: this will be a significant reduction...
6. English Teaching: a disgrace to the public educational system... but a realistic indicator of the total effectiveness of the educational system... Despite the government's often touted claims of an educated work force and literacy, the reality is very, very different... it is just government propaganda...
1. Costa Ricans waiting longer for marriage, having fewer children

November 26th, 2014 (InsideCostaRica.com) Data released this week by the National Institute of Statistics and Census (INEC) shows that Costa Ricans are waiting longer to get married and are having fewer children.

In 2013, there were just 15 births per 1,000 inhabitants versus 25 births per 1,000 inhabitants in 1993, a significant reduction for a period of 20 years.

The total fertility rate dropped to 1.76 births per woman in 2013 versus 2.91 births per woman in 1993.

However, the number of children born to teenage mothers has increased during the same 20-year span. In 2013, 18.4% of births were to mothers between 15 and 19 years of age, versus 16.9% of births in 1993.

Meanwhile, fewer Costa Ricans are getting married, and those who do are waiting longer to tie the knot.

In 2013, there were 5.5 marriages per 1,000 inhabitants versus 6.3 marriages per 1,000 inhabitants in 1993. The average age at marriage for men increased from 28 to 34 and for women from 25 to 30 during the same period.

The number of Catholic marriages has also been in steady decline – 58% of marriages were conducted by the Catholic Church in 1993 versus 27% of marriages in 2013.
2. Costa Rica, China agree to resume Moin Refinery project, with some changes

November 28th, 2014 (InsideCostaRica.com) The governments of Costa Rica and China intend to move forward with the development of a $1.3 billion USD project to expand an oil refinery on Costa Rica's Caribbean coast, a project which has been stalled since 2013 due to irregularities in the original contract, Costa Rica's Minister of Environment and Energy, Edgar Gutierrez announced during a press conference on Thursday.

Gutierrez said that a "high level committee" composed of officials from both countries will work to address issues that have kept the project stalled. The agreement to revive the project was reached during an official visit to China last week led by Gutierrez.

Part of the agreement includes the capability to also produce biofuels at the facility, and the use of low-carbon technologies to reduce emissions, to which Chinese authorities reportedly agreed.

The refinery would be a joint venture between Costa Rica's state-owned RECOPE and the China National Petroleum Corporation.

Gutierrez said that the Development Bank of China remains firm in its interest to finance the project.
3. Costa Rican consumer confidence erodes for second straight quarter

November 27th, 2014 (InsideCostaRica.com) The Consumer Confidence Index (CCI) continues its downward trend, according to data released by the Research Institute of Economic Sciences (ICSI) of the University of Costa Rica (UCR) Wednesday morning.

Consumer confidence fell from 49.8 points in May to 43.7 points in August and 40.8 points in November, a loss of nine points over the last six months.

The data shows that consumers continue to be concerned over the country's economy, despite the upcoming holiday and bonus season. Just 15% of consumers said they feel "optimistic" about their economic futures, 61% believe unemployment will continue to increase, 60% believe poverty will continue to increase, and 42% believe they will lose purchasing power in the months and years ahead.

The data also indicates that consumers are dissatisfied with the Solis administration's handling of economic and social policy, with 52% describing the government's performance in those areas as "poor."

The ICSI began measuring consumer confidence in 2002. The Consumer Confidence Index is measured quarterly in February, May, August, and November. Researchers polled 711 heads of households for their latest report.
4. Government seeks to reduce ¢ 1,000 million in benefits to workers Japdeva

Dome of the Port Authority presented its proposal for a start negotiating a new collective agreement

Currently, food Japdeva pays its employees and pays triple salary if work on a holiday.

The Government of the Republic proposes reducing benefits for workers of the Board of Port Administration and Economic Development of the Atlantic Coast (Japdeva) for ¢ 1,000 million as part of the negotiation of a new collective agreement.

By 2015, the total amount of benefits to port employees amounted to ¢ 8,000 million.

The benefits would be diminished include the reduction of food allowance of employees, from 100% to 50%, and the elimination of the benefit of a milk carton, currently granted to workers in exchange that meal they receive.

So far, the state pays them food to 1,500 employees Jadpeva. With the proposed change, they must pay half of the food consumed in the state.

Japdeva authorities denounced the collective agreement on October 29, following an order by President Luis Guillermo Solis.

That complaint was filed with the Ministry of Labour and is the formal procedure for a public institution expresses his wish to terminate an agreement of employment benefits and start negotiating a new one.

ody public expressed their willingness to terminate an agreement of employment benefits, to engage other.

The chief executive of the Board, Ann McKinley said he is confident that the Union of Workers of Japdeva (Sintrajap) is willing to improve the conditions of the institution to make it more efficient.

According to the chief, the negotiation of the new collective agreement will be positive. Other changes proposed by the executive branch include the existing holidays are eliminated in the collective agreement.

This means that the port workers have more holidays than the rest of the public sector, such as April 11. From the new collective agreement, that entity would be governed only by free days approved by the Legislature.

Another proposed reforms is to eliminate ¢ 33,000 plus salary is paid to employees who work on holidays. That is, a worker required to work on a day of law, earns three times their salary by day.

Meetings paid.

If a worker Japdeva have to attend union meetings during their shift, you can now do with permits and licenses paid. The same happens when they have to go to medical appointments.

The new collective agreement also eliminate this benefit, as announced by government authorities.

Similarly, the additional economic contribution that was destined for the payment of employee trainings will be deleted. This implies that the courses pay their workers the Board must be approved. Otherwise, the employee must pay for the course.

It also seeks to reform, with the new convention, employee recruitment and disciplinary processes, which currently makes a bipartite commission, with members of management and Sintrajap.

More benefits.

Other benefits now enjoyed by port workers is to receive an incentive of 30% of the basic salary of professionals and 30 vacation days to more than eight years of working with Jadpeva.

McKinley denounced the collective agreement of the Board amid strike against the monopoly of APM Terminals in Moin Container Terminal, as established in the contract with the company of Dutch capital.

On that occasion, the chief said "Japdeva can not continue this collective agreement and we need to get into automatic adjustment.
5. 68 ¢ lower premium gasoline, regular and diesel ¢ 65 ¢ 29

Falling prices in the international market

The New Year brings good news to owners of vehicles: a liter of super gasoline is 68 ¢ cheaper; the regular 65 ¢ lower and diesel, ¢ 29.

Thus liter of super will increase from ¢ 757 to ¢ 689; the regular fall from ¢ 720 to ¢ 655 and instead of costing ¢ 636 per liter of diesel will cost ¢ 607. The liquefied petroleum gas cost 29 ¢ less: it will increase from ¢ 336 to ¢ 310.

The new prices were approved this afternoon by the Regulatory Authority for Public Services (Aresep) and come into effect after its publication in the Gazette, next week.

In a press release, the regulator said that this cheapening responds to an average decrease in international fuel prices between October 30 and November 13. Also recorded a decline exchange rate.

This is the fifth consecutive cuts, as will the second half of 2014.

Despite coming abaratamientos, the only tax costs Rican Petroleum Refinery (Recope), gas stations and transportation make the drop in fuel prices feel less here than in many other countries.

While in the United States pay between 20% and 25% less per gallon in the wholesale market in Costa Rica receive rebates of between 7% and 10%.
6. Only 15% of young people speak English

Cal school students graduate with an advanced level without oral proficiency

Although English is a requirement to be competitive in the labor market, only 15% of the population between 18 and 35 years dominates that language in the country.

The data is clear from the latest National Household Survey (2013), the National Institute of Statistics and Censuses (INEC). 85% of young adults recognize who can not speak or write English.

Students graduate from high school with a basic or intermediate level and, although fail to understand general ideas in a text, vocabulary is limited and fail to sustain a conversation.

In the past 14 years, the average public schools note worsened in English, from 83 in 2000 to 69 in 2013.

According to the latest report of the State of Education (2013), only 3% of public high schools teach English.

In primary language coverage reaches 89% and no supply teachers who lack mastery of the material or have a mispronunciation.

"Let's make a change in the assessment. We will not focus only on reading comprehension, but the powers of speaking, listening, reading and writing and to begin from school, "said Carolina Hernández, national consultant English Ministry of Public Education (MEP).

During 2007 and 2008, tests were applied to 91% of teachers of English MEP, and half of them scored intermediate level, although they are university graduates.

"English classes nobody takes them seriously. The seventh teacher only spoke in Spanish and in other years has been more of the same; I know it's important to talk, but one receives the bases are very bad, "said Luis Diego Elizondo, student tenth year, in Heredia.

The State of Education (2013) notes that two out of three teachers of English public system from private universities. The country has more than 50 private schools that offer that race.

Alternative. The threat of losing a job opportunity in the absence of a second language, encourages young people to pay for private courses to learn the language.

In a survey of the Nation, the cost of these courses, more books, more than ¢ 110,000 per quarter or semester.

"We can not wait to come up guidelines to make changes. If you want to improve, commitment of teachers, requiring students to speak English in class is needed, "said Andrés Mendoza, English advisor in Heredia.

In rural areas, the number of young adults who speak English less. Of 369,201 people between 18 and 35 years, only 21,500 speak English.

"The non-poor have greater proficiency in a second language. There is a gap between rural and urban areas, which is linked to the socioeconomic status of the student, "says researcher Manuel Barahona, in the State of Education.

In 2000, the number of young people who spoke English was 10%; in 14 years there was an improvement of 5%, which remains low.
Brian, Lita, the Late Hugo IV, irreverent Vicka, the pigeon toed parrot, Chico II and Chica II