Dear friends,
When I started Residencias Los Jardines, I started writing a weekly news letter -determined to tell all the good, bad, and the ugly. I knew some readers would be interested in the construction process. I expected others might be interested in the lifestyle of two people who had decided to live outside the box. For others, the adventures of Lita, the parrot and the cat took on an entertainment saga all its own.
Residencias Los Jardines is finished. We periodically have resales and rental availability. Some readers may be interested in this information.
Brian Timmons
DEVELOPER / PROPERTY MANAGER
Residencias Los Jardines / https://www.residenciaslosjardines.com info@residenciaslosjardines.com
ResidenciasPropertyManagement@gmail.com
Featured house this week
Paradisus Condos / Rohrmoser
FOR SALE / FOR RENT
Residencias Los Jardines
Property Management, Rentals, Re-Sales
Market Activity
Sales: no inquiries.
Rentals: three inquiries, two rentals (unit 126)...
FOR SALE
Unit #114: $235,000 / See Unit
Unit #116: $214,000 / See Unit
FOR RENT
Unit #112: $1,500 mo. / Short Term Rental: Dec. 1-Jan. 10 (all or part) / See Unit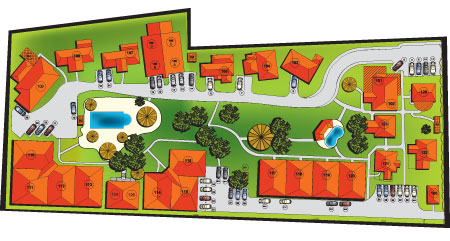 HOUSES FOR SALE
UNIT #114
FOR SALE $235,000
Total Area (Sq Ft): 1290
Total area (Sq M): 120
Bedrooms: 2
Bathrooms: 2
Floor(s): Single Floor
Type: Attached
Furnished: Yes
This 1,290 sf. (plus covered parking for one car and two lockers 67 sf.) single story, semi detached house, with garden terrace, two bedrooms is a beautiful executive style home. This home consists of two large bedrooms one with six piece en-suite bathroom with additional access to separate full shower. Each bedroom has large closets with extensive built-ins for personal organization. The vaulted living room and bathroom ceilings provide a feeling of grandeur while allowing the warmer air to rise and exit through the ceiling ventilating system. There are four TVs (one in each bedroom, one in the living room and one in breakfast / dinning room.) This is a beautiful well appointed home.
UNIT #116
FOR SALE $214,000
Total Area (Sq Ft): 1290
Total area (Sq M): 120
Bedrooms: 2
Bathrooms: 2
Floor(s): Single Floor
Type: Semi-Attached
Furnished: Yes
This 1,290 sf single floor home includes a 300 sf front terrace plus parking for one car and a separate, secure storage locker. It is and end unit and therefore attached on only one side by a 6 inch cement demising (common) wall, which prevents sound transfer.
HOUSES FOR RENT
UNIT #112
FOR RENT $1,500 mo.
Short Term Rental: Dec. 1 - Jan. 10
(all or part)
Total Area (Sq Ft): 1290
Total area (Sq M): 120
Bedrooms: 2
Bathrooms: 2
Floor(s): 1 Story
Type: Attached
Furnished: Yes
This 1,290 sf single floor home includes a 300 sf front terrace plus parking for one car. It is attached on two sides by a 6 inch cement demising (common) wall, which prevents sound transfer.
Our Lives
WEATHER: Less and less rain, more and more sunshine and regular trade winds.
2nd Time Around: I've spent the past week and now a few more days to go, decorating and outfitting the 2nd. Paradisus condo. I decided to do it now instead of sometime in the future because it is easier to rent when furnished and because I know where furnishings are. This time I have only two tanks of gas and 25 receipts vs 55 receipts... the learning curve kicked in. Fortunately, most all the items used in the first condo were available for the 2nd one... however, I had to go to different branches of the same stores to get everything I needed. The one item which has remained elusive is the refrigerator... Having French doors and a lower freezer compartment w/ ice maker, the key part is that it is "counter" depth. Most 36" frigs are 32" deep and that simply will not work in my case. As of now, I think I have located two of them... and at 10 Saturday morning, I hope to secure them.
Doing Business: I had a frustrating experience this week which exemplifies why CR is really inefficient: I wanted a 4" glass DR table... the Escazu branch of Aliss didn't have any. I went to a different branch. It appeared they had hired a bunch of young staff for Christmas... ornamental "silk" flower boxes were strewn all around the aisle where we had to enter the 2nd floor... it was dangerous and difficult to snake our way through. On the 2nd floor I spotted the table... it was sent up as a display model... right in front of the floor manager's desk. I couldn't find anyone to wait on me... after a 5 min. wait, I went looking... found a staff member unpacking items... asked for help... she came, she couldn't do the sale and said they couldn't arrange transportation... but they did offer to dismantle the table.. o.k. We waited 20 min... I went looking for the table or someone to find out where it was... I was told it was at the ground floor cashier's ... o.k. no one told us... at the cashier's, they needed a code and then they needed the floor manager to sign off on the sale. He / she wasn't around... 0 min. passed... I guess they found him / her and the sale finally proceeded... a hour to spend $130...
At EPA (CR's answer to Home Depot) the isles are so full of new items for stocking and / or promotions, there isn't room to move the cart through...
New Car: I haven't had time to deal with it but it is suppose to be ready.
News Items of the Week
Comments:
1. Employment: there are some interesting facts stated herein. For example 200,000 are looking for work and each worker supports 44 others... the math doesn't seem to work for me... that would be 8.8 mil. people not being supported.. Well there are only abut 4.3 mi. people in CR... 36% of households are headed up by women. Only 10% of the companies surveyed plan to hire; and 5% plan to layoff... and the forward momentum of the "new" economy, has died...
2. San Jose is 2nd. for ease of doing business: Wow!! either I don't believe it or I wonder how the others can be worse? Panama City I don't doubt... but San Jose, I do doubt.
3. Wind Farm: this adds to existing sites. There's lots of wind. Last time I was in the area, it seems that a number of the existing windmills were not operating... lack of maintenance???
4. Gas Price Drops: great!!!!!!!!!
5. Cubana flies direct: this is another airline which is adding direct flights to CR... Previously we say that Delta and Condor added additional flights.
6 / 7 / 8: Milanese and Creditors: Another two hotels are shut down for debated reasons. Milanese has been the subject of much litigation and the ownership of the old hotels he claimed to own is being debated. It's a legal mess.
9. Luxury Tax and Property Assessment: A strategy for out foxing the fox...
10. CR Annual Budget: I was wrong. I expected the Legislature to make a token gesture to reduce the 19% proposed increase by a few percentage points. They didn't. The accepted it as proposed... Remember, this will be paid with borrowed money.
11. RITEVE increase: whether warranted or not, I don't know but the fact that the 10 year old contract stipulated a mechanism for adjusting the price has yet to be agreed upon so no increases have happened. That is not exactly true, there have been a few upward adjustments, probably by decree and not by an established algorithm.
1. Despite holidays, joblessness remains a challenge
By the A.M. Costa Rica staff

The holiday season will bring a bump in employment as retailers put on extra salespeople.

There are some estimates of an increase of 10 percent in the workforce, but they may be over optimistic. Manpower Group, the employment agency, predicts a 4 percent increase in fourth quarter jobs and calls this the weakest increase since 2009.

Manpower surveyed 623 firms to obtain the employment expectations. Just 10 percent said they would hire more individuals, and 5 percent said they would cut their workforces.

The unemployment rate is reported to be about 10 percent, but the Estado de Nación report put unemployment at 8.5 percent as a 2013 average.

The report that was just released also cited a progressive loss of dynamism of the so-called new economy that suggests an erosion of competitivity in certain sectors. The state of the nation report is the year-long work of four universities to help form public opinion and political policies.

The new economy is Costa Rica's effort to move away from manufacturing. It includes free zones and the work for export there, service industries and non-traditional agricultural exports. The emphasis is on sustainability.

The Estado de Nación outlined profound changes in the country since the first report came out 20 years ago:

• Today the country has 44 persons, 34 minors and 10 seniors depending on the work of each 100 workers.

• About 14.5 percent of the workforce is not enrolled in the Caja Costarricense de Seguro Social or pension programs even though affiliation with the Caja is at a record high.

• The number of homes with a female head of household has doubled from 17 percent in 1987 to an estimated 36 percent in 2013.

The central government has made two efforts to improve employment. As part of his rescue plan for the national economy, President Luis Guillermo Solís came forth with his national strategy for employment and production to increase the opportunities for women and men to obtain a decent job. The goal also is to reduce poverty and what is called inequality.

The decree said that some 200,000 Costa Ricans cannot find jobs and that 1 million more working substandard conditions, including illegally low wages and without Caja affiliation. The plan is to reduce unemployment to 7 percent by 2018.

In October Solís created the Consejo Presidencial de Competitividad, Innovación y Talento Humano.

Of the former, a leading business chamber said that employment is not generated by decrees but by policies that improve the business climate.

That was the opinion of the Unión Costarricense de Cámaras y Asociaciones del Sector Empresarial Privado, which was more optimistic about the Consejo. The union of chambers presented Solís with 10 proposals to improve the business climate, including strengthening education.

Among other problems, the business sector is now struggling with the uncertainty of more taxes, something the Solís administration is expected to seek from lawmakers in the new year.

The president appears to have little choice because the nation has run up debts equal to more than 30 percent of the gross national product.

The business community would like to see less taxes, a reduction of paperwork, cheaper energy, a stable economy and better infrastructure, including roads.

The country has ruled out mining except for small-scale hard rock production and panning.

Lumbering requires a lot of paperwork, and much of the country is off limits to that industry. Petroleum drilling brings major protests from environmentalists.

Even major hydro projects and the proposed $1 billion container port at Moín draw protests and legal action, as does a proposal to generate electricity from underground heat in national parks.

The Ministerio de Trabajo y Seguridad Social has several programs for labor markets, including Empleate that tries to find spots for those 17 to 24 who are not in school and unemployed.
2. Costa Rica's capital is the second best city in the region for doing business, World Bank says

San José ranked among the top spots in all indicators taken into account for a World Bank study on doing business that included 22 cities in Central America and the Dominican Republic.

San José ranks second among 22 cities from Central America and the Dominican Republic for doing business, according to the World Bank report "Doing Business 2015," presented Monday.

Panama City took the top spot, while Guatemala City and Santo Domingo were third and fourth, respectively.

The study, the World Bank's first to analyze the Central American region, examined business regulations for small and medium-sized enterprises in cities in Costa Rica, El Salvador, Guatemala, Honduras, Nicaragua, Panama and the Dominican Republic. The Caribbean country was included for being part of regional organizations such as the Central American Integration System and the U.S.-Central America-Dominican Republic Free Trade Agreement, or CAFTA-DR.

The evaluation took into account indicators such as the ease in each country for starting a business, obtaining building permits, registering a property and trading across borders.

Costa Rica's best rating was for "ease of procedures for registering a property," and its worst was "obtaining building permits," where it ranked fifth.

The study's main criticism with regional countries is the existence of substantial differences in business regulations and their implementation, "not just between countries but even between different cities within a country," said Humberto López, World Bank director for Central America.

The best performing countries in the area of starting a business have implemented one-stop resources and online systems. But the report noted that even in those countries, the resources generally only were utilized in capital cities.

Medium-sized cities perform better in general in dealing with construction permits, the report noted. In registering property, variations mainly occur because of national policies, such as the quality of cadastral information or the efficiency of property registries, the report said.

To improve in those areas López recommended using regional forums such as the Central American Economic Integration to coordinate joint reforms that facilitate trade.
3. New Tilaran wind farm will power 80,000 homes

November 17th, 2014 (InsideCostaRica.com) Vice President Ana Helena Chacon attended the ribbon-cutting ceremony for the new Chiripa wind farm in Quebrada Grande de Tilaran on Saturday.

The wind farm will produce some 200 million kilowatts (kWh) per year, enough to serve 80,000 homes, according to estimates by Acciona, the company which owns the project.

Energy produced by the wind farm will be sold to the Costa Rican Electricity Institute (ICE) as part of a 20-year agreement under conditions established by regulators.

Tilaran will also receive an annual fee from Acciona.
4. Significant reduction in gasoline, diesel prices expected for December

November 17th, 2014 (InsideCostaRica.com) Motorists can expect a significant reduction in the prices of gasoline and diesel by December, according to the Costa Rican Oil Refinery (RECOPE).

According to RECOPE, super gasoline is expected to drop in price by ¢68/liter, regular gasoline by ¢65/liter and diesel by ¢29/liter.

RECOPE said the price reductions are the result of falling international prices.
5. After six years, Cubana resumes direct flights between Costa Rica and Cuba

November 17th, 2014 (InsideCostaRica.com) The first direct flight in six years by Cubana Airlines to Costa Rica landed at the Juan Santamaria International Airport Sunday morning.

Beginning yesterday, the airline now offers direct flights between San Jose and Havana on Thursdays and Sundays. The route will be flown by an Antonov 158 aircraft, with a capacity for 85 passengers. Cubana has not flown the route since 2008.

Representatives of the Costa Rican Tourism Institute (ICT) greeted the aircraft and crew upon arrival on Sunday.

Cubana Airlines general manager, Daniel Mendez, told reporters that the route with strengthen and enhance tourism between both of the countries.

The route will also facilitate the travel of Russian tourists to Costa Rica, with Cuba serving as a layover for Russian travelers.
6. Hotel Europa agrees to pay former employees, blames Costa Rica business climate for closure

November 20th, 2014 (InsideCostaRica.com) The Hotel Europa will pay the outstanding payrolls today of 300 former employees left jobless after the sudden closure of the hotel on Tuesday, Minister of Labor, Victor Morales said after a meeting with hotel representatives. The former employees can expect their mandatory holiday bonuses to be paid next Wednesday, according to the minister.

However, the lawyer representing the hotel, Hugo Navas, admitted to reporters that the hotel does not have all the necessary funds to pay the holiday bonuses and may need to take a bank loan to cover the cost. Navas confirmed however that the hotel does have the funds necessary to process the outstanding payrolls that are expected today.

It was also announced that a meeting would be held next Thursday to determine and plan the payment of all mandatory labor guarantees, including severance pay, outstanding holidays, and other benefits required under the law.

Navas said that the hotel was forced to close because of the struggling economy and business climate in the country.

"[The hotel] closed for the same simple reasons that Intel left, that Bank of America closed, for the same reasons that the newspaper Al Dia closed, why La Nacion fired 100 employees: there is a financial crisis in this country," Navas told reporters after the meeting.

The Hotel Europa is owned by accused high-yield investment fraudster, Luis Milanes.

Milanes, a 63-year-old Cuban American accused of defrauding some 500 mostly American and Canadian investors out of $46 million when his Costa Rica-based high-yield investment program, Savings Unlimited closed down 11 years ago, will face a criminal trial in July of next year after failing to comply with the terms of a settlement agreement with his alleged victims.

The Hotel Europa was built in 1911 and claims to be San Jose's oldest hotel.

Milanes had been paying rent to the trust for the use of the Hotel Europa.
7. San José business group including former fugitive Luis Milanés closes 103-year-old hotel and 2 casinos

A legal representative of Hotel Europa's parent company said the group would use the hotel and casino as collateral to meet employee pay obligations.

Owners of San José's Europa Hotel & Casino and Hotel Radisson's Casino – including the former head of the defunct "investment" scheme Savings Unlimited, Luis Milanés Tamayo, aka "The Cuban" – announced they would close the businesses and lay off 250 staff members due to high operating costs, the group's attorney, Hugo Navas, said.

The closure of the three businesses – including the 103-year-old Europa Hotel – is due to "high operating costs, high obligations for social security payments and high utility bills that have affected our finances in recent months," Navas said. He said that last month, for example, owners received a ¢100 million ($185,000) electricity bill. He also cited low occupancy rates.

"The reasons [for closing] are simple – they're the same reasons that Intel left, Bank of America closed, the same reasons why the daily newspaper Al Día closed, [and] why [the daily] La Nación fired 100 employees: There's a financial crisis in the country," Navas said on Wednesday evening, following a meeting at the Labor Ministry with employee representatives.

Two months ago, the group to which Milanés belongs closed the Royal Dutch Hotel's casino, also located in the capital, and fired 100 workers.

During Wednesday's meeting, representatives of the businesses agreed to pay pending salaries and Christmas bonuses, or aguinaldos, next week. On Nov. 27, the parties will meet again to seek an agreement on severance pay.

According to Navas, the owners hope to conclude negotiations for all outstanding payments in less than two months. He said the hotel and casinos would be used as collateral to meet payment obligations. After the meeting, Labor Minister Víctor Morales Mora said the ministry "pledged to assist employees during the process."

For the past two days, former employees have been picketing in front of the hotel and at Milanés' home near La Sabana Park, west of San José.

Milanés' name has been in the news for more than a decade, and he was among several operators of "investment" schemes investigated by The Tico Times over the years. Milanés eventually was accused of defrauding hundreds of "investors" in his Savings Unlimited operation, which was a copycat of another infamous scheme known as "The Brothers." At Savings Unlimited, Milanés promised monthly returns of 3-4 percent on deposits starting at $5,000. He fled Costa Rica in 2002 after an estimated $200 million of victims' money disappeared. Authorities finally arrested Milanés in 2008, but he was released after reaching an agreement to pay back the funds.

However, as La Nación's David Delgado reported in September, authorities are now accusing Milanés of failing to pay back more than half a million dollars of that settlement, and he will face a criminal trial that begins in July 2015.

In other hotel closings, last month the Heredia-based La Condesa Hotel closed its doors and fired 140 employees. Hotel owners at the time blamed a ¢266 million ($498,000) debt with the Costa Rican Social Security System.
8. Milanes investors say 'That's our hotel'
By the A.M. Costa Rica staff

Investors who are involved in a court case with Luis Milanes Tamayo are mystified why his lawyer said the Hotel Europa would be used as collateral to pay off fired employees.

The investors own the hotel via a court-approve trust.

Some of the investors said they were surprised that the lawyer for Milanes, Hugo Navas, could spin the story so well to other news outlets. Navas told some newspapers that Milanes was closing the casino at the Hotel Europa due to high costs.

Actually, Milanes and his casino are the subject of an eviction process instigated by the investor's trust.

Some also noted that Milanes closed the Royal Dutch Casino on Avenida 2 after he had failed to pay the rent there for months.

Milanes also closed down his casino in the Hotel Europa. Some 250 employees were fired, and they expect to obtain their mandatory Christmas bonus, pay and severance.
9. Expats have a chance to duck higher property taxes
By the A.M. Costa Rica staff

Expat homeowners can save significant amounts of money on municipal taxes if they file an assessment of value before Dec. 1.

Although current values still are in force, some municipalities are accepting the new valuations early, according to the Ministerio de Hacienda.

The valuations are good for five years, and by filing early, homeowners can duck new calculations that threaten to increase the municipal tax up to 50 percent.

The 2009 tables that provide indexes to value still are valid until Dec. 1. The 2015 values contain what the ministry calls a considerable increase.

A square meter of land assessed now at 1 million colons might be assessed under the new table at 1.5 million. The property taxes are calculated based on the valuations as is the impuesto solidario, the luxury home tax, the ministry noted.

Because the valuations endure for five years, the homeowner will save money on municipal taxes and the luxury home tax, if applicable, for that period.

This method to reduce the valuation and then the tax also is possible for new construction, the ministry noted. That is if the relevant municipality accepts the early filing.

Homeowners and other property owners are required to state the value of their real estate once every five years.

Ministry workers have been holding discussions with municipal officials on how to apply the new tables after Dec. 1

The luxury home tax is assessed on any dwelling and immediate property that is worth this year more than 122 million colons, about $226,000.

The tax to be paid is equal to 0.25 percent of the property's total value to a maximum tax rate of 0.55 percent since it is a progressive tax.
10. Full legislature rejects 3.8 per cent cut in the 2015 national budget
By the A.M. Costa Rica staff

Four political parties in the legislature rejected plans Thursday night that the budget submitted by the president be cut 3.8 percent.

Instead, some 25 lawmakers voted to go ahead with the original 7.9 trillion-colon ($14.6-billion) 2015 budget.

A legislative committee proposed the cuts amounting to 300 billion colons, some $555 million. Voting to reject the reduction were the Movimiento Libertario, Frente Amplio, Accesibilidad Sin Exclusión and the bulk of Acción Ciudadana lawmakers in the Asamblea Legislativa. President Luis Guillermo Solís ran on the Acción Ciudadana ticket.

Otto Guevara Guth, the long-time leader of Movimiento Libertario, broke with his party to support the cuts.

He said current law prohibits financing current expenses with debt.

Under the budget 3.7 trillion or $6.9 billion will be financed with debt. Only 4.2 trillion ($7.8 billion) will come from government income. In addition, the budget calls for 1.7 trillion colons to be paid as debt service on prior loans. That's $3.2 billion.

The Solís budget is 19 percent higher than the previous year's, and it contains more spending on social programs.

After the legislative budget committee voted to make the 3.8 percent reduction, a number of ministries and special interests launched campaigns to restore the cuts. They predicted damage to their missions if the cuts were not restored.

Meanwhile the Ministerio de Hacienda, the budget agency, said Thursday that the national deficit increased in October to 4.4 percent of the gross national product. The deficit in October 2013 was 4.1 percent.

The central government hopes to improve the financial picture with a series of new levies, including a 15 percent value-added tax to replace the current 13 percent sales tax. But these measures face tough going in the legislature.
11. Mandatory vehicle inspection agency seeks up to 200 percent increase in prices

RITEVE SyC is the Spanish-Costa Rican company in charge of mandatory technical vehicle inspections.

The Public Services Regulatory Authority (ARESEP) announced Tuesday that RITEVE SyC, the private company responsible for certifying mandatory technical vehicle inspections, submitted rate hike requests of up to 202 percent depending on the type of vehicle.

If approved, the new costs of vehicle inspections in 2015 would increase from ¢9,930 to ¢30,030 ($18.32 to $55.40) for vehicle owners and ¢6,541 to ¢19,780 ($12 to $36.50) for motorcycle owners.

In seeking the increases, RITEVE argued that the same rates have been in place for 10 years. The company also said a contract signed with the government in 2000 states that the Public Works and Transport Ministry (MOPT) is responsible for defining the rate-setting model. MOPT has yet to follow through, RITEVE argued.

"For the past 10 years we have been submitting rate-adjustment requests, which according to our contract must be submitted by Nov. 15 each year, so that if approved the new rate would take effect in January," RITEVE spokeswoman Jennifer Hidalgo said. "Currently there is no approved methodology for calculating rates. Each year we comply with the requirement of filing an increase request, but ARESEP has not approved any increases in the past 10 years. And now motorists are surprised that this year's request is greater than 200 percent," she said.

ARESEP spokeswoman Carolina Mora confirmed that the agency has rejected RITEVE's requests because no calculation methodology exists. Last year, the regulatory agency rejected a 174 percent increase request for the same reason, according to ARESEP records.

Mora said ARESEP repeatedly has asked MOPT for a calculation model in order to proceed with revised rates, but the agency has received no response. RITEVE's recent request is being evaluated by technical staff at ARESEP, and a ruling will be reported in coming days, she said.

MOPT spokesman Juan Carlos González on Thursday said that Public Works and Transport Minister Carlos Segnini is the only MOPT official authorized to discuss the rate methodology issue. However, Segnini is out of the country and won't be back until next week.
Brian, Lita, the Late Hugo IV, irreverent Vicka, the pigeon toed parrot, Chico II and Chica II