Dear friends,
When I started Residencias Los Jardines, I started writing a weekly news letter -determined to tell all the good, bad, and the ugly. I knew some readers would be interested in the construction process. I expected others might be interested in the lifestyle of two people who had decided to live outside the box. For others, the adventures of Lita, the parrot and the cat took on an entertainment saga all its own.
Residencias Los Jardines is finished. We periodically have resales and rental availability. Some readers may be interested in this information.
Brian Timmons
DEVELOPER / PROPERTY MANAGER
Residencias Los Jardines / https://www.residenciaslosjardines.com info@residenciaslosjardines.com
ResidenciasPropertyManagement@gmail.com
Featured house this week
Paradisus Condos / Rohrmoser
FOR SALE
Residencias Los Jardines
Property Management, Rentals, Re-Sales
Market Activity
Sales: no inquiries.
Rentals: two inquiries but nothing available until now...
FOR SALE
Unit #114: $235,000 / See Unit
Unit #116: $214,000 / See Unit
FOR RENT
Unit #112: $1,500 mo. / Short Term Rental: Dec. 1-Jan. 10 (all or part) / See Unit
Unit #126: $675 mo. / Available Immediately / See Unit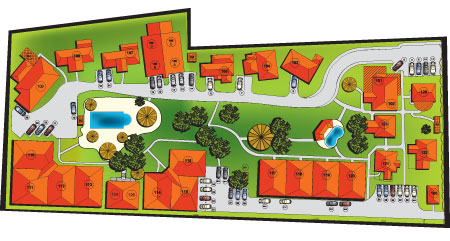 HOUSES FOR SALE
UNIT #114
FOR SALE $235,000
Total Area (Sq Ft): 1290
Total area (Sq M): 120
Bedrooms: 2
Bathrooms: 2
Floor(s): Single Floor
Type: Attached
Furnished: Yes
This 1,290 sf. (plus covered parking for one car and two lockers 67 sf.) single story, semi detached house, with garden terrace, two bedrooms is a beautiful executive style home. This home consists of two large bedrooms one with six piece en-suite bathroom with additional access to separate full shower. Each bedroom has large closets with extensive built-ins for personal organization. The vaulted living room and bathroom ceilings provide a feeling of grandeur while allowing the warmer air to rise and exit through the ceiling ventilating system. There are four TVs (one in each bedroom, one in the living room and one in breakfast / dinning room.) This is a beautiful well appointed home.
UNIT #116
FOR SALE $214,000
Total Area (Sq Ft): 1290
Total area (Sq M): 120
Bedrooms: 2
Bathrooms: 2
Floor(s): Single Floor
Type: Semi-Attached
Furnished: Yes
This 1,290 sf single floor home includes a 300 sf front terrace plus parking for one car and a separate, secure storage locker. It is and end unit and therefore attached on only one side by a 6 inch cement demising (common) wall, which prevents sound transfer.
HOUSES FOR RENT
UNIT #112
FOR RENT $1,500 mo.
Short Term Rental: Dec. 1 - Jan. 10
(all or part)
Total Area (Sq Ft): 1290
Total area (Sq M): 120
Bedrooms: 2
Bathrooms: 2
Floor(s): 1 Story
Type: Attached
Furnished: Yes
This 1,290 sf single floor home includes a 300 sf front terrace plus parking for one car. It is attached on two sides by a 6 inch cement demising (common) wall, which prevents sound transfer.
UNIT #126
FOR RENT $675 mo.
Available Immediately
Total Area (Sq Ft): 530
Total area (Sq M): 50
Bedrooms: 1
Bathrooms: 1
Floor(s): 1 Story
Type: Detached
Furnished: Yes
A small one bedroom with outside covered terrace with top of the line finishes (granite, stainless steel appliances, fine crafted wood cabinetry, +, +, +), with lots of well thought out storage...
Our Lives
WEATHER: We're entering the dry season and the trade winds are beginning. We still have some showers and lots of overcast but the change is occurring.
A Mostly Lost Week: As of Saturday morning when the last of the missing pieces of furniture wee delivered, it is now finished. It turned out very well. It turned out very well and fit within my expected budget. Tenants have moved in Friday morning. I'll begin working on the 2nd. unit next week.
New Car: I should take possession of it Saturday, Nov. 15. The repairs and deferred mtnc. have been completed, new tires and brakes, etc. The next week will be devoted to preparing my 2003 Nissan Pathfinder for sale...
News Items of the Week
Comments:
Note: I didn't do a good job of monitoring news but will begin again next week.
1. Dock workers and new container port: the dock workers continue to lose their case. How many more antics they will use, is unknown. They have very very limited small popular support. I now believe there is little doubt that they will lose out, they will get a few bones thrown their way some of which might actually be delivered, but they will not be successful in blocking the new port.
2. Accidents and gridlock: finally!!! hope this proposal is adopted.
3. More European flights being added... anything to buy pass the US airports.
1. Costa Rica's dockworkers suspend strike in exchange for pay

November 6th, 2014 (InsideCostaRica.com) The dockworkers union known as Sintrajap agreed last night to suspend its strike at the Limon and Moin ports on Costa Rica's Atlantic coast, in exchange for the ports administration agreeing to not deduct workers' pay for the days that they have been absent from their posts as a result of the 16-day-old strike.

The decision comes after a labor court declared the strike illegal in recent days, which would have allowed the ports administration known as JAPDEVA to make payroll deductions from striking workers' paychecks for days they were absent from work.

Costa Rica's Constitutional Court dismissed an appeal last month against the new Moín Container Terminal filed by the union against the concession holder for the project, APM Terminals.

Sintrajap had claimed in its appeal that a particular clause in the concession would create an "illegal monopoly" giving APM Terminals the exclusive right to load and unload containers arriving in Limon.

The union subsequently declared a strike after further negotiations with the government broke down.

Workers are expected to be back on their posts today, but the union is describing its action as a "suspension" rather than an end to the strike, and said it is expecting further negotiations with the government surrounding the APM concession.
2. Bill would require moving vehicles in minor crashes
By the A.M. Costa Rica staff

A unique aspect of the Costa Rican highway laws is that in the event of an accident, even a minor one, the motorists are supposed to keep the vehicles stationary in the highway until police and accident inspectors arrive.

Never mind that it is 5:15 p.m. and the slightly damaged vehicles are blocking a main roadway. Never mind that the police and an inspector might be 90 minutes away. Never mind that the major damage is the red lens of a vehicle tail light.

That has been the law, and the policy was restated in the 2012 traffic code revision.

Now the lawmakers from the Partido Liberación Nacional and the Movimiento Libertario want to change this.

They have presented a proposed revision in the traffic law that would allow motorists involved in an accident where the only damage was material to move their vehicles.

In fact, if they do not, the revision would call for a 280,000-colon traffic citation. That's about $515.

The lawmakers, Liberación members Michael Arce Sancho and Antonio Álvarez Desanti and Libertario's Otto Guevara Guth, cite a constitutional right of free transit.

The summary to the bill, 19.402, said that traffic accidents average about 138 a day. In 2012 there were more than 50,000, it said.

The summary encourages motorist to take photos or video of the accident before moving the vehicles off the roadway.
3. German carrier Condor starts third weekly flight to Costa Rica

The Costa Rican Tourism Board on Tuesday welcome German tourists arriving at Juan Santamaría International Airport, outside San José. The German carrier Condor now operates three weekly flights between Frankfurt and the Costa Rican capital.

At 5 a.m. on Tuesday a Boeing 767 flown by the German carrier Condor arrived at Juan Santamaría International Airport outside Costa Rica's capital for the inauguration of the company's third weekly flight between Frankfurt and San José.

The new flight adds to two weekly flights the carrier operates on Mondays and Thursdays and responds "to a greater demand for European travelers and our reading of the traveling trends to the Costa Rican market," said Condor Airport Manager Óscar Álvarez.

"We have developed an accurate reading pointing at a higher demand from Germany and the entire European community for travel to Costa Rica, which allows us to anticipate the competition in meeting the needs of European tourists and even increasing our export load capacity," Álvarez added during a welcome ceremony held at the airport.

Local tourism officials also greeted travelers with souvenirs, music and folk dances. Costa Rican Tourism Board General Manager Alberto López said the route expansion would help increase the number of European tourists arriving in the country.

"Last year alone we registered more than 300,000 arrivals of European travelers, representing a 5.6 percent increase compared to 2012. Germany, Spain, France and the United Kingdom currently are the main market sources of tourists to Costa Rica," Álvarez said.

Rafael Mencia, CEO of Aeris, the company that administrates the Juan Santamaría terminal, said the German market in 2013 accounted for 18.19 percent of Europeans who arrived in the country, and currently is the main source of tourists from that continent.

This year five airlines have announced new flights to the country. Avianca, AeroMéxico, JetBlue, Delta and United will increase flights to the country's two international airports: Juan Santamaría and Daniel Oduber, in the northwestern province of Guanacaste. Cubana de Aviación will resume a nonstop flight to the island later this month.

Also in recent days, Thomson Airways and Southwest Airlines confirmed new flights in 2015, while Turkish Airlines and VivaColombia currently are in negotiations for opening routes to Costa Rica.
Brian, Lita, the Late Hugo IV, irreverent Vicka, the pigeon toed parrot, Chico II and Chica II