Dear friends,
When I started Residencias Los Jardines, I started writing a weekly news letter -determined to tell all the good, bad, and the ugly. I knew some readers would be interested in the construction process. I expected others might be interested in the lifestyle of two people who had decided to live outside the box. For others, the adventures of Lita, the parrot and the cat took on an entertainment saga all its own.
Residencias Los Jardines is finished. We periodically have resales and rental availability. Some readers may be interested in this information.
Brian Timmons
DEVELOPER / PROPERTY MANAGER
Residencias Los Jardines / https://www.residenciaslosjardines.com info@residenciaslosjardines.com
ResidenciasPropertyManagement@gmail.com
Featured house this week
Paradisus Condos / Rohrmoser
FOR SALE
Residencias Los Jardines
Property Management, Rentals, Re-Sales
Market Activity
Sales: no inquiries.
Rentals: one rental at Paradisus.
FOR SALE
Unit #114: $235,000 / See Unit
Unit #116: $214,000 / See Unit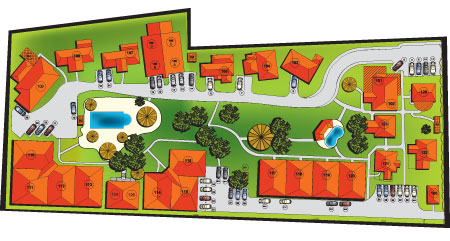 HOUSES FOR SALE
UNIT #114
FOR SALE $235,000
Total Area (Sq Ft): 1290
Total area (Sq M): 120
Bedrooms: 2
Bathrooms: 2
Floor(s): Single Floor
Type: Attached
Furnished: Yes
This 1,290 sf. (plus covered parking for one car and two lockers 67 sf.) single story, semi detached house, with garden terrace, two bedrooms is a beautiful executive style home. This home consists of two large bedrooms one with six piece en-suite bathroom with additional access to separate full shower. Each bedroom has large closets with extensive built-ins for personal organization. The vaulted living room and bathroom ceilings provide a feeling of grandeur while allowing the warmer air to rise and exit through the ceiling ventilating system. There are four TVs (one in each bedroom, one in the living room and one in breakfast / dinning room.) This is a beautiful well appointed home.
UNIT #116
FOR SALE $214,000
Total Area (Sq Ft): 1290
Total area (Sq M): 120
Bedrooms: 2
Bathrooms: 2
Floor(s): Single Floor
Type: Semi-Attached
Furnished: Yes
This 1,290 sf single floor home includes a 300 sf front terrace plus parking for one car and a separate, secure storage locker. It is and end unit and therefore attached on only one side by a 6 inch cement demising (common) wall, which prevents sound transfer.
Our Lives
WEATHER: We're still in the rainy season. The afternoon rains this past week have been regular and heavy.
Paradisus: I have not been successful at selling any of the units. This week I was presented with an option... not one I really like but it seems practical under the circumstances... that is to lease it. I have a tenant -I just have to furnish the place... That will be the focus over the next two weeks...
Two Jolts: Last night at 1:25 and again at 3:30 we were awakened by earthquakes. In each case, two strong jolts but no rumblings beyond. At some time the info. will come out re. their magnitude and location...
Volcano Turrialba which is fairly close as the crow flies, continues to spew ash. The ash as reached San Jose and Heredia but not Santa Ana... hope it stays that way.
News Items of the Week
Comments:
1. Yeah!!! gas prices are decreasing... they should if there is any credibility in the pricing algorithm.
2. Property Value Reassessments: this article and title are a bit out of line. The property reassessment is not just on expat real estate but all real estate... the part about applying the "luxury tax" portion is completely inconsistent with the criteria for this tax... it is supposedly separate and distinct from "market value".
3. Limon dock worker's buy off offer: note that similar promises have been made and broken.
4. 500 professional jobs up for grabs... trying to make up for the 3,000+ jobs lost.
5. Geothermal power generation: note, ICE will have a monopoly on this...
6. Substantial support for the new container port in Limon... it's the dock workers who are unhappy...
7. Goon squads... if the allegation is true, my guess is that some members of the union and/or dock workers would be amongst the rabble...
8. Costa Rica and business environment: 83rd... look at the reasons for being 83rd.
9. Poverty Increases: this is the case around the world and is no different here. In this case, however, the urban areas are better off than the rural areas... often times its the other way around.
10. Judiciary votes to stop their illegal practice... wow!!!!
1. Gasoline, diesel prices to decrease for the second time this month

October 28th, 2014 (InsideCostaRica.com) The Regulatory Authority for Public Services (ARESEP) announced yesterday that fuel prices will fall in the coming days.

Super gasoline will fall in price ¢22 from ¢777/liter to ¢755/liter, regular gasoline will fall ¢27 from ¢744/liter to ¢717/liter, and diesel will decrease ¢24 from ¢658/liter to ¢634.

The regulator said the decreases were the result of falling international prices.

This is the second price reduction this month, the last reduction occurring on October 2nd.
2. Expat homeowners face big jump in property taxes
By the A.M. Costa Rica staff

Many expat homeowners are in for a jolt when the municipal tax bill arrives.

Local governments have tapped into the Ministerio de Hacienda computers and now have access to updated values on property. In addition, individual properties now show up on canton maps, thanks to a long-running effort to create such a system. So the municipal tax collector can get a square meter price on land.

In some cases, expats are seeing a 10-fold increase in municipal taxes. One expat saw his annual taxes go from $220 to $2,200.

The Ministerio de Hacienda, the finance ministry, is using 2010 values for property, but in recognition that prices have declined, only 63 percent of the value is being applies. There also is a extensive listing of land values, similar to the system the Municipalidadde San José put into practice five years ago.

For example, depending on the location in the Canton de Mora, which includes Ciudad Colón, square meter land values range from 100,000 colons to 20,000 colons. Municipal tax is based on the land value and the value of any structure.

An additional fear by some expats is that the new valuations established by the municipality might put the dwelling in the luxury tax category.

This tax, the impuesto solidario in Spanish, is a special levy approved in 2009 on more expensive homes in an effort to raise funds for housing for the poor. It is law No. 8583;

According to the Ministeriode Hacienda, homeowners must next file values related to the luxury home tax by Jan. 15, 2016. But the fear is that the ministry will apply the same values as the municipality for next year.

This year the lowest category is for homes that are estimated to be worth from 121 million to 301 million colons. That is about $222,000 to $552,000. The tax at this level is 0.25 percent. The tax increases in steps to the top percentage of 0.55 percent for properties valued in excess of 1.8 billion colons.

A decree is expected that will establish the ranges for tax payments by Jan. 15, 2015.
3. Administration makes an offer of major investments to strikers
By the A.M. Costa Rica staff

The executive branch offered striking dock workers a basket of goodies Monday that totaled 406 billion colons, about $833 million.

The deal includes about 35 billion colons ($53 million) invested directly in improvements at the port of Moín. There also would be at least two state-of-the art container handling cranes.

And the executive branch promised to revive the Proyecto Limón Ciudad Puerto, which was an ambitious plan to beef up the infrastructure of the central canton of Limón, including sewer systems.

Casa Presidencial said that the striking dock workers asked for 48 hours to consider the offer.

A good part of what was being promised already has been promised by previous administrations but the money never materialized.

Also on the table are 270 billion colons ($495.5 million) to improve the Braulio Carrillo highway, the main roadway that feeds cargo into the port area.

Víctor Morales, the minister of Trabajo, told the strikers that the administration wants to see the public agency running the port to recapture its role as the port authority and the focus of development in Limón, according to Casa Presidencial.

That agency is the Junta de Administración Portuaria y Desarrollo Económica de la Vertiente Atlántica. known as JAPADEVA. The strikers are members of the Sindicato de Trabajadores de JAPDEVA. and they have been out since Wednesday.

The principal concern of strikers is that a new, $1 billion container handling terminal will eventually take away their jobs. That container handling facility still is awaiting an environmental go-ahead, which may be some months ahead.

Meanwhile, the Fuerza Pública is supervising both the Moín and Limón docks, and work has been reported to be normal, although strikers disagree.

Strikers also were told that the administration will conduct a study of possible niches for economic activity and impact that might be created by the terminal that APM Terminals will run as a concession.
4. Job fair to offer 500 posts for professional, technical workers

The American University (UAM) is organizing a job fair that will offer 500 posts on Wednesday and Thursday.

On Wednesday, recruiters from local and international companies will be at UAM's campus in San Pedro, east of San José, and on Thursday the fair will move to the university's campus in Cartago.

Entrance is free and the fair is open to the public from 11 a.m.-7 p.m. both days.

Posts are available at the management level for marketing, human resources, information technology, financial analysis, accounting and business administration. Companies also are looking for systems engineers and industrial engineers.

Recruiters also will be hiring technical-level staff for customer service, technical support, bilingual support (various languages), bank tellers, account executives, cashiers, and others.

Among the companies that will be looking to hire are: Bank of Costa Rica, Let's Go Internship, Phillip Morris International, Grupo Babel, Hotel Índico, Walmart México & Centroamérica, Western Union, Convergys y Tek Experts.

Those interested in applying for a job should bring résumés in both digital and print formats. For more information, including Google maps (in Spanish), visit: https://www.uam.ac.cr.
5. PAC lawmakers believe geothermal energy is solution to high energy costs

October 30th, 2014 (InsideCostaRica.com) Citizen Action Party (PAC) lawmakers believe that significantly increasing geothermal energy generation in the country's national parks is the best solution to lowering the country's electricity rates.

PAC lawmakers expressed their belief that geothermal is the best solution to produce low-cost, environmentally friendly energy this week as part of a government panel convened by President Luis Guillermo Solis with the goal of finding solutions to lower the country's high electricity prices. The panel will meet regularly until December.

Under the PAC plan, only the state-owned Costa Rican Electricity Institute (ICE) would be allowed to exploit geothermal energy, which produces energy from heat stored inside the Earth. Such generation typically takes place in or near volcanic national parks, such as the $1 billion geothermal project planned near the Rincon de la Vieja Volcano that was approved by lawmakers in July. Costa Rica has utilized geothermal energy to a limited degree since 1994.

The PAC plan also calls for increased generation via wind, solar, and biomass, which unlike geothermal, would be open to private generators.

Rep. Otton Solis, the principal sponsor of the plan, proposes to authorize ICE to exploit geothermal energy from any of the country's national parks, so long as environmental standards are adhered to.
6. More than 85 percent of Limón residents support new port terminal, poll claims

A solid majority of Limón residents say that a $1 billion APM Terminals port project will be a positive thing for the impoverished region, according to a survey from Borges y Asociados.

The poll results came out soon before the government announced it would restart negotiations with striking dockworkers on Thursday morning.

Of 250 respondents interviewed by phone, 69 percent said the new terminal in Moín would bring more jobs to the region. More than 88 percent said the port project would have a "positive effect" on residents. The survey results were published Tuesday afternoon by APM Terminals.

The poll was conducted with residents 18 and older in the Limón canton between Aug. 21-26. It has a 95 percent confidence level and a margin of error +/- 6.2 percent.

Paul Gallie, general director of APM Terminals for Central America, said, "The new JAPDEVA [Atlantic Port Authority] Container Terminal in Moín is a Costa Rican government project that we're sure will promote competition in the country and socio-economic development in Limón."

Costa Rica's port infrastructure is among the worst in Latin America, ranking 115th out of 144 countries surveyed in the 2015 World Economic Forum's Global Competitiveness Report. The hopes of many in the Caribbean province, the poorest in Costa Rica, have been pinned on this project that promises to deliver a world-class port.

"A project of this magnitude is going to generate jobs, demand for services, procurement for materials and will serve as a motor for development in Limón during the construction phase," José Rossi, president of the Costa Rican Investment Promotion Agency (CINDE), told The Tico Times. Beyond construction jobs, the port project is expected to create demand for secondary services that would create more employment.

Rossi said that it was important that the terms of the 2011 contract be respected if Costa Rica were to continue courting foreign investment. He said the promise of the new port was an important factor when businesses think about investing here. The docks in Limón handle some 80 percent of Costa Rica's international commerce.

"It would be unthinkable that this project not move forward," Rossi said.

On Wednesday, Labor Minister Victor Morales said the government would restart negotiations with the Port Authority union, SINTRAJAP, on Thursday morning, as the strike entered its eighth day. Morales had suspended dialogue after demonstrators in Limón burned pictures of President Luis Guillermo Solís and some of his ministers Monday after SINTRAJAP walked out of negotiations in San José.

The government has proposed $760 million in new equipment and infrastructure for JAPDEVA, as well as road improvements to Route 32 connecting San José and Limón, and other projects in the region. Morales said Wednesday that the government's offer had not changed since it was first proposed Monday.

The Solís administration has ardently supported the contract language as it is written, including a clause granting APM Terminals a 33-year concession to service container-only ships at its new facility.

Since the strike started on Oct. 22, police and demonstrators have clashed several times. Authorities have encountered 50 road blocks during the evenings, sometimes involving burning tires or rocks thrown at police, according to a statement from the Public Security Ministry.
7. Costa Rican authorities investigate alleged payments to known criminals to stage violent protests in Caribbean port city

Authorities in Costa Rica have opened active criminal investigations to determine who organized the ongoing acts of violence and vandalism that began last week and continued through Monday during a dockworkers strike that briefly paralyzed the country's most important commercial port in the Caribbean province of Limón.

The dockworkers union, SINTRAJAP, which opposes the $1 billion port renovation concession granted to the Dutch company APM Terminals, adamantly denies any link to the perpetrators of the violence.

Public Security Vice Minister Gustavo Mata told The Tico Times on Wednesday that investigators are looking into alleged payments made to instigators of the violence that has occurred in Limón since last Thursday, including the burning of at least two containers, the blockading of roads, constant tire-burning, attacks against police by stone-throwing thugs, and several gunshots. Most of the incidents have occurred late at night or early in the morning.

One participant in the violence, who asked that his name be withheld, told The Tico Times that known gang members or organized crime affiliates from marginal neighborhoods of Limón allegedly were paid between ₡50,000 ($93) and ₡200,000 ($374) per day to set up road blockades and vandalize vehicles and property. In the neighborhood of Limón 2000, whose young residents often are targeted by organized crime recruiters and drug traffickers, locals supposedly were offered ₡100,000 ($188) per day to participate; in Cieneguita, they allegedly were offered ₡50,000; and in Barrio La Colina, ₡80,000 ($150), the source said. Mata said that a ministry investigation seemed to confirm those figures. He also said that members of organized crime are responsible for distributing the payments in the neighborhoods.

The investigation began when a pair of audio recordings were leaked to members of the press and to authorities over the weekend. Allegedly recorded and sent via the mobile application WhatsApp last Thursday night, the recordings urge listeners to engage in acts of violence, vandalism and intimidation. In one recording, an unidentified man states:

"Tomorrow, Friday, attention everyone: You have the green light to commit vandalism. Put up barricades, burn tires, spread trash, tree trunks, everything. Block the street. Tomorrow se despicha Tere [a Costa Rican idiom for causing chaos]. … Possibly there will be 300 semi-trailers parked on Route 32 – no one leaves or enters Limón with containers. … Break some bus windows,... tomorrow the country collapses."

The Tico Times was unable to independently confirm the source of that recording. But authorities said they are treating it as evidence in their ongoing criminal probe.

Mata told the Costa Rican daily La Nación last week that he did not believe the union was involved in creating the disturbances. SINTRAJAP Secretary Ronaldo Blear also told La Nación last Friday that the violence was not instigated by the union, but rather stemmed from the "dissatisfaction" of Limón residents.

A vox populi report by The Tico Times yesterday, however, seems to indicate Limonenses are more dissatisfied with the union than with port deal. And a press release posted on APM's Facebook page cites a poll by Borges y Asociados that claims nearly 86 percent of Limonenses support the port project and believe it will help bring progress and development to Costa Rica's economically struggling Caribbean province.

Last Wednesday, Blear told La Nación that, "If the government strikes us, we'll strike back. What they did to us today was a dirty trick."

The union leader was referring to the decision by the administration of President Luis Guillermo Solís to break the strike and regain control of the ports in Moín and Limón on Wednesday night. Dozens of protesters and striking workers were arrested.

Then, talks between the Solís administration and union leaders broke off Tuesday after protesters burned a poster with President Solís' image. Tempers cooled, and talks are set to resume tomorrow morning at 9 a.m. The union is demanding the government renegotiate one clause of the concessions contract, which they say gives APM a monopoly on container handling. Critics of the union say it's the port authority, JAPDEVA, that has the monopoly, and a 33-year concession for a $1 billion port project that Costa Rica could never build on its own is more than reasonable.

In a press conference on Wednesday, Blear – using a Costa Rican saying that translates directly as "don't pull the calf's tail" – warned officials: "No le jalen el rabo a la ternera, be very, very careful. The violence in Limón hasn't even started yet."

The Tico Times attempted to speak with Blear on Wednesday, but was unable to reach him on his cellphone.
8. Costa Rica ranks 83rd in the world for doing business

Other countries are outpacing Costa Rica when it comes to improving the ease of doing business, according to a press release from the World Bank. The World Bank's 2015 Doing Business report ranked Costa Rica 83rd out of 189 economies in the world for ease of doing business – down five spots from 2014 due in part to an adjustment of the annual study's methodology.

The report highlighted Costa Rica's efforts to speed tax filing and payment with a new electric system for businesses. Improved access to electricity and the government's proposed value-added tax also were lauded by the report. The coffee-producing country scored the best in the categories for trading across borders (47), registering property (47) and getting electricity (46).

Costa Rica scored lowest in protecting minority investors (181), a category that deals with disclosure requirements, shareholder participation and accountability. Starting a business (118) was another low-scoring category for Costa Rica, a subject that President Luis Guillermo Solís made a centerpiece of his campaign to re-energize the national economy by supporting small and medium-sized entrepreneurs.

Colombia (34) topped the regional ranking as the best place to do business, and the country also has implemented the most reforms since 2005. Colombia was followed by Mexico (39), Chile (41), Panama (52) and Jamaica (58) among the top five countries in Latin America and the Caribbean for doing business.

Panama (52) was the highest-ranked Central American economy, followed by Guatemala (73), Costa Rica (83), Honduras (104), El Salvador (109), and Nicaragua (119).

Venezuela was the worst-rated Latin American country for doing business, scraping the bottom of the rankings at 182.

Singapore was the easiest country to do business in the world. New Zealand, Hong Kong, Denmark, South Korea, Norway, the United States, the United Kingdom, Finland and Australia joined it in the worldwide top 10.
9. Poverty in Costa Rica reached the highest level in five years

22.4% of households in Costa Rica are poor, that is, nearly a quarter of Costa Rica is in poverty.
In the case of extreme poverty, for the same period was 5.8% in 2010 to 6.7% in 2014 nationally.
Poverty sits in 394 neighborhoods throughout Costa Rica.

Poverty in Costa Rica homes reached the highest level in five years in 2014 to reach 22.4%. This represented an increase of almost two percentage points compared to 2013 as revealed on the morning of Thursday, the 2014 National Household Survey conducted by the National Institute of Statistics and Census (INEC).

The study shows that 318,810 households are in poverty, representing more than 32,727 compared to last year.

In the case of extreme poverty passes from 88,835 households in 2013, to 94,810 households in 2014, ie 6.4% of all households in the country to 6.7% .The increase was also statistically significant compared to result of 2013, which was 20.7%.

The INEC survey shows that in the last five years, the poverty level increased from 21.2% in 2010 to 22.4% in 2014.

In the case of extreme poverty, for the same period studied, the figure was 5.8% in 2010 to 6.7% in 2014 nationally.

Poor households in Costa Rica (INEC)
Moreover, almost a quarter of the Costa Rican population is poor. The survey found that 1,170,634 are in this situation, ie 24.6% in 2014, up from 23.3% the previous year.

Floribel Mendez, manager of INEC, said the main reason for the increase between 2013 and 2014 is that households lost purchasing power because their incomes grew less than the increase in the cost of basic goods and services.

Meanwhile, the average per capita income grew by 2% in current terms in 2013 and 2014, while the poverty line increased by 5%, this indicator used by INEC reflects the cost of basic goods and services.

Reasons. The investigation found that employment status at home is essential in determining poverty. The unemployment rate among poor people (23.9%) is four times that of non-poor (5.7%).

Furthermore, among people living in poverty in the employment rate is only half and the relationship of economic dependence falls short of 232 dependents per 100 economically economically active population (EAP), against 90 people this economically dependents per 100 persons in the labor force for the non-poor, according to INEC.

Regions. The central region is the area with the lowest incidence of poverty in Costa Rica, as 17.2% of households are poor. This means 5.1 less than the national average percentage points.

At the other end Brunca, which has the largest number of poor households 36.2%, and the sum Chorotegan region the highest incidence of households in extreme poverty with 12.1% .However, are the greatest increase poverty occurred in Huétar North, four percentage points.

However, the largest increase in poverty occurred in Huétar North, four percentage points.
10. Court removes pension privileges of the Judiciary

The Full Court overturned the previous Monday provision that granted privileges to employees pension judiciary.

The directive, known as Rule IV, granted retirement at age 55 with a pension amount equal to the average wage last 12 who were not eligible for such benefits.

"It was agreed to revoke the application of Rule IV in the future; ie it's no longer apply. The agreement was made firm, "confirmed Ana Eugenia Romero, executive director of the Judiciary.

The vote, which was 13-2, eliminated definitively rules created in 2000 and that 403 people were favored.

At the sitting of the court on Monday included 15 judges (10 of whom were alternates). The judges of the Constitutional Court were not currently studying for a case involving pensioners in the judiciary.

However, the recommendation of an internal report of the Court and one of the Pensions (SUPEN) to initiate legal proceedings against those who received extra money in your pension is not solved. Such studies described as illegal the norm now repealed.

SUPEN found that, between January 2000 and July 2012, would have been paid over ¢ 4.079 million in pensions to employees receiving retirement benefits to which they were not entitled, as reported by The Nation on previous June.

The pension fund of the Judiciary was established in 1937. It now has 3,367 employees retirees and 12,074 active contributors, according to the financial statements of the previous regime in September.

Earlier this year, SUPEN recommended closing the judicial retirement system because it is not sustainable in the future , even with a legal reform proposed by the Court.

In June 2012, the Argentina signature Melinsky, Pellegrinelli and Assoc. Determined that the Fund has an actuarial deficit of ¢ 4 billion and would be insolvent in 2027.

Responsibilities. Edgar Robles, Superintendent of Pensions, rightly described the decision of the judges, although it took almost a decade after the SUPEN warned for the first time, on the irregularity of Rule IV.

"We must review all pensions granted and adjust bad-looking; know that there are amounts paid incorrectly and should be recovered; and responsibility of those who created the rule should be established, "Robles said.

Ana Eugenia Romero explained that any legal proceedings to compensate the public body by the damage generated will be analyzed in the Full Court. This will be done once the Constitutional Court resolved another case involving a pension overpayment filed against a group of 16 exmagistrados.

Romero confirmed that the repealed regulation IV shall not apply in cases of judicial officers who initiated the process to retire with the terms of such regulations.

The last benefit given the superseded standard was granted on 1 May preceding.
Brian, Lita, the Late Hugo IV, irreverent Vicka, the pigeon toed parrot, Chico II and Chica II