Dear friends,
When I started Residencias Los Jardines, I started writing a weekly news letter -determined to tell all the good, bad, and the ugly. I knew some readers would be interested in the construction process. I expected others might be interested in the lifestyle of two people who had decided to live outside the box. For others, the adventures of Lita, the parrot and the cat took on an entertainment saga all its own.
Residencias Los Jardines is finished. We periodically have resales and rental availability. Some readers may be interested in this information.
Brian Timmons
DEVELOPER / PROPERTY MANAGER
Residencias Los Jardines / https://www.residenciaslosjardines.com info@residenciaslosjardines.com
ResidenciasPropertyManagement@gmail.com
Featured house this week
Paradisus Condos / Rohrmoser
FOR SALE
Residencias Los Jardines
Property Management, Rentals, Re-Sales
Market Activity
Sales: no inquiries.
Rentals: we are full.
FOR SALE
Unit #114: $235,000 / See Unit
Unit #116: $214,000 / See Unit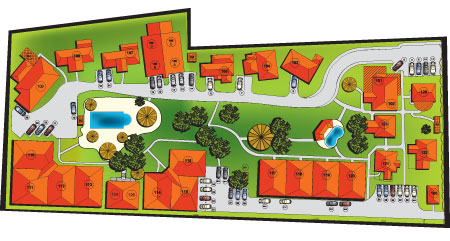 HOUSES FOR SALE
UNIT #114
FOR SALE $235,000
Total Area (Sq Ft): 1290
Total area (Sq M): 120
Bedrooms: 2
Bathrooms: 2
Floor(s): Single Floor
Type: Attached
Furnished: Yes
This 1,290 sf. (plus covered parking for one car and two lockers 67 sf.) single story, semi detached house, with garden terrace, two bedrooms is a beautiful executive style home. This home consists of two large bedrooms one with six piece en-suite bathroom with additional access to separate full shower. Each bedroom has large closets with extensive built-ins for personal organization. The vaulted living room and bathroom ceilings provide a feeling of grandeur while allowing the warmer air to rise and exit through the ceiling ventilating system. There are four TVs (one in each bedroom, one in the living room and one in breakfast / dinning room.) This is a beautiful well appointed home.
UNIT #116
FOR SALE $214,000
Total Area (Sq Ft): 1290
Total area (Sq M): 120
Bedrooms: 2
Bathrooms: 2
Floor(s): Single Floor
Type: Semi-Attached
Furnished: Yes
This 1,290 sf single floor home includes a 300 sf front terrace plus parking for one car and a separate, secure storage locker. It is and end unit and therefore attached on only one side by a 6 inch cement demising (common) wall, which prevents sound transfer.
Our Lives
WEATHER: This past week has seen a decline in rain... we've had virtually none... It seems that the transition to the dry season has begun... November is usually a transitionary month... sometimes dry and sometimes quite wet... it might well be a dry month this year.
Expats Continue to leave: This week will see the two parties of expat friends return to their home countries -USA and Canada. The reasons are different in each case. One couple have been very close and socially active friends of ours. We are going to miss them A LOT!!!!!!!!! They are 5-7 years older than us, have private medical insurance in the States which is not recognized here; while they are currently in great health, they know that at some time, their health will fail and at least one does not want to be subjected to the CR medical system... It is a decision we might be faced with at some point in time; I don't know that I will bake the same decision.
The other person who is older by a few years, is returning largely because he has no friends here. This certainly doesn't need to be the case as there are many, many expat groups. We find ourselves much more socially active here than we would be in Canada. In addition, he has to qualify for residency and he's not the type of person who will go through the arduous process. He's renting out his house here at Los Jardines and selling his car. The gardener will buy it, spiff it up and re-sell it. Everyone wins...
We know of three other couples who would probably leave CR when and if they are able to sell their houses. Our social group is attriting faster than new arrivals...
Termites: they are still with us, alive and healthy in several different places. It's all "hush-hush" at this point in time... along with some other issues which could be considered embarrassing... hide your mistakes, flaunt... whatever...
Paradisus: we understand that Phase II of the project will get underway by January. Preliminary surveying work is being done now in preparation for construction. This is sooner than we expected but we're happy to hear it.
News Items of the Week
1. Proposed Reduction in Rental Increases: It appears that 20% of CR live in rental housing. The proposed law limits the rental increase, if written in colones (if in any foreign currency, the rate is fixed for three years). The proposal limits the increase to 12% or the rate of inflation.
2. Trade deficit grows: Duhhhhh... Intel manufacturing left... and the government was going to make up the difference with bananas, cassava, pineapples, and coffee... really????? !!!!!
3. Teachers: Having shut down the school system for two months due to government payment errors, they now take their usual 3 day professional??? days. It used to be they had to attend professional development seminars; few did. Now they can attend "on line" yeah!!!!!
4 & 5: Dock Strike--Limon: again the dock workers in Limon are trying to stop the new container port. Since it is vital to the economy of CR, the government stepped in quickly and stopped it. The unions say the new port will create a monopoly and is unfair; that is just what they have now... wow!!!
6. New Container Port: another hurdle... the union has again submitted a long list of environmental objections which will take INVU months to sort their way through. Meanwhile the costs will continue to rise and probably the frustration level of the Dutch company... it may be that they simply withdraw their interest... the dock workers would be happy and the country would be screwed!!!
7. Electricity Rates: a panel of 60 people have been appointed to study and propose solutions. The report is to be submitted by April... sounds way to many people and given that nothing happens over Christmas (one month) I doubt the deadline will be met...
1. Government supports plan to reduce annual increases to rents

Nationally, about 20% of homes are rented
The government joined the call of various sectors in favor of a bill that aims to reduce the allowable annual increases for rentals.

This was stated by Minister of Housing and Human Settlements (MIVAH), Rosendo Pujol, referring to the plan to amend article 67 of the Law on Urban and Suburban Leases, that allows up to 15% annually.

"We already discussed this and headed a note to the Assembly. Lower percentage of 15% seems very positive, "Pujol said. The bill (Docket No. 18,067) was introduced in 2011 by the then deputy Frente Amplio (FA), José María Villalta.

The idea is that the "annual gains (...) are in line with inflation, provided this does not exceed 12%," reads the plan. The issue becomes important given the growing trend among the Ticos to rent rather than buy.

Tenants grow. According to the National Institute of Statistics and Census (INEC), the percentage of rental housing increased from 16.4% in 2000 to 20.2% in 2011.

In contrast, the amount of own houses (fully paid) stagnated at 58%, from 935,289 in 2000 to 1,211,964 in 2011.

This information was confirmed by a study last May of the Inter American Development Bank (IDB), which stood at 21% average leasehold in the country. In Latin America, the average is 20%.

The number of renters increased from 567,000 to 802,000 from 2000 to 2011, according to INEC.

Reasons. "Formal housing in Latin America and the Caribbean is expensive. Some sources suggest that the price-income ratio can be up to three times higher than in EE. UU. "Stressed the IDB on why renting is more attractive.

The company even recommended that Governments include the rent between policies aimed at solving housing problems.

Guillermo Carazo, president of the Costa Rican Chamber of Construction, said the weekly El Financiero that people interested in homeownership, but can not purchase it, grew 5% in 2000 to 30% in 2013.

The Pujol minister acknowledged that cost is a cause for hire.

"Acquiring home is not as easy. Many people would like to have home, but do not reach the means to buy it, and the only option left is to rent, "said the hierarch.

Another theory is Franklin Solano, the Housing Promotion Foundation (Fuprovi). He believes that the rise in the rate of leases is because single-person households are increasing.

"These homes are more than 15 years ago; therefore require more housing and, as everyone can not buy, what remains is to rent, "he said Solano.
2. Costa Rica's trade deficit continues to grow

October 22nd, 2014 (InsideCostaRica.com) Costa Rica's trade deficit continues to grow, according to the latest data provided by the Central Bank.

Between January and August, the country's accumulated trade deficit reached $3.985 billion dollars, an increase of $488 million compared to the same period last year.

Total exports for the period were $7,770,000,000 compared to $11,755,000,000 in imports.

In 2013, the country's trade deficit rose 4.2% compared to 2012.
3. 26,000 teachers leave the classroom to participate in virtual congress

MEP unknown how many students will not have lessons

26,000 teachers leave the classroom from tomorrow until next Wednesday and Friday to attend virtually the annual meeting of the National Association of Educators (ANDE).

For the second year provides an alternative activity to follow the presentations online without leaving their communities.

According to the ANDE, 3,000 people personally attend the Congress, to be held in the gym BN Arena in Hatillo 2.

The press office of the Ministry recalled that are scheduled in the school calendar three days, so you may not qualify students who do attend as a regular school day.

Neither MEP nor ANDE not know how many children receive lessons these days; however, the Ministry said that teachers who plans to attend should inform both educational institutions and parents so that children do not come to the class.

In ANDE say they will send certificates of attendance of virtual workshops to MEP. To do so, educators should participate in at least one daily activity.

Regional bureautes will also forward the control of those who come to Congress in person.
4. Casa Presidencial working to prevent dock strike
By the A.M. Costa Rica staff

Casa Presidencial is working hard to prevent a walkout at the Limón docks.

Dock worker union leaders were at Casa Presidencial Monday but they were told that nothing is certain. The proposed $1 billion container handling concession still has to pass muster with the Secretaria Técnica Nacional Ambiental, which already had a long list of what it considers deficiencies.

In addition, union leaders were counseled to wait to read the full decision by the Sala Primera that seemed to remove another obstacle for the Dutch firm that has been designated to build the facility.

Only a summary was released by the Poder Judicial.

The Sindicato de Trabajadores de la Junta de Administración Portuaria y de Desarrollo Económico de la Vertiente Atlántica has been fighting aggressively against the project even though most officials and business leaders think the new facility will be an important step forward for Costa Rica.

Despite the conciliatory words from Casa Presidencial, union leaders still are contemplating a strike. That wold be a disaster for the banana and pineapple growers as will as other exporters.

Government officials said they told the union leaders that APM Terminals, the concession holder, has agreed to pay additional money to finance social development in the province of Limón. The union leaders were accompanied by friendly lawmakers. Frente Amplio, one political party, opposes concessions on philosophical grounds. Plus some do not like the fact that foreigners would be running the operation.

Many union members thought that President Luis Guillermo Solís would pull the plug on the concession project. They would prefer that more government money be poured into the existing docks to make them more efficient. Solís certainly is receiving pressure from the business sector.
5. Government sends 150 police, arrests 68 to reopen Limon ports

October 23rd, 2014 (InsideCostaRica.com) In what is being described as a "surprise attack," the government sent 150 police officers and made 68 arrests in a move aimed at reopening the country's Atlantic ports just 10 hours after the dockworkers' union, Sintrajap, declared a strike and crippled port operations on Wednesday.

The move came after striking unionists shut down port operations at the Moin and Limon terminals around 8:30 a.m., leaving six vessels stranded and unable to load or unload cargo.

President Luis Guillermo Solis, who was coincidently in Limon at the time on a tour of a hydroelectric facility, gave the order around noon for the docks to be reopened.

"When negotiations break down, the government has to act accordingly," Solis said in announcing the order.

About six hours later, some 150 law enforcement personnel responded, breaking the strike and reopening the terminals.

Sixty-eight arrests were made during the operation, which authorities said took less than ten minutes.

Those arrested face charges of obstruction of public roads and obstruction of public services, authorities said.

In a statement issued after the operation, Sintrajap said the dockworkers strike would continue indefinitely, while the port authority known as JAPDEVA said it would employ a team of private dockworkers to take the place of strikers, promising that it would not allow port operations to be compromised as a result of the ongoing strike.

Security Minister Celso Gamboa said that police officials would remain at the terminals indefinitely to ensure they remain open.
6. Approval for container terminal is a long way off
By the A.M. Costa Rica staff

Even though police have restored service at the Limón docks, the resolution of the conflict over a $1 billion container handling facility is a long way off.

The strike by dock workers purportedly is about a clause in the contract with APM Terminals, which the union claims bestows an illegal monopoly to handle shipping containers on the firm. President Luis Guillermo Solís defended the agreement and said in a statement Thursday that the contract has been studied by a number of agencies and two branches of the Corte Suprema de Justicia.

Without a strong and evident commitment to the legal system, Costa Rica lacks the credibility necessary to attract inversions, the president said.

University professors and the Federación Concervacionista are asking the Secretaría Técnica Nacional Ambiental to annul the concession contract.

One of the professors is Álvaro Sagot, who also is a lawyer. News files shows that he has opposed a number of major projects, including the Proyecto Hidroeléctrico Diquís, the concession for the highway to San Ramón, the las Crucitas open pit gold mine and even City Mall in Alajuela. The other professor is Allan Astorga, a geologist.

Environmental approve is necessary for the construction of the container handling facility, which will be built on an artificial island in Moín harbor.

Project planners had hoped for environmental approval this year, but now, after the professors and the federation filed their objection, the environmental agency probably will spend much more time considering the case.

Specifically, the objections address 110 points of the environmental impact statement, including the procedures whereby the concession was granted to APM Terminals the first place.

Curiously, one of the objections is that the environmental agency cut short a public hearing on the project in Limón before all who wanted spoke. That was the session where rowdy dock workers made so much of a ruckus that those administering the hearing saw no point in continuing. The courts ordered an addition hearing nevertheless.

The Fuerza Pública said that dock operations in both Moín and Limón were back in service by 9 a.m. Thursday. The police agency said that four highway blockade were broken up overnight. There are about 150 police officers providing security at the docks.

The Promotora del Comercio Exterior de Costa Rica said Thursday that about $12.7 million in exports pass through the Limón ports each day. The bulk of the exports are bananas and pineapples. The organization estimated that some 693 20-foot containers are shipped out each day and said that any slow down results in additional costs. Strikers walked out Wednesday morning.

Members of the striking Sindicato de Trabajadores de Japdeva y Afines Portuarios said they are expecting outside support from other labor unions and hinted at sympathy strikes elsewhere.

Casa Presidential said that union leaders met Thursday with government minsters at the requests of some legislators.

Victor Morales Mora, minister of Trabajo y Seguridad Social, said the government reaffirmed its position that the contract clause cited by the union is not a subject of negotiations. He also said that the government is seeking more development in the Limón area to improve living conditions.

Public opinion seems to side with the government, Even the opposition Partido Liberación Nacional issued a statement backing Solís and said that the strike by dockworkers should not have taken place.
7. Government forms panel to try to reduce electricity rates

October 23rd, 2014 (InsideCostaRica.com) President Luis Guillermo Solis inaugurated this week a panel of more than 60 participants who will attempt to develop solutions and public policy to reduce the country's high electricity prices, long seen as reducing the country's competitiveness in the region.

The plan to form such a panel was announced by the Solis government shortly after the president's May inauguration.

The panel will meet regularly between now and December to discuss issues of efficient electricity use, distribution and generation; ways to optimize and diversify the country's energy matrix, as well as socio-environmental issues.

The work of the panel will culminate in April 2015 when it presents the VII National Energy Plan.
Brian, Lita, the Late Hugo IV, irreverent Vicka, the pigeon toed parrot, Chico II and Chica II