Dear friends,
When I started Residencias Los Jardines, I started writing a weekly news letter -determined to tell all the good, bad, and the ugly. I knew some readers would be interested in the construction process. I expected others might be interested in the lifestyle of two people who had decided to live outside the box. For others, the adventures of Lita, the parrot and the cat took on an entertainment saga all its own.
Residencias Los Jardines is finished. We periodically have resales and rental availability. Some readers may be interested in this information.
Brian Timmons
DEVELOPER / PROPERTY MANAGER
Residencias Los Jardines / https://www.residenciaslosjardines.com info@residenciaslosjardines.com
ResidenciasPropertyManagement@gmail.com
Featured house this week
Paradisus Condos / Rohrmoser
FOR SALE
Residencias Los Jardines
Property Management, Rentals, Re-Sales
Market Activity
Sales: one inquiry.
Rentals: one inquiry but we are full.
FOR SALE
Unit #114: $235,000 / See Unit
Unit #116: $214,000 / See Unit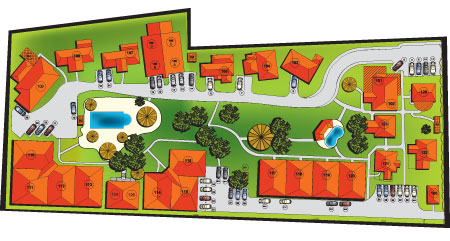 HOUSES FOR SALE
UNIT #114
FOR SALE $235,000
Total Area (Sq Ft): 1290
Total area (Sq M): 120
Bedrooms: 2
Bathrooms: 2
Floor(s): Single Floor
Type: Attached
Furnished: Yes
This 1,290 sf. (plus covered parking for one car and two lockers 67 sf.) single story, semi detached house, with garden terrace, two bedrooms is a beautiful executive style home. This home consists of two large bedrooms one with six piece en-suite bathroom with additional access to separate full shower. Each bedroom has large closets with extensive built-ins for personal organization. The vaulted living room and bathroom ceilings provide a feeling of grandeur while allowing the warmer air to rise and exit through the ceiling ventilating system. There are four TVs (one in each bedroom, one in the living room and one in breakfast / dinning room.) This is a beautiful well appointed home.
UNIT #116
FOR SALE $214,000
Total Area (Sq Ft): 1290
Total area (Sq M): 120
Bedrooms: 2
Bathrooms: 2
Floor(s): Single Floor
Type: Semi-Attached
Furnished: Yes
This 1,290 sf single floor home includes a 300 sf front terrace plus parking for one car and a separate, secure storage locker. It is and end unit and therefore attached on only one side by a 6 inch cement demising (common) wall, which prevents sound transfer.
Our Lives
WEATHER: it's been mostly overcast with rain and drizzle.
Playa Carrillio was great as always and the food at the Hotel Gunamar continues to be delicious.
News Items of the Week
1 & 2: AyA and Limon dock workers: they love their monopolies and when monopolies are threatened, the protected protest even when the handwriting is in front of them...
3. Infrastructure spending... numerous international agencies have assessed that CR's infrastructure is holding back the development and competitiveness of the country... and it takes forever to get projects approved and funds allocated. What is started by one administration is, at best, completed (?) or cancelled by the next administration...
4 & 5: Budget Trimming: The budget proposal submitted by Solis was 19% higher than last year's; opposition members tried to cut it but when the knife got close to the bone, they backed off... this was expected... resulting in a 3.8% reduction which will be renegotiated back closer to the original proposal... my guess, the budget will be reduced by 2% at best resulting in an increase of 17%... Moody's, Fitch, and S & P anticipated this... thus, the credit reduction...
6. Highway financing: Yep, it's back on again, with a wider scope of work and a much higher price tag..I doubt that the $35 million cancellation penalty is figured in.
7. CITI bank withdrawl from RETAIL banking: I don't think this decision had anything to do with CR but with an internal strategic decision to change their business model.
1. AyA workers to go on strike Thursday

October 15th, 2014 (InsideCostaRica.com) The union representing the workers of the Costa Rican Institute of Aqueducts and Sewers (AyA), known as SITRAA, have announced a general strike on Thursday, October 16th.

The union is contesting the recent privatization of certain AyA functions, namely the outsourcing of water disconnections and reconnections, the reading of water meters and the delivery of water bills.

The union is also protesting a 20% cut in employee expense reimbursements for items such as uniforms, travel, and food expenses.
2. Port workers threatening strike after court decision on Moín mega-terminal

October 15th, 2014 (InsideCostaRica.com) The Union of Allied Port Workers (Sintrajap) is threatening a strike after Costa Rica's Constitutional Court dismissed an appeal last week against the new Moín Container Terminal filed by the union against the concession holder for the project, APM Terminals.

Sintrajap had claimed in its appeal that a particular clause in the concession would create an "illegal monopoly" giving APM Terminals the exclusive right to load and unload containers arriving in Limon. The appeal was the last legal alternative available to Sintrajap in its attempts to stop the project.

Carlos Brenes, an attorney representing the union, told reporters that the union would not back down, adding that in Limón's history, "only strikes solve problems."

APM Terminals obtained the concession to build and operate the port in 2011 and was due to begin construction last year, but the project has faced several legal challenges.

The initial concession is for 33 years, with an initial investment of at least $1 billion and the creation of some 400 jobs.

The new facilities would be able to accommodate modern "Panamax" class container vessels of up to 13,500 containers, some five times larger than those that can be serviced in the country presently.

The project has the support of President Luis Guillermo Solís, who welcomed last week's decision by the Constitutional Court. Sintrajap representatives said final decisions regarding if, or when a strike might occur would be made in the coming days.
3. Costa Rica leads Latin America in infrastructure investment, but still not enough, says UN

October 15th, 2014 (InsideCostaRica.com) Costa Rica headed the ranking of infrastructure investment by using 5.4% of its GDP on infrastructure projects, followed by Uruguay (5.08%), Nicaragua (4.93%), Bolivia (4.47%), Peru (4.46%), Brazil (4.1%), Mexico (3.32%), Panama (3.32%) and Argentina (2.89%), in a recent report by the United Nations Economic Commission for Latin America and the Caribbean (ECLAC).

However, all of the countries in the region fall short of what ECLAC estimates as the countries' needs, stating that each country in the report should be spending about 6.2% of its GDP on current and expected infrastructure needs, though this number is "an approximation and not a strict recommendation," the report concedes.

Bottoming out the rankings of Latin American nations by infrastructure investment were Chile (2.83%), Colombia (2.45%), El Salvador (2.3%), Ecuador (1.58%), Guatemala (1.55%) and Paraguay (1.51%).

As a whole, the region is now spending 3.4% of its combined GDP on infrastructure, an improvement from the 2.7% of GDP seen over the previous decade. Transport has seen the most significant investment, followed by energy, telecommunications, water and sanitation.

"Investment in infrastructure projects contributes to increasing the coverage and quality of public services and reduces the costs associated with mobility and logistics.

"This in turn improves the access to markets of goods, services, employment and financing, providing a favorable environment for improvements in the population's overall well-being," the report states.
4. Finance committee reports a trimmed budget
By the A.M. Costa Rica staff

The legislative budget committee approved funding for 2015 Thursday that is 3.8 percent lower than the executive branch wanted.

The approved budget is 7.6 trillion colons, about $14 billion. The amount trimmed from the executive branch budget was 297.8 billion colons or about $546 million.

Three of the 11 lawmakers on the committee voted against the cuts. They are Marco Vinicio Redondo of the Partido Acción Ciudadana and Gerardo Vargas Varela and José Ramírez of Frente Amplio, The have expressed concerns about cuts to social programs.

The Ministerio de Obras Públicas y Transporte, the Poder Judicial, the Ministerio de Educación Publica and the Ministerio de la Presidencia sustained the bulk of the cuts, according to a legislative summary.

The committee, the Comisión Permanente de Asuntos Hacendarios, also ordered government agencies to use up their surpluses.

The budget now goes to the full legislature which is supposed to approve a budget by Nov. 30.

Some lawmakers were surprised when President Luis Guillermo Solís submitted a budget request for 7.9 trillion colons, $14,5 billion. That's because the country is deeply in debt and paying much of the budget with borrowed money.

Committee Chairman Ottón Solís led the effort to trim the budget, but he also generated strong responses from those affected, including the president. University students, for example, staged a march on the legislature. The Poder Judicial launched a strong public relations effort.

However, revelations dampened the campaigns. For example, some former officials were reported to be received pensions approaching $18,000 a month, and some agencies were found to be giving nearly every employee a merit pay bonus each year.

Still, during debate in the full Asamblea Legislativa, the cuts could be restored or more cuts could be made.

Expats who have been following the budget discussions in the Spanish-language newspapers could become confused by the category of numbers. Million is the same in Spanish or English. But in Costa Rica, what English-speakers call billion is called here mil millon. The issue is confused further because Spanish speakers use the word billon for what English speakers call trillion.

So 7.6 trillion colons is called 7.6 billones in Spanish.
5. Luis Guillermo Solis announces fight to reverse budget cuts

The president, Luis Guillermo Solis, announced it will fight the cuts of ¢ 97,000 million which was approved by members of the Committee on Financial 2015 National Budget.

Solis said that the budget cuts undermine the constitutional mandate given administration.

"I will do everything possible to try to correct the decisions of the last few hours that are affecting the way we do public policies for better social stability," said the president.

With those words, Solis closed the opening of the dialogue that the Executive engaged with social organizations in the Jade Museum in San Jose.

According to the president, budget cuts, led by government deputy Otton Solis and lawmakers Unidad Social Cristiana (PUSC), "conspire against the constitutional mandate given by this administration."

The 2015 budget was approved by the Committee on Financial on Thursday night and reach the full Congress from November 1.

Under the Constitution, the government spending plan must be finally adopted before 30 November.

The president said he will try to reverse the cuts made by the deputies in the coming weeks.

"Not that we do not recognize the need for cuts, greater efficiency and transparency in spending," argued Solis.
6. Legislative committee approves financing for new San Ramón highway
By the A.M. Costa Rica staff

A legislative committee approved and sent to the full body Thursday a plan to create a 30-year trust to build the San José-San Ramón highway.

The project will use local banks and government institutions to put money in the trust.

The highway will be constructed in stages. The first will be making the stretch from the Circunvalación to Sabana Este into six lanes. The second stage will be for eight lanes from the Agencia Datsun to Juan Santamaria airport. The third step will be four lanes from the airport to San Ramón. There also are plans for a four-lane highway from San Antonio de Belén to Santa Ana.

The committee, the Comisión de Asuntos Económicos, said that the taking of land and expropriation for the jobs should be done as quickly as possible.

Lawmakers on the committee expressed positive opinions of the project and said it should be competed as soon as possible.

In another highway development, the nation's financial watchdog has approved 22 direct contracts amounting to 70 billion colons (about $128.5 million) to allow the road agency to continue extensive repairs of the national network.

The firms getting the contracts are basically renewing what they already had. They include Constructora MECO S.A., Constructora Hernán Solis S.R.L, Quebradores del Sur, S.A., Consorcio Orosi and CONANSA S.A.

The contracts expired in August but the work had not been completed. The Consejo Nacional de Vialidad said that the contracts also were vital to provide emergency work for rain and flood damage this month and next.

Heredia officials will open this, Calle el Guayabal, today after extensive work to stabilize the slope for the benefit of those living above. The slope has been covered with concrete and metal spikes driven in to prevent slippage. This is a principal access to Heredia that carries up to 4,000 cars a day. The job cost 300 million colons or about $550,000.
7. Citigroup announcement sparks hectic week for Costa Rica's banking sector

Presidency Minister Melvin Jiménez Marín seems to have put his foot in his mouth on Tuesday, after "mistakingly" announcing Citi would lay off more than 700 workers in Costa Rica. He later apologized for the "error."

Citigroup's announcement on Tuesday that its retail banking business would be leaving Costa Rica prompted a chain reaction of speculation and drama.

On Tuesday morning, the financial group issued a press release announcing the company would scale back its banking operations in 11 countries, including Costa Rica. The company said it was reducing its Global Consumer Banking (BCG) to seek a better profit margin.

That move means the bank will no longer offer retail services in Costa Rica, including personal loans, credit cards and personal savings accounts. Following the change, expected to be completed by next year, the bank will offer account management and loan services exclusively to companies.

At midday Tuesday, Costa Rican Vice President Melvin Jiménez set off a firestorm of speculation during a press conference at Casa Presidecial, where he said Citi's move would entail the firing of 711 employees here.

Citibank officials responded a few hours later to Jiménez's comments, with corporate affairs director Lisandra Chaves issuing a public statement indicating that "the adjustments announced this morning do not mean layoffs or the closure of Costa Rican operations." The statement added that the company in 2015 will sell its BCG section to other local banks. She did not mention which banks.

Jiménez immediately issued a mea culpa in the form of a press release that apologized for the "error."

"The Presidency Ministry wishes to clarify to the media and to the general public that, based on the official communication made by Citi today, there are no announcements of layoffs. That statement also clarifies that Citi is not leaving Costa Rica, and it will maintain a shared services center and corporative banking business, where they will focus all their efforts," Jiménez's statement said.

In May, Citi announced it would invest $35 million in a new services center in Costa Rica. Those plans remain unchanged, the company said.

However, Citi's exit from the retail banking business will affect 10 other countries, in addition to Costa Rica: Guatemala, El Salvador, Nicaragua, Panama, Peru, Japan, Guam, Hungary, Czech Republic and South Korea.

In other banking news this week, on Monday it was revealed that shareholders of the private bank BanSol had agreed to sell all of their shares to Prival Group, a Panama-based private financial group.

And the state-run Banco Nacional announced it was carrying out "strong adjustment measures" to improve performance. Those measures include the closure of two branches in Alajuela (San Carlos and Grecia) and one in San José, as well as spending cuts, new service fees, the issuance of subordinated debt, dividends collections from subsidiaries, and the partial sale of its loan portfolio, the bank reported.

In April, Bank of America announced it would close its Costa Rica service center by the end of the year, resulting in the loss of 1,500 jobs in the country.
Brian, Lita, the Late Hugo IV, irreverent Vicka, the pigeon toed parrot, Chico II and Chica II