Dear friends,
When I started Residencias Los Jardines, I started writing a weekly news letter -determined to tell all the good, bad, and the ugly. I knew some readers would be interested in the construction process. I expected others might be interested in the lifestyle of two people who had decided to live outside the box. For others, the adventures of Lita, the parrot and the cat took on an entertainment saga all its own.
Residencias Los Jardines is finished. We periodically have resales and rental availability. Some readers may be interested in this information.
Brian Timmons
DEVELOPER / PROPERTY MANAGER
Residencias Los Jardines / https://www.residenciaslosjardines.com info@residenciaslosjardines.com
ResidenciasPropertyManagement@gmail.com
Featured house this week
Paradisus Condos / Rohrmoser
FOR SALE
Residencias Los Jardines
Property Management, Rentals, Re-Sales
Market Activity
Sales: one inquiry.
Rentals: For whatever reason, I had lots of calls for 2 bedroom units. I heard from agents I hadn't heard from for months and months... I only had one unit and had 5 clients interested in it.
FOR SALE
Unit #114: $235,000 / See Unit
Unit #116: $214,000 / See Unit
FOR RENT
Unit #106C: $1,150 mo. / RENTED / See Unit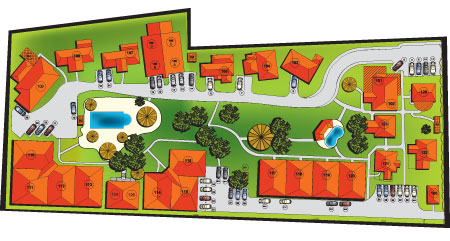 HOUSES FOR SALE
UNIT #114
FOR SALE $235,000
Total Area (Sq Ft): 1290
Total area (Sq M): 120
Bedrooms: 2
Bathrooms: 2
Floor(s): Single Floor
Type: Attached
Furnished: Yes
This 1,290 sf. (plus covered parking for one car and two lockers 67 sf.) single story, semi detached house, with garden terrace, two bedrooms is a beautiful executive style home. This home consists of two large bedrooms one with six piece en-suite bathroom with additional access to separate full shower. Each bedroom has large closets with extensive built-ins for personal organization. The vaulted living room and bathroom ceilings provide a feeling of grandeur while allowing the warmer air to rise and exit through the ceiling ventilating system. There are four TVs (one in each bedroom, one in the living room and one in breakfast / dinning room.) This is a beautiful well appointed home.
UNIT #116
FOR SALE $214,000
Total Area (Sq Ft): 1290
Total area (Sq M): 120
Bedrooms: 2
Bathrooms: 2
Floor(s): Single Floor
Type: Semi-Attached
Furnished: Yes
This 1,290 sf single floor home includes a 300 sf front terrace plus parking for one car and a separate, secure storage locker. It is and end unit and therefore attached on only one side by a 6 inch cement demising (common) wall, which prevents sound transfer.
Our Lives
WEATHER: Normal afternoon rains... October is following its normal pattern.
Car for sale: SOLD $ 15,500
Hyundai Tucson CRDi 2007 Used very little: $ 16,000
37,500 miles. Turbo diesel, automatic, all wheel drive, power windows, power steering, power brakes, power door locks, remote locking, air conditioning, and roof racks. New RETIVE, current marchamo. Excellent condition -body and mechanical, new tires, brakes, cleaned fuel system, clean inside and out. This vehicle has been used very little.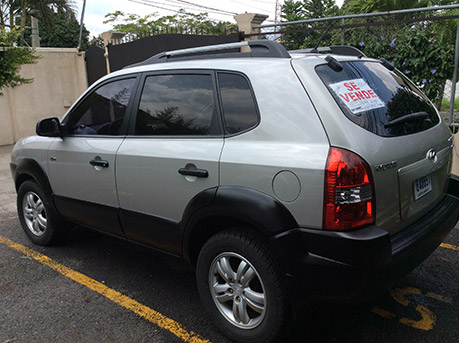 Car: from my newsletter, I had 4 inquiries. The first viewers were looking on behalf of BC clients. I received an offer but it was lower than I was prepared to accept but asked for the basis of the valuation-in case I missed something in my pre-research. The response was half hearted and a promise to provide that info. came too late I had received a verbal offer, sight unseen from a person living near Panama--a 5+ hr drive. He offered to transfer a deposit until he arrived on Friday morning....I trusted him, he kept me informed all along the way, he arrived as planned, 45 min. later the car was his and everyone was happy. He drove out of Pozos in a blinding rainstorm. Cars are not something I dabble in but I knew this car offered very desirable features -it had been abandoned by the owner who didn't know or didn't want to deal with what was required to sell it- fortunately, I knew someone who knew what and how to do what was necessary.
TWO INTERESTING (to me anyway) CONVERSATIONS: The client to whom I leased 106C is a N. Am. businessman. He is in the cell phone / data transmission tower business. His company buys out leases, buys vacant space on existing towers, etc. I don't understand it all but what I did lear was that now the government is encouraging co-use of towers. When FACTA forced ICE to relinquish monopoly control over cell phone signal, they did so very reluctantly and required all successful bidders to erect their own towers. This was designed to make the cost of entry higher and discourage competition. (The strategy was successful because only two of the expected 3 companies submitted bids.) A few years later -according to this guy- the government realized the monster they had created -towers everywhere- so they changed the restriction. Unfortunately, the idiots in charge couldn't think beyond their pocketbook.
Another client who I couldn't accommodate but who was referred to another owner on site, is moving from Northern California. He is in solar electricity and sees lots of opportunity here. He is using solar panels made by TRINA in China. He things ICE will be glad to see him... ICE is fighting this incursion into their monopoly as well by refusing to allow co-generation or to buy surplus power... anything and everything they can to subvert the inevitable. Monopolies don't die easily but they do die...
News Items of the Week
Comment: Re. proposed budget: the opposition has vowed to reduce the proposed budget and the administration has agreed to resubmit it's proposal as well. They set up a review committee of of leading political parties and studied it... none of them wants to give up anything significant so as of now, the tinkering amounts less to about 1% cut from the 19% proposed increase... these guys are living in a fantasy...
A new study concluded that ICE could buy power from Panama cheaper than it could generate it from 4 of it's eight thermal plants. The report recommended that ICE shut down the 4 plants; ICE is resisting... naturally...
1. Taxes: September 1 is the end of the fiscal year. We all now have to begin preparing for tax time. This is a summary list.... this is why most people have accountants...
2. La Condessa: I don't know the hotel but is was substantial even if I don't understand the attraction of the location... I guess others didn't either and it struggled and in doing so, didn't pay CAJA and finally CAJA shut them down...
3. $94 million in interest payments for unspent loans... some of this might be understandable but this seems ridiculous.
1. There's a taxing couple of months in store for expats By Garland M. Baker, Special to A.M. Costa Rica

The end of September brings fiscal tax year 2014 to a close. Oct.1 begins 2015. There are tax filings and payments just around the corner for almost everyone.

Tax dodgers are caught by not filing required tax forms. The country's tax system is very reliant on the checks and balances built into the system. The tax department also analyses gross and net profit margins and changes in owners' equity that do not match with taxes paid against profits to find companies that are not paying their taxes fairly. Random audits are occurring more frequently, too, to catch cheaters.

Here is a summary of what is on the horizon:

Form D-150 is a withholding report for anyone paying an employee over the threshold where income taxes become due. When this occurs, law requires taxes be collected by an employer and paid to the government monthly. This report is a summary of those payments.

This year Form D-151, is due on Dec. 1, because Nov. 30 falls on a weekend. Many expats overlook this filing because they believe it does not apply to them. The D-151 is an informational form used to report sales and purchases to the tax department. It is used to crosscheck information, one of the most important keys in finding tax cheats.

Income taxes are due with Form D-101 Dec. 15. Many expats working in Costa Rica illegally do not file the form or pay taxes. This is cheating too. And, it is not fair to Costa Rica. The country needs the money.

To file a tax return one needs to have an identification number. Most illegals do not have one of these, but the tax department has a special number to be used called a N.I.T.E. This stands for Número de Identificación Tributaria Especial. It is used in cases where an individual does not have a Costa Rican cédula or DIMEX card. A DIMEX is an immigration identity card.

Everyone with a vehicle has to pay marchamo tax. It is due Dec. 31. This tax is a property asset assessment on vehicles. It is collected by the Instituto Nacional de Seguros de Costa Rica, which, in turn, pays what it collects to the government.

It seems like everyone just paid his or her Law 9024 taxes. Well, that may be so, but soon it will be due again. The law is better known to all as the impuesto a las personas jurídicas or the company assessment tax. Last year, the government tax institution changed inactive companies that pay the lower company tax assessment created by Law 9024 to active without any warning. It made people mad.

There is still time to dissolve old companies or inactivate them before the end of the year. Dissolving a company does away with the tax. Inactivating a company reduces it 50 percent. Converting a company to a sociedad civil also eliminates the tax.

Kevin Chavarria, a certified public accountant, said in a telephone interview that Dirección General de Tributación, the tax department turns over reports on the active and inactive status of companies to the Registro Nacional Dec. 15. He said if a company shows active on that date, full taxes will be due on Jan. 1. The only way to combat this is to go through the inactivation process beforehand.

Wealthy expats need to worry about Form D-179. It is a pain in the side for most of them too. This is a tax on residential properties. It is the aggregate value of a property including all of its features, to include but not limited to, pool, tennis courts, BBQ, rancho, guest houses, etc. The tax to be paid is equal to 0.25% of the property's total value to a maximum tax rate of 0.55% since it is a progressive tax. The value of the house is determined by a guide designed by the government and needs to be filed every three years. Commercial properties are not subject to this tax.

Last on this list is the annoying education and culture taxes. Why does the country still even have it on the tax rolls every year? Many people, including professionals, slough off filing form D-110 and paying these taxes. However, paying them is required by Ley 5923, and every company in Costa Rica listed at the Registro Nacional is required to pay this tax. A company's net capital amount determines the tax to be paid.

Broke yet? Hope not, because property taxes are not on the Dirección General de Tributación's list. Nevertheless, they are due quarterly to the municipality where the property is located. 2014 needs to be paid in full by Dec 31.

This is a good time to revise Christmas lists and delete those dream items to make rooms for up and coming tax responsibilities.

Most returns and payments are now filed and paid online, so sending a piece of coal to the taxman along with your tax return is no longer possible.
2. Faced with a $500,000 Caja debt, La Condesa Hotel closes, firing 140 workers

A ₡266 million ($498,000) debt with the Costa Rican Social Security System, or Caja, has prompted the indefinite closure of Heredia-based La Condesa Hotel. A staff of 140 employees has been let go.

Employees were notified of their dismissal on Monday. Two days later, some sought legal assistance at the Labor Ministry, saying they had not been paid for September. They also claimed not to receive any information on severance pay.

The Caja ordered the hotel closed on Sept. 19. Hotel owners responded by agreeing to make a partial payment of ₡87 million ($163,000) to keep the business operating, Caja Collections Director Luis Diego Calderón said. That payment was due on Sept. 30. Owners missed that payment and on Monday notified staff of the decision to close.

Following the Sept. 19 Caja order, hotel administrators canceled special events, and in a written message, informed customers the hotel was unable to refund reservations in the near future.

Several messages on the hotel's social media profiles on Wednesday stated that customers were not notified of cancellations or the refund process for pre-visit payments.

The hotel's Facebook and Twitter pages haven't been updated since Sept. 19, and attempts to contact hotel representatives on Wednesday evening were unsuccessful.

The only update is a message posted on the hotel's website stating that it is out of business until further notice due to a Caja order, and that "this situation also affects the Internet host."

Inquiries should be sent by email to: hotelvillaslacondesa@gmail.com, the message states.
3. State pays $ 94 million a year for loans with low implementation

Costa Rica has only used 28% of the $ 2,000 million that are available Slow work has high cost for public finances, warns Hacienda

The Costa Rican government pays millions of dollars a year for loans with multilateral agencies to fund infrastructure that record low execution.

Until August this year, the annual cost of paying interest, depreciation and bank charges of the 17 loans totaled $ 94 million, according to the Ministry of Finance.

However, public entities responsible for investing the money of credits executed only 28% of $ 2,000 million available, according to data from projects with foreign borrowing.

Juan Carlos Quirós, director of Public Credit of the Ministry of Finance, acknowledged that the State incurs a high financial cost, each year, by the slow pace of public works.

"Concerned that no schools, bridges and road infrastructure needed done. That is the real cost to the country, "he said Quiros.

Each investment loans signed by the country has a term of five years for the full implementation of the money. When the time runs out and the resources not used, the Government requested extensions to banks, a practice which the country uses regularly, recognized Quirós.

Oldest running external credit is 2003: a program for water and sanitation for $ 11.8 million he used 80% of funds in 11 years.

The largest creditors of the country are the Inter-American Development bank (IDB) and the Central American Economic Integration (BCIE).

Red. Earlier in July, the government made a classification of the status of foreign loans. Four were put on "red" because of their lack of progress.

To finance the initiatives are more backward Highway Infrastructure Program (VIP), implemented by the Ministry of Public Works and Transport, and the Programme for the Prevention of Violence, which manages the portfolio of Justice and Peace. The first is for rehabilitation of roads and bridges and the second for prison infrastructure.

Carlos Villalta, PIV project manager, acknowledged that ask for an extension for the use of $ 300 million for in August next year the deadline for the execution of all resources is met. From August 2010 to August 2014, 50% of the loan was used.

"Arrears it are complicated recruitment processes and design of some works, not in the execution of the works," he said.

In the case of project administered by Justice was executed only 9% of the $ 132 million credit. Cristina Ramirez, chief of the company, attributed the delay to the previous administration.

For Treasury, the Instituto Costarricense de Electricidad is the most efficient in the use of appropriations for state agency has a specialized unit executing fewer ties to recruitment.
Brian, Lita, the Late Hugo IV, irreverent Vicka, the pigeon toed parrot, Chico II and Chica II