Dear friends,
When I started Residencias Los Jardines, I started writing a weekly news letter -determined to tell all the good, bad, and the ugly. I knew some readers would be interested in the construction process. I expected others might be interested in the lifestyle of two people who had decided to live outside the box. For others, the adventures of Lita, the parrot and the cat took on an entertainment saga all its own.
Residencias Los Jardines is finished. We periodically have resales and rental availability. Some readers may be interested in this information.
Brian Timmons
DEVELOPER / PROPERTY MANAGER
Residencias Los Jardines / https://www.residenciaslosjardines.com info@residenciaslosjardines.com
ResidenciasPropertyManagement@gmail.com
Featured house this week
Paradisus Condos / Rorhmoser
FOR SALE
Residencias Los Jardines
Property Management, Rentals, Re-Sales
Market Activity
Sales: no new inquiries.
Rentals: a number of inquiries for two bedrooms but I don't have any available.
FOR SALE
Unit #114: $235,000 / See Unit
Unit #116: $214,000 / See Unit
FOR RENT
Unit #106C: $1,150 mo. / Available Immediately / See Unit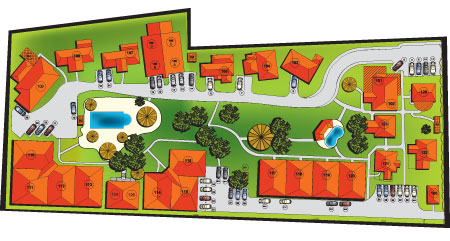 HOUSES FOR SALE
UNIT #114
FOR SALE $235,000
Total Area (Sq Ft): 1290
Total area (Sq M): 120
Bedrooms: 2
Bathrooms: 2
Floor(s): Single Floor
Type: Attached
Furnished: Yes
This 1,290 sf. (plus covered parking for one car and two lockers 67 sf.) single story, semi detached house, with garden terrace, two bedrooms is a beautiful executive style home. This home consists of two large bedrooms one with six piece en-suite bathroom with additional access to separate full shower. Each bedroom has large closets with extensive built-ins for personal organization. The vaulted living room and bathroom ceilings provide a feeling of grandeur while allowing the warmer air to rise and exit through the ceiling ventilating system. There are four TVs (one in each bedroom, one in the living room and one in breakfast / dinning room.) This is a beautiful well appointed home.
UNIT #116
FOR SALE $214,000
Total Area (Sq Ft): 1290
Total area (Sq M): 120
Bedrooms: 2
Bathrooms: 2
Floor(s): Single Floor
Type: Semi-Attached
Furnished: Yes
This 1,290 sf single floor home includes a 300 sf front terrace plus parking for one car and a separate, secure storage locker. It is and end unit and therefore attached on only one side by a 6 inch cement demising (common) wall, which prevents sound transfer.
HOUSE FOR RENT
UNIT #106C
FOR RENT $1,150 mo. Available Immediately
Total Area (Sq Ft): 1250
Total area (Sq M): 120
Bedrooms: 2
Bathrooms: 2
Floor(s): Single Floor
Type: 4-plex
Furnished: Yes
This is a fully furnished 2-bedroom unit situated in a 2-story building, which has two units on the ground floor and two units on the 2nd. floor. Each unit is the same size (1,250sf) divided into 800 sf of interior space and 450 sf of covered front and back terraces. Units 106A and B are on the ground floor; Units 106 C and D are on the 2nd. Floor. The solid masonry demising wall (common wall) as well as the 5" concrete slab prevent sound transference.
Our Lives
WEATHER: Normal afternoon rains... September has followed its normal pattern.
Car for sale:
Hyundai Tucson CRDi 2007 Used very little: $ 16,000
37,500 miles. Turbo diesel, automatic, all wheel drive, power windows, power steering, power brakes, power door locks, remote locking, air conditioning, and roof racks. New RETIVE, current marchamo. Excellent condition -body and mechanical, new tires, brakes, cleaned fuel system, clean inside and out. This vehicle has been used very little.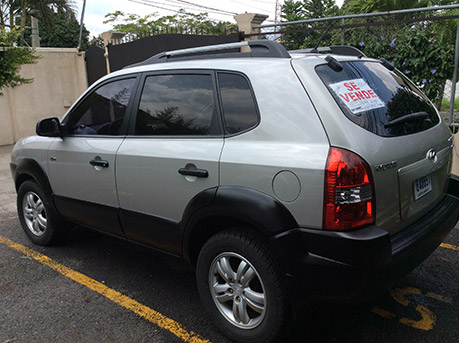 A sad case: about two months ago, we acquired a tenant--nice guy, mid 40s. He said he had brain cancer and wanted to spend the last year of his life here. Since I recently had two friends go through this... one didn't make it and the other is still fighting... I asked him if he was going to make it through the year. He said yes. On Wednesday, he informed me that he had to return to the US to go into hospice... his brain cancer which had been in remission had come back. He will be leaving on Monday.
News Items of the Week
1, 2, 3,4,5,7 World Bank Loan: CR wants to "borrow" $500 mil (?) from the World Bank... oh, by the way, they want it to be "forgivable" ie. they don't plan to pay it back-- read the fine print... CR TREASURY -only part of the debt, has $1.7bil debt coming due of which 61% has to be repaid or refinanced by June... -the Central Bank and government agencies, eg. ICE, RECOPE, INS, CAJA have their own debts to pay off. Reason given for "non-repaybment" we are a new government and should not be held accountable for our predecessors... And in article 2, the government is saying that they can manage this repayment without affecting the interest rates within the country... They do, however, acknowledge that they may have to pay higher interest rates now that the country's credit status has been downgraded by all three rating agencies to junk status... and in Article 4, Moody's has put them on notice that the outlook may be further downgraded from "stable" to "negative". And in article 5, Solis submits a budget which is 19% higher than last year's... oh... but he's going to pay for this through a VAT and a "world income tax"... neither of which flew in their last two attempts before the legislature and which took endless discussion only to be dropped... Now this is in a country which had laughable problems implementing a $5 exit tax at the Nicaraguan border...
6. Gas Prices: when world gas prices -- raw and processed -- are coming down, CR's are going up... We've had numerous increases this year, one small decrease last month, and now, up again wiping out the decrease....
8. Medical equipment exports making up the difference in INTEL chip decrease... well not really.... supposedly the first half of the year saw some equal trade off, but this is not expected to last. But no one should get too excited because the government has a plan... it is going to increase the exports of... wait....don't laugh... cassava, pineapples, bananas, coffee... wow!! can you see how this will employ the INTEL employees -really? what country in the industrial or post industrial world ever benefited by an increase in agricultural products...?
9. Electrical Rate Adjustment??? I have no idea what is happening... it is so confusing that I suspect even ICE can't figure it out... when there is bad news..... confuse it... Now this comes when ICE is draining one of it's major lakes during the rainy season.... when the generation is needed, there won't be any water... this doesn't make a lot of sense to me.....and while it is cheaper to buy electricity from neighbors, eg. Panama, somehow ICE needs a rate increase to pay for it...
1. Costa Rica seeking World Bank loan to cover debt, government expenses for 2015

September 24th, 2014 (InsideCostaRica.com) The government of Luis Guillermo Solís is seeking a loan from the World Bank to cover its debt payments and fund government expenses for the first half of 2015.

Ministry of Finance officials said the talks, which began on Monday, are at an early stage and could take several months before a possible loan package would be presented to the Legislature for approval.

Costa Rica has more than $1.7 billion in bonds coming to maturity in the first half of 2015 alone, and will need to refinance at least 61% of that amount with new debt in order to make good on its obligations. In June alone, investors will be calling home more than $660 million in Costa Rican debt. Those figures only include bonds issued by the Treasury – The Central Bank also has bonds coming to maturity next year, though mostly in the second half.

In addition, the government will require funding to meet its own expenses as set out in the 2015 National Budget. The government's fiscal deficit is expected to reach 6% of GDP next year. The country's debt-to-GDP ratio is expected to reach close to 40% of GDP this year.

Finance officials have not made public the amount of the loan sought by the country, saying only that it would be similar to a loan taken by the country in 2009 for $500 million.

The country is also expected to issue additional bonds next year, though will likely be forced to pay higher interest rates after having its credit rating downgraded to junk status by Moody's earlier this month. The country issued $1 billion in Eurobonds in April of this year.

The government also indicated it would seek to negotiate a "cooperation grant" with World Bank officials, which would not require repayment, based on the "new government's view for the country."

Costa Rica's credit rating was cut to junk status by Moody's Investors Service earlier this month, based on the country's widening deficit and large debt burden.

Finance Minister, Helio Fallas said at the time that the country's fiscal situation was "inherited" by the Solís administration from the administration of former president Laura Chinchilla.
2. Treasury funds exert great pressure next semester

Experts expect the increase in interest rates for money demand. Government will face increased spending by maturity of the last five years

In the first half of 2015, the Ministry of Finance must go to market to pay ¢ 919,000 million in bond debt maturities, which could become a pressure for interest rates to rise.

This amount, the institution must refinance with new debt, equivalent to 61% of the maturities of securities that will pay that year.

In June alone must honor ¢ 350,000 million.

This need of resources by the Government of the Central Bank demand adds.

2015 will be the year that the government should make more payments for bond maturities of the last five periods, said Juan Carlos Quirós, director of public credit of the Treasury.

Amortization payments and debts squeezed projecting government social spending.

Experts consulted by La Nacion fear such a demand for funds push interest rates upward for Finance (and others) consume more money, which makes the price of this (interest).

However, with proper management of payments, it is possible that this behavior has no effect, or they are minimal. The specialist also cited the placement of Eurobonds as a strategy to avoid the negative impact on interest rates. Hacienda is pending sale of a balance of $ 1,000 million of these instruments.

In fact, Juan Carlos Quirós, director of Public Credit of the Ministry of Finance said it plans to handle maturities as has been done in previous years: in coordination with the Central Bank and giving an important role swaps.

All this will be implemented in order to minimize its effect on interest rates and the exchange rate, said Quiros. Bonds are debt instruments.These are commitments to pay investors who, in exchange for a profit, turn their money to the government so that it fulfills its functions.

The Central Bank also has weight in this market, but is less than the Treasury and its main effect will be to make payment on its bonds in December 2015.

According to Gerardo Prado, manager of the institution, the Central recorded a lower payment maturities in 2014, both in absolute terms and as a percentage of gross domestic product.

Cost. Paying government debt began to squeeze the resources allocated to other areas, such as support for education and the promotion of productive activity.

El Financiero reported last week, in the draft 2015 budget, presented on 1 September before the Legislative Assembly, the areas that involve the payment of amortization and interest occupy a larger portion of the total that the plan expenditure in 2014, and make the other destinations to narrow.
3. Solis says he will seek new tax on global income
By the A.M. Costa Rica staff

President Luis Guillermo Solís said Sunday that his administration would seek a global tax in addition to a value-added tax.

The president said that the bill Casa Presidencial presents to lawmakers after the first of the year will contain a 13 percent value added tax, a percentage equal to the current sales tax. He said that the bill would exempt education and medical, although he was not specific. That such a tax proposal was coming has been reported previously.

The global tax also was not explained in detail. The last two administrations sought similar taxes, but the measures never got through the legislature.

By adopting a global tax, Costa Rica would be in the same category with the United States and become one of only a few nations that tax its residents for earnings outside the national borders.

There is a movement in the United States to dump the global tax in favor of a territorial system that Costa Rica has now.

Although there still are no specifics now, previous proposals gave credit for income tax paid elsewhere. So expats would not face double taxation on foreign pensions or earnings, if that method is adopted.

The president gave his message in a recorded television segment. He was responding, in part, to criticism that the annual budget is too high.

He said the Ministerio de Hacienda, headed by Vice President Helio Fallas, made a big effort to cut spending and managed to obtain a reduction of 420 billion colons. That's nearly $770 million.

However, Solís said the budget is dictated by payment on debts accumulated by the last four administrations and constitutional payments mandating certain amounts to education. He also said the administration was investing in health, agriculture and higher pensions for the poor. He said he would not cut essential programs.

The value-added tax will generate 300 billion colons more in taxes, he said. That is about $550 million.

Officials are counting on a value-added tax to reduce tax evasion. Under this system, taxes are paid at each step of the manufacturing process on the value added at that stage, and the end consumer pays an amount to cover all these taxes.

Because the taxes paid is a deductible amount, individuals and firms are likely to declare it. So the government will know all about their purchases and how much their vendors took in.

Vendors recoup the taxes paid by adding it to the price for the next step of production.

Basic criticisms of a value-added tax are that the system requires much more paperwork and that the extra costs early in the supply chain reduce production.
4. S&P warns Costa Rica of possible 'negative' outlook shift, cites low growth forecasts, high deficits and debt

September 19th, 2014 (InsideCostaRica.com) The ratings agency Standard & Poor's is warning Costa Rica that it is considering shifting its outlook for the country to 'negative,' citing expanding fiscal deficits and a growing debt-to-GDP ratio, as well as growth forecasts that are below the country's needs to close the fiscal gap.

S&P already rates the country as 'junk,' or below investment grade with a rating of 'BB,' currently with a 'stable' outlook. Joydeep Mukherji, a sovereign ratings analyst for the ratings firm, made the warning during an interview with ADN Radio yesterday afternoon.

"We're all looking at the same facts and figures. If the fiscal deficit and debt as a percentage of GDP continues to grow, this may have consequences for the future (…) the trend is worrisome," Mukherji told ADN.

Mukherji said that predicted growth is not enough to close the fiscal gap. The analyst also criticized the country's inability to reach political agreement on fiscal reform, a criticism also cited by Moody's when it downgraded Costa Rica's credit rating to junk status on Tuesday.
5. Lawmakers unimpressed by budget and tax plan
By the A.M. Costa Rica staff

President Luis Guillermo Solís is coming under fire for failing to present a frugal national budget for 2015, and the criticism extends to his decision to seek a value-added tax later this year.

Lawmakers Monday unanimously voted to ask for a briefing by Helio Fallas, the first vice president and minister of Hacienda, the budget ministry.

Meanwhile, such powerful lawmakers as Antonio Álvarez Desanti, head of the Partido Liberación Nacional delegation in the Asamblea Legislative, were skeptical of new taxes. Álvarez told fellow lawmakers that he and his party will not approve any fiscal reform or create any new tax until they learn what the government plans for public expenditure.

Solís has been criticized roundly for submitting a budget that is 19 percent higher in expenditures than the previous year.

Even La Nación, a newspaper that generally supports the government, produced a scathing editorial Monday directed at Fallas and Solís. The newspaper questioned why universities got a 14 percent increase in their budgets and why there were big raises for public employees who already earn two or three times more than their private sector counterparts.

The newspaper even accused the president of patear la bola para adelante. The Spanish phrase, which means "kick the ball down the road," has been used repeatedly to describe government budgets for the last six years. Presidents can only serve four-year terms.

Both Solís and Fallas have said that the current administration has inherited many financial problems from the previous ones. The government has taken some steps to cut spending. For example, the administration is seeking to put a reasonable cap on pensions. Various news media have shown that former legislative deputies and former ministers receive pensions that sometimes are as much as $12,000 a month.

Fallas has been before the Comisión Permanente de Asuntos Hacendarios twice to explain the status of the nation's finances. No date was set for his next visit to the legislature.

The ministry headed by Fallas reported Monday that the budget deficit was reduced in August due to better tax collection and cuts in spending. Still the reported annual deficit accumulated through August is 956.8 trillion colons. That is about $1.7 billion.

Solís also has come under fire for going back on an election pledge to avoid new taxes for the first two years of his administration. However, even when he said that repeatedly many were skeptical considering the financial state of the country.

Solís may have been motivated to announce a value-added tax on television Sunday night because international rating agencies have downgraded the country's debt. He was in New York Monday trying to attract investors to Costa Rica. He is expected to argue that instituting the 13 percent value-added tax to replace the exiting 13 percent sales tax is not really a new levy. He did say that the value-added tax will generate 300 billion colons more in taxes.

That is about $550 million.

His plan for a global tax, another proposal offered Sunday in his television speech, would be presented to lawmakers in 2015, he said.

Passing such measures will require lengthy deliberations in the legislature, and even the president's own party, Partido Acción Ciudadana, may not support him.
6. Gas prices go up again

Recent good news for drivers lasted less than a month as per-liter prices of "Super" and "Plus" gasoline on Saturday increased by ¢ 5. Diesel increased ¢ 3.

The Public Services Regulatory Authority (ARESEP) last month approved a price decrease – the second this year – but Saturday's was the eighth increase of 2014.

A liter of "Super" gasoline now costs ¢ 779 ($1.46), while "Plus" costs ¢ 757 ($1.42) and diesel ¢ 669 ($1.25).

The new prices follow an update of the Fuel Tax, which is calculated based on an inflation report issued quarterly by the Finance Ministry.

Cooking gas prices also were affected. According to prices ARESEP published in the official newspaper La Gaceta, an 8.5-liter cylinder increased from ¢ 3,339 to ¢ 3,348 ($6.25-6.26), while a 17-liter cylinder jumped by ¢ 17 to ¢ 6,695 ($12.53).

The Finance Ministry collects the Fuel Tax to fund public programs by redistributing 66.4 percent of the revenue among several agencies. The remaining 33.6 percent is sent to the National Roadway Council to fund road repairs and the Agriculture and Livestock Ministry for reforestation projects.

According to a consumer report published earlier this month by the Central American Committee for Cooperation on Hydrocarbons, Costa Rica is the most expensive country in Central America for fuel.
7. Government plans to release tax services in 2016

The Executive expects its proposal to transform the current sales tax on value added tax (VAT) will take effect in 2016, upon passing the debate in Congress.

On Sunday, President Luis Guillermo Solis announced on national television that will promote a transition to VAT, the tax rate unchanged at 13%. It is estimated that this tax will generate ¢ 300,000 million annually and help reduce the fiscal deficit would be 6.7% of gross domestic product (GDP) in 2015.

This tribute levied a number of services that do not pay taxes so far as the activities of professionals. Solis said that the measure will not affect the education or health.

Yesterday, at a press conference, Deputy Minister of Finance, Fernando Rodriguez, said the discussion of the bill last a year, once it is submitted to the legislative process in December.

He added that the Ministry of Finance requires at least six months to execute the collection, which would delay its implementation.

"The legislative debate has historically been long. This project would not enter into force before 2016 must take into account that Abel Pacheco (2002-2006) took three years to discuss tax reform and not approved. Meanwhile, the Taxes Consolidation plan (Chinchilla) lasted one year and three months, "said Rodriguez.

The Vice President of the Republic, Ana Helena Chacón, agreed with Deputy Solis and defended by questioning the opposition, stating that the president disrespected her promise not to manage new taxes in the first two years in office.

"The president has not fulfilled its word (...). We are not creating a new tax, changing the way we collect the same tax rate as the tax does not rise in their share, "Chacon said.

Pending. Liberationist Rolando Gonzalez and the Social Christian Rosibel Ramos, two members of the Committee on Financial, where the reform would be known, would argue not to publicize the project.

"It's just one of the contradictions of this government. He offered peace tax for two years and now brings us to a national debate when nobody expected. We have no desire to enter into any tax-related matter at this time, "Gonzalez said.

Ramos, meanwhile, said that, before giving its judgment, the fraction of the Social Christian Unity analyze, with a group of experts, the implications of migrating to VAT.
8. Medical industry fills hole left Intel in Costa Rica exports

Shipments of bananas, pineapple, milk and food preparations also increase Procomer warns that foreign sales will fall, at the end of the year

A 19% increase in the value of exports from the medical device industry avoided, at least in the first eight months of the year, the drop in sales in the country by the gradual departure of manufacturing at Intel.

Data obtained from the portal statistics Foreign Trade Promoter (Procomer) indicate that sales of integrated circuits and electrical microstructures fell by $ 176 million (11%) when comparing the period from January to August 2014 with the same period of 2013.

Meanwhile, the value of medical device sales grew by $ 173 million (19%) when comparing the same period.

This allowed exports of those eight months came to $ 7.842 million, 1.8% more than the same space in 2013.

That contribution is added pineapple (grew 13%), bananas (up 9%), prepared foods (14%) and milk (38%), which also help to counteract the impact of the departure of Intel.

Transition. However, the relief will be temporary. At the end of the year, foreign sales closed with a negative balance, because in the last months of 2014 will be accentuated in the lower exports of integrated circuits, recalled Francisco Gamboa, director of Commercial Intelligence Procomer.

He explained that a decrease of at least 30% in outstanding circuit, which will be difficult to offset expected. Neither will be achieved in 2015 and is expected to balance by 2016 or 2017.

Sales of integrated circuits and electrical microstructures reached $ 2,378 million in 2013, after a sharp increase since 2010.

The medical industry will continue its contribution and is intended to high growth, the general director of the Coalition for Development Initiatives (Cinde) Gabriela Llobet said.

After equilibration. President of the Chamber of Exporters of Costa Rica (Cadexco), Laura Bonilla, said it is a good time to rethink supporting agribusiness exports.

The goal, he added, is to go to a more advanced stage of products in which Costa Rica is very successful in the world market as cassava, pineapple, banana and coffee.

According to Bonilla, the country should seek to add value to many of these exports going with agribusiness.

That said, revenue will rise to compensate the output of integrated circuits and, in addition, a social balance that will benefit less developed areas with less access to education.

Gamboa relevant estimated amount of export diversification in products and markets. Also, he added, in small business programs to keep their sales in foreign markets and not abandon them.
9. Increased rains abate next rising cost of light

The increased rainfall, characteristic of the last quarter of each year, soften the rise of 3.7% requested by the ICE for electric bills canceling their subscribers.

This is due to the rate increase takes effect on October 1, while adjusting the variable cost of fuel (CVC), which varies every quarter.

More rain means less spending on fuels to generate electricity; these are the variables that are reflected in the CVC. According to estimates and the initial proposal of the Regulatory Authority for Public Services (Aresep), the next adjustment would bring the rate is 6% lower than today. If that is true, users would receive a rebate of 2.3% (instead of 6%) to be applied to them if ICE had not requested an increase to ARESEP, July 21. That month, the Costa Rican Electricity Institute (ICE) and the President, Luis Guillermo Solis pledged to keep rates stable light over the next year and a half.

But days later, the Institute asked for a rate increase of 3.7% to 7% distribution and generation, with the excuse of cover-about ¢ 31,000 million-to import power from the regional electricity market.

Although Carlos Obregón, ICE chief executive, insisted that what was sought to ARESEP up but not a rate adjustment, approval of the increase in costs was published yesterday in the Gazette.

Contrary. Tariff adjustment This caused discontent in some sectors, which criticized the inconsistency of ICE with respect to the promise of price stability.

The Chamber of Industry said that the high energy cost is the main item that the sector uncompetitive and that in 19 months, has affected the loss of about 6,000 jobs.

Enrique Egloff, chief of the House, criticized the downgrade for the last quarter is now lower than expected.
Brian, Lita, the Late Hugo IV, irreverent Vicka, the pigeon toed parrot, Chico II and Chica II