Dear friends,
When I started Residencias Los Jardines, I started writing a weekly news letter -determined to tell all the good, bad, and the ugly. I knew some readers would be interested in the construction process. I expected others might be interested in the lifestyle of two people who had decided to live outside the box. For others, the adventures of Lita, the parrot and the cat took on an entertainment saga all its own.
Residencias Los Jardines is finished. We periodically have resales and rental availability. Some readers may be interested in this information.
Brian Timmons
DEVELOPER / PROPERTY MANAGER
Residencias Los Jardines / https://www.residenciaslosjardines.com info@residenciaslosjardines.com
ResidenciasPropertyManagement@gmail.com
Featured house this week
Paradisus Condos / Rorhmoser
FOR SALE
Residencias Los Jardines
Property Management, Rentals, Re-Sales
Market Activity
Sales: no new inquiries.
Rentals: a number of inquiries for two bedrooms but I don't have any available.
FOR SALE
Unit #114: $235,000 / See Unit
Unit #116: $214,000 / See Unit
FOR RENT
Unit #124: $900 mo. / Available Immediately / See Unit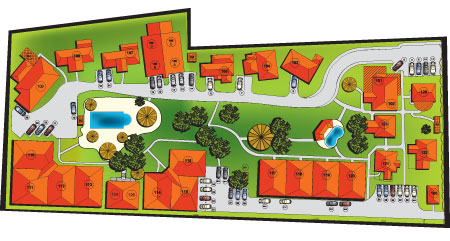 HOUSES FOR SALE
UNIT #114
FOR SALE $235,000
Total Area (Sq Ft): 1290
Total area (Sq M): 120
Bedrooms: 2
Bathrooms: 2
Floor(s): Single Floor
Type: Attached
Furnished: Yes
This 1,290 sf. (plus covered parking for one car and two lockers 67 sf.) single story, semi detached house, with garden terrace, two bedrooms is a beautiful executive style home. This home consists of two large bedrooms one with six piece en-suite bathroom with additional access to separate full shower. Each bedroom has large closets with extensive built-ins for personal organization. The vaulted living room and bathroom ceilings provide a feeling of grandeur while allowing the warmer air to rise and exit through the ceiling ventilating system. There are four TVs (one in each bedroom, one in the living room and one in breakfast / dinning room.) This is a beautiful well appointed home.
UNIT #116
FOR SALE $214,000
Total Area (Sq Ft): 1290
Total area (Sq M): 120
Bedrooms: 2
Bathrooms: 2
Floor(s): Single Floor
Type: Semi-Attached
Furnished: Yes
This 1,290 sf single floor home includes a 300 sf front terrace plus parking for one car and a separate, secure storage locker. It is and end unit and therefore attached on only one side by a 6 inch cement demising (common) wall, which prevents sound transfer.
HOUSE FOR RENT
UNIT #124
FOR RENT $900 mo.
Available Immediately
Total Area (Sq Ft): 662
Total area (Sq M): 61
Bedrooms: 1
Bathrooms: 1
Floor(s): 2nd Floor
Type: Semi-Detached
Furnished: Yes
This 662 sf, + covered parking for one car, is a one bedroom home on the 2nd floor overlooking the large pool. It is ideal for a single person or couple.
Our Lives
WEATHER: Normal rainy season weather.
A trip to visit friends in Jaco. Few tourists. The CROC building continues to be built out. How sales are going I don't know but a friend asked: Who is going to come to Jaco for gambling? I haven't the slightest idea... Costa Rica and Jaco are not gambling destinations. Few foreigners are wandering around with money hanging out of the jeans. Ticos are not big gamblers. The future remains interesting.
News Items of the Week
1. Electrical Control Center: Who is the Boss? They haven't figured it out yet. Two organizations are competing for the authority to determine the management of power generation. In reality, it is cheaper to buy from Nicaragua or Panama than to generate by oil but then who is going to get paid off?.
2. Job Fare: Private employers are looking to fill about 1100 jobs. Applicants totaled 15,500 of which 72% are unemployed. Note the expected decrease in salaries... wow!.
3. Private employers don't plan on hiring more people in the last half of the year...
4. Government Wage Increase: The government just increased government based wages by 4-5% for the last 1/2 of 2014 and made a provision for a 10% increase next year. Private wage increases were 2.3%... and the government employees get far more benefits. This is why the goal of most university students is to work for the government... and since the money for government wages is mostly borrow money, ..... and take this with the government's plan to create 217,000 which in reality, will be mainly through government created and paid for jobs....
5. Expo Casa: this is a house marketing fare: Few houses were sold or committed to largely because of affordability... Building code (?) requirements, land prices, and cost of construction has increased faster than wages... Given inflation at 6.5% it is understandable..
6. Tourism: supposedly, it has increased 5.4% and yoy and faster from N. American visitors. Our friends in Jaco are having their worst occupancy for years... and they are Trip Advisory #1 in Jaco and their rates are modest... Government stats re. tourism have, in the past, been hotly debated....
7. Interest Rates increase: in order to encourage more people to hold colones the rate has been increased by the government... so is inflation... few are buying into the plan..
8. Construction: the driver of much of any economy, is seeing a 10% decrease yoy,,,not surprising. many new buildings are under construction in Santa Ana but many are sitting empty. At Expo Casa, a large developer in the Santa Ana area which has 17 projects under construction, sold 17 houses; anothe,r more geographically diversified builder of lower end product, sold 50 but expects a fall out of 1/2...
1. Power Control Center opens debate between ICE and ARESEP

In April, purchases gigawatts region met the 8% of national demand.

The criteria used to decide how much purchasing power the country in the regional market and who really influences the electrical control system, has sparked a fierce debate between the Regulatory Authority of Public Services (Aresep) and the Costa Rican Electricity Institute (ICE).

Who should make these decisions? That is responsible for the National Energy Control Center (Cence) a "fully decentralized body," according to the law, which is currently attached to the Management of Electrical ICE, but must operate independently of the entity.

However, this is not true, says the mayor of Energy ARESEP, Juan Manuel Quesada, who estimates that the lack of autonomy in their decisions Cence Creek and could affect measures to optimize the electricity sector.

What lies the controversy? Since October 9, 2013, the Cence had to leave the administrative line of the Management of Electricity, to pass under supervision of the General Manager, by agreement of the Board of ICE in the session 6062.

The ruling came in response to a mandate from the Aresep May of that year, which sought to ensure independence in decisions about the sector and purchases Regional Electricity Market (MER).

As explained at the time the Regulatory Authority is to prevent the Management of Electricity required to Cencesuspending buying MER, as it did in June 2012 the then chief of that office, Gravin Mayorga. But this administrative transfer has been involved in a confusing process, so the order of the ICE, last April to repeal the meeting agreed in 6062 he joined.

This led to last July 1, ARESEP request to the chairman of the Institute, Carlos Obregón, who took office in May, with the government of Luis Guillermo Solis.

He must specify what actions would you take to ensure the autonomy of decisions Cence; the objectives of each mechanism, timing and expected results of each individual.

ICE's response came on August 5, but not signed by Obregón, but the current manager of Electricity, Luis Pacheco. It also received reviews ARESEP for being a "comprehensive and concise" answer, so spokeswoman Carolina Mora warned that insist on it.

It was not learned. Obregon said not remember ARESEP letter but said that since May have not made changes inCence.

"On imports, the Board had established in its agreement independence criteria: that when it came to deciding on theMER, who is head of Cence emits criteria, bypassing the rest of the administration, just to give you independence. Here's how it's working, "he said.

Both ICE ARESEP as they have agreed to import energy in the region is usually less expensive than generating in the country, due to the high cost representing inefficient thermal plants.

In fact, theMER purchases have been on the rise: the ICE went from importing four gigawatt hours (GWh) in June 2013, to 65 Gwh in April, the month that the energy gained regional market covered 8% of demand national.

The ICE and ARESEP have noted that import energy from the region is cheaperhere than generating inefficient thermal plants.
2. Lack of jobs resulting in falling salaryexpectations

September 10th, 2014 (InsideCostaRica.com) Data gathered at the recent Expoempleo 2014 employment expo shows that Costa Ricans are increasingly willing to accept lower salaries in exchange for steady employment as the job market in the country contracts.

Some 45% of the 15,544 job seekers who pre-registered for the expo, which took place over the weekend, said they would accept a salary between $400 USD and $800 USD per month.

Meanwhile, 27% said they expect to earn between $800 and $1,600 USD per month, while 19% said they would expect to earn between $200 and $400 USD per month.

Only 7% of job seekers indicated that their salary expectations were more than $1,600 per month.

Alejandra Monge, marketing and communications manager for the expo, told the financial newspaper ElFinanciero that job seekers this year seem to be willing to accept less competitive compensation, "which suggests that the shortage of jobs in Costa Rica has people sacrificing income for a steady job."

The numbers seem to support Monge's theory: 72% of registrants were currently unemployed.

The expo brought together 22 companies offering jobs in sectors such as consumer goods, health sciences, customer service, technology, hospitality, retail, banking and finance, sales, and engineering.

Costa Rica has witnessed a number of large and high profile corporate departures and layoffs in recent months.

On April 8th, microchip maker Intel announced the closure if its manufacturing facilities in the country, laying off 1,500 workers. The same day, Bank of America, who had back office facilities in the country, alsoannounced its departure and the firing of 1,500 staff.

Also in April, CustomerSpeak, which provided bilingual call center services, announced it would cease operations in the country, laying off 500.

In May, appliance manufacturer Mabe reduced its staff by 350, and just this week a subsidiary of U.S.-basedHanes Brands announced the closure of its 40-year-old facilities in the country, laying off 1,250 workers.

The Solís administration, for its part, recently presented its "National Employment Strategy," which the new government claims will create 217,000 jobs.
3. Only 10 percent of employers in Costa Rica expect to hire in lastquarter

Expectations for companies to hire new workers in the last quarter of this year have dropped in all sectors and are at the lowest level in recent years, the consultant company Manpower reported on its Costa Rica Employment Outlook Survey 4Q released Tuesday.

Figures for the next three months fell to their lowest levels since 2009.

Recruitment is almost stagnant, as only 10 percent of employers plan to increase their workforce, while 5 percent plan to reduce it, and 85 percent will keep current staff unchanged for the next three months.

Employer forecasts declined in five of the six industry sectors forecast.

The manufacturing sector reported the most optimism with a net employment increase of 9 percent forecast.

Services, transport and communications (one category), agriculture, and commerce showed a positive outlook ranging from 1-9 percent. Construction employers report a negative outlook of -1 percent.

Results by province show the most optimism in coastal provinces, with Puntarenas and Limón expecting a net employment outlook of 7 percent, followed by Alajuela, Cartago and Guanacaste with 6 percent. Employers in Heredia and San José anticipate the least hiring with an outlook of 3 percent and 1 percent, respectively.

Manpower surveyed 623 employers across Costa Rica. The analysis concluded the decline is due to caution because of the country's fiscal deficit, an increase in the national budget for 2015, and a spike in informal employment.

ManpowerGroup Central America Commercial Director Eric Quesada said employers in Costa Rica are growing increasingly cautious.

"This may be for two reasons," he said. "First, the country is in an adjustment period after experiencing growth in past quarters, and second, employers also are waiting to see how the new administration's policies will impact their business strategies and payroll decisions."
4. Government wage increase costs ¢ 62,000 million a year

Increase exceeds the annual cost of scholarships for poor FONABE
Reserve for salaries increased 10% in 2015 budget

The first wage increase approved by the Government for public employees will have an annual cost of ¢ 62,570 million, more than the state invests in scholarships to poor students through FONABE.

The figure exceeds ¢ 12,000 million budgets of institutions like the National Scholarship Fund (FONABE) and the Municipality of San José, while equaling the National Production Council (CNP).

On July 31, the administration Solis agreed with unions on a 4% raise salaries of public employees in general, for the second half of this year, and the 5.14% of those earning less than ¢ 381,000 ( minimum wage in the government).

While the increase for most officials about inflation for the first six months of the year (4.14%), this was greater than the decreed for employees in the private sector, which was 2.35 %.

Additionally, the setting for the bureaucrats have a multiplier effect on wage incentives they receive, such as dedicated and annuities.

Upon inquiry of this medium, the Ministry of Finance reported that the total cost of the increase calculated for a period of 12 months, is nearly ¢ 63,000 million.

For the first half of this year, the previous government imposed an increase of 0.43% for public servants on the grounds that the state's finances did not support a higher setting, prompting protests from labor groups.

When discussing the increase of the second semester, the administration of Luis Guillermo Solis argued that the Treasury has enough money to take on the additional cost in the form of 128,000 employees.

Moreover, Zapote granted a budget increase of ¢ 51,000 million to public universities by 2015.

The sum of the increases for wages and universities, ¢ 113,000 million, equivalent to a third of what the government of Laura Chinchilla wanted to raise the tax reform that led in 2012 to provide more resources to the state without this proves successful (it was halted by the Sala IV after passing the first reading in the Legislative Assembly).

10% in 2015 The Ministry of Finance increased by 10% forecast money to cover the salaries of the public sector in 2015 between the current and last year had grown 15%.

The increase includes the cost of the first salary adjustment approved by the government and could enact in the first and second halves of 2015 4% for the next year, consistent with the inflation target was anticipated.

It did so in a National Budget that will grow five times faster than inflation and the fiscal deficit which already reaches 6.7% of gross domestic product (GDP) by pressing the economy.

The heading of wage earnings grow at ¢ 207,000 million (from approximately ¢ 2,081,000 million to about ¢ 2,291,000 million).

The calculation variables also play as freezing seats and replacing staff retires, which may rather reduce expenses.
5. Price of houses leads to failure credit schemes to middle class

Laws created to facilitate homeownership did not eliminate the existing problem Developers claim that operating costs from doing best deals

Legislation designed to make it easier for middle-class families homeownership is not giving the expected results.

The reason is that the prices available in the market are not available to most households in the country.

The conclusion from the research situation of housing and urban development in Costa Rica 2013, conducted by the Housing Promotion Foundation (Fuprovi).

According to the study, is "extremely difficult" to find homes costing less than ¢ 31 million. That amount is the maximum credit could pay a family with a monthly income of ¢ 674,837.

The estimates made by credit Fuprovi based on the assumption that the household has no other debts and holding 20% of the premium required by most financial institutions in the country.

"No credit, no money to pay, so there is no supply in the housing market, and that's because developers have been placed in a very high market where the level of profitability is very strong," said Heloise Ulibarri, Fuprovipresident.

"You have to understand that it is better to work more volume with less return per unit to be much less profitable units each," said Ulibarri.

Randall Murillo, president of the Costa Rican Chamber of Construction, says that operating costs and the credit system banks that handle does not allow them to offer more affordable housing.

Also, consider that the building regulations of the country must fit the target market to be achieved.

"A project is not put them pools and green areas because the developer wants them more expensive; projects are put common areas because that is the current legislation, "said Murillo.

"The same rules will have to apply it to a building of great value as a building of public interest," he added.

Laws. Between 2011 and 2014 nine bills focused on simplifying access to middle-class homes were approved.

Prominent among the projects approved legislation to create the deferred bonus, the bonus second floor and reducing the minimum legal reserve.

"The second floor bonus has run into several problems. For example, your mom has a house and you want to build up that house; Mom would have to give 50% of the property and sometimes not agree in that aspect, "said Franklin Solano researcher Fuprovi.

Solano said the remaining rules stemming found different constraints on their actual implementation.
6. Tourism officials report significant rise in visitors
By the A.M. Costa Rica staff

The tourism institute is reporting a 5.4 percent increase in foreigners arriving on tourism visas for the first six months of the year. The statistics also show significant increases of North Americans and Europeans.

The institute, using figures supplied by the Dirección General de Migración, said that 1,391,617 tourists arrive in the country during that period. The institute also said that 946,103 came by air. That represented a 7.6 percent increase over the same period, January to June, in 2013, said the institute.

There was less than a 1 percent increase in those arriving by land, according to the statistics. That number was 439,151 and the travelers are mainly Central Americans.

The Institute Costarricense de Turismo also reported that 6,363 tourists came by ship, which is a 18.9 percent increase.

Perhaps the most important static was the number of tourists who came from North America, mainly Canada and the United States. In 2013 that number was 663,072. The total for 2014 is 712,458. according to the tourism institute.

That represents an increase of nearly 7.5 percent.

European visitors also were up by more than 30,000. In 2013 there were 149,430 European tourists, according to the archived institute figures. This year through June there have been 179,743 or a bit more than 20 percent more.

The tourism institute said that the statistics exclude Costa Ricans and those foreigners who were entering the country on temporary work permits. That last group would include agricultural workers.
7. Banks raise interest rates for savings incolones

Low uptake of resources and greater demand for credit reduces liquidity
Also influence the growing fiscal deficit and the expectation of higher inflation

The interest rates that banks pay savers in colones maintained an upward trend since last April.

The increase recorded in all maturities, both public and private entities. However, in the former, those settings are higher.

Indeed, in some cases, state institutions offer higher revenue than private, which is not common because the former have the guarantee and, therefore, have a lower risk.

For example, between April and September this year, the average interest rate on six-month period increased from 6% to 6.47% in state banks, and 5.72% to 6.09%, in private.

Causes Economist Norberto Zúñiga and Hazel Valverde, Director of Finance of the National Bank.; Mario Vasquez, director of Treasury Scotiabank, and Mario Rivera, manager of the Bank of Costa Rica, cited several factors. One noted by all bankers relates to the lower liquidity in colones.

Valverde also explained by changing expectations of devaluation, operators increased their savings in dollars and fell in colones.

In addition, individuals and businesses demand more loans in local currency and in dollars less. That reduced the availability of money.

Vasquez coincided with Valverde they perceive less liquidity in colones and added that also come into play expectations of higher inflation.

According to the Central Bank survey on expected average inflation expectations for the next 12 months, this indicator rose 5.8% in January, 6.5% in August.

The higher inflation is predicted, higher yields asking savers to maintain their purchasing power.

Valverde and Zúñiga cited as another factor the growing fiscal deficit, which causes the government to demand more resources, but it also raises the risk perception.

In recent months, authorities have tried to lose that pressure to use the dollars that have Eurobond of $ 1,000 million that was placed last year.

Rivera recalled that another cause was the rise in the monetary policy rate (in March and May).

For Valverde, the reason why public banks offer higher interest in certain periods due to a number of private handle more than 90% of its loans in dollars, so they have no competitive deposit rates in local currency.

Zúñiga expected to continue rising. "As you are the prospects for greater fiscal imbalance and eventual downward revision in the credit ratings of the Government, it is expected that rates will continue to increase gradually," he said.
8. Construction trade suffers sharp decline this year

Entrepreneurs attribute it to elections, excessive paperwork and caution when investing Reduction in the first seven months was also evident in industry and housing

The process for new commercial buildings within the construction sector is the one with the largest decline from January to July this year compared to the same period in 2013, according to a study by the Costa RicanChamber of Construction (CCC).

The fall of 28.1% means that in the first seven months of 2014, 198,168 square meters (m²) less before the Association of Engineers and Architects (CFIA), for new stores or malls were processed.

The other industry groups were most affected, with a variation of -27% to -5.8% and housing.

In total, the construction sector fell 10.1%, with 320,000 m² less processed during that period.

The Chamber expects total activity presented a decrease of 9% at year end, compared to 2013.

Hardest hit. Guillermo Carazo, president of the CCC, said that the commercial and industrial sectors are most impacted in relative terms, because it is an election year, at the same time, caution and uncertainty sowed some investors.

In the above coincided Francisco Llobet, president of the Chamber of Commerce of Costa Rica, who noted that high energy costs, rising informal employment and the smuggling of goods, have also affected trade and courage to invest.

Fernando Leñero, managing director of Cuestamoras Urbanism, developer of commercial and residential projects company, said one of the biggest obstacles in the country is the tramitomanía and slow funding.

To Leñero, take into account that the construction is highly sensitive to economic cycles and has its ups and downs.

"We see the market with optimism; now passes through a lower level but we have a long-term and there is demand and need for future projects that are due to changing lifestyles, "he stressed.

Carazo said that another reason may be reflected in the decline in the commercial sector is that between 2012 and 2013 the majority of permits were processed for a significant amount of shopping centers already operating or are under construction.

For example, Lincoln Plaza (Moravia), Walk Metropolis (Cartago) and new stages in Paseo de las Flores (Heredia) and Multiplaza and the City Mall in Alajuela, which is under development.

The Costa Rican Chamber of Construction (CCC) provides for a 9% drop in the number of square meters processed during 2014 This would mean a decrease of 500,000 meters cudrados less compared to 2013.

The rising price of materials is one of the reasons that the CCC exposed as responsible for the decline in construction.

According to data supplied by the guild, only during the first seven months of the year, activity and recorded a low of 320,000 square meters over the same period of 2013.

Guillermo Carazo, House Speaker explained that while you can work on the rest of the year to reverse the situation, would not be enough to close with favorable numbers.

However, if the numbers are compared with those estimated by the Central Bank, the situation is even more critical, as the monetary authority cut its growth forecasts for the sector for 2014 and 2015.

The central bank projected at the beginning of the year a growth sector and 5.7% in July last revised downwards to 3.2%. By 2015 the adjustment in the projection was 4.1% to 1.3%.

"The fall is seen in almost all sectors of the economy, with industry, commerce and housing the most impacted," Carazo said.

Issues related to land use, costs and excessive paperwork cosntrucción by public institutions are listed within the barriers to growth in the sector.
Brian, Lita, the Late Hugo IV, irreverent Vicka, the pigeon toed parrot, Chico II and Chica II