...a little rain!!
Dear friends,
When I started Residencias Los Jardines, I started writing a weekly news letter -determined to tell all the good, bad, and the ugly. I knew some readers would be interested in the construction process. I expected others might be interested in the lifestyle of two people who had decided to live outside the box. For others, the adventures of Lita, the parrot and the cat took on an entertainment saga all its own.
Residencias Los Jardines is finished. We periodically have resales and rental availability. Some readers may be interested in this information.
Brian Timmons
DEVELOPER / PROPERTY MANAGER
Residencias Los Jardines / https://www.residenciaslosjardines.com info@residenciaslosjardines.com
ResidenciasPropertyManagement@gmail.com
Featured house this week
Paradisus Condos / Rorhmoser
FOR SALE
Residencias Los Jardines
Property Management, Rentals, Re-Sales
Market Activity
Sales: no new inquiries.
Rentals: one rental inquiry
FOR SALE
Unit #114: $235,000 / See Unit
Unit #116: $214,000 / See Unit
FOR RENT
Unit #124: $900 mo. / Available Immediately / See Unit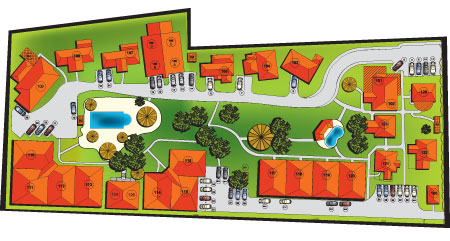 HOUSES FOR SALE
UNIT #114
FOR SALE $235,000
Total Area (Sq Ft): 1290
Total area (Sq M): 120
Bedrooms: 2
Bathrooms: 2
Floor(s): Single Floor
Type: Attached
Furnished: Yes
This 1,290 sf. (plus covered parking for one car and two lockers 67 sf.) single story, semi detached house, with garden terrace, two bedrooms is a beautiful executive style home. This home consists of two large bedrooms one with six piece en-suite bathroom with additional access to separate full shower. Each bedroom has large closets with extensive built-ins for personal organization. The vaulted living room and bathroom ceilings provide a feeling of grandeur while allowing the warmer air to rise and exit through the ceiling ventilating system. There are four TVs (one in each bedroom, one in the living room and one in breakfast / dinning room.) This is a beautiful well appointed home.
UNIT #116
FOR SALE $214,000
Total Area (Sq Ft): 1290
Total area (Sq M): 120
Bedrooms: 2
Bathrooms: 2
Floor(s): Single Floor
Type: Semi-Attached
Furnished: Yes
This 1,290 sf single floor home includes a 300 sf front terrace plus parking for one car and a separate, secure storage locker. It is and end unit and therefore attached on only one side by a 6 inch cement demising (common) wall, which prevents sound transfer.
HOUSE FOR RENT
UNIT #124
FOR RENT $900 mo.
Available Immediately
Total Area (Sq Ft): 662
Total area (Sq M): 61
Bedrooms: 1
Bathrooms: 1
Floor(s): 2nd Floor
Type: Semi-Detached
Furnished: Yes
This 662 sf, + covered parking for one car, is a one bedroom home on the 2nd floor overlooking the large pool. It is ideal for a single person or couple.
Our Lives
WEATHER: Normal rainy season weather.
Several friends of mine concluded secured personal loans at 12% interest. which is the normal going private lending rate. As banks cut back on lending and become increasingly more difficult to deal with while taking forever to maybe make the loan or not, business people needing investment funds turn to private sources. In their cases, the mutual contact is a reputable lawyer and the loan to fire sale value is usually 50% or less.
Another friend picked up a slightly used Hyundai diesel 4X4 that an American had left behind -he just walked away from it. My friend hopes to straighten out the paperwork on it and resell it or keep it for himself.
The wine club meal on Sunday was great, the old Fart's group on Tuesday was well attended, and the Friday Lunch Bunch is back up and running...
The developer who bought our land in Rio Oro is having an open house today to begin his "pre-sales" effort. I'm going. It took an additional year to get approval for the changes he wanted to make.
After guests for Labor Day afternoon and Saturday evening, we'll take a break on Sunday and then off to the beach for two nights and return in time for the investment group meeting on Wednesday...
There is always something going on in our lives and those around us...
News Items of the Week
(1) It's amazing how delays can increase costs and despite CR being the 3rd most competitive country in Latin America and despite the claim that inflation is around 5-6% per year (up a bit from last year) substantial increases occur in construction because of delays due to inefficiencies in the system.
(2) Tourist Visa enforcements... they say they are now going to enforce the rules... and have confirmed that the ability to extend a 90 visa with a $100 payment does not apply...
(3) Inflation: the official rate is posted as a little over 5.6% and in this article the drought is blamed... When one includes the increases in fuel, electricity, and water, the real inflation rate is substantially higher. Hidden in this article is a reference to future increased costs due to additional government debt and increased interest rates along with a devalued colon. While I do not have the article included here, I heard that all three international rating agencies--Moody,s, Standard and Poors, and Fitch--are looking to lower CR investment rating to junk status because of increased costs over revenue. The exchange rate is still being held at 534-545 at a huge cost to the government.
(4) Costa Rica is proud to be the third most competitive country in Latin American (exceeded by Chile and Panama) and to have moved up in the rankings. This was largely achieved by penetration of cell phone users... but held back by much more fundamental factors... infrastructure and bureaucracy... To my way of thinking,Ticas talking incessantly on their cell phones while drive their husband's big SUV doesn't really contribute to competitiveness.
1. Arrears expensive at $ 587 million four urgent routes

The way to San Ramon, San Carlos, northern Liberia and are delayed.
MOPT expected budget to expand Route 32 will also rise.

The original value of the four proposals was $ 404.7 million, and is currently at $ 992 million, according to the Ministry of Public Works and Transport (MOPT). This represents an increase of 59%.

These projects San Jose San Ramon; Cañas-Liberia; Siphon (San Ramon) 'The Abundance (San Carlos); and Chilamate (Sarapiqui) -BACK Kooper (San Carlos).

These other which is still in study adds. This is the case of the extension of Route 32 in the stretch from the crossing to Rio Frio (Pococí) downtown Limon.

With the passage of time, the cost of the works reflect the effects of inflation, said RoyBarrantes, Consensus Group for the Rescue of the National Road Network.

Inflation affects all costs of construction, from materials to labor and professional services.

Offsetting these increases, construction made adjustments in prices, said WendySequeira, National Laboratory of Materials and Structural Models (LANAMME).

In the opinion of the Comptroller General of the Republic, Marta Acosta, delays in processing the proposals are due to poor management of public entities, lack of planning and lack of qualified staff to prepare and execute the works.

"We found little greening projects when hiring, as inaccuracies in the drawings and designs are started," he said.

The hierarch also noted the failure by the State requirements as expropriation and environmental permits.

The other cause of the increase in cost is the addition of new works, those that were not covered in initial designs.

It may be more lanes, bridges or overpasses.
To Roy Barrantes, in the country there is poor planning and inadequate management model.

Four vital routes became more expensive at $ 587 million (Adrian Soto H) "The system of MOPT up and down all those tips, like islands, has not been efficient. We have to find a new model of development, "he said.

The increases. Among the urgent projects that have been more expensive, the expansion plan of the San José-San Ramón ranks first.

The original project, the grant was signed in 2004 with the company Highways Valley, had a cost of $ 197 million. This year, the group plan Forum West is valued at $ 473 million; ie, $ 276 million more.

The modernization of this route, one of the largest in the country, was scheduled for April 2006, but has not yet begun.

Meanwhile, the road to San Carlos should be completed in October 2009, is now expected to be ready by June 2016.

The initial cost of the project was $ 61 million and up to $ 254.8 million, which represents an increase of $ 193.8 million, of which $ 66 million is due to arrears.

The cost of extending the Cañas-Liberia route climbed by $ 95.5 million. Its construction, which has a one year lag, went from $ 94.7 million to $ 190.2 million.

The path with less delay and less rose in price is Chilamate-Vuelta Kooper, who was eight months backlog increased by $ 22 million. The total value of the road is $ 74 million.

In the case of Route 32, the project was estimated at $ 485 million in June 2013; however, the Deputy Transport Minister Mauricio Gonzalez, predicted that the cost would increase because the state can not meet deadlines.
2. Those with expired tourist visas will be deported, not fined, official says

September 1st, 2014 (InsideCostaRica.com) Fines that came into effect today for those who overstay their visas in Costa Rica will apply only to those with work or residency visas, an immigration spokesperson told the English-language online newspaper The Tico Times on Friday, contradicting information that was provided to Inside Costa Rica in early August.

"There is no type of fine or penalty for people who overstay a tourist visa," HeidyBonilla, a spokeswoman for the Immigration Administration, told The Tico Times."People caught overstaying a tourist visa will be deported, but not fined."

Bonilla added that those with expired visas would not be detained if they were leaving the country immediately.

Those for whom the $100 per month fines apply but who are unable or unwilling to pay the fines will be barred from reentering the country for a period equal to three times the length of time they overstayed, according to information provided toInside Costa Rica in August.

Fines must be paid 48 hours in advance of departing the country at any Banco deCosta Rica (BCR) branch.

The fines, which came into effect today, are part of a package of changes to the country's immigration law that came into effect on August 1st.

Other immigration laws came into effect on August 1st as well, including a fine of two to twelve times the base salary for hiring a foreign worker who does not have a work visa, as well as fines for people or businesses that provide accommodations for foreign nationals who are in the country without a valid visa.
3. Rise in inflation

An increase of 22% last year in the prices of fruits, vegetables and tubers are among the factors that fueled inflation.

This follows from the calculation made by the Nation based on the consumer price index (CPI), to cut August, released yesterday by the National Institute of Statistics and Census (INEC).

Among products with the highest increases over the last 12 months, are tomatoes, 86%; oranges and pineapples, with 30%; avocados, 25%, and beans and carrots, with 20%.

These agricultural products are classified in the group food and non-alcoholic beverages, along with items such as fish and sugar, which also experienced increases. The only negative change was in the oils.

Overall, the annual CPI inflation grew 5.49%, according to information from INEC.
This is one of the highest percentages recorded until August, in the last four years.

In reviewing the 2014-2015 macroeconomic program, introduced last July, the issuer maintained its objective of a price increase between 3% and 5% this year.

However, economists predict that by the Nation's goal is threatened by the evolution of the exchange rate and the effect of the Government's fiscal deficit by more debt to be incurred by the Central Government in 2015.

Impact. Juan Rafael Lizano, president of the National Chamber of Agriculture, explained that a smaller harvest, attributed to climatic effects, impacted the prices of agricultural products.

"The lack of water during the first half of hit products such as melon and watermelon, mainly in the region of Guanacaste," Lizano said.

He said they expect an increase in yields for the last months of this year, the highest incidence of rainfall in the country.

Moreover, Milton Castillo, coordinator of the Unit Price Indices INEC confirmed that there were other groups of goods and services, in addition to fruits and vegetables, which collaborated on the rise in inflation in the last 12 months.

Excel mainly education, with an annual increase of 6.54%; well as alcoholic beverages and transport, which rose 6.38% and 5.63%, respectively, according to the INEC.

In the case of communications, including telephone and Internet, accumulated a rose from 27% to previous August, compared with the same month cut 2013.

But Castillo emphasized that this sharp increase was due to an increase in fixed telephony approved in November last year and since then have been no new settings.
4. Costa Rica forward again global competitiveness index

Ranks third in Latin America, surpassed by Chile and Panama
Despite strengths in education, goes wrong by bureaucracy and poor infrastructure

Costa Rica rose for the third consecutive year in the global competitiveness index calculated by the World Economic Forum.

For this year, filed yesterday in Switzerland, the country jumped from number 54 to 51 Also, in the last five years went from 61 to 51, for advancing 10 positions in the display.

Switzerland is the first country in competitiveness among 144 nations.

The study, from which this index is derived, policy analysis and factors that determine the productivity of economies and defining the potential for growth and prosperity of the countries, based on a survey among business executives.

In the case of Costa Rica, comparisons are made with the countries in the upper middle income transition towards a more sophisticated economy

Third. A Latin American level, Costa Rica remains the third most competitive country, behind Chile (34) and Panama (48).

Among the country's strengths are traditional, as the good service of public education (21 in the world) and other new and advancements in mobile penetration, which is ranked 20th, broadband Internet (36) and the ability to innovate (36).

Anchors. Contrary to the aspects that allow the country to experience breakthroughs, including the negative points of the report there are no surprises.

Poor transport infrastructure (108 globally), access to financing through the local equity market (117), the fiscal deficit (116) and the bureaucracy-this last is the first obstacle to persist as business- points Skinny growth.

Lawrence Pratt, professor of Central American Institute of Business Administration (INCAE), said that in Costa Rica report presents incremental improvements in several areas, but these were identified by the study, in the last 15 years deficiencies remain.

"That the country up or down three places in the index is not relevant. The important thing is to have substantive changes, "said the academic.

Rónald Jimenez, president of the Costa Rican Union of Chambers and Associations of Private Enterprises (Uccaep), considered halting the construction of new infrastructure happens to the country a very high bill.

"If we continue down the path of efficiency, be it public or private, but with the public as the central axis advance. A test is the penetration of mobile telephony, "said the businessman.

For his part, Minister of Foreign Trade (Comex), Alexander Mora, welcomed the report's findings and reiterated that the Government is working to revive investment in infrastructure and commitment to enhance digital platforms entities, to reduce bureaucracy.
Brian, Lita, the Late Hugo IV, irreverent Vicka, the pigeon toed parrot, Chico II and Chica II