Dear friends,
When I started Residencias Los Jardines, I started writing a weekly news letter -determined to tell all the good, bad, and the ugly. I knew some readers would be interested in the construction process. I expected others might be interested in the lifestyle of two people who had decided to live outside the box. For others, the adventures of Lita, the parrot and the cat took on an entertainment saga all its own.
Residencias Los Jardines is finished. We periodically have resales and rental availability. Some readers may be interested in this information.
Brian Timmons
DEVELOPER / PROPERTY MANAGER
Residencias Los Jardines / https://www.residenciaslosjardines.com info@residenciaslosjardines.com
ResidenciasPropertyManagement@gmail.com
Featured house this week
Paradisus Condos / Rorhmoser
FOR SALE
Residencias Los Jardines
Property Management, Rentals, Re-Sales
Market Activity
Sales: no new inquiries.
Rentals: unit 124 available on September 1.
FOR SALE
Unit #114: $235,000 / See Unit
Unit #116: $214,000 / See Unit
FOR RENT
Unit #124: $900 mo. / Available September 1 / See Unit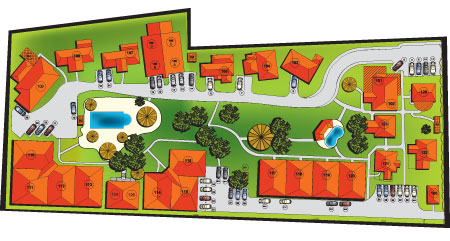 HOUSES FOR SALE
UNIT #114
FOR SALE $235,000
Total Area (Sq Ft): 1290
Total area (Sq M): 120
Bedrooms: 2
Bathrooms: 2
Floor(s): Single Floor
Type: Attached
Furnished: Yes
This 1,290 sf. (plus covered parking for one car and two lockers 67 sf.) single story, semi detached house, with garden terrace, two bedrooms is a beautiful executive style home. This home consists of two large bedrooms one with six piece en-suite bathroom with additional access to separate full shower. Each bedroom has large closets with extensive built-ins for personal organization. The vaulted living room and bathroom ceilings provide a feeling of grandeur while allowing the warmer air to rise and exit through the ceiling ventilating system. There are four TVs (one in each bedroom, one in the living room and one in breakfast / dinning room.) This is a beautiful well appointed home.
UNIT #116
FOR SALE $214,000
Total Area (Sq Ft): 1290
Total area (Sq M): 120
Bedrooms: 2
Bathrooms: 2
Floor(s): Single Floor
Type: Semi-Attached
Furnished: Yes
This 1,290 sf single floor home includes a 300 sf front terrace plus parking for one car and a separate, secure storage locker. It is and end unit and therefore attached on only one side by a 6 inch cement demising (common) wall, which prevents sound transfer.
HOUSE FOR RENT
UNIT #124
FOR RENT $900 mo.
Total Area (Sq Ft): 662
Total area (Sq M): 61
Bedrooms: 1
Bathrooms: 1
Floor(s): 2nd Floor
Type: Semi-Detached
Furnished: Yes
This 662 sf, + covered parking for one car, is a one bedroom home on the 2nd floor overlooking the large pool. It is ideal for a single person or couple.
Our Lives
WEATHER: This week saw a return to a more normal rainy season. We had several days of mild rains... we have not had the violent thunder and lightning storms we had several years ago accompanied by torrential, tropical downpours...
Wednesday morning while laying in the hammock, I spotted a beautiful bird I had not seen before... small robin sized, brilliant orange head graduating to a lighter orangy-yellow chest and stomach, with black accents on the back, wings, and tail. I think it was a Western Tanager.
I bought an iPad... I had seen others using it and saw how flexible and convenient it was. I saw one advertised on an English blog... I considered it a great price... and now I'm trying to figure out how to operate it. The learning curve is longer if you are older and a techno-idiot which is the classification I unfortunately fall into.
News Items of the Week
1. Gas prices decrease: Regular gas now is $5.22 gal / and super is $5.38... and we are suppose to be happy?
2. Solis' 100 day assessment: he attributed the many problems to previous administrations long standing tolerance / practice of corruption and mismanagement... I think both are accurate but the question is: Will he be able to turn around a country and culture where both are endemic? This afternoon we're having dinner with a moderate insider of the PAC... they aren't exactly objective but they will provide their assessment and outline their hopes. I hope I can remember after the wine...
1. Motor fuel prices will decline
By the A.M. Costa Rica staff

Don't fill that tank yet. The price regulating agency said that the pump cost of super gasoline will go down 36 colons per liter and that plus grade will decline by 30 colons.

The agency, the Autoridad Reguladora de los Servicios Públicos, said the decrease was due to the lower world price of petroleum despite a slight bump in the dollar exchange rate.

Lately an $80 fill up is not unusual with gas prices above the $5 a gallon mark.

The new super prices will be 774 colons a liter (2,929.91 colons per U.S. gallon). That's $5.38 a gallon.

Plus will be 752 colons a liter (2,846.63 colons per U.S. gallon). That's $5.22.

Diesel declined just a colon, and the anticipated price is 666 colons per liter or 2,521.08 colons a gallon. That's $4.63.

Liquid petroleum gas also declined slightly by 4 colons a liter.

When the new prices go into effect, there probably is not a reason for a big shopping spree. The per liter reduction for super is just 7 U.S. cents. Plus declined 6 U.S. cents per liter. Still that's about 25 U.S. cents less for super and 21 U.S. cents less per gallon for plus.
2. Solís blames Liberación for reign of corruption
By Michael Krumholtz, of the A.M. Costa Rica staff

Reciting a long list of corruption and negligence from past governments, President Luis Guillermo Solís said Thursday that a recent history of irresponsible governing has held back Costa Rica's development. Solís delivered his 100-day report of his presidency that not only included a peek into his plans for reform but also gave a scathing critique of the previous administrations' perceived illegalities and failures.

In the first-ever report of its kind in Costa Rica, the president announced that his administration found that illegal acts happened every day under the various public ministries and institutions from 2006 to 2013 while Partido Liberación Nacional occupied much of the power structure.

"In the majority of public offices the chaos is unimaginable," Solís said. "There has been corruption, corruption, and more corruption."

In Costa Rica there's corruption but it would never seem there's corrupted people, Solís said, pointing to what he said was the irresponsibility of past leaders and their ability to remain unpunished. Among the most notable offenses that Solís listed were the labor ministry paying pensions to people who were already dead and the former administrations in Casa Presidencial inexplicably losing 117 state-owned cars that still cannot be found.

He admitted that the country's bureaucratic-heavy system has lead to Costa Rica being a country known for having processes that are slow, costly, and lacking in quality. Being one of the most inefficient countries in the region, he said, is a shameful label that the country they call the happiest in the world needs to shed before it can enjoy greater levels of wealth.

"This population is the most educated, most accepting, and most politically free in our history," Solís said. "The people want change and serious, doable commitments."

Though lawmakers and some in the general public openly questioned the report's necessity leading up to Thursday, Solís insisted that he wants his government to be more transparent and have a constant line of communication with the public. He said Thursday that divided parties, like Liberación Nacional, need to let him govern and that his administration will not be defined by the ruins left behind by previous ruling factions.

When discussing changes that he hopes to conduct over the remaining three years and nine months of his presidency, he mentioned needed improvements within the Caja Costarricense de Seguridad Social that included paying pensions to the 40,000 dependent retirees not receiving them. He also said more attention should be given to effective spending among public schools and universities to help young students succeed with more scholarship opportunities and better funding. According to the president, the government has more than 21 billion colons, or $39 million, saved up to spend on all public works.

Solís's speech lasted for a little more than an hour and was followed by questions from a selection of invited guests, including questions from the minister of Mujeres and a representative of a native group about possible reform for marginalized groups. In response to a question from a representative of the foreign trade sector, Solís said the country needs more quality jobs that come from attracting foreign investment and exporting products.

A tourism representative asked Solís if the government was going to offer a hand in keeping the sector afloat following the implementation of a potentially crippling sales tax. The president responded that his administration is trying to give the necessary support to tourism leaders for the industry to be competitive on a regional scale and that there was open dialogue involving the controversial 13 percent tax recently added to certain tours that businesses depend on.
Brian, Lita, the Late Hugo IV, irreverent Vicka, the pigeon toed parrot, Chico II and Chica II