Dear friends,
When I started Residencias Los Jardines, I started writing a weekly news letter -determined to tell all the good, bad, and the ugly. I knew some readers would be interested in the construction process. I expected others might be interested in the lifestyle of two people who had decided to live outside the box. For others, the adventures of Lita, the parrot and the cat took on an entertainment saga all its own.
Residencias Los Jardines is finished. We periodically have resales and rental availability. Some readers may be interested in this information.
Brian Timmons
DEVELOPER / PROPERTY MANAGER
Residencias Los Jardines / https://www.residenciaslosjardines.com info@residenciaslosjardines.com
ResidenciasPropertyManagement@gmail.com
Featured house this week
Paradisus Condos / Rorhmoser
FOR SALE
Residencias Los Jardines
Property Management, Rentals, Re-Sales
Market Activity
Sales: one inquirie / one viewing...no follow through.
Rentals: unit 124 available on september 1.
FOR SALE
Unit #114: $235,000 / See Unit
Unit #116: $214,000 / See Unit
FOR RENT
Unit #124: $900 mo. / Available September 1 / See Unit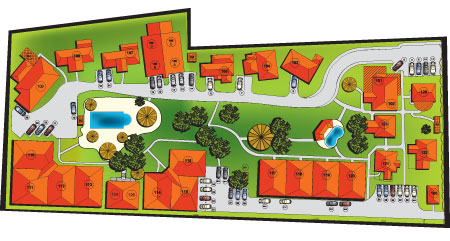 HOUSES FOR SALE
UNIT #114
FOR SALE $235,000
Total Area (Sq Ft): 1290
Total area (Sq M): 120
Bedrooms: 2
Bathrooms: 2
Floor(s): Single Floor
Type: Attached
Furnished: Yes
This 1,290 sf. (plus covered parking for one car and two lockers 67 sf.) single story, semi detached house, with garden terrace, two bedrooms is a beautiful executive style home. This home consists of two large bedrooms one with six piece en-suite bathroom with additional access to separate full shower. Each bedroom has large closets with extensive built-ins for personal organization. The vaulted living room and bathroom ceilings provide a feeling of grandeur while allowing the warmer air to rise and exit through the ceiling ventilating system. There are four TVs (one in each bedroom, one in the living room and one in breakfast / dinning room.) This is a beautiful well appointed home.
UNIT #116
FOR SALE $214,000
Total Area (Sq Ft): 1290
Total area (Sq M): 120
Bedrooms: 2
Bathrooms: 2
Floor(s): Single Floor
Type: Semi-Attached
Furnished: Yes
This 1,290 sf single floor home includes a 300 sf front terrace plus parking for one car and a separate, secure storage locker. It is and end unit and therefore attached on only one side by a 6 inch cement demising (common) wall, which prevents sound transfer.
HOUSE FOR RENT
UNIT #124
FOR RENT $900 mo.
Total Area (Sq Ft): 662
Total area (Sq M): 61
Bedrooms: 1
Bathrooms: 1
Floor(s): 2nd Floor
Type: Semi-Detached
Furnished: Yes
This 662 sf, + covered parking for one car, is a one bedroom home on the 2nd floor overlooking the large pool. It is ideal for a single person or couple.
Our Lives
WEATHER: One day of rain... the balance of the was sunny and beautiful.
We had to renew Lita's cedula this week. From my experience, I felt I knew what papers we needed but one can never be sure the rules haven't changed. We arrived expecting to set up an appointment.
The rules had not changed. The only thing we needed to do was to pay the $143 at the BCR on site of Migracion. We did, waited two hours and received her new card. We were impressed with the efficiency...
News Items of the Week
1) New Hotel capacity being added to an over built market
2) There's a water shortage and new hotels are being added
3) Some hotels may have to close due to lack of water. The Barcelo paid $55,000 in July alone to bring in water so it could remain open...
4) RECOPE--and the CR IRS fight over whether taxes are due on surplus... I don't know what the right answer is but get it settled and quite spending money fighting.
5) Basics for buying property in CR
6) INVU agents diverted housing loan funds to commercial and to family members...as said before, it's an awful organization...
7) Southern Zone Business Development Agency missing $55 mil. dollars... wow!!!! and one lawyer / government depute is currently indicted for some of the missing funds...
8) Cruise Ship attendance is down 30% between 2008-13... Why? take a look at Limon and the docks
9) Pension Cut Freeze: The government plan to freeze payments in excess of the government law has been frozen due to an appeal by one of the fat cats receiving more than the law allows...
1. At least 23 new hotels coming in the near future; will add nearly 2,500 rooms

August 19th, 2014 (InsideCostaRica.com) Another 23 new hotels that are under construction or with approved construction permits will add an additional 2,444 rooms to the country's inventory, according to the Costa Rican Tourism Institute (ICT).

The numbers only include projects that have registered with ICT, which is not required.

The Costa Rican Chamber of Construction (CCC) indicates the numbers are within expectations. New hotel construction has "stabilized" after reaching a peak in 2011, which saw 140,670 square meters of new hotel construction, CCC said.

Last year, that figure dropped to 51,975 square meters.

Permits for 12,306 square meters of hotel construction were issued in the first half of this year.

The Central Pacific province of Puntarenas and the Caribbean province of Limon saw the most activity in the first half of this year.

For the year 2013, Guanacaste led the way in hotel construction, issuing permits for 26,030 square meters, followed by San Jose (12,492 square meters) and Puntarenas (7,039 square meters).

Tourism Minister, Wilhelm von Breymann said that construction of new hotels is not expected to slow anytime soon, citing an increase in tourist arrivals and the possible arrival of new airlines and routes serving the country.

However, the minister said there is a new trend towards smaller hotels with fewer rooms.

Guanacaste is expected to see the most construction activity this year, where permits have been issued for eight new projects including a large 447-room project in La Cruz.

Six projects are in the works for San Jose and five in Puntarenas.
2. Guanacaste water shortage has hotels threatening to close their doors, layoff staff

August 21st, 2014 (InsideCostaRica.com) PLN lawmaker, Juan Marin said this week that the chronic water shortage in Guanacaste is so bad that nine hotels in Tamarindo and Langosta are threatening to close their doors and layoff their staff.

Marin said the hotels affected have invested thousands of dollars to try to find their own water sources, to no avail.

"If the situation continues, tourists are not going to come in December," Marin said, adding that hotel layoffs would worsen unemployment in the area which has already seen an increase as the result of this year's record drought, which is expected to worsen in the coming months.

Meanwhile, the Costa Rican Tourism Institute (ICT) announced earlier this week that construction permits for eight new Guanacaste hotel projects have already been issued, including a large 447-room project in La Cruz.

Nationwide, at least 23 new hotels that are under construction or with approved construction permits will add an additional 2,444 rooms to the country's inventory.

Lawmakers and officials from the Costa Rican Institute of Aqueducts and Sewers plan to meet with area business leaders on September 8th in Santa Cruz to discuss solutions to the crisis.
3. Lawmaker says water woes may close Pacific
By the A.M. Costa Rica staff

A lawmaker warned Monday that the shortage of water in Guanacaste might cause hotels to close in the next few weeks.

The domestic water crisis caused by a prolonged drought has been overshadowed in the news by the problems facing farmers and ranchers in the area.

But the lawmaker, Juan Marín, said that even a major hotel like the Barceló might be forced to close due to the lack of water. That would leave 250 employees without jobs, he said.

The shortage has caused the hotel management to spend $55,000 during July just to bring in water, the lawmaker told the Asamblea Legislativa.

He blamed the Instituto Costarricense de Acueductos y Alcantarillados. However, there are many other smaller water systems in the area.

Marín said that today he and fellow lawmakers who represent that area will meet with the leadership of the national water company to seek solutions.

The dry spell is a result of the El Niño conditions in the Pacific. For months ranchers have been cutting their herds and moving animals to other locations so they could find forage. There has been a promise of an emergency decree.

Marín also said that the proliferation of drug sales on the beach was hurting tourism in Tamarindo as did the closing of the local airport due to asphalt breaking up on the runway.
4. Costa Rican Oil Refinery in long battle with tax authorities

August 19th, 2014 (InsideCostaRica.com) The Costa Rican Oil Refinery (RECOPE) has been charged more than $180 million (¢96.6 billion) in penalties and interest by the Treasury as the result of tax audits over the last five years, according to a report by the daily La Nacion.

The Directorate General of Taxation (DGT) has audited RECOPE three times over the past five years, finding on each occasion that RECOPE had under-reported its income and was delinquent in its tax obligations.

The most recent audit was for the tax year 2010-2011. For that year, auditors determined that RECOPE owed ¢7 billion ($13.2 million), despite the fact RECOPE reported zero income.

The year previous, tax authorities demanded payment of ¢60 billion ($113.2 million) after conducting audits of RECOPE's tax years between 2004 and 2008.

So far this year, RECOPE has reported losses of ¢10 billion ($18.8 million) between January and June.

Claudio Ansorena, general manager of the State-owned company, said tax auditors themselves are principally to blame for the situation. RECOPE believes that it is exempt from income tax as a State-owned company – a view not shared by the Treasury.

RECOPE and tax authorities have faced off over the issue for years, and RECOPE blames many of its financial woes on tax authorities.

Tax authorities believe that "excess" revenue generated by RECOPE – which would traditionally be defined as "income" or "profit" for a private enterprise – is subject to income tax. RECOPE, for its part, argues that such revenues are not profit, as they are held in reserve for future investments in infrastructure and other future needs.

"RECOPE is in a delicate situation. If we pay [taxes], we have to find the money, either by taking on debt or by dropping plans for future investments," Ansorena said.

"If RECOPE persists with the same behavior (not paying taxes), we will continue to conduct audits to correct them," said Carlos Vargas, director of Taxation.
5. A little basic research can avoid real estate disaster
By Garland M. Baker, Special to A.M. Costa Rica

Buying real property in Costa Rica is a little different than buying it in other parts of the world. Learning how to do a little preliminary due diligence or, in simple terms, property homework, is good for everyone to know. This will help them stay clear of the bad and zero in on good opportunities in Costa Rica's growing real estate market.

The term real property is generally defined as land, anything erected on, growing on, and everything of a permanent nature over or under it, including minerals, oil, and gases.

Allan Garro, ofGarro Law,says this is not true in Costa Rica. "Real property does not include the rights to everything under the land or above it for that matter," said Garro. The government administrates all resources including water for the public interest, he said. To use resources, paperwork needs to be filed with the appropriate agencies to obtain a concession to exploit minerals, water and other resources. Many trees and animals are also protected and cannot be cut or killed without permission. And, these are only some of the caveats.

When buying real property in this country, deep due diligence is necessary and qualified professionals should do it. Title insurance is not the same here as it is in other parts of the world. However, attorneys are not needed to get started. Here are some basics:

All titled real property in Costa Rica has a folio real number. It is made up of three basic parts in the format of P-NNNNNN-DDD. The P is the province. Costa Rica has seven provinces: San José 1; Alajuela 2; Cartago 3; Heredia 4; Guanacaste 5; Puntarenas 6; and, Limón 7.

The second set of numbers, NNNNNN, is a sequential series assigned by the national public registry, referred to in Spanish asRegistro Nacional. The last three, DDD, tend to confuse many property buyers. It stands for undivided interests.

In real property law, an undivided interest refers to any right in property, but it has no boundaries, fences or separation of any kind. Each owner has the equal right to enjoy the entire piece. A property with 000 for the DDD value means it has only one owner. If the value is 010, the parcel has 10 owners and so on. Most Ticos divide their property in this way for marriage, inheritance and other reasons. If a buyer wants to obtain a property with multiple owners, all must agree to sell, or there is no deal.

There also are two more identification letters used for some properties. The first, duplicado or "duplicate" is a correction element to differentiate properties that ended up with the same number when the property system went computerized. The other,horizontal (the same word in English) is to indicate properties in a condominium.

Once this number system is understood, it is time to move on and gather some property information. It is important to note before doing so that all lots and parcels in Costa Rica are called fincas or "farms" no matter their size.

Most due diligence starts with the following basic documents for real property: 1. certificación literal de inmuebles (real property certification); 2. consulta de historia de fincas (property history report); 3.certificación plano catastrado (plat certification); and, 4. consulta de plano (plat report).

The real property certification summarizes information about a property including ownership, size, annotations, liens, restrictions, mortgages and other elements. The history report lists all activity recorded at the Registro Nacional.

The plat certification is a plat map of the property, and its size should match the size on the real property certification. The last on the list is the plat report. This outlines any subdivisions linked to the parcel in study.

All this information is obtainable by anyone online. Sometimes it is a good idea to get familiar with the documents and pull them up before spending money on an expensive professional. However, their interpretation is another story, which in most cases requires a good knowledge of the law.

With the basic online information, a buyer interested in a property can see who owns it, how many owners there are, how big it is and if there are any problems that scream stay away. Usually, the anotaciones y gravamenes"annotations and liens" section is where things get tricky, and a competent person should be consulted to unravel the meanings. Annotations could be pending legal actions against the owner.

Knowing this information, Joe and Jane Expat can now be a little more informed when they start looking for their dream home in Costa Rica. When they find something they really like, and the price is right, the first thing they should ask their real estate agent or property owner is for the folio real number. Unbelievably, some property owners do not know it, and others have never heard of the number. When this happens, it can be looked up at the Registro Nacional by the owners name. Once they obtain the number, they can start their property homework.

The next step in the due diligence is investigating the owners. If a Tico owns the property, getting a credit report is a good idea. Seth Derish, of PrivateEyes.com,said in an interview that information on foreign owners can also be obtained from the country of origin.

If a company owns the property, one needs to get a certificación de personeria juridica. In English, this is referred to as a legal status certification or legal resume. The most important thing on this document is who has the legal power to sell the property and what are the restrictions, if any, to do so. In many companies, there is more than one person with sufficient legal powers. If the individuals with powers of attorney are different from the stockholders, it is a good idea to find out who the stockholders are and see if they have approved listing and sale of their property. There are times when stockholders do not have a clue their property is on the market. The press is full of these stories. Property fraud is rampant in Costa Rica.

The expats and other foreigners buying real estate in Costa Rica that get into trouble are usually the ones that know nothing about the process, requirements and laws. Learning the basics in any endeavor is a good idea, especially when it comes to buying real estate whether it be here or elsewhere.
6. INVU diverted housing loans to companies

The National Institute of Housing and Urbanism (INVU) averted, between 2009 and 2013, hundreds of savings and loan property law societies.

This is stated in the DFOE-AE-IF-08-2014 report by the Comptroller General of the Republic (CGR), which The Nation has a copy.

According to the report, 11% of contracts benefiting corporations, which undermines the primary purpose of the Savings and Loan (SAP) of the entity, which is to give families with housing solutions.

For example, a company headed by the wife of a salesman INVU, kept between 2001 and 2013, 585 contracts totaling ¢ 4,216,000.

The CGR found that the company used only 10% of these funds for housing solutions.

Furthermore, the same agent sold 621 savings plans and loan-for an amount of ¢ 3,900 million-between his wife, his son, his sister and nephew.

That amount of contracts, only 37.4% ended up being a loan to buy your dream house or lot and 62.6% were contracts to which they renounced or transferred.

Article 7 of Regulation SAP provides that a person who renounces a contract will be reimbursed the total amount saved and accrued interest.

Also, if the plan is ripe, ie the subscriber completed the number of installments and the period of time established, shall be entitled to 8% of the loan amount elected as a bonus. To this must be added that each agent earns a 2% commission on the total amount of contract involved.

Sales plans downward
Otherwise, the comptroller also found that six companies bought 50 contracts the same day, once matured and ripened renounced them, which represented a cash outflow of SAP ¢ 229 million.

"The decision to allow legal persons involved in the business of contracts bursts with the rationale of SAP," reads the report of the Comptroller.

According to the INVU, to May 30 of this year there were 55,035 savings and credit in force at the institution.

Research. Lilliam Marín, responsible for the audit, said the agent and the companies involved in the massive shopping plans are identified, but can not reveal their names yet not to hinder investigations elsewhere.

The Institute should conduct a study to determine who is responsible for the facts mentioned and send the results to the CGR later than April 30, 2015.

Sonia Montero, executive chairman of INVU, said neither preclude sending the case to the Public Prosecutor.

"We are not surprised because this is not the only thing we found irregular," said Montero.

The hierarch said criteria ask the Attorney General's Office on the sale of contracts to legal persons.
7. Government takes over and will investigate development agency
By Michael Krumholtz, of the A.M. Costa Rica staff

Finance ministry officials say the government is acting to help boost stagnant social development in the country's southern zone, much of which is entrenched in poverty. Officials say the committee designed to support growth in this area, the Junta de Desarrollo Regional de la Zona Sur, known as Judesur, did not spend a large amount of its 70 billion colon budget from 2007 to 2013.

Along with the Ministerio de Presidencia and the Ministerio de Planificación Nacional, the Ministerio de Hacienda began the takeover Tuesday through the introduction of executive decree No. 38575. They say more than 30 billion colons, or more than $55 million, is unaccounted for. The decree calls for a team to conduct studies into the organization and economic accountability of the development agency.

Hacienda Vice Minister José Francisco Pacheco outlined the government's objectives Tuesday, saying they will analyze paperwork problems that may be getting in the way of effectively placing this money at its intended destinations. He said the government will also improve its monitoring of the financial administration at the agency to make sure the budget money is being allocated towards developing social programs.

"We see an opportunity to be able to generate announcements, signs, and anything else we can do to create development in this area," Pacheco said.

Of the 15 poorest cantons in Costa Rica, five of them belong in Zona Sur de Puntarenas, according to a Planificación index. Those counties are Golfito, Osa, Corredores, Coto Brus, and Buenos Aires. The country's census institute says 35 of every 100 people in the Zona Sur are considered to be living below the poverty line.

"For 30 billion colons, you have to be able to do something with this investment," Pacheco said.

He added that it's obvious the money is not getting to where its supposed to go and that this new decree aims to support these communities with a temporary board provided by the central government. However, the current junta officials will not be removed from their positions.

The Junta de Desarrollo Regional de la Zona Sur was established in 1997 as an agency made to prevent poverty in Costa Rica's south, but ever since its creation it has been the subject of financial complaints. Lawmaker Jorge Angulo Mora was accused of extorting money from the agency and demanding money from the building contractors of a school in San Vito de Coto Brus, as the contractors claimed he told them he would block the construction if they did not pay him. In 2011, prosecutors accused him of committing seven offenses, including four for extortion. He has not yet come to trial.

Vice Minister Ana Gabriela Zúñiga said that the finance ministry and other governmental bodies would look into investigating the problems and taking up possible judicial action in the next few years.

The Depósito Libre Comercial in Golfito, a tax-free commercial operation under the junta that was meant to stimulate the region's economy, has been receiving far less visitors since the committee's creation. According to a Hacienda report, the visitation numbers dipped from 239,000 people in 1997 to 173,000 expected in all of 2014.
8. ICT seeks to curb drop in cruise ship arrivals

Between 2008 and 2013 a decrease of 30% occurred in cruise ship arrivals It will seek to reshape the infrastructure portaria regarding access and boarding gates

The Costa Rican Tourism Institute (ICT) formed a committee which will aim to strengthen the cruise tourism in the country.

Tourism Minister, Wilhelm von Breymann, said the idea is that cruises become a cornerstone for the Costa Rican economic rebound.

"Since the beginning of this administration, we have visualized cruise tourism as a spearhead for tourism growth, the generation of productive chains that benefit coastal communities and the positioning of our image as a differentiated and suitable target for development this tourist activity, "said von Breymann.

According to the Statistical Yearbook of the ICT 2013, between 2008 and 2013 will be given 30% drop in cruise ship arrivals.

As part of the actions established by the Committee, the ICT conducted this week the First Seminar on Cruises, along with the Costa Rican Association of Cruise Industry (ACIC), with the idea of ​​analyzing the state of the industry, evaluate the actions are being implemented to attract this activity meet the challenges and to strengthen the country as a cruise destination.

Other actions undertaken since the ICT are relations with the Cruise Association of Florida and the Caribbean, participation in the International Fair Cruise Shipping Miami last March and made an agreement with the Board of Port Administration and Economic Development of the Atlantic Coast (Japdeva) to reshape the infrastructure portaria regarding access, boarding areas and customer service.
9. Constitutional court freezes cuts to pensions
By the A.M. Costa Rica staff

The Sala IV constitutional court has suspended a central government directive that would put a top on what are considered luxury pensions.

Victor Morales Mora, the labor minister, announced earlier this month that pensions for 910 former public officials will be limited to 10 times the lowest public base salary.

This is considered a money-saving action by the central government but a challenge was not long in coming.

The Poder Judicial said that the constitutional court was acting on an appeal by a man who received a pension. The man appealed, in part, based on a law protecting senior citizens, said the Poder Judicial.

The court suspended the decree temporarily while it studies the appeal. This action is equivalent to the U.S. Supreme Court agreeing to hear a case rather than rejecting it out of hand. The case still is undecided.

The constitutional court magistrates voted unanimously to consider the case.

The appeal was expected because there did not seem to be any legal basis for changing the amount of the pension that already had been awarded to an individual.

The current administration did so to save money, and it also is beginning to establish a track record of changing the rules that it considered incorrect even if they have been in force for some time.

There is a long tradition in Costa Rican law that the government cannot take back a benefit that it already has awarded even if that was done in error.
10. He (Solis) lowered unemployment in the second quarter

Data from the Continuing Survey of Employment show a reduction of 1.5 percentage points compared with the same quarter of 2013 The unemployment rate in Costa Rica in the second quarter of 2014 reached 9%, which implies a reduction of 1.5 percentage points from the same quarter last year.

In total, there are 204,000 people that are unemployed, reported this morning the National Institute of Statistics and Census based on the Continuing Survey of Employment.

"Of the 114,000 unemployed were men and 111,000 women, with an unemployment rate of 7.6% and 11.2%, respectively, values that show a lower level when compared to the second quarter of 2013," the INEC in a stateent.

By zone, 149,000 unemployed residing in the urban area and 55,000 unemployed in rural did.

The unemployment rate for urban areas fell by 1.9 percentage points to 8.8%, but remained in the rural area at 9.8%.

The indicator of underemployment (those working fewer hours than they would like) in the second quarter was 11.8% and did not change annual basis.

For men, underemployment was 9.4%, while for women 15.8%. Although the level for men was similar between 2013 and the first quarters of 2014, for women seems to tend to a lower level in 2014, and that during 2013 the underemployment of women was about 17%.
Brian, Lita, the Late Hugo IV, irreverent Vicka, the pigeon toed parrot, Chico II and Chica II