...Drought & More!!
Dear friends,
When I started Residencias Los Jardines, I started writing a weekly news letter -determined to tell all the good, bad, and the ugly. I knew some readers would be interested in the construction process. I expected others might be interested in the lifestyle of two people who had decided to live outside the box. For others, the adventures of Lita, the parrot and the cat took on an entertainment saga all its own.
Residencias Los Jardines is finished. We periodically have resales and rental availability. Some readers may be interested in this information.
Brian Timmons
DEVELOPER / PROPERTY MANAGER
Residencias Los Jardines / https://www.residenciaslosjardines.com info@residenciaslosjardines.com
ResidenciasPropertyManagement@gmail.com
Featured house this week
Paradisus Condos / Rorhmoser
FOR SALE
Residencias Los Jardines
Property Management, Rentals, Re-Sales
Market Activity
Sales: no inquiries.
Rentals: unit 124 available on september 1.
FOR SALE
Unit #114: $235,000 / See Unit
Unit #116: $214,000 / See Unit
FOR RENT
Unit #124: $900 mo. / Available September 1 / See Unit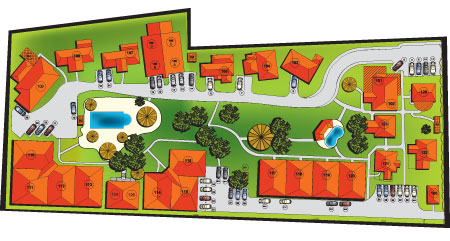 HOUSES FOR SALE
UNIT #114
FOR SALE $235,000
Total Area (Sq Ft): 1290
Total area (Sq M): 120
Bedrooms: 2
Bathrooms: 2
Floor(s): Single Floor
Type: Attached
Furnished: Yes
This 1,290 sf. (plus covered parking for one car and two lockers 67 sf.) single story, semi detached house, with garden terrace, two bedrooms is a beautiful executive style home. This home consists of two large bedrooms one with six piece en-suite bathroom with additional access to separate full shower. Each bedroom has large closets with extensive built-ins for personal organization. The vaulted living room and bathroom ceilings provide a feeling of grandeur while allowing the warmer air to rise and exit through the ceiling ventilating system. There are four TVs (one in each bedroom, one in the living room and one in breakfast / dinning room.) This is a beautiful well appointed home.
UNIT #116
FOR SALE $214,000
Total Area (Sq Ft): 1290
Total area (Sq M): 120
Bedrooms: 2
Bathrooms: 2
Floor(s): Single Floor
Type: Semi-Attached
Furnished: Yes
This 1,290 sf single floor home includes a 300 sf front terrace plus parking for one car and a separate, secure storage locker. It is and end unit and therefore attached on only one side by a 6 inch cement demising (common) wall, which prevents sound transfer.
HOUSE FOR RENT
UNIT #124
FOR RENT $900 mo.
Total Area (Sq Ft): 662
Total area (Sq M): 61
Bedrooms: 1
Bathrooms: 1
Floor(s): 2nd Floor
Type: Semi-Detached
Furnished: Yes
This 662 sf, + covered parking for one car, is a one bedroom home on the 2nd floor overlooking the large pool. It is ideal for a single person or couple.
Our Lives
WEATHER: NO RAIN THIS WEEK; MOSTLY SUNNY AND BEAUTIFUL.
MOTHERS DAY: This is probably the 3rd. largest holiday in CR... preceded only by Easter, Christmas/New Years. Friday was a National Holiday and the weekend is dedicated to family / mother activities. Fathers Day is not celebrated nearly to the degree as Mothers Day... why? because in 50% of the cases, the women can't figure out who the fathers are and if they do know, they can't find them.
News Items of the Week
(1) Atenas: water rationing due to drought and poor management. Schools have closed -- first the month long teachers strike and now no water... education is the loser here.
(2) Drought in Central America: worst in 75 years... massive destruction to crops and livelihoods...from 200-300 head of cattle are entering CR illegally (no medical checks) from NIcaragua.
(3) Drought in Guanacaste: In June, the normal rainfall is 150 liters per 1 sq. meter. This year, it was only 2 liters. In addition to cattle ranching, rice, water melons, corn, etc. are all affected.
(4) Investigative Police (OIJ) raid the house of the main political party seeking info. on a lucrative contract he had to authenticate signatures during the last election which didn't need to be authenticated (not part of this article), forged invoices for work not done at the CAJA, and then he had the audacity to sue the CAJA when they didn't pay for the bogus work...
(5) Tax Evasion: the extent is staggering and this is an attempt to get it under control.
(6) CNFL Indebtedness: what is surprising here is the complete lack of agreement between the long time previous head of the company and the new government appointed manager on what the numbers really are. Also, on the significant cost overruns on recent projects.... again, showing poor management, lack of transparency and oversight, and accountability.
(7) CAJA Rates to Increase for Expats: this will hurt all expats as the country shoots itself in the foot again.
(8) New Government Agency to Promote Employment: this is another pork barrel which will have limited effect in the private sector who wasn't even consulted on the academically driven program doomed to increase the cost of government without achieving anything but putting family and friends of government employees on the government's payroll--perhaps I'm too cynical.
(9) Signs of a Slowing Economy: loan demand is down...
1. Atenas residents survive with just three hours of water per day

August 11th, 2014 (InsideCostaRica.com) Some 21,000 Atenas residents are being forced to adapt to living with just three hours of running water per day.

Residents must scramble in the early morning hours to shower and wash their clothes and dishes between 3 a.m. and 6 a.m. – the only hours of the day that water flows from their taps.

While a plan exists to pipe in water from Tacares de Grecia, work on the project is stalled due to lack of agreement by the National Environmental Secretariat (Setena).

Worse still, if the disagreement cannot be resolved before September 7th, the State will be forced to compensate the company behind the project, known as MECO, more than $5.5 million USD.

Meanwhile, residents continue to fill containers with water each morning in order to make it through the remaining 21 hours of each day.

Residents complain that authorities have done nothing to solve the canton's water problems, despite "several years" of complaints. Even former president Laura Chinchilla had declared a health emergency due to Atenas' water shortages.

The lack of water has also forced public schools in the canton to regularly suspend classes, and educators say there has been an increase in absenteeism because parents and children have no water to bathe or wash their school uniforms some mornings.

School cafeterias have also been forced to shutdown due to the lack of water, leading even more parents to keep their children home from school.
2. Record drought hits Costa Rica, Central America's crops and cattle

August 11th, 2014 (ISH) Central American agriculture ministers held a videoconference on August 7 to seek coordinated actions to cope with a major drought that has hit the region.

The drought has killed thousands of cattle, dried up crops and forced cities to ration electricity.

Costa Rica, Honduras and Guatemala have declared emergencies in the worst-affected areas to speed up aid delivery. El Salvador and Nicaragua have opened special funds to help farmers.

The current drought in Costa Rica is the worst in 75 years, according to the National Meteorological Institute (IMN). Especially hard-hit is Costa Rican's northern Guanacaste province.

Meanwhile, in northern Nicaragua, vultures are eating the carcasses of cows that are dropping dead in dried out pastures. The lack of rain has been blamed on the probable arrival of the El Niño weather phenomenon, which is characterized by unusually warm Pacific Ocean temperatures that can trigger droughts.

The drought has swept across a region known as "the dry corridor," which covers nearly a third of Central America, where 10 million people live, according to a 2013 study by the United Nations Food and Agriculture Organization.

Nicaragua's government says the country is enduring its worst drought since 1976.

The first harvest, which takes place between May and August, has yielded nothing, according to Nicaragua's national farmers and ranchers union. Some 2,500 cattle have died and 700,000 more are in critical health as they roam dry pastures.

Honduras' rainy season is usually from May to November, but not this year. The drought has decimated 70 percent of corn crops and 45 percent of beans, affecting 72,000 families.

The Honduran state energy company said it was rationing power for up to four hours a day in several cities because of low water levels in dams that power hydro-electric plants.

El Salvador has lost one-tenth of its corn harvest. Guatemala estimates agricultural losses amount to US$45 million, affecting 120,000 families.

Costa Rica's livestock and crop farmers have suffered losses totaling US$24 million.
3. Drought in Guanacaste has already caused losses of nearly $38 million

August 13th, 2014 (InsideCostaRica.com) Costa Rica's Guanacaste province, which has been especially hard hit by the worst drought the country has seen in 75 years, has already experienced nearly $38 million in losses, according to a July 30th estimate by the Ministry of Agriculture and Livestock (MAG).

The drought is being blamed on the El Niño weather phenomenon, and is expected to continue in the coming months, according to the National Meteorological Institute (IMN).

Among the most affected crops are sugarcane, rice, corn, oranges, mangos and watermelons.

To put the seriousness of the drought in perspective, Juan Carlos Fallas, director of IMN, said last month that June rainfall totals were only two liters per square meter, compared to a normal figure of 150 liters per square meter, or just 1.3%.

The drought has swept across nearly a third of Central America.

In Nicaragua, the first harvest, which takes place between May and August, has yielded nothing, according to Nicaragua's national farmers and ranchers union. Some 2,500 cattle have died and 700,000 more are in critical health as they roam dry pastures.
4. OIJ agents raid PAC leader house in Curridabat

Subject is related to an apparent use of forged document.

Agents of the Judicial Investigation Organization (OIJ), Fraud Section, at 6 am today raided the house of the leader of Citizen Action Party (PAC), Jorge Rodríguez Sibaja located in Curridabat cypress.

The police action apparently relates to an apparent use of forged document did Sibaja in their particular work as a lawyer.

Preliminary information detailed in this case would be affected by the Costa Rican Social Security, the entity that filed the complaint against the lawyer in April this year.

The matter is pending at the Attorney of the Second Judicial Circuit, based in Goicoechea.

Jorge Sibaja has been a very controversial figure in recent weeks as it emerged that the PAC paid ¢ 277 million during the political campaign for authenticating signatures, even though that step was unnecessary.

Sibaja was a member of the PAC domestic electoral tribunal.
5. Tax agency outlines a new three-part campaign to stem evasion
By Michael Krumholtz,
of the A.M. Costa Rica staff

Authorities say they want to combat Costa Rica's tax evasion problem by collecting from those who donate money or provide services to political parties.

The finance ministry and the Dirección General de Tributación issued the plan Wednesday. It included two additional parts to regulate taxes from business professionals who declare expenses above 60 percent of their income and a campaign against companies and citizens wrongly declaring zero taxes. The agency is cross referencing various data bases.

There were tax irregularities found in more than 75 percent of donors surveyed from election campaigns before 2014, according to a Ministerio de Hacienda report. The majority of those campaign backers are not registered with Tributación and remained hidden from their tax rules.

Others were found guilty of outright omissions or inaccurate tax reporting, the report said.

Vice Minister Fernando Rodríguez said the finance ministry, working with the Tribunal Supremo de Elecciones, will start to tightly monitor the influx of political party funds by reviewing donor reports.

He added that the agency does not yet have reports from the recent presidential election.

As far as securing its control over professionals, Tributación now requires that they declare all expenses and deductions that equal more than 60 percent of their income. Tributación investigators found that some professionals have been registering up to eight related companies with the same pattern of excessive spending just to buy expensive personal items that they could hide from tax collectors. For example, they found that people have been buying cars worth more than $50,000 and including them in these company expense reports to dodge taxes.

"We will ask professionals to detail all these elements with their respective receipts for each piece of data marked," said Carlos Vargas, director of Tributación. "Whatever can't be proved will be rejected and will lead to a trade modification and its corresponding tax. This is considered very serious and is an act punishable with 100 percent of Tributación's power," he said.

The plan's third installation, which says that taxpayers cannot declare zero taxes, is already subject to a trial run in the Pacific regions of Puntarenas and Guanacaste. Vargas said that so far investigators have discovered that depreciation expenses exceed more than 50 percent of the worth of asset values, despite fixed percentages in the country's income tax law that basically only range between 5 and 15 percent.

"Here as in the rest of the country we have cases of taxpayers reporting expenses greater than their incomes, although their displays of wealth say the contrary," he said.

Neither companies or individual taxpayers are allowed to declare zero taxes based on the argument that their income was equal to or greater than their expenses, the finance ministry report states. Authorities said they hope to have this aspect of the plan in effect by the year's end.

Rodríguez said the finance ministry is now taking a variety of steps to plug these leaks in the country's tax collection. He said the agency has improved computer processing and has developed a social media mechanism that calls upon the public to out tax evaders. This three-part plan presented Wednesday should allow for greater ability to prevent and detect evasion, he said.

"We are making efforts in all areas of income to improve compliance," he said. "We have proposed to close legal spaces, and we'll send our first proposal of the law against fraud to congress."
6. CNFL drowning in debt and ¢ 7.000 million in losses

Indebtedness of the company grew by 139% from 2010 to June 2014
New head of the organization said that present tariff adjustment in September

Compañía Nacional de Fuerza y Luz (CNFL), responsible for bringing electricity to 520,000 citizens are drowning in debt and June, recorded ¢ 7,000 million in losses.

In three and a half years, the level of indebtedness of the subsidiary of ICE increased 139%: it went from ¢ 117,000 to ¢ 279,000 million million.

To this is added that instead of investing ¢ 90,000 million in the prevention and maintenance of its electricity distribution network, as it should have done in the last three years to ensure the optimal level of service, the company did so only for ¢ 46,000 million.

These data are revealed yesterday Victor Solis, CEO CNFL since last June 30. Solis arrived at the position following the retirement of former hierarch Pablo Cob. The officer was forced into retirement by the government of Luis Guillermo Solís, after serving just over 20 years linked to the Energy sector.

The brand new found manager said with a serious financial imbalances-in the company they work for 2,300 people-product of poor management.Duplications brought up in certain areas of production.

"More than you cause layoffs, we want to generate more activities that bring more revenue," he said.

Solis said that impact service users is not an option and said that in February announced concrete solutions.

What caused it? Over the past three years, the company made investments juicy, especially in the case of Balsa Lower Hydroelectric Project. The original amount planned for ramonense plant was ¢ 65.000 million but ended up costing ¢ 167,000 million.

That extra outlay increased debt levels CNFL, so had to resort to financing the Instituto Costarricense de Electricidad (ICE).

For this reason, in 2013 signed an agreement with ICE for ¢ 16,000 million at June, came to ¢ 25,000 million. If the income and expenditures of the company are added, it is concluded that for every ¢ 100 which must have incomes 68 ¢.

Cob said yesterday that its final management report does not fit the data revealed his successor. He argued that while he was managing the assets and equity increased by over 90 and 83 times, respectively.

"The projected results for 2014, made by the authorities of the Administrative and Financial currently in CNFL is over ¢ 1,000 million profits and no losses, as indicated," said Cob.

The Regulatory Authority for Public Services (Aresep) confirmed that Power and Light does not receive additional income as a result of a rate increase from three years ago. The last request (9.2%) introduced in 2012, but was rejected for lack of data.

Although their subscribers did experience flooding in their receipts, they were delivered following requests ICE - in his capacity generator-or product increases in the variable cost of fuel.

Solis has said yesterday that the "public duty to warn" a ARESEP if the financial status of the company jeopardizes the service to subscribers. Therefore, warned in September that their produce to the rate adjustment plan.

"We know the outline of the Presidential House about it, but hey, with that, plus having ARESEP criteria, will be assessed if applicable adjustment or such rates remain as they are," he said.

To battle the financial mess, Solis vowed to review internal operating costs.

He said that negotiating with the parent for a readjustment of debts already acquired. Also seeks joint ventures with ICE Group to raise new revenue.

Extra revenue would begin to be felt if the Balsa Bottom plant start on September 15, as planned. That project was due to start in December 2013.
7. Caja rates for expats reported going up
By the A.M. Costa Rica staff

Members of the Association of Residents of Costa Rica are being told that the cost of health insurance will be increasing in October.

Association members have the option of participating in a group plan with the Caja Costarricense de Seguro Social. The association has been sending emails to those enrolled in the program.

Foreign legal residents are required to subscribe to the Caja health plan. Using the services of the association is one way.

The Caja appears to base the rates set for the association on the amount of money various categories of residents are expected to spend each month.

The lowest category is that of permanent resident. Those in this group are being asked to pay $135 a month if they are under 55 and $69 a month if they are older than that.

There are similar age breaks for other categories of residencies: Pensionado under 55, $150, and over 55, $81, and rentista under 55 years, $477, and over 55 years $270. Monthly rates can vary widely depending on how much money Caja workers think applicants have.

Those who are in the inversionista category are hit hardest, although the new rates were not available Thursday night. Some investors object because the law says they only have to be in the country one day a year.

Costa Rican employers and their employees pay a combined 26 percent of the monthly salary to the Caja. That amount could easily be in the $200 range even for workers being paid $600 or less a month.
8. President says he is creating an agency to promote employment
By the A.M. Costa Rica staff

The government plans to create 217,000 jobs to decrease the country's unemployment from its current rate of 8.5 percent to 7 percent by 2018. President Luis Guillermo Solís announced the job creation strategy at a Thursday press conference in the Antigua Aduana alongside the labor and economy ministers.

Titled the Estrategia Nacional de Empleo y Producción, the accompanying 32-page report details how government-appointed groups will find the obstacles that remain in the way of businesses from hiring more employees and offering better quality positions.

"We live in changing times in which we can convert that human essence of work into a development strategy," said Solís on his Twitter account Thursday.

The Minister of Trabajo, Victor Morales Mora, and Minister of Economía, Welmer Ramos González, outlined a law that will be presented to the Asamblea Legislativa in hopes of creating a private firm called Proempresa that would be the job creating equivalent of Procomer, which focuses on promoting international business in the country.

In an effort to catalyze the plan, the economy ministry is set to roll out a joint production plan that would promote entrepreneurship and small business start-ups. This strategy will work with institutes and technical schools to teach nearly 10,000 prospective students on developing businesses, according to a ministry report. A similar job promotion program would oversee thousands of enterprises led by women with the goal of improving the businesses' activities, it said.

According to numbers released by the Ministerio de Economía, Industria y Comercio, more than 10 percent of women in Costa Rica are unemployed. It further showed that 18 percent of the country's youth is without jobs and that a staggering 65 percent of those with disabilities are without employment.

Ramos said these employment strategies will compensate for the difficulties faced by women bosses, youth expelled from school, and disabled workers. It will also focus its sights on smaller-sized companies and filtering passionate workers to their doors, he said.

"We want to support small and medium-sized businesses and provide them with a number of conditions that can give them opportunities to develop with quality employees," Ramos said.

The government will also look into the Caja Costarricense del Seguro Social to see how bureaucratic processes are hampering business owners and their potential employees. The ministry report said teams will search for special alternatives that apply to small businesses to allow them better opportunities in getting started.
9. Momentum slowed loans in colones

Bankers attribute this to lower liquidity in local currency and uncertainty
In July, loans increased 40% in private banks and 13% in public

Credits in colones still growing, but in the past two months that kept the strong momentum slowed.

In the private banking these credits to increase annual rates (for each month over the same month last year) of 40%, but at least in July the rate was not higher than in the previous month; in public was 13%, where it has remained for the past three months.

The president of the Central Bank, Olivier Castro, had expressed concern about the rapid growth that had loans in colones. However, following the results of recent months, said he was quieter.

Illiquid and uncertainty. Bankers attributed the results that there is little liquidity in colones, the uncertainty created by the national elections as growth returns to a more normal rate.

"There is no liquidity in colones, has had to turn down demand," said Gerardo Corrales, manager of BAC San José.

Juan Carlos Corrales, deputy general manager of the National Development Bank, said investors pared projects pending the outcome of the presidential election and the direction of the new government, which reduced the demand for credit.

"The moderation in credit growth rate was expected and what happens is that it gets closer to what should be a reasonable rate of growth," said Mario Rivera, manager of the Bank of Costa Rica.

In dollar loans remained until July a sharp slowdown. But bankers expect the situation to change in the coming months.

Juan Carlos Corrales said that influences the increase in the exchange rate, a slight increase in interest rates, greater caution on the part of banks to lend in this currency, the new rules of the Superintendent of Financial Institutions, which came into effect mostly in last January, and a reduction in the number of large projects.

"In the field of large investment projects, has he perceived a reduction in demand for new investments in tourism, free zones, property development and power generation projects, which typically occupy dollar loans," he said.

Rivera held that to the extent that exchange rate volatility reduces its borrowing in foreign currency invigorate again.
Brian, Lita, the Late Hugo IV, irreverent Vicka, the pigeon toed parrot, Chico II and Chica II