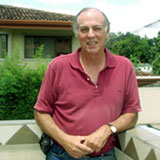 Brian Timmons
Dear friends,
When I started Residencias Los Jardines, I started writing a weekly news letter -determined to tell all the good, bad, and the ugly. I knew some readers would be interested in the construction process. I expected others might be interested in the lifestyle of two people who had decided to live outside the box. For others, the adventures of Lita, the parrot and the cat took on an entertainment saga all its own.
Residencias Los Jardines is finished. We periodically have resales and rental availability. Some readers may be interested in this information.
Brian Timmons
DEVELOPER / PROPERTY MANAGER
Residencias Los Jardines / https://www.residenciaslosjardines.com info@residenciaslosjardines.com
ResidenciasPropertyManagement@gmail.com
Featured house this week
Paradisus Condos / Rorhmoser
FOR SALE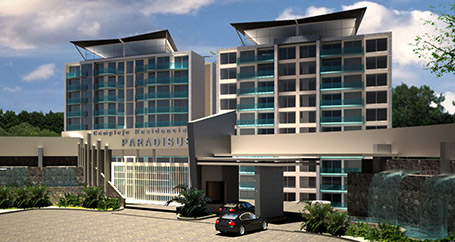 Paradisus will consist of 4 towers in Rorhmoser, a suburb to the west of central San Jose. Not far from the US Embassy and shopping malls, Rorhmoser is a residential area that was developed in the 60's and 70's and is currently seeing significant re-development with high end condos. It is the area where the new stadium and a number of luxury high rise condos have recently been built with more on the drawing boards. Phase one of this development is nearing completion; it consists of two towers and the amenities -pool, exercise room, etc. Tower one is expected to be completed in January and Tower 2 should follow in February / March. The location of this development is superb... it's off the main traffic paths and sits on a ravine overlooking a river. To the east is San Jose / Heredia; to the west is Pavas / Escazu. With floor to ceiling windows and a wrap around balcony, these units offer fantastic light and views.
Each of the units consists of two bedrooms / two bathrooms, and a large living/dining/kitchen area. The floor plan of each of these units has eliminated the optional "den / office" divider. The result is a larger area offering more flexible furniture arrangements while still maintaining the option of including an office area. At 105m2 plus two parking spots each and storage locker, they offer a great opportunity for someone seeking views, security, central location, and first class, all round living...
Loma Real Escazu / Guachipelin, Central Valley
FOR SALE / price reduced!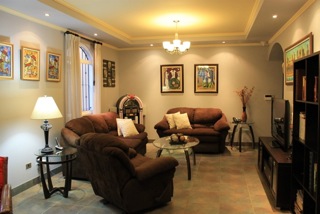 $325,000 now $300,000 / 3 bdrms + maids rm / 3.5 bthrms / owner financing
Beautiful house in residential area: 24 hours security. 274 m2 construction. 2 story, 3 bedrooms + maids quarters, 3 1/2 bathrooms, ample eat-in kitchen, six years old, immaculate condition, lot 264 m2 professionally landscaped, two car enclosed garage, 1500 L reserve water tank, electric demand water heaters, Independent office. Located close to all amenities. Taxes $500 yearly and security $80 monthly.
Appliances and built-ins included. Furniture upon negotiation.
Owner will take back a mortgage for up to 5 yrs. @ 12% interest only.
Residencias Los Jardines
Property Management, Rentals, Re-Sales
Market Activity
Sales: no inquiries.
Rentals: all units are leased.
FOR SALE
Unit #114: $235,000 / See Unit
Unit #116: $214,000 / See Unit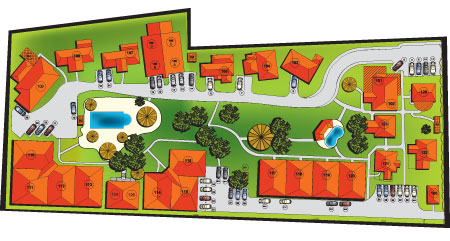 HOUSES FOR SALE
UNIT #114
FOR SALE $235,000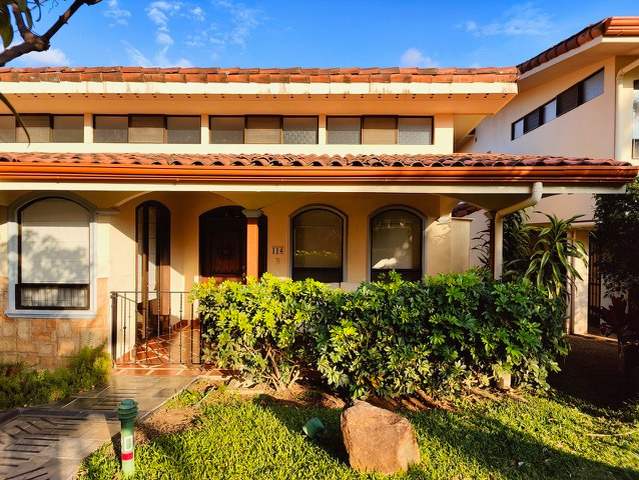 See a complete description of this unit
Total Area (Sq Ft): 1290
Total area (Sq M): 120
Bedrooms: 2
Bathrooms: 2
Floor(s): Single Floor
Type: Attached
Furnished: Yes
This 1,290 sf. (plus covered parking for one car and two lockers 67 sf.) single story, semi detached house, with garden terrace, two bedrooms is a beautiful executive style home. This home consists of two large bedrooms one with six piece en-suite bathroom with additional access to separate full shower. Each bedroom has large closets with extensive built-ins for personal organization. The vaulted living room and bathroom ceilings provide a feeling of grandeur while allowing the warmer air to rise and exit through the ceiling ventilating system. There are four TVs (one in each bedroom, one in the living room and one in breakfast / dinning room.) This is a beautiful well appointed home.
UNIT #116
FOR SALE $214,000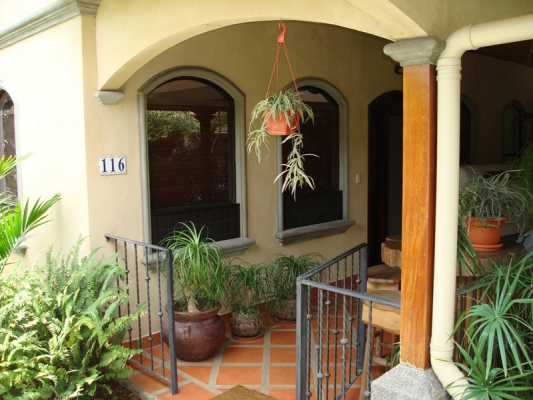 See a complete description of this unit
Total Area (Sq Ft): 1290
Total area (Sq M): 120
Bedrooms: 2
Bathrooms: 2
Floor(s): Single Floor
Type: Semi-Attached
Furnished: Yes
This 1,290 sf single floor home includes a 300 sf front terrace plus parking for one car and a separate, secure storage locker. It is and end unit and therefore attached on only one side by a 6 inch cement demising (common) wall, which prevents sound transfer.
Our Lives
WEATHER: Again we had one evening of soft rain... beautiful weather, mostly sunny.
Friendships Are Important:
I was contacted by a high school friend. The class is organizing the 50th. reunion - wow!! I won't be going but now I am in touch with two previous classmates and expect to get caught up on others.
I also connected with a friend of 25 years; we had been out of touch -but not out of thought at my end- for the last several years. It was good to hear from him and I expect there will be more conversations and perhaps a visit in the future.
Finally, several weeks ago a 40 year very close friendship was normalized. This had unfortunately gone off the rails and I had not been able to explain why adequately. I think my friend now understands and we are now past that... I'm really glad.
Lita returned from 2 mo. in Canada. It was long enough for her to re-assess her vision of what life would have been like for her had she continued to live there instead of following me here. I don't think she is now under the same illusions; coming to CR was the right decision. I never had doubts and have never had a nanosecond's regret.
News Items of the Week
1. Caribbean Container Report: construction to finally start..well, maybe, depending on more dissident appeals and legal wrangling.
2. Exchange Rate: it seems like the government is going to slow down their support of the colon. They have spent a lot of money.
1. Company expects to start construction in November megaport

Foul present requirements and conclude Setena Company has already received 5,000 job applications.

The construction of the new Moin Container Terminal (TCM), begin in November. At least that's the forecast of the Dutch firm APM Terminals, in charge of the plan.

With almost a year's delay in the start date, the company believes it can resolve pending before it expires on October 24, the extension granted by the Government.

Obtaining environmental permits and finish the road providing access to Moin beach are part of the obstacles that have slowed the construction of which will be the largest port in the country, estimated at $ 1,000 million investment.

The terminal will be a 80-hectare artificial island that receive ships with capacity of up to 13,500 TEUs, as called for 20-foot containers.

The company expects to complete to provide information to the National Environmental Technical Secretariat (Setena) prior to October, a month later, receiving permits.

Meanwhile, the National Roads Authority (Conavi) advances in the access roads from Route 32 to the future dock. According to the schedule, in six weeks that route would be ready.

Paul Gallie, director of APM Terminals Costa Rica, confident start before year end earthworks, for which they hired from a year ago, another Dutch company that is responsible for the works.

He stressed that the village is limonense expectation even said they have already received 5,000 job applications.

"We believe that everything will go well and we will overcome what is missing, at the latest on 1 November. We are already working on other details as the formalities are completed, "said Gallie.

However, the project must overcome one more obstacle.

It is a judicial process that the firm won in the administrative courts but the plaintiffs, the unions of the Board of Port Administration and Development of the Atlantic Coast (Japdeva) and the Chamber of Banana, led to appeal. That appeal is pending the decision of the First Board.

Do not give up. José Luis Castillo, a spokesman for Sintrajap, said the fight will continue in court.

Castillo said that no matter what the Board resolved, there are other legal proceedings that have not been resolved. Nor ruled future complaints against the project, which the union accuses Japdeva hurt.

"We are confident that the courts give us the right, however there are several loopholes which might break open the granting of the new dock below. The pit Assumption (where will the material for the work) and the road to the port will have problems, "said the union.

The mega port was concessioned in 2011 The work includes the construction of a breakwater of 2.2 kilometers and a platform 900 meters long you can serve with six cranes, three ships simultaneously.

The new terminal, unlike the current port of Moin, operated by Japdeva have 15 meters draft and ability to craft "post-Panamax", carrying up to 8,500 containers.
2. Government and Central Bank loosened the pressure on rates

The government and the central bank will loosen pressure on interest rates incolones in the second half of this year.

These two entities is a major consumer of resources and are among the main ways to raise money by selling bonds.

The government sells securities and collect resources to pay the costs which can not cope with current revenues, such as taxes, as the central bank uses to make its monetary policy.

Both companies announced yesterday that for the second half of this year they plan to sell fewer bonds.

The government announced a bond sale of ¢ 950,000 million for the first half and really put about ¢ 845,000 million, while for the second half of year fixed amount ¢ 890.000 million.

The national assistant treasurer, Mauricio Arroyo said the government will use more in the second half of the year Eurobonds resources.

The amount will be negotiated announced through bag. Separately, the Government placed directly in public institutions ¢ 615,000 million in bonds.

In the case of the Central Bank for the first half announced a sale of ¢ 510,000 million; what in reality were caught about ¢ 348,000 million for the second half of the year announced an amount of ¢ 117,000 million.

Eduardo Prado, manager of the Central Bank said that the captured entity unless announced in the first half, due to the management of the Bank's own debt and the bank sold dollars in the wholesale market and in that way gotcolones.

In the second half, he explained, the entity requires leave a little extra liquidity in circulation to meet the resource needs of year-end.

Effect on rates. "I think that, indeed, there is less strain to grasp, but if inflation does not contain the expected range, then yes rates should go up," said Douglas Montero analyst job Market.

The reason is that as inflation rises, real rates in colones (which gain is higher than the increase in costs of goods and services) down and then ask investors higher yields.

Hernan Varela, Aldesa analyst, expects the demand behavior of resources by these two entities will be very similar to the first part of the year "So any pressure on interest rates will depend on the needs of uptake of banking to fund their growth (mainly credit in dollars)," Varela said.
Brian, Lita, the Late Hugo IV, irreverent Vicka, the pigeon toed parrot, Chico II and Chica II