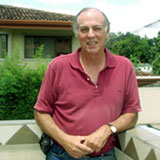 Brian Timmons
Dear friends,
When I started Residencias Los Jardines, I started writing a weekly news letter -determined to tell all the good, bad, and the ugly. I knew some readers would be interested in the construction process. I expected others might be interested in the lifestyle of two people who had decided to live outside the box. For others, the adventures of Lita, the parrot and the cat took on an entertainment saga all its own.
Residencias Los Jardines is finished. We periodically have resales and rental availability. Some readers may be interested in this information.
Brian Timmons
DEVELOPER / PROPERTY MANAGER
Residencias Los Jardines / https://www.residenciaslosjardines.com info@residenciaslosjardines.com
ResidenciasPropertyManagement@gmail.com
Featured house this week
Paradisus Condos / Rorhmoser
FOR SALE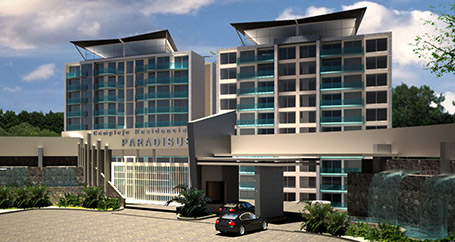 Paradisus will consist of 4 towers in Rorhmoser, a suburb to the west of central San Jose. Not far from the US Embassy and shopping malls, Rorhmoser is a residential area that was developed in the 60's and 70's and is currently seeing significant re-development with high end condos. It is the area where the new stadium and a number of luxury high rise condos have recently been built with more on the drawing boards. Phase one of this development is nearing completion; it consists of two towers and the amenities -pool, exercise room, etc. Tower one is expected to be completed in January and Tower 2 should follow in February / March. The location of this development is superb... it's off the main traffic paths and sits on a ravine overlooking a river. To the east is San Jose / Heredia; to the west is Pavas / Escazu. With floor to ceiling windows and a wrap around balcony, these units offer fantastic light and views.
Each of the units consists of two bedrooms / two bathrooms, and a large living/dining/kitchen area. The floor plan of each of these units has eliminated the optional "den / office" divider. The result is a larger area offering more flexible furniture arrangements while still maintaining the option of including an office area. At 105m2 plus two parking spots each and storage locker, they offer a great opportunity for someone seeking views, security, central location, and first class, all round living...
Loma Real Escazu / Guachipelin, Central Valley
FOR SALE / price reduced!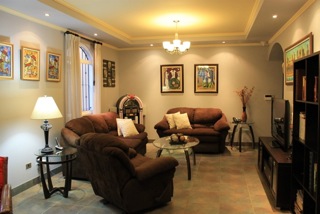 $325,000 now $300,000 / 3 bdrms + maids rm / 3.5 bthrms / owner financing
Beautiful house in residential area: 24 hours security. 274 m2 construction. 2 story, 3 bedrooms + maids quarters, 3 1/2 bathrooms, ample eat-in kitchen, six years old, immaculate condition, lot 264 m2 professionally landscaped, two car enclosed garage, 1500 L reserve water tank, electric demand water heaters, Independent office. Located close to all amenities. Taxes $500 yearly and security $80 monthly.
Appliances and built-ins included. Furniture upon negotiation.
Owner will take back a mortgage for up to 5 yrs. @ 12% interest only.
Residencias Los Jardines
Property Management, Rentals, Re-Sales
Market Activity
Sales: no inquiries.
Rentals: all units are leased.
FOR SALE
Unit #114: $235,000 / See Unit
Unit #116: $214,000 / See Unit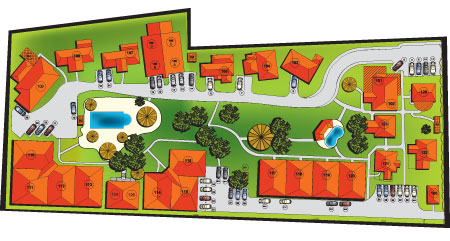 HOUSES FOR SALE
UNIT #114
FOR SALE $235,000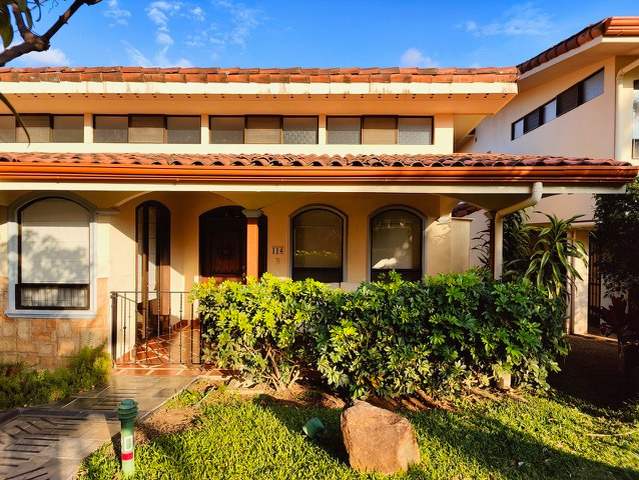 See a complete description of this unit
Total Area (Sq Ft): 1290
Total area (Sq M): 120
Bedrooms: 2
Bathrooms: 2
Floor(s): Single Floor
Type: Attached
Furnished: Yes
This 1,290 sf. (plus covered parking for one car and two lockers 67 sf.) single story, semi detached house, with garden terrace, two bedrooms is a beautiful executive style home. This home consists of two large bedrooms one with six piece en-suite bathroom with additional access to separate full shower. Each bedroom has large closets with extensive built-ins for personal organization. The vaulted living room and bathroom ceilings provide a feeling of grandeur while allowing the warmer air to rise and exit through the ceiling ventilating system. There are four TVs (one in each bedroom, one in the living room and one in breakfast / dinning room.) This is a beautiful well appointed home.
UNIT #116
FOR SALE $214,000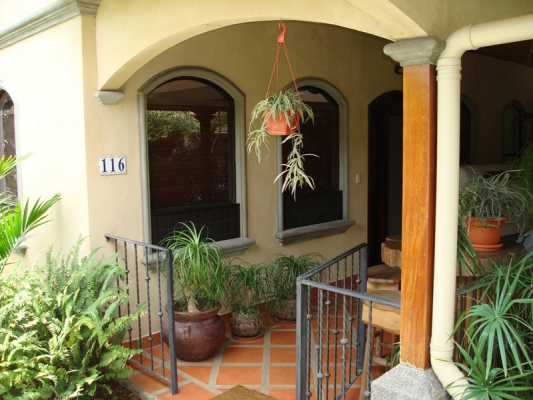 See a complete description of this unit
Total Area (Sq Ft): 1290
Total area (Sq M): 120
Bedrooms: 2
Bathrooms: 2
Floor(s): Single Floor
Type: Semi-Attached
Furnished: Yes
This 1,290 sf single floor home includes a 300 sf front terrace plus parking for one car and a separate, secure storage locker. It is and end unit and therefore attached on only one side by a 6 inch cement demising (common) wall, which prevents sound transfer.
Our Lives
WEATHER: We had one evening of soft rain... usually partially cloudy, some wind, virtually no rain. One of our owners has a house in a gated community in Guancaste; the community relies on a well; he said it had gone dry... they have a problem. We are not Guanacaste but his experience is being echoed by others in that area.
News Items of the Week
Note: Exchange Rate: comment from last week: A reader (and retired monetary economist) living in Holland said I got it wrong; the government has not been buying dollars, they have been buying colones with dollars to support the value of the colon. I stand corrected. and the act is costing the government loads of dollars.
1. A beautifully accurate response to the way life is here.
2. INVU -we had to deal with them trying to develop El Dorado... it's an awful organization, poorly run.
3. I've always said that this is a swindle in the making with Joe Biden's brother's involvement.
4. Proposed administrative procedures to improve tax collection. Nothing seems too draconian but the article says that only about 60% of tax due is collected. Amazing!!
1. A response from a season expat to a newbie: I thought it beautifully well said...

Um Jim... "standard timeframe"... "standard" and "timeframe" are two words not used much here on their own... and when co-joined at the hip they have never been used - well except today :-))

For your plan plan, you need to have a friend who is an architect, so all in all this will take longer. There are no end times here, only beginnings. Again as I mentioned earlier where you do this deed will have a huge effect on it's viability and timeframe. People who live in Escazu think it works one way, people who live in P Jimenez think it works another.

Berni
In Alajuela where it rarely works (and never the way you expected) but when it does you are thankful
2. Comptroller lights red light INVU crisis

Comptroller says chaos and little truth in expenditure and revenue authority Institute for restructuring two studies paid no results. "The INVU presents a financial situation that has become unsustainable, to the point that if the Central Government to limits or eliminates the transfer of funds, it would be completely suffocating."

Such confidence is the General Comptroller of the Republic, Marta Acosta, to analyze the situation of the National Institute of Housing and Urbanism (INVU).

A financial audit of the Institute-developed by the Comptroller General of the Republic (CGR) - indicates problems such as erroneous accounting records, information deficiencies of the loan portfolio, bad debt collection, bank accounts inconsistencies and lack of supervision the legal fees that run outside counsel.

The analysis adds that if the entity does not generate new resources by 2018, would become a loss-making entity According to the report of the CGR, INVU had accounts receivable totaling ¢ 10,455,000. It also maintains accounts payable coming to ¢ 7.874 million.

However, the document states that these accounting records "do not have supporting documentation." The CGR also indicates receivables older than 27 years and "with almost no chance of recovery."

"The INVU is on a dead end (...). If no structural decisions are made at this time, no sense wear and use of public funds under these conditions," Acosta said.

The CGR ordered the Institute to create an information system that allows you to sort your accounts. The program is being designed and should run from the 19th of December, according to the Comptroller defined. The investment in this field is for $ 1.5 million.

Another remaining task is to make an inventory to update the value of the land are in the name of the entity, which is not updated since 1981.

According to the INVU, the value of the property has is ¢ 4,000 million. However, the CGR argues that such information is "not reliable".

Data indicate that the Comptroller has assets INVU ¢ 149,000 million, liabilities of ¢ 61,000 million and equity of ¢ 87,000 million.

Failed attempts.'s INVU has hired in the past five years, two external consultants to implement a restructuring, but none of them have been fully implemented.

The latest study, conducted by Deloitte, cost ¢ 100 million. Recommends remove 54 seats and have a maximum of 179 active positions to eliminate duplication in areas such as project implementation, general services, information and completed projects, among others.

Of the 54 seats that will be cut, and 19 were eliminated through voluntary mobility.

Despite this recommendation, the bank opened a tender to hire 23 people in different departments.

"It is proceeding well because some areas were without people and that's a technical error," said Sonia Montero, executive chairman of INVU.

Deloitte suggests engaging the services of cleaning, maintenance and surveillance of external companies to reduce costs.

In 2009 the company was hired Manpower to reorganize a report intended INVU, but was not entirely welcome. Meanwhile, in August a study ordered by the current administration, which will cost ¢ 60 million start.

Montero acknowledged the inconsistencies cited by the CGR.

"It's a disorganized institution, the processes are not clear, there are no controls and that's very serious. We're trying to move to a more controlled situation, and this is not achieved in the overnight, "said the chief.

The Nation tried talking to Alvaro Gonzalez, former chief executive of INVU, but did not answer calls made to his cell phone.
3. ​Guanacaste developer detained briefly in fraud case
By Michael Krumholtz, of the A.M. Costa Rica staff

Judicial agents briefly detained Craig Williamson, the real estate developer behind a purported billion dollar project in Guanacaste, because he failed to appear in court to answer a fraud charge.

A prosecutor released Williamson Wednesday afternoon a few hours after the initial arrest once court officials fixed a new preliminary hearing for Oct. 16, Williamson said via a call from his cell phone. According to the arrest warrant, Williamson faces a criminal charge of fraud.

The prosecuting lawyer in the case, Juan Francisco Ruíz, said that Williamson failed to show up for multiple hearings, including the most recent one July 22. The arrest warrant was issued that day.

Williamson is working with Frank Biden, younger brother of the U. S. vice president, on a massive development in Libería that has blueprints promising multiple casinos, hotels, and a Jack Nicklaus signature golf course.

In mid-June Williamson said a major announcement on the project would be made on July 2. However no word came of breaking ground for the long-stalled construction. The developer said he and his associates had to postpone again and that Wednesday's detention will not affect the Guanacaste Country Club, the name for the supposed $921 million project.

When reached for comment Wednesday afternoon, Biden said he was unaware of Williamson's arrest but that it "absolutely" does not endanger the country club's construction. He declined to comment any further on the state of the country club until he could talk to Williamson.

"I'm sure there's a logical explanation for all of this," Biden said from the United States by telephone.

In addition to not showing up for a preliminary hearing, the warrant from a criminal court in Liberia said that Williamson failed to update his address after moving, which put him in contempt.

Williamson said that he doesn't want the Libería project to be attached to this criminal accusation because "it doesn't have any validity."

In a June conversation, Williamson denied knowing Ruíz, but said Wednesday that the lawyer has been "bullying" him for five years concerning the case of alleged fraud. He also denied in June that he had any knowledge of the upcoming court hearing.

He added that he is preparing to counter with legal action against Ruíz. "He has been trying to extort money from us," Williamson said.

The criminal case stems from an allegation by a Canadian, Boyd Wade Kendall, who, Ruíz said, is trying to recover money he invested with Williamson.
4. Changes in tax law to target evasion and avoidance
By the A.M. Costa Rica staff

The nation's tax collector said Thursday it is introducing legal reforms to reduce evasion as well as avoidance. Avoidance generally is defined as legal manipulations to reduce the tax bill.

The text of the bill is not available, but a summary said that one change would require that an individual or corporation that needs to conduct business with a public entity be current with tax obligations and with documents that should be presented to the Ministerio de Hacienda.

This could include the annual tax reform, quarterly tax reports, monthly sales tax reports, employee withholding reports and a multitude of other reports that are required.

The mechanism whereby these filings would be verified was not explained.

In addition, any person or corporation that seeks a patente or business license from a municipality would have to demonstrate a registration with the Dirección General de Tributación, the tax collecting agency within the ministry.

The summary also said that the sales tax would be levied on any rentals for less than a month in order to avoid the proliferation of tourist hospitality that competes with hotels and formal lodgings.

The action is aimed at condos and vacation homes that are rented short-term, frequently by absentee owners. Such transactions are supposed to generate sales tax now, but only infrequently is it paid. One argument is that the current law is too vague. The ministry probably will provide explicit wording to cover such short-term arrangements.

The update also will require vendors to accept credit cards equal to cash. Those who do would receive a slight discount by a reduction on their sales tax bill to cover the paperwork. The tax agency likes credit and debit cards because the transactions can be tracked. Many transactions are done off the books now to avoid sales tax payments, the so-called resident discount.

The proposed legal changes also would require private and public banks to demand an income tax return as proof of income for loans and other financing. This means the applicant would have to have filed a return. Certification by private accountants would not be accepted.

Some of these changes already have been mentioned as the Luis Guillermo Solís administration seeks to reduce the annual government deficit, which now is at 2.5 percent of gross domestic product. The new president beefed up the power of the ministry by naming his first vice president, Helio Fallas, to head it.

Fallas said in a statement accompanying the summary that evasion and avoidance amount to about 60 percent of the tax money actually collected, according to a ministry study. He said that in 2012 fraud amounted to 7.75 percent of the gross domestic product.

Tributación is now involved in a dispute with the tourism sector over whether the law requires sales tax to be levied on admissions to national parks and tourism activities. Once again the law is vague and subject to interpretation. Presumably specifics on this point also will be submitted to lawmakers.
Brian, Lita, the Late Hugo IV, irreverent Vicka, the pigeon toed parrot, Chico II and Chica II