Dear friends,
When I started Residencias Los Jardines, I started writing a weekly news letter -determined to tell all the good, bad, and the ugly. I knew some readers would be interested in the construction process. I expected others might be interested in the lifestyle of two people who had decided to live outside the box. For others, the adventures of Lita, the parrot and the cat took on an entertainment saga all its own.
Residencias Los Jardines is finished. We periodically have resales and rental availability. Some readers may be interested in this information.
Brian Timmons
DEVELOPER / PROPERTY MANAGER
Residencias Los Jardines / https://www.residenciaslosjardines.com info@residenciaslosjardines.com
ResidenciasPropertyManagement@gmail.com
Featured house this week
Paradisus Condos / Rorhmoser
FOR SALE
Residencias Los Jardines
Property Management, Rentals, Re-Sales
Market Activity
Sales: no inquiries.
Rentals: all units are leased except for one short term rental.
FOR SALE
Unit #114: $235,000 / See Unit
Unit #116: $214,000 / See Unit
FOR RENT
Unit #121: $1,500 mo. / Available July 16 to October / See Unit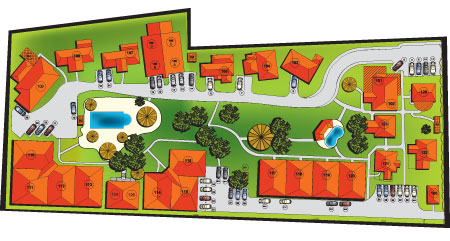 HOUSES FOR SALE
UNIT #114
FOR SALE $235,000
Total Area (Sq Ft): 1290
Total area (Sq M): 120
Bedrooms: 2
Bathrooms: 2
Floor(s): Single Floor
Type: Attached
Furnished: Yes
This 1,290 sf. (plus covered parking for one car and two lockers 67 sf.) single story, semi detached house, with garden terrace, two bedrooms is a beautiful executive style home. This home consists of two large bedrooms one with six piece en-suite bathroom with additional access to separate full shower. Each bedroom has large closets with extensive built-ins for personal organization. The vaulted living room and bathroom ceilings provide a feeling of grandeur while allowing the warmer air to rise and exit through the ceiling ventilating system. There are four TVs (one in each bedroom, one in the living room and one in breakfast / dinning room.) This is a beautiful well appointed home.
UNIT #116
FOR SALE $214,000
Total Area (Sq Ft): 1290
Total area (Sq M): 120
Bedrooms: 2
Bathrooms: 2
Floor(s): Single Floor
Type: Semi-Attached
Furnished: Yes
This 1,290 sf single floor home includes a 300 sf front terrace plus parking for one car and a separate, secure storage locker. It is and end unit and therefore attached on only one side by a 6 inch cement demising (common) wall, which prevents sound transfer.
HOUSE FOR RENT
UNIT #121
FOR RENT $1,500 mo.
Available July 16 to October 30
Total Area (Sq Ft): 1423
Total area (Sq M): 131
Bedrooms: 2
Bathrooms: 2.5
Floor(s): 2 story
Type: Detached
Furnished: Yes
This two story, detached 1,423 sf home + parking for one car has two bedrooms, 2 ½ bathrooms and a 2nd. floor covered terrace. The open railed wrought iron cement stair case leads to the 2nd. level where the master bedroom with en-suite master bathroom as well as 2nd. bedroom and en-suite bathroom are located. Also accessed from the 2nd. floor hallway is the covered terrace. This is a very nicely furnished home with a good floor plan for those wanting two floors.
Our Lives
WEATHER: This past week has seen the "mini summer" a period without rain. The timing varies as does the length... but it is here now.
All In A Week's Living in CR
​​1. Exchange Rate: It continues to drop as the government pours more and more money into reducing the natural direction. This cannot continue. Note the articles below re. economic indicators...
​​2. Gas Price Increase: The buggers decided to not implement the next price increase because of government and public wrath.
News Items of the Week
Note that last week's newsletter featured an article on the substantial decline in direct foreign investment and lagging construction permits.
1. Manufacturing falters: again the cost of production, especially electricity, gas, and probably water are blamed for companies packing up and leaving to lower cost places. CR has for years, refused to listen. Now comes the result of not listing... on someone else's watch... (Solis) who now finds out he has no control over electricity or gas rates. Wow!!
2. Water: Again the country is experiencing a drought. Water tables all over the country are likely to drop and resivours for hydraulic produced electricity are very low and the priority seems to be to release the water so the wealth rice growers have enough water for crops so the can overcharge the CR consumer. Wow!! what a system.
3. Dollarization: it won't happen because there are too many vested interests in keeping the system non-transparent and CR would loose it's ability to play funny games.
4. Inflation: It's back... and this is only the stated rate. If all items required to represent normal living were included, the rate would be higher.
1. Manufacturing falters in employment, production and exports

Business leaders in the industry confirm the slump that reflect their economic indicators, and attributed the results to the high cost of electricity and fuel, as well as the excess state procedures.

At the same time, warned that more companies move part of its operation to other countries by local difficulties.

Juan Rafael Rivera, president of the Chamber of Industry, emphasized that the results are the consequence that Costa Rica is increasingly expensive to produce country.

The evolution of the manufacturing is relevant because it is almost a quarter of the real gross domestic product (GDP) of Costa Rica.

Numbers. Industry in May preceding completed 12 consecutive months of job losses. During this period the number of jobs fell to 151,000; that is, 3,385 less than in May 2013, as reported by employees and independent workers registered with the Costa Rican Social Security Fund (CCSS).

"Since 2013 we have noted a number of problems in the domestic market that prevent the creation of jobs," said Mario Montero, executive director of the Costa Rican Chamber of Food Industry.

The high cost of production in Costa Rica is the main reason for the adverse performance of the manufacturing sector, according to business leaders said. Indeed, this variable generated that Yanber Corporation moved part of its operation to Nicaragua last year.

To Alexander Mora, chief of the Ministry of Foreign Trade (Comex), the fall in employment may be due to a fluctuation in the business cycle.

In the case of production, the monthly index of economic activity (MIEA) closed, in the fifth month of this year, 1.97%. However, eight months before the growth rate was 9%, according to data from the Central Bank.

The performance of the sector fell by lower activity of the companies in the free zones. Meanwhile, local companies grow slightly.

The Costa Rican Coalition for Development Initiatives (Cinde) and the Chamber of Industries attributed the effect on special-tax-free regime, the decrease in operating Intel.

"You have to analyze the issue of production without Intel. There are other manufacturing sectors such as medical devices, which have very good growth, "he said Gabriela Llobet, director general of Cinde.

In the case of exports, these just reported a slight increase of 3.6% in the accumulated between January and May compared to the same period of 2013.

For Lawrence Pratt, director of the Latin American Center for Competitiveness and Sustainable Development of the Central Institute of Business Administration (INCAE), Costa Rica depends on the activity and investment companies in free zones, which worries. "You have to wonder why the country has not created more local companies with international projection," he said.

The chief said Comex working on a strategy to strengthen the performance of local companies. Collaborated Marvin Boatman.
2. El Niño expected to leave much of country dry​
By the A.M. Costa Rica staff

The first five months of the year have been dry in all but the southern Pacific, according to the Instituto Meteorológico Nacional. And with El Niño growing in the far Pacific, the probability is for drought and not enough water to run all of the country's hydro electrical generating plants.

The weather institute is predicting from 40 to 60 percent below normal rainfall for the northern Pacific and from 30 to 50 percent less rain in the Central Valley. In the central Pacific the rainfall deficit will be from 5 to 20 percent, said the institute.

In contrast, the south Pacific coast is expected to have a 15 percent deficit this month, 5 percent in August and to be 5 percent above average in September.

The northern zone will be wetter than normal this month and then be slightly below normal in August and off about 15 percent from normal in September, the institute said.

Although the northern and southern Caribbean coasts will be 20 to 40 percent wetter this month and in August, rainfall is expected to be off from 10 to 20 percent in September.

El Niño conditions are expected to extend through the first four months of next year. However, the forecast says that the impact will not be as great as in 1982 or 1997.

Guanacaste farmers and ranchers always are living on the edge because the province usually is dry. A 60 percent drop in rainfall is devastating.

Already cattle ranchers are moving their herds to compensate for the water deficit. A loss of water behind the country's hydro dams has caused rolling blackouts in the past.
3. ML Party lawmakers renew calls to dollarize Costa Rican economy

July 14th, 2014 (InsideCostaRica.com) Libertarian Movement Party (ML) lawmakers of the Legislative Assembly are renewing calls to ditch the country's national currency and dollarize Costa Rica's economy.

ML Party lawmakers, who have presented such bills in previous administrations, say that replacing the country's currency with the U.S. dollar would eliminate the drawbacks of a fluctuating exchange rate.

Those opposed to the measure say that dollarizing the economy would weaken the country's competitiveness and eliminate an important tool of monetary policy.

Deputy lawmaker Otto Guevara, one of the supporters of the measure, said he supports dollarization due to the "secret" nature of the Central Bank's interventions in the foreign exchange market.

"In Costa Rica there are no clear rules that allow citizens to know, in advance, how the Central Bank will intervene under different circumstances, and, therefore, interventions and non-interventions [in the foreign exchange market] have the ability to thwart individual efforts," Guevara said.

Guevara said the current system makes the Central Bank a law unto itself, providing a "blank check" to the seven members of the Board of the Central Bank, to intervene in the currency market "without following any rules set in advance or being forced to be formally accountable to anyone for their actions or ommissions."

"We understand that this is a controversial issue but at this time it is a must," Guevara added.

Some analysts are also supporting dollarization, pointing to inflation this year that is likely to be well above the government's target.

Economist Luis Loria also called for dollarization last year, saying that if dollarization were to occur, people would have better access to loans in dollars, whose interest rates are almost half of those in colones.

Not everyone believes dollarization to be a good idea. Lawmaker and economist, Otton Solis is warning against support for the measure, saying that an important tool of monetary policy would be lost and the country would be forced to pay interest on dollars printed by the United States.

Economist Francisco Sancho is also opposed to such a measure. "[Through dollarization], an instrument to promote exports and imports is lost. We should analyze the experiences of other countries [who chose to dollarize], but in general, it would not be a good idea right now," Sancho said.
4. 5.5 to 6.5% inflation predicted for this year​
By the A.M. Costa Rica wire services

A Universidad de Costa Rica study predicts a gloomy forecast for the country's immediate economic climate. Headed by investigator Rudolf Lücke of the university's economic investigation department, the report shows that the nation could return to an inflation rate between 5.5 and 6.5 percent by the year's end.

This figure means that lower targets set by the Banco Central will seem hard to reach, as inflation is expected to rise in the third trimester of this year. This would mark the first time since 2009 that the inflation goal will not be met.

In 2013, inflation began at 6.2 percent but settled all the way down to 3.3 by the start of 2014, according to the study. Reason for the expected rise stems from national price hikes in foodstuff, transportation, and basic housing services. Lücke points to the government as falling back into bad habits and being unable to initiate effective measures that can reduce its fiscal deficit.

"No changes in the finances of the central government have been observed that can reduce this fiscal inequality," the report states. "The central government continues resorting to the national market to finance it's deficit."

The Instituto de Investigaciónes en Ciencias Económias released the study of short-term economic development based on two additional variable: the gross domestic product and the rate of interest.

In terms of internal production, the report recognizes that Costa Rica will take a hit with the recent departure of a bulk of Intel's production operations. This loss will heavily effect export numbers to Asia in particular. However, the gross domestic product is expected to increase overall as it still recovers from a rough 2013 in which it dipped all the way to an increase of 3.2 percent.
Brian, Lita, the Late Hugo IV, irreverent Vicka, the pigeon toed parrot, Chico II and Chica II