...Jubilation!! the Hero's Arrive!!
Dear friends,
When I started Residencias Los Jardines, I started writing a weekly news letter -determined to tell all the good, bad, and the ugly. I knew some readers would be interested in the construction process. I expected others might be interested in the lifestyle of two people who had decided to live outside the box. For others, the adventures of Lita, the parrot and the cat took on an entertainment saga all its own.
Residencias Los Jardines is finished. We periodically have resales and rental availability. Some readers may be interested in this information.
Brian Timmons
DEVELOPER / PROPERTY MANAGER
Residencias Los Jardines / https://www.residenciaslosjardines.com info@residenciaslosjardines.com
ResidenciasPropertyManagement@gmail.com
Featured house this week
Paradisus Condos / Rorhmoser
FOR SALE
Residencias Los Jardines
Property Management, Rentals, Re-Sales
Market Activity
Sales: no inquiries.
Rentals: one viewing.
FOR SALE
Unit #114: $235,000 / See Unit
Unit #116: $214,000 / See Unit
FOR RENT
Unit #106C: $1,200 mo. / Available Immediately / See Unit
Unit #121: $1,500 mo. / Available July 16 to October / See Unit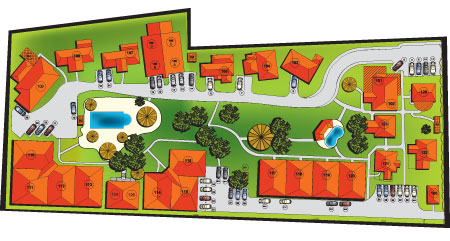 HOUSES FOR SALE
UNIT #114
FOR SALE $235,000
Total Area (Sq Ft): 1290
Total area (Sq M): 120
Bedrooms: 2
Bathrooms: 2
Floor(s): Single Floor
Type: Attached
Furnished: Yes
This 1,290 sf. (plus covered parking for one car and two lockers 67 sf.) single story, semi detached house, with garden terrace, two bedrooms is a beautiful executive style home. This home consists of two large bedrooms one with six piece en-suite bathroom with additional access to separate full shower. Each bedroom has large closets with extensive built-ins for personal organization. The vaulted living room and bathroom ceilings provide a feeling of grandeur while allowing the warmer air to rise and exit through the ceiling ventilating system. There are four TVs (one in each bedroom, one in the living room and one in breakfast / dinning room.) This is a beautiful well appointed home.
UNIT #116
FOR SALE $214,000
Total Area (Sq Ft): 1290
Total area (Sq M): 120
Bedrooms: 2
Bathrooms: 2
Floor(s): Single Floor
Type: Semi-Attached
Furnished: Yes
This 1,290 sf single floor home includes a 300 sf front terrace plus parking for one car and a separate, secure storage locker. It is and end unit and therefore attached on only one side by a 6 inch cement demising (common) wall, which prevents sound transfer.
HOUSES FOR RENT
UNIT #106C
FOR RENT $1,200 mo.
Available Immediately
Total Area (Sq Ft): 1250
Total area (Sq M): 120
Bedrooms: 2
Bathrooms: 2
Floor(s): 1
Type: 4-plex
Furnished: Yes
This is a fully furnished 2-bedroom unit situated in a 2-story building, which has two units on the ground floor and two units on the 2nd. floor. Each unit is the same size (1,250sf) divided into 800 sf of interior space and 450 sf of covered front and back terraces. Units 106A and B are on the ground floor; Units 106 C and D are on the 2nd. Floor. The solid masonry demising wall (common wall) as well as the 5" concrete slab prevent sound transference.
UNIT #121
FOR RENT $1,500 mo.
Available July 16 to October 30
Total Area (Sq Ft): 1423
Total area (Sq M): 131
Bedrooms: 2
Bathrooms: 2.5
Floor(s): 2 story
Type: Detached
Furnished: Yes
This two story, detached 1,423 sf home + parking for one car has two bedrooms, 2 ½ bathrooms and a 2nd. floor covered terrace. The open railed wrought iron cement stair case leads to the 2nd. level where the master bedroom with en-suite master bathroom as well as 2nd. bedroom and en-suite bathroom are located. Also accessed from the 2nd. floor hallway is the covered terrace. This is a very nicely furnished home with a good floor plan for those wanting two floors.
Our Lives
WEATHER: This past week has seen the "mini summer" a period without rain. The timing varies as does the length... but it is here now.
All In A Week's Living in CR
​​Jubilation: The "hero's" return: not a lot of work got done this past week but a lot of celebrating did... The soccer team returned to a hero's welcome and a national holiday (1/2 day but I'm sure it was virtually the whole day for government workers and any other company which wanted to follow the lead)... chaos and pandamonium, flags, chest thumping, dancing, speeches, etc. They did well and CR shared in their success.
Los Jardines: we continue to struggle internally... I have my opinions which are shared by many but it's not clear sailing at this point in time.
Exchange Rate: has dropped to around 545...
News Items of the Week
1. Gas and Electricity Pricing: a presidential candidate / now the elected president didn't know how fuel and electricity prices are set... He's not the only one. It seems that the algorythim is so complex that few do in fact understand it... thus there is plenty of room for manipulation and since the key beneficiaries are involved in the administration of the algorythim, the price virtutally always goes up with slights dips and then up again.
2. Public School Closing: again, this culture simply doesn't believe in maintenance and doing things in a timely fashion... it responds poorly, at best, to crisis...
3. Price Comparisons: Toronto vs. San Jose: I came across this. I have no idea if it is accurate but it seems someone went to a lot of work to compare price differences. I don't know the assumptions or raw data but... I found it interesting...
1. Presidency says it is "realizing that fuel, electric prices are not under its control," as public outcry grows

July 4th, 2014 (InsideCostaRica.com) As public outcry over recent price hikes in the cost of fuel and electricity grows, President Solís and Minister of the Presidency, Melvin Jimenez are pleading for time from an agitated public.

Jimenez admitted that promises made by President Solís during his presidential campaign to lower prices would take longer than expected to materialize, as the new government has only now realized that pricing is not under its control.

"We are now realizing that [fuel and electric prices] are not under our control. We are calling on the relevant authorities to clarify the methodologies and elements involved," Jimenez said.

President Solís had said during his campaign that one of his first acts as president would be to lower the cost of electricity.

"Obviously, it's not the same being president as it is to be an aspiring president or president-elect," Solís told reporters yesterday when reminded of his campaign promise during a visit to Aserrí.

Solís now says the only solution to the problem is through "dialogue," and that regulator ARESEP, not the Executive, determines prices of public services.

Solís also said yesterday that taxes on fuel – which comprise a significant percentage of its price – are immoveable, and other solutions need to be sought instead, suggesting the country could turn to Petrocaribe and the Bolivarian Alliance for the Peoples of America (ALBA) for cheaper fuel.

Juan Luis Jimenez of the National Liberation Party said that the Presidency's words prove that "they were not prepared to govern."
2. Public high school in Puntarenas to be shuttered by health officials; 1,300 will be left without classes

July 10th, 2014 (InsideCostaRica.com) The Ministry of Health in Puntarenas has issued an eviction order for the Liceo Jose Marti high school in Puntarenas due to the disastrous state of the facility. Some 1,300 students will be left without classes as a result, due to a lack of alternate facilities.

The school has until later this month to close its doors.

Rodolfo Salazar, president of the Board of Education, said the Ministry of Public Education (MEP) had provided the school with the necessary funds to begin making improvements, but the school could not perform the work, as there were no alternate facilities for students while work was performed.

Some of the problems at the school include asbestos and 50-year-old electrical wiring.

Last month, the Ministry of Health warned that 57 public schools across the country were at risk of being shutdown due to their poor condition.

Health officials say the schools have serious problems, such as infestations of termites, mice, bats, and other pests; lack of toilets, electricity and water; in addition to sewage problems. Officials say the problems have been ongoing since 2011.

Other problems include a lack of wheelchair ramps, fire extinguishers, emergency plans, and unsafe gas tanks.

The fate of the 1,300 students to be left without a school is unknown.
3. PRICE COMPARISONS: TORONTO VS. SAN JOSE

It is said many times by many people that Costa Rica is becoming so expensive and that its so much cheaper to live in the U.S. - sure expenses are going up but they are going up everywhere in the world.

The unknown author seems to have done a lot of research comparing living expenses in San Jose to Toronto, Canada... which I find out is the 4th largest city and fastest growing city in N. Am., and where real estate prices and construction continue to defy gravity and have for the past 13 years at least...

Consumer Prices in San José are 26.96% lower than in Toronto
Consumer Prices Including Rent in San José are 35.17% lower than in Toronto
Rent Prices in San José are 50.33% lower than in Toronto
Restaurant Prices in San José are 25.70% lower than in Toronto
Groceries Prices in San José are 28.11% lower than in Toronto
Local Purchasing Power in San José is 62.38% lower than in Toronto

When comparing the cost of living in both cities we find that it will cost you one third (28.78%) less to eat a meal at an inexpensive restaurant in San José, than in Toronto. A domestic beer costs US$2.28 in San José, while US$5.15 in Toronto. A cappuccino is US$2.21, US$3.27 in Toronto.

At the supermarket, a loaf of fresh white bread costs 50% less in San José. Local cheese, though we in Costa Rica see it as being expensive, it is still 41.28% less than local cheese in Toronto. Chicken breast (36.53%), tomato (67.57%), lettuce (47.24%) and eggs (8.87%), even though you won't find them in the fridge, are all less in Costa Rica.

More expensive in San José is bottled water, 7.52% more for a 1.5 litre of bottled water, this despite Costa Rica has plenty of natural spring water sources.

Taking a taxi in San José is 72.29% less than in Toronto and 74.04% less for a local bus, but in Costa Rica we pay 14.35% more for gasoline and 35.43% on the price of a new car (Volkswagen Golf is used in the comparison).
Brian, Lita, the Late Hugo IV, irreverent Vicka, the pigeon toed parrot, Chico II and Chica II