...​football / soccer fever!!
Dear friends,
When I started Residencias Los Jardines, I started writing a weekly news letter -determined to tell all the good, bad, and the ugly. I knew some readers would be interested in the construction process. I expected others might be interested in the lifestyle of two people who had decided to live outside the box. For others, the adventures of Lita, the parrot and the cat took on an entertainment saga all its own.
Residencias Los Jardines is finished. We periodically have resales and rental availability. Some readers may be interested in this information.
Brian Timmons
DEVELOPER / PROPERTY MANAGER
Residencias Los Jardines / https://www.residenciaslosjardines.com info@residenciaslosjardines.com
ResidenciasPropertyManagement@gmail.com
Featured house this week
Paradisus Condos / Rorhmoser
FOR SALE
Residencias Los Jardines
Property Management, Rentals, Re-Sales
Market Activity
Sales: two inquiries.
Rentals: two viewings.
FOR SALE
Unit #114: $235,000 / See Unit
Unit #116: $214,000 / See Unit
FOR RENT
Unit #106C: $1,200 mo. / Available Immediately / See Unit
Unit #121: $1,500 mo. / Available July 16 to October / See Unit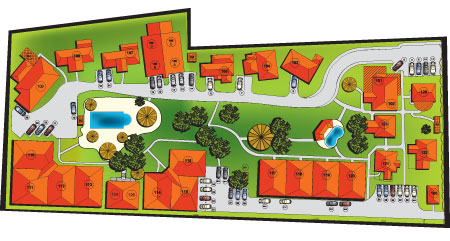 HOUSES FOR SALE
UNIT #114
FOR SALE $235,000
Total Area (Sq Ft): 1290
Total area (Sq M): 120
Bedrooms: 2
Bathrooms: 2
Floor(s): Single Floor
Type: Attached
Furnished: Yes
This 1,290 sf. (plus covered parking for one car and two lockers 67 sf.) single story, semi detached house, with garden terrace, two bedrooms is a beautiful executive style home. This home consists of two large bedrooms one with six piece en-suite bathroom with additional access to separate full shower. Each bedroom has large closets with extensive built-ins for personal organization. The vaulted living room and bathroom ceilings provide a feeling of grandeur while allowing the warmer air to rise and exit through the ceiling ventilating system. There are four TVs (one in each bedroom, one in the living room and one in breakfast / dinning room.) This is a beautiful well appointed home.
UNIT #116
FOR SALE $214,000
Total Area (Sq Ft): 1290
Total area (Sq M): 120
Bedrooms: 2
Bathrooms: 2
Floor(s): Single Floor
Type: Semi-Attached
Furnished: Yes
This 1,290 sf single floor home includes a 300 sf front terrace plus parking for one car and a separate, secure storage locker. It is and end unit and therefore attached on only one side by a 6 inch cement demising (common) wall, which prevents sound transfer.
HOUSES FOR RENT
UNIT #106C
FOR RENT $1,200 mo.
Available Immediately
Total Area (Sq Ft): 1250
Total area (Sq M): 120
Bedrooms: 2
Bathrooms: 2
Floor(s): 1
Type: 4-plex
Furnished: Yes
This is a fully furnished 2-bedroom unit situated in a 2-story building, which has two units on the ground floor and two units on the 2nd. floor. Each unit is the same size (1,250sf) divided into 800 sf of interior space and 450 sf of covered front and back terraces. Units 106A and B are on the ground floor; Units 106 C and D are on the 2nd. Floor. The solid masonry demising wall (common wall) as well as the 5" concrete slab prevent sound transference.
UNIT #121
FOR RENT $1,500 mo.
Available July 16 to October 30
Total Area (Sq Ft): 1423
Total area (Sq M): 131
Bedrooms: 2
Bathrooms: 2.5
Floor(s): 2 story
Type: Detached
Furnished: Yes
This two story, detached 1,423 sf home + parking for one car has two bedrooms, 2 ½ bathrooms and a 2nd. floor covered terrace. The open railed wrought iron cement stair case leads to the 2nd. level where the master bedroom with en-suite master bathroom as well as 2nd. bedroom and en-suite bathroom are located. Also accessed from the 2nd. floor hallway is the covered terrace. This is a very nicely furnished home with a good floor plan for those wanting two floors.
Our Lives
WEATHER: This past week has seen the "mini summer" a period without rain. The timing varies as does the lenght... but it is here now.
All In A Week's Living in CR
​​...football / soccer fever: This little country was never expected to go this far in the World Cup... it has surprised many and pleased all Ticos... They are proud and happy and definite energized. The fourth and probably the most difficult game plays out at 2pm Saturday... a few hours from now. Restaurants / bars are setting up extra tables, businesses are closed, and the streets are eerily quiet and devoid of cars... I hope last week's jubilation will be repeated but it could well turn into a wake... that is the excitement and the anxiety...
News Items of the Week
1. CR can't spend the loaned money fast enough due to red tape, slow designs, permitting delays, and tendering complications.
2. AYA: leaky pipes due to lack of maintenance... maintenance -- a word that is seldom used in CR.​
3. Geothermal generation proposal: one which makes sense -finally- whether the price tag makes sense or not, I don't know.
4. Foreign Direct Investment: I commented on this a month or more ago... this says something about foreign views on CR as a place to do business in the future.
5. Electricity Rates: Solis promised to lower the electricity rates... the first of many promises which will be broken... now he's going to study it, reduce the proposed increase and so it goes...
6. Gas price increases -a monthly (at least) event.
7. Government Pensions: are bankrupting the country and some are absolutely unconscionable...and yes, someone did cap these rates but the enforcers seem to be the same people who are collecting so is it any reason the law hasn't been enforced and is note likely to be enforced...
8. Inflation: running around 8% so far for the year... and that is only on what is counted...
9. CAJA -token businesses which are substantially behind will be closed - one of them - Bagleman's is having a hard time and has closed a number of their stores... I doubt the government will collect any thing from them...
10. Electricity Generation from Waste: after 19 proposals were defeated, it seems the effort has finally been withdrawn... it really didn't make sense to me to concentrate 50% of the country's waste in one location... the cost of doing so would be tremendous...
1. IDB: Costa Rica is one of the slowest countries run funds

121 municipal roads projects, only seven have been completed in two years.

Costa Rica is slower when countries run money for infrastructure, warned the country representative of the Inter-American Development Bank (IDB), Fernando Quevedo.

One of the main problems here, the official said, is the large amount of time spent in pre-construction, and the development of design and permitting processes.

The regional bank opened in 2010, a line of credit for $ 850 million to develop works in Costa Rica national roads. The State, for its part, pledged $ 200 million to improve local roads.

However, more than two years after being approved rotation of money by the Legislature, few works are executed.

Example of what is says Quevedo, 121 proposals for improving municipal roads, only seven have been completed. Another 20 are in the implementation phase and 25 in the formulation process.

"For example, stumbled upon that not all municipalities have been able to submit designs for the works. That has slowed, "said IDB representative.

Meanwhile, of the four national roads would be improved with the first payment made IDB, for $ 300 million, has only one working machinery.

This is the expansion to four lanes of the highway between Cañas and Liberia which, incidentally, has a year late because new works were added.

Still in the design stage of the new road north to San Carlos (Florence-Wealth-Ciudad Quesada) overpass section of Paso Ancho, and expansion of the road to Heredia in Pozuelo-Garden of Remembrance section.

Quevedo said that everything is not so bad. She said that since 2011 the country began to be a little faster in the use of money: "We run $ 10 million in 2007 to more than $ 200 in recent years. That's a breakthrough, but we must improve."

Second disbursement. Financial Affairs Commission of the Legislative Assembly rushes discussion of a new release of the IDB, for $ 450 million, which would allow improvements in five roads, a berth and breakwater.

Grevin Picado, director of the Executive Unit Loan, told the Commission that the project is quite late because the MOPT and municipalities soon engage the set standards.

He added that trying to accelerate the implementation of the first $ 60 million for municipal roads, access to the remaining $ 140 million to be divided among the 81 cantons.
2. Water lost by AyA would supply two million people

129,000 million liters are wasted due to state of pipes and gauges. Aqueduct Plan to reduce unaccounted liquid must overcome long process.

While hundreds of homes suffer from water scarcity, the Costa Rican Institute of Aqueducts and Sewers (AyA) loses so much vital fluid enough to supply about two million people a year.

That is, the water lost by the deterioration of pipes and gauges could meet almost all people today attending the Institute: about 2.1 million. Meanwhile, an ambitious investment plan driven by the institution to reduce the percentage of non-revenue water and increase revenue per sale must still overcome a long process.

Using data from the Regulatory Authority for Public Services (Aresep), La Nacion calculated the approximate number of liters of water and lose money.

Lead time AyA's proposal to recover water that is wasted today and increase sales revenues of liquid, including a set of actions to be executed in six years (2014-2019).

Coverage: The project will be developed in the Greater Metropolitan Area (GAM) and the aqueducts of: Lemon, Guácimo, San Isidro, El Pasito de Alajuela, San Ramon, Puntarenas, Liberia and Nicoya.

Leak: As part of the 786 kilometers of pipes are replaced in the aqueducts. It also will go through 4,500 kilometers of networks for leaks.

Measurement: Meter entire park will be replaced in homes, businesses and institutions. Placed equipment to measure the consumption of illicit connections or marginal areas.

Control: For the same purpose a register of customers will rise to verify its category (residential or commercial) and type of fees they pay.

Energy Efficiency: To complement the plan, old pumping systems for more efficient equipment are replaced in power consumption.

In 2013, for example, the production of water from aqueducts 192 by the institution was 275,000 million liters.

That amount of fluid, only 146,000 million liters (53%) reached pipes homes, businesses and government entities.

The remaining 129,000 million liters extracted from springs and shallow wells were lost. Most of this water, 113,000 million liters, did not reach its destination due to leaks in the pipes of the aqueducts.

16,000 million liters did reach end customers, but not charged because the subscribers have illegal connections or meters are damaged.

Estimates of this medium were validated by Isidro Solis, director of the unit Systems Optimization Institute.

He acknowledged that the issue of non-revenue water is spoken for years, but now the problem is urgent. "If we go into a plan to reduce it, urgently need more wells and Orosi II project. Much of that new fluid would be lost because the system would still be inefficient, "he said.

Double loss. Every liter lost are fewer colones for AyA.

Only in 2013, the company lost about ¢ 82,000 million for water produced but not sold. Each cubic meter (1,000 liters) has an average production cost of ¢ 636.

As the water escapes by uncontrolled leakage of pipes, scarcity afflicted 200,000 people in the Greater Metropolitan Area (GAM) this summer. Meanwhile, 27 of the 81 cantons of the country paralyzed construction indefinitely due to lack of fluid.

According to a report by the Comptroller General of the Republic in 2012, the AyA is ensuring sustainable water production, since low flow sources and population growth exceeds the liquid proportionately available. In addition, high levels of unaccounted water not limit the efficiency of the service. By that time, the percentage was 49% in the greater metropolitan area and 50.6% in peripheral systems.

Paper. Pressed by scarcity, AyA points to an investment plan six years to reduce by 17 percentage points the non-revenue water (from 47% to 30%).

That way, you could sell up to 70% of the fluid produced and increase their income by ¢ 35,000 million annually. Last year, the amount by selling water was nearly ¢ 109,000 million.

The project includes replacing 786 miles of pipe and replace all meters.

However, the program, the cost is $ 162 million, still has a long path to travel before its execution procedures.

James Phillips, director of Research and Development AyA, said the Central American Bank for Economic Integration (BCIE) will finance most of the project: $ 129.4 million. Another $ 30 million provided by the AyA and the remaining $ 2.2 million is a grant from the German bank KFW.

He explained that funding for the BCIE, and there is a draft contract. He also received the approval of the Ministry of Planning and the Central Bank. Foul endorsement of Finance.

However, Isidro Solis said the biggest obstacle is to create 81 places for PEU, which must be authorized by the budgetary authority.

Once over that paperwork, hire a consulting company, which will make the diagnosis and the proposed implementation of the program. According to the schedule, construction should begin in 2015 and be completed in 2019.
3. Lawmakers approve $1 billion geothermal project in Guanacaste

July 2nd, 2014 (InsideCostaRica.com) Members of the Legislative Assembly unanimously approved in first debate yesterday a series of loan agreements toward the development of geothermal energy in Guanacaste.

The $958 million USD project will be financed with a loan of $540 million from the Japanese International Cooperation Agency, along with a loan of $70 million from the European Investment Bank, according to reports. The Costa Rican Electricity Institute (ICE) will fund the remainder of the project, reports indicate.

The project consists of three geothermal generation stations: Pailas II, Borinquen I, and Borinquen II. The installations will be located between Bagaces and Cañas, near the Rincon de la Vieja volcano in Guanacaste.

Supporters of the project said the development would bring much-needed jobs to the province and further its development, along with lowering electricity prices over time.

The bill is now in the hands of the Constitutional Court for review, and is expected to be voted on in second reading in the coming days.
4. Foreign investment in Costa Rica down 50% in first quarter

July 2nd, 2014 (InsideCostaRica.com) Foreign direct investment (FDI) fell 50% in the first quarter of this year compared to the same period in 2013, according to Costa Rica's Central Bank.

During the first quarter of this year, foreign investment totaled $483 million, compared to $925 million during the same period in 2013.

The decline was attributed mainly to a decrease in commercial and residential real estate investment. The real estate sector reached a record $377 million during the first quarter of last year, but totaled just $218 million in the first quarter of this year, a decline of 42%.

The Costa Rican Coalition for Development Initiatives (CINDE), said last year was exceptional in terms of real estate investment, and the decline this year is not necessarily part of a trend.

"The difference in quarterly [foreign direct investment] is largely a result of a decline in the real estate sector. This does not necessarily represent a trend, since this type of investment is subject to business cycles," said Gabriela Llobet, CINDE director general.

Real estate is not the only sector that has seen a drop in FDI. Companies operating in the country's free trade zones saw 20% less investment than during the same period last year.

Investors from the United States accounted for 44% of FDI during the first quarter of this year, followed by Spain, which accounted for 14.5%.
5. Government rules out lowering the light in the next 18 months

That means that as of this month, ICE customers pay an additional 5.32% (as agreed ARESEP) and the same rate will disburse the year and a half. Any downgrade yesterday was discarded by the same Executive Branch.

What happened to the urgent measures to lower prices? Would be released, according to the Government, to within about seven months, so as not to take hasty decisions relevant.

Such policies shall be established a commission to be formed in August, will be led by Minae and shall consist of social groups, environmentalists, entrepreneurs and other stakeholders.

So yesterday ordered the President, Luis Guillermo Solís, output for a "national dialogue" that enables consensus on the diversification of the energy matrix (incorporate other sources of energy) and the formula for calculating electricity rates.

In this process, the Costa Rican Electricity Institute (ICE) "will not be judge and party" shall submit review reports on costs, performance indicators, accounting and potential impacts.

What is clear is that any decision is taken there will be useless to lighten Costa Ricans pockets before 2016, when it expires the latest agreement ARESEP of "flattening" the rate of light from this month.

According to the deferred increase, ICE users pay 5.3% more for the next 18-months, and the National Power and Light, 4.3% extra.

Good sign?? Since management released earlier May 8, President Solis promised to find an early solution to the rising energy costs.

That has been the most repeated themes in his speech. Even as part of the "urgent" measures, Solis ordered the head of ICE, Carlos Obregón, to hand over a document with their proposals.

But a month after delivery, this text remains a mystery. The Government has not disclosed what steps have in mind the main power generator in the country.

Meanwhile, at the discretion of Edgar Gutierrez, chief of the Ministry of Environment and Energy (Minae), ensure rate stability is good news.

Gutierrez estimated that poor rains force the ICE to burn even more fuel this year, without warranty flat rate, drive up the final price.

"What happens after 18 months? We have to see, because hard (the water plant) Reventazón and not have problems with (expensive) heat, "Gutierrez said, shortly before admitting that the water is no longer a safe option and it is urgent diversification.

Melvin Jimenez, Minister of the Presidency, the Government insisted that this sector is just knowing that you have given so much back past governments.

"This should be seen in long-term perspective. What they have done is discuss other patches, but this what you are looking for is a stable policy, "said Jimenez.

Far from calling an early, Erick Rojas, manager of the National Electrification Business Consortium, said that Solis is prudent to take the time to reach consensus.

"Here it is healthier not keep wearing separately. Yes, we would expect that we should be called the commission "Rojas said.

In the Chamber of Industries, chose not to refer the case.
6. Super gasoline will rise 29 ¢ more expensive starting Saturday

ARESEP also approved an increase of 27 ¢ plus for gasoline, increased from ¢ 761 to ¢ 788.

The diesel fell 17 ¢, went from 689 to ¢ 676 ¢.

The Regulatory Authority for Public Services (Aresep) approved an increase of 29 ¢ for super gasoline come into effect on Saturday. This increase will be the first time in history that this gas passes the barrier of ¢ 800, ¢ 816 you would.

ARESEP also approved an increase of 27 ¢ plus for gasoline, increased from ¢ 761 to ¢ 788.

The diesel will drop from ¢ 689 to ¢ 676 and LP Gas tambipen drop from ¢ 349 to ¢ 334.

ARESEP said these changes in fuel prices are due to the application of special methodology, which considers the price of each refined product in the international market, recorded between May 29 and June 12, 2014. Also , affects the rate of exchange that is ¢ 556.26 and Recope lag today as the selling price of the schools and the international price.
7. Those huge government pensions? There's a law against that, but no one noticed

July 3rd, 2014 (InsideCostaRica.com) A study by the Ministry of Finance revealed last month significant discrepancies in the pensions awarded to former public employees, most importantly the extremely high pensions received by some former public officials, ministers, and lawmakers in comparison to other public employees.

Some 15% of all government pensions exceed ¢2,600,000 per month. Many others exceed ¢6 million per month, such as the ¢6.1 million per month paid to the current education minister, Sonia Marta Mora, for her previous posts. In one case, a former ambassador is receiving a monthly pension of ¢16 million, or about $30,000 per month.

But what officials appear to have failed to notice is these lofty pensions are apparently illegal.

Law 7,858, which was adopted on December 21st, 1998, sets the maximum amount of state-funded pensions to 10 times the minimum wage for the job of "public administration."

This year, that limit would be ¢2.3 million per month. Regardless, 952 former public officials are receiving more than the limit, apparently because those in charge of the country's pension scheme failed to ever apply the law, or appear to be ignorant of the fact the law is even on the books.

"We will analyze this mechanism (the limit on pensions) as a way to confront the issue of pensions," said Finance Minister, Helio Fallas.

The Superintendent of Pensions, Edgar Robles, said that retroactively applying the law would be almost impossible. "We could apply it moving forward, but we should consider it carefully, because it will likely go to the courts as those concerned will try to defend themselves," Robles said.

Comptroller General Martha Acosta called the new government's attention to the matter of exorbitant government pensions last month, saying the government is currently spending more than ¢655 billion (about $1.2 billion USD) annually on pension payments, representing an average of 2.6% of the country's GDP and more than 10% of the government's entire annual budget.

Worst still, most of that spending is financed through debt.

Acosta said the situation is "unsustainable over time."
8. Consumer prices in Costa Rica rising faster than last year

July 3rd, 2014 (InsideCostaRica.com) Costa Rica's Consumer Price Index (CPI), which measures the overall rise in consumer prices, increased by 4.14% between January and June of this year, compared to an increase of 3.24% during the same period in 2013.

The National Institute of Statistics and Census (INEC) provided the data yesterday.

The increase in the CPI so far this year would seem to put the government's goal of a total rise of 3% to 5% for the whole year at risk.

In June alone, the prices of goods and services increased 0.38%. If current trends continue, the CPI could increase to a yearly total of 6.42% to 8.28% – if not more – by the end of the year.

Some of the largest increases in prices have been seen in alcoholic beverages and cigarettes (6.49%), rental housing (6.43%), transportation (6.76%), and education (6.34%).

Certain foods have also seen significant price increases, such as potatoes (13.95%), onions (12.54%), tomatoes (7.95%) and beef (2.91%).

Gasoline has also seen six price hikes so far this year, for a total increase of around ¢150 per liter.
9. Caja says it is moving to close many firms that owe it money
By the A.M. Costa Rica staff

The nation's health care system said Wednesday that 2,070 hotel and restaurant firms owe 5.1 billion colons in back payments. That's about $9.4 million.

Ten firms, including La Condesa Hotel S.A., Bagelmens de Costa Rica Ltda. and Hotel Montaña de Fuego S.A. owe 22 percent of that total, said the Caja Costarricense de Seguro Social.

The amount is mainly mandatory payments to the Caja based on employee salaries. The money goes to support health care, feed pensions and a number of other uses.

The Caja said that it has begun 806 processes to close businesses, filed 892 complaints for illegal retention of funds and began 3,058 civil cases. Against the 10 biggest debtors, the Caja said it has filed 40 procedures for closing the businesses, 52 complaints for retaining money and 68 civil cases.

About 9 percent of the money that employers collect and are supposed to remit to the Caja each month are deductions from employee salaries.
10. Government freezes plan to generate electricity from waste

Brake is given by uncertainty about the actual impact of this technology.

Drivers call for stronger emissions control, but not stop the project.

The lack of a specific project and the use of law to opposite waste management technology are the main reasons why the government imposed a moratorium on a plan to generate electricity by burning garbage.

The official decision and slows the initiative of the Metropolitan Federation of Municipalities (Femetrom) and the Costa Rican Electricity Institute (ICE) to alleviate the problem of waste management in the Greater Metropolitan Area. Converting garbage into electricity, as Femetron raises technology would incineration or gasification.

Both use waste as fuel for their thermochemical processes. The aim is to generate sufficient heat to evaporate water and that will drive a steam turbine that will produce energy.

The plan aimed at the 14 municipalities that make up the federation, where some 1,800 tons of garbage are produced.

The portfolios of Health and Environment, Energy and Mares, however, argue that technical and scientific certainty needed to ensure that waste processing will not impact the environment or the local health department. In this were based ministries to publish the moratorium in the Official Gazette last week. However, the Government believes that the project holds even greater defects.

The principal is proposed burning garbage and this contradicts the spirit of the leyn. ° 8.839 for integrated waste management, which aims to reduce the amount of waste in the country and reuse or recycle as much as possible from them.

"There is really serious studies of the decomposition of solid waste, nor is there clarity on the degree of contamination that could be generated," he said Edgar Gutierrez, Minister of Environment.

Without realization. Femetrom While encrypts your plan in 20 companies interested in your idea, Gutierrez added that none has presented a specific project or particular technology capable of being evaluated.

For the chief, the country presented to the world as one of the greenest on the planet, will not authorize the figure of garbage incinerator for electrical purposes without first modifying Law No. 8,839 and create specific environmental regulations governing such activity.

María Elena López, chief of Health, is not convinced. "We do not know what technology is being proposed and, while not clearly described its characteristics and components, one can not be sure what is passing," he said.

Juan Antonio Vargas, director of the Femetrom, the Government accepts that dude, but you think that it is improper braking proposal. "The studies are already done. That no contamination or technology depends on the control that is applied to it. To do this, there are emission standards, and we, the municipalities have asked Health implement stricter controls, and we submit them, "Vargas said.

Vargas said to have waste has become an unmanageable problem and even dirtier than your proposal.
Brian, Lita, the Late Hugo IV, irreverent Vicka, the pigeon toed parrot, Chico II and Chica II