...​while the termites eat on, CR scores goals​!!
Dear friends,
When I started Residencias Los Jardines, I started writing a weekly news letter -determined to tell all the good, bad, and the ugly. I knew some readers would be interested in the construction process. I expected others might be interested in the lifestyle of two people who had decided to live outside the box. For others, the adventures of Lita, the parrot and the cat took on an entertainment saga all its own.
Residencias Los Jardines is finished. We periodically have resales and rental availability. Some readers may be interested in this information.
Brian Timmons
DEVELOPER / PROPERTY MANAGER
Residencias Los Jardines / https://www.residenciaslosjardines.com info@residenciaslosjardines.com
ResidenciasPropertyManagement@gmail.com
Featured house this week
Paradisus Condos / Rorhmoser
FOR SALE
Residencias Los Jardines
Property Management, Rentals, Re-Sales
Market Activity
Sales: one inquiry.
Rentals: For some reason, there has been a flury of activity over the past two weeks. In 10 days, I leased 3 units albeit at lower rents than previously./p>
FOR SALE
Unit #114: $235,000 / See Unit
Unit #116: $214,000 / See Unit
FOR RENT
Unit #106C: $1,200 mo. / Available July 1 / See Unit
Unit #121: $1,500 mo. / Available July 16 to October / See Unit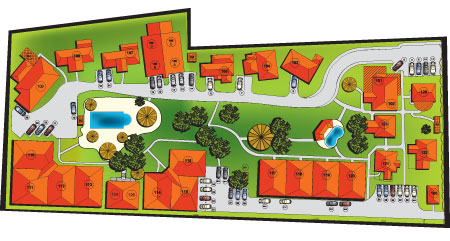 HOUSES FOR SALE
UNIT #114
FOR SALE $235,000
Total Area (Sq Ft): 1290
Total area (Sq M): 120
Bedrooms: 2
Bathrooms: 2
Floor(s): Single Floor
Type: Attached
Furnished: Yes
This 1,290 sf. (plus covered parking for one car and two lockers 67 sf.) single story, semi detached house, with garden terrace, two bedrooms is a beautiful executive style home. This home consists of two large bedrooms one with six piece en-suite bathroom with additional access to separate full shower. Each bedroom has large closets with extensive built-ins for personal organization. The vaulted living room and bathroom ceilings provide a feeling of grandeur while allowing the warmer air to rise and exit through the ceiling ventilating system. There are four TVs (one in each bedroom, one in the living room and one in breakfast / dinning room.) This is a beautiful well appointed home.
UNIT #116
FOR SALE $214,000
Total Area (Sq Ft): 1290
Total area (Sq M): 120
Bedrooms: 2
Bathrooms: 2
Floor(s): Single Floor
Type: Semi-Attached
Furnished: Yes
This 1,290 sf single floor home includes a 300 sf front terrace plus parking for one car and a separate, secure storage locker. It is and end unit and therefore attached on only one side by a 6 inch cement demising (common) wall, which prevents sound transfer.
HOUSES FOR RENT
UNIT #106C
FOR RENT $1,200 mo.
Available July 1
Total Area (Sq Ft): 1250
Total area (Sq M): 120
Bedrooms: 2
Bathrooms: 2
Floor(s): 1
Type: 4-plex
Furnished: Yes
This is a fully furnished 2-bedroom unit situated in a 2-story building, which has two units on the ground floor and two units on the 2nd. floor. Each unit is the same size (1,250sf) divided into 800 sf of interior space and 450 sf of covered front and back terraces. Units 106A and B are on the ground floor; Units 106 C and D are on the 2nd. Floor. The solid masonry demising wall (common wall) as well as the 5" concrete slab prevent sound transference.
UNIT #121
FOR RENT $1,500 mo.
Available July 16 to October 30
Total Area (Sq Ft): 1423
Total area (Sq M): 131
Bedrooms: 2
Bathrooms: 2.5
Floor(s): 2 story
Type: Detached
Furnished: Yes
This two story, detached 1,423 sf home + parking for one car has two bedrooms, 2 ½ bathrooms and a 2nd. floor covered terrace. The open railed wrought iron cement stair case leads to the 2nd. level where the master bedroom with en-suite master bathroom as well as 2nd. bedroom and en-suite bathroom are located. Also accessed from the 2nd. floor hallway is the covered terrace. This is a very nicely furnished home with a good floor plan for those wanting two floors.
Our Lives
WEATHER: The normal pattern of sunny mornings, clouding in the mid day followed by a short rain and then clearing has developed. A beautiful time of year...
All In A Week's Living in CR
​While the termites build new nests from which to attack us, CR has been wining goals and hearts at the world football competition in Brazil. By accident I saw the first game... got hooked and then purposely saw the next two games. Going to a tico bar/restaurant from which to view, I also get a feeling for the passion and excitement felt by the country. Sunday I'll be at my favorite table... I hope it isn't a downer... at least CR knows it has had a great showing up to now and can and is proud of itself. The coach and team are heros in CR.​
Termites: some owners are in denial and those often vocal owners are silent. Weak excuses / explanations leak up but more will come. On the critics side, the story is being told such that all shareholders, including those non-resident know what has happened. The bottom line hasn't yet been found but probably will be this next week.
News Items of the Week
1. Rice: more on how the powerful landowners growing rice (about 150 families) continue to screw the country at their own benefit... and the government continues to go along with it... they have not innovated nor lowered their costs since the beginning and have gotten use to the subsidized price and now want to raise it...
2. Secret deal: I don't really understand this but instinctively don't like it... it means more control and more invasion of what used to be "private information".
3. Pensions: this is one factor which is bankrupting the country. To this add the following article and the knowledge of corruption throughout the government and you pretty well complete the highlights of the issue.
4. Unused loans: CR negotiates various loans for specific projects. But due to bad planning, changing priorities, poor tendering, much of the money remains unspent while the government continues to pay interest and standby charges. Wow!!
1.​ Rice twice asking raise the tariff on grain milled

The rice industry has asked the brakes on imports of grain hulled or shelled, what would be achieved with an increase of input duty or tax.

The management scheme is performed by the so-called safeguard. This is a possible mechanism in the World Trade Organization (WTO) to protect domestic production, if damage is demonstrated by imports.

This protection is before the Ministry of Economy, Industry and Commerce (MEIC).

According to the rice, in recent years income rose bead, especially South American countries such as Uruguay, Argentina and Brazil.

Eduardo Rojas, president of the National Association of Manufacturers of Rice Sector (Aninsa) said imports rose from 4,500 tonnes in 2008-2009 to 30,000 tons in 2012-2013.

However, data from the website of the National (Conarroz) Rice Corporation indicate a smaller increase. State that grew from 4,500 tonnes to 20,000 tonnes a peak in the rice 2010-2011. Then he gave a low and closed in the period 2012-2013 with 18,139 tons.

Costa Rica consumes a little more than 19,000 tons per month.

Opinion. Welmer Ramos, MEIC Minister said that safeguarding carries a long and complex process that requires a lot of information. However, he said in late July that I expect to have at least an opinion of provisional application to this case.

He acknowledged that the rice was asked to raise the tariff from 35% to 70%, but added that to justify an increase, it would according to the results of the market study conducted by the MEIC.

Gilberto Campos, vice president of Consumer Costa Rica, said that his organization generally opposes policies that distort the market for a product.

Deputy Minister of Agriculture and Livestock (MAG), José Joaquín Salazar, recalled that the measure, when applied, should be based on numbers and the tariff is raised to a level that will protect local production.

Juan Rafael Lizano, president of the National Chamber of Agriculture and Agribusiness (CNAA), supported the request of the rice.

The Minister Ramos clarified that such a measure must be adapted to the existing rules.

"To bring a measure, if positive or negative, must be within the framework of the WTO and its implications. Nothing can be unpredictable or subject to other measures, "said Ramos.

As for the amount of the tariff, Ramos said he may request levels, but only the technical study would figure.
2. Costa Rica amongst countries negotiating secret trade deal leaked by WikiLeaks

June 24th, 2014 (InsideCostaRica.com) Costa Rica is party to negotiations surrounding a secret trade deal which critics say is aimed at ensuring financial deregulation for major international banks and financial services firms that was leaked by the whistleblower web site WikiLeaks on Thursday.

The Trade in Services Agreement (TISA) covers 50 countries and 68.2% of world trade in services. The US and the EU are the main proponents of the agreement, and the authors of most joint changes, which also covers cross-border data flow. In a significant anti-transparency maneuver by the parties, the draft has been classified to keep it secret not just during the negotiations but for five years after the TISA enters into force.

"Despite the failures in financial regulation evident during the 2007-2008 Global Financial Crisis and calls for improvement of relevant regulatory structures, proponents of TISA aim to further deregulate global financial services markets. The draft Financial Services Annex sets rules which would assist the expansion of financial multi-nationals – mainly headquartered in New York, London, Paris and Frankfurt – into other nations by preventing regulatory barriers. The leaked draft also shows that the US is particularly keen on boosting cross-border data flow, which would allow uninhibited exchange of personal and financial data," WikiLeaks said in a press release.

"TISA negotiations are currently taking place outside of the General Agreement on Trade in Services (GATS) and the World Trade Organization (WTO) framework. However, the Agreement is being crafted to be compatible with GATS so that a critical mass of participants will be able to pressure remaining WTO members to sign on in the future. Conspicuously absent from the 50 countries covered by the negotiations are the BRICS countries of Brazil, Russia, India and China. The exclusive nature of TISA will weaken their position in future services negotiations."

The draft text comes from the April 2014 negotiation round – the sixth round since the first held in April 2013. The next round of negotiations are taking place between June 23rd and June 27th in Geneva, Switzerland.

"A sample of provisions from this leaked text show that governments signing on to TISA will: be expected to lock in and extend their current levels of financial deregulation and liberalisation; lose the right to require data to be held onshore; face pressure to authorise potentially toxic insurance products; and risk a legal challenge if they adopt measures to prevent or respond to another crisis," Professor Jane Kelsey of the Faculty of Law at the University of Auckland told WikiLeaks.

Critics and watchdog groups have decried the secret agreement, alleging TISA would violate countries' sovereignty and is designed solely to ensure the dominance of major multinational banks and finance firms in New York and London.

"It is impossible to obey a law or know how it affects you when the law is secret. And that is what this agreement would be, a new rulebook for trade in services — principally banking, insurance and trusts," David Cay Johnston, a Pulitzer winning author and law professor, says in a column for Al Jazeera America.

"[TISA] is intended to subvert the creation, by governments, of rules that benefit all of society and instead make sure the rules enhance the power of the financial services industry and reduce its accountability," Johnston continues.

"Not one of the five big American newspapers — The New York Times, The Los Angeles Times, The Wall Street Journal, The Washington Post and USA Today — wrote a word about the document. Ditto the major TV networks. […]

Big Business and national governments wanted to conceal the terms of the proposed Trade in Services Agreement (TISA) while keeping consumers, unions, environmentalists and the vast majority of businesses in the dark. Thanks to WikiLeaks, they failed," Johnston said.

Current WTO parties negotiating TISA are: Australia, Canada, Chile, Taiwan, Colombia, Costa Rica, Hong Kong, Iceland, Israel, Japan, Liechtenstein, Mexico, New Zealand, Norway, Pakistan, Panama, Paraguay, Peru, South Korea, Switzerland, Turkey, the United States, and the European Union, which includes its 28 member states Austria, Belgium, Bulgaria, Cyprus, Croatia, Czech Republic, Denmark, Estonia, Finland, France, Germany, Greece, Hungary, Ireland, Italy, Latvia, Lithuania, Luxembourg, Malta, Netherlands, Poland, Portugal, Romania, Slovakia, Slovenia, Spain, Sweden, and the United Kingdom.
3. Government spending on multi-million pensions is "unsustainable"

June 26th, 2014 (InsideCostaRica.com) A study by the Ministry of Finance has revealed significant discrepancies in the pensions awarded to former public employees, most importantly the extremely high pensions received by some former public officials, ministers, and lawmakers in comparison to other public employees.

Some 15% of all government pensions exceed ¢2,600,000 per month. Many others exceed ¢6 million per month, such as the ¢6.1 million per month paid to the current education minister, Sonia Marta Mora, for her previous posts. In one case, a former ambassador is receiving a monthly pension of ¢16 million, or about $30,000 per month.

Marta, for her part, has declined to accept a salary for her new post as education minister.

Deputy Minister of Finance, Fernando Rodriguez, said many of those with extremely high pensions were former ambassadors, who received significantly higher salaries during their working career because they were based overseas.

Many others are former education, public works, and port officials.

Comptroller General Martha Acosta has called the new government's attention to the matter, saying the government is currently spending more than ¢655 billion (about $1.2 billion USD) annually on pension payments, representing an average of 2.6% of the country's GDP.

Worst still, most of that spending is financed through debt.

Acosta said the situation is "unsustainable over time."

The Superintendent of Pensions, Edgar Robles said that not much can be done about the situation as beneficiaries have a vested right to their pensions which cannot be changed.
4. Costa Rica has 74% unused foreign loans

Although Costa Rica has approved 22 international loans for a total amount of $ 2,574 million, was executed only 26% of that amount; that is, about $ 678 million.

The figure shows the list of credits in the country with foreign banks asked the Nation to the Directorate of Public Credit of the Ministry of Finance.

The delay in the execution of the loan involves paying annual interest and fees to foreign banks by the public works that still misses.

In the listing there are 19 projects to improve the road infrastructure, sewerage, electricity, education, and poverty in certain sectors. The oldest of these projects dating from 2001.

Example of this delay is the loan for $ 72 million with the World Bank (WB) for the City-Port of Limon Project, of which, five years after its adoption, we have used only $ 8.8 million.

"I would have to do in each case. In some projects, the difficulty is buying properties; others are poorly designed or lack sufficient studies either have not flat. The truth is that all this translates into a lack of planning, "said Finance Minister Helio Fallas.

Cost. Annual payment of interest on such loans is approximately $ 17.7 million. To this figure must be added the commitment fees payable to each of the six financial institutions, although the money does not run.

"What this shows is that the country spends resources for nothing. (...). The government takes money for loans without counterpart. Agility also need the approval of the loans in the Legislature, "said economist and former Minister of Finance Thelmo Vargas.

The Comptroller General of the Republic (CGR) said that 20 projects running, only four achieved a physical progress of between 98% and 100%. See the most critical cases.

The greatest progress are leading the National Hospital Infrastructure Plan, Ecomercados II and the Second Stage of Modernization of Administration of Justice. Also the Cadastre and Registry Program, which was adopted 13 years ago.

The remaining works has a less than 50% advance. These improvement projects on roads, aqueducts and enhance the quality of life in communities and Limoncito Sixaola in Limón.

The annual report of the CGR also criticized the low level of implementation of available for public works projects funded by foreign loans resources.

"The project (road) Bass Chilamate-Vuelta Kooper already fulfilled the contractual period for execution, but only has 38% of physical progress after three years of being incorporated into the national budget resources," notes the report of the CGR.

"The resources that are not used are lost opportunities. What was designed eight years ago, are no current needs. Not only opportunity is lost, but also important, "said Alberto Franco, economist and exrepresentante of Costa Rica before the Inter-American Development Bank (IDB). In his opinion, the changing priorities of a government to another also alters the way loans are running with external entities.

"The projects that are financed with external resources, are usually long-term, but not necessarily argue from one administration to the next, due to changes in priorities."

Shares. Minister for Finance, Helio Fallas, there are three actions that need to be strengthened at the Directorate of Public Credit for that, along with the Ministry of Planning (Mideplan), to give a stricter implementation of the monitoring works.

"We need more discipline information requested projects, strengthen the National Public Investment System with a law and have technical staff to follow up. We're losing money, "the chief of the Treasury.
Brian, Lita, the Late Hugo IV, irreverent Vicka, the pigeon toed parrot, Chico II and Chica II