...​and the fight is on​!!
Dear friends,
When I started Residencias Los Jardines, I started writing a weekly news letter -determined to tell all the good, bad, and the ugly. I knew some readers would be interested in the construction process. I expected others might be interested in the lifestyle of two people who had decided to live outside the box. For others, the adventures of Lita, the parrot and the cat took on an entertainment saga all its own.
Residencias Los Jardines is finished. We periodically have resales and rental availability. Some readers may be interested in this information.
Brian Timmons
DEVELOPER / PROPERTY MANAGER
Residencias Los Jardines / https://www.residenciaslosjardines.com info@residenciaslosjardines.com
ResidenciasPropertyManagement@gmail.com
Featured house this week
Paradisus Condos / Rorhmoser
FOR SALE
Residencias Los Jardines
Property Management, Rentals, Re-Sales
Market Activity
Sales: no inquiries.
Rentals: two inquiries, no viewings.
FOR SALE
Unit #114: $235,000 / See Unit
Unit #116: $214,000 / See Unit
FOR RENT
Unit #106C: $1,200 mo. / Available July 1 / See Unit
Unit #114: $1,400 mo. / Available Immediately / See Unit
Unit #116: $1,300 mo. / Available Immediately / See Unit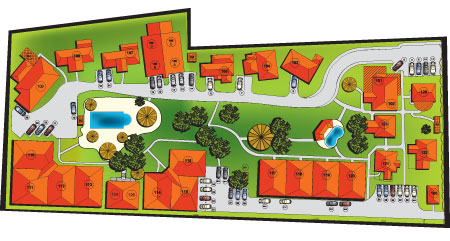 HOUSES FOR SALE / RENT
UNIT #114
FOR SALE $235,000
FOR RENT $1,400 mo.
Available Immediately
Total Area (Sq Ft): 1290
Total area (Sq M): 120
Bedrooms: 2
Bathrooms: 2
Floor(s): Single Floor
Type: Attached
Furnished: Yes
This 1,290 sf. (plus covered parking for one car and two lockers 67 sf.) single story, semi detached house, with garden terrace, two bedrooms is a beautiful executive style home. This home consists of two large bedrooms one with six piece en-suite bathroom with additional access to separate full shower. Each bedroom has large closets with extensive built-ins for personal organization. The vaulted living room and bathroom ceilings provide a feeling of grandeur while allowing the warmer air to rise and exit through the ceiling ventilating system. There are four TVs (one in each bedroom, one in the living room and one in breakfast / dinning room.) This is a beautiful well appointed home.
UNIT #116
FOR SALE $214,000
FOR RENT $1,300 mo.
Available Immediately
Total Area (Sq Ft): 1290
Total area (Sq M): 120
Bedrooms: 2
Bathrooms: 2
Floor(s): Single Floor
Type: Semi-Attached
Furnished: Yes
This 1,290 sf single floor home includes a 300 sf front terrace plus parking for one car and a separate, secure storage locker. It is and end unit and therefore attached on only one side by a 6 inch cement demising (common) wall, which prevents sound transfer.
HOUSES FOR RENT
UNIT #106C
FOR RENT $1,200 mo.
Available July 1
Total Area (Sq Ft): 1250
Total area (Sq M): 120
Bedrooms: 2
Bathrooms: 2
Floor(s): 1
Type: 4-plex
Furnished: Yes
This is a fully furnished 2-bedroom unit situated in a 2-story building, which has two units on the ground floor and two units on the 2nd. floor. Each unit is the same size (1,250sf) divided into 800 sf of interior space and 450 sf of covered front and back terraces. Units 106A and B are on the ground floor; Units 106 C and D are on the 2nd. Floor. The solid masonry demising wall (common wall) as well as the 5" concrete slab prevent sound transference.
Our Lives
WEATHER: The normal pattern of sunny mornings, clouding in the mid day followed by a short rain and then clearing has developed. A beautiful time of year...
All In A Week's Living in CR
​
Termites: This past two weeks has seen the cutting of ficus hedges which took 10 + years to grow and sculp into shape. They covered tan ugly perimeter wall and provide visual isolation from neighboring houses. They were beautiful... they did require maintenance -mainly trimming every 6-8 mo. The ostinsible reason was that they harborded termites. They did. Spraying and selective cutting and handling with special care to remove them from the property. However, that didn't happen... what happened was wholsesale cutting, without pre-treatment of the infected areas, dumping the invested trees on the ground, moving they various times, chipping the infested and good trees and then spreading the chips around the garden and next to many of the houses. Oh My gaaaawwwwdddd! The gardeners had told the property manager that this was wrong -he didn't listen, two others had told him as well... he persisted. Finally I took a shovel full of chips to him and demanded (not very kindly) that he look... termites were crawling all over the shovel and in the wood chips were more termites and eggs. Non-resident owners have no idea what's been going on. I'm about to tell them... and now the fight is on!!!! Unfortunately... I have found a number of other interests which are a lot more satisfying that fighting for Los Jardines. But this act of stupidity and ignorance has to be challenged and whatever remedial action we can take has to be taken immediately and we have to figure out how not to have this and similar acts of ignorance and stupidity repeated. So... reluctantly, the fight is on!!!
News Items of the Week
1. Water and Construction Permits: this article talks about the total mismanagement, lack of planning and foresight, and the fractured, disjointed administration of water. The result is that there is not sufficient water in many of th existing communities, (eg. Heredia was under rotating water outages for most of last summer)...
2. Phone Service: someone stole the phone cable (a second time) and the company refuses to install cable again for land lines.
3.CAJA -Health Care- one of CR political gravy trains...
4. Guanacaste Proposed Development: I've commented on this before... it has "scam" written all over it and Joe Biden's brother is right in the middle of this one...
1. One-third of municipalities have ceased issuing building permits due to lack of water

June 16th, 2014 (InsideCostaRica.com) Twenty-seven cantons in Costa Rica, or 33% of the total, have indefinitely stopped issuing building permits as a result of a lack of potable water supply, paralyzing construction in many areas, according to a recent report.

Seven of the cantons who have ceased issuing building permits are cantons of San José: Alajuelita, Mora, Puriscal, Desamparados, Acosta, Aserrí and Coronado, in addition to some areas of Escazu and Santa Ana.

Also affected are several areas popular with tourists and expats, such as the cantons of Carillo and La Cruz in Guanacaste, Perez Zeledon, Osa, Atenas and others.

Karen Porras, director of the National Union of Local Governments (UNGL), said the problem is not only a product of poor city planning, but also a lack of support from the Costa Rican Institute of Aqueducts and Sewers (AyA).

Porras argues that government resources provided to AyA should be directed instead directly to municipalities in order to solve their own water problems.

For his part, Guillermo Carazo, president of the Chamber of Construction, disagrees. Carazo said there is plenty of water, but the "fragmented" administration of water supplies, whereas some municipalities control their own supplies while others depend upon AyA, is the cause of the problem.

Carazo believes these water systems should be placed under the control of just two or three specialized institutions throughout the country.

"The crisis is recurrent. If there is a [canton] that cannot meet its demand for water, the land has no economic value. The State works to attract investment and when it does, developers are told there is no water," Carazo said.
​2. More than six weeks later, Lake Arenal communities still without phone service

June 17th, 2014 (InsideCostaRica.com) Residents in several communities on the north side of Lake Arenal continue without landline telephone service since Friday, May 2nd, and more than six weeks later ICE still has no word on when service will be restored.

The communities affected are located between Tilaran and Nuevo Arenal

The outage is the result of a massive theft of perhaps kilometers worth of telephone cable, an ICE representative told Inside Costa Rica.

The representative said he was unable to provide an estimate as to when service would be restored.

The outage is especially affecting small businesses in the area, which besides being unable to receive telephone calls, are unable to process customers' credit cards, as the terminals used require a landline telephone connection.

ICE technicians have provided wireless 3G terminals to some businesses, designed to be connected to their credit card terminals so that they can resume accepting credit cards.

However, the wireless terminals, despite having been delivered at least one week ago, also do not function. Technicians told business owners that they would have to return to program the devices, but have failed to do so, while frustrated business owners continue to be forced to turn away business as a result.

Business owners in the village of Rio Piedres de Tilaran, located on the main route around the lake where many tourists pass each day, told Inside Costa Rica that they along with some residents have collected signatures and filed a petition with ICE, which went ignored.

Other residents have canceled their telephone service and believe that ICE has no intention of resolving the situation.
3. Employee association questions salaries of top Caja physicans
By the A.M. Costa Rica staff

Although the average Costa Rican salary is around $500 a month, many well-placed individuals make much more.

Particularly in public agencies, there is no benefit for managers to hold down the salaries. Although many blame the country's fiscal woes on corruption, there also are little-known salaries that some might consider extravagant.

One such critic is the Asociación Nacional de Empleados Públicos y Privados, which takes a special interest in the Caja Costarricense de Seguro Social, the nation's medical and pension provider.

This employee group has had key roles in a series of corruption allegations, many related to the Caja.

The latest complaint does not involve corruption but high salaries. The association has reported that 100 physicians bring in 1.35 trillion colons a month in salaries. That works out to $27,100 a month on average, but the employee group said that some physicians make as much as 18 million colons a month. That's about $32,142.

The employe association said it found out this information unofficially when it received a list of the physicians with the top 100 salaries. Many physicians also work for the Caja part time and have lucrative private practices on the side.

The Asociación Nacional de Empleados Públicos y Privados said that it was unable to obtain the salary list formally even though a Sala IV constitutional court ruling said that such information is public.

The association also said that most of the highly paid physicians are specialists or administrators, and that it recognizes that many Caja employees serve with altruism and in compliance with the Hippocratic Oath.

The organization said it was trying to generate public opinion in favor of the proposals it has advanced for changes in the Caja.

The Caja is in delicate financial shape, and several recent corruption probes suggest that part of the reason is because some employees are taking advantage of the public agency. Judicial agents just raided offices at Hospital Calderón Guardia because of allegations that physicians and administrators faked the number of orthopedic patients and collected more than $2 million that way by billing for medical equipment that never was delivered.
4. Guanacaste developer says he plans a major announcement July 2
By Michael Krumholtz, of the A.M. Costa Rica staff

The developer behind a near-billion-dollar project in Guanacaste said a July 2 announcement will soon kick the long-stalled proposal into gear. Blueprints for the design promise casinos, hotels, and a Jack Nicklaus signature golf course that will all be powered chiefly through solar energy.

Heading the lofty operation are Craig Williamson, a local real estate developer, and Frank Biden, younger brother of the United States vice president. Williamson said Biden and he visited with President Luis Guillermo Solís over lunch June 3 to discuss development plans. He said he has photos from their short meeting but could not release them until the announcement date.

A Guanacaste-area lawyer, Juan Francisco Ruíz, has said that he is currently representing a client in a criminal fraud case against Williamson. He said the trial is supposed to commence at the end of July.

Williamson denied any knowledge of the case in a telephone call Tuesday.

When speaking of business, Williamson pointed out that two new hotel groups have recently joined in on plans for the Guanacaste Country Club. The project already included space for three casinos, a convention center, and a medical clinic in its plans. Representatives in the municipality of Liberia have said within the past two months that they are not aware of any such development.

Williamson said all phases of the massive construction will start rolling after the announcement in two weeks. Although, he added, he would prefer to let news of the commencement not be limited to one big unveiling, instead letting it trickle through different local news outlets to increase marketing.

If completed at the previously stated budget of $921 million, the solar energy project would mark the largest investment of its kind on Costa Rican soil. Majority funding is said to be coming from Delta Blues, a Mississippi-based company that develops casinos.
Brian, Lita, the Late Hugo IV, irreverent Vicka, the pigeon toed parrot, Chico II and Chica II