Dear friends,
When I started Residencias Los Jardines, I started writing a weekly news letter -determined to tell all the good, bad, and the ugly. I knew some readers would be interested in the construction process. I expected others might be interested in the lifestyle of two people who had decided to live outside the box. For others, the adventures of Lita, the parrot and the cat took on an entertainment saga all its own.
Residencias Los Jardines is finished. We periodically have resales and rental availability. Some readers may be interested in this information.
Brian Timmons
DEVELOPER / PROPERTY MANAGER
Residencias Los Jardines / https://www.residenciaslosjardines.com info@residenciaslosjardines.com
ResidenciasPropertyManagement@gmail.com
Featured house this week
Paradisus Condos / Rorhmoser
FOR SALE
Residencias Los Jardines
Property Management, Rentals, Re-Sales
Market Activity
Sales: no inquiries.
Rentals: two inquiries / no viewings...
FOR SALE
Unit #114: $235,000 / See Unit
Unit #116: $214,000 / See Unit
FOR RENT
Unit #106C: $1,200 mo. / Available July 1 / See Unit
Unit #107: $1,500 mo. / Available Immediately / See Unit
Unit #114: $1,400 mo. / Available Immediately / See Unit
Unit #116: $1,300 mo. / Available Immediately / See Unit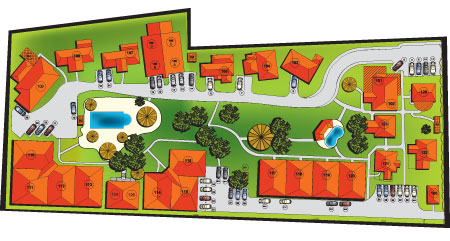 HOUSES FOR SALE / RENT
UNIT #114
FOR SALE $235,000
FOR RENT $1,400 mo.
Available Immediately
Total Area (Sq Ft): 1290
Total area (Sq M): 120
Bedrooms: 2
Bathrooms: 2
Floor(s): Single Floor
Type: Attached
Furnished: Yes
This 1,290 sf. (plus covered parking for one car and two lockers 67 sf.) single story, semi detached house, with garden terrace, two bedrooms is a beautiful executive style home. This home consists of two large bedrooms one with six piece en-suite bathroom with additional access to separate full shower. Each bedroom has large closets with extensive built-ins for personal organization. The vaulted living room and bathroom ceilings provide a feeling of grandeur while allowing the warmer air to rise and exit through the ceiling ventilating system. There are four TVs (one in each bedroom, one in the living room and one in breakfast / dinning room.) This is a beautiful well appointed home.
UNIT #116
FOR SALE $214,000
FOR RENT $1,300 mo.
Available Immediately
Total Area (Sq Ft): 1290
Total area (Sq M): 120
Bedrooms: 2
Bathrooms: 2
Floor(s): Single Floor
Type: Semi-Attached
Furnished: Yes
This 1,290 sf single floor home includes a 300 sf front terrace plus parking for one car and a separate, secure storage locker. It is and end unit and therefore attached on only one side by a 6 inch cement demising (common) wall, which prevents sound transfer.
HOUSES FOR RENT
UNIT #106C
FOR RENT $1,200 mo.
Available July 1
Total Area (Sq Ft): 1250
Total area (Sq M): 120
Bedrooms: 2
Bathrooms: 2
Floor(s): 1
Type: 4-plex
Furnished: Yes
This is a fully furnished 2-bedroom unit situated in a 2-story building, which has two units on the ground floor and two units on the 2nd. floor. Each unit is the same size (1,250sf) divided into 800 sf of interior space and 450 sf of covered front and back terraces. Units 106A and B are on the ground floor; Units 106 C and D are on the 2nd. Floor. The solid masonry demising wall (common wall) as well as the 5" concrete slab prevent sound transference.
UNIT #107
FOR RENT $1,500 mo.
Available Immediately
Total Area (Sq Ft): 1716
Total area (Sq M): 158
Bedrooms: 2
Bathrooms: 2.5
Floor(s): 2 story
Type: Detached
Furnished: Yes
This 1,716 sf. (plus parking for one car) two story, detached house, with three terraces, two bedrooms (one on each floor) and upstairs master suite is a beautiful home. This home consists of two VERY large bedrooms (one on each floor) with en-suite bathrooms and a powder room, each with large closets with extensive built-ins for personal organization. The vaulted living room and ground floor bedroom ceilings as well as the master bedroom on the 2nd floor, provide a feeling of grandeur while allowing the warmer air to rise and exit through the ceiling ventilating system. There are three TVs (one in each bedroom and one in the living room.) This is a beautiful home. There is a rough-in for a dishwasher in the kitchen area.
Our Lives
WEATHER: The normal pattern of sunny mornings, clouding in the mid day followed by a short rain and then clearing has developed. A beautiful time of year...
All In A Week's Living in CR
Colon: The rate inched up a bit to 564. The government has spent massive amounts of money over the past week or so to support the current rate. It is unlikely that this will or can continue. When that happens, the rate is likely to start upward again.
Comments
I've was away from the Internet for two weekends. I needed a holiday. I was going to write a detailed report but as of now, current events have zapped my energy and motivation. I returned to computer problems, car problems, problems which didn't get resolved while I was away and continue to roll forward... It's really difficult to accomplish anything in this culture. I'll carry on with the most current.
In a broad brush stroke, there was little sales or rental interest over the past three weeks. A friend with whom I share information stated that he normally does 15 - 20 rentals a month in a large compound in Santa Ana. Over the past month, he has done 2 and had to cut the rates substantially. He further said that he had done only two rentals elsewhere -one at $2,800 and one at $800. He had heard that three large construction companies had laid off 30-50% of their staff and that Banco National was not lending even at the higher interest rates... it seems they are concerned about their liquidity as per a "stress test". Another person with whom I share info said that building activity has increased 14% yoy -I don't know where and in what sector... this person distributes 25,000 newspapers per month... I have had a full page ad for the past three months... had 4 calls, 2 showings, no offers.
I was accused 6 wks ago of crying wolf and spreading false rumors about tree cutting at Los Jardines. I, along with two others, also held an interview with one of the people and minuted that meeting; he assured me that the rumors I had heard and passed along were false. The cutting started in earnest this past week. Obviously there is a credibility issue here and these people have no integrity as indicated by their actions. I expect cover stories to follow to explain the duplicity and the sheeples to continue to be beguiled as they have not been able in the past to sort the wheat from the chaff. I find it sickening...
News Items of the Week
1. Bad roads / high priced gasoline: this is not news...
2. Increase in gas prices: this is not news either... just a repeat of last month.
3. Mrs. Bender is found Guilty: This has been a high profile case which was made into a documentary titled "Death in Paradise". I haven't seen the show but I have followed the case. Since an appeal is likely, this may not be the final chapter.
4. Public Job Freeze: the title is a bit misleading. The article doesn't deal as much with the 2,500 jobs... a drop in the bucket and of no real consequence in and of itself. However, the article is interesting from the stated approach to solving the fiscal problems of thes country. Actually, I don't believe much of what is stated will happen.
1. Costa Rica has most expensive gasoline, worst roads in Central America

June 2nd, 2014 (InsideCostaRica.com) Costa Rica has the highest fuel prices in Central America but has the worst roads, despite the fact that nearly one-third of the cost of fuel in the country is supposed to be used for road repairs and maintenance, according to a recent report.

According to a recent report by the International Monetary Fund (IMF), Costa Rica scored last place in Central America in its Ranking of Availability and Quality of Transport Infrastructure, this despite a heavy 30% tax placed on fuel which is supposed to support repairs and upkeep to the country's roadways. Even Costa Rica's neighbor to the north – and the second-poorest country in the Western Hemisphere – Nicaragua, beats Costa Rica's ranking.

Costa Rica's fuel tax, which is provided to the National Roads Authority (CONAVI) for maintenance and upkeep of the country's roadways, leads the country to have the highest fuel prices in the region. For comparison purposes, a gallon of regular gasoline in Panama sells for $3.90, while in Costa Rica one can expect to pay $5.20. Honduras has the second highest fuel prices in the region, where the same gallon of fuel will cost you $5.

At 30% of the cost of fuel, the tax is expected to bring in nearly 57 billion colones in 2014 (about $106 million USD) – funds that are intended to be used exclusively for the maintenance and repair of the country's roadways.

In Costa Rica, the cost of fuel is determined by five variables: the raw cost of the fuel at import (55%), fuel taxes (29%), transport costs (1%), RECOPE's operating margin (8%), and service station markup (7%). As a government entity, RECOPE's operating margin is not intended to produce the institution a "profit," but rather only cover its operating costs.

To put the cost of Costa Rica's fuel tax on the pocketbooks of motorists into perspective, Costa Rica would go from having the most expensive fuel in the region to the cheapest fuel in the region if the tax were removed.

Adding to Costa Rica's high fuel costs is the fact the country is unable to refine its own petroleum products. Despite its name, the National Oil Refinery (RECOPE) does not refine petroleum at all – gasoline, diesel, and other fuels are imported refined and ready-made.

Despite the high prices (and bad roads), Costa Rica is consuming more oil products than ever. Total sales have grown by more than 11% during the first quarter of this year compared to the same period in 2013, rising from 4,819,641 barrels during the first quarter of last year to 5,349,484 during the first quarter of 2014.

Some 70% of those imports are used for transportation, according to RECOPE.

Randall Murillo, executive director of the Costa Rican Chamber of Construction, believes the country's road problems can't be fixed through taxes alone.

Murillo believes many roadways need more than routine patching. Murillo says many roads need a complete restructuring, expansion, or to simply be rebuilt from scratch.

Mismanagement also plays a part in the country's road woes, according to engineer Roy Barrantes of the National Laboratory for Materials and Structural Models (LANAMME). LANAMME engineers determined in 2013 that nearly 20% of the national road network is paved with unsuitable materials, causing CONAVI to waste nearly $26 million USD per year – about a quarter of all the fuel tax collected – on maintenance contracts that shouldn't be necessary.

A 2012 report by LANAMME engineers found that just 35% of the country's roadways were in "good" condition.
2. Another increase ordered in gasoline price at pump
By the A.M. Costa Rica staff

The nation's regulatory agency said that fuel prices will be going up again due to the increase in the rate of exchange with the U.S. dollar.

The math at the Autoridad Reguladora de Servicios Públicos finally caught up close to reality because the dollar exchange rate has been constant for several weeks.

The agency said that super gasoline would increase eight colons to 786 a liter. That is $5.31 for a U.S. gallon.

Plus goes up four colons to 760 or $5.14 a U.S. gallon. Diesel goes up 12 colons to 689 a liter or $4.55 a U.S. gallon. There is a slight increase of two colons a liter in liquid petroleum gas that many Costa Ricans use for cooking and heating water.

In the computations, the Autoridad used a dollar exchange rate of 558.09 colons. For the early May price setting the exchange rate was 510.13 colons to the U.S. dollar.

The new exchange rate still is a bit behind the actual rate of 560 colons to the U.S. dollar.
3. Mrs. Bender convicted of husband's 2010 murder
By the A.M. Costa Rica staff

A criminal trial panel in Peréz Zeledón convicted Anne Maxin Patton Tuesday of the 2010 murder of her multimillionaire husband.

This was the second attempt by the state to convict the woman. She has been acquitted by a similar panel Jan. 21, 2013. Judges said that there was not sufficient evidence that she had killed her husband, John Félix Bender, 44.

This time the three-judge panel imposed a prison sentence of 22 years and remanded the woman to prison for nine months until a higher court reviews the case. An appeal by the defense is likely.

Bender earned in excess of $600 million with a mathematical approach to Wall Street investing.

He ran several arbitrage funds before suffering a stroke in 2000, according to online sources.

Mrs. Bender, who is a Brazilian naturalized as a U.S. citizen, was detained shortly after the death. They lived on the 5,000-acre Refugio de Vida Silvestre Boracayán in La Floridad de Barú de Peréz Zeledón.

The death was in the couple's five-story 8,000-square-foot glass-walled showplace home. The couple were alone at the time. Bender was said to have been bipolar and had attempted suicide previously.

In the Costa Rica judicial system, an acquittal on a criminal charge is not final. Neither is a conviction. There are many ways to appeal.

The Poder Judicial announced the decision and said that the prosecutors were Edgar Ramírez, and Luis Oses.

Because the couple were alone when the fatal shot was fired, prosecutors had to argue in both cases from inferences derived from the evidence. Mrs. Bender said that her husband fired the fatal shot into his head.

Judicial agents said during the initial investigation that there were inconsistencies in the death scene that led them to characterize the case as a murder.
4. Public job freeze is part of government fiscal plan
By the A.M. Costa Rica staff

The central government plans a freeze on 2,500 public jobs as part of the plan to reduce the nation's budget deficit.

That was one action outlined by Vice President Helio Fallas when he appeared this week before lawmakers. In addition to the vice presidency, he has been named minister of Hacienda, the budget ministry. He also supervises the Dirección General de Tributación, the tax collectors.

He also said the government would be ordering a 20 percent cut in discretionary expenditures in an effort to reduce the budget deficit to 1.85 percent of gross domestic product. The current 6.6 trillion-colon national budget ($11.8 billion) has a deficit better than 2 percent. It was 2.8 percent in 2013.

Fallas specified 23 total problems with income and 55 solutions in appearing before the Comisión de Asuntos Hacendarios. In short he seeks to bring tax collecting up to 14 percent of the gross domestic product and reduce the deficit to zero in 2016.

The minister complained that there is little understanding about the budget situation in branches of the government. There are major outlays for renting computer equipment, office space, vehicle purchases and expenses for trips. These are expected to be addressed in a few months. The government also will seek to use more free software.

The ministry identified tax evasion, tax avoidance and exonerations as the principal problems. In 2011 and 2012 the exonerations from taxes amounted to more than was collected. Exonerations in 2012 were 13.37 percent of the gross domestic product. Income from taxes was 13.18 percent, said the ministry.

The ministry will be presenting bills to permit tax deductions only when the payment has been made to an entity registered to tax authorities. In addition, anyone doing business with the government will not be paid if they owe taxes. Salaries only will be counted as tax deductions if they have been reported to the Caja Costarricense de Seguro Social. Anyone seeking bank credit will have to present a tax return instead of a certification from an accountant showing income.

Except for the rule about credit, these basically are the regulations now.

However, the ministry is expecting the tax income from luxury homes to increase 20 percent. There also will be a study this year and next to eliminate exonerations that the central government does not see as justified. Most exonerations, such as for the Cruz Roja, are in law.

Tributación said that more than 20 percent of larger enterprises report losses on their tax returns. In 2012 this percentage was 23.5. In 2013 the percentage was 24.5.

The agency said that reform of the tax rates is planned for the end of this year and next year. In addition the agency would like to see a value-added tax instead of the current 14 percent sales tax. These changes require legislative action.

The agency's plan for electronic invoicing still lacks the technical mechanisms, Fallas said. Tributación has been in discussion with Radiográfica Costarricense S.A., the Internet provider, and Banco de Costa Rica to create an electronic system.

Such a system would require professional and other firms to run their daily invoices through a centralized computer system set up by Tributación. So if a professional such as a lawyer or physician, charges for an office visit, that would be reported when the client or patient makes a payment. The agency expects to make frequent reminders about how much tax is owed. That system is supposed to go into effect next January.

Studies have shown that professionals under report grossly their income simply by not giving official invoices or facturas to their clients.

As for government expenses Fallas gave this summary and he seemed to be talking to lawmakers:

• All new expenses should state a new source of income.

• All new exonerations should identify alternative sources of financing to make up the difference.

• Existing taxes should not be earmarked for a specific governmental use

• No approvals of new expenses would be permitted if there are funds that have not been spent on projects that have not been executed.

Fallas also said that the government would be better off doing some building instead of renting so much office space.

He also said that there would be a revision of the entire tax system in relation to the environment.
Brian, Lita, the Late Hugo IV, irreverent Vicka, the pigeon toed parrot, Chico II and Chica II