Rainy Season Begins
Brian Timmons
Dear friends,
When I started Residencias Los Jardines, I started writing a weekly news letter -determined to tell all the good, bad, and the ugly. I knew some readers would be interested in the construction process. I expected others might be interested in the lifestyle of two people who had decided to live outside the box. For others, the adventures of Lita, the parrot and the cat took on an entertainment saga all its own.
Residencias Los Jardines is finished. We periodically have resales and rental availability. Some readers may be interested in this information.
Brian Timmons
DEVELOPER / PROPERTY MANAGER
Residencias Los Jardines / https://www.residenciaslosjardines.com info@residenciaslosjardines.com
ResidenciasPropertyManagement@gmail.com
Featured house this week
Paradisus Condos / Rorhmoser
FOR SALE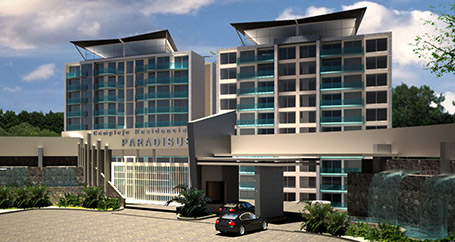 Paradisus will consist of 4 towers in Rorhmoser, a suburb to the west of central San Jose. Not far from the US Embassy and shopping malls, Rorhmoser is a residential area that was developed in the 60's and 70's and is currently seeing significant re-development with high end condos. It is the area where the new stadium and a number of luxury high rise condos have recently been built with more on the drawing boards. Phase one of this development is nearing completion; it consists of two towers and the amenities -pool, exercise room, etc. Tower one is expected to be completed in January and Tower 2 should follow in February / March. The location of this development is superb... it's off the main traffic paths and sits on a ravine overlooking a river. To the east is San Jose / Heredia; to the west is Pavas / Escazu. With floor to ceiling windows and a wrap around balcony, these units offer fantastic light and views.
Each of the units consists of two bedrooms / two bathrooms, and a large living/dining/kitchen area. The floor plan of each of these units has eliminated the optional "den / office" divider. The result is a larger area offering more flexible furniture arrangements while still maintaining the option of including an office area. At 105m2 plus two parking spots each and storage locker, they offer a great opportunity for someone seeking views, security, central location, and first class, all round living...
Infinity Terraces
FOR SALE - Sale pending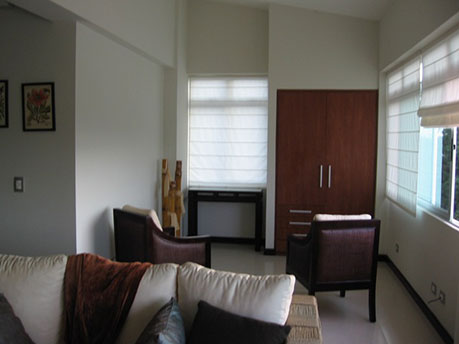 $229,000 / 2 bdrm / 2 bthrm / Penthouse / Sunset Views / 150 m2 / 1500 sf
INFINITY TERRACES: Pozos de Santa Ana / Guachapelin -contemporary design, well maintained, luxury 5th floor penthouse condo nestled in the hills of Santa Ana. Spacious open floor plan with 16 ft. vaulted ceilings, large kitchen w/SS appliances and granite countertops, laundry room w/ washer and dryer, air-conditioned. Plenty of closet space. : 5 year old / two car parking / bodega… building has high security, gym , hot tub and swimming pool.. 180 degree sunset views to west and north (Alejuela). 5 min. to San Jose – Caldera Highway / Multiplaza. This unit offers a secure, carefree lifestyle; you can lock and leave or leave and lease.
Loma Real Escazu / Guachipelin, Central Valley
FOR SALE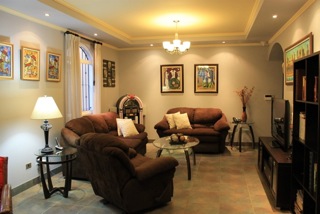 $325,000 / 3 bdrms + maids rm / 3.5 bthrms / owner financing
Beautiful house in residential area: 24 hours security. 274 m2 construction. 2 story, 3 bedrooms + maids quarters, 3 1/2 bathrooms, ample eat-in kitchen, six years old, immaculate condition, lot 264 m2 professionally landscaped, two car enclosed garage, 1500 L reserve water tank, electric demand water heaters, Independent office. Located close to all amenities. Taxes $500 yearly and security $80 monthly.
House can be purchased furnished for an additional $30,000
Owner will take back a mortgage for up to 5 yrs. @ 12% interest only.
Residencias Los Jardines
Property Management, Rentals, Re-Sales
Market Activity
Sales: no calls.
Rentals: no viewings.
FOR SALE
Unit #114: $235,000 / See Unit
Unit #116: $214,000 / See Unit
FOR RENT
Unit #107: $1,500 mo. / Available Immediately / See Unit
Unit #116: $1,400 mo. / Available Immediately / See Unit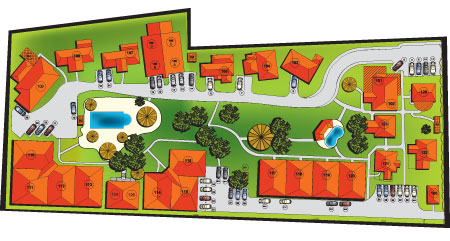 HOUSE FOR SALE
UNIT #114
FOR SALE $235,000
Total Area (Sq Ft): 1290
Total area (Sq M): 120
Bedrooms: 2
Bathrooms: 2
Floor(s): Single Floor
Type: Attached
Furnished: Yes
This 1,290 sf. (plus covered parking for one car and two lockers 67 sf.) single story, semi detached house, with garden terrace, two bedrooms is a beautiful executive style home. This home consists of two large bedrooms one with six piece en-suite bathroom with additional access to separate full shower. Each bedroom has large closets with extensive built-ins for personal organization. The vaulted living room and bathroom ceilings provide a feeling of grandeur while allowing the warmer air to rise and exit through the ceiling ventilating system. There are four TVs (one in each bedroom, one in the living room and one in breakfast / dinning room.) This is a beautiful well appointed home.
UNIT #116
FOR SALE $214,000
Total Area (Sq Ft): 1290
Total area (Sq M): 120
Bedrooms: 2
Bathrooms: 2
Floor(s): Single Floor
Type: Semi-Attached
Furnished: Yes
This 1,290 sf single floor home includes a 300 sf front terrace plus parking for one car and a separate, secure storage locker. It is and end unit and therefore attached on only one side by a 6 inch cement demising (common) wall, which prevents sound transfer.
HOUSE FOR RENT
UNIT #107
FOR RENT $1,500 mo.
Available Immediately
Total Area (Sq Ft): 1716
Total area (Sq M): 158
Bedrooms: 2
Bathrooms: 2.5
Floor(s): 2 story
Type: Detached
Furnished: Yes
This 1,716 sf. (plus parking for one car) two story, detached house, with three terraces, two bedrooms (one on each floor) and upstairs master suite is a beautiful home. This home consists of two VERY large bedrooms (one on each floor) with en-suite bathrooms and a powder room, each with large closets with extensive built-ins for personal organization. The vaulted living room and ground floor bedroom ceilings as well as the master bedroom on the 2nd floor, provide a feeling of grandeur while allowing the warmer air to rise and exit through the ceiling ventilating system. There are three TVs (one in each bedroom and one in the living room.) This is a beautiful home. There is a rough-in for a dishwasher in the kitchen area.
UNIT #116
FOR RENT $1,400 mo.
Available Immediately
Total Area (Sq Ft): 1290
Total area (Sq M): 120
Bedrooms: 2
Bathrooms: 2
Floor(s): Single Floor
Type: Semi-Attached
Furnished: Yes
This 1,290 sf single floor home includes a 300 sf front terrace plus parking for one car and a separate, secure storage locker. It is and end unit and therefore attached on only one side by a 6 inch cement demising (common) wall, which prevents sound transfer.
Our Lives
WEATHER: It was hot and more humid this past week with little breeze; the week saw an increasing regularity of rain clouds and Saturday morning saw the soft, sustained rain... great for the plants.
All In A Week's Living in CR
Colon: the rate has pretty well stabilized around 556.
Comment: The government is in denial. If one just looks over the aggregation of articles below, it's hard not to draw the conclusion that this country is in trouble and the government doesn't have a clue.
This is an e-mail from a member of the investment group. It summarizes some significant events in recent CR government-private enterprise relations. These are all a matter of public record. To these events he adds his background:
As you know, companies, corporations and individual investors have long memories about incidents that could give pause for risking capital investment in foreign countries. This is particularly important for manufacturing and labor intensive industries; not so much for service companies. Of course, Costa Rica has a long list of several typical mishaps not counting the old banana debacle:
HARKEN ENERGY that had been given government clearances to start exploring the northeast Atlantic for oil was kicked out of the country under questionable validity of permits and pressure by environmentalist, all under the Pacheco presidency. There still is a pending lawsuit amounting to several millions of dollars (some say billions). It is ironic that now Nicaragua is pursuing and offering exploration rights to foreign companies that would bring the riches that Costa Rica declined. Environmental protection has a price and of course, the eventual oil in Nicaragua will expose Costa Rica just the same. I will make other comments when discussing the Moin Refinery.
CRUCITAS GOLD MINE. There is very little to add to this recent misadventure of a Canadian Company that had been invited, spent a ton of money and had all the permits to no avail. All disqualified by a lower court.
CALDERA PORT which after years of negotiations and costly bribery to unions was able to operate. Maybe one best and more efficient port in the country; and example of private enterprise at its best.
Dutch company ATM TERMINALS that have been stalled of years by the local unions under a myriad of excuses which have cost the company probably millions by the delays.
BECHTEL AND JUAN SANTAMARIA airport. After initial contracts and work Bechtel pulled out. Here is one of the prime construction companies operating successful all over the world had to pull out. I have no information of reasons but it was suspected terms.
AOS CONSTRUCTION, Brazilian company given a contract to improve a road which was terminated by public pressure. This company is not known for clean, up and up honest contracting and CR had to negotiate a settlement. Was there "hanky-panky" in the bidding process?
These are glaring cases that I can recall. Corruption and mismanagement exists everywhere but these greatly impact a small country such as Costa Rica. I have other issues that worry me.
As you know guys, I spent my entire life working in the Energy area, either as Manager of Engineering for Texaco or independent consultant for chemicals and Natural Gas consulting for Boone Pickens. I know this area and I am at a total loss with the Recope Refinery project. In my time it was believed that a new refinery needed to have a capacity of at least 200,000 barrels a day and have a secure supply of crude to be refined to make it economically feasible. How in the world is Costa Rica talking about a 65,000 barrel a day expansion?. What can of crude oil are they going to refined? Sweet oil or dirty sulfur oil from Venezuela? They should have been taking about a Central America refinery to supply the region. Maybe Costa Rica is the most apt country to do it for it location and ports. I have never heard anything about the subject. When I worked for Pemex in Mexico as a consultant there was talk of a pipeline extending to Panama to supply the region. That would make sense.
Finally, I want to close with three items publish in La Nacion today:
Moody's is close to lowering the grade of investment, credit degradation of Costa Rica because of the fiscal situation. We are talking about the Fiscal Reform which will probably entail raising taxes and possible token reduction of expenditures. This might bring about worse unemployment and possible civil unrest.
Two of the most courageous vetoes issued by President Chinchilla consisted in the veto to not expand the power of government unions against essential or critical services of the government and the veto to not permit the violation of intellectual property by making copies of books and publications. This comes directly from Villalta. Solis is uncommitted. His decision will indicate what will be the path of his presidency.
News Items of the Week
1. Public Finances: look at the list of causes... none of these are easily reversed. The solution will be to increase taxes which will exacerbate the longer term problem... competitiveness.
2. Moody Warns: and no one in government is listening.
3. INTEL -the truth comes out... while you won't be able to link to the video itself, it made the rounds here. It was of the INTEL CEO at an employee briefing. In short, he says that over the past several years they tried to work with the CR government over ways to reduce their manufacturing costs. They finally gave up and pulled the plug.
4. Central Banker and CITI's prediction: Someone here is not reading the handwriting on the wall. When a several companies leave and when they represent a substantial percentage of good quality employment and GDP and when these companies actually pay their taxes -of course there will be a significant affect on the local economy. Now the solution is to sell more bananas, pineapples, and coffee... I'm not aware of any agrarian based economy which has now or ever had a very high standard of living at any time in the world.
5. Gas: here we go again.
1. Finance ministry comes out with a grim report on nation's balance sheet
By the A.M. Costa Rica staff

Generous public employee salaries, legal obligations, mandatory payments and weaknesses in income have resulted in increasing expenses, the Ministerio de Hacienda said Monday.

The ministry said that the country still was on track to have a budget deficit at the end of the year equal to 6 percent of the country's gross national product. That will happen unless there is tax reform, the ministry said.

The report, covering the first three months of the year, said that the deficit already was 1.5 percent of gross national product.

Tax income has increased, the report said, but the biggest increase was in sections of the economy that are either fully or partially exempt from sales tax.

Collection of import duties are up, in part because of the stronger dollar which reflects in the price of imported goods, the report said.

Sales tax within the country and fuel taxes have shown less growth, said the ministry.

The country is obligated to make certain payments, such as the constitutional provision for public education and also for security. The extra expense of a national election also is reflected in the national expenses, the ministry said.

The estimate was that expenses are outstripping income by about 8.5 percent.

Edgar Ayales, the finance minister who is leaving office in two weeks, said without urgent changes the annual deficit and the public debt will be unsustainable in the medium and long term. He noted that changes in the salary structure of public employees and improvements in tax collection were vital. He called for fiscal consolidation without giving details.

President-elect Luis Guillermo Solís has said that he would not approve new taxes during the first two years of his term in office. However, other members of his team have suggest that there should be changes in the tax structure. Solís supports improving collection.

Efforts at tightening up tax collection have not been successful in the past. And when lawmakers pass a new tax, citizens take every step possible to avoid it.

A tax on corporations led to a wave of responsible parties walking away from the entities and leaving corporations owing sums of money to the government but with no one responsible to pay them. The luxury tax on upscale homes also has not brought in the amount of money lawmakers predicted when they passed the measure.
2. Moody's warns Costa Rica could face downgrade if fiscal reform delayed

April 23rd, 2014 (InsideCostaRica.com) Ratings agency Moody's is warning that Costa Rica could lose its current Baa3 credit rating should the new government of Luis Guillermo Solís delay fiscal reform until next year.

The warning comes as part of Moody's latest credit opinion on the country, published on April 15th.

Costa Rica's current 'Baa3-negative' rating is the lowest investment-grade rating issued by the agency. The 'negative' outlook was tacked onto the country's rating in September of last year over concerns about the country's rising debt burden, fiscal deficits and stalled legislation to address the problems.

Now, Moody's warns, the country could face losing its Baa3 rating if the country's incoming government is unable to push through fiscal reforms this year. A downgrade to Ba1, the next notch below Baa3, would lower Costa Rica's rating from investment grade to speculative grade, and could have a significant impact on the economy as the country would be forced to pay higher interest on its foreign debt bonds, such as the $1 billion worth of Eurobonds it put on the market on April 1st.

"We want to see a positive signal from the new government and how serious they are," said Gabriel Torres, principal analyst for sovereign debt at Moody's.

Torres added that the country's current situation is "not sustainable," and the ratings firm would likely review Costa Rica's rating before year-end.

Soon-to-be Finance Minister, Helio Fallas, said that confronting the country's fiscal situation would be a top priority, including the issue of tax evasion.

The incoming government, meanwhile, has promised not to raise taxes in the near term.

The most recent Moody's report cites some of its concerns as the growth of public debt and the high fiscal deficit that have emerged over the last several years.

Moody's points out that Costa Rica's public debt skyrocketed from 25% of GDP in 2009 to 40% of GDP last year.

Meanwhile, Costa Rica's fiscal deficit is expected to be 6% of GDP this year.

Costa Rica gained its Baa3 rating from a previous Ba1 rating in September 2010. The investment-grade rating has helped the country to raise billions of dollars by issuing foreign debt bonds, including a $1 billion issue in November 2012, as well as two separate $500 million issues last year, and $1 billion in April of this year.
3. Video of Intel CEO contradicts government line on departure

April 23rd, 2014 (InsideCostaRica.com) A video obtained by Spanish-language digital newspaper, CRHoy.com in which Intel CEO, Brian Krzanich, says that Intel's decision to close its manufacturing operations in the country came after the company "spent several years trying to work with the Costa Rican government" to reduce the cost of its Costa Rican operations, would seem to contradict the government's official line that Intel's decision was completely internal and not related to conditions in the country.

In the video, Krzanich said the decision to shutter its Costa Rican operations "were not necessarily targeted towards headcount reduction," as has been the case with some other closures and restructurings at the company, but instead was based "around the cost [of the Costa Rican] operation."

Krzanich added that Intel "has spent several years trying to work with the Costa Rican government to try to reduce the overall cost of that operation, but we just aren't able to get it there."

"And so we made a very difficult decision […] if you've ever closed a factory it's a very hard thing to do; I hate doing it; there is a big investment in the people capability that we've had there, and that decision was more about the long term operational cost of that operation, not targetting [reduction of Intel's employee headcount]," Krzanich said in the video.

The video surfaces after government officials have spent the last two weeks trying to convince a worried public that Intel's decision to leave the country was a completely internal decision and part of a larger restructuring underway at Intel worldwide.

Foreign Trade Minister, Anabel Gonzalez, insisted after Intel's April 9th announcement that Intel's decision was for internal reasons and not due to a deteriorating business climate. "The country has been making great strides in services, innovation and technology," she said at the time.

In an interview published yesterday by Bloomberg, Olivier Castro, who has been selected by President-elect Luis Guillermo Solis to head Costa Rica's Central Bank said, "What happened with Intel and Bank of America is not the result of something the country did wrong." Castro also went on to dismiss Citigroup's slashing of its 2015 growth forecast for Costa Rica as a result of Intel's departure.

While Krzanich does not elaborate in the video on the nature of Intel's discussions with the Costa Rican government, nor does he elaborate on the nature of the high costs associated with the operation, other business leaders have complained in recent years over what they feel is declining competitiveness in the country, including high electricity costs and other issues.
4. New Central Bank chief dismisses Citigroup's grim Costa Rica forecast

April 23rd, 2014 (InsideCostaRica.com) Olivier Castro, who has been selected by President-elect Luis Guillermo Solís to head Costa Rica's Central Bank, is dismissing a grim forecast by Citigroup that slashed its 2015 growth forecast for Costa Rica by nearly half.

Speaking to Bloomberg, Castro said Costa Rica's $45 billion economy would expand by 5% in 2015.

On April 10th, Citi cut its 2015 growth forecast for the country from 4% to 2.2% after announcements that Intel would close its manufacturing operations and Bank of America would close its facilities in the country, leaving 3,000 people unemployed.

Castro, however, disagrees. "Growth will be higher [than Citi's forecast], especially because we're beginning to see signs of greater growth in the world economy, but also because of the work we will do to turn on the other engine of the economy, the domestic market," Castro told Bloomberg, adding he believes the economy will grow by 5% in 2015.

Castro also does not believe the departures of Intel and Bank of America had anything to do with the country's business climate or policymaking.

"What happened with Intel and Bank of America is not the result of something the country did wrong," Castro told Bloomberg. "What the next government will do is make this very clear, because the policies it will put in place will attract investment."

Economists warned this month that the departure of Intel – which accounted for more than 20% of Costa Rica's total exports last year and 5% of the country's entire $45 billion GDP – would have a serious effects on the economy.

Castro, 73, received a Masters in economics from the University of Kansas, and is the former head of Banco Nacional. Castro also headed the central bank's financial division in the 1980's, when Costa Rica defaulted on its debt obligations.

Castro is expected to take the helm of the Central Bank on May 9th.
5. Gasoline will hit record high price in May

April 23rd, 2014 (InsideCostaRica.com) The price for a liter of regular gasoline ("Plus") will hit an all time high in the month of May, rising ¢29 per liter to ¢752, after an adjustment by the Regulatory Authority for Public Services (ARESEP) that is in the works.

The previous record price was reached on October 2012, when the price reached ¢748 per liter.

ARESEP spokeswoman, Angélica María Carvajal said the adjustment is the result of the dollar exchange rate. She added that while world crude oil prices are down, the price of barrels of finished fuels are volatile.

Super gasoline will also increase, rising in price by ¢17/liter, from ¢756 to ¢773.

Diesel will fall in price by ¢1 per liter.

The new prices are expected to come into effect in mid-May.
Brian, Lita, the Late Hugo IV, irreverent Vicka, the pigeon toed parrot, Chico II and Chica II