Brian Timmons
Dear friends,
When I started Residencias Los Jardines, I started writing a weekly news letter -determined to tell all the good, bad, and the ugly. I knew some readers would be interested in the construction process. I expected others might be interested in the lifestyle of two people who had decided to live outside the box. For others, the adventures of Lita, the parrot and the cat took on an entertainment saga all its own.
Residencias Los Jardines is finished. We periodically have resales and rental availability. Some readers may be interested in this information.
Brian Timmons
DEVELOPER / PROPERTY MANAGER
Residencias Los Jardines / https://www.residenciaslosjardines.com info@residenciaslosjardines.com
ResidenciasPropertyManagement@gmail.com
Featured house this week
Paradisus Condos / Rorhmoser
FOR SALE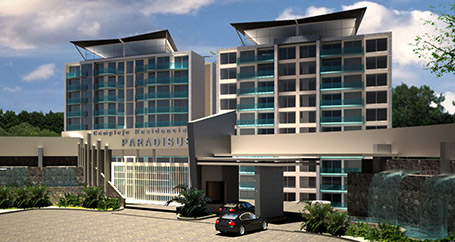 Paradisus will consist of 4 towers in Rorhmoser, a suburb to the west of central San Jose. Not far from the US Embassy and shopping malls, Rorhmoser is a residential area that was developed in the 60's and 70's and is currently seeing significant re-development with high end condos. It is the area where the new stadium and a number of luxury high rise condos have recently been built with more on the drawing boards. Phase one of this development is nearing completion; it consists of two towers and the amenities -pool, exercise room, etc. Tower one is expected to be completed in January and Tower 2 should follow in February / March. The location of this development is superb... it's off the main traffic paths and sits on a ravine overlooking a river. To the east is San Jose / Heredia; to the west is Pavas / Escazu. With floor to ceiling windows and a wrap around balcony, these units offer fantastic light and views.
Each of the units consists of two bedrooms / two bathrooms, and a large living/dining/kitchen area. The floor plan of each of these units has eliminated the optional "den / office" divider. The result is a larger area offering more flexible furniture arrangements while still maintaining the option of including an office area. At 105m2 plus two parking spots each and storage locker, they offer a great opportunity for someone seeking views, security, central location, and first class, all round living...
Infinity Terraces
FOR SALE - Sale pending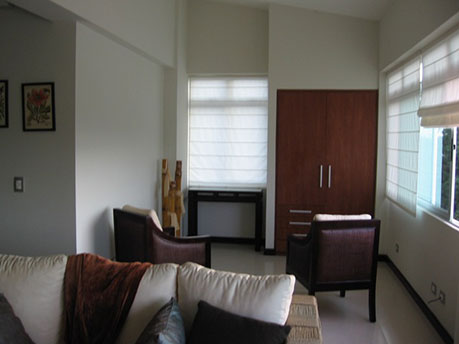 $229,000 / 2 bdrm / 2 bthrm / Penthouse / Sunset Views / 150 m2 / 1500 sf
INFINITY TERRACES: Pozos de Santa Ana / Guachapelin -contemporary design, well maintained, luxury 5th floor penthouse condo nestled in the hills of Santa Ana. Spacious open floor plan with 16 ft. vaulted ceilings, large kitchen w/SS appliances and granite countertops, laundry room w/ washer and dryer, air-conditioned. Plenty of closet space. : 5 year old / two car parking / bodega… building has high security, gym , hot tub and swimming pool.. 180 degree sunset views to west and north (Alejuela). 5 min. to San Jose – Caldera Highway / Multiplaza. This unit offers a secure, carefree lifestyle; you can lock and leave or leave and lease.
Loma Real Escazu / Guachipelin, Central Valley
FOR SALE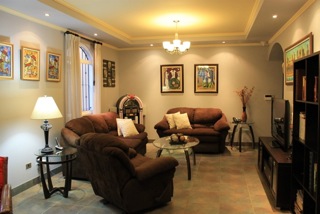 $325,000 / 3 bdrms + maids rm / 3.5 bthrms / owner financing
Beautiful house in residential area: 24 hours security. 274 m2 construction. 2 story, 3 bedrooms + maids quarters, 3 1/2 bathrooms, ample eat-in kitchen, six years old, immaculate condition, lot 264 m2 professionally landscaped, two car enclosed garage, 1500 L reserve water tank, electric demand water heaters, Independent office. Located close to all amenities. Taxes $500 yearly and security $80 monthly.
House can be purchased furnished for an additional $30,000
Owner will take back a mortgage for up to 5 yrs. @ 12% interest only.
Residencias Los Jardines
Property Management, Rentals, Re-Sales
Market Activity
Sales: one viewing.
Rentals: one viewing.
FOR SALE
Unit #114: $235,000 / See Unit
Unit #116: $214,000 / See Unit
FOR RENT
Unit #107: $1,500 mo. / Available Immediately / See Unit
Unit #116: $1,400 mo. / Available Immediately / See Unit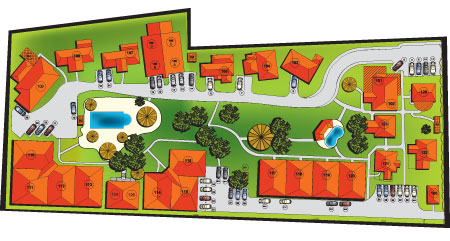 HOUSE FOR SALE
UNIT #114
FOR SALE $235,000
Total Area (Sq Ft): 1290
Total area (Sq M): 120
Bedrooms: 2
Bathrooms: 2
Floor(s): Single Floor
Type: Attached
Furnished: Yes
This 1,290 sf. (plus covered parking for one car and two lockers 67 sf.) single story, semi detached house, with garden terrace, two bedrooms is a beautiful executive style home. This home consists of two large bedrooms one with six piece en-suite bathroom with additional access to separate full shower. Each bedroom has large closets with extensive built-ins for personal organization. The vaulted living room and bathroom ceilings provide a feeling of grandeur while allowing the warmer air to rise and exit through the ceiling ventilating system. There are four TVs (one in each bedroom, one in the living room and one in breakfast / dinning room.) This is a beautiful well appointed home.
UNIT #116
FOR SALE $214,000
Total Area (Sq Ft): 1290
Total area (Sq M): 120
Bedrooms: 2
Bathrooms: 2
Floor(s): Single Floor
Type: Semi-Attached
Furnished: Yes
This 1,290 sf single floor home includes a 300 sf front terrace plus parking for one car and a separate, secure storage locker. It is and end unit and therefore attached on only one side by a 6 inch cement demising (common) wall, which prevents sound transfer.
HOUSE FOR RENT
UNIT #107
FOR RENT $1,500 mo.
Available Immediately
Total Area (Sq Ft): 1716
Total area (Sq M): 158
Bedrooms: 2
Bathrooms: 2.5
Floor(s): 2 story
Type: Detached
Furnished: Yes
This 1,716 sf. (plus parking for one car) two story, detached house, with three terraces, two bedrooms (one on each floor) and upstairs master suite is a beautiful home. This home consists of two VERY large bedrooms (one on each floor) with en-suite bathrooms and a powder room, each with large closets with extensive built-ins for personal organization. The vaulted living room and ground floor bedroom ceilings as well as the master bedroom on the 2nd floor, provide a feeling of grandeur while allowing the warmer air to rise and exit through the ceiling ventilating system. There are three TVs (one in each bedroom and one in the living room.) This is a beautiful home. There is a rough-in for a dishwasher in the kitchen area.
UNIT #116
FOR RENT $1,400 mo.
Available Immediately
Total Area (Sq Ft): 1290
Total area (Sq M): 120
Bedrooms: 2
Bathrooms: 2
Floor(s): Single Floor
Type: Semi-Attached
Furnished: Yes
This 1,290 sf single floor home includes a 300 sf front terrace plus parking for one car and a separate, secure storage locker. It is and end unit and therefore attached on only one side by a 6 inch cement demising (common) wall, which prevents sound transfer.
Our Lives
WEATHER: very windy with clouds building mid day -the rainy season is coming... some plants will survive...
Holiday Week: At this time of year, the Central Valley is great... few cars and few people. On Friday four of us drove towards Volcan Poaz to a tico restaurant... it was packed -ticos know about this place... wonderful food, reasonable prices... very rustic setting... large portions, fantastic cheese cake. From there we went on to La Paz Waterfalls... my first in a number of years... I was able to see the extent of the damage to the roads and area due to the strong earthquake there 4 years ago. It's a very different world at this elevation..
All In A Week's Living in CR
Colon: the rate has pretty well stabilized around 556.
News Items of the Week
1. Bank Accounts: more on this... it's really difficult to set up a bank account here. This is not entirely CR's fault bacause many requirements have been imposed by the US Patriot Act and FACTA which allows the IRS control over CR banks... But the consequence is that it is difficult to establish oneself in the country.
2. Land Exit Tax: What a farce... it's just incredible that a simple tax has been such a farcical event.
3. Another Company Leaving: It appears this company has been ailing for some time. Regardless, another 500 direct jobs are lost and probably a total of around 1,500 jobs will be affected.
4. CR's "First" Lady: and all of this was accomplished without mudslinging... very different acceptance le3vel and in the USA.
5. A Scam in the Making: Note the funding has now changed, the concept has now gone from alternative energy to casinos and they still don't know what they are going to do... and Biden is involved who seems to have a spotted record...
6. Tourism: note that 782 hotels are behind in their CAJA payments. This group, with reason, continues to question the government's tourism numbers because of their methodology being used.
1. Foreigners face barriers to open a bank account
By Garland M. Baker, Special to A.M. Costa Rica

Expats are having a very hard time understanding the new rules and regulations set forth by national and private banks in Costa Rica. They were outlined in detail March 31. They do not understand why they cannot open a bank account if they are on a tourist visa but own property or have other investments in the country.

It is the fault of the Banco Central de Costa Rica. The central bank issued a communication to all Costa Rican banks March 27, 2012, stating that the only people with valid acceptable documents can make interbank transactions via SINPE, the interbank system. The Banco Central is responsible for controlling inflation, printing and managing money and maintaining the stability of the Costa Rican currency.

It should not be confused with SUGEF, the Superintendencia General de Entidades Financieras, the organization that supervises the stability of the country's financial system. In simplistic terms, the Banco Central manages the quantity and SUGEF the quality of Costa Rica's finances.

Valid documents for foreigners are the following:

Costa Rican cédula;
Resident identification card, called a DIMEX;
Company cédula obtainable from the Registro Nacional; and,
Diplomat identification or DIDI. A passport does not qualify.

Most interbank transactions in the country use SINPE or the Sistema Nacional de Pagos Electrónico. This means it is controlled by the Central Bank. The only way around the rule is to use cash or a check, which is not very efficient.

This means most banks will not open an account any more for a tourist who just walks in to do so. There are rare exceptions. Old accounts opened in more lenient times are being closed because they do not adhere to the new banking rules.

Companies like sociedad anónimas and S.R.L.s can open bank accounts. However, some banks themselves have interpreted the Banco Central's ruling to mean everyone signing on the account must have one of the four documents listed above.

Digging deeper into the matter by visiting the Banco de Costa Rica and the Banco Nacional and speaking with supervisors, a reporter found they would open an account for a tourist. Nevertheless, it is not easy or common and the non-resident would need to have a valid Costa Rican company. They would also need at least one of the following requisites. Two would be better:

A recommendation letter from their home bank, translated into Spanish, notarized and apostilled;
A detailed outline of where all the funds in 1 originated, certified by a foreign certified public accountant, notarized and apostilled; and/or,
A local certified public accountant's certification of funds.

There is an easier way. A representative at Banco Nacional said he would allow a tourist or otherwise non-resident to sign on an account if the primary account holder did have one of the required identifications. Banco de Costa Rica said it would not let a non-resident foreigner sign under any circumstances.

Some private banks are a little bit more flexible. However, they, too, must adhere to Law 8024 and the Banco Central's policies. To do so, they require non-resident foreigners to have most of the things national banks are asking for to open a new account.

The obvious problem is most people do not want to have someone they do not know very well sign on their their bank account. Some expats opt for an attorney or CPA, but this is not a very good option either. The way Costa Rican laws work, most crooks get away with the bootie.

The problem is clear. How about a solution?
Expats with property should look to a reputable property manager to pay the bills. The key word here is reputable. To find one, good hard homework is necessary. Asking other expats, friends and other property owners can lead to finding the right person or company.

As for expats in business, they should have residency so they can manage their own banking needs or have a partner trustworthy enough to do so. If they cannot meet these criteria, they should not be doing business in Costa Rica.

Is there a possibility things will change, go back to the way they were? Very unlikely. Costa Rica is doing its very best to stay off the financial tax haven list. Being on it has hurt the country in the past.

Most countries with money do not want to give or lend money to any country not willing to play ball in the international financial community.

Other countries insist on transparency and financial data sharing so they can catch tax cheats. All the new banking requirements are mandated by the world. Costa Rica is just complying.
2. Exit tax suspended at overwhelmed Peñas Blancas
By the A.M. Costa Rica staff

Immigration workers suspended collecting the land exit tax again Friday morning when the crush of Semana Santa vacationers caused delays of at least an hour.

The Dirección General de Migración said that the tax was suspended on orders from the Ministerio de Hacienda in San José.

The reason, of course, is that most revelers have no idea that the tax exists. Those who arrive at the border without paying the $7 tax can only pay the tax at a machine that only accepts credit cards.

Many of the travelers were Nicaraguans going home for the holidays. Some 3, 925 persons left Costa Rica at the Peñas Blancas border crossing Friday.

Bancrédito is in charge of collecting the exit tax and remitting the proceeds to the government. However, the bank has not advertised that the tax exists And workers at Hacienda have been confused since December as to whether the tax is being collected or not.

Officials said they hoped to reinstitute the tax.

The tax was supposed to go into effect Dec. 23, but the system collapsed for the first time that day at the border due to the flood of travelers. Then there was not even a machine to take the money.

Collection began again April 1, and Bancrédito issued a single press release at that time instructing travelers how to pay the tax. There did not seem to be any articles in the Spanish-language newspapers.

Immigration officials said that with the tax suspended travelers moved normally. Those leaving the country by bus were being pre-checked at the Liberia stations of transport companies. Bus companies also were providing a way to pay the tax as well as other border chargers.
3. CustomerSpeak, formerly Datascension, closes shop; fires 500

April 14th, 2014 (InsideCostaRica.com) US-based CustomerSpeak, which provides multilingual data collection and contact center services, has closed down its facility in Mall San Pedro in San José, leaving 500 workers unemployed.

CustomerSpeak's Costa Rica operations were acquired from US-based Datascension in 2011, after Datascension reported a huge drop in revenues that year. CustomerSpeak stepped in that year and acquired Datascension's assets and assumed its liabilities.

At the end of last year, CustomerSpeak negotiated a settlement with the Costa Rican Social Security System (CCSS) to pay more than $3 million to settle Datascension's outstanding worker-employer tax obligations.

A former employee in the call center told a reporter for local television station, Teletica, that staff had received a letter informing them their services were no longer required.

Information as to what led to the decision was not immediately available.

The closure adds another 500 unemployed to the Costa Rican economy, which has been stunned in recent days after Intel announced the closure of its manufacturing operations in the country, resulting in the loss of 1,500 jobs, as well as Bank of America, which announced the closure of large back office facility in the country and the firing of all 1,500 of its staff.
4. Meet Costa Rica's future First Lady, Mercedes Peñas Domingo

April 15th, 2014 (InsideCostaRica.com) Mercedes Peñas Domingo will become Costa Rica's First Lady when her long-term partner, Luis Guillermo Solis is inaugurated on May 8th, but her identity – even her face – is a mystery to most in the country.

Peñas, a political scientist and naturalized Costa Rican citizen originally from Spain, has done her best to avoid the media, and did not make her first public appearance until a March 5th press conference, when Johnny Araya dropped out of the presidential race. She has given only a couple of interviews since, but here's what we know.

Peñas, 45 was born on November 17, 1968 in Madrid, Spain, and 21 years later in August 1991 set foot in Costa Rica for the first time, where she would attend the University for Peace (UPEACE) and spent two years in the country.

When they first met, Luis Guillermo Solís, ten years her senior was one of her professors while she was studying for a Masters in International Relations, Peace, and Development Cooperation at UPEACE.

Two years after her time at UPEACE, Peñas got a job as an assistant in the Department of External Relations of the Inter-American Institute for Cooperation on Agriculture (IICA).

Peñas later did consulting work for the United Nations and the European Union, as well as a foundation called the Rainforest Alliance.

Since 1997, she has worked for DEMUCA, a technical and financial arm of the Spanish Agency for International Development and Cooperation (AECID), which "promotes the strengthening of local governments in Central America and the Caribbean."

Peñas and Solis have been together for nine years, together caring for their 7-year-old daughter Inés.

The couple says they routinely see and visit Solis' five other children of previous marriage (Monica, Cristina, Beatriz, Diego and Ignacio); as well as Peñas' family in Spain.
5. Money said to come from U.S. and not Chinese
Casinos dominate plan for solar farm in Guanacaste
By Michael Krumholtz and Lou Kilzer
of the A.M. Costa Rica staff

A massive Guanacaste solar energy project, involving Frank Biden, the brother of the U.S. vice president and promoted as being a green development, will be anchored by three casinos that would take most of the budget.

A.M. Costa Rica has also learned that developers planned to finance that vast majority of the near-billion-dollar project with Chinese money — plans that they say recently changed.

Until now, the development had been promoted mostly as an elite residential project with a Jack Nicklaus-designed golf course and a solar-powered energy farm. However, the actual budget allocates 72 percent to hotels and casinos, according to a Web page published by the developer, Sun Fund Americas.

Majority funding for the massive development touting hotel casinos, a country club, and a solar farm was once slated to come from a Chinese construction firm but is now expected from a U.S. casino developer, said Sun Fund President Craig S. Williamson Tuesday.

Williamson and his partner, Biden, head the operation that has remained largely stuck in neutral since its 2009 unveiling. Now funding is supposed to be spearheaded by Delta Blues Holdings LLC and its CEO Charles Preiser.

"Preiser has $400 million to invest and a $400 million matching line of credit," said Williamson in a phone interview Tuesday.

Sun Fund's affiliated Web sites – listed under the names Guanacaste Country Club, Sun Fund Americas, and Virtus One – have been erratic in operation and this week were not functioning. Williamson said his Web sites are currently undergoing redesign in anticipation of a synced relaunching.

Chinese connection

Plans available as recently as last week in a Q&A on the Virtus One Web site detailed that up to 85 percent of the estimated $921 million budget for the Guanacaste Country Club was expected to come from Beijing Construction Engineering Co. Williamson said that developers have since moved on from the Chinese backing.

"Maybe in another country, but not in Costa Rica," he said Tuesday evening of involvements with the Chinese firm. "For the template of this project model, we want this to be all U.S.-sponsored."

This change marks a removal of nearly $750 million from the project. Figures taken from the Web site show that hotels and three casinos were to receive nearly five times more investment funds than the country club or solar farm.

Officials from Beijing Construction Engineering Co. have ties with the world's largest bank, the Industrial and Commercial Bank of China, according to a March report from China Daily.

Beijing has historically limited its gambling investments to the domestic Macau area, which has fallen under notoriety for its penchant in attracting money laundering hidden from the nation's tight currency controls.

The familiar name

The amount of real estate development experience that Biden has is still uncertain. Records show he was licensed to sell real estate in Florida in 2000. Though the license expired in 2004, it is still listed as active.

According to an Accurint report provided by the Pittsburgh Tribune-Review, Biden filed for bankruptcy in 1994 and faced a Delaware state tax lien in 1997 for the sum of $61,528. Tax problems followed him into later years and in 2009 he was slapped with another lien for $32,500.

Biden has been active in involving the American Association of Retired Persons to gain member interest in the development, according to Williamson. He was also responsible for reaching an agreement in 2009 with Nicklaus Design in securing a Jack Nicklaus signature golf course. Last month a representative from Nicklaus Design said the company was still waiting on the funding before it began course construction.

Vice President Biden is no stranger to casinos. Last June, Mike Godfrey of Tax-News reported that the prime minister of Antigua and Barbuda met directly with Joe Biden in his Washington, D.C. office last May to specifically discuss an online gambling dispute between the United States and the Caribbean islands. The vice president's son at one time lobbied for casino interests.

Williamson said last month that no lots or properties have been sold on the land because directors are waiting to amp up marketing in the coming weeks. Information for pre-development packages had been listed on Guanacaste Country Club Web site.

Although the Web sites still are down, there is a Guanacaste Country Club Facebook Page.

Casino money

Preiser began in the gaming industry in the 80s and has been heavily involved with the casino industry in Mississippi since Delta Blue's founding 2003. However, news reports say that some of the casino projects have never taken off.

A powerpoint made by Delta Blues for presentation to Sun Fund representatives promises the creation of 1,185 direct jobs and nearly 10,000 indirect jobs as a result of the Guanacaste project. Preiser said he has been working with Williamson and Biden on this plan for the past several months.

"Delta is responsible for master planning and co-development for a commercial and support development," said Preiser via email.

Guanacaste is the nation's least populated province with 327,000 residents, according to the 2011 census.

About 63,000 live in Liberia some 10 minutes from the project. Liberia has an international airport.

Williamson and Biden, who have been friends of 15 years according to Biden, were formerly a part of ERA Real Estate in Latin America.
6. Tourism industry says its 22,000 jobs are at risk without moratorium
By the A.M. Costa Rica staff

When the new administration takes over, President Luis Guillermo Solís is going to have to look past job losses caused by the exit of Intel Corp. and Bank of America. The tourist industry says that 22,000 jobs are at risk there.

The Asociacion Para La Proteccion Del Turismo is coming forward now with statistics, in an effort to attract the attention of the new administration, including the new minister of Turismo, Wilhelm Von Breymann Barquero.

And the statistics are grim. Some 782 hotels are behind in payments to the Caja Costarricense de Seguridad Social. Some 100 other hotels have simply closed, and 100 more are facing auctions by various banking institutions, said the tourism association.

There has been a string of closures since the economic downturn hit in 2008, but no one has given a count until recently. The hotels and other places of accommodation in trouble are generally the small to medium operations.

The Asociacion Para La Proteccion Del Turismo renewed its call for some sort of freeze on the debts owned by tourism operations. Tourism operators are upset by soaring utility cost and, until recently, the low value of the U.S. dollar.

A minority of the association members also think that the general government is not telling the truth when it says the country has received 2.4 million annual tourists.

That is a number that probably can be found in the business plan of every new tourism enterprise. The tourism association said that 5,000 new hotel rooms that can accommodate 10,000 persons have been constructed in the last three years. The country needs nearly 400,000 more tourists who stay for more than 10 days to fill those rooms, it said.

What many in the industry do not know is that the figures released by the Instituto Costarricense de Turismo include as tourists nearly everyone entering the country. The figures include more than 400,000 persons each year who come from Nicaragua. When Nicaraguans return to their homes here and jobs after Semana Santa, they will be counted as tourists for purposes of the statistics.

In addition to hotel operators, rental car agency executives also are reporting low expectations for Semana Santa and the coming low season.

The tourism institute has made some unusual marketing decisions. For example, the institute invested $500,000 in NBC for advertising during the winter Olympics. The institute also put money into advertising on various social networks, Google and Yahoo/Bing, it said Feb. 9.

One goal was to raise the Internet ranking of the institute's Web site with the online ads. Alexa, the Amazon subsidiary, tracks Web site visits, and said that the Institute's Web site, visitcostarica.com, was in 155,605th place worldwide when the campaign started.

Tuesday that ranking was 183,018.

Some of those in the tourism industry also are urging the government to open the door wider for tourists. The Asociacion Para La Proteccion Del Turismo Facebook site recounts the story of a 40-year-old female company executive from Perú who was denied entry for a trip to Manuel Antonio last week because her passport was only valid for four months instead of the required six. She was put on a return flight, the site said.
Brian, Lita, the Late Hugo IV, irreverent Vicka, the pigeon toed parrot, Chico II and Chica II