Brian Timmons
Dear friends,
When I started Residencias Los Jardines, I started writing a weekly news letter -determined to tell all the good, bad, and the ugly. I knew some readers would be interested in the construction process. I expected others might be interested in the lifestyle of two people who had decided to live outside the box. For others, the adventures of Lita, the parrot and the cat took on an entertainment saga all its own.
Residencias Los Jardines is finished. We periodically have resales and rental availability. Some readers may be interested in this information.
Brian Timmons
DEVELOPER / PROPERTY MANAGER
Residencias Los Jardines / https://www.residenciaslosjardines.com info@residenciaslosjardines.com
ResidenciasPropertyManagement@gmail.com
Featured house this week
Paradisus Condos / Rorhmoser
FOR SALE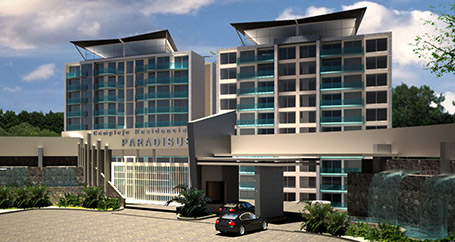 Paradisus will consist of 4 towers in Rorhmoser, a suburb to the west of central San Jose. Not far from the US Embassy and shopping malls, Rorhmoser is a residential area that was developed in the 60's and 70's and is currently seeing significant re-development with high end condos. It is the area where the new stadium and a number of luxury high rise condos have recently been built with more on the drawing boards. Phase one of this development is nearing completion; it consists of two towers and the amenities -pool, exercise room, etc. Tower one is expected to be completed in January and Tower 2 should follow in February / March. The location of this development is superb... it's off the main traffic paths and sits on a ravine overlooking a river. To the east is San Jose / Heredia; to the west is Pavas / Escazu. With floor to ceiling windows and a wrap around balcony, these units offer fantastic light and views.
Each of the units consists of two bedrooms / two bathrooms, and a large living/dining/kitchen area. The floor plan of each of these units has eliminated the optional "den / office" divider. The result is a larger area offering more flexible furniture arrangements while still maintaining the option of including an office area. At 105m2 plus two parking spots each and storage locker, they offer a great opportunity for someone seeking views, security, central location, and first class, all round living...
Infinity Terraces
FOR SALE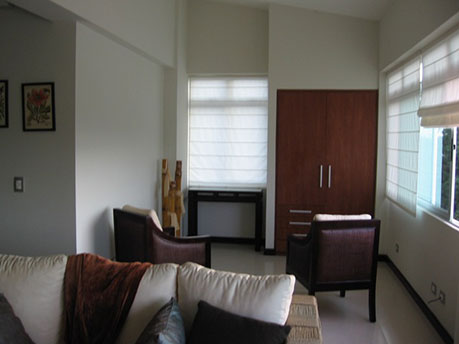 $229,000 / 2 bdrm / 2 bthrm / Penthouse / Sunset Views / 150 m2 / 1500 sf
INFINITY TERRACES: Pozos de Santa Ana / Guachapelin -contemporary design, well maintained, luxury 5th floor penthouse condo nestled in the hills of Santa Ana. Spacious open floor plan with 16 ft. vaulted ceilings, large kitchen w/SS appliances and granite countertops, laundry room w/ washer and dryer, air-conditioned. Plenty of closet space. : 5 year old / two car parking / bodega… building has high security, gym , hot tub and swimming pool.. 180 degree sunset views to west and north (Alejuela). 5 min. to San Jose – Caldera Highway / Multiplaza. This unit offers a secure, carefree lifestyle; you can lock and leave or leave and lease.
Loma Real Escazu / Guachipelin, Central Valley
FOR SALE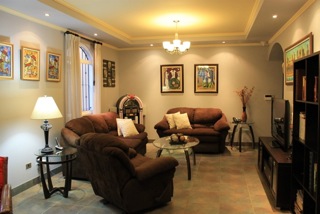 $325,000 / 3 bdrms + maids rm / 3.5 bthrms / owner financing
Beautiful house in residential area: 24 hours security. 274 m2 construction. 2 story, 3 bedrooms + maids quarters, 3 1/2 bathrooms, ample eat-in kitchen, six years old, immaculate condition, lot 264 m2 professionally landscaped, two car enclosed garage, 1500 L reserve water tank, electric demand water heaters, Independent office. Located close to all amenities. Taxes $500 yearly and security $80 monthly.
House can be purchased furnished for an additional $30,000
Owner will take back a mortgage for up to 5 yrs. @ 12% interest only.
Residencias Los Jardines
Property Management, Rentals, Re-Sales
Market Activity
Sales: no calls.
Rentals: no viewings.
NOTE: Re. the Guachapelin condo: an offer has been accepted... albeit substantially below asking price. Given the announcement that both Intel and B of A will be leaving CR by year end and with this there will likely be others and certainly their leaving will also mean the loss of support service jobs -all totaled probably in the 10,000-13,000 range... and Intel jobs usually pay on average about 20-30% above the average wage in CR... this will be a hard hit for CR. The expectation is that the housing market will be negatively affected.
FOR SALE
Unit #114: $235,000 / See Unit
Unit #116: $214,000 / See Unit
FOR RENT
Unit #107: $1,500 mo. / Available April 15 / See Unit
Unit #116: $1,400 mo. / Available Immediately / See Unit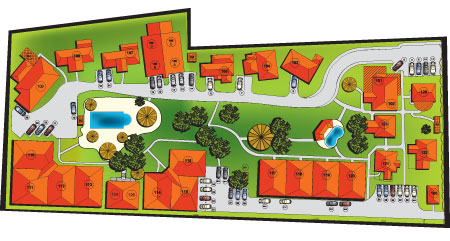 HOUSE FOR SALE
UNIT #114
FOR SALE $235,000
Total Area (Sq Ft): 1290
Total area (Sq M): 120
Bedrooms: 2
Bathrooms: 2
Floor(s): Single Floor
Type: Attached
Furnished: Yes
This 1,290 sf. (plus covered parking for one car and two lockers 67 sf.) single story, semi detached house, with garden terrace, two bedrooms is a beautiful executive style home. This home consists of two large bedrooms one with six piece en-suite bathroom with additional access to separate full shower. Each bedroom has large closets with extensive built-ins for personal organization. The vaulted living room and bathroom ceilings provide a feeling of grandeur while allowing the warmer air to rise and exit through the ceiling ventilating system. There are four TVs (one in each bedroom, one in the living room and one in breakfast / dinning room.) This is a beautiful well appointed home.
UNIT #116
FOR SALE $214,000
Total Area (Sq Ft): 1290
Total area (Sq M): 120
Bedrooms: 2
Bathrooms: 2
Floor(s): Single Floor
Type: Semi-Attached
Furnished: Yes
This 1,290 sf single floor home includes a 300 sf front terrace plus parking for one car and a separate, secure storage locker. It is and end unit and therefore attached on only one side by a 6 inch cement demising (common) wall, which prevents sound transfer.
HOUSE FOR RENT
UNIT #107
FOR RENT $1,500 mo.
Available April 15
Total Area (Sq Ft): 1716
Total area (Sq M): 158
Bedrooms: 2
Bathrooms: 2.5
Floor(s): 2 story
Type: Detached
Furnished: Yes
This 1,716 sf. (plus parking for one car) two story, detached house, with three terraces, two bedrooms (one on each floor) and upstairs master suite is a beautiful home. This home consists of two VERY large bedrooms (one on each floor) with en-suite bathrooms and a powder room, each with large closets with extensive built-ins for personal organization. The vaulted living room and ground floor bedroom ceilings as well as the master bedroom on the 2nd floor, provide a feeling of grandeur while allowing the warmer air to rise and exit through the ceiling ventilating system. There are three TVs (one in each bedroom and one in the living room.) This is a beautiful home. There is a rough-in for a dishwasher in the kitchen area.
UNIT #116
FOR RENT $1,400 mo.
Total Area (Sq Ft): 1290
Total area (Sq M): 120
Bedrooms: 2
Bathrooms: 2
Floor(s): Single Floor
Type: Semi-Attached
Furnished: Yes
This 1,290 sf single floor home includes a 300 sf front terrace plus parking for one car and a separate, secure storage locker. It is and end unit and therefore attached on only one side by a 6 inch cement demising (common) wall, which prevents sound transfer.
Our Lives
WEATHER: very windy with clouds building mid day -the rainy season is coming... some plants will survive...
Friends: Our final set of N. Am friends scheduled to visit us this year have returned. One standard I use to measure the friendship is the void left after they leave... I'm experiencing a huge chasm... we will see the again but when... who knows. While each always asks what they can bring... and we give a list... I remember something that was missing... audio books especially for Lita... they hustled around just before leaving an rounded up 27 along with a Walkman that Lita can use for private listening... she is devouring the books... I'm left alone to do my thing... dirt is accumulating... it's great...
All In A Week's Living in CR
Colon: the rate has pretty well stabilized around 556.
Semana Santa: (Easter Week): This is the biggest holiday in CR of the year. The Central Valley is deserted -the beach areas are full... party time all over. It's actually great in the Central Valley... few people and even fewer cars. The holiday started Friday with a patron hero's day... Juan Santa Maria -a young boy who "volunteered" for a suicide mission to torch William Walker and his group of undesirables in Rivas, Nicaragua. All government offices are officially closed next week and while the holiday is suppose to end effective Monday April 21, in actuality, many people extend their holiday in to he following week. Following this, the tourist "high" season ends.
Big Changes to CR: Solis officially won the presidency in the run-off election held last Sunday. This was no surprise. He got a substantial mandate (again no surprise) but he still heads a minority, dysfunctional government -he will have to rely on alliances... this has traditionally been difficult to achieve in CR... He has a daunting task of filling 2000+ political appointee jobs... one of the areas in which Laura Chinchilla came undone is that a number of her appointees embarrassed her via incompetence and corruption.
If starting up a new government is not a big enough challenge and initiating a bunch of new legislators, both Intel and B of A announced plans to leave CR. Intel alone represents about 20% of GDP. It is my understanding that Intel met with the government and candidates a number of months ago asking for some relief from electricity and water rates, a plea not to change the tax structure, and to allow more flexibility in the labor laws to schedule 4 - 10 hr shifts. The appeal evidently fell on deaf ears and given Intel's business situation, Intel simply decided to move the product to Vietnam... Intel says that the engineering function will remain... no one believes that it will remain for very long. Unofficially, I learned that in addition to the above woes of Intel, the CR facility is the only plant of Intel where employees are required to punch a time clock... (too much time theft dictated this); that Dell, HP and other computer companies would send computers here for testing and finishing... theft became an issue; and when Intel had surplus items they would donate to schools -the items got "sold" so the intended recipient never got the benefit intended by Intel. Another statement which was made in a conversation (and one which I have difficulty believing but...) is that while Intel may be moving some of it's production to Vietnam, it is also building (actually it is under construction) in Nicaragua where the government is more business friendly...
Bank of America operated a call center here. It is consolidating this function in the USA... this can only be because it is cheaper / more efficient to operate there... that's a big switch... but it should be a wake up call to CR... however, my assessment is that CR remains in denial.
These two moves will be completed by the end of 2014. Citi bank has stated that the effect on GDP will be a decrease in GDP of .5% this year and about 1/2 the projected growth rate for 2015. In terms of jobs, about 3,000 direct (good) jobs will be lost and if one factors in 3:1 support jobs, a total of about 12,000 jobs will be lost. These companies -Intel / B of A- actually pay their taxes and CAJA so this will be a big hit to an already struggling medical system and I'm sure Belen which has relied on taxes from Intel will be seriously affected.
Since Intel and B of A are leading names, some expect that other companies will also leave and / or other companies contemplating coming here, will reassess their plans. Net Foreign Direct Investment will be negatively affected -this has been basically non-existent for the past 6 months. Given the loss in jobs and the likely fallout, the colon will again come under pressure. The housing / rental market is likely to be negatively affected.
Bottom Line: Solis inherits a mess and is working on shooting himself in both knees: one of the first interviews he gave was to the Russian radio / media station. He is reported to have said that he wants to re-negotiate the FACTA agreement (he's never agreed with it) -FACTA is the free trade agreement- because CR has not received any benefits (read the US response to this allegation)... He is naive... if he thinks Russia is going to buy (and pay for) more bananas and pineapples (soon to become CR two largest exports given the demise of Intel computer chips) -all the US has to do to impose duties on these two items -which they can buy elsewhere- and CR becomes an even greater economic basket case than it is now and is going to become... however, since the colon is likely to head back up towards the 600:1 range, it will become cheaper to live here and may bring some benefit to tourism... Re. the attractiveness of expats to live here... CR has to change it's image of (poor service, poor value, expensive, non-expat friendly, dangerous, poor legal system, etc)... not an easy thing to do... there's lots of competition.
News Items of the Week
1 & 2. Intel Leaves CR.
3. Land exit tax: what a farce.. a simple system still dysfunctional...
4. Tourism: CR continues to pursue Chinese tourism...N. Am knows too much so CR needs virgin pastures.
5. Solis: inherits a fragmented, dysfunctional government.. he controls 13 of 57 seats in the legislature.
6. B of A Leaves CR -- note the denial and even though the company worked with the government, the government hushed it up.
7. Solis: FACTA effects and US response to his assertions...
1. Intel Corp. represented a fifth of the country's 2013 exports
By the A.M. Costa Rica staff

In 2013 Costa Rica exported $2.4 billion in electronic components for microprocessors. That amount was 20.9 percent of the nation's total exports of $11.4 billion that year.

In second and third place were pineapples and bananas.

The major manufacturer is Intel Corp. in Belén with 2,700 workers.

Early Friday the Spanish-language online newspaper CR Hoy went public with a story that its reporters had been following for months. The newspaper reported that Intel would be leaving Costa Rica.

The newspaper had some information from government sources, but the story lacked official confirmation. That was not long in coming. Intel told the press that some 1,200 of its workers would soon be let go and that the manufacturing operations in Costa Rica would move to Vietnam.

The government had hoped to keep the news of this devastating economic blow secret, perhaps until President Laura Chinchilla left office May 8. CR Hoy said a reporter asked Ms. Chinchilla about Intel's plans but she declined comment.

Intel, which has been here 15 years, has declined recently to make more investments in the country. The firm has had operations in Vietnam since 1997, and in 2006 it announced a $1 billion investment there to build its seventh and largest assembly test facility to produce chipsets, the firm said on its Web site. In July 2010, Intel Vietnam began using the latest Intel chipset technologies to produce chipsets that will help support the growth of mobile computing, it added.

The Costa Rican facilities are mainly for desktop computers.

Intel now has a 500,000-square foot facility in Ho Chi Minh City, the former Saigon.

The company in the past has expressed concern about Costa Rica's economic position with a soaring annual budget deficit. A main concern was higher taxes and fees that might affect exports and operations here. The Chinchilla administration, as part of the failed tax package presented in 2011, proposed a 30 percent export tax for some firms.

The company also has been rebuffed in efforts to obtain a concession in the country's labor law to allow it to schedule four 10-hour working shifts a week instead of the usual five-day, eight-hour shifts provided in the law. Now the firm is obligated to pay two hours of overtime for hours for more than eight a day even though 10-hour shifts might be more efficient in some cases.

Political figures are concerned that the great reduction in the Intel work force might trigger similar moves by other foreign firms.

Costa Rica is certainly more expensive than some Asian locations in which to run a business. A.M. Costa Rica estimates that the firm is paying more than $1 million a month in social charges and perhaps $4 million in the obligatory Christmas bonus. These costs are in addition to its Costa Rican income tax. Meanwhile the company is struggling to maintain its place in international markets.
2. Intel to lay off 1,500 employees, move manufacturing operations to Asia

April 7th, 2014 (InsideCostaRica.com) Intel's Costa Rican unit will lay off some 1,500 employees and move its manufacturing operations to Vietnam, according to reports. The layoffs would represent more than half of its total staff in the country.

According to reports, the US chip manufacturer will retain some 1,200 workers in Costa Rica, mostly working in its service operations.

Local economists are warning the move could have significant effects on the economy.

Intel's closure of its manufacturing operations will have a direct impact on the country's exports and produce a drop in the country's GDP, economists warn – estimates indicate that Intel's manufacturing operations represent 5% of the country's entire GDP and a significant percentage of the country's total exports.

Between 1997 and 2010, Intel represented an average of 6% of the country's total direct foreign investment.

Economist Melvin Garita said there would also be serious indirect consequences of the move. Intel has important local supply chains – and the closure of Intel's manufacturing operations in the country will affect between 2,500 and 3,500 people who work as part of those supply chains, Garita said.

Government officials have remained tight-lipped on the reports since rumors of the closure began last week, and have refuted rumors that the move is the result of high electricity costs in the country.

Costa Rica's Minister of Foreign Trade, Anabel Gonzalez, told reporters that the company would be giving "important announcements" in the coming days.

Communications Minister, Carlos Roverssi, said the government would not address the issue until the company makes a formal announcement of the closure.
3. Much-delayed $7 land exit tax finally is confirmed to be in effect
By the A.M. Costa Rica staff

The $7 land exit tax is now in effect and is being collected at all Costa Rican border crossings. Agents at the Peñas Blancas border office said collecting the exit fee began April 1.

As representatives of the Dirección General de Migración y Extranjera de Costa Rica, they said that the land tax will be collected at each office on routes into both Nicaragua and Panama.

The total fee is made up of a $5 charge that comes according to Ley No. 9154, plus a $2 baggage check fee stated in Ley No. 7664. The latter is included even for those travelers who may not have any luggage or carry-on materials.

If travelers are crossing into the Nicaraguan border via bus or car, they can also expect to pay a $14 entrance fee to the northern neighbor, as well as a $4 exit fee on the way back.

Costa Rica does not charge a land entrance fee on returns.

After the Asamblea Legislativa passed the law last July, the land tax was supposed to go into effect before Christmas, but there were a series of delays because there were few ways travelers could pay the fee.

A reporter who traveled to the northern border last weekend said that he paid the exit tax at the Tica Bus office in San José.

Even though the tax was not being collected, workers at the Ministerio de Hacienda's central office in San José insisted that it was. Even Edgar Ayala, the finance minister, could not give the state of the tax. He was hospitalized when the measure was supposed to go into effect.
4. Tourism officials and local firms seeking more business from China
By the A.M. Costa Rica staff

The Instituto Costarricense de Turismo joined seven domestic businesses to travel to the China Outbound Travel & Tourism Market in Beijing which runs from Wednesday through Friday.

Officials are confident that their presence at the fair will attract a rather immediate flow of Chinese travelers to Costa Rica. Allan Flores, the minister of Turismo, said China's population numbers alone tell why its an obvious target for travel marketing.

"Exploring new market options to promote and position Costa Rica as an excellent tourism destination has been one of the challenges constantly in front of us," Flores said. "We're working on the execution of effective strategies in key markets, and in this case China represents a business opportunity due to the level of supply and demand that Chinese citizens give."

After waiving Russian visa requirements last week, Flores and the Instituto Costarricense de Turismo are stressing initiatives that could draw in a different demographic to Costa Rica.

This year marks the second time the country has participated in the Chinese travel fair. According to Ireth Rodríguez, marketing director at the Instituto Costarricense de Turismo, this event allows for valuable face-to-face communication between travel agencies and potential tourists.

Agents are able to schedule appointments, answer any questions, and provide direct information that they otherwise could not.

"The participation in this fair is a step towards the strengthening of Costa Rica as a tourist destination," Ms. Rodríguez said. "It's consistent with the strategy of attracting new tourists while using these exploratory trips as a resource that serve to analyze needs and preferences, as is the case in China."

More than 120 Chinese businessmen have been invited to a presentation hosted by the Instituto Costarricense de Turismo and set for today. Tourism employees said they intend to discuss the country's worth as a consistent destination. The seven Costa Rican travel businesses are planning on setting up shop at the Costa Rican Embassy in China to clear any doubts or concerns about visa processes.

The World Trade Organization has data estimating China as the biggest source for tourists in the world. In the first nine months of 2013, their tourism spending amount increased by 28 percent, surpassing travelers from both Germany and the United States.

More than 4,000 interested Chinese professionals and citizens plan to attend the travel fair. The audience will be made up of government officials, hotel workers, tour operators, real estate agents, and more.

Last year Costa Rica recorded nearly 8,000 international arrivals from China.
5. Fitch: Fragmented Legislative Assembly could pose challenge for fiscal reform

April 8th, 2014 (InsideCostaRica.com) Global ratings agency, Fitch Ratings is warning that building political support for comprehensive fiscal reform could be challenging for the next Costa Rican government due to a high degree of political fragmentation.

"Solis's victory in Sunday's run-off presidential elections was widely expected after the incumbent party's candidate ceased campaigning when opinion polls gave Solis, of the opposition Partido Accion Ciudadana party, a substantial lead. However, February's general elections resulted in the greatest fragmentation in the country's history, with nine parties represented in the 57-member legislative assembly. No party has a simple majority, and legislative rules in Costa Rica give obstructive powers to minority parties," Fitch said in a statement released by the agency.

Meanwhile, Solis's PAC party will have just 13 of the 57 seats in the Legislative Assembly.

"High structural fiscal deficits remain the key weakness in Costa Rica's sovereign credit profile, and it is still not entirely clear what fiscal approach the new administration of Luis Guillermo Solis will take. Fiscal deterioration poses challenges for stabilizing the government debt burden and the authorities' capacity to respond to adverse shocks and future spending demands, and this may eventually erode business and consumer confidence," Fitch said.

"Costa Rica's low revenue base and rigid expenditure profile produces high structural fiscal deficits. The deficit reached 5.4% of GDP in 2013. Fiscal imbalances became more prominent in 2012 and heavy public financing needs pushed up local interest rates, forcing the sovereign to tap the international bond markets (..) [with the recent issuance of $1 billion worth of bonds]," Fitch said.

Fitch affirmed Costa Rica's 'BB+'/Stable sovereign rating in January.

Failure to address the country's fiscal deterioration would put negative pressure on the rating, the agency warned.
6. Commerce officials surprised by Bank of America
By Michael Krumholtz, of the A.M. Costa Rica staff

A planned exodus of two U.S.-based businesses and the loss of local jobs has shaken Costa Rica. Between the move of Intel Corp's manufacturing operation to Vietnam and the eventual closure of the Bank of America subsidiary BA Continuum, the nation stands to lose 3,000 total jobs.

Government leaders confirmed Intel's decision to remove production operations at a noon press conference Tuesday. Led by Anabel González, the minister of Comercio Exterior, officials downplayed the impact of Intel's departure and said the nation benefits from a wealth of investors.

"It's become a country where others can invest," Ms. González said. "Today we don't depend on one business nor one sector."

Chuck Mulloy, a corporate spokesman for Intel, later confirmed the company's plans and said all manufacturing operations will be completely shut down by December following gradual closures over the next few months. Mulloy said Intel will keep nearly 1,000 Costa Rican positions in engineering, information technology, and finance.

While the economic bruise was still being assessed, a second announcement hit. According to a source, employees from BA Continuum were called in for a 2 p.m. meeting to announce that the facility on Calle Blancos in San José will be closing and layoffs are inevitable. Around 1,400 call center and information positions are expected to be cut as a result.

By the afternoon Dan Frahm, a communications executive for Bank of America had confirmed that the parent company alerted BA Contiuum heads in Costa Rica that the office will be totally closed in nine to 12 months. Frahm said the company has been in talks with ministers and other government leaders to relay their plans with transparency and give the country time for assessment.

At the conference neither Ms. González nor a pair of representatives from the Coalición Costarricense de Iniciativas de Desarrollo, known as CINDE mentioned word of BA Continuum. Gabriela Liobet, who is the executive director at CINDE, was at the meeting. She said later the investment agency was as shocked as was the rest of the nation when they learned of the company's plans.

"This announcement from BA Continuum took us by surprise," said Ms. Llobet in a written statement. "We had not been informed of any development by the company, so really we receive this news with great astonishment."

Ms. Llobet, and CINDE president José Rossi were unanimous in assuring that the nation has enough foreign investment and demand to survive. Rossi said the country's economic prowess has come a long way since Intel first planted itself in Costa Rican soil in 1997.

"Back then we began only with the development of high-tech industries, and we had just installed a dozen companies," Rossi said. "Today we have added more than 250 high-tech multinationals that operate in the country and manufacture a great diversity of devices."

Heavyweight foreign investors like Hewlett-Packard and IBM are among the many that continue to keep Costa Rica on the international marketplace's map. Still, the loss of Intel production takes out a big chunk of the country's trade opportunity.

Ms. González said that when Intel began in Costa Rica, its production represented a third of the total exports coming from the country. Today the percentage has dropped to 13 percent. When asked at the press conference if the loss of business may scar Costa Rica's future marketability and shy away potential foreign investors, Ms. González said she was confident that it would not.

"There is no blemish on the country's business card," Ms. González said. "It's still a card with a respected name. There are 250 business leaders still invested in this country."

Later in the day the Spanish-language press was reporting that Ms. Gonzalez was getting a job with the World Bank.

The individual impact on employees of both firms will be heavy. The Bank of America worker who attended the 2 p.m. meeting said that he just received a promotion, married and now his wife is expecting a baby.

Several expats said that the impact of the loss of jobs would have a ripple effect.
7. Solis criticizes FACTA Effect on CR: US Responds

"The Embassy has consistently made the point that U.S./Costa Rican trade has continued to grow, despite the negative effects of the 2008 downtown. New markets for Costa Rican goods have been opened in the United States. In addition, CAFTA led directly to the deregulation of the telecommunication sector, which has brought profound benefits to Costa Rica, including significant direct foreign investment, jobs, improved service and customer choice for Costa Ricans, who can now run a small business through the latest smart phone where they used to wait in lines for outdated technology," Turner said in a statement to Inside Costa Rica.

"A recent report by the World Bank found that – while some beneficial impacts of CAFTA have lagged because of the slow pace at which tariffs are being removed – CAFTA has, over its first five years, brought significant positive changes to Costa Rica and its economy," Turner said, adding:

"The U.S. government is looking forward to working closely with the Solis administration in our areas of common interest, which include trade and economic ties, energy, citizen security and more. The United States is Costa Rica's largest export market, but over recent years, Costa Rica has done a lot to expand its commercial ties with Europe and other markets and to further diversify its economy to mitigate the effect of shocks, like the 2008 recession."
Brian, Lita, the Late Hugo IV, irreverent Vicka, the pigeon toed parrot, Chico II and Chica II