Brian Timmons
Dear friends,
When I started Residencias Los Jardines, I started writing a weekly news letter -determined to tell all the good, bad, and the ugly. I knew some readers would be interested in the construction process. I expected others might be interested in the lifestyle of two people who had decided to live outside the box. For others, the adventures of Lita, the parrot and the cat took on an entertainment saga all its own.
Residencias Los Jardines is finished. We periodically have resales and rental availability. Some readers may be interested in this information.
Brian Timmons
DEVELOPER / PROPERTY MANAGER
Residencias Los Jardines / https://www.residenciaslosjardines.com info@residenciaslosjardines.com
ResidenciasPropertyManagement@gmail.com
Featured house this week
Paradisus Condos / Rorhmoser
FOR SALE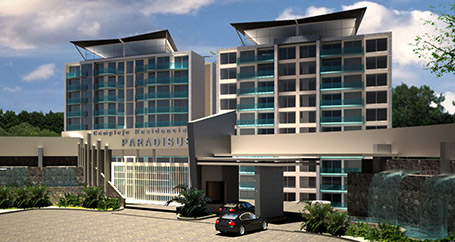 Paradisus will consist of 4 towers in Rorhmoser, a suburb to the west of central San Jose. Not far from the US Embassy and shopping malls, Rorhmoser is a residential area that was developed in the 60's and 70's and is currently seeing significant re-development with high end condos. It is the area where the new stadium and a number of luxury high rise condos have recently been built with more on the drawing boards. Phase one of this development is nearing completion; it consists of two towers and the amenities -pool, exercise room, etc. Tower one is expected to be completed in January and Tower 2 should follow in February / March. The location of this development is superb... it's off the main traffic paths and sits on a ravine overlooking a river. To the east is San Jose / Heredia; to the west is Pavas / Escazu. With floor to ceiling windows and a wrap around balcony, these units offer fantastic light and views.
Each of the units consists of two bedrooms / two bathrooms, and a large living/dining/kitchen area. The floor plan of each of these units has eliminated the optional "den / office" divider. The result is a larger area offering more flexible furniture arrangements while still maintaining the option of including an office area. At 105m2 plus two parking spots each and storage locker, they offer a great opportunity for someone seeking views, security, central location, and first class, all round living...
Infinity Terraces
FOR SALE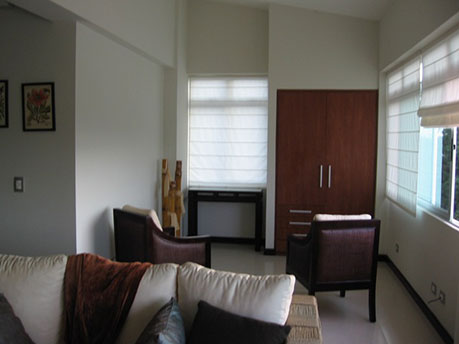 $229,000 / 2 bdrm / 2 bthrm / Penthouse / Sunset Views / 150 m2 / 1500 sf
INFINITY TERRACES: Pozos de Santa Ana / Guachapelin -contemporary design, well maintained, luxury 5th floor penthouse condo nestled in the hills of Santa Ana. Spacious open floor plan with 16 ft. vaulted ceilings, large kitchen w/SS appliances and granite countertops, laundry room w/ washer and dryer, air-conditioned. Plenty of closet space. : 5 year old / two car parking / bodega… building has high security, gym , hot tub and swimming pool.. 180 degree sunset views to west and north (Alejuela). 5 min. to San Jose – Caldera Highway / Multiplaza. This unit offers a secure, carefree lifestyle; you can lock and leave or leave and lease.
Loma Real Escazu / Guachipelin, Central Valley
FOR SALE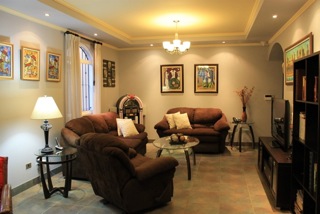 $325,000 / 3 bdrms + maids rm / 3.5 bthrms / owner financing
Beautiful house in residential area: 24 hours security. 274 m2 construction. 2 story, 3 bedrooms + maids quarters, 3 1/2 bathrooms, ample eat-in kitchen, six years old, immaculate condition, lot 264 m2 professionally landscaped, two car enclosed garage, 1500 L reserve water tank, electric demand water heaters, Independent office. Located close to all amenities. Taxes $500 yearly and security $80 monthly.
House can be purchased furnished for an additional $30,000
Owner will take back a mortgage for up to 5 yrs. @ 12% interest only.
Residencias Los Jardines
Property Management, Rentals, Re-Sales
Market Activity
Sales: no calls.
Rentals: one viewing.
FOR SALE
Unit #114: $235,000 / See Unit
Unit #116: $214,000 / See Unit
FOR RENT
Unit #107: $1,600 mo. / Available April 15 / See Unit
Unit #116: $1,500 mo. / Available Immediately / See Unit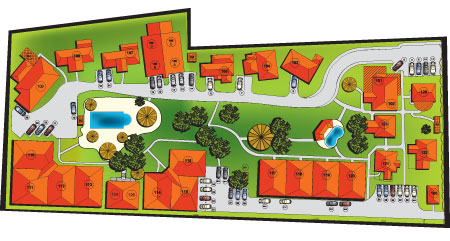 HOUSE FOR SALE
UNIT #114
FOR SALE $235,000
Total Area (Sq Ft): 1290
Total area (Sq M): 120
Bedrooms: 2
Bathrooms: 2
Floor(s): Single Floor
Type: Attached
Furnished: Yes
This 1,290 sf. (plus covered parking for one car and two lockers 67 sf.) single story, semi detached house, with garden terrace, two bedrooms is a beautiful executive style home. This home consists of two large bedrooms one with six piece en-suite bathroom with additional access to separate full shower. Each bedroom has large closets with extensive built-ins for personal organization. The vaulted living room and bathroom ceilings provide a feeling of grandeur while allowing the warmer air to rise and exit through the ceiling ventilating system. There are four TVs (one in each bedroom, one in the living room and one in breakfast / dinning room.) This is a beautiful well appointed home.
UNIT #116
FOR SALE $214,000
Total Area (Sq Ft): 1290
Total area (Sq M): 120
Bedrooms: 2
Bathrooms: 2
Floor(s): Single Floor
Type: Semi-Attached
Furnished: Yes
This 1,290 sf single floor home includes a 300 sf front terrace plus parking for one car and a separate, secure storage locker. It is and end unit and therefore attached on only one side by a 6 inch cement demising (common) wall, which prevents sound transfer.
HOUSE FOR RENT
UNIT #107
FOR RENT $1,600 mo.
Available April 15
Total Area (Sq Ft): 1716
Total area (Sq M): 158
Bedrooms: 2
Bathrooms: 2.5
Floor(s): 2 story
Type: Detached
Furnished: Yes
This 1,716 sf. (plus parking for one car) two story, detached house, with three terraces, two bedrooms (one on each floor) and upstairs master suite is a beautiful home. This home consists of two VERY large bedrooms (one on each floor) with en-suite bathrooms and a powder room, each with large closets with extensive built-ins for personal organization. The vaulted living room and ground floor bedroom ceilings as well as the master bedroom on the 2nd floor, provide a feeling of grandeur while allowing the warmer air to rise and exit through the ceiling ventilating system. There are three TVs (one in each bedroom and one in the living room.) This is a beautiful home. There is a rough-in for a dishwasher in the kitchen area.
UNIT #116
FOR RENT $1,500 mo.
Total Area (Sq Ft): 1290
Total area (Sq M): 120
Bedrooms: 2
Bathrooms: 2
Floor(s): Single Floor
Type: Semi-Attached
Furnished: Yes
This 1,290 sf single floor home includes a 300 sf front terrace plus parking for one car and a separate, secure storage locker. It is and end unit and therefore attached on only one side by a 6 inch cement demising (common) wall, which prevents sound transfer.
Our Lives
WEATHER: boringly beautiful... 23-28 / 72-80F ; gentle breeze; mostly sunny.
All In A Week's Living in CR
Colon: the rate has pretty well stabilized around 552.
Market Comment: A person I know and chat with contacted me this week. He has lots of rental units he looks after. He said that from his experience, the market died in March. He is not seeing inquiries for anything above $800-$900. I am getting very few phone calls and those who do view, are never heard from again.
Hotel Guanamar: is located in Playa Carrillo which is just south of Samara. It is the best beach I know in CR... and many others feel the same way. It is picture postcard beautiful... 1/2 moon crescent protected by a reef so the water is very calm, small waves, little undertow... beautiful sand with gently sloping beach and into the water. There is a band of palm trees which provide shade and a place to stretch a hammock. Hotel Guanamar was built about 25 years ago by Japanese investors. The story is that the investors gambled away their money and the hotel was taken back by the tow ticas who held the mortgage on the property. The hotel occupies the side of a hill overlooking the bay and right into the sunsets. I defy anyone to find a better view... equal perhaps but better I doubt. The hotel is usually not busy... it has never been marketed effectively and remains a hidden gem. The rooms are large... probably around 600sf with a large covered terrace overlooking the bay and sunset. The bar, dinning area and the pool are on an upper level, open air and also overlook the bay and sunset. On Tuesday, we had friends from Canada arrive and they of course wanted to go to the beach. I negotiated a fantastic deal with the hotel... $50 per night per person including three meals and taxes. (This was not the first offer they made; in fact, it took several offers before I got to this one.) The meals were fantastic... lots of local fish -tuna, marlin, corvina (sea bass), dorado, and a variety of breakfast meals. Not one of us had a bad meal in the three nights we were there. The hotel is under new management and he seems to know what he's doing... finally I think the hotel will be successful. We made sure we complimented him on some good decisions had had made. I'll be ging back... for sure.
News Items of the Week
1. Credit Cards: It's always amazing to stand in line at the grocery check out and watch people go through several credit cards before finding one which is not maxed out. What they may be buying is less than three dollars... and note the interest rates!!!!!!!!!!!!!
2. Bank Account Management: it's really, really difficult here... Cooperatives don't have the same masters... I understand they are not included under FACTA. I'm looking at moving to thise organizations... Anything that is not controlled by information requirements from the USA... IRS... it is just too intrusive. The other day I withdrews some money. The bank wanted to know what I was going to do with it. I said it was none of their business... it's my money and they had not told me what they had done with my money during the 6 years they had it so I did't feel obligated to tell them what I was going to do with it. Well that answer didn't fly. Finally I told them I was buying a car... not the truth but they accepted it. Several years ago I opened another account in the same bank where I had banked for 5 years before. It took 3 months to set up the account before I could use it... and my money was in another account at their branch.
3. Gas Prices: yep>>>> up again....
1. Many Costa Ricans owe their soul to credit card firms
By the A.M. Costa Rica staff

Just like the central government, average Costa Ricans continue to spend more than they bring in.

The economics ministry computed that the country's credit card debt increased 21 percent in the last 19 months. That is a bit more than 1 percent a month.

The Ministerio de Economía, Industria y Comercio said that the increase was about 4 billion colons a month. The credit card debt for the country was estimated to be 787.5 trillion colons as of Jan. 31. That is about $1.5 trillion.

In addition to the debt, Costa Rica does not have anti-usury laws, so some banks are charging more than 50 percent interest a year. The ministry said that the credit card debt went up 4.8 percent just since October.

There are about 1.7 million individual credit cards in use. In the last four years it has been doing the study, the ministry said that the number of credit cards has increased 30.8 percent.
2. Opening or keeping bank account now a paper chase
By Garland M. Baker, Special to A.M. Costa Rica

An expat went to his bank Friday to open a new account. He said to the customer service representative, "I would like to close a bank account for one company I have had for 10 years and open a new one for a new company." The agent look at him perplexed and said, "Why in the world do you want to do that."

The man explained that one business was stopping operations and has been legally closed with the tax agency and that he started a new company. The bank employee said, "Do you have any idea all the paperwork you need? It would be easier to use the old account and not close it."

The diligent expat had previously requested a form with all the requirements and showed the representative his folder. He also explained he was a long-time loyal customer and there had never been a problem with his account. The agent said, "It does not matter how long you have been a customer with our bank, everything is different now. I will go talk to my boss to see if I can open the account. After a long wait, the person finally came back and said, "We will open your new account, but you still need more information."

The crux of the story is the bank employee was correct. The red tape and requirements to open a new bank account for a company are a bad dream. Here they are on this abridged short list.

1.Certificación de personería jurídica (legal resume of a business that states who is what in a company). This is one of the most important legal documents in Costa Rica. It can be prepared by an attorney or downloaded from the Registro Nacional Digital. It cannot be obtained if Law 9024 taxes are due. A "certificación literal," is a similar document with more information and can be used in place of a personería. This document is available without having Law 9024 taxes paid.

2. A certified copy of the company's constitution and any relevant changes, for example, change of name or legal address.

3. A certification prepared by an attorney outlining exactly who are the stockholders and their participation in the company. It must coincide with the entities stockholders register. If any stockholder is another company, the certification must extend through it, until a physical person is reached.

4. A certification of origin of any funds used to open the bank account. For new companies a projected cash flow for six months to a year is needed.

5. An electric bill or water bill indicating the name and address of the entity opening the bank account. If these do not exist or they do not have the correct information on them, then a valid rental or lease agreement can be used to fulfill this requirement.

6. A copy of the identification cédula for Costa Ricans or a DIMEX card for residents. This is known as the immigration identity card. In some cases a N.I.T.E. number may work depending on the bank. This stands for Número de Identificación Tributaria Especial. It is used in cases where an individual does not have a Costa Rican cedula or DIMEX card. Also a copy of the identification of the registered agent is required. Registered agents of companies in Costa Rica must be attorneys.

7. A completed know your customer form provided by the bank.

8. A zillion signatures and a few hours to waste to complete all the paperwork.

It is not surprising Citibank is advising its foreign customers they are closing their accounts and more importantly closing their branches outside the Central Valley. They are probably finding it hard to keep customers, let alone get new ones.

What foreign investor in his right mind wants to go through all this baloney just to open a bank account to pay monthly bills? The bank representative was right. It is easier to keep an old account open.

Well, not so fast. That is not exactly true. Banks have been calling customers and placing ads in all available media for them to come in and update their information. And, believe it or not, almost the same gobbledygook to open a new account is needed to maintain an old one.

Costa Rican Law 8204 and its subsequent regulations of implementation are at fault. This law is the anti-drug and terrorism legislation of Costa Rica. It is not a new law, but it was extensively reformed a few years back, and institutions are now in high gear to enforce its directives.

U.S. H.R. 2847, the Hire Incentives to Restore Employment Act that was signed into law in 2010 is also at fault. This is the bill which included the Foreign Account Tax Compliance Act. This law known to most as FATCA, makes U.S. residents accountable for money invested in foreign banks. It requires offshore financial institutions to provide information on their American customers to the U.S. Internal Revenue Service.

What is important to expats, especially ones who have second homes here or are invested in some way in Costa Rica but do not have residency, is that they will most likely not be able to open a bank account. If they have one, it will probably be closed soon.

One expat when asked why he was selling his beautiful house close to the beach, said, "Costa Rica is just making it impossible to live here." This feeling is echoed all over the country. Banking goes hand-in-hand with investment. Citibank's decision to close many of its branches is the writing on the wall and a prelude for things to come.

The country works on a pendulum. It is never in the middle. It is always nothing or too much. Like the music ones hears on the streets and in social gathering places. It is either off or full blast.
3. Gasoline prices will follow the U.S. dollar and go higher shortly
By the A.M. Costa Rica staff

The U.S. dollar has gotten stronger, so now the gasoline prices will follow.

The Autoridad Reguladora de Servicios Públicos said Wednesday that super gasoline will increase 45 colons, plus will go up 36 colons and diesel will increase 25 colons.

In terms of the U.S. dollar, the increases mean that a gallon of super will cost $5.30, some 32 U.S. cents higher than the previous price.

Plus will be $5.07 a gallon, up 25 U.S. cents, and diesel will be $4.73 a gallon.

The new prices in colons will be 756 colons for a liter of super, 723 for plus and 675 colons for diesel.

The U.S. dollar has increased about 50 colons since Feb. 1. Since petroleum is an imported product, the price must be settled in dollars. Another increase is coming because the Autoridad used an exchange rate of about 530 colons to the dollar, but the rate continues to favor the U.S. currency more.

These rates will go into effect when they are published in the La Gaceta official newspaper.

The new prices mean that a 20-gallon fill up will cost the equivalent of $106.
Brian, Lita, the Late Hugo IV, irreverent Vicka, the pigeon toed parrot, Chico II and Chica II