Brian Timmons
Dear friends,
When I started Residencias Los Jardines, I started writing a weekly news letter -determined to tell all the good, bad, and the ugly. I knew some readers would be interested in the construction process. I expected others might be interested in the lifestyle of two people who had decided to live outside the box. For others, the adventures of Lita, the parrot and the cat took on an entertainment saga all its own.
Residencias Los Jardines is finished. We periodically have resales and rental availability. Some readers may be interested in this information.
Brian Timmons
DEVELOPER / PROPERTY MANAGER
Residencias Los Jardines / https://www.residenciaslosjardines.com info@residenciaslosjardines.com
ResidenciasPropertyManagement@gmail.com
Featured house this week
Paradisus Condos / Rorhmoser
FOR SALE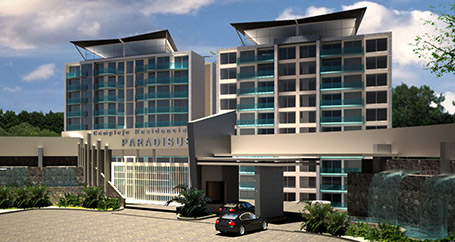 Paradisus will consist of 4 towers in Rorhmoser, a suburb to the west of central San Jose. Not far from the US Embassy and shopping malls, Rorhmoser is a residential area that was developed in the 60's and 70's and is currently seeing significant re-development with high end condos. It is the area where the new stadium and a number of luxury high rise condos have recently been built with more on the drawing boards. Phase one of this development is nearing completion; it consists of two towers and the amenities -pool, exercise room, etc. Tower one is expected to be completed in January and Tower 2 should follow in February / March. The location of this development is superb... it's off the main traffic paths and sits on a ravine overlooking a river. To the east is San Jose / Heredia; to the west is Pavas / Escazu. With floor to ceiling windows and a wrap around balcony, these units offer fantastic light and views.
Each of the units consists of two bedrooms / two bathrooms, and a large living/dining/kitchen area. The floor plan of each of these units has eliminated the optional "den / office" divider. The result is a larger area offering more flexible furniture arrangements while still maintaining the option of including an office area. At 105m2 plus two parking spots each and storage locker, they offer a great opportunity for someone seeking views, security, central location, and first class, all round living...
Infinity Terraces
FOR SALE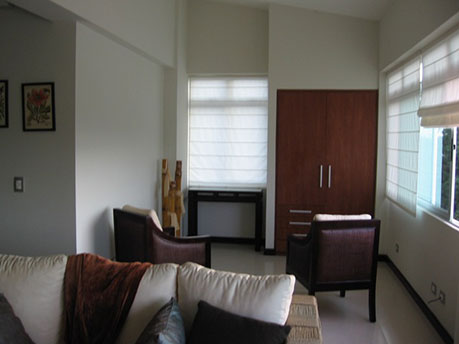 $229,000 / 2 bdrm / 2 bthrm / Penthouse / Sunset Views / 150 m2 / 1500 sf
INFINITY TERRACES: Pozos de Santa Ana / Guachapelin -contemporary design, well maintained, luxury 5th floor penthouse condo nestled in the hills of Santa Ana. Spacious open floor plan with 16 ft. vaulted ceilings, large kitchen w/SS appliances and granite countertops, laundry room w/ washer and dryer, air-conditioned. Plenty of closet space. : 5 year old / two car parking / bodega… building has high security, gym , hot tub and swimming pool.. 180 degree sunset views to west and north (Alejuela). 5 min. to San Jose – Caldera Highway / Multiplaza. This unit offers a secure, carefree lifestyle; you can lock and leave or leave and lease.
Loma Real Escazu / Guachipelin, Central Valley
FOR SALE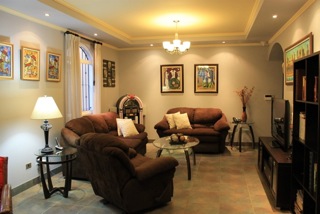 $325,000 / 3 bdrms + maids rm / 3.5 bthrms / owner financing
Beautiful house in residential area: 24 hours security. 274 m2 construction. 2 story, 3 bedrooms + maids quarters, 3 1/2 bathrooms, ample eat-in kitchen, six years old, immaculate condition, lot 264 m2 professionally landscaped, two car enclosed garage, 1500 L reserve water tank, electric demand water heaters, Independent office. Located close to all amenities. Taxes $500 yearly and security $80 monthly.
House can be purchased furnished for an additional $30,000
Owner will take back a mortgage for up to 5 yrs. @ 12% interest only.
Residencias Los Jardines
Property Management, Rentals, Re-Sales
Market Activity
Sales: two calls.
Rentals: one viewing.
FOR SALE
Unit #114: $235,000 / See Unit
Unit #116: $214,000 / See Unit
FOR RENT
Unit #107: $1,600 mo. / Available April 15 / See Unit
Unit #116: $1,500 mo. / Available Immediately / See Unit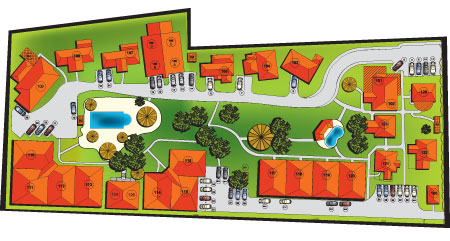 HOUSE FOR SALE
UNIT #114
FOR SALE $235,000
Total Area (Sq Ft): 1290
Total area (Sq M): 120
Bedrooms: 2
Bathrooms: 2
Floor(s): Single Floor
Type: Attached
Furnished: Yes
This 1,290 sf. (plus covered parking for one car and two lockers 67 sf.) single story, semi detached house, with garden terrace, two bedrooms is a beautiful executive style home. This home consists of two large bedrooms one with six piece en-suite bathroom with additional access to separate full shower. Each bedroom has large closets with extensive built-ins for personal organization. The vaulted living room and bathroom ceilings provide a feeling of grandeur while allowing the warmer air to rise and exit through the ceiling ventilating system. There are four TVs (one in each bedroom, one in the living room and one in breakfast / dinning room.) This is a beautiful well appointed home.
UNIT #116
FOR SALE $214,000
Total Area (Sq Ft): 1290
Total area (Sq M): 120
Bedrooms: 2
Bathrooms: 2
Floor(s): Single Floor
Type: Semi-Attached
Furnished: Yes
This 1,290 sf single floor home includes a 300 sf front terrace plus parking for one car and a separate, secure storage locker. It is and end unit and therefore attached on only one side by a 6 inch cement demising (common) wall, which prevents sound transfer.
HOUSE FOR RENT
UNIT #107
FOR RENT $1,600 mo.
Available April 15
Total Area (Sq Ft): 1716
Total area (Sq M): 158
Bedrooms: 2
Bathrooms: 2.5
Floor(s): 2 story
Type: Detached
Furnished: Yes
This 1,716 sf. (plus parking for one car) two story, detached house, with three terraces, two bedrooms (one on each floor) and upstairs master suite is a beautiful home. This home consists of two VERY large bedrooms (one on each floor) with en-suite bathrooms and a powder room, each with large closets with extensive built-ins for personal organization. The vaulted living room and ground floor bedroom ceilings as well as the master bedroom on the 2nd floor, provide a feeling of grandeur while allowing the warmer air to rise and exit through the ceiling ventilating system. There are three TVs (one in each bedroom and one in the living room.) This is a beautiful home. There is a rough-in for a dishwasher in the kitchen area.
UNIT #116
FOR RENT $1,500 mo.
Total Area (Sq Ft): 1290
Total area (Sq M): 120
Bedrooms: 2
Bathrooms: 2
Floor(s): Single Floor
Type: Semi-Attached
Furnished: Yes
This 1,290 sf single floor home includes a 300 sf front terrace plus parking for one car and a separate, secure storage locker. It is and end unit and therefore attached on only one side by a 6 inch cement demising (common) wall, which prevents sound transfer.
Our Lives
WEATHER: boringly beautiful... 23-28 / 72-80F ; gentle breeze; mostly sunny.
All In A Week's Living in CR
Colon: the rate has pretty well stabilized around 552.
Under Threat: April 1 will mark the 13th anniversary of when I purchased the property which became Residencias Los Jardines. At that time is consisted of a basic pool and 6 essentially single wall construction, basic buildings... some dome, tin Quonset huts. I finalized my vision and started construction. I sold as I built to people who shared the vision. From that perspective, it was successful. I can argue that it was too successful in that it created the perfect cocoon that expats could live here and never have to live in a foreign country... Costa Rica - English is spoken, all documentation is in English, a support network has been created of trades and service people, that hand service the residents. I'm not aware of anyone actually giving back to the community or the country. Aside from that, the people who bought here bought because they wanted to live in a tropical environment. Today that environment is under attack by those who want to slash many of the mature trees and starve the existing plants of water... why? I don't have a good answer for that. Those who want to go in this direction will be challenged. Some where along the road, the shareholders will have to step up to the table -if given a chance- and make their voices heard. What we have had is people who become active to push their particular agenda... they leave and leave behind them their legacy -in this case desecrated twenty year old magnificent, shaped, and manicured ficus trees. Personally I have a problem with this and if I have a problem with it, I'm going to share it big time... we'll see... Note there are some many more enjoyable ways to spend energy but at some point one has to choose comfort vs. principle but if a few are bent on destroying the rights of the majority, then I have to stand up... If my vision doesn't not represent the majority, then I have some decisions to make.
An Opportunity: A friend of mine just committed to a personal loan to a condo builder. The loan, two year term, 12% interest, is guaranteeed by the sate insurance company, INS. It's a beautiful arrangement. He's laughing all the way to the bank.
News Items of the Week
1. Gas taxes: Panama's gas is about fifty cents less than CR and it has good roads... so what gives?
2. Dry season and electrical rates: the dry season happens every year and every year ICE has to make up the hydraulic produced electrical shortfall. What is different this year than in previous years, is that the CR electrical grid is now tied into the larger Central American grid so when we have a shortfall in CR, ICE can buy, at a lower cost, surplus generation from Panama, Nicaragua, Columbia, Guatemala, or???? This is a good thin since CR has not be able to fill is reservoirs during the raining season for the past several years.
3. Sewer Lines: finally they are letting the contract to build a trunk line to connect to the black water treatment plant which is under construction. Now they just need to build the remaining hundreds of miles of collecting pipes to connect to the trunk line and then to the treatment plant. This whole issues is a sad, but very real, comment on CR. It's great at creating a responsible public image but the reality is far different.
4. Additional Hydro Plant: great but there isn't enough water to power it to full potential...
5. Chinese Road Proposal: now understand this: The proposal is written in Chinese and there are NO engineering drawings or specifications and no oversight by CR (that could be a good thing) but CR is going to have to pay for it... the money is a loan and loans have to be paid back (unless CR is successful at begging for changing the terms in order to support some Chinese proposal at the UN.
1. Taxes inflate gasoline prices here by a third
By the A.M. Costa Rica staff

The topic is the cost of living, many expats quickly bring up the price of gasoline. They look to Panamá as a country where the prices are lower.

The national petroleum refinery monopoly, the Refinadora Costarricense de Petróleo S.A. has come out to defend the prices. Costa Rica has the lower super and plus gasoline prices in Central America, it said, if the taxes are not counted.

The refinery said this was the report from the Comité de Cooperación en Hidrocarburos de América Central, which is part of the region's integration system.

The report said that Costa Rican super per-gallon price in a March 9 to 15 survey was $3.154. The tax was $1.555. That number is a little different than the price A.M. Costa Rica computed last March 6 when yet another price increase was announced. But the number is close. The committee report used three digits after the decimal point for precision.

Because the computation includes the colon-dollar exchange rate, the final number depends on whether the higher or lower rate is used and on what day the price is computed. A.M. Costa Rica computed the price of a gallon to be 2,592.50 colons and said that was $4.85.The hydrocarbon committee said $4.719.

Still, taxes represented a third of the final consumer price.

The committee report said that the pre-tax price is the highest in Nicaragua where is it $4.234 per. gallon and that Nicaragua has the highest per-gallon consumer price of $5.093. Honduras has the second highest consumer price at $5.031 because it has a $1.409 tax per gallon for roads.

The results were about the same for regular, called plus in Costa Rica. A gallon before tax costs $3.078 here. The consumer price includes $1,486 in taxes for a pump price of $4.564, the committee said. In Nicaragua, the consumer price was $4.695.

Panama super was 4.27, some 50 U.S. cents lower than Costa Rica because there is only 60 cents tax on a gallon. Regular was $3.91 a gallon, also with 60 cents taxes.

Costa Rica did not have the lowest diesel price before or after taxes. The pre-tax prices per gallon was $3.435. Prices in El Salvador and Guatemala were lower. The Costa Rican price with taxes was $4.314 compared to $4.029 in El Salvador, $3.990 in Guatemala, $4.380 in Honduras, $4.437 in Nicaragua and $3.801 in Panamá.
2. Dry season causes an increase in electrical rates
By the A.M. Costa Rica staff

The dry season reliance on the generation of electricity by burning oil means an increase.

The Autoridad Reguladora de Servicios Públicos said the new rates for home users would increase the monthly energy bill by about 7 per cent. The Autoridad used an example of a home user paying 23,500 colons a month.

The cost under the new rates would be about 25,200 colons or about a 7 percent increase. The Autoridad said the per kilowatt rate would go from 81 to 87 colons a kilowatt.

The agency said that the dry season had been tough on the power generator, the Instituto Costarricense de Electricidad and that the state company had to import power via the regional energy market.

Importing power is far cheaper at $100 a megawatt compared to the cost of thermal production at $444 for the same amount of electricity, said the agency.

The rate setters also have to deal with the increase in the value of the dollar against the Costa Rican colon. Purchases of petroleum for the thermal generators and the purchase of electricity are denominated in dollars. And the dollar has just increased sharply against the colon.
3. First sewer line contract goes to Spanish firm
By Michael Krumholtz, of the A.M. Costa Rica staff

A Spanish construction firm has been selected to install the first three kilometers of sewer line for the valley project.

The firm is a familiar one, Fomento de Construcciones y Contratas, S.A., known by its initials FCC. The company said that it will have 10 months to build the line which will connect to the Los Tajos treatment plant, which also is under construction.

The new sewer will be on the north bank of the Río Torres and will be the main line for future sewerage in that watershed.

In all there are watersheds of five rivers that will be drained into the new sewer plant as part of the $344 million project.

The plant is expected to serve the cantons of San José, Tibás, Moravia, Vásquez de Coronado, Goicoechea, Montes de Oca, Curridabat, Desamparados, Escazú, Alajuelita and La Unión. Users are estimated to be some 65 percent of the population of the Central Valley.

The sewer plant project is not without criticism. Residents nearby in the la Carpio section of La Uruca are not happy with the location.

Environmentalists also have voiced their concern because the $45 million plant will only provide primary treatment for sewage at first. The partly treated water would be dumped into the nearby Río Tiribí, one environmentalist said in an internet mailing. He urged the construction of smaller packaged treatment plants at locations around the Central Valley instead of one big plant. He claimed the plant would be overwhelmed at times by sewage.

Juan Manuel Sánchez, a civil engineer with the Instituto Costarricense de Acueductos y Alcantarillados, said the sewer system should be completed by May 2019. The complicated installation calls for 350 kilometers of sewers in San José as well as a tunnel.

The treatment plant is set to become the biggest of its kind in Central America with a capacity of 12 cubic meters per second. Government officials are optimistic that it will clear waterways and basins and provide immediate ecological benefits.

For a country that prides itself on maintaining a level of environmental purity, its polluted waterways run like scars over the idealized public image. Sánchez said that many rivers flowing through the Central Valley are badly contaminated and in need of a massive cleaning.

"At this moment the rivers are considered to be the most polluted in all of Central America," he said via phone interview. "The idea is to stop the waste waters flowing to the rivers, like they are today without any treatment."

The entire treatment plan includes two removal phases. The first phase will clean up to 80 percent of the pollution in the waste water coming from 1.1 million residents. The next step will remove nearly 95 percent of all remaining contaminants and should bring the source number up to 1.6 million people, Sánchez said.

Acueductos y Alcantarillados estimates that right now only 4 percent of San José's waste water is properly treated. But following the second phase of operations, the majority of the population's waste water is expected to go through the treatment process, Sánchez said.

"It's definitely going to improve the environment immediately," he said. "There are four main rivers near San José and all of them are polluted. Right now there's no biodiversity in any of the rivers."

One of the major waterways is the Río Grande de Tárcoles, which begins in the Cordillera Central and empties west into the Gulf of Nicoya. Though it is near a substantial part of the population and houses a lot of iconic Costa Rican wildlife like crocodiles, it is considered the region's most polluted river. All of the Central Valley's rivers drain into it.
4. Spanish firm also gets hydro plant contract
By the A.M. Costa Rica staff

Fomento de Construcciones y Contratas, S.A., also said Tuesday that it has been selected to build a hydroelectric plant for Enel Green Power SpA, an Italian firm.

The 50 megawatt hydroelectric plant will be built in the town of Chucás, around 50 kilometers west of San José. It includes the construction of a dam more than 50 meters high and 230 meters long, to create a reservoir with a capacity of 190,000 cubic meters of water, equivalent to the water consumed by a town of 3,000, the Spanish firms said.

The company said it will also build a spillway, access roads to the new plant and a new bridge over the reservoir as part of this project, which is expected to be completed in May 2015.

Enel said it already has a 24 megawatt wind power plant in Costa Rica.
5. Lawmakers and Limón group press for two Chinese loans
By the A.M. Costa Rica staff

Some lawmakers really are pushing for approval of twin loans that will provide the funds for a Chinese company to begin widening Ruta 32 more than 100 kilometers from Limón to Río Frio.

Meanwhile some residents of Limón engaged in a march to the capital to press the case for the $465 million job.

Elibeth Venegas of Partido Liberación Nacional and other lawmakers held a press conference Tuesday to characterize the project as a necessity. She was accompanied by members of what is called the Fuerza Caribe, an organization from the Caribbean coast.

The measure, which is approval for two loans, has been reported out of committee and now is in the hands of the full legislature.

The principal opponent is Manrique Oviedo Guzmán, a legislator of the Partido Acción Ciudadana. He has said that the price the country was ready to pay for the highway job was $165 million too high. He based his comments on a Banco Interamericano de Desarrollo estimate provided by a private firm. The lawmaker has raised the issue repeatedly.

The deal is unusual because there has been no engineering work. The job consists of making the two-lane highway four lanes and also building a number of overpasses.

China Harbour Engineering Co. Group and China Road and Bridge Corp. already have been picked for the job, but the legislature must approve the loans.

The Export–Import Bank of China would make two loans, one for $100 million and one for $296 million. Costa Rica is putting up $90 million, including an extra $20 million for expropriating property and relocating public services.

The larger loan would be at 4 percent interest, and the smaller one at 2 percent.

Other lawmakers object because the ruling contract is in Chinese and the project is covered by Chinese law even though the job is in Costa Rica. The loans are denominated in Chinese currency, which may face exchange rate problems in the future.
Brian, Lita, the Late Hugo IV, irreverent Vicka, the pigeon toed parrot, Chico II and Chica II