Brian Timmons
Dear friends,
When I started Residencias Los Jardines, I started writing a weekly news letter -determined to tell all the good, bad, and the ugly. I knew some readers would be interested in the construction process. I expected others might be interested in the lifestyle of two people who had decided to live outside the box. For others, the adventures of Lita, the parrot and the cat took on an entertainment saga all its own.
Residencias Los Jardines is finished. We periodically have resales and rental availability. Some readers may be interested in this information.
Brian Timmons
DEVELOPER / PROPERTY MANAGER
Residencias Los Jardines / https://www.residenciaslosjardines.com info@residenciaslosjardines.com
ResidenciasPropertyManagement@gmail.com
Featured house this week
Paradisus Condos / Rorhmoser
FOR SALE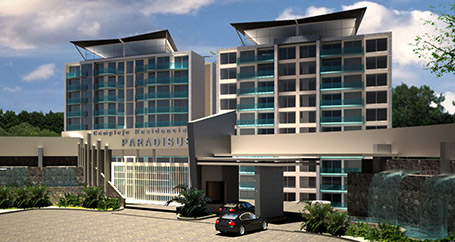 Paradisus will consist of 4 towers in Rorhmoser, a suburb to the west of central San Jose. Not far from the US Embassy and shopping malls, Rorhmoser is a residential area that was developed in the 60's and 70's and is currently seeing significant re-development with high end condos. It is the area where the new stadium and a number of luxury high rise condos have recently been built with more on the drawing boards. Phase one of this development is nearing completion; it consists of two towers and the amenities -pool, exercise room, etc. Tower one is expected to be completed in January and Tower 2 should follow in February / March. The location of this development is superb... it's off the main traffic paths and sits on a ravine overlooking a river. To the east is San Jose / Heredia; to the west is Pavas / Escazu. With floor to ceiling windows and a wrap around balcony, these units offer fantastic light and views.
Each of the units consists of two bedrooms / two bathrooms, and a large living/dining/kitchen area. The floor plan of each of these units has eliminated the optional "den / office" divider. The result is a larger area offering more flexible furniture arrangements while still maintaining the option of including an office area. At 105m2 plus two parking spots each and storage locker, they offer a great opportunity for someone seeking views, security, central location, and first class, all round living...
Infinity Terraces
FOR SALE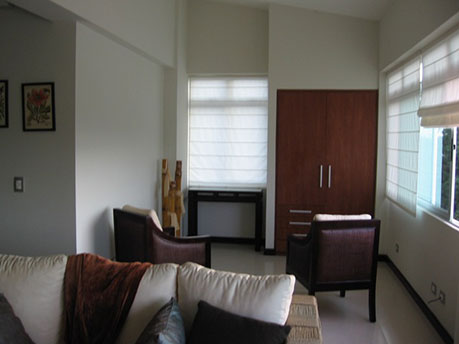 $229,000 / 2 bdrm / 2 bthrm / Penthouse / Sunset Views / 150 m2 / 1500 sf
INFINITY TERRACES: Pozos de Santa Ana / Guachapelin -contemporary design, well maintained, luxury 5th floor penthouse condo nestled in the hills of Santa Ana. Spacious open floor plan with 16 ft. vaulted ceilings, large kitchen w/SS appliances and granite countertops, laundry room w/ washer and dryer, air-conditioned. Plenty of closet space. : 5 year old / two car parking / bodega… building has high security, gym , hot tub and swimming pool.. 180 degree sunset views to west and north (Alejuela). 5 min. to San Jose – Caldera Highway / Multiplaza. This unit offers a secure, carefree lifestyle; you can lock and leave or leave and lease.
Loma Real Escazu / Guachipelin, Central Valley
FOR SALE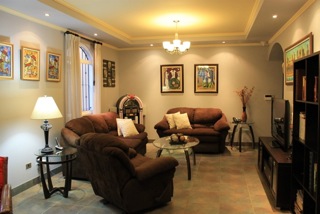 $325,000 / 3 bdrms + maids rm / 3.5 bthrms / owner financing
Beautiful house in residential area: 24 hours security. 274 m2 construction. 2 story, 3 bedrooms + maids quarters, 3 1/2 bathrooms, ample eat-in kitchen, six years old, immaculate condition, lot 264 m2 professionally landscaped, two car enclosed garage, 1500 L reserve water tank, electric demand water heaters, Independent office. Located close to all amenities. Taxes $500 yearly and security $80 monthly.
House can be purchased furnished for an additional $30,000
Owner will take back a mortgage for up to 5 yrs. @ 12% interest only.
Residencias Los Jardines
Property Management, Rentals, Re-Sales
Market Activity
Sales: no calls.
Rentals: two viewings.
FOR SALE
Unit #114: $235,000 / See Unit
Unit #116: $214,000 / See Unit
FOR RENT
Unit #116: $1,500 mo. / Available Immediately / See Unit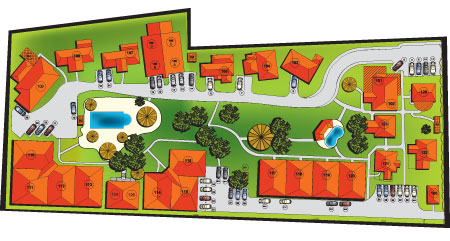 HOUSE FOR SALE
UNIT #114
FOR SALE $235,000
Total Area (Sq Ft): 1290
Total area (Sq M): 120
Bedrooms: 2
Bathrooms: 2
Floor(s): Single Floor
Type: Attached
Furnished: Yes
This 1,290 sf. (plus covered parking for one car and two lockers 67 sf.) single story, semi detached house, with garden terrace, two bedrooms is a beautiful executive style home. This home consists of two large bedrooms one with six piece en-suite bathroom with additional access to separate full shower. Each bedroom has large closets with extensive built-ins for personal organization. The vaulted living room and bathroom ceilings provide a feeling of grandeur while allowing the warmer air to rise and exit through the ceiling ventilating system. There are four TVs (one in each bedroom, one in the living room and one in breakfast / dinning room.) This is a beautiful well appointed home.
UNIT #116
FOR SALE $214,000
Total Area (Sq Ft): 1290
Total area (Sq M): 120
Bedrooms: 2
Bathrooms: 2
Floor(s): Single Floor
Type: Semi-Attached
Furnished: Yes
This 1,290 sf single floor home includes a 300 sf front terrace plus parking for one car and a separate, secure storage locker. It is and end unit and therefore attached on only one side by a 6 inch cement demising (common) wall, which prevents sound transfer.
HOUSE FOR RENT
UNIT #116
FOR RENT $1,500 mo.
Total Area (Sq Ft): 1290
Total area (Sq M): 120
Bedrooms: 2
Bathrooms: 2
Floor(s): Single Floor
Type: Semi-Attached
Furnished: Yes
This 1,290 sf single floor home includes a 300 sf front terrace plus parking for one car and a separate, secure storage locker. It is and end unit and therefore attached on only one side by a 6 inch cement demising (common) wall, which prevents sound transfer.
Our Lives
WEATHER: boringly beautiful... 23-28 / 72-80F ; gentle breeze; mostly sunny.
All In A Week's Living in CR
Colon: the rate has decreased from 575 to around 550 which is still up from the previous four year's rate of 500... a 10% bump or hit depending on one's circumstances.
Restaurants: We've basically stopped going to restaurants because the majority are not very good and all are substantially more expensive than eating at home... given the poor quality and high prices, the value is simply not there. Having said that, we ventured out two times this week... onces to a Peruvian resaurant where the Friday lunch bunch gathered this week. In previous times, it was fine; the last two times the food just hasn't been that great... and the prices have increased. We also went to a highly recommended and Trip Advisory rated Indian restaurant. We won't be going back... we had pakoras, samosa's, rice pulao, and chichen and beef curry... the naan was good... perhaps we ordered the wrong things perhaps our tastes are different having eat many, many curries in Toronto... I'll go back to making our own... and eating a home.
News Items of the Week
1. Gas Prices Set to Increase: this is a common occurance these days. When this goes into effect, the cost of regular gas will be about $1.28 L and the cost for super will be about $1.34L. This will, of course, traanslate into increased cost of goods by adding to the distribution costs... which are already the highest in Latin America due to poor roads, inefficient ports and who knows what else.
2. WW2 Treatment of Germans heritage residents: note the hand of the US. What is not told in this article is the desire by wealthy non-german Costa Ricans to confiscate the property of the Germans. Declaring war ahead of the Americans was full of hidden agendas... most of which had nothing to do with the invasions on the continent.
3. Shareholder Exposure: this is a substantial departure and will affect many... if it is passed and if it is enforced...
4. Public Debt and Taxes: the article is about a person's plan to address the deficit. He is expected to be appointed to the new government's position.
1. Fuel prices expected to increase in the first week of April

March 17th, 2014 (InsideCostaRica.com) The Regulatory Authority for Public Services (ARESEP) expects fuel prices to increase during the first week of April, ARESEP spokeswoman, Carolina Mora told the digital newspaper, CRHoy.com last week.

"Super" gasoline is expected to increase by ¢29 per liter, regular gasoline by ¢21 per liter and diesel by ¢9 per liter.

The increases would bring from ¢711/liter to ¢740/liter the price of "Super" gasoline; regular gasoline would rise from ¢687 to ¢708 and diesel from ¢650 to ¢659.

While the increases must still be approved by public hearing, they will almost certainly be approved, as the increases are based on the exchange rate and the methodology is clearly defined.
2. World War II was not very pura vida for Germans, historian notes
By Michael Krumholtz, of the A.M. Costa Rica staff

On July 2, 1942 a German submarine sunk a United Fruit Co. boat and killed 24 Costa Rican workers. Two days later a riot targeted shops and homes of German-Costa Ricans, which destroyed more than 100 buildings.

In his presentation given to the Ministerio de Relaciones Exteriores y Culto, scholar Carlos Meissner detailed how these two days fit into a difficult era for the German population in the country. His research work, titled "The German minority of Costa Rica and the Second World War," underscores their persecution during World War II.

Now a scholar of the German Academic Exchange Service at the Universidad de Costa Rica, Meissner himself shares citizenship between here and Germany.

Even before the boat's sinking or the riots, he said, the bombing of Pearl Harbor led to aggressive measures against the German population in the country. Costa Rica declared war just a day later.

According to Meissner, some German Costa Ricans were ordered under house arrest while another portion was taken into custody. "In San José, others were detained in a camp that had been erected next to where the Municipalidad is today or in the penitentiary, which is now used as the Museo de los Niños," he said. Nearly 380 were moved to internment camps located in the U.S., while 235 more are thought to have been sent to Berlin via Washington.

Meissner said that most of the anti-German influence in policy making was coming directly from Washington.

"The campaign against German Costa Ricans was initiated by the U.S. Department of State, which effectively dictated its policies to the Costa Rican government," he said. "However, San José learned to take advantage of the situation for itself as well."

Often the property and businesses of those uprooted were expropriated to pay for public debts or for Costa Ricans to make private profits. Per outside orders, the Costa Rican government created the Junta de Custodia de la Propiedad to carry out the expropriation, Meissner said. The U.S. said it would refuse any sugar or coffee exports from the country if it did not take over the German businesses in these industries, Meissner said in his presentation.

German-Costa Ricans not only lost an enormous amount of material wealth but also experienced the physical and psychological struggles that come with marginalization, he said.

In all, more than 4,000 Germans living in Latin America were sent to the U.S. for detainment. His research showed that the month after the war concluded there were still 150 German-Costa Ricans detained in U.S. internment camps.

But within Costa Rican borders, Meissner said that after the war's end, the resentment towards Germans had faded. When José Figueres rose to power after the 1948 civil war, his pro-German sentiment washed away the old guard of political elites who organized the initial persecution. This shifted perception allowed people to look back upon the things done to innocent citizens as clear injustices, he said.

"Surely, the violence of July 4, 1942, when many German Costa Rican shops were looted and homes attacked, marked a low point," he said. "However, the visible abuses of the Costa Rican government during the conflict allowed for German Costa Ricans to be seen as victims."
3. Tax agency moving to get names of shareholders
By the A.M. Costa Rica staff

The tax authorities are seeking to obtain the names of shareholders of corporations.

The Dirección General de Tributación has prepared but appears to have not issued a decree that would require everyone who is responsible for a corporation to report the names, identification numbers, citizenship and other data of every shareholder several times a year.

This is an outgrowth of a law that assesses a tax on the transfer of real estate. However, it is unlikely that the tax agency is going to so much trouble simply to collect small amounts of money.

Until now the only listing of shareholders has been on the private books of the corporation. Sometimes they would be disclosed. For example, for a firm to do business with the government, the names of major shareholders must be disclosed to avoid officials bidding on major contracts.

In addition, when a firm seeks to become listed as a small or medium enterprise, a designation that has some economic benefits, the names of shareholders must be disclosed.

Media companies in Costa Rica also must disclose the names of shareholders each year.

The decree by the tax agency is not without opposition. Francisco Villalobos, the former head of the tax agency, wrote in a February opinion piece in a Spanish-language newspaper that such a change probably should be a job for the legislature and not just a simple declaration by Tributación. He also noted that there is no guarantee that the names would not be leaked.

Generally real estate held in a corporation changes hands by the transfer of stock shares.

There is no public procedure, and there is no money collected by the government.

Significantly it is Tributación that is seeking the list of stockholders and not the Registro Nacional, which supervises the real estate records.

Why Tributación has not issued the decree or declaration also is strange. The document talks about a link to provide lists of shareholders electronically on the agency's Web page, but no such link is visible. The first declaration of shareholders was supposed to be by Feb. 29

A.M. Costa Rica has reported for some time that the government was trying to eliminate anonymous corporations. Right now the only public names are that of the corporate offices who do not have to be shareholders.

The Tributación declaration also suggest that tax collectors want to keep track of income of individuals, such as payments from their corporations. That information is not easily available to tax collectors now.

The first step in assessing a broader sales tax on real estate transfers would be to know the name of individual shareholders so that if a transfer takes place, the transaction is on the record.

Many proposals for changes in the tax rules have been frozen at Tributación in anticipation of a change in government. A number of decrees and proposed laws to be sent to the legislature are awaiting approval by the next round of political appointees.
4. Government debt continues to mushroom, finance minster reports
By Michael Krumholtz, of the A.M. Costa Rica staff

With revolving charts and statistics behind him, Edgar Ayales Wednesday said that the budget deficit now sits at 5.5 percent of the country's gross domestic product. On his graph, Ayales then showed what the difference would look like in five years if the government does not follow the finance consolidation plan.

"It couldn't be anymore clear that there is a fiscal problem," Ayales said. He is the minister of Hacienda, the central government's top financial expert.

He alluded to the government's continued spending trends as worrisome. From January to February, the gap between incomes and expenses increased another 1.2 percent of the gross domestic product, he said.

The powerpoint presentation showed that the nation is on track to reach a debt of more than 7 percent soon. Ayales said he thinks government officials have been taking the deficit numbers too lightly.

"To me, it's dangerous to say that six percent is manageable," he said.

In January, Ayales said the deficit could effectively be eliminated in five years. Wednesday he predicted the government's best hope by 2019 would be a return to 3 percent, which he said could be a more manageable task.

Luís Guillermo Solís is expected to take over at the Casa l

Presidencia May 8. He will inherit the mounting debt from his predecessor Laura Chinchilla. The minister refused to mention specific names since the election is still technically a contest, but he did say whoever takes over should follow a few pieces of advice laid out by the Ministerio de Hacienda.

According to his plan, the next government will be transparent and accountable, which are two values that the campaign of Solís pitched frequently. The plan further suggests more cautious spending, and Ayales criticized the many expensive projects made in Chinchilla's tenure. He also stressed better control over the level of spending within the public sector.

He repeated the need for a joint agreement between the government, the courts, and the legislature in order to guarantee financial responsibility. His consolidation plan also calls for a fiscally minded administration that will work to gradually balance the budget.

The government needs to begin by eliminating the primary deficit (which excludes the cost of interest), he said.

A glimpse of good news came as Ayales said the unemployment rate is lower than in years past as it has dropped back to 8.3 percent. The finance minister credited this improvement to more job creation from the commercial and service sectors.

The minister was expected to continue in his post if Johnny Araya Monge of the Partido Liberacón Nacional won the presidency. That does not seem likely because Araya has stopped campaigning. Solís of Acción Ciudadana has not announced an economics team.
Brian, Lita, the Late Hugo IV, irreverent Vicka, the pigeon toed parrot, Chico II and Chica II