Brian Timmons
Dear friends,
When I started Residencias Los Jardines, I started writing a weekly news letter -determined to tell all the good, bad, and the ugly. I knew some readers would be interested in the construction process. I expected others might be interested in the lifestyle of two people who had decided to live outside the box. For others, the adventures of Lita, the parrot and the cat took on an entertainment saga all its own.
Residencias Los Jardines is finished. We periodically have resales and rental availability. Some readers may be interested in this information.
Brian Timmons
DEVELOPER / PROPERTY MANAGER
Residencias Los Jardines / https://www.residenciaslosjardines.com info@residenciaslosjardines.com
ResidenciasPropertyManagement@gmail.com
Featured house this week
Paradisus Condos / Rorhmoser
FOR SALE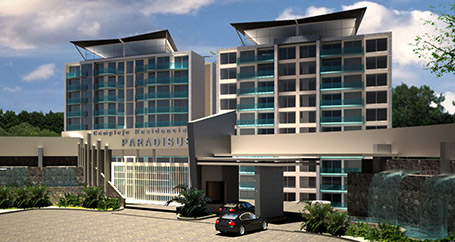 Paradisus will consist of 4 towers in Rorhmoser, a suburb to the west of central San Jose. Not far from the US Embassy and shopping malls, Rorhmoser is a residential area that was developed in the 60's and 70's and is currently seeing significant re-development with high end condos. It is the area where the new stadium and a number of luxury high rise condos have recently been built with more on the drawing boards. Phase one of this development is nearing completion; it consists of two towers and the amenities -pool, exercise room, etc. Tower one is expected to be completed in January and Tower 2 should follow in February / March. The location of this development is superb... it's off the main traffic paths and sits on a ravine overlooking a river. To the east is San Jose / Heredia; to the west is Pavas / Escazu. With floor to ceiling windows and a wrap around balcony, these units offer fantastic light and views.
Each of the units consists of two bedrooms / two bathrooms, and a large living/dining/kitchen area. The floor plan of each of these units has eliminated the optional "den / office" divider. The result is a larger area offering more flexible furniture arrangements while still maintaining the option of including an office area. At 105m2 plus two parking spots each and storage locker, they offer a great opportunity for someone seeking views, security, central location, and first class, all round living...
Infinity Terraces
FOR SALE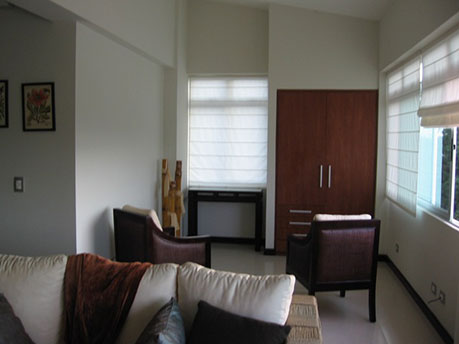 $229,000 / 2 bdrm / 2 bthrm / Penthouse / Sunset Views / 150 m2 / 1500 sf
INFINITY TERRACES: Pozos de Santa Ana / Guachapelin -contemporary design, well maintained, luxury 5th floor penthouse condo nestled in the hills of Santa Ana. Spacious open floor plan with 16 ft. vaulted ceilings, large kitchen w/SS appliances and granite countertops, laundry room w/ washer and dryer, air-conditioned. Plenty of closet space. : 5 year old / two car parking / bodega… building has high security, gym , hot tub and swimming pool.. 180 degree sunset views to west and north (Alejuela). 5 min. to San Jose – Caldera Highway / Multiplaza. This unit offers a secure, carefree lifestyle; you can lock and leave or leave and lease.
Loma Real Escazu / Guachipelin, Central Valley
FOR SALE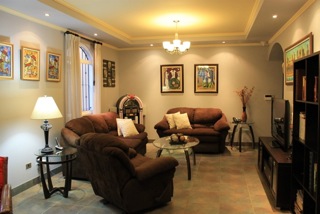 $325,000 / 3 bdrms + maids rm / 3.5 bthrms / owner financing
Beautiful house in residential area: 24 hours security. 274 m2 construction. 2 story, 3 bedrooms + maids quarters, 3 1/2 bathrooms, ample eat-in kitchen, six years old, immaculate condition, lot 264 m2 professionally landscaped, two car enclosed garage, 1500 L reserve water tank, electric demand water heaters, Independent office. Located close to all amenities. Taxes $500 yearly and security $80 monthly.
House can be purchased furnished for an additional $30,000
Owner will take back a mortgage for up to 5 yrs. @ 12% interest only.
Residencias Los Jardines
Property Management, Rentals, Re-Sales
Market Activity
Sales: One showing.
Rentals: One viewing.
FOR SALE
Unit #114: $235,000 / See Unit
Unit #116: $214,000 / See Unit
FOR RENT
Unit #116: $1,500 mo. / Available Immediately / See Unit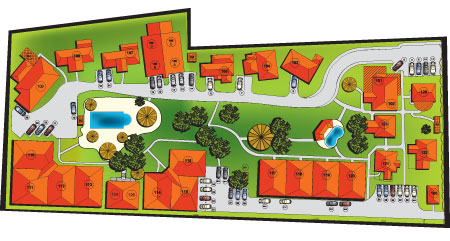 HOUSE FOR SALE
UNIT #114
FOR SALE $235,000
Total Area (Sq Ft): 1290
Total area (Sq M): 120
Bedrooms: 2
Bathrooms: 2
Floor(s): Single Floor
Type: Attached
Furnished: Yes
This 1,290 sf. (plus covered parking for one car and two lockers 67 sf.) single story, semi detached house, with garden terrace, two bedrooms is a beautiful executive style home. This home consists of two large bedrooms one with six piece en-suite bathroom with additional access to separate full shower. Each bedroom has large closets with extensive built-ins for personal organization. The vaulted living room and bathroom ceilings provide a feeling of grandeur while allowing the warmer air to rise and exit through the ceiling ventilating system. There are four TVs (one in each bedroom, one in the living room and one in breakfast / dinning room.) This is a beautiful well appointed home.
UNIT #116
FOR SALE $214,000
Total Area (Sq Ft): 1290
Total area (Sq M): 120
Bedrooms: 2
Bathrooms: 2
Floor(s): Single Floor
Type: Semi-Attached
Furnished: Yes
This 1,290 sf single floor home includes a 300 sf front terrace plus parking for one car and a separate, secure storage locker. It is and end unit and therefore attached on only one side by a 6 inch cement demising (common) wall, which prevents sound transfer.
HOUSE FOR RENT
UNIT #116
FOR RENT $1,500 mo.
Total Area (Sq Ft): 1290
Total area (Sq M): 120
Bedrooms: 2
Bathrooms: 2
Floor(s): Single Floor
Type: Semi-Attached
Furnished: Yes
This 1,290 sf single floor home includes a 300 sf front terrace plus parking for one car and a separate, secure storage locker. It is and end unit and therefore attached on only one side by a 6 inch cement demising (common) wall, which prevents sound transfer.
Our Lives
WEATHER: boringly beautiful... 23-28 / 72-80F ; gentle breeze; mostly sunny.
All In A Week's Living in CR
Life Status Report: our owner is now on site -his body is mending- he's walking, talking, he has a long ways to go but all the signs are good. Time will tell.
Colon: the rate fluctuated this week substantially probably due to government intervention... it came down about 20 colones... we'll see if it sticks. In talking with one of our tenants, a doctor / tico, he said that with the change in the exchange rate, it now cost him an additional C400,000 a month because he has rent in dollars, car loan in dollars, and two other obligations in dollars -he's mostly paid in colones.
Administrative Changes at Los Jardines: The minuets are yet to be released... last time it took a month. Why? Never got an answer...
A Change of Pace: Friday evening we rode along with friends to Caldera for a drive, change of pace, and dinner on the beach. Tonight we're picking up a different conversation with friends from a different walk of life... Canadian friends are still traveling CR... checking in with us on Lita's phone at their various stops... all is going well and they are enjoying themselves... a friend and his wife from Canada will be joining us April 1... we looking forward to their arrival... great guests, lots of fun... he's been here before but she hasn't so we'll be going to the beach and she wants to go zip-lining... a long time friend showed up unexpectedly... he put in the electrical services at Los Jardines when we were just starting and along with his partner owned 4 houses... they subsequently sold out... he returns periodically... and was great reconnecting with him and catching up on common friends...
News Items of the Week
1. Colon exchange rate: It's up from 500 to 570 (14%) but following this article, government intervention or something caused the exchange rate to drop by 20 points... who knows what will happen next.
2. Solis: as his platform is more clearly articulated, he seems to be further left of center than I had hoped for but that is not inconsistent with CR political attitude as I read it. However, the problem is always... how to pay for it... and given the debt he inherits, he may not be able to do as much as he wants... thus the author's caution... don't over promise. I heard one interesting theory which combined the devaluation and Araya's termination -it goes like this... yes, Araya saw he couldn't win, wanted to keep the campaign money, and the party is encouraging the devaluation which will contriube to the sorry state of finances and that the next government will fail miserably... then the Araya party will become the saviour next time around.
3. Central Bank: the central bank has increased the interest it charges banks... trying to slow the devaluation of the colon. If the interest rate is higher, more people will want to hold colones... so the story goes.
4. Chiquita: to me the tax savings was less interesting... although not dissimilar to other companies... but the brand names under which bananas are marketed, a little history of Minor Keith and the United Fruit Company and Chiquita... were the more interesting items.
5. Breach of Contract: Due two a couple protests, the government canceled a perfectly valid contract and ended up paying $28,4 million in cancellation fees. It's easy when it's borrow money... somehow I think different arrangements could have been negotiated.
1. Dollar continued gains despite Central Bank intervention

March 10th, 2014 (InsideCostaRica.com) The US dollar gained an additional ¢10.77 last week despite significant intervention by Costa Rica's Central Bank in the Monex wholesale market.

The Central Bank sold a total of $140.9 million into the market last week in a series of attempts to control the high-flying greenback.

Central Bank president, Rodrigo Bolaños attempted to calm the business sector during a mid-week press conference, saying that the "exchange rate would stabilize over time."

Economists are blaming an increased demand for dollars by the private sector, amongst other factors for the dollar's continued gains that began early this year.

The Central Bank reference rate stands at 555.79 (buy) and 570.79 (sell).
2. Solís needs new taxes to keep campaign promises
By the A.M. Costa Rica staff

Business operators in Costa Rica had better brace for more taxes and a renewed participation of the state in public life.

That seems to be the philosophy of Luis Guillermo Solís, the remaining active candidate for the April 6 presidential elections. In addition, the legislature seems to have many new members who would support new taxes. They come not only from Acción Ciudadana, the party of Solís, but also Frente Amplio, which was the third highest vote getter in the Feb. 2 elections.

Before the election, the Solís campaign presented an extensive platform. There seemed to be promises for everyone. He supports going slow on new trade treaties and even broad increases in the minimum wages.

He said in one interview that Finland was his ideal country, except for that country's exportation of natural resources.

Finland's national income taxes range up to 32 percent on earned income, but there is a 24 percent value added tax and a stiff municipal tax of up to 22 percent. In addition there is a wealth tax, an inheritance tax, a gift tax, and an asset transfer tax as well as a church tax, according to the Web site expat-finland.com.

The Solís campaign also promised to fight corruption and listed 10 goals, including improving the transportation infrastructure and strengthening the Caja Costarricense de Seguros Social.

Some business people became uneasy because neither the candidate nor his campaign said from where the money was coming to do all this.

In fact, this may be the biggest danger for the candidate, raised public expectations. That was the initial reason that the public became disenchanted with President Laura Chinchilla when it became clear she did not have a solid plan to fight crime, which was a key element in her platform.

Partido Acción Ciudadana has many members who have opposed the free trade treaty with the United States and other such treaties. But Solís is unlikely to support a renegotiation of the document unless other Central American states participate. However, he appears to believe the treaty is unfair to Costa Rica. He opposed it when it was being negotiated. He recently said he would not participate in the Alianza Bolivariana para los Pueblos de Nuestra América, the so-called ALBA, that was created by former Venezuelan president Hugo Chávez.

The campaign emphasized a government and country of social justice. That phrase is a buzz word for more state involvement. The party pledges to protect food sovereignty, which is a form of protectionism. The Chinchilla administration was trying to free the state-controlled price of rice and make the product conform to free market forces. The subsidized rice farmers do not want this.

As some commentators have noted, this form of protectionism is good for big business because it keeps consumer prices higher.

One factor that keeps business people concerned is the gaping fiscal deficit. Half the current national budget is borrowed money.

Solís has proposed reforming the public workforce but the changes only would affect new hires. he said in campaign statements.

The campaign also promises to guarantee an academic and technical education of quality, but it really does not say how.

Everywhere, of course, politicians begin forgetting campaign promises the day they are elected. And there is no way that Solís can fulfill all the promises cheaply. For example, another is to put into practice an environmental management compatible with human development, whatever that means.

Solís would dispute his characterization as a leftist. He was an adviser to Óscar Arias Sánchez, and he was general secretary of the Partido Liberación Nacional. Like many Costa Rica politicians, there is no record of Solís, 55, having held a job in private industry or in running his own company. He also is a university professor in economics and has attended classes and worked at three U.S. institutions.

He left Liberación Nacional in 2009 over internal corruption issues, he said.

More of what can be expected will become obvious as Solís appoints ministers and advisers. Those in the tourism industry are watching closely the appointment to head the Instituto Costarricense de Turismo. There also is hope that a new minister of public works can clean house there.

Solís faces challenges beside the growing national deficit. There is the territorial dispute with Nicaragua over the mouth of the Río San Juan. There is the arbitration case with Infinito Gold S.A. over the shutdown of the Las Crucitas open pit mine. There is the soaring value of the dollar in relation to the Costa Rica colon, which affects repaying of foreign loans. The list goes on.

The nation's tax department has had a number of plans drawn up for proposed new laws. The agency simply was waiting to find out who would be the next president to begin work with the candidate's transition staff. Officials hope to have documents to present to lawmakers early in their term, which begins May 1.

That is a week before the new president takes office.
3. Central bank moves to anticipate higher inflation
By the A.M. Costa Rica staff

The Banco Central acted Wednesday to make money a bit more expensive.

The board of directors of the Banco Central increased the rate at which commercial banks can borrow money to 4.75 percent. That is a 1 percent increase.

In a statement the central bank said that looser money policies would increase inflation higher than had been anticipated through 2015. Bank experts estimated the inflation to be up to 5 per cent.

The recent spike in the value of the U.S. dollar has sent these economic experts back to the drawing board as the country braces for higher prices in nearly everything.

The bank rate, called the tasa de política monetaria, is similar to the fed funds rate in the United States. It is the interest rate at which the central banks loan money overnight to balance out the books of the commercial banks. In Costa Rica, that rate has been as high as 15 percent.

More recently the Banco Central cut the rate to 3.75 from 4 percent. That was seen as a move to stimulate the economy. The slightly higher bank rate is expected to filter through the economy and make borrowing a bit more expensive.

The central bank intervened in the Monex money market again Wednesday. It said that the pressure lessened and that the value of the dollar dropped 3.58 colons compared to the value Tuesday.

Still the central bank set the exchange rates at record highs. A dollar could purchase 557.62 colons and 572.44 colons were needed to purchase a dollar. The value of the U.S. dollar has increased about 13.2 percent since the first of the year.

Initially this is great news for expats, who still are paying existing prices for gasoline, electricity and imported items. But these are bound to increase and force the central bank to refigure the inflation rate.

Even locally grown products like potatoes are vulnerable to the higher dollar because farmers must purchase motor fuel and even imported chemicals.

Tourists are benefiting to some extent because prices have not yet caught up with the exchange rate. However, many tourism sales, such as hotels and tours as well as plane fares, are denominated in dollars.

Those who are suffering the most are Costa Ricans who earn colons and have dollar mortgages or must make other payments in dollars. They have taken a major hit.
4. Chiquita expected to save U.S. tax money with its merger
By the A.M. Costa Rica staff

Chiquita Brands International, Inc. and Fyffes plc have announced a merger. Both firms are involved in agriculture for exporting from Costa Rica.

The combined value of the two companies is more than $1 billion, Chiquita said in a news release. It also predicted significant savings. The new company name will be ChiquitaFyffes plc although Chiquita will have a majority interest.

Analysts note that Fyffes is located in Ireland, and they said they expect Chiquita to transfer more of its activities there to stay out of the reach of U.S. tax collectors. The announcement said that the new firm would be domiciled in Ireland. The new firm will be listed on the New York Stock Exchange.

Chiquita used to be the United Fruit Co., and U.S. businessman Minor Keith was involved in the amalgamation that created the firm. That was at the end of the 19th century. In 1870 the firm's predecessor was the first to export bananas to the United States.

The fruits came from Costa Rica.

Chiquita has a global presence with operations in 70 countries, a sizable presence in the U.S. market and widely recognized brands including Chiquita Bananas and Fresh Express, the announcement said. Fyffes is a leading international marketer and distributor of top quality tropical produce, marketed under a variety of well-known brands including Fyffes and Sol, it added. It is known for its pineapples.

The two firms have a total of 24,000 hectares in Central America. That is nearly 60,000 acres.

Chiquita shareholders will own 50.7 percent of the new entity.
5. Brazilian firm gets $28.4 million to go away
By the A.M. Costa Rica staff

The central government has paid off the Brazilian construction firm OAS with some $28.4 million.

This is the amount that was reached in conciliation after President Laura Chinchilla canceled the firm's concession for the San José-San Ramón highway.

Transport officials expressed pleasure Thursday because the nation was able to pay $12 million less than the firm originally requested.

The company had a concession to build the highway and then collect tolls to make a profit. However, those who were the potential users of the highway objected and said that the tolls might be as high as $4 a trip.

They engineered protests and embarrassed President Chinchilla at one public event in Alajuela.

Costa Rica ends up with all the plans and technical studies relating to the highway. The Consejo Nacional de Vialidad said that the Ministerio de Hacienda will submit a special budget request to the Asamblea Legislativa to obtain the money to compensate it for the $28.4 million it paid to the construction firm.

The government used a concession to build the road in the first place because it did not have the money.

The termination of the contract leaves the road project up in the air, even though government officials say they are working with the residents of the area to finance a new project.

Government officials were worried that if they did not settle with the Brazilian firm, the company would bring a much larger claim against it in an international arbitration venue.
Brian, Lita, the Late Hugo IV, irreverent Vicka, the pigeon toed parrot, Chico II and Chica II