Brian Timmons
Dear friends,
When I started Residencias Los Jardines, I started writing a weekly news letter -determined to tell all the good, bad, and the ugly. I knew some readers would be interested in the construction process. I expected others might be interested in the lifestyle of two people who had decided to live outside the box. For others, the adventures of Lita, the parrot and the cat took on an entertainment saga all its own.
Residencias Los Jardines is finished. We periodically have resales and rental availability. Some readers may be interested in this information.
Brian Timmons
DEVELOPER / PROPERTY MANAGER
Residencias Los Jardines / https://www.residenciaslosjardines.com info@residenciaslosjardines.com
ResidenciasPropertyManagement@gmail.com
Featured house this week
Paradisus Condos / Rorhmoser
FOR SALE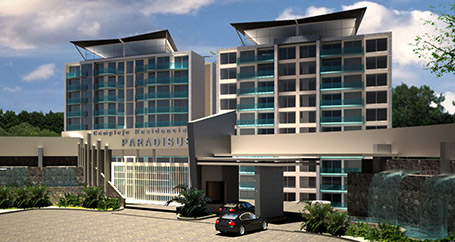 Paradisus will consist of 4 towers in Rorhmoser, a suburb to the west of central San Jose. Not far from the US Embassy and shopping malls, Rorhmoser is a residential area that was developed in the 60's and 70's and is currently seeing significant re-development with high end condos. It is the area where the new stadium and a number of luxury high rise condos have recently been built with more on the drawing boards. Phase one of this development is nearing completion; it consists of two towers and the amenities -pool, exercise room, etc. Tower one is expected to be completed in January and Tower 2 should follow in February / March. The location of this development is superb... it's off the main traffic paths and sits on a ravine overlooking a river. To the east is San Jose / Heredia; to the west is Pavas / Escazu. With floor to ceiling windows and a wrap around balcony, these units offer fantastic light and views.
Each of the units consists of two bedrooms / two bathrooms, and a large living/dining/kitchen area. The floor plan of each of these units has eliminated the optional "den / office" divider. The result is a larger area offering more flexible furniture arrangements while still maintaining the option of including an office area. At 105m2 plus two parking spots each and storage locker, they offer a great opportunity for someone seeking views, security, central location, and first class, all round living...
Infinity Terraces
FOR SALE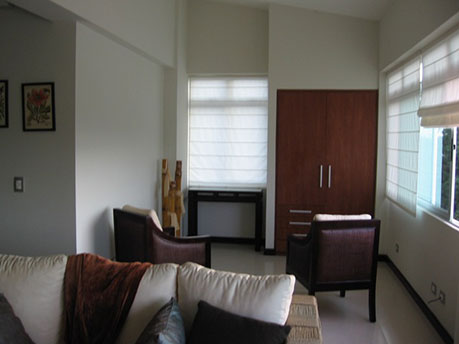 $229,000 / 2 bdrm / 2 bthrm / Penthouse / Sunset Views / 150 m2 / 1500 sf
INFINITY TERRACES: Pozos de Santa Ana / Guachapelin -contemporary design, well maintained, luxury 5th floor penthouse condo nestled in the hills of Santa Ana. Spacious open floor plan with 16 ft. vaulted ceilings, large kitchen w/SS appliances and granite countertops, laundry room w/ washer and dryer, air-conditioned. Plenty of closet space. : 5 year old / two car parking / bodega… building has high security, gym , hot tub and swimming pool.. 180 degree sunset views to west and north (Alejuela). 5 min. to San Jose – Caldera Highway / Multiplaza. This unit offers a secure, carefree lifestyle; you can lock and leave or leave and lease.
Loma Real Escazu / Guachipelin, Central Valley
FOR SALE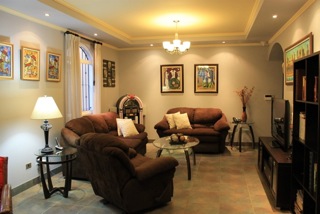 $325,000 / 3 bdrms + maids rm / 3.5 bthrms / owner financing
Beautiful house in residential area: 24 hours security. 274 m2 construction. 2 story, 3 bedrooms + maids quarters, 3 1/2 bathrooms, ample eat-in kitchen, six years old, immaculate condition, lot 264 m2 professionally landscaped, two car enclosed garage, 1500 L reserve water tank, electric demand water heaters, Independent office. Located close to all amenities. Taxes $500 yearly and security $80 monthly.
House can be purchased furnished for an additional $30,000
Owner will take back a mortgage for up to 5 yrs. @ 12% interest only.
Residencias Los Jardines
Property Management, Rentals, Re-Sales
Market Activity
Sales: Three showings. I had one offer this week but it was very unusual and simply didn't fly...
Rentals: Several calls.
FOR SALE
Unit #114: $235,000 / See Unit
FOR RENT
Unit #116: $1,500 mo. / Available Immediately / See Unit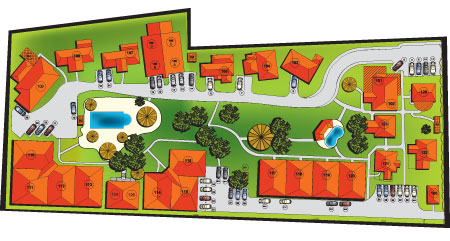 HOUSE FOR SALE
UNIT #114
FOR SALE $235,000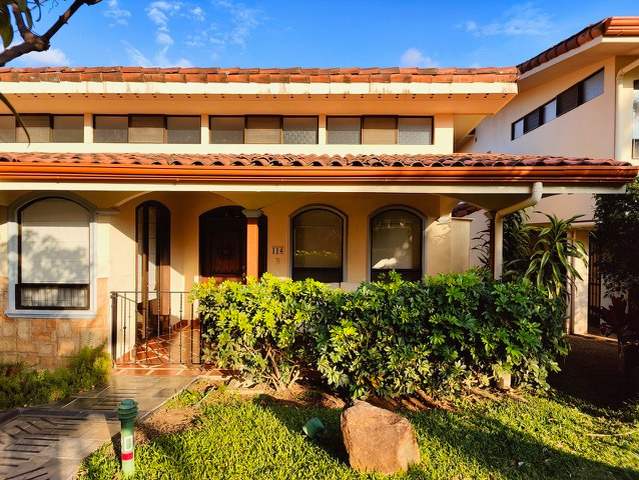 See a complete description of this unit
Total Area (Sq Ft): 1290
Total area (Sq M): 120
Bedrooms: 2
Bathrooms: 2
Floor(s): Single Floor
Type: Attached
Furnished: Yes
This 1,290 sf. (plus covered parking for one car and two lockers 67 sf.) single story, semi detached house, with garden terrace, two bedrooms is a beautiful executive style home. This home consists of two large bedrooms one with six piece en-suite bathroom with additional access to separate full shower. Each bedroom has large closets with extensive built-ins for personal organization. The vaulted living room and bathroom ceilings provide a feeling of grandeur while allowing the warmer air to rise and exit through the ceiling ventilating system. There are four TVs (one in each bedroom, one in the living room and one in breakfast / dinning room.) This is a beautiful well appointed home.
HOUSE FOR RENT
UNIT #116
FOR RENT $1,500 mo.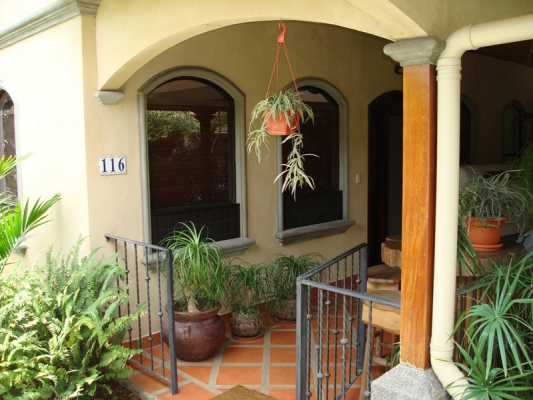 See a complete description of this unit
Total Area (Sq Ft): 1290
Total area (Sq M): 120
Bedrooms: 2
Bathrooms: 2
Floor(s): Single Floor
Type: Semi-Attached
Furnished: Yes
This 1,290 sf single floor home includes a 300 sf front terrace plus parking for one car and a separate, secure storage locker. It is and end unit and therefore attached on only one side by a 6 inch cement demising (common) wall, which prevents sound transfer.
Our Lives
WEATHER: beautiful... beautiful, beautiful. The winds have backed off -unusual... actually had a sprinkle last night but bright and sunny at 27 / 85F today.
All In A Week's Living in CR
Life Changes: our owner is off life support but is having difficulty regaining full consciousness. He'll be brought to Los Jardines this next week were he will be cared for by his family. Fortunately, we have living on site, the former ER doctor at CIMA who can help if an emrgency develops.
Colon : Dollar Exchange: the rate continues to increase. Currently around 575:1... this is up 75 colones now -15%. The central bank intervened this past week, spent a lot of money, and had little effect. I don't think any of us expected this rapid an increase. Los Jardines saved about $800 on our property taxes which are calculated and payable in colones. But other items are beginning to increase... see news stories below.
CR National Election: The second contestant in the national election, Johnny Araya, suddenly quit. He read the polls and realized he couldn't win. This pretty well assures his opponent of a majority run-off win. Personally, I think he is better candidate and the country will benefit... or at least has a better opportunity to benefit.
Tired: This past several weeks have been extremely busy and very tiring... lots of negative energy spent and positive effort to keep other obligations. I had one long term tenant move out (planned). I had to re-condition the house. It was rough. I turned it around in a week and it is as good as new... it took a lot of effort. I've been doing this for 35 years; even though I have a good support staff to achieve it, I'm no longer getting the satisfaction that I used to. The money is not now nor was it ever the reason I did it... it was simply the challenge... I've backed off some of my commitments and I expect I'll be backing off more. I have a lot of things on my bucket list and not one of those items includes houses, tenants, and owners. It will take time; I'm crafting a plan.
News Items of the Week
1. J, Araya quits... good move... but he can't quite under CR law... his name is on the already printed ballots.
2. Lawmakers: always look after themselves... but it will be a hard sell for the public service employees to accept and minimally offered raise in light of this act.
3. Arbitrary Act: The government changed many inactive corporations to "active" -by accident... yeah... right. The consequence is that active corporations pay $400 tax and inactive corporations pay $200. I got caught on this as well. I have difficulty believing it an "accident" when the government is so cash strapped and is bleeding from every pore...
4. Land Tax Joke: Incredible that this could happen. Only in CR!
5. Bridge Collapse: 4 years ago a suspension bridge collapsed with a school bus on it; a number of people were killed and injured. This bridge had been abused, not maintained, and the government actually had a replacement bridge available... but no none is responsible for the failure... lack of evidence.
6. Gas Price Increases: resulting from the change in exchange rate and note that we are talking about two increases. Even when the exchange rate was stable, the governing body seem to be able to justify increases... in this case, it's probably justified.
7. Solar Farm: Whether by coincidence or not, a major investment was announced after Araya quit. Having said that, the story has all the makings of a real scam... over promise, under deliver, and lots of corruption along the way... I'll be surprised if it's not the case...
1. Johnny Araya announces he is concluding his presidential campaign
By Jay Brodell, editor of A.M. Costa Rica

Johnny Araya Monge, the candidate for president, said this afternoon that he was concluding his campaign.

That means Luis Guillermo Solís of the Partido Acción Ciudadana will be the next president May 8 unless a great surprise happens in the election runoff April 6.

Araya of the Partido Liberacion Nacional, said he was following the wishes of the Costa Rican people in taking this step. He said that he wanted to avoid the massive expenditures of money for political advertising.

Araya spoke at the Hotel Corobici where he arrived about 1:20 p.m. followed by supporters carrying a Costa Rican flag. The essence of his announcement had been expected. He was smiling and accompanied by his wife.

Araya ducked questions from reporters and seated himself at a table. Perhaps emblematic of the entire campaign, as Araya reached the core of his announcement, he noticed that a principal microphone was not working. It never did despite a delay while technicians checked out the device.

Araya said that after the initial Feb. 2 vote where he was one of two finalists he had placed his fate in the hands of God. At no time did he say that he made the decision because polls showed he could not win April 6. Instead, he said he was taking the step for the good of the Costa Rican people and promised to work hard to strengthen his political party. He left the hotel without fielding questions.

He made reference to some form of political accord between his party and Acción Ciudadana, but he did not elaborate. He said his party was committed to the path of development and of a social democracy.

Araya was mostly smiling as were his supporters. Many stood behind him as he made his announcement. Araya said he was thankful that his party had gained the largest number of seats in the new legislature that takes office May 1. He thanks the Costa Rican people for this.

Earlier in the day, Solís made reference to new poll results, but the specifics could not be obtained. Acción Ciudadana is considered further left than Liberación Nacional, which detractors consider the center of neo-liberal economic policies.
2. Lawmakers to receive significantly higher salary increase than other public workers

March 1st, 2014 (InsideCostaRica.com) While public-sector labor unions took to the streets this week to protest an executive decree setting the annual salary increase of some 200,000 public employees at just 0.43% of their salaries – which many described as "not enough to buy toilet paper," the 57 members of the Legislative Assembly will continue to receive an increase of 10% per year, or about 23 times more, proportionally, than other public sector employees.

Members of the Legislative Assembly receive a 5% increase in their salaries every six months – the next salary hike for lawmakers will be in November, adjusting their current monthly salaries of ¢3,776,492.16 (about $7,190) up to ¢3,965,000 (about $7,500).

The Law of Compensation of Members of the Legislative Assembly dictates lawmakers' salaries, and places members of the legislature in a separate class from other public sector employees.

Meanwhile, other public sector employees – including healthcare workers, police and teachers will receive an increase of just ¢453 per ¢100,000 of their salaries.

Those who have expressed their anger at the minimal increase of public workers' 2014 salaries include the National Association of Educators (ANDE), the Association of Secondary School Teachers (APSE), medical workers, and other groups and labor unions.
3. Tax agency throws another expensive curve ball
By Garland M. Baker, Special to A.M. Costa Rica

This year the tax department, known officially as Dirección General de Tributación, and loosely as Tributación Directa, had a surprise for many expats and Ticos alike. The government institution changed inactive companies that pay the lower company tax assessment created by Law 9024 to active without any warning.

Active companies pay twice as much as inactive ones, a matter of some $200. This has outraged the affected. One expat in La Garita is downright furious. He said in a telephone interview, "My company has been inactive for 10 years. It has never had an activity. What gives the tax authority the right to double my taxes without reason or notification?"

Attorney Allan Garro of Garro Law is mad too. His expat and Tico clients have called him outraged and wanting answers. He had none to give them, so he sent staffers to the tax department and Registro Nacional to ask questions. They got to the bottom of the problem, and the result is a shock.

"An update to our computer system and general reorganization of things in 2013, included inputting old tax declarations from as far back as 2006, could have kicked some companies in to an active status," workers at Tributacion Directa said to Garro's legal assistant.

To clean up old paperwork, probably found in some forgotten building, the tax people have created a nightmare for budget strapped people who want to pay their taxes.

Of course, there is no notice of this anywhere in the press. More outraging is there is nothing published that is easy to find on how to fix the over assessment.

"I contacted the tax department personally, and they assured me a mistake like this does not happen," said Kevin Chavarria of KCPATAX in a telephone interview. Well, it does happen. Studying some companies affected by this assault on their tax integrity, a reporter discover old tax forms showing up when they did not show up before 2013.

Dirección General de Tributación tidied up their mess. Now, what do good tax-paying people do to fix the pickle this cleanup has caused for them? Is there a fix? Yes, there is, but it takes time. Remember, living in Costa Rica takes patience. Lots of it.

Option 1: Grit teeth, pay the over assessment and file the D-140 form with the tax department and the tax will return to normal – maybe - next year. No one really likes this option.

The form D-140 is the document one files to register or unregister a company, and make it or change it to active or inactive status. Active entities produce revenue of a commercial nature. Inactive ones do not. Holding assets like property in a company is not a commercial endeavor in Costa Rica. Companies doing so should be inactive and pay the lower tax.

Option 2. Do not pay the tax. In an obscure section of the Registro Nacional's Web site in Spanish is directive D.R.P.J. 001-2013. This explains how to change a company from active back to inactive and pay the lower tax. This is the procedure:

Step 1. File a D-140 form with Dirección General de Tributación as an inactive company. It is very important to indicate on this form the company requesting relief never had any commercial activity or it ended such activity on a specific date.

Step 2. Write a written request to the Dirección del Registro de Personas Jurídicas department of the Registro Nacional to include: A. Full name, address, occupation, and marital status of petitioner. B. Full name, identification number and petitioner's legal authority in the company requesting consideration. C. Attach a copy of the D-140 form from Step 1 and a letter from the Registro Único Tributario department at the tax office stating their computers were in error. This is located in the Don Bosco office next to Jardines del Recuerdo.

Step 3. Sign the letter in Step 2 and have it notarized by a Costa Rican notary.

Step 4. File the petition with the Dirección del Registro de Personas Jurídicas at the Registro Nacional.

Option 3. Pay the tax and fight to get the over payment returned as indicated in circular DGRN-0008-2012.

Steps. The same as in Option 2 but request the return of the money instead of the reduction of the tax. This must be done within three years of paying the tax.

Here is an interesting question. Computers are not to blame for this blunder but their programmers. These workers take orders from managers and other higher ups. The local press recently stated the countries expenses are up 11 percent while revenue is up only 4 percent. Costa Rica spends much more than it makes. Is this really an error or did someone make a conscious decision to input the very old paperwork to cause this hassle so taxpayers owning companies pay more tax.

Based on the numbers obtained from the Registro Nacional by the La Nacion newspaper in a recent article, the tax is a total failure. The country is collecting only a small percentage of the amounts forecasted. More than half of the registered companies owning the assessment are dead.

Is this really a mistake and everyone should grin and bear it, or is there more to the story?
4. The saga of the $5 + $2 land exit tax is very much typical pura vida
By the A.M. Costa Rica staff

Note to expats:
You folks are on your own when it comes to the land exit tax.

A.M. Costa Rica wrote about the tax in December, when an attempt to enforce it led to chaos at the border crossings. The problem was not the $5 fee (plus $2 more for baggage search even if the traveler has none).

The government created a tax and did not provide an easy way to pay it. Only now are a few credit/debit card machines appearing at the major land crossing points. Officials expected travelers to visit Bancredito before going to the border.

The mystery is why did the Dirección General de Tributación pick the least known state bank to handle the tax instead of Banco Nacional or Banco de Costa Rica. Even today Bancredito does not even mention the land exit tax on its Web site. Maybe that is because bank officials and tax agency officials have not figured out how to accept the tax online.

So from Dec. 23 until Friday expats were in the dark as to whether they need to pay the tax before crossing the border. A helpful lady at Tributación insisted strongly in early January that the tax was being collected. Her story ran counter to the reports from expats who actually crossed the border.

When the finance minister, Edgar Ayala, returned from a heart operation in the United States, a reporter asked him in mid-January about the tax. He really did not know but he said he had heard of some complaints. That probably was the chaos just before Christmas.

He immediately instructed an aide to investigate and report to the newsman the results of the inquiries. The aide never did.

But the Ministerio de Hacienda, the parent agency of Tributación, announced Thursday that the tax would go into effect today, Monday, March 3. A.M. Costa Rica wrote a news story. That is HERE!

Then the electrons were hardly dry on the news story when the Dirección General de Migración y Extranjería sent out a press release saying the agency would be collecting the tax starting in the first minutes of Saturday, March 1.

Saturday, John Koger, who operates A Safe Passage, a Tica Bus agency, reported that he was told by bus company officials that the tax has been suspended again. The bus company ought to know because it is ready to provide the tax receipts for its passengers. No one in government was available to confirm the suspension.

Hacienda is the same ministry that draws up the nation's budget.
5. After more than four years, Costa Rican tragedy will go unpunished

March 3rd, 2014 (InsideCostaRica.com) A tragedy still in the minds of many Costa Ricans will go unpunished and the victims' families will go without compensation after a criminal judge dismissed the case on Friday.

On October 22, 2009, a passenger bus crossing a suspension bridge over the Tarcoles River in Turrubares plunged into the river below after the bridge collapsed, killing five and injuring thirty.

On Friday, criminal judge Kenneth Alvarado Aguirre dismissed all charges against Karla Gonzalez Carvajal, former Minister of Public Works, Alejandro Molina Solis, former director of the National Roads Authority (Conavi), Benjamin Sandino, former director of road maintenance at Conavi, Maria Ramirez Gonzalez, former head of bridges for the Ministry of Public Works and Transport (MOPT) and Victor Manuel Salas Vega, who drove the bus.

The judge cited a lack of evidence against the accused, determining that the collapse of the bridge should be considered a "fortuitous event or accident."

The judge also dismissed a civil lawsuit against the State brought by victims' families, advising them to seek assistance from the civil courts.

The accident occurred at 6:30am on October 22, 2009, when the bus driven by Victor Manuel Salas Vega and carrying 38 passengers attempted to cross the suspension bridge, which was in poor enough condition that signs had been placed at the bridge warning that vehicles weighing more than four tons should not use the bridge.

The bridge totally collapsed, plunging the bus and its passengers into the Tarcoles River below, killing five and injuring thirty.

The report of a subsequent investigation determined that the bridge collapsed due to "overuse" rather than the weight of the bus.

Although Friday's decision may be appealed, it is unlikely that the judge's ruling will be reversed.
6. Dollar likely to continue gains: Central Bank president

March 3rd, 2014 (InsideCostaRica.com) In an interview published today by the daily Diario Extra, the president of Costa Rica's Central Bank, Rodrigo Bolaños indicated that the dollar would likely continue its gains against the colon in the short term.

"[The dollar] will probably keep going up, but it could later fall, so it is best to be cautious," Bolaños said when asked about the dollar's likely trend in the coming months.

Bolaños said that the dollar's recent gains were positive for the export and tourism sectors, while also warning those who earn in colones against taking loans in dollars due to the current trend in the exchange rate.

Bolaños said that Central Bank would not act to prevent continued rises in the price of the dollar, and would only intervene in the exchange market to prevent extremes of intra-day volatility.

Bolaños also indicated that colon interest rates were likely to rise both because of the current trend of the exchange in addition to other factors.
6.2 Big increases in gasoline, diesel prices coming soon

March 4th, 2014 (InsideCostaRica.com) Get ready to pay more at the pump.

Already-approved increases of ¢26 per liter for "super" gasoline, ¢25 per liter for regular ("plus") gasoline and a ¢19 per liter increase in the price of diesel are scheduled for this month, and only await publication in the official La Gaceta.

In addition, the Costa Rican Oil Refinery (RECOPE) has filed a separate request for an increase in its operating margin with regulators.

If approved, the result would be additional increases of ¢35 per liter for super gasoline, ¢23/liter for regular gasoline and ¢27/liter for diesel on top of the already-approved increases.
7. Kickoff nears for big Guanacaste solar projects
By Michael Krumholtz, of the A.M. Costa Rica staff

A series of multi-million dollar projects designed to install solar panels throughout Guanacaste should soon be under way, according to the heads of Sun Fund Americas. Company president Craig Williamson and his partner, Frank Biden, the brother of the U. S. vice president, said they are set to begin their solar farm developments with the Guanacaste Country Club in Liberia.

According to Williamson, Sun Fund Americas has more than $800 million in financing for its alternative energy model. They will use the money to set out on an ambitious vision to install solar energy throughout 14 countries in Latin America, beginning with Costa Rica. Biden was optimistic that the country club's groundwork could start being laid in the next 60 days.

"Costa Rica is the jewel of Central America," he said. "Our confidence in Costa Rica has been evident for a long time."

Plans started to accelerate once the landscape of the international economy smoothed out and businesses were willing to invest more in foreign enterprises. But Williamson and Biden, along with their third business partner, Roberto Batalla, agreed that the blueprints for this eco-conscious and profitable venture always had Costa Rica on the forefront.

"Costa Rica has a long ways to go to get to their goal of renewable power," Williamson said. "But it is still the most efficient and cost effective way to produce energy."

As energy costs become a mounting burden for Costa Rican businesses and homes, more and more are pulling for a future in which solar energy is not only available, but also viable. According to a presentation done by Sun Fund Americas, a standard 100-megawatt solar farm that consists of 300,000 solar panels will cover 1,000 acres of land and can give energy to 20,000 homes.

Biden said that the chain of solar-based energy suppliers will cause a rocketing effect in the local job market. The same presentation claimed that solar energy infrastructures can create 15 times more jobs than natural gas and coal.

Biden laid out the idea of a community in which the workers are able to live in the same space that they help to construct or manage, as opposed to resort or retail workers who are forced to look through the glass at an area they may not be able to financially access. He said the planned solar-powered areas of Guanacaste can offer upscale living at a reasonable price. And even further into the future, the company would like to make the involved communities remain independent and sustainable.

"When you allow people to take ownership themselves, they produce a much better project," Biden said.

In total, the company plans to install 2,000 megawatts worth of solar panels throughout Latin America. Domestically, Williamson and Biden confirmed that Sun Fund Americas has been collaborating with EARTH University and Ad Astra Rocket Co., which is led by U.S.-Costa Rican astronaut Franklin Chang Díaz. They said they also have received backed interest from Delta Holdings & Development, an internationally involved firm that constructs hotels and casinos. According to Biden, many other hopeful investors and partners were overlooked because they did not share a similar vision in focusing on giving back to community over bottom-line profit.

The initial reaction from the people of Guanacaste has been one of collective excitement, said the Sun Fund Americas leaders. These opportunities in setting up renewable energies and their prospective effects on the population even led Biden to say it was a privilege to be assigned with such a task.

"The whole project is a marriage of consciousness and convenience."
Brian, Lita, the Late Hugo IV, irreverent Vicka, the pigeon toed parrot, Chico II and Chica II