Brian Timmons
Dear friends,
When I started Residencias Los Jardines, I started writing a weekly news letter -determined to tell all the good, bad, and the ugly. I knew some readers would be interested in the construction process. I expected others might be interested in the lifestyle of two people who had decided to live outside the box. For others, the adventures of Lita, the parrot and the cat took on an entertainment saga all its own.
Residencias Los Jardines is finished. We periodically have resales and rental availability. Some readers may be interested in this information.
Brian Timmons
DEVELOPER / PROPERTY MANAGER
Residencias Los Jardines / https://www.residenciaslosjardines.com info@residenciaslosjardines.com
ResidenciasPropertyManagement@gmail.com
Featured house this week
Paradisus Condos / Rorhmoser
FOR SALE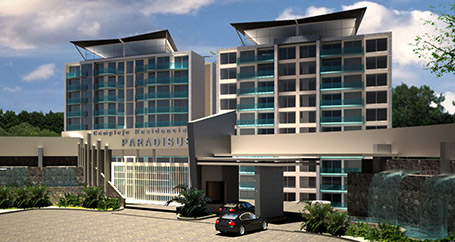 Paradisus will consist of 4 towers in Rorhmoser, a suburb to the west of central San Jose. Not far from the US Embassy and shopping malls, Rorhmoser is a residential area that was developed in the 60's and 70's and is currently seeing significant re-development with high end condos. It is the area where the new stadium and a number of luxury high rise condos have recently been built with more on the drawing boards. Phase one of this development is nearing completion; it consists of two towers and the amenities -pool, exercise room, etc. Tower one is expected to be completed in January and Tower 2 should follow in February / March. The location of this development is superb... it's off the main traffic paths and sits on a ravine overlooking a river. To the east is San Jose / Heredia; to the west is Pavas / Escazu. With floor to ceiling windows and a wrap around balcony, these units offer fantastic light and views.
Each of the units consists of two bedrooms / two bathrooms, and a large living/dining/kitchen area. The floor plan of each of these units has eliminated the optional "den / office" divider. The result is a larger area offering more flexible furniture arrangements while still maintaining the option of including an office area. At 105m2 plus two parking spots each and storage locker, they offer a great opportunity for someone seeking views, security, central location, and first class, all round living...
Infinity Terraces
FOR SALE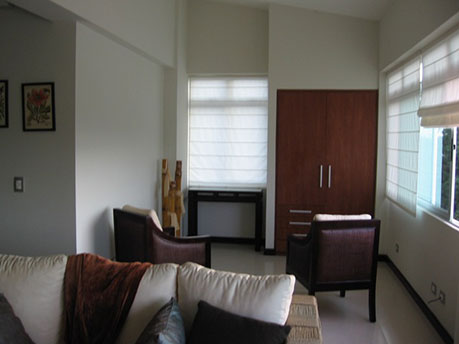 $229,000 / 2 bdrm / 2 bthrm / Penthouse / Sunset Views / 150 m2 / 1500 sf
INFINITY TERRACES: Pozos de Santa Ana / Guachapelin -contemporary design, well maintained, luxury 5th floor penthouse condo nestled in the hills of Santa Ana. Spacious open floor plan with 16 ft. vaulted ceilings, large kitchen w/SS appliances and granite countertops, laundry room w/ washer and dryer, air-conditioned. Plenty of closet space. : 5 year old / two car parking / bodega… building has high security, gym , hot tub and swimming pool.. 180 degree sunset views to west and north (Alejuela). 5 min. to San Jose – Caldera Highway / Multiplaza. This unit offers a secure, carefree lifestyle; you can lock and leave or leave and lease.
Loma Real Escazu / Guachipelin, Central Valley
FOR SALE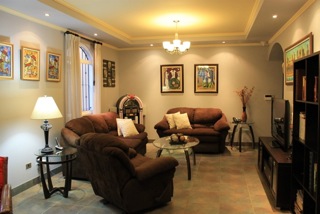 $325,000 / 3 bdrms + maids rm / 3.5 bthrms / owner financing
Beautiful house in residential area: 24 hours security. 274 m2 construction. 2 story, 3 bedrooms + maids quarters, 3 1/2 bathrooms, ample eat-in kitchen, six years old, immaculate condition, lot 264 m2 professionally landscaped, two car enclosed garage, 1500 L reserve water tank, electric demand water heaters, Independent office. Located close to all amenities. Taxes $500 yearly and security $80 monthly.
House can be purchased furnished for an additional $30,000
Owner will take back a mortgage for up to 5 yrs. @ 12% interest only.
Residencias Los Jardines
Property Management, Rentals, Re-Sales
Market Activity
Sales: three showings.
Rentals: several calls.
FOR SALE
Unit #114: $235,000 / See Unit
FOR RENT
Nothing Available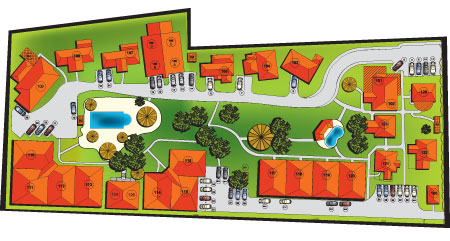 HOUSE FOR SALE
UNIT #114
FOR SALE $235,000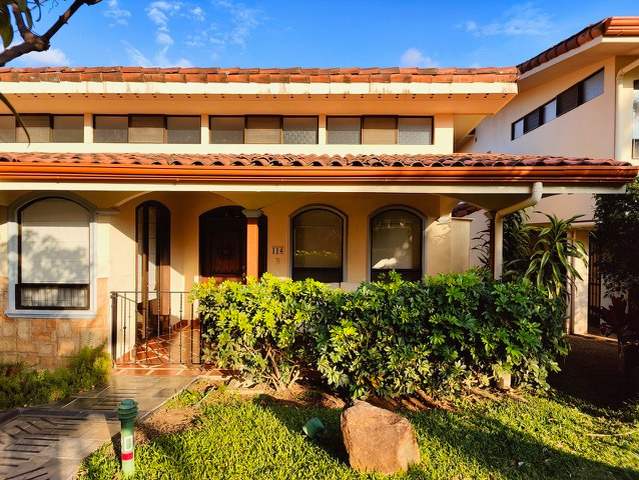 See a complete description of this unit
Total Area (Sq Ft): 1290
Total area (Sq M): 120
Bedrooms: 2
Bathrooms: 2
Floor(s): Single Floor
Type: Attached
Furnished: Yes
This 1,290 sf. (plus covered parking for one car and two lockers 67 sf.) single story, semi detached house, with garden terrace, two bedrooms is a beautiful executive style home. This home consists of two large bedrooms one with six piece en-suite bathroom with additional access to separate full shower. Each bedroom has large closets with extensive built-ins for personal organization. The vaulted living room and bathroom ceilings provide a feeling of grandeur while allowing the warmer air to rise and exit through the ceiling ventilating system. There are four TVs (one in each bedroom, one in the living room and one in breakfast / dinning room.) This is a beautiful well appointed home.
Our Lives
WEATHER: beautiful... beautiful, beautiful. The winds have backed off -unusual... actually had a sprinkle last night but bright and sunny at 27 / 85F today.
All In A Week's Living in CR
Life Changes in a Nano-Second: Owners (husband and wife) are on site for 5 weeks for RR from Wisconsin's cold, snow and ice, and to attend their son's wedding. Lita and I know them and enjoy their company--we exchanged several drinks and meals together and caught up on the past year's events. While checking into the Manuel Antonio hotel with their entourage of guests, he missed a step and took a header into a rock wall... concerned, he was taken to the local clinic for a cat scan... yes, damage had been done... they couldn't fix it... off to CIMA hospital in Escazu. Advance phone calls readied the hospital... a neurosurgeon and anesthesiologist and the OR was ready upon their arrival... straight into surgery, vacuuming out the blood clots. He was put into a medically induced coma... that medication has been withdrawn and he has yet to regain full consciousness... at this point in time, his future is unknown... no assessment of damage has yet been done... and all in a nano-second... a wake-up call to all of us as to how fast life can change...
Colon : Dollar Exchange: It's still going in favor of the dollar -it's around 554:1 as of Friday. The central bank intervened to slow down the rate of increase but that intervention had little effect. The Central Bank has reserves but the pressure has been building for a revaluation of the colon:dollar for years. We are beginning to hear various upper targets...one of the newspapers headlined a target of 600; before the free fall, people in the investment group said the natural rate would probably be around 700-750. It's anyones guess. the government has borrow way too much from international loans and this is in dollars; they collect in colones... The government will have a hard time servicing their debt and those individuals who have borrowed in dollars and collect in colones will also have difficulty... a certain amount can be absorbed... beyond some point, servicing the debt will become very difficult. Last week I said inflation was beginning to show up... the cases cited were true but some feel that will be deferred for a while because the profit margins were already so strong and many of the products imported do not come from the US... While I can accept the latter, where ever the product originates, it is paid for in US dollars. For the past year world currencies which have been allowed to float, have found new parity with the US dollar; not so in CR where the rate was fixed / controlled by the government which continued to spend more than it took in in revenues and borrow abroad for their deficit and capital improvement projects which they can not fund internally... now they are having to pay the price... the US can print money since it is a reserve currency; small countries like CR cannot... this is going to become a bigger issue -soon
News Items of the Week
1. Public Employee Strike: as a "mega-strike" it seems to have fizzled. Nothing seems to have been accomplished.
2. Public Debt: the reason for the colon:dollar revaluation...
1. Public employee unions take to the streets to show their displeasure
By Michael Krumholtz
of the A.M. Costa Rica staff

In the middle of Avenida Segunda and Calle Central, the first wave of marchers stopped. The microphone was passed off between an array of public workers to voice their displeasures with the state. The municipality worker who was sweeping Parque Central took the microphone before the meat packer who was making his morning round of deliveries.

Public employees from the Sindicato de Trabajadores de Acueductos y Alcantarillados started off Tuesday's strikes by calling San Jose's workers to join them on the street. Together they decried a government mandated .43 percent raise in base salaries while pointing out that simultaneously some of the population is without water, light, and proper food.

Around noon public workers marched through Avenida Segunda from Sabana to the front of the Ministerio de Hacienda. A variety of workers groups joined the demonstration, including those from the Instituto Costarricense de Electricidad, Banco Popular and the Sindicato Trabajadores Petroleros químicos y Afines.

The Asociación Nacional de Empleados Públicos y Privados coordinated the strike to show that the nation's workers believe they should be awarded more compensation for their jobs.

Early on the crowd chanted and clapped while repeating, Doña Laura ya se va. In celebrating the eventual departure of President Chinchilla, they also put on notice the two candidates vying to succeed her that workers and their families demand to share an even playing field with the nation's elites.

Nurses and employees from state-run hospitals also took to the streets. Both Calderón Guardia and Hospital Nacional de Niños each lost 28 members of their staff to join the strikes. Directors from the Caja Costarricense de Seguro Social said that these absences did not cause any serious effects on normal operations.

The Instituto Costarricense de Electricidad said that 56 percent of its electrical agencies were closed mainly in Alajuela, Turrialba, the central pacific and the south Pacific.

The telecommunications section of the state company had about 70 percent of its office staff and technicians absent, it added.

Union officials said that there were as many as 5,000 persons in the protest in San José.
2. Costa Rica registers second highest fiscal deficit in Central America

February 26th, 2014 (InsideCostaRica.com) Costa Rica reported the second highest fiscal deficit in Central America for 2013, according to figures by the Central American Institute for Fiscal Studies (ICEFI).

The government's shortfall amounted to 5.4% of GDP, surpassed only by Honduras, which registered a fiscal deficit equal to 7.7% of its GDP.

Nicaragua had the lowest deficit in the region at just 0.7% of GDP; followed by Panama at 2.9%.

Interest payments on debt weighed heavily on Costa Rica's deficit, according to the study.
Brian, Lita, the Late Hugo IV, irreverent Vicka, the pigeon toed parrot, Chico II and Chica II