Brian Timmons
Dear friends,
When I started Residencias Los Jardines, I started writing a weekly news letter -determined to tell all the good, bad, and the ugly. I knew some readers would be interested in the construction process. I expected others might be interested in the lifestyle of two people who had decided to live outside the box. For others, the adventures of Lita, the parrot and the cat took on an entertainment saga all its own.
Residencias Los Jardines is finished. We periodically have resales and rental availability. Some readers may be interested in this information.
Brian Timmons
DEVELOPER / PROPERTY MANAGER
Residencias Los Jardines / https://www.residenciaslosjardines.com info@residenciaslosjardines.com
ResidenciasPropertyManagement@gmail.com
Featured house this week
Paradisus Condos / Rorhmoser
FOR SALE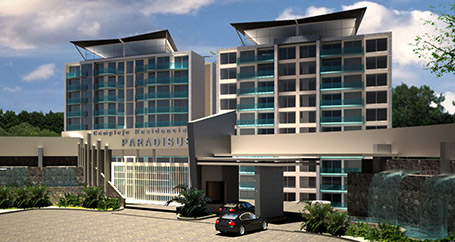 Paradisus will consist of 4 towers in Rorhmoser, a suburb to the west of central San Jose. Not far from the US Embassy and shopping malls, Rorhmoser is a residential area that was developed in the 60's and 70's and is currently seeing significant re-development with high end condos. It is the area where the new stadium and a number of luxury high rise condos have recently been built with more on the drawing boards. Phase one of this development is nearing completion; it consists of two towers and the amenities -pool, exercise room, etc. Tower one is expected to be completed in January and Tower 2 should follow in February / March. The location of this development is superb... it's off the main traffic paths and sits on a ravine overlooking a river. To the east is San Jose / Heredia; to the west is Pavas / Escazu. With floor to ceiling windows and a wrap around balcony, these units offer fantastic light and views.
Each of the units consists of two bedrooms / two bathrooms, and a large living/dining/kitchen area. The floor plan of each of these units has eliminated the optional "den / office" divider. The result is a larger area offering more flexible furniture arrangements while still maintaining the option of including an office area. At 105m2 plus two parking spots each and storage locker, they offer a great opportunity for someone seeking views, security, central location, and first class, all round living...
Infinity Terraces
FOR SALE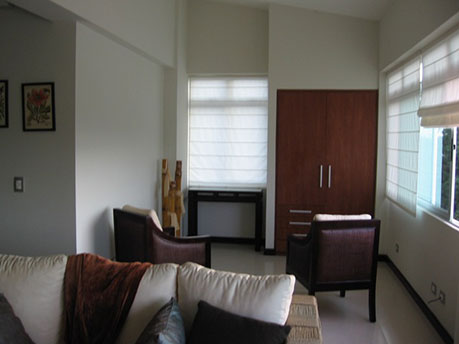 $229,000 / 2 bdrm / 2 bthrm / Penthouse / Sunset Views / 150 m2 / 1500 sf
INFINITY TERRACES: Pozos de Santa Ana / Guachapelin -contemporary design, well maintained, luxury 5th floor penthouse condo nestled in the hills of Santa Ana. Spacious open floor plan with 16 ft. vaulted ceilings, large kitchen w/SS appliances and granite countertops, laundry room w/ washer and dryer, air-conditioned. Plenty of closet space. : 5 year old / two car parking / bodega… building has high security, gym , hot tub and swimming pool.. 180 degree sunset views to west and north (Alejuela). 5 min. to San Jose – Caldera Highway / Multiplaza. This unit offers a secure, carefree lifestyle; you can lock and leave or leave and lease.
Loma Real Escazu / Guachipelin, Central Valley
FOR SALE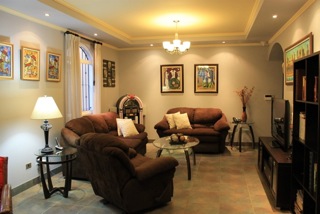 $325,000 / 3 bdrms + maids rm / 3.5 bthrms / owner financing
Beautiful house in residential area: 24 hours security. 274 m2 construction. 2 story, 3 bedrooms + maids quarters, 3 1/2 bathrooms, ample eat-in kitchen, six years old, immaculate condition, lot 264 m2 professionally landscaped, two car enclosed garage, 1500 L reserve water tank, electric demand water heaters, Independent office. Located close to all amenities. Taxes $500 yearly and security $80 monthly.
House can be purchased furnished for an additional $30,000
Owner will take back a mortgage for up to 5 yrs. @ 12% interest only.
Residencias Los Jardines
Property Management, Rentals, Re-Sales
Market Activity
Sales: no inquires.
Rentals: several calls.
FOR SALE
Unit #114: $235,000 / See Unit
FOR RENT
Nothing Available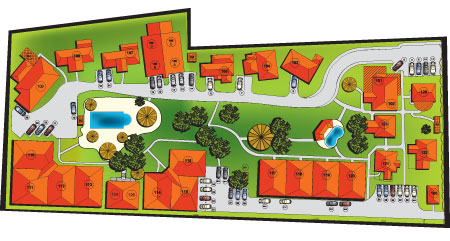 HOUSE FOR SALE
UNIT #114
FOR SALE $235,000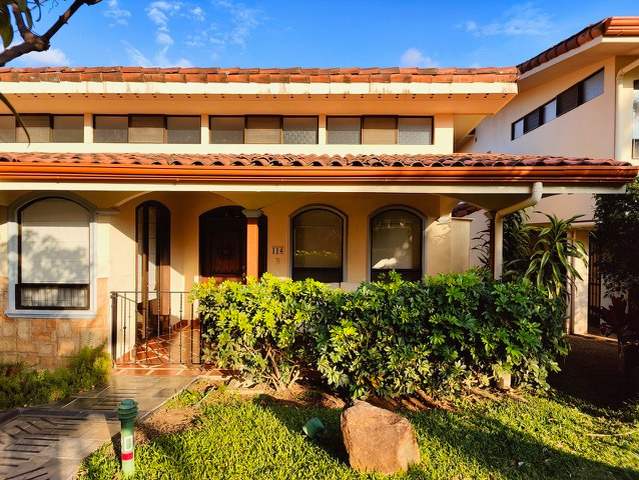 See a complete description of this unit
Total Area (Sq Ft): 1290
Total area (Sq M): 120
Bedrooms: 2
Bathrooms: 2
Floor(s): Single Floor
Type: Attached
Furnished: Yes
This 1,290 sf. (plus covered parking for one car and two lockers 67 sf.) single story, semi detached house, with garden terrace, two bedrooms is a beautiful executive style home. This home consists of two large bedrooms one with six piece en-suite bathroom with additional access to separate full shower. Each bedroom has large closets with extensive built-ins for personal organization. The vaulted living room and bathroom ceilings provide a feeling of grandeur while allowing the warmer air to rise and exit through the ceiling ventilating system. There are four TVs (one in each bedroom, one in the living room and one in breakfast / dinning room.) This is a beautiful well appointed home.
Our Lives
WEATHER: beautiful... beautiful, beautiful.
All In A Week's Living in CR
Doneste: Lots of negative energy. Now we have to again figure it out. I've figured out my choices based on a return to fundamental values and objectives -- health, happiness , and happy wife and tranquility-- the path becomes pretty clear. I'm tired of getting beaten up when I'm helping others.... I don't need it, want it, and didn't / don't deserve it. It seems some people need negative energy to support their life and some continue to make poor choices and are not able to really distinguish between basic causes and consequences. The lure of pulling the sled over rocks and ruts for others based on a misplaced sense of duty and reciprocal commitment no longer appeals to me. I've developed a very happy, balanced life surrounded by positive interesting people many of whom still have unfinished contributions to make in life and I have a few things on my bucket list as well.
Colon : Dollar Exchange: It's still going in favor of the dollar -it's around 530:1 as of Friday. Evidence of inflation is beginning to be seen -prices in a restaurant we frequent were up this week; the toll rate on the San Jose - Caldera highway was increased... most of the price increases seem to be about 10% whereas the exchange rate has changed about 6%.
News Items of the Week
1. Mega Strike: we'll see how "mega" it is... at least this time the weather will probably be great and since the teachers are supposedly back to working, it will be a good holiday for them. It's always nice when one party can say a 3.7% increase is good for the private sector buy we are going to apply a different standard to ourselves. In this case and oftentimes it seems, government / quasi government salaries and especially benefits are grossly elevated in government with a lower expected and accepted performance standard. That's the way it's seen by the public in CR.
2. On-going Corruption Trial: In the eyes of the public, there's no question of his guilt... Since 1974 he's been charged 48 times on similar issues... wow!! and he will get a big fat government pension and full benefits... pura vida!
1. Public union "mega strike" date set: February 25th

February 17th, 2014 (InsideCostaRica.com) A conglomeration of public-sector labor unions have finalized the date for what organizers described as a "mega strike" earlier this month, setting the date for Tuesday, February 25th.

Unions are upset at an executive decree granting some 200,000 public sector employees a wage increase of just 0.453% for this year – or ¢453 per ¢100,000 of their salaries – which leaders say is "not even enough to buy toilet paper."

Gliberto Cascante, president of the National Association of Educators (ANDE), said earlier this month that the decision to delay what union leaders are calling a "mega strike" until the end of the month was in part based on the start of the school year.

"We will not be irresponsible and go on strike at the start of the school year, so we will wait a few weeks in order to organize better," he said.

Cascante added that the public sector unions would do "whatever it takes" to avoid a third National Liberation Party (PLN) president coming to power.

Amongst the unions planning to join in the strikes are the National Association of Educators (ANDE), the Association of Secondary School Teachers (APSE), the Medical Union, and several other groups.
2. Lawmaker's corruption trial still in limbo

February 18th, 2014 (InsideCostaRica.com) The corruption trial of Liberationist deputy Jorge Angulo remains in limbo due to the lawmaker's heart trouble.

Angulo's trial was scheduled to begin on January 6th. The lawmaker is facing eight criminal charges including influence peddling, extortion and corruption.

Angulo was admitted to the Intensive Care Unit of the Catholic Hospital in Goicoechea 48 hours before the January 6th trial was to begin, complaining of chest pains and severe dizziness. He remained hospitalized for a week.

According to his son, Solano Angulo, the lawmaker is currently receiving a weekly medical checkup and doctors continue to advise home rest.

According to his son, doctors are still determining if his father requires surgery to place heart stents in one of Angulo's arteries.

"He's taking it easy, he takes small walks, spends time with his family, the doctor sees him once a week but he's okay," Solano Angulo said.

This is the third time since July 2013 that proceedings against Angulo have been delayed.

The charges against Angulo stem from charges that were filed in mid-2011, accusing Angulo of influence peddling, corruption, extortion and other crimes in relation to his alleged interference with the Regional Development Board of the Southern Zone (Judesur), which administers the Golfito free trade zone.

Angulo is accused of charging a construction company a ¢10 million (~$20,000 USD) kickback for each contract awarded to the firm by Judesur, which prosecutors said, "acted under the influence of Angulo." At least 11 other individuals are also facing charges related to the case, including charges of racketeering, extortion, fraud, and embezzlement, amongst others.

In addition, Angulo is accused of extorting money from a company that built a high school in San Vito, Coto Brus, as well as running up a bill of nearly $2,000 for lodging and meals at a hotel in Golfito and charging it to Judesur.

If convicted on all charges, Angulo could face up to 19 years behind bars.

Not the first allegations

La Nacion revealed in 2011 that Angulo had been the subject of some 48 criminal charges and civil complaints since 1974.
Brian, Lita, the Late Hugo IV, irreverent Vicka, the pigeon toed parrot, Chico II and Chica II