Brian Timmons
Dear friends,
When I started Residencias Los Jardines, I started writing a weekly news letter -determined to tell all the good, bad, and the ugly. I knew some readers would be interested in the construction process. I expected others might be interested in the lifestyle of two people who had decided to live outside the box. For others, the adventures of Lita, the parrot and the cat took on an entertainment saga all its own.
Residencias Los Jardines is finished. We periodically have resales and rental availability. Some readers may be interested in this information.
Brian Timmons
DEVELOPER / PROPERTY MANAGER
Residencias Los Jardines / https://www.residenciaslosjardines.com info@residenciaslosjardines.com
ResidenciasPropertyManagement@gmail.com
Featured house this week
Paradisus Condos / Rorhmoser
FOR SALE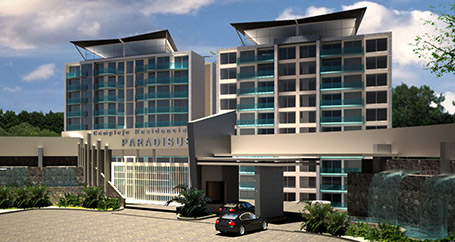 Paradisus will consist of 4 towers in Rorhmoser, a suburb to the west of central San Jose. Not far from the US Embassy and shopping malls, Rorhmoser is a residential area that was developed in the 60's and 70's and is currently seeing significant re-development with high end condos. It is the area where the new stadium and a number of luxury high rise condos have recently been built with more on the drawing boards. Phase one of this development is nearing completion; it consists of two towers and the amenities -pool, exercise room, etc. Tower one is expected to be completed in January and Tower 2 should follow in February / March. The location of this development is superb... it's off the main traffic paths and sits on a ravine overlooking a river. To the east is San Jose / Heredia; to the west is Pavas / Escazu. With floor to ceiling windows and a wrap around balcony, these units offer fantastic light and views.
Each of the units consists of two bedrooms / two bathrooms, and a large living/dining/kitchen area. The floor plan of each of these units has eliminated the optional "den / office" divider. The result is a larger area offering more flexible furniture arrangements while still maintaining the option of including an office area. At 105m2 plus two parking spots each and storage locker, they offer a great opportunity for someone seeking views, security, central location, and first class, all round living...
Infinity Terraces
FOR SALE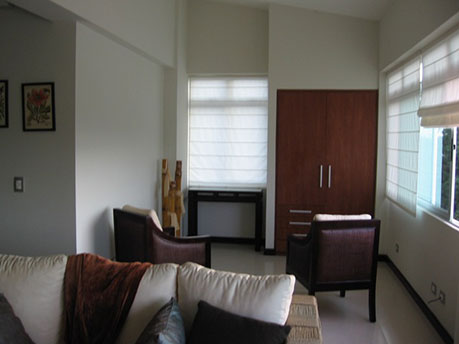 $229,000 / 2 bdrm / 2 bthrm / Penthouse / Sunset Views / 150 m2 / 1500 sf
INFINITY TERRACES: Pozos de Santa Ana / Guachapelin -contemporary design, well maintained, luxury 5th floor penthouse condo nestled in the hills of Santa Ana. Spacious open floor plan with 16 ft. vaulted ceilings, large kitchen w/SS appliances and granite countertops, laundry room w/ washer and dryer, air-conditioned. Plenty of closet space. : 5 year old / two car parking / bodega… building has high security, gym , hot tub and swimming pool.. 180 degree sunset views to west and north (Alejuela). 5 min. to San Jose – Caldera Highway / Multiplaza. This unit offers a secure, carefree lifestyle; you can lock and leave or leave and lease.
Loma Real Escazu / Guachipelin, Central Valley
FOR SALE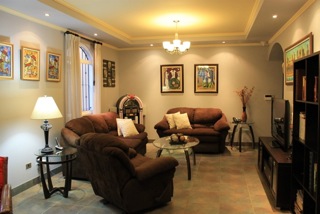 $325,000 / 3 bdrms + maids rm / 3.5 bthrms / owner financing
Beautiful house in residential area: 24 hours security. 274 m2 construction. 2 story, 3 bedrooms + maids quarters, 3 1/2 bathrooms, ample eat-in kitchen, six years old, immaculate condition, lot 264 m2 professionally landscaped, two car enclosed garage, 1500 L reserve water tank, electric demand water heaters, Independent office. Located close to all amenities. Taxes $500 yearly and security $80 monthly.
House can be purchased furnished for an additional $30,000
Owner will take back a mortgage for up to 5 yrs. @ 12% interest only.
Residencias Los Jardines
Property Management, Rentals, Re-Sales
Market Activity
Sales: no calls.
Rentals: several calls / 1 showing.
FOR SALE
Unit #114: $235,000 / See Unit
FOR RENT
Unit #107: $1,600 mo. / See Unit / Available March 1
Unit #116: $1,400 mo. / See Unit / Available Immediately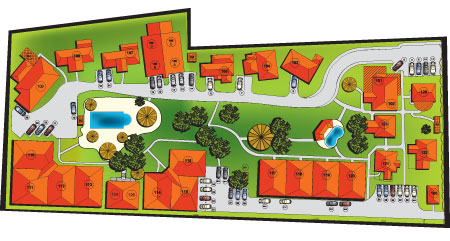 HOUSE FOR SALE
UNIT #114
FOR SALE $235,000
Total Area (Sq Ft): 1290
Total area (Sq M): 120
Bedrooms: 2
Bathrooms: 2
Floor(s): Single Floor
Type: Attached
Furnished: Yes
This 1,290 sf. (plus covered parking for one car and two lockers 67 sf.) single story, semi detached house, with garden terrace, two bedrooms is a beautiful executive style home. This home consists of two large bedrooms one with six piece en-suite bathroom with additional access to separate full shower. Each bedroom has large closets with extensive built-ins for personal organization. The vaulted living room and bathroom ceilings provide a feeling of grandeur while allowing the warmer air to rise and exit through the ceiling ventilating system. There are four TVs (one in each bedroom, one in the living room and one in breakfast / dinning room.) This is a beautiful well appointed home.
HOUSE FOR RENT
UNIT #107
$1,600 mo. Available March 1
Total Area (Sq Ft): 1716
Total area (Sq M): 158
Bedrooms: 2
Bathrooms: 2.5
Floor(s): 2 story
Type: Detached
Furnished: Yes
This 1,716 sf. (plus parking for one car) two story, detached house, with three terraces, two bedrooms (one on each floor) and upstairs master suite is a beautiful home. This home consists of two VERY large bedrooms (one on each floor) with en-suite bathrooms and a powder room, each with large closets with extensive built-ins for personal organization. The vaulted living room and ground floor bedroom ceilings as well as the master bedroom on the 2nd floor, provide a feeling of grandeur while allowing the warmer air to rise and exit through the ceiling ventilating system. There are three TVs (one in each bedroom and one in the living room.) This is a beautiful home. There is a rough-in for a dishwasher in the kitchen area.
UNIT #116
$1,400 mo. Available Immediately
Total Area (Sq Ft): 1290
Total area (Sq M): 120
Bedrooms: 2
Bathrooms: 2
Floor(s): 1 story
Type: Semi-Attached
Furnished: Yes
This 1,290 sf single floor home includes a 300 sf front terrace plus parking for one car and a separate, secure storage locker. It is and end unit and therefore attached on only one side by a 6 inch cement demising (common) wall, which prevents sound transfer.
Our Lives
WEATHER: beautiful... beautiful, beautiful -it hasn't been as windy this past week and it continues to be cool... for us this past week.
All In A Week's Living in CR
Giving Back: Last Saturday Lita and I joined three others to present 25 backpacks filled with school supplies along with cake and soda to children in the poorest of the poor neighborhoods -La Carpio. I had been there 13 years ago when I delivered some surplus items to a then gardener of ours... La Carpio is a very densely filled slum -no running water, no sewers, open drainage ditches, tin houses, few windows, very narrow, dirt streets / pathways... this is not a nice place to live or visit. The whole event took about three hours and was incredibly well organized by the daughter of our connection there. A list for everything, the pinata, candies, cake, forks, etc... kids were perfectly well behaved, no pushing, shoving, crying...
Elections in Review: Round one is over with a surprise result. J. Araya came in second and an surprise showing the #3 rated person, Solis came in first... 1.5% above Araya... Villalta, the "communist" came in a distant 3rd. So what happens now... another runoff election in April between Araya of the PLN -the party which has held power for many, many years, and Solis from the PAC. Ideologically, the PLN and PAC are very similar -center-left. My analysis and that of many I've spoken with, strongly believes that Solis will get most of the non-Araya vote. The Villalta vote was partially a protest vote against the PLN and Araya, the PLN, like the Republicans in the US are now fractured within so are less effective. If Solis wants to use historical performance, he has lots of ammunition against Araya who was mayor of San Jose for 26 years, leaving SJ a financial basket case like Detroit, and who's been indicted 5 times for criminal charges... his defense is that he's never been convicted... wow... what a stunning defense...
Summary: personally, I think this is a great outcome which has the possibility of leading to a much brighter future for CR... especially given the two previous scenarios... Araya or Villalta...
Note: whether by coincidence or as a result of the election and a changed assessment of the future, I was approached by two people looking for financing
Exchange Rate: The devaluation of the colon has accellerated this past week reaching up to around 530... this is up from 500 several weeks ago and where it has been held for the previous 3-4 years. I read a headline in one of the major newspapers, saying the rate was heading to 600... it that happens, it will be higher than the 590 we had 4 years ago and would represent a 20% devaluation... while this is great for those holding or earning in US dollars... it is likely to result in substantial hardship for the majority of people living here and therefore social unrest... this is not good... The government has said it does not plan to intervene for the next 6 mo. while the new government is being formed.
Why the change now? It is variously attributed to US tapering and the withdrawal of dollars from CR and developing economies in general; that all over the world the dollar has gained strength over local currencies for months but not in CR because of bank intervention; reduced net foreign investment by companies partially due to emerging market concerns and specifically political uncertainty with Villalta making such a strong push; and finally, less drug money being laundered here possibly as a result of increased disclosure rules pushed by the USA.
And the Saga Continues: There is a long running case (as is most of the legal battles in this country) of an expat who bought land next to Los Suenos. The expat has won several court battles all of which were subsequently overturned due to "technical" faults. A powerful family is reported to want it and is charged by the expat with attempting to usurp it via "squatters rights". The powerful family owns the major newspaper, La Nacion, Stewart Title, Century 20 Realty, AM/PM grocery stores, as well as Fresh Market stores. The family is reported to have purchased the "squatters rights" should they win ownership of the land... think about this concept... news media control, Stewart Title (property title insurance), RE brokerage, all controlled by one family... funding "squatters" to get control of the land... whether related or not, an investigative reporter from La Nacion was fired / or resigned based on which version one reads, because she wanted to publish an article citing journalistic freedom... she was denied the publication... The expat just lost a court battle in which he was charged with defamation of character due to a U-Tube video which was made... calling a spade a spade in CR isn't without it's consequences... in this case it was $30,000...
News Items of the Week
1. Exchange rate: see above...
2. Caja rate increases: yep... it's happening.
3. Farm Subsidies: I included this even though it is private letter to a news outlet... note the food subsidies... milk, pork, chicken, and rice are all produced by big money... large companies some of which are owned by US corporations (Tyson, Cargyle) or wealthy families (rice)... the consequence is higher prices for staples -and if inflation kicks in, it could well lead to unrest... one of the problems to be solved by the next government.
1. Dollar sees another huge gain as colon continues to drop

February 6th, 2014 (InsideCostaRica.com) The dollar continued to make significant gains against a falling colon, gaining an additional ¢5.38 yesterday alone.

The latest gains puts at ¢22 – or 4.3% – the dollar's gain against the colon since January 2nd.

In retail banks yesterday, prices ranged between ¢513 and ¢520, and sale prices ranged between ¢528 and ¢532.

This morning the Central Bank reference rate stood at ¢514.76 (buy) and ¢529.39 (sell).

Trend could continue

Costa Rica's vice president, Luis Liberman said the government will not sell large amounts of US dollars into the currency market, at least for the next six months, when the current government leaves power.

In the past, the government has sold large sums of dollars into the market in order to meet the government's own currency exchange needs – namely, it receives foreign loans in dollars and exchanges a significant amount of them to colons. Now, Liberman says the government will not be making any large foreign exchanges for the remainder of the current government. With less supply of government-sold dollars in the market, the dollar is likely to continue to gain ground against the colon, at least in the near term.
2. Some expats are facing much higher Caja charges
By the A.M. Costa Rica staff

Some expats are facing a stiff hike in mandatory monthly payments to the Caja Costarricense de Seguro Social.

The Association of Residents of Costa Rica announced Wednesday that the Caja would charge individual members based on their residency status. Until now, members of the organization paid a flat fee each month under a contract the association negotiated with the Caja.

The fee was between $37 and $55 monthly for a family.

Now members of the residency association will be paying roughly what they would pay had they signed up as individuals at the nation's health provider.

Membership in the Caja is obligatory for legal residents, although many have other forms of health insurance and seek medical care elsewhere.

The Caja action and its rising fees in general are expected to have some impact on the influx of future residents and perhaps the real estate market. The increases also might encourage those with legal residency to become what is known as perpetual tourists, that is persons living here amid uncertainty on 90-day tourism visas.

The monthly Caja amounts are expected to encourage more eligible individuals in various residency categories to seek permanent residency. According to the residents association, permanent residents over 55 years of age in its plan will pay $63 a month. The monthly amount is $114 for permanent residents under 55 years, the association said.

Those rates are cheaper than the announced rates for those with pensionado status. These monthly rates are $75 for those over 55 years and $139 for those younger than 55.

The rates appear to be keyed to the monthly financial requirements for obtaining residency. Would-be pensionados have to show a monthly income now of $1,000 while those in the rentista category have to show $2,500.

The higher requirements for rentistas is reflected in the announced Caja monthly charge of $252 for those over 55 and $442 for those under 55.

The association said that the most affected category was inversionista or investor, but it did not give any numbers.

The rate increases were reported by association members after the close of business Wednesday, so a full outline of the situation could not be obtained.

Some individuals who are not members of the association have been paying in excess of $400 a month to the Caja. Persons who are employed pay 9 percent of their salary to the Caja for health care, pensions and other programs. The employer pays each month about 26 percent of the total salaries for the Caja and a number of other charges.

The association of residents said that the new Caja charges were effective Jan. 1. Since the Caja is paid in arrears, it means expats involved in the association plan will feel the impact this month.
3. Drop food subsidies to help poor reduce grocery outlay

Why is it that all the politicians seem to want to do is raise taxes with the excuse that it is a way to help the poor. Almost everything the poor make here goes toward food.

I spend at least three times as much on food here as I do in Missouri. Why?? Well here is a lot of it right here. High tariffs on a number of key agricultural products such as milk (65 percent), rice (35 percent), chicken (40–150 percent), beans (15–30 percent), pork (35 percent), potatoes (45 percent), and onions (15 percent).

The only thing the tariffs do is make the poor poorer and the rich farmers richer. I don't see many hungry farmers. (Not bashing farmers. I was borne and raised on a farm and most of my family are farmers.)

If the tariffs were dropped, it would help the poor immediately, not like a tax that most all will disappear as soon as it gets in the government's hands.

Robert Woodrow
Curridabat
Brian, Lita, the Late Hugo IV, irreverent Vicka, the pigeon toed parrot, Chico II and Chica II