Brian Timmons
Dear friends,
When I started Residencias Los Jardines, I started writing a weekly news letter -determined to tell all the good, bad, and the ugly. I knew some readers would be interested in the construction process. I expected others might be interested in the lifestyle of two people who had decided to live outside the box. For others, the adventures of Lita, the parrot and the cat took on an entertainment saga all its own.
Residencias Los Jardines is finished. We periodically have resales and rental availability. Some readers may be interested in this information.
Brian Timmons
DEVELOPER / PROPERTY MANAGER
Residencias Los Jardines / https://www.residenciaslosjardines.com info@residenciaslosjardines.com
ResidenciasPropertyManagement@gmail.com
Featured house this week
Paradisus Condos / Rorhmoser
FOR SALE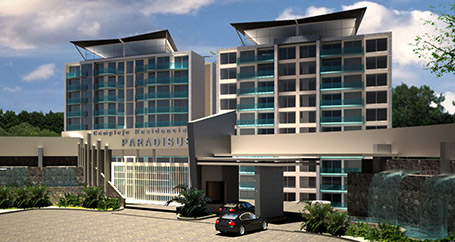 Paradisus will consist of 4 towers in Rorhmoser, a suburb to the west of central San Jose. Not far from the US Embassy and shopping malls, Rorhmoser is a residential area that was developed in the 60's and 70's and is currently seeing significant re-development with high end condos. It is the area where the new stadium and a number of luxury high rise condos have recently been built with more on the drawing boards. Phase one of this development is nearing completion; it consists of two towers and the amenities -pool, exercise room, etc. Tower one is expected to be completed in January and Tower 2 should follow in February / March. The location of this development is superb... it's off the main traffic paths and sits on a ravine overlooking a river. To the east is San Jose / Heredia; to the west is Pavas / Escazu. With floor to ceiling windows and a wrap around balcony, these units offer fantastic light and views.
Each of the units consists of two bedrooms / two bathrooms, and a large living/dining/kitchen area. The floor plan of each of these units has eliminated the optional "den / office" divider. The result is a larger area offering more flexible furniture arrangements while still maintaining the option of including an office area. At 105m2 plus two parking spots each and storage locker, they offer a great opportunity for someone seeking views, security, central location, and first class, all round living...
Infinity Terraces
FOR SALE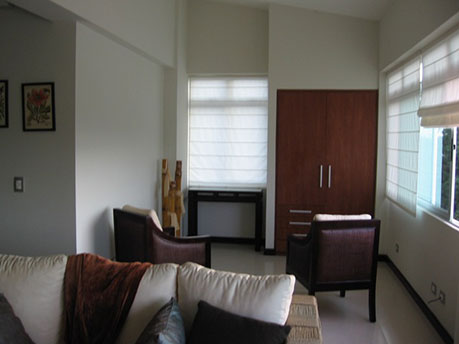 $229,000 / 2 bdrm / 2 bthrm / Penthouse / Sunset Views / 150 m2 / 1500 sf
INFINITY TERRACES: Pozos de Santa Ana / Guachapelin -contemporary design, well maintained, luxury 5th floor penthouse condo nestled in the hills of Santa Ana. Spacious open floor plan with 16 ft. vaulted ceilings, large kitchen w/SS appliances and granite countertops, laundry room w/ washer and dryer, air-conditioned. Plenty of closet space. : 5 year old / two car parking / bodega… building has high security, gym , hot tub and swimming pool.. 180 degree sunset views to west and north (Alejuela). 5 min. to San Jose – Caldera Highway / Multiplaza. This unit offers a secure, carefree lifestyle; you can lock and leave or leave and lease.
Loma Real Escazu / Guachipelin, Central Valley
FOR SALE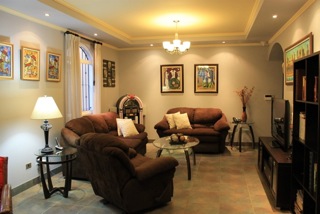 $325,000 / 3 bdrms + maids rm / 3.5 bthrms / owner financing
Beautiful house in residential area: 24 hours security. 274 m2 construction. 2 story, 3 bedrooms + maids quarters, 3 1/2 bathrooms, ample eat-in kitchen, six years old, immaculate condition, lot 264 m2 professionally landscaped, two car enclosed garage, 1500 L reserve water tank, electric demand water heaters, Independent office. Located close to all amenities. Taxes $500 yearly and security $80 monthly.
House can be purchased furnished for an additional $30,000
Owner will take back a mortgage for up to 5 yrs. @ 12% interest only.
Residencias Los Jardines
Property Management, Rentals, Re-Sales
Market Activity
Sales: three calls / 3 viewings
Rentals: a number of calls but nothing available.
FOR SALE
Unit #114: $235,000 / See Unit
FOR RENT
Nothing Available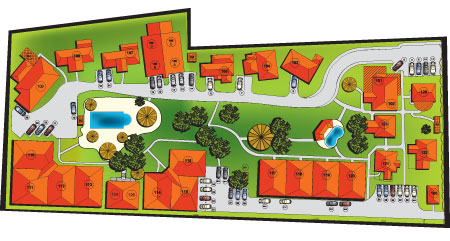 HOUSE FOR SALE
UNIT #114
FOR SALE $235,000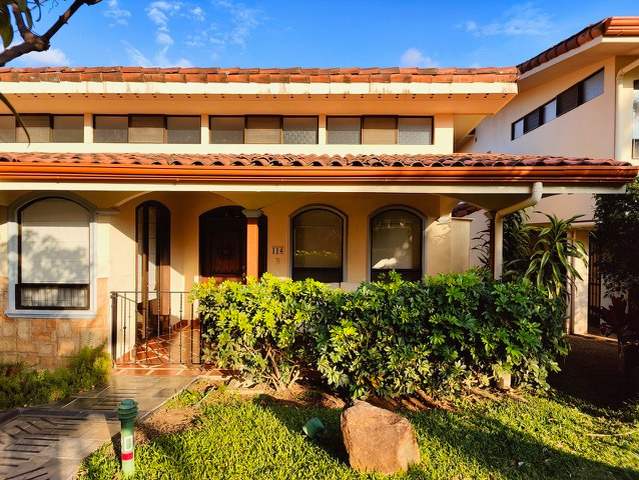 See a complete description of this unit
Total Area (Sq Ft): 1290
Total area (Sq M): 120
Bedrooms: 2
Bathrooms: 2
Floor(s): Single Floor
Type: Attached
Furnished: Yes
This 1,290 sf. (plus covered parking for one car and two lockers 67 sf.) single story, semi detached house, with garden terrace, two bedrooms is a beautiful executive style home. This home consists of two large bedrooms one with six piece en-suite bathroom with additional access to separate full shower. Each bedroom has large closets with extensive built-ins for personal organization. The vaulted living room and bathroom ceilings provide a feeling of grandeur while allowing the warmer air to rise and exit through the ceiling ventilating system. There are four TVs (one in each bedroom, one in the living room and one in breakfast / dinning room.) This is a beautiful well appointed home.
Our Lives
WEATHER: beautiful... beautiful, beautiful -the trade winds have kicked in and it's typically windy much of the time...
All in a Week's Living in CR:
Cross Roads:
(1) Costa Rica's national election as it gets closer to the election, more and more information is available and concerns are beginning to show in a variety of conversations: The expats at the investment group are very concerned with the latest poll numbers and the reported state of Costa Rica's economy. This concern has been heightened with the various events in Venezuela, Argentina, Turkey, China, etc. When selecting a new long term care doctor at CIMA hospital on Friday and after I told him I was fine and just wanted to get myself listed with him saying that some time before I die, I'm likely to call on his services but that for now, I was fine... he really wanted to talk about the coming election and how the "communists" and how CR could not sustain his philosophy. When talking with one of the owners from Los Jardines, an economic refugee from Venezuela, he stated that he was very, very concerned and that if the "communist" won the election he would sell everything (he has four RE investments in CR)... he had seen what had happened in Venezuela, and he didn't want to go through it again. He also stated that that even if the "communist" didn't win, and J. Araya from the PLN won, unless the government effectively helped the middle and lower classes, the "communists" would win the next time around when it was better organized.
Mentioned at the investment group was that no new foreign direct investment has been reported in the last several months -the international community is waiting and appears concerned. The colon is now floating up to what has been stated as the target... 520:$1US.
Reading this week's news articles gives substance to the above concerns. The major, well researched article summarizing economic monetary / fiscal policy and it's effects on CR over the past 40 years is really, really interesting. One can see in all these articles how the wealthy have gained at the expense of poor, even now how the few wealthy rice growers are screwing everyone in the country to benefit themselves... in the past, it took an organized coalition of them 3 days to reverse a government decision which benefited them and this time around, they didn't even have to coalesce...
Regardless of the above concerns, a new development is just breaking ground on Lindora Blvd. across from McDonald's. I have no idea what it is going to be but probably commercial because of it's location... it fronts on two roads, the main one being Lindora Blvd. This along with the large office building across the street, the newly announced mega project "Santa Ana City Center" and the newly started 24 home gated community project, (and those are just the ones I'm familiar with in this small area of Santa Ana), just complicates the picture of CR.
(2) Los Jardines: 4 conceptual property management options have been identified and open for discussion by the shareholders for a meeting to be held March 3. This meeting will also include an election for President and Secretary since their 2 yr. term has expired and for the position of "Fiscal"; this position has been vacant for 16 mo. or so. In the meantime, it remains the status quo and issues are not being dealt with for various reasons. The most recent financial statements again raise questions to which I've asked for explanations...
(3) Giving Back: Lita and I will be participating in a project organized by a friend who gathers donations and then purchases school supplies for the poorest of the poor living in La Caprio... this is his 3rd. year and he expect to be able to supply up to 35 children with materials required to enter school.
News Items of the Week
1. Economic Policy Historical Summary / Analsis of CR -A MUST READ TO UNDERSTAND CR SOCIAL, ECONOMIC, AND POLITICAL LANDSCAPE
This was included in Inside CR and while I am not suppose to re-post it, it is simply too good not to read.. This is the best analysis I've seen for a long time. Reading this and then the following weekly articles gives one a better understanding of the current issues and concerns facing CR and all of us living here.
2. The property flippers: not Garland Baker's best article and not the heavy weight of Article #1 but an upbeat article.
3. Proposed Deficit Fix: It probably won't happen as outlined but if Araya wins, the author is likely to stay on in his post and some of what is proposed is likely to be implemented... This should be read with other articles here... e.g. Venezuela, Argentina... In another article, it wld take about $1,340 for every person...man, woman, and children... to pay the annual debt, not including the previously incurred debts... staggering given the average wage in CR and the number of people living in poverty...and here we are talking real poverty, not N. Am. poverty definition.
4 / 5: Credit Card Debt and Interest: spend with abandonment...and look at the cost... up to 54% with the average around 40-45%... The proposed change remains in the legislature. An election is on and the deputados will change so it's really dead... nothing will happen...
6. Exchange Rate: as stated the colon is appreciating towards what is said to be the 520:1 target. In light of the above articles, this will beenefit the wealthy and hurt the poor...
7 / 8: Argentina and Venezuela: is CR next? I've asked Maria and Gaston, my support in Argentina, to write an article describing what they, hears, and their concerns... They both went through this in 2000-2003...
Is really hard to define the current situation without a broad view, and being there are two really strong sides in argentinean population about what's going on, my guess is not even locals can really understand what's going on or where are we going. From what I can tell, It has become a really difficult job to keep a standard of living. If you're lucky enough, then you'll have a method to get by gob dollar's lockdown, for the unlucky but risky: there's the black market, and for most people: spend as much as you can and fast. Savings and future? not possible right now, try again in a few years. One thing is sure tho: despair sentiment is almost general in middle-class citizens, crime is on the rise as never before, and gov method to deal with problems is just ignoring them or blaming on someone else (companies too greedy, previous gov, media, and even middle-class) (Gaston Gorosterrazu)
9. Political Activity: interesting laws but not that booths can be and are set up at pooling locations. Now if you factor in two allegations by reporters that the government is intimidating them, one gets a feelig that again realizes that CR journalistic freedom is highly influenced.
10. More Taxes: yes, this is our future and I think it quite likely that a VAT tax will be included...
1. Developed for the Cato Institute, a Washington, D.C.
based think tank and written by Juan Carlos Hidalgo

Juan Carlos Hidalgo is a policy analyst on Latin America with the Cato Institute's Center for Global Liberty and Prosperity.

In the early 1980s, as was the case in much of Latin America, Costa Rica suffered its worst economic crisis in decades. Between 1980 and 1982 the economy contracted by 9.4 percent, and in 1982 average inflation reached 90.1 percent. In two years the proportion of the population living below the poverty line shot up by more than 20 percentage points to 54 percent. Multiple factors caused the crisis, including the exhaustion of the import-substitution model—a protectionist regime that aimed at replacing industrial imports with domestic production. Throughout the years this model encouraged the creation of numerous inefficient state-owned enterprises whose growing financial burden overwhelmed the government. By 1980 total public spending was 54 percent of GDP.
2. Those flippers are back on the trail of the unwary
By Garland M. Baker, Special to A.M. Costa Rica

"Good news," said a property owning expat in Guanacaste. "It's been a while since I have seen or heard from the Flippers. "It must be a sign that the economy is picking up, so it's great to have them back," he said after learning the Flippers have returned. The Flippers are people who do not have any money but they want to tie up property while they try to sell it.

This may be another good sign the real estate market is turning around. However, there were so many crumb bums with unlimited tricks up their sleeves during the property boom that it would be prudent for sellers to watch out now. They could be lingering around waiting for new prey as the market improves. Almost everyone has heard of caveat emptor, Latin for "let the buyer beware." But, how about, Caveat venditor? The phrase is also Latin, meaning, "let the seller beware."

Expats should not fall for the old caper that goes like this when trying to sell property to an unknown buyer: "Can you give me a first right of refusal letter? You can still try to sell your property. But, before you collect any money or sign an option, you must give me the first right of refusal."

A well-known Costa Rican attorney said by email when asked about this tactic: "In my opinion, the letter of right of first refusal shouldn't be granted to any prospective buyer. In the past, these documents have given the possibility to unscrupulous people to pose as the owners of land, that is not theirs, to have a third party enter into a buy/sell agreement, without them having the legal capacity to do so. Several real estate frauds have been committed in this way in Costa Rica."

LandThink, a Web site dedicated to educating real estate buyers and sellers alike, define a "right of first refusal," or RFR, as a contract which gives a legal right to a specific party. The holder can always renege on fulfilling the agreement. The documents can be vague or very specific, binding or not so. Many Costa Rican attorneys are not familiar with them because they are not used much in this country. Even in the United States, first right of refusal clauses should be circumspect and used with caution.

Costa Rica is still like the Wild, Wild West in many parts in the country, flippers try to bargain with little down – or nothing down - and balloon payments or empty promises. They do this to try and flip an asset and make a large profit.

Vultures and rats stalk the innocent making use of Article 1049 of the Costa Rican civil code and property flipping. The rules are everything goes and the best trickster wins. Article 1049 is only one sentence long and it states La venta es perfecta entre las partes desde que convienen en cosa y precio.

In English, the string of words translates to "The sale is fixed between parties upon agreement of thing and price." The sentence means that it is possible to cheat a naive seller out of a property because of their lack of knowledge of the law.

There are ways to defend oneself from the unprincipled with the use of well-executed option documents prepared by a reliable and knowledgeable legal professional. They can protect good real estate deals.

One thing for sure, Costa Rica will not see the boom of years past for a very long time, if ever. Many people, expats and Ticos alike, are wallowing in the idea this country will explode again and are waiting for the gold rush days. They forget the boom was created by many worldwide circumstances that altered markets resulting in people having more money than usual. The property market in Costa Rica was abnormally affected by these events.

Even flippers, promoters, and crooks had something to do with the frenzy because they were promoting Costa Rica insanely all over the world.

Many buyers came and bought all sorts of things for outrageous prices, only to be caught in the crash. Some sold out cheap and left, others have held on waiting for a better economy.

Many of the bad guys and gals left too. They tend to go where the pickings and money are good. However, some stayed and are still lingering around. The laws have not changed as much as the economy.

Actually, the legal system has sent terrible messages to the crooks. They tend to get off easy from any wrongdoing. Many cases just expire in court and nothing happens to them at all.

This means legitimate buyers and sellers need to watch out for themselves. Homework, due diligence, patience, and competent counsel are the keys to success. If something looks too good to be true, expats should tread lightly. It probably is not what it seems.
3. Six-year deficit fix proposed by finance minister
By the A.M. Costa Rica staff

The finance minister said Wednesday that the country's annual budget deficit could be eliminated in five to six years.

The entire deficit, the total of repeated shortfalls by the central government, is $2.7 billion or about $625 for each person living in Costa Rica.

The finance minister, Edgar Ayales, said that to do this new taxes will be needed, including a value-added tax to replace the current sales tax, and a review of current tax exemptions.

The minister was speaking at his first press conference after returning from a heart operation in the United States. He looked chipper. Although he couched nearly all his comments as conditional due to the Feb. 2 elections, he is a leading candidate to stay in the job if Johnny Araya Monge, the front runner, wins.

One step is about to be taken. The minster said that shortly President Laura Chinchilla will issue a decree that is designed to cut down on smuggling. He cited alcohol, cigarettes and even kitchen appliances that would be targeted by the decree. His ministry also includes the customs agency.

Ayales also said that his staff was ready to prepare proposed legislation once voters choose a new president. The project could face a delay if there is no clear winner Feb. 2 That means there would be a runoff between the top two finishers in early April.

The staff at the Ministerio de Hacienda created a 39-page powerpoint display so that the minister could outline the extent of the country's financial problems. The current national budget consists of more than 50 percent borrowed money.

One step, according to the minister, is what he called a mechanism to guarantee financial responsibility by the central government, the courts and the Asamblea Legislativa. He also suggested that no expenditure should be approved until there was a source designated to pay for it.

He also was negative about the country's many dedicated taxes that go to special causes. There also are automatic increases written into law. This basically dictates the budget, he noted. He called for more discipline in financial matters.

The ministry is in the process of what it called a national dialogue on taxes. This basically is a series of meetings with various economic sectors to discuss solutions.

President Chinchilla tried to have the legislature enact a sweeping set of new taxes, including the value-added tax. But the Sala IV constitutional court ruled that lawmakers failed to follow the rules, and the president backed off, in part because of growing public discontent with the measures.

Although Ayales said he sought a way to keep lawmakers from spending money they did not have, a reader has noted that the Costa Rican Constitution already contains a clause that prohibited deficit spending. The central government has been able to circumvent this by favorable court rulings and by creating multiple budgets.

The deficit grew 5.4 percent in 2013 under the Chinchilla administration. That is a record for recent years. These annual shortfalls are what the minister seeks to curb.

About 30 percent of the annual budget is eaten up by interest on the money borrowed to cover years of deficits.

The minister also suggested reducing the social charges that businesses must pay as a stimulus. He cited the experience of Colombia in doing this. The lost money would be made up with taxes elsewhere, he said.

Ayales also noted that growth last year was greater in sectors that are not subject to taxation, like free trade zones and certain exports than those sectors that are taxed. Ms. Chinchilla had proposed letting municipalities tax industries in free trade zones.

He also suggested that the media could provide support to advance the tax plan. He said that he wanted the proposals to be consistent with the country's responsible environmental stewardship. And he said that there should be better financial administration and transparency.

Although the sweeping tax package did not become law, expats have had to deal with a new tax on corporations and a tax on so-called luxury homes.

There is a new $7 tax on travelers leaving the country at various land border crossings. The minister said that his office had received complaints that the tax was not being collected but he did not appear to know much more.

The tax was supposed to go into effect before Christmas, but expats continually report different experiences at the borders. In most cases they say immigration agents tell them the tax is not yet in force. One said the date of Feb. 1 was suggested. One problem is the lack of machines to pay the tax at the border.

Ayales asked an aid to look into the situation, but the ministry continually insists that the tax is in force and being collected, something that clearly is not the case. Ayales was hospitalized when the tax supposedly went into effect. The country lost millions by being unable to enforce it during the Christmas rush.
4. Shoppers added millions to their credit card debt
By the A.M. Costa Rica staff

Costa Ricans put more than 10 billion colons additional on their credit cards over Christmas. That's about $21.5 million or about 1.46 percent of what they already owed, said the economics ministry.

The total credit card debt for the country is 751.2 billion colons or about $1.5 billion. Other studies by the same ministry showed that the debt gathers interest at a rate as much as 54 percent.

The Ministerio de Economía, Industria y Comercio routinely does studies of the outstanding debt. The comparison released Wednesday was to the amount that was owed Oct. 31. The data comes from the 29 companies that issue credit cards.

The ministry in this report did not address the amount of money that was in default for non-payment.
5. Interest rates on credit cards remain as high as 54%

January 23rd, 2014 (InsideCostaRica.com) A recent study by the Ministry of Economy, Trade, and Industry reveals that interest rates on credit cards in Costa Rica remain high, ranging between 23% and 54% – with the majority charging between 40% and 49.9%.

The study also reveals that Costa Rican credit card debt has increased by ¢11 billion compared to the last survey.

The result of these high interest rates is that many Costa Ricans end up paying three times the amount for a purchased item, according to Economic Minister, Mayi Antillon.

In August, President Laura Chinchilla signed a bill that would limit the maximum interest rate charged by credit card issuers and department stores.

The bill presented by Chinchilla's government would establish a usury limit on these interest rates. Under the bill, the maximum interest that could be charged would be twice that of the quarterly average charged by the National Financial System (Sistema Financiero Nacional).

For example, today the quarterly average rate is 17.39% in colones, which would mean under the bill the upper limit on interest rates in colones would be 34.77%. In dollars, the average rate is currently 10.9%, meaning the upper limit for interest in dollars would be 21.8%.

The Consumers Association of Costa Rica has also voiced its support for the bill, which remains in the legislature.
6. Dollar sees significant gains against Colon on wholesale market

January 24th, 2014 (InsideCostaRica.com) The value of the US dollar increased significantly this week, rising ¢5.21 during trading sessions at the Monex wholesale market.

Last week, the dollar closed at an average price of ¢502.13. By the end of yesterday's trading, the exchange rate stood at ¢507.34. That is the highest average rate of exchange achieved during the whole of 2013.

At the windows of commercial banks, the purchase price of dollars ranged between ¢496 and ¢499 while the sell price ranged between ¢510 and ¢513 this week.

Economists estimated earlier this month that the value of the dollar in Costa Rica could rise this year as a result of the easing of expansionary monetary policy by the United States.

Still, most economists believe the exchange rate will hold between ¢500 and ¢520 this year.
7. Argentina peso sinks as foreign purchases curbed

BUENOS AIRES, January 23, 2014 (AFP) – Argentina's economic turmoil deepened Wednesday as the peso plunged and the government tightened controls on shopping at offshore websites to protect its shrinking foreign reserves.

Worries were mounting over whether the government can get soaring inflation under control, with the rising uncertainty stirring up memories of the devastating 2001 crisis in Latin America's third largest economy.

The peso sank 3.2 percent against the US dollar, its sharpest one-day decline in the official exchange rate in years, despite heavy intervention by the central bank to ease the currency's fall.

The dollar rose past seven pesos, compared to the year-ago rate of just five pesos to $1. The currency's depreciation has accelerated since the beginning of the year, losing 8.4 percent.

With the government tightening foreign exchange controls to stem capital flight, on the black market for the peso sank to a new low of 12 per dollar.

The Central Bank of Argentina spent some $120 million to slow the drop, but that just added to the continuing erosion of the country's foreign reserves. Total reserves fell to $29.5 billion, down from $42 billion at the beginning of 2013 and at their lowest level since 2006.

The government doubled down on its currency controls, tightening restrictions on online purchases from abroad. Such spending was already subject to a 50 percent tax on purchases of $25 or more.

Argentines will now be limited to just two online overseas purchases a year, each for $25 or less. And each purchase must be reported to tax authorities.

Miguel Ramirez, a doctor, said the move would not stop online shoppers. "The measure will be unpopular," he said. "They want to place a barrier to discourage people. But thousands of packages will come and they have no way to control them all."

Even so, the restrictions could add to the country's inflationary spiral.

Last week, the government announced that 2013 inflation was just 10.9 percent, around the same level it has cited for several years running.

But private sector estimates considered reliable say inflation was 28.4 percent over the past year, up from the 26 percent pace they reported in October.

The newest measures show that the authorities' efforts to get things under control have not worked.

Imports are already tightly restricted, and Argentines are hit with a 35 percent tax on purchases outside the country with credit cards.

Worries have increased that the country will not be able to service its debts.

In 2001, Argentina defaulted on some $100 billion in borrowed funds, and it took nearly a decade to restructure most of those debts to a sustainable level. The current crisis has not gotten close to those proportions.

The economy is growing at a five percent rate and the country's debt load is much smaller — in part due to lenders' views that Argentina remains a high-risk investment.

"For the moment, Argentina has a better debt profile than European countries," Pablo Tigani, director of consultancy Hacer, told AFP. "And the level of reserves is enough to prevent speculative attacks on the currency."

But there is rising uncertainty, especially over the government's policies. In a recent speech, President Cristina Kirchner ignored the worries of the business community, saying nothing about inflation or the peso's fall. Instead, she announced a new monthly allowance for students.

And Argentina is still wrestling with debt problems from the past. It faces a challenge in US courts from two hedge funds that bought the country's debt at a hefty discount and did not join the restructuring deal, aiming to collect in full on it.

Buenos Aires has dubbed the funds "vultures," but their court victories have put more pressure on the country's debt service costs.

The country now hopes the US Supreme Court will accept its appeal and back its claim that the hedge funds already gave up any claim to repayment.

On Monday, Argentine officials moved to relaunch negotiations with creditors grouped as the Paris Club, hoping to set new payment terms on an estimated $10 billion in debt at penalties in arrears.

Buenos Aires faces another challenge at the International Monetary Fund. Early last year, the Fund took the unprecedented step of censuring an IMF member, saying Argentina had made insufficient efforts to meet its standards for inflation and GDP data. It gave Buenos Aires the rest of 2013 to produce better data.

But the country came up short again in December. The Fund's executive board though gave it specific steps to take by March to avoid further censure.
8. Venezuela limits access to US dollars

CARACAS, January 22, 2014 (AFP) – Venezuela said Wednesday it would allow only importers of high priority goods like food to buy dollars at the official rate, forcing others to pay nearly twice that.

Rafael Ramirez, Venezuela's vice president for economic affairs, insisted the move was not a devaluation of the bolivar currency, even though it would have that effect for those who need US dollars but are not on the priority list.

"This is not a devaluation. This is a different exchange system," Ramirez said in announcing the sweeping move. "Really, we are building a system of multiple exchange rates."

Critics, however, noted that the change is a de facto devaluation — which the government needs to help control skyrocketing inflation — with a label on it that sounds appealing to government supporters.

"What they have announced is in no way a system, with multiple exchange rates. This is a system with (imposed) multiple exchange rates. When there are two exchange rates, you are talking about a camouflaged devaluation," ex-central bank chief Jose Guerra said on Twitter.

Ramirez shot back to reporters: "I won't be debating whether there was a devaluation.

"We will not give in to the enemy's blackmailing of our country," Ramirez said, raising the government's claim that local "bourgeois" business interests are trying to take advantage of the poor, most of whom support the populist-socialist government.

Under the new regime, Venezuela will only provide dollars at the official rate of 6.3 bolivars to $1 to importers of designated priority goods like food and medical supplies.

Others who need dollars to pay overseas bills will have to buy them at government-run auctions, where $1 costs an average of 1.3 bolivars.

Venezuelans seeking dollars for travel, remittances abroad or non-priority imports will have to buy them at auction market, Ramirez said.

"Here, the big issue is, do we give dollars to travelers or to bring in food? Do we give dollars to speculators or do we bring in goods that are essential to our industry?" he asked.

He did not say how many dollars travelers, who can cash in on the difference between official and black market rates, would be allowed to have. Until now it has been $3,000 a year on credit cards and $500 in cash.

Multiple exchange rate stability?

"This new system of multiple rates is going to be a great stabilizing factor," Ramirez argued.

Venezuela has been plagued with widespread shortages of staples and other goods under its system of strict currency controls.

That in turn has helped fuel inflation, which is running at 56 percent a year, the worst in Latin America.

Critics say corruption has flourished under the system, as those with access to dollars at the official rate sell them in the black market, where the rate now hovers at 60 bolivars to the dollar.

President Nicolas Maduro has vowed to keep the official rate in place despite pressure for devaluation.

Ramirez, who is also president of the state-oil company that generates 96 percent of Venezuela's foreign revenues, said that the government plans to exchange $42 billion worth of bolivars this year, $11.4 billion of it through the government-run secondary market.
9. Political activity goes into a quiet mode next week
By the A.M. Costa Rica staff

Expats know that Costa Rican officias are taking the general election seriously when they prohibit soccer games the Saturday before and the Sunday that is election day Feb. 2. Soccer is sacred, but the democratic process even trumps the sacred in Costa Rica.

As is usually the case, the Tribunal Supremo de Elecciones also has outlawed events that attract crowds. The ruling also covers concerts and other organized activities. The idea is to keep the streets clear so voters can go to the polls.

The Tribunal announcement said that 31 different sports federations have been notified of the restrictions as well as the 81 cantons and various government agencies that might be putting on activities like the Ministerio de Cultura y Juventud.

There also will not be any political street rallies. The Tribunal prohibits such activities starting Monday through the Sunday election. But political parties usually have the right to set up tents and informational booths outside the individual voting locations as voters go to the polls.

The Tribunal also outlaws publicity and the publication of opinion poll results starting Thursday until the Tribunal itself has met Sunday night after the voting.

All the restrictions will be in force again the first week in April if the presidential elections have to go to a second round. That voting date is April 6.

Some expats might find it a relief not to have campaign ads on television Thursday, Friday and Saturday. The prohibition prevents sneaky last minute emotional appeals which the opposing candidates do not have the time to counter.

The prohibition on poll results even extends to mock votes held for children as well as exit polls on election day.

This year the Tribunal said that the prohibitions extend to the Internet and to social networks.
10. A sure election bet: There will be more and new taxes
By the A.M. Cost Rica staff

Whoever is elected this year will have two choices. He can aggressively tackle the soaring national budget deficit, or he can do what other presidents have done: little or nothing and borrow more to pay bills.

A president with vision and the political will needs to raise about $5.8 billion in new revenue to balance the budget. That would mean new taxes, assessments or some other money-raising scheme to extract an average of about $1,320 more from every Costa Rican man, woman or child.

An analysis of the news

Costa Rica officials like to talk about budget expenses in terms of percentage of gross domestic product. That is because in the past the colon changed value every day. Now that the colon is more stable, percentages still are more acceptable politically than raw numbers.

Finance ministry workers also like to use percentages. They report that the 2014 national deficit is about 42.7 percent of the budget.

To say the deficit this year is $5.7 billion cause jaws to drop.

Edgar Ayales, the finance minister, outlined a plan Wednesday to eliminate the annual deficit in five to six years. He also spoke in percentages because proposing to raise $5.7 billion more in revenue each year is not very political.

To his credit Ayales spoke of a smooth transition and a reduction of expenses at the same time. To do what he proposes requires extensive change in the country's financial laws as well as what the minister called discipline.

There is no way to reach this goal without creating new or collecting increased taxes that average to more than $1,000 per person a year. And even that does not pay off a single dollar of accrued debt.

Expats can be pretty sure that the new administration at least will propose a value-added tax. Such taxes that are levied at every step in the production process generates more income than a straight sales tax, in part because merchants have a greater incentive to report the sale so they can be reimbursed for the taxes they have paid. So this cuts down on evasion.

Expats also can be pretty sure that the value-added tax will be higher than the current 13 percent sales tax, and it will apply to many more transactions, such as services. And they can be sure that it affects disproportionally those who have money.

Such a tax might be the first step because it is easier to sell to the public. President Laura Chinchilla failed in an effort to pass news taxes because the legislative package was too complex and wide ranging.

Depending on who is elected, the current legislature might be asked to approve new taxes before its term expires May 1.

An A.M. Costa Rica news story Thursday understated the amount of the national deficit due to a computational error. It also said that the deficit was more than 40 percent of the national budget. The Ministerio de Hacienda gives the figures as 42.7 percent.
Brian, Lita, the Late Hugo IV, irreverent Vicka, the pigeon toed parrot, Chico II and Chica II