Brian Timmons
Dear friends,
When I started Residencias Los Jardines, I started writing a weekly news letter -determined to tell all the good, bad, and the ugly. I knew some readers would be interested in the construction process. I expected others might be interested in the lifestyle of two people who had decided to live outside the box. For others, the adventures of Lita, the parrot and the cat took on an entertainment saga all its own.
Residencias Los Jardines is finished. We periodically have resales and rental availability. Some readers may be interested in this information.
Brian Timmons
DEVELOPER / PROPERTY MANAGER
Residencias Los Jardines / https://www.residenciaslosjardines.com info@residenciaslosjardines.com
ResidenciasPropertyManagement@gmail.com
Featured house this week
Paradisus Condos / Rorhmoser
FOR SALE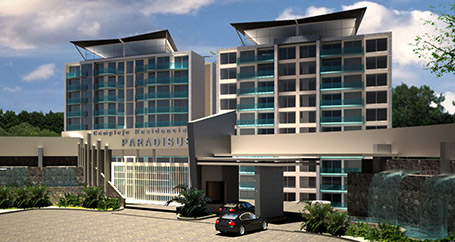 Paradisus will consist of 4 towers in Rorhmoser, a suburb to the west of central San Jose. Not far from the US Embassy and shopping malls, Rorhmoser is a residential area that was developed in the 60's and 70's and is currently seeing significant re-development with high end condos. It is the area where the new stadium and a number of luxury high rise condos have recently been built with more on the drawing boards. Phase one of this development is nearing completion; it consists of two towers and the amenities -pool, exercise room, etc. Tower one is expected to be completed in January and Tower 2 should follow in February / March. The location of this development is superb... it's off the main traffic paths and sits on a ravine overlooking a river. To the east is San Jose / Heredia; to the west is Pavas / Escazu. With floor to ceiling windows and a wrap around balcony, these units offer fantastic light and views.
Each of the units consists of two bedrooms / two bathrooms, and a large living/dining/kitchen area. The floor plan of each of these units has eliminated the optional "den / office" divider. The result is a larger area offering more flexible furniture arrangements while still maintaining the option of including an office area. At 105m2 plus two parking spots each and storage locker, they offer a great opportunity for someone seeking views, security, central location, and first class, all round living...
Infinity Terraces
FOR SALE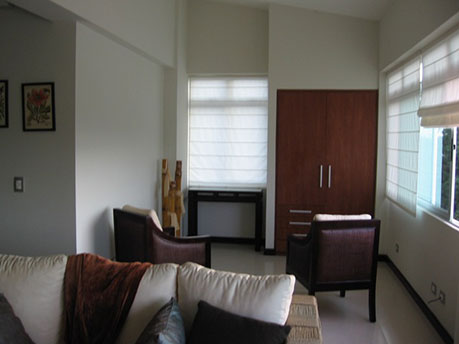 $229,000 / 2 bdrm / 2 bthrm / Penthouse / Sunset Views / 150 m2 / 1500 sf
INFINITY TERRACES: Pozos de Santa Ana / Guachapelin -contemporary design, well maintained, luxury 5th floor penthouse condo nestled in the hills of Santa Ana. Spacious open floor plan with 16 ft. vaulted ceilings, large kitchen w/SS appliances and granite countertops, laundry room w/ washer and dryer, air-conditioned. Plenty of closet space. : 5 year old / two car parking / bodega… building has high security, gym , hot tub and swimming pool.. 180 degree sunset views to west and north (Alejuela). 5 min. to San Jose – Caldera Highway / Multiplaza. This unit offers a secure, carefree lifestyle; you can lock and leave or leave and lease.
Loma Real Escazu / Guachipelin, Central Valley
FOR SALE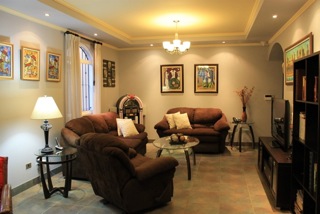 $325,000 / 3 bdrms + maids rm / 3.5 bthrms / owner financing
Beautiful house in residential area: 24 hours security. 274 m2 construction. 2 story, 3 bedrooms + maids quarters, 3 1/2 bathrooms, ample eat-in kitchen, six years old, immaculate condition, lot 264 m2 professionally landscaped, two car enclosed garage, 1500 L reserve water tank, electric demand water heaters, Independent office. Located close to all amenities. Taxes $500 yearly and security $80 monthly.
House can be purchased furnished for an additional $30,000
Owner will take back a mortgage for up to 5 yrs. @ 12% interest only.
Residencias Los Jardines
Property Management, Rentals, Re-Sales
Market Activity
Sales: no calls.
Rentals: a number of calls but nothing available.
FOR SALE
Unit #114: $235,000 / See Unit
FOR RENT
Nothing Available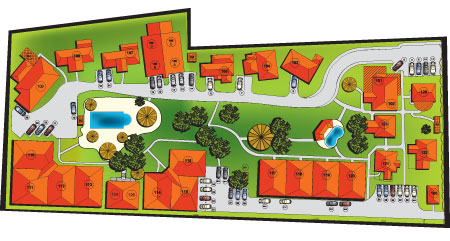 HOUSE FOR SALE
UNIT #114
FOR SALE $235,000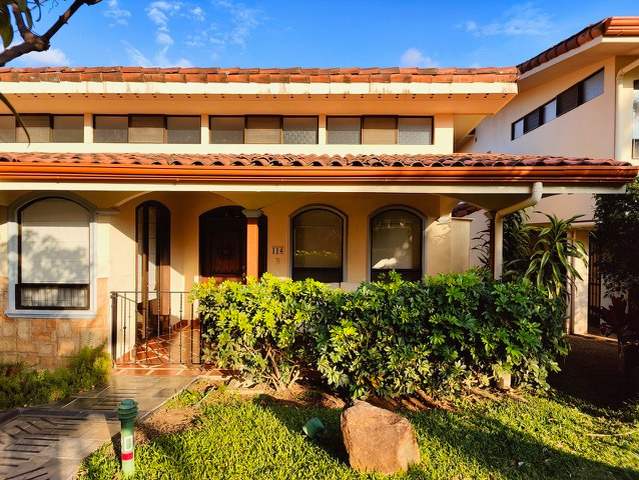 See a complete description of this unit
Total Area (Sq Ft): 1290
Total area (Sq M): 120
Bedrooms: 2
Bathrooms: 2
Floor(s): Single Floor
Type: Attached
Furnished: Yes
This 1,290 sf. (plus covered parking for one car and two lockers 67 sf.) single story, semi detached house, with garden terrace, two bedrooms is a beautiful executive style home. This home consists of two large bedrooms one with six piece en-suite bathroom with additional access to separate full shower. Each bedroom has large closets with extensive built-ins for personal organization. The vaulted living room and bathroom ceilings provide a feeling of grandeur while allowing the warmer air to rise and exit through the ceiling ventilating system. There are four TVs (one in each bedroom, one in the living room and one in breakfast / dinning room.) This is a beautiful well appointed home.
Our Lives
WEATHER: beautiful... beautiful, beautiful —the trade winds have kicked in most of the time.
All in a Week's Living in CR:
Cross Roads:
(1) Costa Rica's national election is to be held in 2 weeks. As of now, there are two leading candidates and a third not far behind the 2nd. The national polls differ widely and based on 4 years ago, are wildly inaccurate. The probably leading candidate, the former mayor o San Jose comes from the political party of Arias and Chinchilla... he is probably best described as central socialist in keeping with the broad CR political ideology. The second runner up (depending on the poll he may be the leading candidate) is perhaps best described as more left wing and to the point his political opponents describe him as "communist". The third, a Libertarian, might be the deal maker since it is unlikely that either leading candidate will get the necessary vote require to abort a run off election.
2) Los Jardines: 4 conceptual property management options have been identified but all have to be fleshed out... in time for discussion by the shareholders for a meeting to be held sometime in February. Presumably this meeting will include an election for a new board of directors since the 2 yr term of the President and Secretary has expired. In the meantime, it remains the status quo and issues are not being dealt with for various reasons.
A new 24 house upper scale condo is under development not far from Momentum Plaza.
News Items of the Week
1. Legislative Make up: this is CR pork barrel...
2. Rice Price: Yes the few wealthy landowners have again been able to maintain their monopoly at the expense of the population. And is lousy rice (in our opinion) by any free market standard.
3. Water Rationing: by observation, it was a pretty normal rain fall this year. However, reserves seem to be inadequate so rating will again occur. Fortunately, we have a well so are not affected.
4. Price of Gas: yes, it is again going up and another raise is been requested as well. We are already the highest priced gas in Central America. At %$.60 a gal. it's getting to be an significant issue —I spent $750 rebuilding the front end of my SUV which gets beaten into smitherines on these roads and another $750 to replace the AC compressor, $400 for corporate taxes for one corporation, $550 for electricity and condo fees... it's no longer cheap living here... one has to have other reasons to stay... I do... but others don't or cannot afford to stay...
5. Tourism: it's reported to be up and they say they have eliminate the funny number issues of the past. American tourism is not up neither is European nor much from Canada. The increase is from South America.
6. Luxury Home Tax: look at the last paragraph... while the idea may be well intended the execution seems to be typical CR.
7. Robbery: someone this seems like an inside job…anyone else get that feeling?
1. Legislative makeup will have big impact on country
By the A.M. Costa Rica staff

As presidential candidates debate, as they did again Sunday night, legislative candidates are being overlooked. But the legislature also is important.

Costa Ricans will vote twice Feb. 2. There are presidential and legislative ballots. In many cases, the legislative candidate is an unknown. The legislative vote generally parallels the presidential one. A voter who prefers one party's presidential candidate probably also will vote for the party's legislative candidates.

All of the candidates, both presidential and legislative, have been selected by party conventions. Each party has a list of legislative candidates. When the public vote is tallied, legislative seats are distributed based on the proportion of the vote for the party in each province.

Successful legislative candidates can hire other party members as advisers and other office positions. So the party faithful can be rewarded based on that vote, too.

The proportional distribution of legislative seats guarantees that Frente Amplio will have more legislative deputies for the next four-year term than the single representative in the current legislature. The party's presidential candidate, José María Villalta Florez-Estrada, may not win, but he will boost the vote for the party, particularly among the young intellectuals n the Central Valley.

Frente Amplio, the Costa Rican manifestation of the Community party, seeks progressive social legislation, such as a hike in the minimum wages. So the party's presence is likely to influence the course of legislation. The impact will be stronger if Frente Amplio gains enough seats to negotiate for a coalition with another party to gain control of the 57-member assembly.

Villalta appears to be the main target of other political parties. Liberación Nacional warns that he will turn Costa Rica into another economic basket case like Venezuela. Anti-Villalta commercials and YouTube videos show him protesting along with students in rock-throwing confrontations with police in front of the legislative buildings. More poll results this week will show if the demonization is effective.

Villalta gave a summary of the party's position when he appeared with four other candidates on Channel 9's debate Sunday night. The debate will be rebroadcast tonight at 8 p.m. He favors increases in the minimum salaries, and he is suspicious of government concessions for public purposes and the privatization of state services.

While serving in the current legislature, he also proposed price controls on medicines.

Appearing with Villalta Sunday were Otto Guevara Guth of Movimiento Libertario, Luis Guillermo Solís Rivera of the Partido Acción Ciudadana, Johnny Araya Monge of Partido Liberación Nacional and Rudolfo Piza de Rocafort of the Partido Unidad Social Cristiana.

There are 13 presidential candidates and as many national parties. The five who debated Sunday were picked based on their position in polls. Some of the minor candidates went to the Sala IV constitutional court in an unsuccessful effort to force the court to demand that private debates include all candidates.

The Canal 9 debate was a lightning affair with candidates getting sometimes as little as 15 seconds to respond. Then each had the opportunity to quiz their rivals.
2. Rice protected for another year from forces of free market
By the A.M. Costa Rica staff

The government has waffled again on freeing the price of rice.

The minister de Agricultura y Ganadería and the minister of Economía, Industria y Comercio announced Friday that they had delayed the decree that would cause rice to be subject to market conditions.

The rice producers had promised protests in several parts of the country today.

The original decree would have ended price controls on the food staple March 1. The government already agreed to delay this for six months. Now the proposed date is March 1, 2015.

Mayi Antillón Guerrero, the economics minister, has shown a strong free market tendency during her tenure. Officials note that higher prices for the growers means higher prices for consumer.

Rice growers and their Corporación Arrocera Nacional are not happy with the removal of price controls because Costa Rican rice has been more expensive than foreign imports.

The original decree noted that the Ministerio de Economía, Industria y Comercio sought help from the Instituto de Investigaciones en Ciencias Económicas at the Universidad de Costa Rica. The institute report said that consumers have paid higher prices due to the government support and that there is no economic or social argument to justify the current system.

In addition, the report said, the price control has not resulted in an increase in productivity by rice farmers because the level of cultivation has declined over the last 20 years.

Rice growers said that the removal of the price controls would jeopardize the basic food supply of Costa Ricans.

Johnny Araya, the presidential candidate for the Partido Liberación Nacional, has said that Ms. Antillón, Gloria Abrahams, minister of Agricultura y Gandería, and Anabel González, the minister of Comercio Exterior, would have no role in his government.

Rice growers also were peeved at imports into the southern zone. They sought trade restrictions. However, President Laura Chinchilla was reported to have denied this request, which would come up against various trade treaties.

The growers also are seeking a reduction in the premium for crop insurance for policies issued by the Instituto Nacional de Seguros. Government officials said they would come up with a revised proposal this week.
3. Water rationing will affect thousands beginning in February

January 15th, 2014 (InsideCostaRica.com) The Costa Rican Institute of Aqueducts and Sewers (AyA) said that some 40,000 people would face water-rationing beginning in February. The most affected areas will be Escazu, Santa Ana, Ciudad Colon and Alajuelita.

AyA's Sergio Nunez said the measure would be necessary to ensure water availability during this year's dry season.

Nunez said that water supplies would be cut off overnight, reopened in the morning hours until about 11 a.m., then cut off again until the afternoon.

Nunez said the rationing could begin the second week of February.
4. ARESEP approves hike in gasoline prices

January 15th, 2014 (InsideCostaRica.com) The Regulatory Authority for Public Services (ARESEP) has approved a ¢14 per liter increase in the price of gasoline, which will go into effect in the third week of February.

The regulator also approved a ¢1/liter decrease in the price of diesel.

Meanwhile, ARESEP is still considering a separate increase in the prices of both gasoline and diesel which was requested by the Costa Rican Oil Refinery (RECOPE) earlier this month, which would increase both gasoline and diesel prices by up to an addition ¢45 per liter.

ARESEP is expected to make a decision on that increase later this month, which would take effect in March if approved.
5. South America, Europe led 2013 tourism increase
By the A.M. Costa Rica staff

Tourism officials were congratulating themselves Thursday as they reported a 3.6 percent increase in international arrivals over the number in 2012.

A look at the statistics in detail, however, reveals less than a 1 percent increase from the United States with 8,305 more visitors.

Canada was up nearly 5 percent at 160,398 visitors, some 8,830 more than in 2012. Europe also was up nearly 6 percent with an increase of 15,946 visitors for a total of 300,942.

Central America was up 2.1 percent, but because there were 736,161 recorded persons from there, that percentage represents 15,112 persons. Some 802,040 persons entered at one of the ground border crossings either from Nicaragua or Panamá.

The big jump was 20.3 percent more visitors from South America. That brought an additional 27,738 persons into the country. Arrivals from that continent were 164,224.

Canada and the United States jointly contributed 1,089,800 arrivals, 1.6 percent more than in 2012. Canada, the United States and Europe jointly contributed 1,389,742 visitors, an increase over 2012 of 33,081 or about 2.4 percent.

All of the arrivals do not mean traditional tourists. One troubling aspect was a decrease of 807 arrivals at the Daniel Oduber airport in Liberia. This is the airport that feeds the Guanacaste beach resorts. Still, 330,309 persons arrived there in 2013, said the Instituto Costarricense de Turismo.

The tourism institute used statistics from the Dirección General de Migración y Extranjería. The numbers did not include Costa Ricans or individuals arriving here on temporary work permits, said the institute. In the past, the statistics included cruise ship passengers who participate in land visits at Puntarenas or Limón.

Allan Flores, the tourism minister, said in a news release that his agency has worked intensely to strengthen the country's presence in the principal tourism markets such as the United States, Canada and Europe with aggressive strategies of promotion and publicity as well as entering the new market in South America, China and Russia."

International arrivals 2012-2013


2012

2013

Change
Per
cent
United States

921,097

929,402

+8,305

.9%
Canada
151,568
160,398
+8,830
5.8%
Central America

721,049

736,161

+15,112

2.1%
Europe
284,996
300,942
+15,946
5.6%
South
America

136,486

164,224

+27,738

20.3%
Rest of
world

128,017

136,814

+8,797

6.9%
Total
2,343,213
2,427,941
+84,726
3.6%

Source: Intituto Costarricense de Turismo

The Cámera Nacional de Turismo was quick to respond to the statistics. The 2010-2016 national tourism plan calls for annual increases of 5 percent, said the chamber.

Isabel Vargas, president of the chamber, was quoted in another press release saying that the country had a lot to offer, and although the increase in the number of visitors is positive, those in the industry cannot be satisfied because the percentage is not sufficient. The country can attract more tourists than it has, she said.

Costa Rica's tourism institute has engaged in experimental promotions. The institute backed the creation of murals in European railway stations. In the United States it promoted the country with a talking sloth and more recently with advertisements at movie houses.

The tourism institute placed a major bet on the 2011 $6.4 million talking sloth campaign engineered by an Atlanta, Georgia, firm, 22Squared, which is a fan of the social media. The institute gave away about 80 trips to Costa Rica. The latest campaign presents a slick video to U.S. movie audiences.

The tourism announcement also praised the institute's Web site, www.visitcostarica.com.

Although there is a lot of information on the Web site, the Amazon.com Web monitoring subsidiary Alexa says that 54.6 percent of the visits never go further than the first page. The Web site has a global readership rank of 156,999 and a rank in the United States of 65,745, said Alexa. By contrast, A.M. Costa Rica has a global rank of 65,894 and a U.S. rank of 62,170.
6. Tax on luxury homes brings in $11 million, tax agency says
By the A.M. Costa Rica staff

Owners of some 3,785 properties have paid their luxury home tax, the Dirección General de Tributación said Thursday. Some 5.5 billion colons have been collected, said the agency.

The amount is about $11 million. The deadline was Jan. 15, and those who pay late face a fine of 199.700 colons, a little more than $400.

The tax this year is on homes and land that are estimated to be valued at 121 million colons or more. That is about $244,000. The tax is on a sliding scale with owners of more expensive properties paying a higher percentage.

The money is supposed to go toward building housing for the poor. Also this week La Nación revealed a scandal in which individuals in the nation's housing authority seem to have awarded homes to relatives who are not poor.
7. Hijackers dressed as police to halt truck on Ruta 27
By the A.M. Costa Rica staff

Bandits dressed as if they were police officer set up a roadblock on Ruta 27, the Caldera highway, Wednesday night and then hijacked a truck when the driver stopped.

The Judicial Investigating Organization said that the bandits set up traffic cones to simulate a police operation. The truck contained musical instruments and was found abandoned and empty some hours later.
Brian, Lita, the Late Hugo IV, irreverent Vicka, the pigeon toed parrot, Chico II and Chica II