And We're Off to the Unknown... Again!!
Brian Timmons
Dear friends,
When I started Residencias Los Jardines, I started writing a weekly news letter -determined to tell all the good, bad, and the ugly. I knew some readers would be interested in the construction process. I expected others might be interested in the lifestyle of two people who had decided to live outside the box. For others, the adventures of Lita, the parrot and the cat took on an entertainment saga all its own.
Residencias Los Jardines is finished. We periodically have resales and rental availability. Some readers may be interested in this information.
Brian Timmons
DEVELOPER / PROPERTY MANAGER
Residencias Los Jardines / https://www.residenciaslosjardines.com info@residenciaslosjardines.com
ResidenciasPropertyManagement@gmail.com
Featured house this week
Paradisus Condos / Rorhmoser
FOR SALE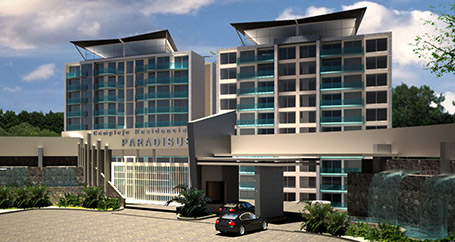 Paradisus will consist of 4 towers in Rorhmoser, a suburb to the west of central San Jose. Not far from the US Embassy and shopping malls, Rorhmoser is a residential area that was developed in the 60's and 70's and is currently seeing significant re-development with high end condos. It is the area where the new stadium and a number of luxury high rise condos have recently been built with more on the drawing boards. Phase one of this development is nearing completion; it consists of two towers and the amenities -pool, exercise room, etc. Tower one is expected to be completed in January and Tower 2 should follow in February / March. The location of this development is superb... it's off the main traffic paths and sits on a ravine overlooking a river. To the east is San Jose / Heredia; to the west is Pavas / Escazu. With floor to ceiling windows and a wrap around balcony, these units offer fantastic light and views.
Each of the units consists of two bedrooms / two bathrooms, and a large living/dining/kitchen area. The floor plan of each of these units has eliminated the optional "den / office" divider. The result is a larger area offering more flexible furniture arrangements while still maintaining the option of including an office area. At 105m2 plus two parking spots each and storage locker, they offer a great opportunity for someone seeking views, security, central location, and first class, all round living...
Infinity Terraces
FOR SALE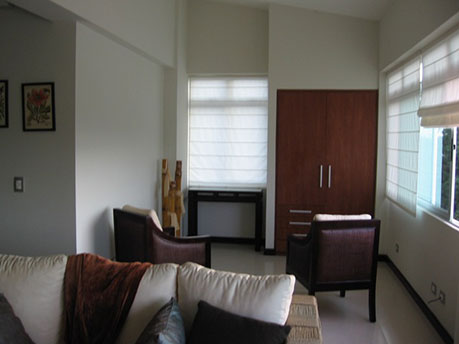 $229,000 / 2 bdrm / 2 bthrm / Penthouse / Sunset Views / 150 m2 / 1500 sf
INFINITY TERRACES: Pozos de Santa Ana / Guachapelin -contemporary design, well maintained, luxury 5th floor penthouse condo nestled in the hills of Santa Ana. Spacious open floor plan with 16 ft. vaulted ceilings, large kitchen w/SS appliances and granite countertops, laundry room w/ washer and dryer, air-conditioned. Plenty of closet space. : 5 year old / two car parking / bodega… building has high security, gym , hot tub and swimming pool.. 180 degree sunset views to west and north (Alejuela). 5 min. to San Jose – Caldera Highway / Multiplaza. This unit offers a secure, carefree lifestyle; you can lock and leave or leave and lease.
Loma Real Escazu / Guachipelin, Central Valley
FOR SALE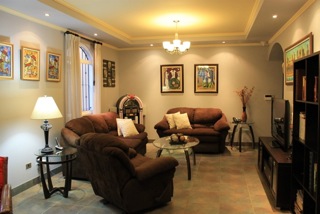 $325,000 / 3 bdrms + maids rm / 3.5 bthrms / owner financing
Beautiful house in residential area: 24 hours security. 274 m2 construction. 2 story, 3 bedrooms + maids quarters, 3 1/2 bathrooms, ample eat-in kitchen, six years old, immaculate condition, lot 264 m2 professionally landscaped, two car enclosed garage, 1500 L reserve water tank, electric demand water heaters, Independent office. Located close to all amenities. Taxes $500 yearly and security $80 monthly.
House can be purchased furnished for an additional $30,000
Owner will take back a mortgage for up to 5 yrs. @ 12% interest only.
Residencias Los Jardines
Property Management, Rentals, Re-Sales
Market Activity
Sales: two calls / three viewings.
Rentals: no calls.
FOR SALE
Unit #114: $235,000 / See Unit
FOR RENT
Nothing Available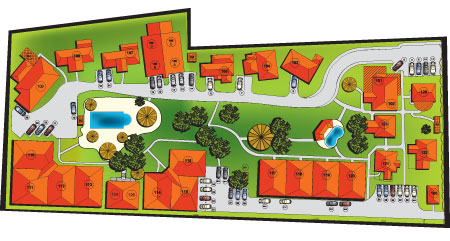 HOUSE FOR SALE
UNIT #114
FOR SALE $235,000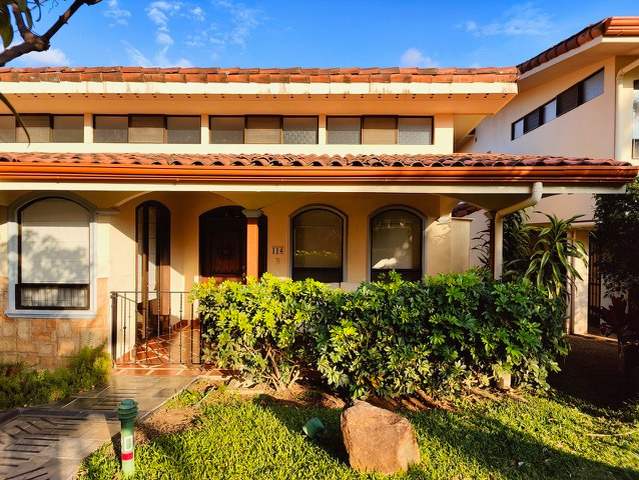 See a complete description of this unit
Total Area (Sq Ft): 1290
Total area (Sq M): 120
Bedrooms: 2
Bathrooms: 2
Floor(s): Single Floor
Type: Attached
Furnished: Yes
This 1,290 sf. (plus covered parking for one car and two lockers 67 sf.) single story, semi detached house, with garden terrace, two bedrooms is a beautiful executive style home. This home consists of two large bedrooms one with six piece en-suite bathroom with additional access to separate full shower. Each bedroom has large closets with extensive built-ins for personal organization. The vaulted living room and bathroom ceilings provide a feeling of grandeur while allowing the warmer air to rise and exit through the ceiling ventilating system. There are four TVs (one in each bedroom, one in the living room and one in breakfast / dinning room.) This is a beautiful well appointed home.
Our Lives
WEATHER: beautiful... beautiful, beautiful —the trade winds have kicked in most of the time.
All in a Week's Living in CR:
Driving: more normal than December.
Electricity Rates: Who knows which direction they will go... It's incredible.
Costa Rica National Election: The election happens next month. Two candidates seem to be running neck and neck... they appear to represent different views of the future... one comes from the current party in power although he has distanced himself from the incumbent and the other seems to represent a Chavesist-like future... depending on what source one reads, as to how "communist" his actually is...
Into the Unknown... once again Los Jardines is struggling with it's day to day management. The non-renewal of the previous property management contract resulted in hiring an outside property management company. That effort resulted in failure and has, in my opinion, created a vacuum of management and leadership. The experiment has been terminated and again the shareholders are faced with inventing a new future. The current discussions and proposals, while preliminary, are not likely to meet any of my criteria and if they succeed, they would represent the only case where it has worked…many, many issues are building up and are not, have not been dealt with. We have a small base of full time residents from which to draw and amongst this group there are health issues, commitment issues, interest issues, knowledge issues and personality issues…personally I am tired of drifting and re-training... the learning curve is long even for the willing... there is a short term solution but... we'll see
News Items of the Week
1. Tourism: according the article, it's picking up... after all, it is colder than normal in the US and Canada... having said that, I expect many of these travel plans were made before the cold actually set in... CR seems to be slightly inflating it's colon –but only every so slightly...
2. Luxury Home Tax: now the threshold is $242,000 vs. it's initial $172,000. While this value has little to do with the market value, and isn't very much by N. Am. standards, it's historically been difficult for CR to collect it... enforcement hasn't been strong and regardless of the intended destination of the fees collected, there seems to be a healthy skepticism that all the money is actually reaching the target of extreme poverty and subsidized national housing...
3. Petroleum Pricing: For years there has been an agreed to method and algorithm for determining the real price of petroleum products. Supposedly, the monthly price variants were correlated to world oil prices. Surprise, Surprise… the petroleum MONOPOLY is proposing to change the formula now that the world energy prices is headed downward which means they will get less... So when the results aren't what you want, change the method of calculation… it's simple, it the CR way of doing business…
1. Survey confirms that tourism is picking up this year
By the A.M. Costa Rica staff

The sense that tourism is picking up is now official. The tourism chamber released the results of a survey that supports the anecdotal evidence from major tourism areas.

Garland Baker reported two days before Christmas that tourism in the Pacific was on the upswing.

"The good news is that, places are full of energy and tourists abound," he wrote. "'The streets are bustling much more so than last year, and it seems tourists have arrived earlier too, way before Christmas.' said one property manager," he added.

Baker had just taken a driving tour of Pacific beach communities.

On top of that real estate brokers in Playas del Coco and in the central Pacific have been saying for several weeks that they were being flooded with work. The operator of a major brokerage firm in Playas del Coco said Tuesday that all agents had been out showing property all day.

The survey by the Cámeras Nacional de Turismo assesses expectations, not reality. Still the responses by tourism operators are based on the number of their reservations and activity as compared to the 2012-2013 high season. The survey, done in November and the beginning of December, involved 205 businesses ranging from hotels, tour operators, car rental agencies and restaurants. They were asked to assess their business expectations through March.

The chamber said that 59 percent of the respondents said that the perception of the demand in the current high season was either better or much better. Some 34 per cent said the demand was about the same, and only 7 percent said worse.

Perception of high season demand
in percents


Better,




much better


Same

Poor,




very poor

Tour operators

69
24
6
Car rental agencies

66.7
16.7
16.7
Travel agencies

60
35
5
Hospitality firms

56.7
36.6
6.8
Restaurants

33
50
17
Average

58
34
7

Source: Cámara Nacional de Turismo

The response was not uniform. While 69 percent of the tour agencies said that the demand was better, only 33 percent of the restaurants did.

Despite the perception that tourism is improving, 70 percent of the respondents said they would not be hiring new employees for the high season. But few, an average of 2.9 percent, said they would be cutting personnel. Of course, some of the firms do not rely on seasonal help. The hospitality industry was the highest where 30 percent said they would be hiring.

The high tourism season generally runs until Easter Week. This is the bread and butter time for this type of business, although there is another surge in the North American summer.

Those involved in the industry have been hoping that the brutal cold spell in the United States and Canada would generate more tourism and perhaps residents. The real estate industry also sees the high season as a profitable period.
2. The luxury home tax due again, finance ministry reminds owners
By the A.M. Costa Rica staff

Some expats may have forgotten about the luxury home tax, but the finance ministry has not.

The tax collecting agency issued a reminder Wednesday that the tax is due by Jan. 15.

Homeowners are supposed to declare the value of their property every three years, and they were supposed to do so last year, the fourth year that the tax was collected. The ministry said that only owners of new construction and property that has been acquired since the last declaration need to complete this paperwork.

The assessments range from a low of a quarter of a percent to .55 of percent.

The Ministerio de Hacienda maintains several electronic systems for paying the tax on its Web site.

When the tax went into effect in 2009 homes and land with a value greater than $172,000 were subject to the tax. Now the cutoff point is 121 million colons or about $242,000.

The threshold value increases each year as the prices of materials and land does the same. The tax base of the property does, too, because it is tied to material costs.

In 2013 only 4,500 property owners paid the tax, the ministry said. The ministry said that there is a 189,700-colon penalty for non payment. However, the penalty is half a base salary, and that amount has been raised in December, so the penalty is 199,700 colones or about $405.

The ministry said it hopes to collect about 4.3 billion colons from the tax, which is supposed to be dedicated to housing for the poor. That is about $8.6 million, which the ministry said is about 10 percent greater than the previous year.

The ministry did not mention the corporate tax in its reminder, but that is due by the end of the month. That tax, too, is keyed to half a base salary just as the luxury home penalty is.

The base salary is that of a judicial worker. The Poder Judicial said before Christmas that the base salary will be 399,400 colons. The law that created the tax specified that active corporations will pay one half a base salary. That amount is 199,700 colons for active corporations and half that, 99,850 colons, for inactive ones.
3. Petroleum monopoly wants adjustments in pricing formula
By the A.M. Costa Rica staff

The national petroleum monopoly is seeking a study that it says will insure the resources for providing the country with fuel.

The refinery, Refinadora Costarricense de Petróleo S.A. directed its request to the nation's price regulating agency, the Autoridad Reguladora de los Servicios Públicos.

The national petroleum firm is suggesting increases in the per liter price of fuel that would bring super gasoline to more than 700 colons a liter. That is about 2,660 colons per U.S. gallon or $5.40.

The company said that such increases are needed to insure the investments necessary to handle future demand.

The Autoridad sets the fuel prices each month based on the dollar rate of exchange and the world price of petroleum. Costa Rica has one of the highest fuel prices in Central America. The proposal by the refinery firm would make adjustments to the price formula to allow for construction of infrastructure, among other changes.

Costa Rica imports all of its petroleum. Efforts to drill for petroleum off the Caribbean coast and more recently in the northern zone have been frustrated by environmentalists and opposition from the central government.
Brian, Lita, the Late Hugo IV, irreverent Vicka, the pigeon toed parrot, Chico II and Chica II