Brian Timmons
Dear friends,
When I started Residencias Los Jardines, I started writing a weekly news letter -determined to tell all the good, bad, and the ugly. I knew some readers would be interested in the construction process. I expected others might be interested in the lifestyle of two people who had decided to live outside the box. For others, the adventures of Lita, the parrot and the cat took on an entertainment saga all its own.
Residencias Los Jardines is finished. We periodically have resales and rental availability. Some readers may be interested in this information.
Brian Timmons
DEVELOPER / PROPERTY MANAGER
Residencias Los Jardines / https://www.residenciaslosjardines.com info@residenciaslosjardines.com
ResidenciasPropertyManagement@gmail.com
Featured house this week
Paradisus Condos / Rorhmoser
FOR SALE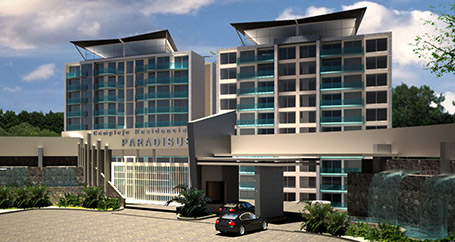 Paradisus will consist of 4 towers in Rorhmoser, a suburb to the west of central San Jose. Not far from the US Embassy and shopping malls, Rorhmoser is a residential area that was developed in the 60's and 70's and is currently seeing significant re-development with high end condos. It is the area where the new stadium and a number of luxury high rise condos have recently been built with more on the drawing boards. Phase one of this development is nearing completion; it consists of two towers and the amenities -pool, exercise room, etc. Tower one is expected to be completed in January and Tower 2 should follow in February / March. The location of this development is superb... it's off the main traffic paths and sits on a ravine overlooking a river. To the east is San Jose / Heredia; to the west is Pavas / Escazu. With floor to ceiling windows and a wrap around balcony, these units offer fantastic light and views.
Each of the units consists of two bedrooms / two bathrooms, and a large living/dining/kitchen area. The floor plan of each of these units has eliminated the optional "den / office" divider. The result is a larger area offering more flexible furniture arrangements while still maintaining the option of including an office area. At 105m2 plus two parking spots each and storage locker, they offer a great opportunity for someone seeking views, security, central location, and first class, all round living...
Infinity Terraces
FOR SALE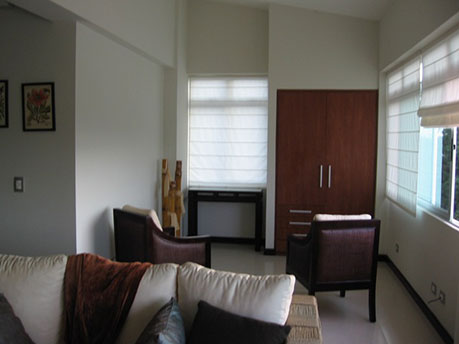 $229,000 / 2 bdrm / 2 bthrm / Penthouse / Sunset Views / 150 m2 / 1500 sf
INFINITY TERRACES: Pozos de Santa Ana / Guachapelin -contemporary design, well maintained, luxury 5th floor penthouse condo nestled in the hills of Santa Ana. Spacious open floor plan with 16 ft. vaulted ceilings, large kitchen w/SS appliances and granite countertops, laundry room w/ washer and dryer, air-conditioned. Plenty of closet space. : 5 year old / two car parking / bodega… building has high security, gym , hot tub and swimming pool.. 180 degree sunset views to west and north (Alejuela). 5 min. to San Jose – Caldera Highway / Multiplaza. This unit offers a secure, carefree lifestyle; you can lock and leave or leave and lease.
Loma Real Escazu / Guachipelin, Central Valley
FOR SALE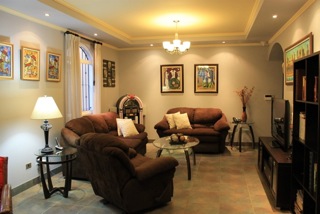 $325,000 / 3 bdrms + maids rm / 3.5 bthrms / owner financing
Beautiful house in residential area: 24 hours security. 274 m2 construction. 2 story, 3 bedrooms + maids quarters, 3 1/2 bathrooms, ample eat-in kitchen, six years old, immaculate condition, lot 264 m2 professionally landscaped, two car enclosed garage, 1500 L reserve water tank, electric demand water heaters, Independent office. Located close to all amenities. Taxes $500 yearly and security $80 monthly.
House can be purchased furnished for an additional $30,000
Owner will take back a mortgage for up to 5 yrs. @ 12% interest only.
Residencias Los Jardines
Property Management, Rentals, Re-Sales
Market Activity
Sales: no calls.
Rentals: no calls.
FOR SALE
Unit #114: $235,000 / See Unit
FOR RENT
Nothing Available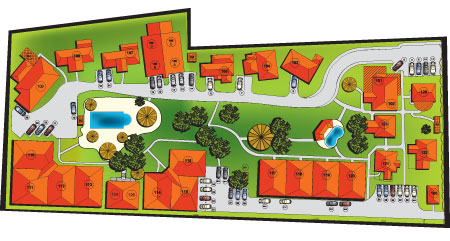 HOUSE FOR SALE
UNIT #114
FOR SALE $235,000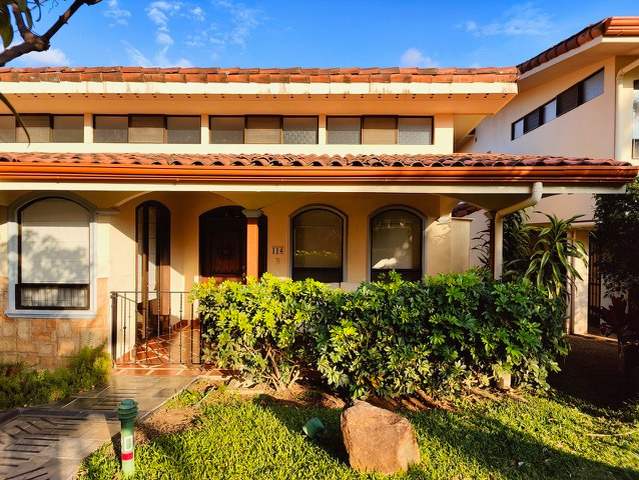 See a complete description of this unit
Total Area (Sq Ft): 1290
Total area (Sq M): 120
Bedrooms: 2
Bathrooms: 2
Floor(s): Single Floor
Type: Attached
Furnished: Yes
This 1,290 sf. (plus covered parking for one car and two lockers 67 sf.) single story, semi detached house, with garden terrace, two bedrooms is a beautiful executive style home. This home consists of two large bedrooms one with six piece en-suite bathroom with additional access to separate full shower. Each bedroom has large closets with extensive built-ins for personal organization. The vaulted living room and bathroom ceilings provide a feeling of grandeur while allowing the warmer air to rise and exit through the ceiling ventilating system. There are four TVs (one in each bedroom, one in the living room and one in breakfast / dinning room.) This is a beautiful well appointed home.
Our Lives
WEATHER: It continues to be dry; the trade winds continue to gain strength, and it's been beautiful, beautiful, beautiful...
All in a Week's Living in CR:
Mad Drivers: The idiots are mostly at the beach... roads are quiet and will probably remain so now for a month...
Preliminary site cleaning has started at the new Town Center... The large office building off Lindora is nearing full height and the exterior cladding (glass) is being installed. It's another monster...
Christmas Things: This past week was all about socials, eating, drinking...
News Items of the Week
1. Second Homes and Rental Income: The government has served official notice they intend to crack down on taxxins rental income, or at least short term rental income. RPM has had to withhold 15% of on any wire transfer to an home owner this past year...
2. Morin Port Hearing: The crown was so rowdy at the last environmental hearing the police called a halt to the proceedings. As you can see, the court ordered the company to hold another meeting. Maybe someone will get killed at this one.
3. Corporate Taxes: As one can see, this is becoming more and more burdensome... now at $400 per year one has to think about the benefits vs. the expenses of this form of ownership.
1. Second home owners may face sales tax nightmare
By Garland M. Baker, Special to A.M. Costa Rica

A recent trip to Liberia and Playas del Coco to check out the Mickey Mouse rumor of Dec. 4 revealed some good and bad news. The good news is that, places are full of energy and tourists abound. "The streets are bustling much more so than last year, and it seems tourists have arrived earlier too, way before Christmas." said one property manager.

This is great news for local businesses and the country. One area that has shown significant improvement is the rental market for villas, condominiums, and apartments. One rental agent in Coco said her rentals were up significantly over last year and that everything is booked for the Christmas season. Property managers said the villas in Los Delfines, Tambor, were full through holidays and that they have great bookings into March and April.

The short-term rental market and the real estate market in general appear to be improving in most areas of the country. If one was to gauge the market by the building and traffic, especially the crazy traffic, it would appear the country is exploding as it did in 2005.

However, in all this good news, there is a dark cloud. Here comes the bad news. Many people renting their second homes and short-term rentals are not collecting and remitting the 13 percent sales taxes, which they are required to do by law. Some are not even paying income taxes if they make a profit.

Questioning a few property managers revealed that they were unaware of current tax laws, especially those that pertain to sales taxes.

According to Marco V. Retana, a bilingual Costa Rican attorney, and Kevin Chavarria of KCPATAX, a bilingual certified public accountant, Costa Rica's sales tax is simple and governed by Ley 6826. In effect, all products sold are taxable and services are not. Except for the exceptions.

Yes, the devil is in the details. Certain products are exempt from tax such as those deemed in the social interest like the canasta basica, the basic food basket. If the law does not exclude a product or group, it is taxable. Services, on the other hand, are not taxable, again except for the exceptions.

What property managers do not know or are willingly evading is Section (ch) of Article 1 of the law. It reads:

"Se establece un impuesto sobre el valor agregado en la venta de mercancías y en la prestación de los servicios siguientes: (ch) Hoteles, moteles, pensiones y casas de estancia transitoria o no."

A Google translation of the text reads, "A tax on the value added in the sale of goods and the supply of the following: (ch) Hotels, motels, boarding houses or temporary stay."

Rents and leases that are not taxable are those mentioned in Article 4 of Ley 7527, the rental law, which reads:

"Esta ley rige para todo contrato, verbal o escrito, de arrendamiento de bienes inmuebles, en cualquier lugar donde estén ubicados y se destinen a la vivienda o al ejercicio de una actividad comercial, industrial, artesanal, profesional, técnica, asistencial, cultural, docente, recreativa o a actividades y servicios públicos."

Google translates same to: "This law applies to any contract, verbal or written lease of real property, wherever located and are intended for home or the exercise of a commercial, industrial, craft, professional, technical, health care, cultural, educational or recreational activities and public services."

No, "recreational activities" does not mean short term rentals to tourists or motel rooms. Both are taxable, along with parking spaces and storage areas. Rental agreements in Costa Rica by default are for three years. So, it is pretty easy to figure out: If a property is being rented using the rental law and there is a clear landlord-tenant relationship, the transaction does not require sales tax. However, every other property rental does.

The same law in Article 7 clearly excludes other types of rentals and it reads: "a) Los hoteles, las pensiones, las hospederías, los internados y los establecimientos similares, en cuanto a los usuarios de sus servicios," and translates to, "Hotels, pensions, inns, boarding rooms and similar establishments, as users of their services."

Now for the scary part of the bad news. Recent tax modifications changed the statute of limitations on tax debts to five years. If the tax department finds a person not paying their sales taxes they can collect up to five years of back taxes, plus interest and penalties. Worst yet, since there is a property involved, it can be attached and ultimately auctioned off for the taxes.

It is clear that property managers and owners should be collecting sales taxes when renting to tourists and locals alike on a short term basis. If they do not, they are illegally evading taxes which carries serious legal consequences. Anyone in this predicament should seek legal or accounting counsel as soon as possible.

Oh, about Mickey Mouse and the rumors. Everyone questioned in Guanacaste cannot figure out why the mayor of Liberia would make a statement on the radio that Disney was setting up a recreational facility in the canton. One well known realtor in Playas del Coco said people are still talking about the incident and that she knows some investors poking around because they believe it to be true. Another broker said in confidence, Santa is thinking about a warmer climate too.
2. Sala IV orders APM Terminal hearing to be reopened
By the A.M. Costa Rica staff

The Sala IV constitutional court has ordered Costa Rican environmental officials to finish the hearing on the Moín container facility within 15 days.

Officials of the Secretaría Técnica Nacional Ambiental suspended the hearing in Limón Nov. 9 because of rowdy behavior and violence by some who were attending, the court noted.

The hearing need only contain those aspects that were cut short with the suspension, the Sala IV said.

The court said that the suspension damaged the rights of those who wanted to be heard.

The proposed $1 billion investment by APM Terminals has strong opposition from those who work on the existing public docks, which are notoriously inefficient.

The Dutch firm would run the facility under a concession.
3. Corporate tax for 2014 increased to 199,700 colons
By the A.M. Costa Rica staff

The country's tax on corporations is going up about $20 for 2014.

The tax is keyed to the salary of a judicial worker, as are many other fines and fees in Costa Rica. When the judicial worker gets a raise, as they all do each year, the so-called base salaries goes up, too.

Lawyer Allan Garro of Cartago noted that the Registro Nacional had posted the new amount.

That amount is 199,700 colons for active corporations and half that, 99,850 colons, for inactive ones. The law that created the tax specified that active corporations will pay one half a base salary. The Poder Judicial said Friday that the base salary will be 399,400 colons.

The tax is due at the end of January. After that the amount draws interest.

In dollars, the tax is about $405 for active corporations and $202.50 for inactive ones.
Brian, Lita, the Late Hugo IV, irreverent Vicka, the pigeon toed parrot, Chico II and Chica II