Brian Timmons
Dear friends,
When I started Residencias Los Jardines, I started writing a weekly news letter -determined to tell all the good, bad, and the ugly. I knew some readers would be interested in the construction process. I expected others might be interested in the lifestyle of two people who had decided to live outside the box. For others, the adventures of Lita, the parrot and the cat took on an entertainment saga all its own.
Residencias Los Jardines is finished. We periodically have resales and rental availability. Some readers may be interested in this information.
Brian Timmons
DEVELOPER / PROPERTY MANAGER
Residencias Los Jardines / https://www.residenciaslosjardines.com info@residenciaslosjardines.com
ResidenciasPropertyManagement@gmail.com
Featured house this week
Paradisus Condos / Rorhmoser
FOR SALE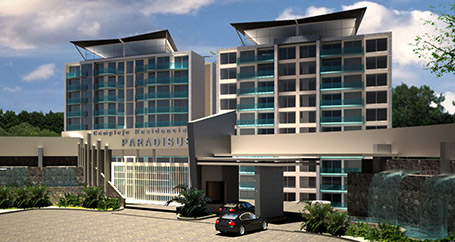 Paradisus will consist of 4 towers in Rorhmoser, a suburb to the west of central San Jose. Not far from the US Embassy and shopping malls, Rorhmoser is a residential area that was developed in the 60's and 70's and is currently seeing significant re-development with high end condos. It is the area where the new stadium and a number of luxury high rise condos have recently been built with more on the drawing boards. Phase one of this development is nearing completion; it consists of two towers and the amenities -pool, exercise room, etc. Tower one is expected to be completed in January and Tower 2 should follow in February / March. The location of this development is superb... it's off the main traffic paths and sits on a ravine overlooking a river. To the east is San Jose / Heredia; to the west is Pavas / Escazu. With floor to ceiling windows and a wrap around balcony, these units offer fantastic light and views.
Each of the units consists of two bedrooms / two bathrooms, and a large living/dining/kitchen area. The floor plan of each of these units has eliminated the optional "den / office" divider. The result is a larger area offering more flexible furniture arrangements while still maintaining the option of including an office area. At 105m2 plus two parking spots each and storage locker, they offer a great opportunity for someone seeking views, security, central location, and first class, all round living...
Infinity Terraces
FOR SALE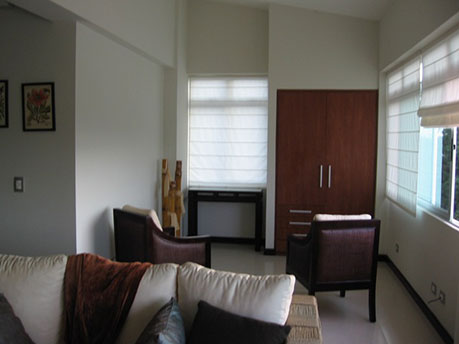 $229,000 / 2 bdrm / 2 bthrm / Penthouse / Sunset Views / 150 m2 / 1500 sf
INFINITY TERRACES: Pozos de Santa Ana / Guachapelin -contemporary design, well maintained, luxury 5th floor penthouse condo nestled in the hills of Santa Ana. Spacious open floor plan with 16 ft. vaulted ceilings, large kitchen w/SS appliances and granite countertops, laundry room w/ washer and dryer, air-conditioned. Plenty of closet space. : 5 year old / two car parking / bodega… building has high security, gym , hot tub and swimming pool.. 180 degree sunset views to west and north (Alejuela). 5 min. to San Jose – Caldera Highway / Multiplaza. This unit offers a secure, carefree lifestyle; you can lock and leave or leave and lease.
Loma Real Escazu / Guachipelin, Central Valley
FOR SALE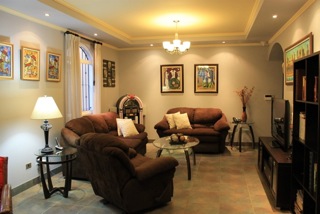 $325,000 / 3 bdrms + maids rm / 3.5 bthrms / owner financing
Beautiful house in residential area: 24 hours security. 274 m2 construction. 2 story, 3 bedrooms + maids quarters, 3 1/2 bathrooms, ample eat-in kitchen, six years old, immaculate condition, lot 264 m2 professionally landscaped, two car enclosed garage, 1500 L reserve water tank, electric demand water heaters, Independent office. Located close to all amenities. Taxes $500 yearly and security $80 monthly.
House can be purchased furnished for an additional $30,000
Owner will take back a mortgage for up to 5 yrs. @ 12% interest only.
Residencias Los Jardines
Property Management, Rentals, Re-Sales
Market Activity
Sales: no calls.
Rentals: two calls.
FOR SALE
Unit #114: $235,000 / See Unit
FOR RENT
Nothing Available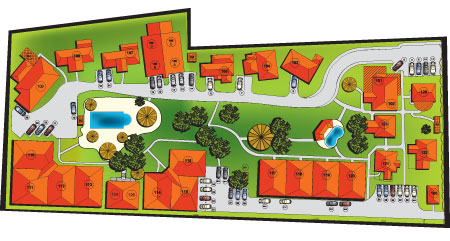 HOUSE FOR SALE
UNIT #114
FOR SALE $235,000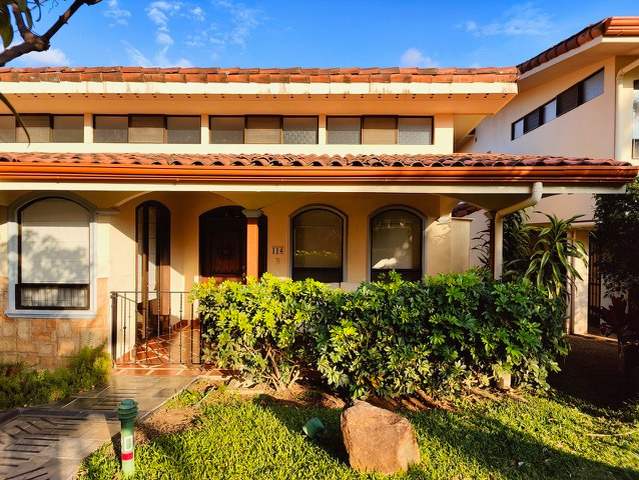 See a complete description of this unit
Total Area (Sq Ft): 1290
Total area (Sq M): 120
Bedrooms: 2
Bathrooms: 2
Floor(s): Single Floor
Type: Attached
Furnished: Yes
This 1,290 sf. (plus covered parking for one car and two lockers 67 sf.) single story, semi detached house, with garden terrace, two bedrooms is a beautiful executive style home. This home consists of two large bedrooms one with six piece en-suite bathroom with additional access to separate full shower. Each bedroom has large closets with extensive built-ins for personal organization. The vaulted living room and bathroom ceilings provide a feeling of grandeur while allowing the warmer air to rise and exit through the ceiling ventilating system. There are four TVs (one in each bedroom, one in the living room and one in breakfast / dinning room.) This is a beautiful well appointed home.
Our Lives
WEATHER: It continues to be dry; the trade winds continue to gain strength, and it's been cloudy.
All in a Week's Living in CR:
Mad Drivers: This week saw what is perhaps the apex of the crazy driving. On my way to a luncheon on Friday, I saw two accidents and on y return I say one. None of them were major but they indicate the driving capability
Heads Up: Even More Changes: he president of the central bank of CR announced last week that in the new year (2014) there WILL be a devaluation. This means that the exchange rate will move in the direction of strengthening the purchasing power of the US $... that the exchange rate would move from it's current 493 in the direction of 550 or ??? This is now a definitive statement of the direction and the intention of the central bank. As president of the central bank, he is concerned about the amount of loans being made in US dollars -surprisingly enough, these loans are being made primarily by government banks..Banco National, BCR, etc... not by the private banks. Why are people borrowing in US dollars? The cost is less than in colones... This is good news for those holding dollars / earning in dollars... and bad news for those earning or holding colones...
News Items of the Week
1. More Changes Coming: The Lindora Blvd. is to be widened to 5 lanes. This was originally suppose to happen several years ago by the company which built the San Jose – Caldera highway. However, the company screwed up so badly, the contract was cancelleld. It seems to be re-erected with perhaps a different contractor. It will be hellish driving during the duration but in the end, it will be better and hopefully safer. A major bridge has to be built. It will be interesting to see how they carve off frontages of business along the Lindora; many of them have not respected the setback so are likely to cause problems for the construction. On Thursday, I saw what looked like surveyors beginning to stake out territory.
2. This represents increased efficiency: no longer are the bad guys content to commit robbery one-on-one. Last week it was a boatload of tooursits going to Tortuguero; this week a bus load of locals. What will it be next week???
3. Sewage Treatment: This is interesting in that it restates the terrible state of water treatment in an ecologically and environmentally conscious country. It'ss actually horrible.that 96% of the country's black water is dumped into the streams and rivers...
4. Electricity rates: What's Happening?? Last week there was an announcement that the rates were to go up by 6+%; This week our rate is suppose to come DOWN by 8.75%... wow... Make up my mind here!!!!!!!!!!
5. The Google translation is problematic and the review agency doesn't have the expertise to review it critically.
1. Santa Ana-Belén roadway to be widened to five traffic lanes
By the A.M. Costa Rica staff

The two-lane Santa Ana-Belén highway will be widened to five lanes, the Consejo de Nacional de Vialidad said Monday.

The work is being supported by the Asociación Consejo de Desarrollo Inmobiliario, a real estate advocacy organization, which is putting up $2 million.

The entire job will be $34 million, said the Consejo.

The job includes replacing four bridges, including one of 180 meters (about 590 feet) over the Río Virilla.

The work is scheduled to begin in January with the relocation of public utilities in advance of road work.

The Consejo will finance its share of the cost.

The distance is two kilometers, about 1.24 miles. This section of roadway carried about 31,500 vehicles a day.
2. Gunmen rob 40 bus passengers

December 16th, 2013 (InsideCostaRica.com) Gunmen, firing shots in the air, managed to stop a bus traveling on the Orotina-Cebadilla route over the weekend, robbing all of the some 40 passengers on board. Many of the passengers had large amounts of cash on them after receiving their annual Christmas bonuses.

The men were able to flee in a gray vehicle. A witness was able to take the license place of the vehicle, which was given to authorities, though no arrests have been made.

Authorities have warned in recent days of the risk of an increase in assaults and armed robberies. December is a favorite time for criminals to prey on victims carrying more cash than usual after receiving their annual Christmas bonuses.
3. Combined sewage plant proposed for Heredia, AyA
By the A.M. Costa Rica staff

The nation's rate regulating agency says that two proposed nearby sewage plants should be combined.

The water section of the agency, the Autoridad Reguladora de Servicios Públicos, directed its comments to the Instituto Nacional de Acueductos y Alcantarillados and the Empresa de Servicios Públicos de Heredia.

The institute, known as AyA is building a plant in La Carpo adjacent to the Heredia province border.

The Autoridad said that only about 4 percent of the nation's sewage is treated. Some is directed to septic tanks. But the majority of Central Valley sewage flows into streams that eventually end up in the Río Grande de Tárcoles and then the Gulf of Nicoya.

The Autoridad noted that the two utility firms have been in discussions about combining efforts, and it gave AyA 60 days to present a joint proposal.

The Heredia plant is much smaller than the AyA project, so the Autoridad said that it might better be considered an enlargement of the La Carpio plant.

The agency noted that there would be more efficiency and reduced costs if the two utilities work together.
4. Rate-setting agency predicts lower power costs
By the A.M. Costa Rica staff

The price regulating agency came out with a surprise Wednesday and said that electrical rates would average about 5.5 percent lower next year.

But electrical customers probably should not count on that happening. The agency, the Autoridad Reguladora de Servicios Públicos, said that the rates still are subject to review every three months. Just last week the agency denied a request by major power users to reduce those rates at the expense of residential customers. The agency also has trimmed rate increase requests submitted by the Instituto Costarricense de Electricidad, the primary generator.

Wednesday the agency said that the rates would be lower because the estimate of the price of fuel is lower. During the dry season the major generating company, the Instituto Costarricense de Electricidad, burns a petroleum product to keep the generators moving. Lower water levels tend to restrict hydro generators.

So if the price of petroleum goes up, so will electrical rates. The company known as ICE is quick to bring such changes to the attention of the Autoridad.

Price per kilowatt hour by distributor
Distributor
2013
2014
Difference
ICE
101,2
96,38
-4,81%
CNFL
97,2
88,70
-4,81%
JASEC
75,4
74,97
-0,61%
ESPH
81,5
75,56
-7,33%
COOPELESCA
96,2
96,88
0,76%
COOPESANTOS
95,5
102,40
7,25%
COOPEGUANA
91,1
86,97
-4,58%
COOPEALFARO
88,8
83,57
-5,85%
Average
-5,32%

Only customers of two cooperatives, Coopelesca and Coopesantos. will not see a rate cut.

In addition to generating power, ICE distributes electricity, too. It's customers will see a 4.81 reduction, the Autoridad said.

Much of the Central Valley is serviced by an ICE subsidiary, the Compañía Nacional de Fuerza y Luz.

Those customers will benefit from a 8.75 percent cut.

Heredia power customers will see a 7.33 percent cut. But in Cartago the reduction will be miniscule.
5. Construction experts express doubts about Chinese loan deal
By the A.M. Costa Rica staff

Organizations of road builders and construction firms are expressing reservations about a loan deal with China to widen Ruta 32.

The so-called Grupo Consenso said that its members still were in the dark because they have not seen a revised text of the loan proposal that was presented Thursday to the Comisión de Asuntos Hacendarios in the legislative assembly.

The committee eventually will make a recommendation about the proposal which actually is for two loans.

The Grupo Consenso said there were important doubts about the deal.

Part of the plan is for Costa Rica to provide funds, including about $20 million for expropriating property and for relocating public utilities. That amount does not appear to be adequate, the group said.

The estimated $10 million is insufficient to expropriate a 10-meter strip for 50 kilometers simply to relocate the pipeline that is used by the Refinadora Costarricense de Petróleo S.A, the group said in a release. A similar amount is insufficient for relocating other services, such as water lines, telephone lines and fiber optic cables that connect Costa Rica with the Maya undersea Internet system.

The fuel pipeline runs from Siquirres to Moín.

The group also raised concerns about the loans being denominated in Chinese currency because that generates uncertainty in the medium and long term, it said.

The Grupo Consenso is composed of the Colegio Federado de Ingenieros y de Arquitectos, the Unión Costarricense de Cámaras y Asociaciones del Sector Empresarial Privado, the Cámara Costarricense de la Construcción, the Cámara de Consultores en Arquitectura e Ingeniería, the Asociación de Carreteras y Caminos de Costa Rica and the Laboratorio Nacional de Materiales y Modelos Estructurales at the Universidad de Costa Rica.

There usually is a lag at the legislature when a revised text is submitted. Because the legislature is going on holiday break, the full content of the new loan proposal might not be known until January 13 at the earliest.

The People's Republic of China has said that it seeks a quick approval of the loan agreement, but this week officials there said they would be willing to wait until March.

The agreement specifies a direct award to a Chinese firm without competitive bidding. The contract also said that all rights and obligations under the contract will be interpreted in conformity of Chinese law. The measure that was before lawmakers also says that material to be used in road building can be imported without the payment of customs duties. Costa Rica also would renounce any immunity it may have for being a sovereign state.

The $465.6 million project would make Ruta 32 four lane from Limón to Rio Frio, some 107.2 kilometers, a little more than 66 miles.

The Export–Import Bank of China would make two loans, one for $100 million and one for $296 million. Costa Rica is putting up $90 million, including the $20 million for expropriating property and relocating public services.

The larger loan would be at 4 percent interests, and the smaller one at 2 percent.
Brian, Lita, the Late Hugo IV, irreverent Vicka, the pigeon toed parrot, Chico II and Chica II