Brian Timmons
Dear friends,
When I started Residencias Los Jardines, I started writing a weekly news letter -determined to tell all the good, bad, and the ugly. I knew some readers would be interested in the construction process. I expected others might be interested in the lifestyle of two people who had decided to live outside the box. For others, the adventures of Lita, the parrot and the cat took on an entertainment saga all its own.
Residencias Los Jardines is finished. We periodically have resales and rental availability. Some readers may be interested in this information.
Brian Timmons
DEVELOPER / PROPERTY MANAGER
Residencias Los Jardines / https://www.residenciaslosjardines.com info@residenciaslosjardines.com
ResidenciasPropertyManagement@gmail.com
Featured house this week
Paradisus Condos / Rorhmoser
FOR SALE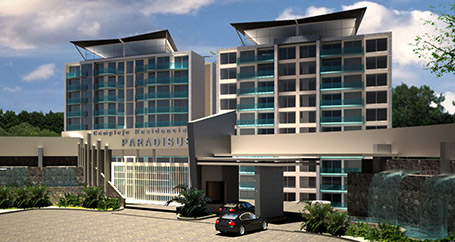 Paradisus will consist of 4 towers in Rorhmoser, a suburb to the west of central San Jose. Not far from the US Embassy and shopping malls, Rorhmoser is a residential area that was developed in the 60's and 70's and is currently seeing significant re-development with high end condos. It is the area where the new stadium and a number of luxury high rise condos have recently been built with more on the drawing boards. Phase one of this development is nearing completion; it consists of two towers and the amenities -pool, exercise room, etc. Tower one is expected to be completed in January and Tower 2 should follow in February / March. The location of this development is superb... it's off the main traffic paths and sits on a ravine overlooking a river. To the east is San Jose / Heredia; to the west is Pavas / Escazu. With floor to ceiling windows and a wrap around balcony, these units offer fantastic light and views.
Each of the units consists of two bedrooms / two bathrooms, and a large living/dining/kitchen area. The floor plan of each of these units has eliminated the optional "den / office" divider. The result is a larger area offering more flexible furniture arrangements while still maintaining the option of including an office area. At 105m2 plus two parking spots each and storage locker, they offer a great opportunity for someone seeking views, security, central location, and first class, all round living...
Infinity Terraces
FOR SALE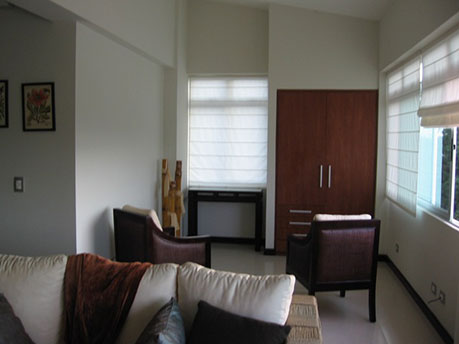 2 bdrm / 2 bthrm / Penthouse / $229,000 / Sunset Views / 150 m2 / 1500 sf
INFINITY TERRACES: Pozos de Santa Ana / Guachapelin -contemporary design, well maintained, luxury 5th floor penthouse condo nestled in the hills of Santa Ana. Spacious open floor plan with 16 ft. vaulted ceilings, large kitchen w/SS appliances and granite countertops, laundry room w/ washer and dryer, air-conditioned. Plenty of closet space. : 5 year old / two car parking / bodega… building has high security, gym , hot tub and swimming pool.. 180 degree sunset views to west and north (Alejuela). 5 min. to San Jose – Caldera Highway / Multiplaza. This unit offers a secure, carefree lifestyle; you can lock and leave or leave and lease.
Residencias Los Jardines
Property Management, Rentals, Re-Sales
Market Activity
Sales: no calls.
Rentals: a few inquiries for both short and long term stays.
FOR SALE
Unit #114: $235,000 / See Unit
FOR RENT
Nothing Available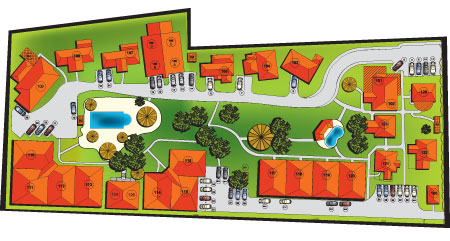 HOUSE FOR SALE
UNIT #114
FOR SALE $235,000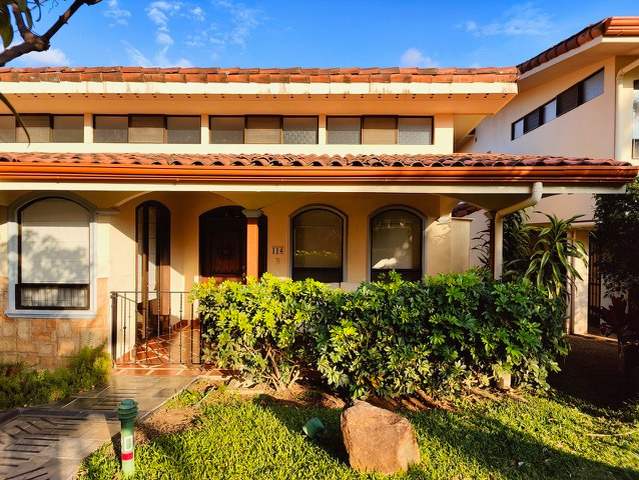 See a complete description of this unit
Total Area (Sq Ft): 1290
Total area (Sq M): 120
Bedrooms: 2
Bathrooms: 2
Floor(s): Single Floor
Type: Attached
Furnished: Yes
This 1,290 sf. (plus covered parking for one car and two lockers 67 sf.) single story, semi detached house, with garden terrace, two bedrooms is a beautiful executive style home. This home consists of two large bedrooms one with six piece en-suite bathroom with additional access to separate full shower. Each bedroom has large closets with extensive built-ins for personal organization. The vaulted living room and bathroom ceilings provide a feeling of grandeur while allowing the warmer air to rise and exit through the ceiling ventilating system. There are four TVs (one in each bedroom, one in the living room and one in breakfast / dinning room.) This is a beautiful well appointed home.
Our Lives
WEATHER: The transition is finished; December is here -sunny and beautiful... dry. trade winds have not yet started.
All in a Week's Living in CR:
Shareholder Meeting: Saturday is the annual shareholder meeting. Two items are on the agenda... the budget and a special assessment. I expect lots of other items will be discussed but those are the only two decision items. As usual, there are differing points of view on many items and little discussion on the two agenda items. I've tried to avoid these for the past year + but I got pulled into this one because of my background. While I have some opinions on issues, my main concern is regarding process and protection of non-resident owners. In reality, I prefer to be left alone sitting in my hammock, but some people don't have the background or knowledge to articulate or substantiate their point of view... Not the way I'd prefer to spend my day but we'll see.
Accidents: The end of November and December sees a substantial increase in traffic... Christmas shopping and people hell bent on spending their aginaldo as fast as they can... along with this seems to be a rush to death and destruction... the result is a significant increase in traffic. Those who can, usually try to avoid discretionary travel at this time of year but... two weeks ago, I saw one motorcycle wipe out at the bottom of our access road and in the same trip, two accidents on Lindora Blvd. This week at Friday's "lunch bunch" gathering, one of our attendees was late. He had to negotiate three accidents... he came from Cariari... the other side of the valley.
News Items of the Week
1. Pending ICE strike: all to protect their monopoly. Now look at Item 5 -non-approval of rate hike. Regardless of my associate from Mars, CR has very expensive power... this has happened over the past 3 years. It used to be that the government seemed to rubber stamp rate requests. Now they seem to be looking more closely at them.
2. Lawmakers vote themselves a 46 day paid holiday: the good thing about this is that they are less likely to be as destructive than if they actually pretended to work.
3. New border tax: it's been delayed because there is no accepted way to pay or to collect. CR is wonderful... if it weren't so laughable in it's incompetence to implement a simple issue, the world has no fear of it ever becoming a world force... It reminds me of the ill fated implementation of "Obamacare" but in all fairness, that is a much more complicated issue.
4. Perception of Corruption: I find this amazing but am not able to refute it... when locals here believe there is widespread corruption and it is at least the first or second item on the list of political issues to be dealt with, and to find the CR is only 47 down on the list... next to the USA... if it is accurate, then I really don't want to know about any country lower on the list.
6. $35 million cancellation penalty: Wow... but it is all borrowed and begged money so who in CR really cares?
7. Chinese Road Contract: Limon and the country want this road improved for commercial reasons. The Chinese contractor, through an international bank, proposes to put up $390 million while CR puts up an additional $90 mi. (probably borrowed or begged) along with $20 mil of expropriated property. Expropriated property was partially responsible for the 20 year delay in building the SJ-Caldera highway. Two reasons... government bigwigs had purchased strategic pieces of land and the government had / no stream lined way to expedite the expropriation process. This is the same reason for the delay in completing the north ring road around SJ.
8. / 9. Approval for US Navel / drug interdiction vessels to land: the local ports want this desperately -they are dieing for lack of revenue but the lawmakers want their 46 day paid holiday. Again, not dealing with issues in a timely way... and in 9 below... we see the results of the interdiction efforts... note: the seizing ship only off-loads a little of the seized drugs because CR has a bad habit or "loosing" expensive evidence and besides, it is usually transported th US facilities for destruction.
10. Reduction of disparity: Surprise, Surprise, it seems only the really strong "socialist" countries are being successful... and some, eg. Venezuela, is unsustainable... perhaps others as well.
1. ICE workers preparing for "indefinite strike" in 2014

December 3rd, 2013 (InsideCostaRica.com) The labor union known as FIT, which represents workers of the Costa Rican Electricity Institute (ICE), has announced that ICE workers are preparing for an "indefinite strike" beginning in January 2014.

The threat comes in response to the possible approval of the Contingency Power Act, which would allow the private sector to participate in power generation.

Fabio Chaves, general coordinator of FIT and president of the Association of Industrial Employees in Communications and Energy (Asdeice), said authorities want to further privatize the electricity sector in order to break the "model of solidarity" and dismantle ICE's electric division.

Chaves said that the privatization of the electricity sector undermines Costa Rican society.
2. Lawmakers will get 46 days off beginning December 23rd

December 3rd, 2013 (InsideCostaRica.com) In a 38-16 vote, lawmakers approved a bill that will provide legislators 46 paid days off beginning December 23rd. Lawmakers will return to work on February 3rd, 2014, the day after Costa Ricans elect their next president.

The bill is aimed to allow lawmakers the opportunity to hit the campaign trail with their parties' candidates.
3. New border tax causing chaos at Nicaragua border

December 3rd, 2013 (InsideCostaRica.com) A new border tax which came into effect over the weekend is causing chaos on the Nicaraguan border because Costa Rican immigration workers do not have the necessary devices in place to accept the payments.

Problems began in the evening hours on Sunday, and by yesterday the situation was quickly spiraling out of control, with hundreds of people in line attempting to exit Costa Rica en route to Nicaragua.

The problem appears to be that the devices required for border officials to accept the payments have yet to be installed.

As a result, the new $5 fee must be paid at any Bancrédito branch, but for the moment there is no bank branch in the area, forcing travelers to return to Liberia in order to pay the fee.

The ensuing hassle has crippled the border, as travelers and tourists unaware of the new tax continue to arrive without having paid the fee in Liberia – about an hour's drive south. Meanwhile, busloads of people unaware of the new fee also have nowhere to pay it at the border, forcing travelers to abandon the buses on which they were traveling in order to return to Liberia to pay the tax – and make new transportation arrangements.

The situation has led the Directorate General of Immigration to send a request to the Ministry of Finance to suspend the collection of the tax until the issues are resolved. The Ministry had yet to respond to the request by press time.
4. Costa Rica amongst countries in Latin America with least perception of corruption

December 4th, 2013 (InsideCostaRica.com) Costa Rica is among the countries with the lowest levels of perceived corruption in Latin America, according to an index published on Tuesday by NGO, Transparency International.

According to the index, which is published each year, Costa Rica is ranked 49th amongst 177 countries surveyed, tied with Lithuania and Rwanda. Costa Rica's rank has improved by 5 spots since last year.

In Latin America, Only Uruguay (19) and Chile (22) have lower levels of perceived corruption.

President Laura Chinchilla expressed her satisfaction with the ranking on her official Twitter account.

Transparency International said that "the situation in the region remains of concern as only three countries: Uruguay, Chile, and Costa Rica, were rated above the average rating."

In Latin America, the countries with the highest levels of perceived corruption are Paraguay (150), Venezuela (160), and Haiti (163). Argentina and Bolivia are tied at 106th.
5. State power firm again rejected for a rate hike
By the A.M. Costa Rica staff

The rate setting agency has again rejected a tariff increase for the Instituto Costarricense de Electricidad.

The state power generating firm sought increases of from 2.8 to 13.18 percent Sept. 13.

The agency, the Autoridad Reguladora de Servicios Públicos, said there were inconsistencies in the data that was provided.

The rate setting agency has rejected four rate increase requests from various power companies, including the Instituto Costarricense de Electricidad this year and has awarded increases less than companies sought in three occasions, it said.
6. Government agrees to $35 million San Ramón buyout
By the A.M. Costa Rica staff

The central government has agreed to a payoff of about $35 million to a Brazilian firm that had a concession to build a highway from San José to San Ramón.

President Laura Chinchilla pulled the plug on the project last April, and the firm that had held the concession since 2004, OAS, was seeking $46 million in indemnification.

Roberto Gallardo, minister of Planificación, announced the accord Monday afternoon. The company had agreed to settle for the lesser amount.

Gallardo pointed out in a statement on the Casa Presidencial Web site that OAS had assumed cost of a previous contractor. He also said that the government has until mid-March to come up with the money. If there is no payment, the agreement is off, and OAS probably will seek international arbitration or another agreement with whichever president wins the February elections.

Gallardo noted that OAS had a valid concession that had been approved by the Contraloría General de la República. The government will end up having plans for the new road and also expropriated property and various technical studies that will be needed to build the road in the future. There are various proposals in the legislature to find the financing for the job.

The residents of the area objected to the proposed road tolls that the company would charge once the job was finished. The situation generated protests including some at a speech given by the president.
7. Exporters and Limón business interests push for Chinese loans
By the A.M. Costa Rica staff

Business organizations from the Limón areas and some lawmakers are pressing for approval of a big loan from China to widen the key Ruta 32.

Walter Céspedes Salazar of the Partido Unidad Social Cristiana and Edgar Quirós, president of the Asociación Nacional de Productores Independientes de Banano, held a press conference Wednesday at the legislature in which they urged approval of the deal. Truckers, pineapple producers, banana growers and other exporters also back the bill.

Over the weekend Luis Guillermo Rodríguez Bastos, president of the Agencia para Desarrollo de Limón, released a letter asking lawmakers to do likewise.

The $465.6 million project would make Ruta 32 four lane from Limón to Rio Frio, some 107.2 kilometers, a little more than 66 miles.

In terms of legislative action, the proposal is moving at light speed. The bill was introduced by Casa Presidencial only Oct. 16. The measure is being studied in the legislative finance committee, the Comisión Permanente de Asuntos Hacendarios.

The Export–Import Bank of China would make two loans, one for $100 million and one for $296 million. Costa Rica is putting up $90 million, including an extra $20 million for expropriating property and relocating public services. The larger loan would be at 4 percent interests, and the smaller one at 2 percent.

Costa Rica would have a five-year grace period before any repayment is due, and the term of the loan would be 15 years after that.

The project is not without controversy. In his letter released over the weekend, Rodríguez of the Limón development agency, criticized a lawmaker who he said lacked technical arguments and made caustic interpretations in a display of mean-spirited politics.

He meant Manrique Oviedo Guzmán of the Partido Acción Ciudadana who pointed out in the legislature that the contractors for the job, China Harbour Engineering Co. Group and China Road and Bridge Corp. have been blacklisted by the World Bank due to corruption allegations in The Phillipines.

The 171-page set of contracts between Costa Rica and the People's Republic of China support other aspects raised by Oviedo. The paperwork is incorporated as proposed law No. 18.945.

The agreement specifies a direct award to the Chinese firm without competitive bidding. The contract also said that all rights and obligations under the contract will be interpreted in conformity of Chinese law. The measure before lawmakers also says that material to be used in road building can be imported without the payment of customs duties. Costa Rica also would renounce any immunity it may have for being a sovereign state.

The proposed contract is a highly experienced public Chinese company specifically designated for the project by its government.

Casa Presidencial also made a persuasive case for the project in the summary given lawmakers. Aides and ministers continue to lobby for the bill with lawmakers. Banana growers export $760 million in products a year, and pineapple growers sent out $791 million in 2012, they said. And the current highway was built between 1978 and 1987, they added.

Casa Presidencial says in the summary that the project would improve the country's competitivity rating. It also noted that an independent study, paid for by the Interamerican Development Bank, estimated that the job should cost about $395 million but also said that the actual price could be 25 percent of that price either way. The contract with the Chinese firm falls within that range, and the price is fixed.

The speed of the project also might be an illusion because the Ministerio de Obras Pública y Transportes has been working on the project for a long time. Reconstructing the road is in the government's long-term highway plan, and the project was mentioned as a possibility in March 2011 along with many others.

There is some real concern in Limón that the deal with the Chinese might be sidetracked. Oviedo, the lawmaker, for example, has promised a constitutional appeal.

The letter from the Limón development agency points out the problems with other road projects.

Other regions, like San Carlos in the northern zone have fought for decades to have a new highway and with this deal the Caribbean and the country will not have to experience this financial, legal and bureaucratic torment, said the letter. The reconstruction is supposed to take 42 months. No final legislative action is expected for several months.
8. Minister pushes for approval to let U.S. anti-drug boats dock
By the A.M. Costa Rica staff

The security ministry is trying to obtain legislative approval for U.S. anti-drug boats to dock in the country after Dec. 31.

The current permission is up on that date.

Mario Zamora Cordero, minister of Gobernación, Policia y Seguridad Pública, said Wednesday that he has sent formal notes to lawmakers asking them to pass the appropriate approvals before they adjourn Dec. 23. Lawmakers plan to be on vacation until Feb. 4, following the general elections.

The Costa Rican Constitution requires legislative approval for the docking of foreign warships. A faction in the Asamblea Legislativa usually rejects approval for U.S. Navy ships and grudgingly gives approval for U.S. Coast Guard vessels.

The arrival of a U.S. ship is a boon for merchants in the country's ports, plus the crafts usually have to put on more petroleum fuel.

Zamora noted that the U.S. vessels operate in Costa Rica's exclusive economic zone and chase drug smugglers into the hands of officers of the Servicio Nacional de Guardacostas.
9. Another trio of drug smuggling suspects brought in by U.S. Navy ship
By the A.M. Costa Rica staff

The "USS Rentz" brought three Costa Ricans to Caldera Thursday, underlining the security ministry's desire to have the legislature approve such arrivals after Dec. 31.

The three Costa Ricans were picked up in waters off Panamá with some 460 kilos of cocaine on board.

The U.S. Navy guided missile frigate has been a workhorse in drug patrols. U.S. crew members will keep most of the drugs probably for unloading at the ship's home port of San Diego, California. Samples will be left as evidence against the three fishermen.

Under terms of an agreement between this country and the United States, Costa Ricans caught on drug boats are delivered to officials here for trial.

The director of the Servicio Nacional de Guardacostas, Martín Arias, said that coordination between the two countries generated valuable information leading to the capture.

The security ministry said that a U.S. Coast Guard crew boarded the fishing boat, the "Papatec" 81 miles south of Punta Burica.

The agreement whereby U.S. warships can enter Costa Rican ports expires Dec. 31. The legislature goes on vacation Dec. 23 and will be gone until Feb. 4. Legislative approval is needed to allow U.S. ships to dock for prisoner exchange and for shore leave because that is a constitutional requirement.
10. UN: Poverty Reduction Slowing in Latin America; Costa Rica unchanged

December 6th, 2013 (VOA) The United Nations says a weaker economic performance and rising food costs are slowing poverty reduction in Latin America and the Caribbean.

The annual report from the U.N. Economic Commission for Latin America and the Caribbean, or ECLAC, says 164 million people, or 28 percent of the region's population, are still considered poor, with 68 million living in extreme poverty. That is nearly unchanged from last year.

The panel's last annual report said growing job income and economic growth helped lift a million people out of poverty to the lowest rate in more than three decades.

Now, it is calling for governments to enact policies to encourage growth while reducing the huge gap between rich and poor.

ECLAC says on average, 20 percent of the households with the lowest incomes in the region get just 5 percent of a country's total income, while the wealthiest 20 percent of households get 47 percent of the total income.

Latin American countries with the biggest reductions in poverty levels since 2011 were led by Venezuela with the rate dropping by 5.6 percentage points to 23.9 percent. Others included Argentina, Brazil, Colombia, Ecuador and Peru.

Levels remained unchanged in Costa Rica, the Dominican Republic, El Salvador and Uruguay, while poverty rose slightly in Mexico to 37 percent from 36 percent a year earlier.

The Chile-based U.N. agency says a significant number of people are still affected by issues such as lack of access to drinking water or appropriate sanitation.
Brian, Lita, the Late Hugo IV, irreverent Vicka, the pigeon toed parrot, Chico II and Chica II