One of Us Is From Mars !!
Brian Timmons
Dear friends,
When I started Residencias Los Jardines, I started writing a weekly news letter -determined to tell all the good, bad, and the ugly. I knew some readers would be interested in the construction process. I expected others might be interested in the lifestyle of two people who had decided to live outside the box. For others, the adventures of Lita, the parrot and the cat took on an entertainment saga all its own.
Residencias Los Jardines is finished. We periodically have resales and rental availability. Some readers may be interested in this information.
Brian Timmons
DEVELOPER / PROPERTY MANAGER
Residencias Los Jardines / https://www.residenciaslosjardines.com info@residenciaslosjardines.com
ResidenciasPropertyManagement@gmail.com
Featured house this week
Paradisus Condos / Rorhmoser
FOR SALE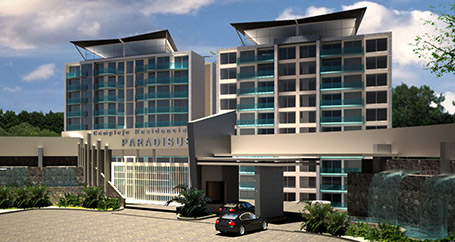 Paradisus will consist of 4 towers in Rorhmoser, a suburb to the west of central San Jose. Not far from the US Embassy and shopping malls, Rorhmoser is a residential area that was developed in the 60's and 70's and is currently seeing significant re-development with high end condos. It is the area where the new stadium and a number of luxury high rise condos have recently been built with more on the drawing boards. Phase one of this development is nearing completion; it consists of two towers and the amenities -pool, exercise room, etc. Tower one is expected to be completed in January and Tower 2 should follow in February / March. The location of this development is superb... it's off the main traffic paths and sits on a ravine overlooking a river. To the east is San Jose / Heredia; to the west is Pavas / Escazu. With floor to ceiling windows and a wrap around balcony, these units offer fantastic light and views.
Each of the units consists of two bedrooms / two bathrooms, and a large living/dining/kitchen area. The floor plan of each of these units has eliminated the optional "den / office" divider. The result is a larger area offering more flexible furniture arrangements while still maintaining the option of including an office area. At 105m2 plus two parking spots each and storage locker, they offer a great opportunity for someone seeking views, security, central location, and first class, all round living...
Infinity Terraces
FOR SALE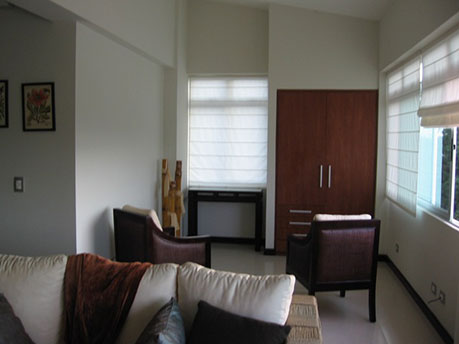 2 bdrm / 2 bthrm / Penthouse / $229,000 / Sunset Views / 150 m2 / 1500 sf
INFINITY TERRACES: Pozos de Santa Ana / Guachapelin -contemporary design, well maintained, luxury 5th floor penthouse condo nestled in the hills of Santa Ana. Spacious open floor plan with 16 ft. vaulted ceilings, large kitchen w/SS appliances and granite countertops, laundry room w/ washer and dryer, air-conditioned. Plenty of closet space. : 5 year old / two car parking / bodega… building has high security, gym , hot tub and swimming pool.. 180 degree sunset views to west and north (Alejuela). 5 min. to San Jose – Caldera Highway / Multiplaza. This unit offers a secure, carefree lifestyle; you can lock and leave or leave and lease.
Residencias Los Jardines
Property Management, Rentals, Re-Sales
Market Activity
Sales: no calls.
Rentals: lots of inquiries for both short and long term stays.
FOR SALE
Unit #114: $235,000 / See Unit
FOR RENT
Unit #126: Leased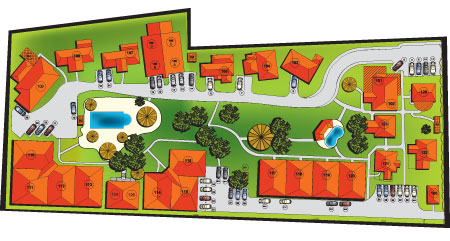 HOUSE FOR SALE
UNIT #114
FOR SALE $235,000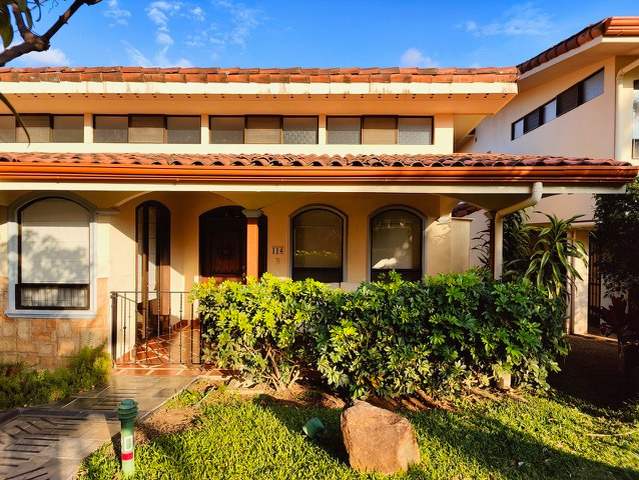 See a complete description of this unit
Total Area (Sq Ft): 1290
Total area (Sq M): 120
Bedrooms: 2
Bathrooms: 2
Floor(s): Single Floor
Type: Attached
Furnished: Yes
This 1,290 sf. (plus covered parking for one car and two lockers 67 sf.) single story, semi detached house, with garden terrace, two bedrooms is a beautiful executive style home. This home consists of two large bedrooms one with six piece en-suite bathroom with additional access to separate full shower. Each bedroom has large closets with extensive built-ins for personal organization. The vaulted living room and bathroom ceilings provide a feeling of grandeur while allowing the warmer air to rise and exit through the ceiling ventilating system. There are four TVs (one in each bedroom, one in the living room and one in breakfast / dinning room.) This is a beautiful well appointed home.
Our Lives
WEATHER: November is a transitional month re. weather... a cold front is slowly moving through CR. It's been rainy, cold (for us), and windy.
All in a Week's Living in CR:
Thanksgiving: we were invited to join new friends at their house. They have a beautiful home nearby and we knew only one of their guests so it was a chance to meet new people. The hosts went to extreme effort to decorate their home and the traditional food was superb... when you don't don't it yourself and it's great, you can enjoy it better... and that we did. It was very nice and I fully expect we'll continue building our friendship with the hosts.
One of us is from Mars: One of the guests was originally from Alabama; he's been here 40+ years. He seems to have been successful in various different undertakings. I made a statement related to a conversation which he challenged... I said something to the effect that CR has been very successful in convincing the world that it is environmentally responsible... we debated this and each example I proffered to support my position was responded to that I either didn't know what I was talking about or it was an anomaly... he later went on to cite the government's claim of higher literacy in CR than in the US and how CR was a country of laws and contracts and I let the conversation taper of at this point... if I hadn't already come to the conclusion that he was from Mars or at least had a totally different set of experiences and I or anyone I've met over the past 13 years... I left the conversation and finished my turkey
Different people, different views, different experiences... I was and remain wondering... how he could explain all those anomaly's and still maintain his assessment...
Note: the government still plans to strike a contract with a Chinese contractor who was disbarred by the World Bank for corruption in a Philippine road building scandal. The terms of the contract seem to be similar to the stadium CR built and gave to CR. In this case, it is to improve the road between the Atlantic (near the new proposed shipping terminal_ and San Jose... China wants to establish a large free trade / free tax zone there to service the US and beyond market... and CR wants investment in the Limon area.
News Items of the Week
1. Aguinaldo: note.. 196,000 people including "retired employees" get this. It represents about $1,602 per recipient...or an 9.83% increase over last year's payment -now look at article 9... this country is headed for fiscal and monetary disaster. At an investment group I attend, one of the attendees was adamant based on his "insider information: that the government would be devaluing the colone by 10% (ie. the exchange rate would change from 500:1 to 550:1 beginning February.
2. Electricity Outage: while this is admirable, this applies only to "planned" outages...Most outages here are "unplanned and represent unreliiability.
3. Professionalize RE agents: this has been tried so many times before and has never gotten off the ground. and I fail to understand why a training and "licensing" program will prevent crooked agents....someone is smoking something...
4. Drugs and reporting: does anyone really think crooks are going to report their transactions? So how effective will be this requirement if adopted?
5. Nicaragua and the Incursion: the world court ordered Nicaragua to fill in the channel they dredged by mistake... yeah, right... and this is really going to happen...
6. / 7. USA / CR tax treaty: now the US will officially monitor all bank accounts here and will give CR access to their information..and CR is a sovereign stare???
8. Exit tax: land exit tax of $5 now applicable...but they don't have any method to collect or to pay? Wow. this typical CR...no planning, no systems, no discipline
9. 2014 Government Budget:' 3.1% more than last year and that is the base expenditures. As is normal, there will most certainly be "special" authorizations. 43% is borrowed / 50% of the amount needed for salaries is borrowed and 29% will got towards servicing the existing debt.
10. Geothermal generation: $630 mil of borrowed money seems like a lot but I don't know how many megawats it will buy??
11. Cedula Renewal: to be at the post office... we'll see
1. Government will spend $314 million on "aguinaldo" holiday bonuses

November 21st, 2013 (InsideCostaRica.com) The Ministry of Finance (Hacienda) will be depositing some $314 million (¢157 billion) in required annual holiday bonuses, known as "Aguinaldo" to an estimated 196,000 active and retired public employees on December 3rd.

The amount is a 9.83% increase from last year, and represents an average bonus of $1,602 USD per recipient.

Amongst the recipients are workers from government ministries, the legislature, judiciary, the Public Ombudsman's Office, the Comptroller General, and government retirees.

"The increase this year compared to the year previous is basically explained by the growth of wages and pensions, as well as the increase in the number of beneficiaries," said Edgar Ayales, Minister of Finance.
2. New regulations would require daytime electricity cuts, advance notice

November 21st, 2013 (InsideCostaRica.com) New regulations being pushed forward by the Regulatory Authority for Public Services (ARESEP) will require one-week advance notice to customers by electric utilities before cutting off electricity for rationing or maintenance purposes.

The regulations also specify that such outages should only be programmed during the day, from 5 a.m. until 10 p.m., and cannot affect hospitals, emergency radio stations, water pumping systems, gas stations, industrial areas, road lighting, and "economic centers."

ARESEP said it hopes reduce the number and duration of nighttime electricity outages.
3. Two groups try to professionalize real estate agents
By Garland M. Baker
Special to A.M. Costa Rica

In a country where real estate or attorney used in the same sentence as ethics is an oxymoron, two organizations are trying very hard to bring some sanity to the real estate profession. There are two real estate associations here: CGGAR, the Costa Rica Global Association of Realtors, and CCCBR, the Camara Costarricense de Corredores de Bienes Raices (Costa Rica Chamber of Real Estate Brokers).

Linda Gray, vice president of Coldwell Banker, started CRGAR 12 years ago because she felt Costa Rica needed more global real estate exposure. Allen Lungo of the Costa Rica Real Estate Store is the organization's current president. CCCBR was founded in 1974 to improve professionalism among local realtors. The two organizations worked together up until about three years ago when they had a falling out. A new president took over in August and Lungo has high hopes the two associations can again work in concert to improve the quality of professionals working in the realty business.

Carlos Angulo of BLP Legal, did a fine job last week in CRGAR's two days of licensing classes training new applicants. He emphasized how honesty and disclosure were the key factors in a successful real estate career. Angulo and Lungo both were impressed at the attendance of the event. Angulo said on day one, "I have not seen a group this large in the time I have been doing the training. It appears the market is blooming again."

Lungo mentioned on day two, "This is the largest group we have had in over 5 years, it looks like the real estate market is turning around." Trips around Costa Rica for the last several months seems to confirm the property market is showing signs of improvement.

Both organizations offer licensing after training. However, a license is not required to sell real estate in Costa Rica. There was a proposed bill some years back in the legislature to license real estate professionals, but Angulo of BLP Legal said he feels it was too comprehensive, thus making it difficult to pass it into law.

This is too bad because the country's judicial system has sent the wrong message to crooks and thieves. One would think Costa Rica's legal system would be on top of wrongdoers, but it is not. Property fraud is still rampant.

One poor Tica women met an unlicensed real estate agent through an advertisement on a TV channel, and he convinced her to use a very valuable property she owned as a down payment on an overpriced house in Guápiles. The agent and an attorney put the transfers in three different deeds at fictitious prices so the deal did not alert workers at the Registro Nacional or the Ministerio de Hacienda of their nasty business.

In another case, after a Gringo who owned a house in Jacó was deported in August, his property was illegally transferred and on the market within two weeks after he left the country.

It is common knowledge that people working in consort with dishonest attorneys can be scheming, crafty, aggressive and malicious. Gavilanes or vultures regularly read obituaries and cross-reference the information with the Registro National to see if deceased persons own property. https://www.amcostarica.com/062507.htm

Criminal and civil cases against these bad guys and gals end up in court for years and many times never arrive at a conviction.

Title insurance companies that came to Costa Rica and tried to make business were not much help. Their policies were not what expats expected and only exacerbated problems in some cases.

Real estate people are not police. Neither are attorneys for that matter. Trained, licensed professionals can work together with attorneys to gather information necessary to assist good legal counsel in performing proper due diligence. The Registro Nacional is now an excellent digital resource. Anyone can access their services. Professional agents are trained to do so. A good broker also can show a new property owner how to protect the property inexpensively with asset monitoring.

The real estate profession is full of illegal workers. Since most agents do not earn a wage or salary only commission, it is easy for them to hide under the labor law's radar. Costa Rica is known by some as the land of the "wanted and the unwanted." This is finally changing because the country joined the International Police Agency's global membership of 190 countries, enabling law enforcement to work together to fight crime and trafficking.

CRGAR is committed to insuring its membership can legally work in Costa Rica and that each member pays taxes. The organization requires applicants to prove legal residency or that they are in the legal process to obtain same. They also require every person or company to be registered with the tax authority. From CCCBR's application requirements, it appears they also have such requirements.

Ethics, honesty and disclosure are not islands in the Caribbean. They are important contextual words which everyone should follow, especially attorneys, accountants and real estate agents doing business in Costa Rica. CRGAR and CCCBR should work closely together to insure new retirees, second home buyers, and property investors have a good buying and selling experience here. The country needs positive press.

The two organizations should merge into one and lobby the powers to be for a colegio, an official professional organization, of their own which would require real estate licensing.

This would surely curb illicit property transactions and improve the world's view of the country.
4. Anti-drug agency seeking reports on large cash deals
By the A.M. Costa Rica staff

Lawmakers are considering a bill that would require persons who make cash transactions with a value of $10,000 or more to report those deals on a form to the nation's anti-drug agency.

Internal cash transactions would be reported the same way travelers have to submit a form if they are entering the country with $10,000 or more in cash.

The requirement is contained in bill No. 18.756 that is being studied in the Comisión Permanente Especial de Narcotráfico y Seguridad. The express purpose of the legislation would be to regulate real estate sales, the sale of metals, the transfer of cash, casinos and lawyers, notaries and accountants, according to a legislative summary issued Friday.

Carlos Alvarado, director of the Instituto Costarricense sobre Drogas, appeared before the committee to explain how the legislation would close the door to various forms of money laundering.

The proposed legislation would add a new section to a 2001 anti-drug law. It says that anyone who makes a transaction equal to or greater than $10,000 in U.S. dollars or colons has to fill out a form designed by the appropriate authority.

Merchants who routinely make such transactions would be compelled to register with the anti-drug agency. The security ministry would continue its supervision of casinos, the bill says.

The law would require the accountant, lawyer and notary professional organizations, the colegios, to monitor transactions by their members.

Law enforcement officials say that real estate and casinos can be major sources of money laundering.

For example, drug dealers could purchase a piece of real estate for cash and then sell it later without having to explain where the initial purchase price originated. Precious metals and gemstones could be purchased the same way.

Just about any business that deals in cash could slip drug money into the daily bank deposits.
5. World Court orders Nicaragua to fill in the canal
By the A.M. Costa Rica staff

The 16 justices of the World Court in the Hague have ordered NIcaragua to fill in part of the controversial ditch in what Costa Rica considers its land.

In an interim decision issued today, the court basically gave Costa Rica everything it was seeking in its appeal.

The court in its decision recognized that there had been digging work on the ditches that could connect an arm of the Río San Juan to the sea. It noted that Nicaragua claimed that the additional work there was directed by Edén Pastore, the man put in charge by Nicaraguan President Daniel Ortega. The country's lawyers had said in the recent arguments in the court that Ortega stopped work there as soon as he became aware of what was going on.

The court had ordered in March 2011 that no one enter the disputed territory, but Costa Rica presented overwhelming evidence, mostly satellite photos, that showed the advancement of digging operations and the presence of Nicaragua military.

The court ordered Nicaragua to fill in part of the ditch within two weeks and report back when the job had been done.

It also ordered that any government personnel, including soldiers, be ordered out of the area and that the Nicaragua government should prevent the intrusion of private parties. Groups of so-called environmentalists have been camping on the disputed land.

The court said that "The decision given in the present proceedings in no way prejudges any questions relating to the merits or any other issues to be decided at that stage. It leaves unaffected the right of the Governments of Costa Rica and Nicaragua to submit arguments in respect of those questions."

So a final decision still is awaited.

The court said that Nicaragua had argued that since dredging activities have now ceased and will not resume, there is no real and imminent risk that irreparable prejudice will be caused to Costa Rica's claimed rights before the court has given its final decision.

The court recognized that the digging and dredging might cause the river to change course and create a new opening to the sea.

That is the main purpose of the Nicaraguan dredging. The part of the river that drains into the Caribbean is silted, and Nicaragua hopes to open a new channel that will allow increased river traffic. To do so it must cross land that Costa Rica claims.

The south bank of the river is the international boundary over which the International Court of Justice has jurisdiction.

Said the decision:

"The Court moreover considers that there is urgency. The risk of irreparable prejudice . . . is not only real but also appears to be imminent, for the following reasons. First, during the rainy season, the increased flow of water in the San Juan River and consequently in the eastern caño could extend the trench and connect it with the sea, thereby potentially creating a new course for the San Juan River. Secondly, the trench could also easily be connected to the sea, with minimum effort and equipment, by persons accessing this area from Nicaraguan territory."

Caño in this reference, as defined by the court, means canal.

Since Nicaragua did not fully comply with the early court order to stay off the disputed territory, Costa Rica will be watching closely to see what its neighbor does.
6. U.S. and Costa Rica plan to sign tax agreement today
By the A.M. Costa Rica staff

Costa Rica is scheduled today to sign an agreement with the United States over the Foreign Account Tax Compliance Act.

This is the U.S. law that targets tax non-compliance by U.S. taxpayers with foreign accounts, according to the U.S. Internal Revenue Service. It also is controversial because of the paperwork involved.

There has been no announcement what the agreement between the two countries will mean, but almost certainly the pact would give U.S. tax investigators access to Costa Rican banking information.

The law requires banks there and other financial entities to withhold 30 percent of any proceeds due foreign banks who do not agree to the U.S. demands.

The law also requires U.S. citizens and others who pay taxes there to report their assets over a certain amount along with the annual tax return. This requirement is different than the report of foreign bank accounts.

The agreement today is due to be signed at the Ministerio de Relaciones Exteriores y Cultro.

The United States is one of a few countries that taxes its citizens on money earned overseas. There is a $95,100 exemption for earned income, but investment and capital gains are not exempted. The U.S. also is trying to find money stashed overseas by its citizens.

Despite the law and the aggressive effort by U.S. tax officials to obtain this information, Americans here have said that the agency almost never follows up on reports of illegalities. Some expats have tried to claim a reward for turning in tax cheats. Their efforts have generally been unsuccessful, and some complained they never even got responses from the Internal Revenue Service.

The Criminal Investigating Division also has failed to respond to letters from A.M. Costa Rica on certain newsworthy cases here.
7. Costa Rica will get data on expats' finances, too By the A.M. Costa Rica staff

Costa Rica has set up its tax agreement with the U.S. federal government so that officials here can keep an eye on expat finances.

Gonzalo Gallegos, the chargé d'affaires at the U.S. Embassy, and Edgar Ayales, minister of Hacienda, signed the agreement Tuesday. Ostensibly, the pact gives the U.S. Internal Revenue Service access to information about the finances of U.S. citizens here.

But a description also said that all the data would be channeled through the Ministerio de Hacienda, which is where the Costa Rican tax collectors are located. The alternative would have been to let banks make the reports individually to the U.S. officials themselves.

This means that banks will be notifying the ministry of expats who are receiving money here. Many are employed in the gray economy and do not pay Costa Rican taxes. The information about their income will become apparent to the tax collectors.

The logical alternative would be for expats who work here for U.S. companies to have the funds deposited in a stateside bank where the wage earner could be eligible for an earned income exemption each year. Some firms already pay their U.S. employes through a bank in Panamá.

An unknown number of expats are working here online and are not registered with the Costa Rican tax authorities.

Costa Rica said Tuesday that it had become the second country in Latin America to make an agreement with the U.S. government over the Foreign Account Tax Compliance Act. México was the first.

The United States is one of the few countries in the world that taxes its citizens for money earned overseas. The tax compliance legislation was designed to find accounts that U.S. residents had stashed cash. Foreign banks that do not comply with the U.S. law can be penalized 30 percent of any remittances they receive from American banks.

The agreement still requires legislative action to put it into force. Costa Rican officials said they would seek such action. Some lawmakers are sure to question if this pact does not intrude on the country's sovereignty.

Costa Rica does not tax its nationals and residents on money earned outside the country. But there is a good chance that this will change as the country struggles to create more taxes and raise more money for its sagging finances. There has been a suggestion that money should be taxed when it comes into Costa Rica from a foreign source. For some lawmakers, this is not good enough. They seek to impose taxes when the money is earned.

U.S. legislation about foreign banks has caused some to stop handling accounts for Americans.
8. $5 land exit tax will go into effect Monday, Tributación says
By the A.M. Costa Rica staff

The country's tax authority says that it will begin collecting a $5 land exit tax Monday.

The agency also said that no one at the border crossings has the power to accept such payments, so travelers must pay their tax beforehand.

The agency, the Dirección General de Tributación, said Tuesday it had entered into an agreement with Banco Crédito Agrícola to handle the money the same way that the bank handles the airport exit tax. Within two weeks, the bank is supposed to have automatic machines to collect the tax from credit and debit cards and give receipts at Paso Canoas, Río Sereno-Sabalito, Sixaola and Peñas Blancas. These are the major crossings.

The exit tax can be paid ahead of time at branches of Coopealianza as well as the Banco Crédito Agrícola, said the ministry. Tour companies, travel agencies and some transport companies also will be selling the exit tax proof.

There will be a flood of Nicaraguans going to their country over Christmas, and the ministry is sure to rake in plenty of money. However, the agency said that anyone not having proof of payment of the tax will be denied exit.

Immigration agents are supposed to verify online the validity of any receipts showing the tax has been paid, said Tributación. Then there is supposed to be a system to prevent reuse of the payment slip. The tax can be paid in dollars or colons at the existing exchange rate. The money is supposed to be used to fix up the exit facilities.

Diplomats, truck drivers and bus drivers are exempt from the tax, said the agency.

The tax passed the legislature in July, but putting the levy into practice required the drafting of regulations.

Initially the tax was going to apply to cruise ship passengers arriving and leaving by boat. There also was talk of increasing the airport exit tax.
9. New budget gets an OK: ¢6,600,000,000,000
By the A.M. Costa Rica staff

Lawmakers gave final approval to a 2014 national budget Wednesday knowing that at least 42.7 percent of expenditures would be financed with debt.

Members of the Partido Acción Ciudadana voted against the financial plan and said that for the first time more than 50 percent of the salaries would be financed with debt. This is not sustainable, said lawmakers Gustavo Arias Navarro, who voted against the measure.

The budget makes grim reading. About 34.4 percent of the spending is determined by constitutional obligations.

The amount of the budget is 66 followed by 11 zeros in colons. That's $13.2 billion in English.

In Spanish the amount would be 6.6 billón, which is not the same as a billion in English.

Jeannette Ruiz Delgado, also of Acción Ciudadana, was critical of the number of rentals specified in the budget.

The legislative staff estimated that the new budget was 3.1 percent greater than the 2013 budget. The amount is not fixed, and it is likely that the central government will seek authorization for more money when the need arises. That happens every year.

Some 29.2 percent will be spent on servicing the existing national debt, and 29.1 percent will be spent by the Ministerio de Educación Pública. Public pensions will take 10.6 percent. The judiciary will spend 5.3 percent, according to the legislative staff.

The new budget gives a 54.4 percent raise to the Patronato Nacional de la Infancia, the child welfare agency. Still one of the major objections of opposition lawmakers was the amount of money going to social programs. They wanted more spent there.
10. Another geothermal loan for project near volcano
By the A.M. Costa Rica staff

The Instituto Costarricense de Electricidad is getting a $70 million loan from the European Investment Bank for the Las Pailas II geothermal generating plant. The loan is for 25 years with a variable interest rate starting at 4.03 percent, said the firm known as ICE.

The central government is guaranteeing the loan so legislative approval is needed.

This is the second loan for the project. Last week the Japanese Agency for International Cooperation agreed to loan $560 million for La Pailas II and two other projects. All are near the Rincón de la Vieja volcano in northern Costa Rica.
11. Legal expats will be able to renew cédulas at local post offices
By the A.M. Costa Rica staff

The postal service is setting up a system so that expats can renew their residency cédulas there. And Costa Ricans will be able to apply for and get a passport.

The system for expats will work the same way that the current system does at the Banco de Costa Rica. Foreigners who need to renew their cédula, called a DIMEX, can obtain an appointment by telephone to 9000-7672666 and then show up at the specified post office.

Unlike the Banco de Costa Rica service, expats will have to make a payment beforehand and bring proof of the payment to the appointment. Also required is proof of insurance with the Caja Costarricense de Seguro Social. Banco de Costa Rica will accept payment during the appointment.

Costa Ricans can apply for their first passport at the post office under this system by making an appointment with the same number.

Delivery of the finished cédula or passport will be made by Correos de Costa Rica in about 10 days.

The system is being put into service in post offices in Heredia, Cartago, Curridabat, San Pedro, downtown San José, Zapote, Desamparados, Tibás, Guadalupe, Santa Ana, Escazú, Alajuela, Pavas, La Cruz, Cañas, Guatuso, Ciudad Quesada, Cóbano, Puerto Viejo de Talamanca, Guápiles and Ciudad Neily.

Until now, Costa Ricans had to go to an immigration office to obtain a passport.

The agency said that soon passport applications for minors can be made at the post office, too.

Kathya Rodríguez Araica, director of immigration, noted that her agency issued 170,000 passports so far this year, an increase of 26,000 from the previous year.

Part of the reason is because Costa Rican passports expire after six years instead of at the end of the previous term of 10 years.
Brian, Lita, the Late Hugo IV, irreverent Vicka, the pigeon toed parrot, Chico II and Chica II