Dear friends,
When I started Residencias Los Jardines, I started writing a weekly news letter -determined to tell all the good, bad, and the ugly. I knew some readers would be interested in the construction process. I expected others might be interested in the lifestyle of two people who had decided to live outside the box. For others, the adventures of Lita, the parrot and the cat took on an entertainment saga all its own.
Residencias Los Jardines is finished. We periodically have resales and rental availability. Some readers may be interested in this information.
Brian Timmons
DEVELOPER / PROPERTY MANAGER
Residencias Los Jardines / https://www.residenciaslosjardines.com info@residenciaslosjardines.com
ResidenciasPropertyManagement@gmail.com
Featured house this week
Paradisus Condos / Rorhmoser
FOR SALE
Residencias Los Jardines
Property Management, Rentals, Re-Sales
Market Activity
Sales: no viewings.
Rentals: 3 inquiries -no viewings due to a communications glitch.
FOR SALE
Unit #114: $235,000 / See Unit
FOR RENT
Unit #126: $675 mo. / Available Dec. 15 / See Unit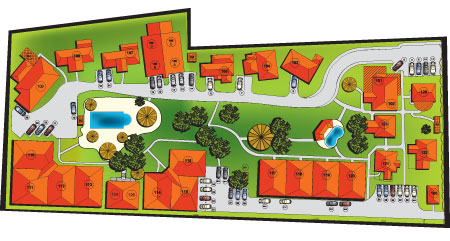 HOUSE FOR SALE
UNIT #114
FOR SALE $235,000
Total Area (Sq Ft): 1290
Total area (Sq M): 120
Bedrooms: 2
Bathrooms: 2
Floor(s): Single Floor
Type: Attached
Furnished: Yes
This 1,290 sf. (plus covered parking for one car and two lockers 67 sf.) single story, semi detached house, with garden terrace, two bedrooms is a beautiful executive style home. This home consists of two large bedrooms one with six piece en-suite bathroom with additional access to separate full shower. Each bedroom has large closets with extensive built-ins for personal organization. The vaulted living room and bathroom ceilings provide a feeling of grandeur while allowing the warmer air to rise and exit through the ceiling ventilating system. There are four TVs (one in each bedroom, one in the living room and one in breakfast / dinning room.) This is a beautiful well appointed home.
HOUSE FOR RENT
UNIT #126
FOR RENT $675 mo.
Available December 15
Total Area (Sq Ft): 530
Total area (Sq M): 50
Bedrooms: 1
Bathrooms: 1
Floor(s): Single Floor
Type: Detached
Furnished: Yes
A small one bedroom with outside covered terrace with top of the line finishes (granite, stainless steel appliances, fine crafted wood cabinetry, +, +, +), with lots of well thought out storage...
Our Lives
WEATHER: November is a transitional month re. weather... out with the rainy season and in with the dry season. The reduction in frequency, duration, and intensity are all evident. We're on our way. We did not have the heavier than normal rain caused by hurricanes this year... because there were no hurricanes.
All in a Week's Living in CR:
Guatemala (2):
We went to three places: Guatemala City, Antigua, and Panahorchal:
Overview: Some basic information which I had to learn: Guatemala is the largest Central American country with the most population -about 40 mil. and Guatemala City, the capital, has around 4 mil. inhabitants spread out over a large geographical area due to the rough terrain. I was told that 62% of the population are "Mayan" and the balance is mestizo. I have never been to a country where the indigenous population is as prevalent as it is in Guatemala. The Mayan still wear their traditional clothing -brightly colored, embroidered cloth in a skirt and top for the women and for the men, 3/4 length pants. This group seems to form the lower socio-economic strata of society and seems to live apart from the mainstream minority. I didn't see any evidence that this was likely to change soon... The military seems to be firmly in control... heavily armed soldiers were patrolling... what I don't know but if I were a Mayan I would know that for 35 years the military government hunted me down and persecuted me, I would continue to be intimidated... The current head of government was formerly from the military (so still is but wears a suite now). There is suppose to be a "truth commission" to expose the excesses and atrocities of the civil war which ended around 15 years ago, but there doesn't seem to be much urgency or support behind it and getting anyone "convicted" isn't likely to happen... Any finger pointing which will stick will most likely be wiped under the table and no one will be punished... most are probably in government or dead... From one Mayan driver we had, there continues to be strong resentment of the Mayan treatment during the 35 years and current "truth commission". There is also significant resentment towards the US for supporting the dictatorship which persecuted the Mayans. All the roads we traveled were fine... much better than CR---but then, the military likes roads.
The altitude of all locations was around 4500 ft; skies were overcast in the mornings which opened to partly cloudy skies mid morning and temperatures of 73 - 60 at night... no rain or wind.
Travel and Hotels: All travel arrangements were recognized by the 4 hotels... they actually expected us. All hotels were around $90 - $95 per night for two... ll were supposedly 3- 3 1/2 star, only one included breakfast and the hotels varied considerably value. The Mercur in Guatemala City was a 12 story, business hotel located in Zone 10 -newer and tourist area where lots of brand name hotels and embassies are located. It was probably 20 years old, renovated and very nicely done... large rooms, beautiful woodwork, everything worked including wifi in the room... In Antigua the hotel was small (about 14 rooms), old and dumpy... wifi worked only in one location... it was well located; In Panahorchal -a small town (16,000 inhabitants) on Lake Atitlan, the hotel was great.. set back from the main street a 1/2 block, it was quite, with a nice garden and covered terrace. Very well located in the middle of the town. Finally, the return hotel in Guatemala City was really great... a 3 yr. old boutique hotel (only 14 rooms) based on Balinese design was well through out...except for the light switches--some of which I never did find. With modern architecture and furniture, it represented a significant change from the previous hotels. Travel arrangements were all on time and well executed -I doubt that this would have happened in CR.
Overall Costs: the costs were about 80% of CR but the value for meals and hotel accommodations were better.
Guatemala City: large and busy. Zone 9 and 10 had lots of hotels and restaurants, wide sidewalks, and nice shops. We had a great Mexican meal -2 for 1 drinks (triple sized margaritas) and 3 out of 4 meals were great. The last meal we had was from a Spanish restaurant and consisted of tapas... not very good. We shopped the central market and bought lots of handicrafts.
Antigua: and old, old city, UNESCO heritage site now... original stone streets, and traditional Spanish architecture... difficult to walk as the "sidewalks" were an after thought and not well executed... the town consisted of shops selling handicrafts and jade and restaurants... the streets are pretty uninteresting because of the plain walls which hide everything. Lita got some beautiful jade jewelery for herself and gifts for friends. Again, we shopped the central market and bought lots of handicrafts.
Panahorchal: the jewel of Guatemala in our opinion... a small lake surrounded by very steep sides and three volcanoes... an incredible view. The town was a treat to walk and shop. We had our best meal there -a gringo owned, "Uruguayan" restaurant... a huge plate of shish-k-bobs (both beef and chicken) and a melt in your mouth "skirt" steak. Great value, great fun. Were we ever to return to Guatemala, this city would definitely be on our agenda. And yes, we shopped for handicrafts there as well. (Shopping is not my thing but I traveled with my wife and another woman who loves shopping so we were forced to tag along).
News Items of the Week
Occupancy: In Guatemala we found much better value for our stay. The rooms were clean, well appointed, the wifi worked and they were attractive (for the most part), reservations were recognized, people knew their jobs and actually helped with bags, etc.
The roads were drivable.
Hotel chamber says September was worst since 2009
By the A.M. Costa Rica staff

The hotel chamber said that business in September was the worse since 2009, which was in the height of the economic downturn.

At the same time, the chamber, the Cámera Costarricense de Hotels, said that prices for some categories of hotels have increased while others have dipped.

The chamber also announced the opening of yet another hotel. This one is the Hyatt Andaz Península Papagayo, which is expected to open Dec. 15. The hotel features 21 luxury suites among its 153 rooms. The architect is Ronald Zurcher. The peninsula is in northwestern Costa Rica on the Pacific.

Operators of many smaller hospitality facilities have been complaining about the oversupply of hotel rooms and the way international firms can maintain highly effective marketing campaigns. Some hotels have closed in the last few years.

The chamber obtained its data on hotel occupancy in September just last week. It said that the average occupancy was 35.4 percent. The Central Valley and the south Pacific showed the greatest decline but the Puntarenas area was up slightly when compared to September 2012, it said.

September is always a slow month for tourism.

In general hotels with 51 to 100 rooms showed a slight increase in occupancy while smaller hotels showed a decrease, said the chamber. Three-star hotels, which usually have lower prices than more luxury facilities showed a slight increase while four- and five-star facilities showed a decline.

The average room rate showed an 11.3 percent increase from $86.80 in 2012 to $95.50 a night this year, said the chamber. The luxury five-star hotels actually showed a decrease in average room rates by 19.1 percent.

There were many promotions during the month.

The average income per room showed a $1.10 decrease said the chamber, which based its figures on a survey of members. Full details are on the chamber Web site.
Brian, Lita, the Late Hugo IV, irreverent Vicka, the pigeon toed parrot, Chico II and Chica II