Dear friends,
When I started Residencias Los Jardines, I started writing a weekly news letter -determined to tell all the good, bad, and the ugly. I knew some readers would be interested in the construction process. I expected others might be interested in the lifestyle of two people who had decided to live outside the box. For others, the adventures of Lita, the parrot and the cat took on an entertainment saga all its own.
Residencias Los Jardines is finished. We periodically have resales and rental availability. Some readers may be interested in this information.
Brian Timmons
DEVELOPER / PROPERTY MANAGER
Residencias Los Jardines / https://www.residenciaslosjardines.com info@residenciaslosjardines.com
ResidenciasPropertyManagement@gmail.com
Featured house this week
Paradisus Condos / Rorhmoser
FOR SALE
Residencias Los Jardines
Property Management, Rentals, Re-Sales
Market Activity
Sales: no viewings.
Rentals: one inquiry.
FOR SALE
Unit #114: $235,000 / See Unit
FOR RENT
Unit #126:$675 mo. / Available Dec. 15 / See Unit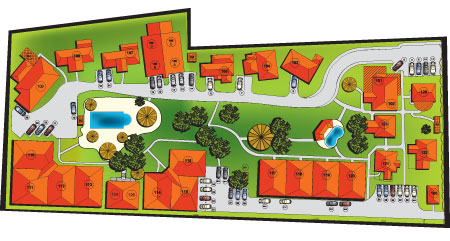 HOUSE FOR SALE
UNIT #114
FOR SALE $235,000
Total Area (Sq Ft): 1290
Total area (Sq M): 120
Bedrooms: 2
Bathrooms: 2
Floor(s): Single Floor
Type: Attached
Furnished: Yes
This 1,290 sf. (plus covered parking for one car and two lockers 67 sf.) single story, semi detached house, with garden terrace, two bedrooms is a beautiful executive style home. This home consists of two large bedrooms one with six piece en-suite bathroom with additional access to separate full shower. Each bedroom has large closets with extensive built-ins for personal organization. The vaulted living room and bathroom ceilings provide a feeling of grandeur while allowing the warmer air to rise and exit through the ceiling ventilating system. There are four TVs (one in each bedroom, one in the living room and one in breakfast / dinning room.) This is a beautiful well appointed home.
HOUSE FOR RENT
UNIT #126
FOR RENT $675 mo.
Available December 15
Total Area (Sq Ft): 530
Total area (Sq M): 50
Bedrooms: 1
Bathrooms: 1
Floor(s): Single Floor
Type: Detached
Furnished: Yes
A small one bedroom with outside covered terrace with top of the line finishes (granite, stainless steel appliances, fine crafted wood cabinetry, +, +, +), with lots of well thought out storage...
Our Lives
WEATHER: November is a transitional month re. weather... out with the rainy season and in with the dry season. The reduction in frequency, duration, and intensity are all evident. We're on our way. We did not have the heavier than normal rain caused by hurricanes this year... because there were no hurricanes.
All in a Week's Living in CR:
Guatemala: Well, we haven't been here long enough to gather any impressions -but getting here was a long process... Flight was fine but the check at at Copa was hopelessly flawed... and the pre-arranged hotel shuttle was not at the airport... but arrived after a phone call... such is life... Our hotel is right down town amongst many other hotels -the room wasn't ready and a little chaos ensued but when we got settled, it is very nice... changing money required that we go to a bank... it seems not all banks exchange money so we were directed to CITI bank... we went, their computers were down so couldn't do anything. Their exchange rate was better at 7.80 quetzals to $1 USD... but a money exchange both had to do at 7.40... this was followed by a great lunch at a Mexican food restaurant -there is a lot of Mayan influence here... the food was good and the place was fun... there was an awards banquet going on and the participants were having a great time... We sat on the covered terrace upper level and had the largest 2 for 1 margaritas I've had for a long time... now we're off to check out this very large city...
News Items of the Week
Comments:
Note: this section is light this week. In cleaning up my desktop, I dumped a very interesting article on the socialist origins in CR...
1. Road Construction: It now looks like CR is going to make deals with China to build roads...why? because China is offering to pick up the 85% of the tab but requires that all work be done to their standards and by their people....given CR history of rad building, this may not be such a bad condition...
1. Lawmaker upset with details of Chinese road deal By the A.M. Costa Rica staff

A proposal to rebuild Ruta 32 has come under criticism in the legislature.

Manrique Oviedo Guzmán, a lawmaker from the Partido Acción Ciudadana, said the country was surrendering its sovereignty for the deal. In addition fears were raised that the Chinese company that probably will do the job has a history of corruption.

The allegations were contained in a statement issued by the political party.

Two vice ministers Chacón Laurito of the Ministerio de Obras Públicas y Transportes and Jordi Pratt Chacón of the Ministerio de Hacienda, appeared before a legislative committee Wednesday. That prompted the discussion.

Costa Rica is negotiating a deal whereby the Chinese government will pay for 85 percent of the cost of rebuilding and widening the key road. Costa Rica will pay 15 percent. The total has not yet been computed. Some 107 kilometers from Río Frio to Limón are involved.

Oviedo said in the statement that Costa Rica would renounce its immunity under terms of the deal and that the project would be governed by the laws of China.

Additionally, he said that the firm China Harbour Engineering Co. Ltd., the likely contractor, has been suspended by the World Bank after allegations of corruption in The Philippines.

The discussion was in the Comisión Permanente de Asuntos Hacendarios, which is considering the measure, No. 18.945.

The vice ministers said they would look into the corruption allegations.

The money would come from Chinese sources and would be denominated in yuans, the basic currency there.

The job would include much more than just roadway. There will be new bridges, a bike path, pedestrian bridges and drainage work.

Technicians are trying to establish a budget now.
Brian, Lita, the Late Hugo IV, irreverent Vicka, the pigeon toed parrot, Chico II and Chica II