Brian Timmons
Dear friends,
When I started Residencias Los Jardines, I started writing a weekly news letter -determined to tell all the good, bad, and the ugly. I knew some readers would be interested in the construction process. I expected others might be interested in the lifestyle of two people who had decided to live outside the box. For others, the adventures of Lita, the parrot and the cat took on an entertainment saga all its own.
Residencias Los Jardines is finished. We periodically have resales and rental availability. Some readers may be interested in this information.
Brian Timmons
DEVELOPER / PROPERTY MANAGER
Residencias Los Jardines / https://www.residenciaslosjardines.com info@residenciaslosjardines.com
ResidenciasPropertyManagement@gmail.com
Featured house this week
Paradisus Condos / Rorhmoser
FOR SALE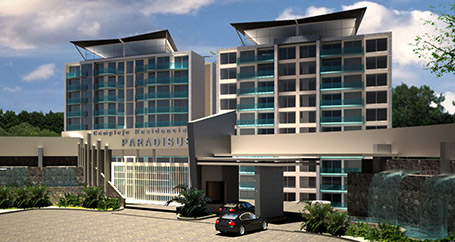 Paradisus will consist of 4 towers in Rorhmoser, a suburb to the west of central San Jose. Not far from the US Embassy and shopping malls, Rorhmoser is a residential area that was developed in the 60's and 70's and is currently seeing significant re-development with high end condos. It is the area where the new stadium and a number of luxury high rise condos have recently been built with more on the drawing boards. Phase one of this development is nearing completion; it consists of two towers and the amenities -pool, exercise room, etc. Tower one is expected to be completed in January and Tower 2 should follow in February / March. The location of this development is superb... it's off the main traffic paths and sits on a ravine overlooking a river. To the east is San Jose / Heredia; to the west is Pavas / Escazu. With floor to ceiling windows and a wrap around balcony, these units offer fantastic light and views.
Each of the units consists of two bedrooms / two bathrooms, and a large living/dining/kitchen area. The floor plan of each of these units has eliminated the optional "den / office" divider. The result is a larger area offering more flexible furniture arrangements while still maintaining the option of including an office area. At 105m2 plus two parking spots each and storage locker, they offer a great opportunity for someone seeking views, security, central location, and first class, all round living...
Residencias Los Jardines
Property Management, Rentals, Re-Sales
Market Activity
Sales: two viewing.
Rentals: two inquiries.
FOR SALE
Unit #114: $235,000 / See Unit
FOR RENT
Nothing Available until January 1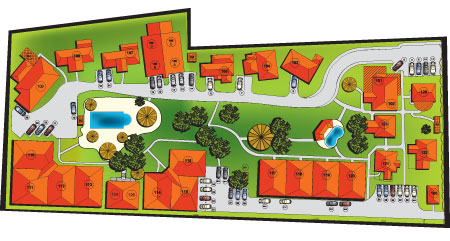 HOUSE FOR SALE
UNIT #114
FOR SALE $235,000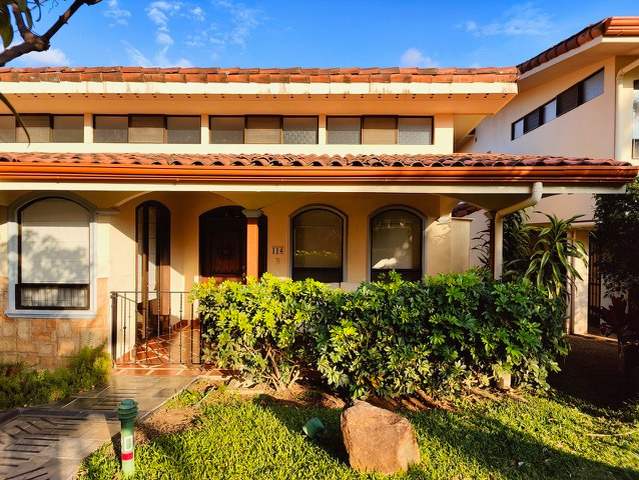 See a complete description of this unit
Total Area (Sq Ft): 1290
Total area (Sq M): 120
Bedrooms: 2
Bathrooms: 2
Floor(s): Single Floor
Type: Attached
Furnished: Yes
This 1,290 sf. (plus covered parking for one car and two lockers 67 sf.) single story, semi detached house, with garden terrace, two bedrooms is a beautiful executive style home. This home consists of two large bedrooms one with six piece en-suite bathroom with additional access to separate full shower. Each bedroom has large closets with extensive built-ins for personal organization. The vaulted living room and bathroom ceilings provide a feeling of grandeur while allowing the warmer air to rise and exit through the ceiling ventilating system. There are four TVs (one in each bedroom, one in the living room and one in breakfast / dinning room.) This is a beautiful well appointed home.
Our Lives
WEATHER: November is a transitional month re. weather... out with the rainy season and in with the dry season. The reduction in frequency, duration, and intensity are all evident. We're on our way. We did not have the heavier than normal rain caused by hurricanes this year...because there were no hurricanes.
All in a Week's Living in CR:
I was reminded twice this week how nice it is NOT to have to wait for people to show up... In both cases, they were to received money. They couldn't even show up to do that.
We'll be preparing this week for a trip to Guatemala. Our first. We're looking forward to it.
News Items of the Week
Comments:
1. Environmental Damage: of this there is little doubt -guilty as charged. From a country who markets itself as environmentally conscious, it committed most all the commandments it espouses.
2. / 3. Jungle Heliports and drugs: it's pretty obvious that this is not an American military invasion but a drug conduit.
4. Democracy and Disillusionment: Why the author chose to compare CR to Venezuela is interesting. Also information like the following is informative: "Among 144 countries, Costa Rica is in 95th place in quality, 131st in roadways, 106th in railways, 140th in ports, 60th in airports, 94th in mobile telephones and 42nd in the quality of electrical service," he said. He ought to know, he was a vice minister of Economía with a specialty in competitivity. He notes, for example, that there has not been a significant investment in the public docks of Moín since 2002 and that 73 percent of the government income there goes to salaries and privileges.
5. General Srike: and this is how the disillusionment manifests itself. Perhaps the comparison with Venezuela is appropriate after all. But unfortunately, some of those protesting and protesting because they want to line their own pockets more... eg. ICE, and note the disparity in common purpose or objective.
6. Construction: One of the largest malls in the world is to be built in Alejuela... Why? Someone has faith in the future or too much dirty money that needs to be cleaned.
1. Nicaragua accuses Costa Rica of causing "environmental nightmare" before the ICJ

November 5th, 2013 (AFP & InsideCostaRica.com) Nicaragua described Costa Rica's construction of a road on its border parallel to the Rio San Juan as an "environmental nightmare" at the opening of the latest hearing over ongoing border disputes between the countries before the International Court of Justice (ICJ) in The Hague.

The road is known officially as Route 1856 but has been nicknamed "La Trocha" by Costa Ricans.

"Costa Rica has embarked on the construction of an extremely damaging road," Nicaragua's representative to the ICJ, Carlos Arguello said in English, calling the work an "environmental nightmare."

Arguello said that Costa Rica "has not done any studies to mitigate environmental damage."

The Nicaraguan delegation at the hearing showed videos of large metal pipes that appear to have been broken, obstructing the Rio San Juan.

Arguello also said that Costa Rica's own laws prohibit the construction of a road so close to a river.

Nicaragua believes that the construction of the 130 kilometer road has caused erosion and sedimentation in the Rio San Juan, which acts as a natural border between the two countries. Nicaragua is asking the ICJ to issue injunctions to stop the discharge of sediment into the river.

Costa Rica's government, meanwhile, denies the accusations, saying the road is a work of importance for the economic and social development of its northern territory, and does not affect the flow of the river.

Less than a month ago, the two countries were before the ICJ at the request of Costa Rica, which claims Nicaragua violated its territorial sovereignty and caused damage in an area known as Portillos, which both countries claim as their territory.

Costa Rica will have a chance to respond to Nicaragua's allegations tomorrow.
2. Colombian pilot in custody after discovery of new armed, organized camp

November 5th, 2013 (InsideCostaRica.com) A Costa Rican and a Colombian were taken into custody yesterday on suspicion of being linked to an armed camp in the mountains of Pococí, Limon, discovered over the weekend – the third such camp in as many weeks. The Colombian is described by authorities as being an expert helicopter pilot.

The Costa Rican was identified by the last name Vega, while the Colombian was identified by the last name Ramirez, according to the Ministry of Security.

The men were taken into custody in a pickup at the same location where officials of the Ministry of Security located an armed camp on Saturday, after receiving information that a helicopter would land at the site, located in Asturias de Pococí, that day.

However, a group of individuals in a shelter at the camp noticed the police presence and began to exchange gunfire with authorities, escaping in the process. No officers were injured in the exchange. Authorities believe one of the suspects may have been injured.

After the firefight, officials discovered a helipad, five AK-47 assault rifles, two smaller caliber weapons and $48,000 in cash in a shelter at the camp.

Officers also recovered two Honduran passports at the camp. The passports are in the names of Wilmer Estuardo García Caballero, 27 and Wilmer Antonio Montoya Enamorado, 41. Immigration records show both of the men having entered Costa Rica by way of the Peñas Blancas border crossing with Nicaragua in September.

A significant store of aviation fuel was also discovered.

Security Minister, Mario Zamora said authorities are investigating if the camp is related to the recent findings of two other armed camps with heliports in recent weeks – one in Cutris de San Carlos and the other in Guacimo, Limon.
3. Another secret helicopter base raided by police

The discovery of another helicopter base in a remote area appears to show that drug smugglers have created an air bridge.

The Policía de Control de Drogas and the Fuerza Pública captured the base Saturday after exchanging shots with one of the occupants. One person may have been wounded, but all fled into the mountains, said the Ministerio de Gobernación, Policía y Seguridad Pública.

The location is on the skirt of Volcán Irazú near the community of Las Asturias in Pococí, Limón.

The ministry said that police confiscated five AK-47 rifles, two pistols and a number of containers, some filled with gasoline and some empty.

Like a similar base in northwestern Costa Rica in Limoncito de Cutris that was located in early October, there was a rough building that served as a living quarters and a helicopter pad.

Law enforcement learned of the location from neighbors who had heard the comings and goings of helicopters, just like in Limoncito. And inexplicably, the occupants of the base there fled and have not been captured.

The ministry did say that two Honduran passports were found among the other articles, which included an electrical generator and a cooking stove. Also located were about $40,000 in U.S. currency.

Investigators became aware of the use of helicopters to smuggle drugs May 5, 2009, when such a craft crashed in a remote section near Cerro de la Muerte. Killed was the pilot, a person who had worked 15 years in the ministry's Servicio de Vigilancia Aérea, and a passenger, identified later as a Mexican. The heavily loaded craft was flying to Turrialba from the Osa Peninsula. The flight was considered usual at the time.

The discovery of a second base Saturday raises the question of who is keeping track of what happened in the Costa Rican skies.

The illicit use of helicopters has been suspected since 2004 when the Israeli Defense Ministry said that U.S.-made surplus military helicopters have ended up in Colombia. The five helicopters were delivered to the Israeli Air Force as part of U.S. defense aid to the Jewish state.

The helicopters ended up in the hands of a private company that transferred them to Miami, Florida, with Mexico listed as the final destination. Instead, they ended up in Colombia.

More recently, residents in the high Talamancas were surprised to see an unmarked helicopter land in their village of Alto Cuén. The report is that June 30 an unmarked black helicopter landed bringing eight persons who identified themselves as evangelical missionaries. They handed out Bibles to every home. There was a Peruvian, two Costa Ricans and five Canadians, according to the story.

Later the new arrivals adopted military gear and attitudes. Fuerza Pública officers were sent by land to investigate, but what they determined has not been available despite repeated contacts with local police and prosecutors in BriBri.

The encounter has generated a litany of suspicions, ranging from drug dealers to survey work for a new dam, prospecting for precious metals and even a military action by the U.S. Fourth Fleet.

U.S. officials have said that about 80 percent of the drugs that arrive in the United States from the south come by sea. But the sea routes are increasingly better policed by international fleets in both the Pacific and Caribbean.

Honduras is well known as a landing point for fixed-wing drug craft, and police there have been blowing up informal air strips.

Costa Rica really does not have intercepter aircraft that could cause an unregistered flight to land. Land interdiction is difficult, as police found out Saturday, when two of their vehicles became stuck in the mud and had to be pulled out by a tow vehicle.

In what may have been a related action, judicial investigators and prosecutors conducted three raids Thursday night and early Friday in which they detained five men and a woman. The raids were in Curridabat, Sabana Sur and Barrio Escalante. In the latter location, investigators found an arsenal of 27 rifles, six pistoles, a revolver, explosives and gun powder, as well as 492 kilos of cocaine, said the Poder Judicial.

Three of those detained are believed to be associated with the Fuerza Armadas Revolucionarias de Colombia, the terrorists and smugglers known as the FARC.
4. Falling faith in democracy suggests greater crisis
By Jay Brodell
editor of A.M. Costa Rica staff

As the country moves toward another general election Feb. 2, the public is restless and unhappy.

Election officials worry that many will not cast a vote. But there are more serious issues to be considered.

Costa Rica is in much the same position as was Venezuela when strongman Hugo Chávez was rising to power. Corruption seems to be epidemic.

A Latinobarómetro poll released over the weekend showed that respect for the democratic system dropped by 21 percent since 2009. Only 53 of every 100 citizens expressed support for democracy.

The government of Laura Chinchilla has failed to carryout its promise of reducing crime. A judge has ordered many armed robbers to be released because the central government has ignored the problem of prison overcrowding which now stands at more than 30 percent.

Front runner Johnny Araya Monge, the former mayor of San José, promises a continuation of the Partido Liberación Nacional leadership. In addition, if elected, he will come to the job with a gigantic fiscal crisis in which nearly half of that the government spends is borrowed money.

An opinion poll done by Borge y Asociados for El Diario Extra shows Araya has about 50 percent support. But in second place is 36-year-old José MaríaVillalta Florez-Estrada of Frente Amplio.

An online campaign promoting Movimiento Libertario candidate Otto Guevara Guth says "We don't want our country to become a new Venezuela." The choice is between the same thing or communism, it says, suggesting that Guevara could be an alternative.

If the election winner Feb. 2 does not gain 40 percent of the popular vote, a runoff between the two will take place. Commentators already have noted that the left wing Villalta has a strong following among students, the unhappy and the economically distressed.

The idea that Araya will be the same thing comes from the rotating leadership in Liberación in which legislators become ministers and vice ministers and then return to the legislature or a fancy government job. The ineptitude of the Chinchilla administration also has resulted in a continuing struggle with Nicaragua over sovereignty, collapsed roadways that make administrative lapses up close and personal for motorists and continuing sagas of corruption.

The only answer from officials seems to be more taxes and $5-a-gallon gasoline.

Jorge Woodbridge González, in a La Nación opinion piece published Tuesday, says of the country "We can't continue as we are."

He summaries the failings of infrastructure and the country's low ranking on the World Bank's Global Competitiveness Report.

"Among 144 countries, Costa Rica is in 95th place in quality, 131st in roadways, 106th in railways, 140th in ports, 60th in airports, 94th in mobile telephones and 42nd in the quality of electrical service," he said.

He ought to know, he was a vice minister of Economía with a specialty in competitivity.

He notes, for example, that there has not been a significant investment in the public docks of Moín since 2002 and that 73 percent of the government income there goes to salaries and privileges.

In the eyes of many in the public that seems to be typical of Costa Rica where the insiders drain money from the national budget, take over land, win oceanfront concessions, get high-paying jobs for themselves and family and generally work the system to their advantage.

What is new is that a lot of allegations against insiders can be found on YouTube and in truthful and untruthful email messages.

Carlos Andrés Pérez became president of Venezuela in 1974 to 1979 and from 1989 to 1993. He was removed by the country's supreme court for embezzlement. Subsequent actions show that he and his associates robbed the energy-rich country blind.

His failure to deliver set the stage for the ascension of Hugo Chávez, a military man who once led a coup against Pérez. Chávez, of course, embraced a social system more typical of Cuba than capitalism.

The problem now is that Costa Rica seems to lack a plan and any consensus to take charge of the country' s mess and solve the problems.
5. Unions, social sectors announce mass strike and protests for Monday

November 8th, 2013 (InsideCostaRica.com) Various trade unions and social groups in Costa Rica yesterday announced they will strike on Monday in protest against changes in electricity rates, new taxes, and to oppose the privatization of some health services.

Among the groups protesting will be the National Medical Union, though a representative said some staff would still tend to emergencies at the country's hospitals.

The health sector unions are protesting a proposed alliance between the Social Security System (CCSS) and private hospitals for the care of patients.

ICE workers will also be on strike, and the agency said it would not provide services to the public on Monday.

The Association of Secondary School Teachers (APSE) also confirmed their participation in the strike, warning that classes would not be taught at many schools as a result.

The motorcyclists union will also join the protests, upset about recent increases in the "Marchamo" road tax.
6. Construction to begin this month on massive new "mega mall" in Alajuela

November 8th, 2013 (InsideCostaRica.com) The developers behind a new "mega mall" announced that after several delays, they are prepared to break ground on the "City Mall" on November 22nd in Alajuela. The developers said the mall would be open for business in October 2015.

The project is being developed by Honduran development firm, Lady Lee. Construction firm Macoma will be in charge.

The mega-mall will consist of an immense 185,000 square meters of construction (nearly 2 million square feet) according to unverified reports – which would make it amongst one of the largest malls in the world, according to a Wikipedia ranking.

The resulting mall will be substantially larger than Multiplaza Escazu, and will sit on a 5-hectare property.

City Mall will feature 2,400 parking spaces, 10 cinemas and an amusement park complete with a Ferris wheel.
Brian, Lita, the Late Hugo IV, irreverent Vicka, the pigeon toed parrot, Chico II and Chica II